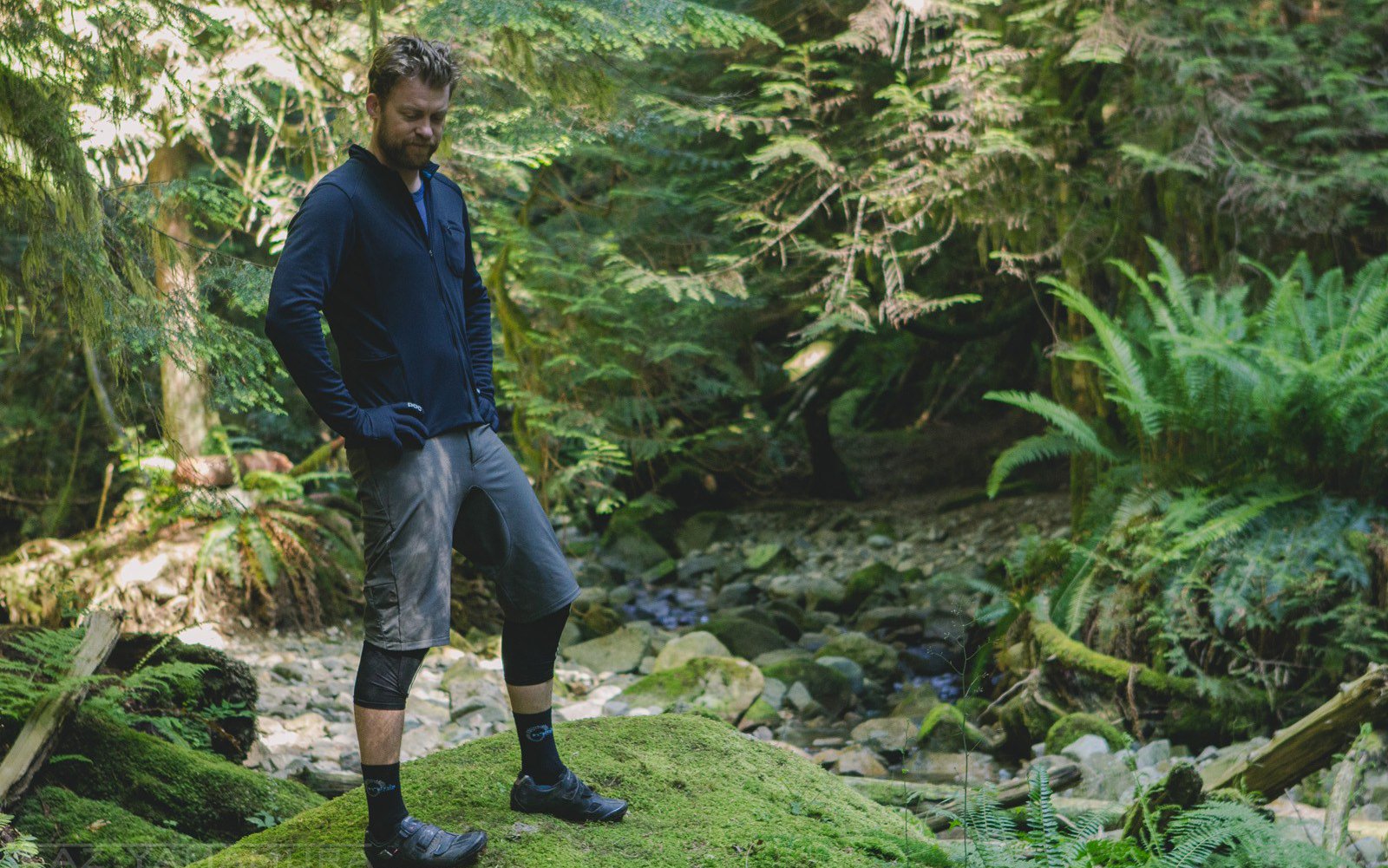 Product Review
Kitsbow Long Sleeve A/M Jersey and Soft Shell A/M Shorts
Kitsbow Soft Shell A/M Shorts
"TWO HUNDRED AND FIFTY BUCKS?!! For Shorts? You're crazy, son."
He's right. My father, I mean. That is a lotta cheddar. And let's just get this out of the way: they actually cost TwoHundredAndSixtyNineDollars. But they're nothing like the faded jean cut-offs worn by the shaggy-haired dopers of his generation. Plus he would completely lose his shit if he knew how much I pay to get my hair cut. Then again, he rolls with custom-made golf clubs, built just for him. You couldn't borrow them even if you wanted to – that's fourteen sticks of graphite and steel that are useless to you, Tiger, unless you have the same height, arm length, posture, and swing characteristics. We all pinch our pennies – and let them fly – in different ways.
These are not your father's riding shorts, and I'm ok with that. Like, really ok with it. If your dad is like mine (and I love my pops) he might have a few funny habits, like wearing socks with his sandals. Usually just around the house. Possibly when company is over. Sometimes outside (never golfing at least). And he would never spend anywhere near that kind of money on shorts. Ever.
These might not be your riding shorts, either, and I'm ok with that, too – and so should you be. They're not for everyone. In case I haven't been entirely clear yet, the Kitsbow AM Shorts are really fucking expensive. But – and this is admittedly a big but (one t, not ttwo) – they're worth it. I saw a thread on Quora.com the other day titled "Why are Rolexes so expensive?" Rolex owners rallied to the cause, explaining that yes, you can buy a watch for 25 dollars that tells time as well as a Rolex. Better, even. But pulling on a Timex doesn't feel the same, and it's not designed to last for many generations like a Rolex is. Not everyone 'gets' luxury watches. But we're used to their existence, so we don't turn our noses up in disgust when we see one on someone's wrist – though some of us might question our life choices because we're probably not driving the same car as that guy, either.
So why are the Soft Shell A/M Shorts the Rolex of their category? For starters they're made of Schoeller-dryskin, the original soft shell material (and still unsurpassed IMO) which is so good at protecting you from the elements while providing better breathability than hard shell garments. I have several pieces made from Schoeller that are over 10 years old and going strong. The stuff is badass: durable and resistant to abrasion, but pliable enough to conform with you and move as you do. A DWR finish adds water resistance – it'll bead water when new but you won't be kept dry in a downpour.
The real standout feature of the shorts is a little less concrete. They are the best fitting riding shorts I've ever worn. When I first pulled them on, I thought they were a bit snug. As soon as I got on the bike, they virtually disappeared. "So what?" you might be saying, "I'm never conscious of my shorts when I ride". Right, but…I've never snagged them on anything. Not even once. No saddle stuck in my taint like a pig rooting for truffles. No sketchy pull from a leg hole caught on a bottle cage or shift lever, which has recently happened to me with other shorts I own (causing me to question the amount of body language I employ on the bike).
They are the perfect length – long enough to fit over a lo-profile knee pad, but not so long that they sag over your knee on an XC ride. And despite being lighter than when I got them, with no belt loops or waist adjustment they still don't shift or fall down while I pedal – another common problem for me. The point is that the fit of the Kitsbows is good enough to justify at least a part of the premium they're charging. They don't come in S, M, L – instead Kitsbow have no fewer than 9 sizes, each one tailored for a precise fit.
Some other refinements include a unique slider snap in lieu of a button (made by RiRi, the chichi Italian zipper co.); a tall, quilted waistband that fits snugly and allegedly helps with ventilation; two zippered side pockets on the back side of the leg that are really good at keeping keys or a phone handy (even while riding) without hampering you with pedal swing. And, though they're based in Sausalito, CA, Kitsbow's stuff is handmade right here in Vancouver (they share a factory also used by several other high end local apparel companies).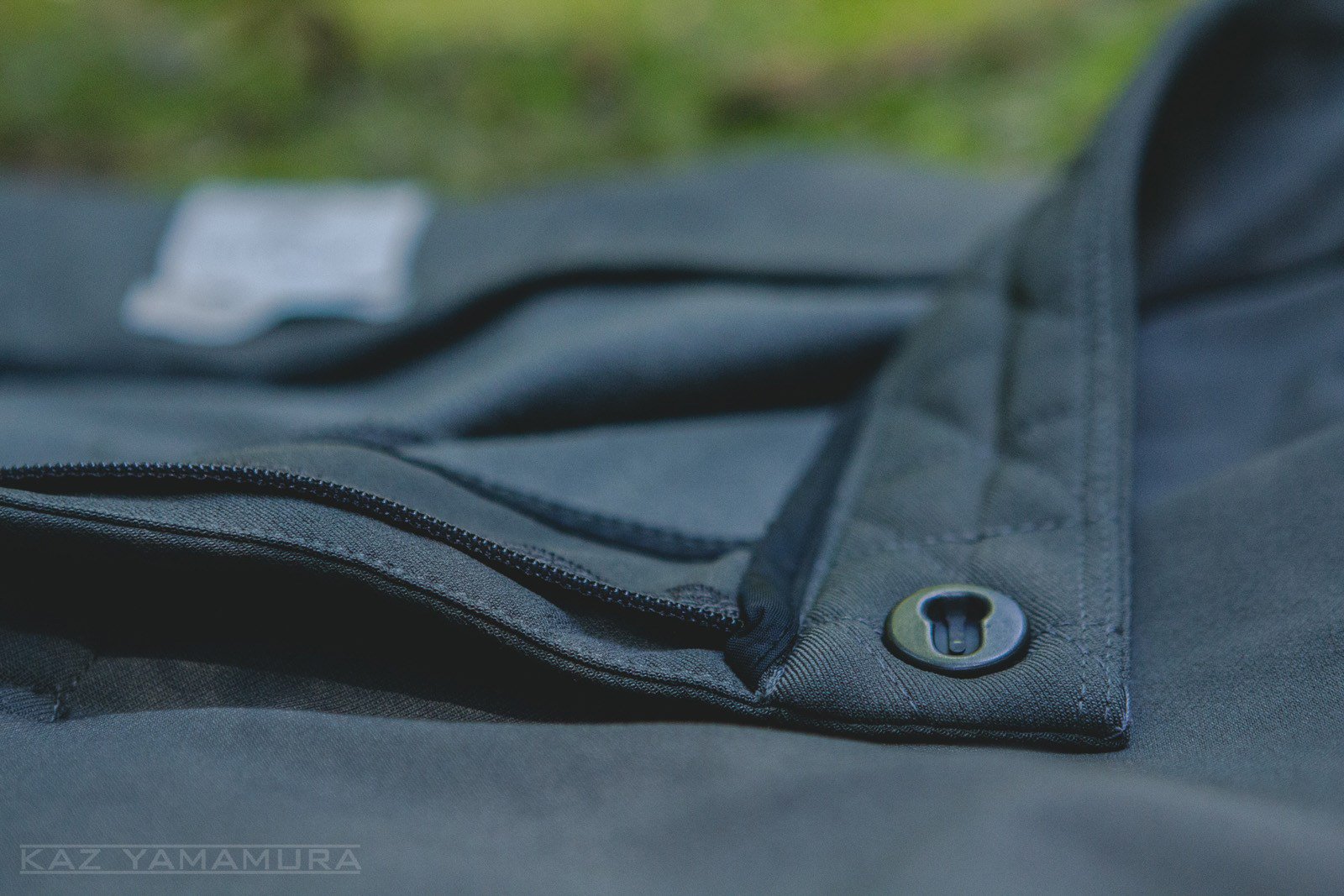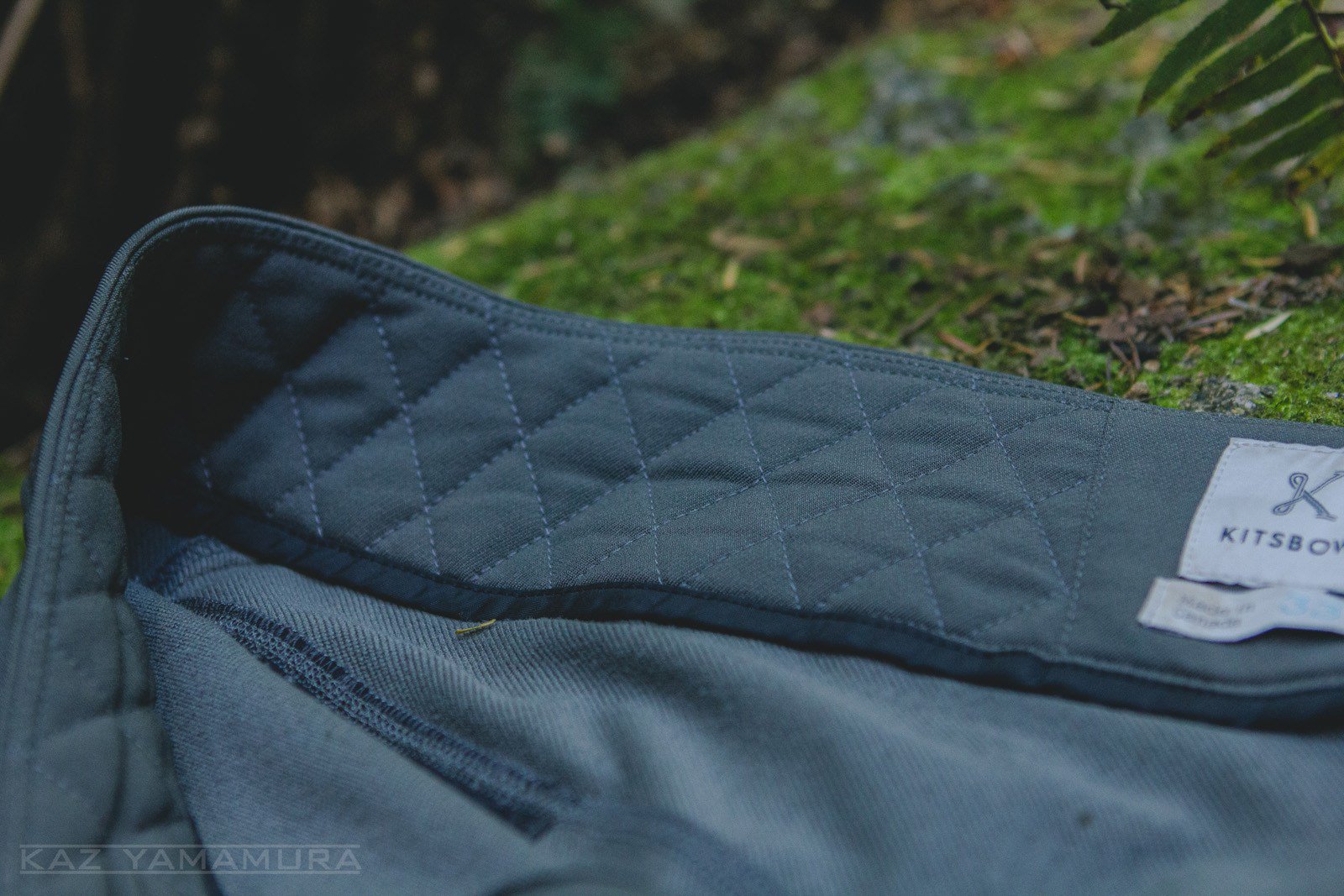 So, don't get all indignant about the cost. There are lots of shorts out there for a lot less money, and some of them are really great shorts, too. But there are reasons why the Kitsbows cost as much as they do. They're pushing design and quality, and that should impact the design of shorts your dad would buy, just like you. Yes, Luke, one day you will become your father. Just don't wear your socks in your sandals or your smart-assed son will be outing your questionable wardrobe choices some day.
Kitsbow Long Sleeve A/M Jersey
Fall is here, which means dark beer and College football hockey season. It also means long sleeves and layers, and Kitsbow's LS A/M jersey is absolutely made for Fall riding. Can I rant for a sec? It's a shame that such a nice piece has such a crappy name. Yo Kitsbow, don't call everything A/M this and that – put some of that creative energy into product naming (nb: more recent products have slightly less generic names. slightly.). Also, calling it a 'jersey' feels like you're selling it short. You could call it a jumper and pretend to be a bit posh. Or doublet or something. Own that price tag. Seriously, this shirt is so well cut and understated that you can easily do double duty with it – I wore it on a date once and was never busted for being in riding wear. Ok, mini rant over (and no, no date details for you).
The body and sides have different materials: 73/27 Cordura/Merino and 45/39/16 Nylon/Merino/Spandex, respectively. So the body is a bit more rugged and the sides are a bit stretchier. It feels nice all over. Texture and quality are smashed together like your mom's PB&J (crusts left on). The fit is tapered; if you're in shape, this jersey will fit well and feel great, but if you've been drinking too much dark beer and eating nachos on non ride days then forget it, you're going to look fat in it.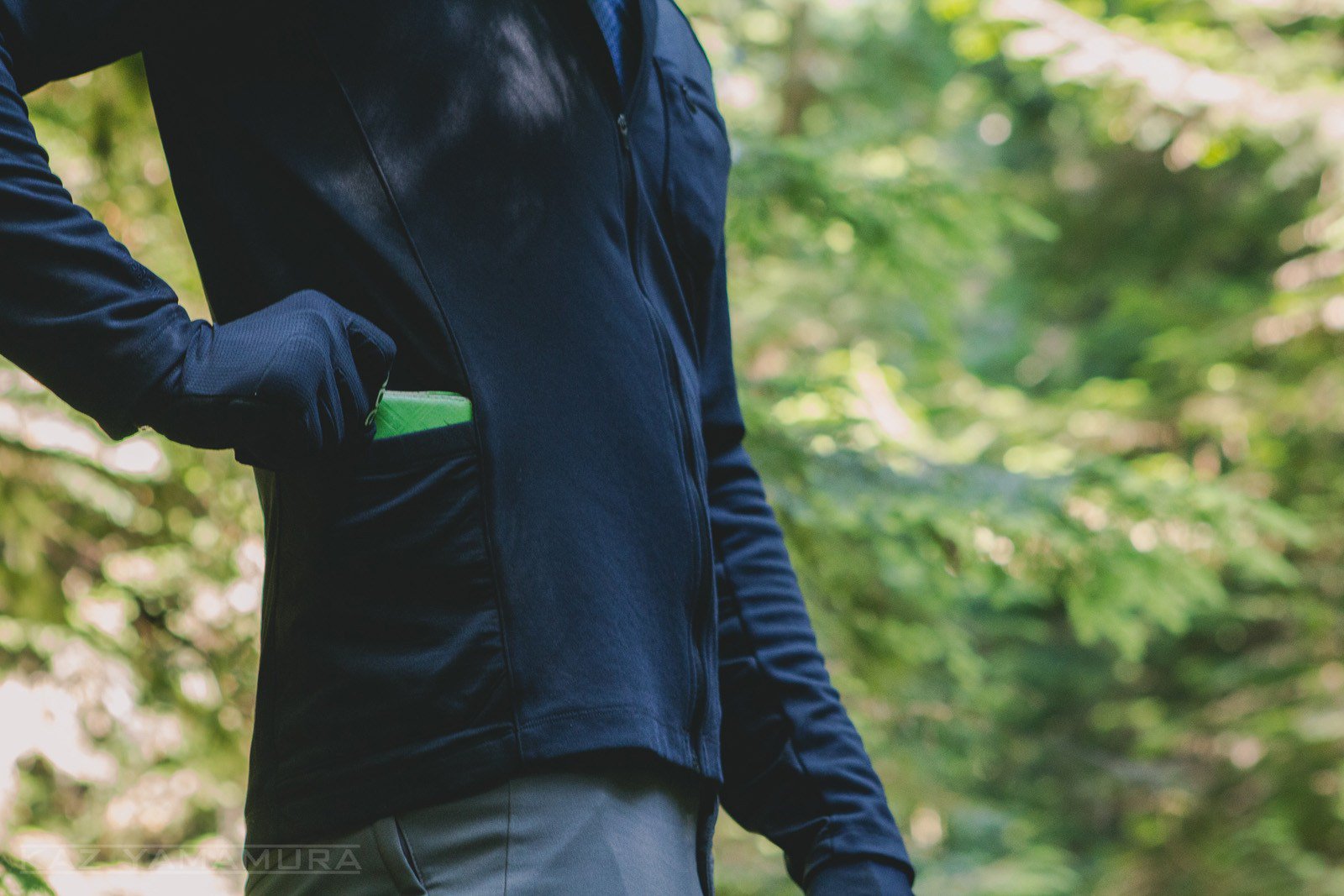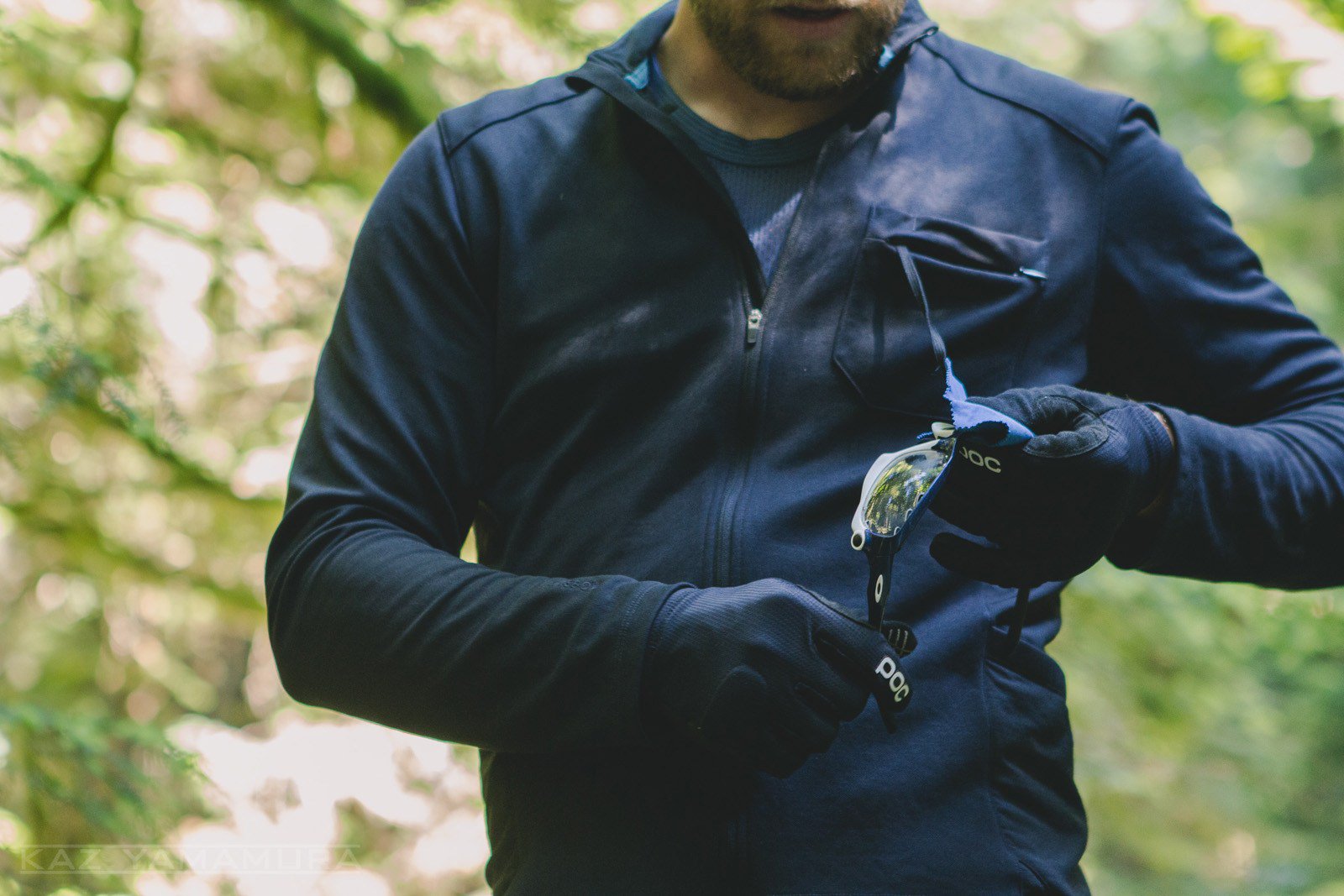 Everything on the LS A/M seems purposeful and planned. The two side pockets are subtle, but when you remember they're there, your hands slide right into them and they gladly hold onto a wallet or some food. I ride with a pack but like my phone to be easy to reach, so that often goes in one of them and yes, the pockets are large enough for your iPhone 6. Inside the pocket on the right is a zippered valuables pocket. I've never used it but it would probably be perfect for hanging onto your safety meeting essentials.
The neckline is shaped nicely and even has a bit of reflective piping. The full length zipper makes it easier to wear on days when it might get a bit warm, or to allow for plenty of ventilation on tough climbs. I usually just throw on a base layer underneath and because the LS A/M is a bit thicker than your average jersey, it's kept me warm on lots of rides when I might normally have wanted an extra layer.
On the bike, this jersey is every bit as well designed as the Soft Shell shorts. The hem line is long enough at the back that you get coverage but don't feel like you're wearing commuter clothing. The zipper is easy to use one-handed while pedaling. Pockets are easy to access, even with a bag on. It breathes well and doesn't stink after being worn on multiple rides. My only complaint is that because of the long sleeves, I haven't been able to wear it for 5 months. But that's all changed with Fall here again.
I'm not going to sit here and tell you the Kitsbow stuff represents value the same way I would if it cost (less than) half as much as it does. However it needs to be repeated that their stuff represents a level of design and fit that does command a premium. It really is that good, but the question is whether there are enough riders out there that value this level of refinement. This stuff is made well, and should see you through many seasons of hard use. If you're the type of rider that can justify big expenditures on bike gear because you don't play golf but value things like tailored suits, or would rather own fewer pieces, but tend towards higher quality ones, then you ought to take a look at Kitsbow. But for those of us who weigh the merits of every purchase we make, Kitsbow will remain the Armani of our industry. You may understand (mostly) why it costs so much more, but that doesn't make it easier to afford when push comes to shove.
The Kitsbow LS A/M Jersey retails for $265 US and the Soft Shell A/M Shorts will run you $269.
---
What do you like to splurge on? Is it bike stuff, or something else entirely?