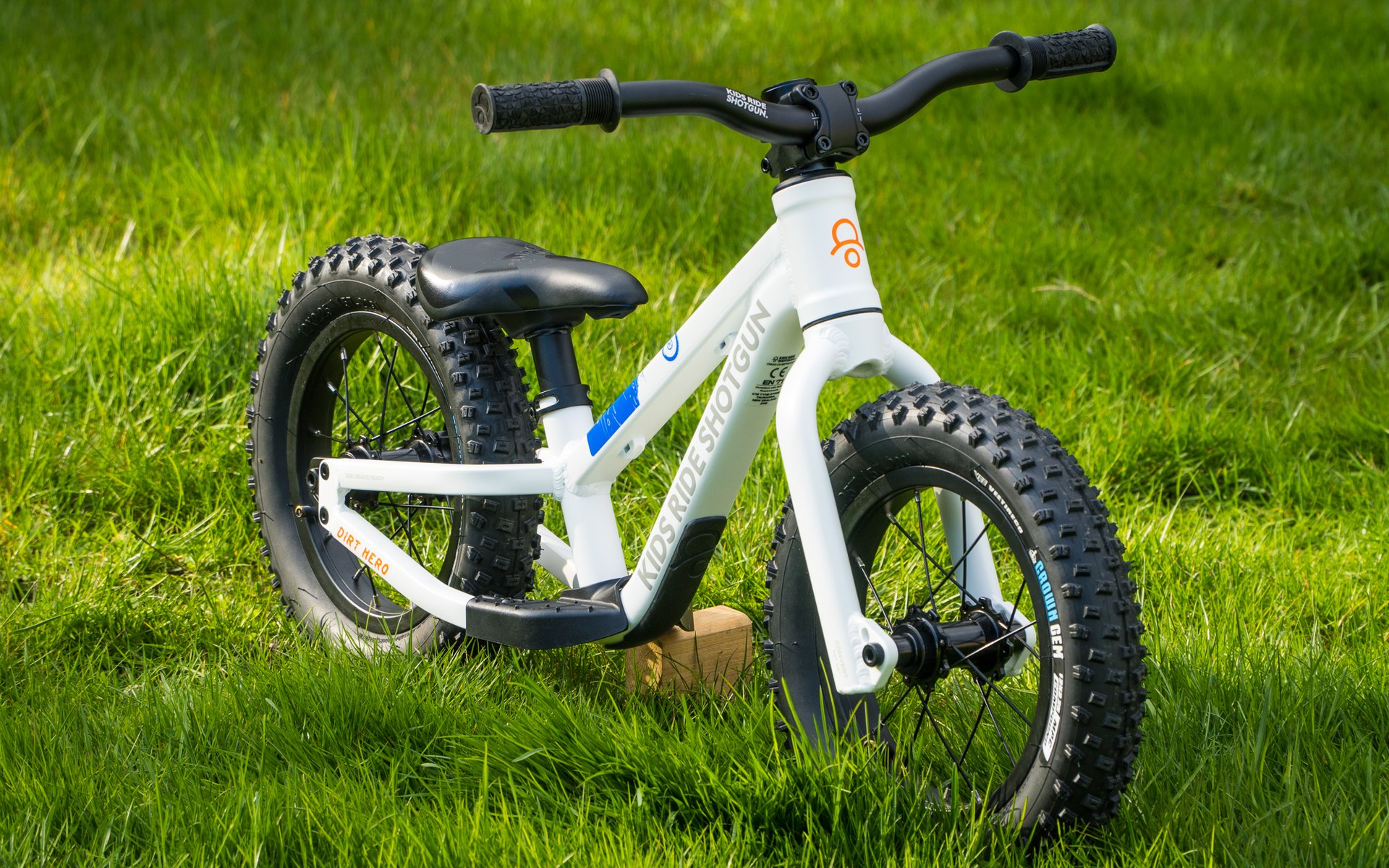 A first look at this mini-shredder
Kids Ride Shotgun Dirt Hero
I'd say a lot of folks reading this probably have a similar memory to one of mine – the day the training wheels came off. The act of taking the training wheels off is such a collective experience we use the phrase to describe removing aids and protections in general life. With this one act, your parents turned biking on its head and suddenly the days of getting high centered in puddles were over. I remember going back and forth in an outdoor basketball court behind my elementary school, wobbling around trying to figure out how to keep a bicycle upright when on one run down dad said, "I wasn't holding on that time!"
My child will not share this experience.
At some point in the decades between my time in the basketball court and now, a much better method of learning to ride has been popularized. Run or strider bikes teach children the hardest parts of cycling: balance, steering, counter steering, and even braking, while leaving arguably the easiest part, pedaling, until later. Run bikes can be made with lower standover, are lighter and have fewer dangerous parts, and they even come in wood, a la chukudus. Frankly they're brilliant, and as I mentioned when we were talking about Dadcountry and getting young kids on bikes, my kid has had one since before he could walk.
And now he has a new one. How spoiled is a kid that's had two brand new bikes before his third birthday? Very. I don't remember my first bike, but I guarantee it wasn't anything like this. Kids Ride Shotgun is a brand built on getting kids on bikes early with their Shotgun seat which Andrew reviewed here; this technique was also my son A's first foray onto two wheels on my path to Dadcountry.
It makes perfect sense for the people at Kids Ride Shotgun to take up the next link in the chain with run bikes, and they've done so with the Dirt Hero, a bike with a pile of clever features showing it was designed by people who have kids that ride, and who care a lot about making sure that first experience can be a good one. And crucially for parents, it also has features that should mean it'll work for your kid longer than other options; this is important given everything you see in the pile below rings in at 653 CAD.
The Dirt Hero has everything you'd expect in a high end run bike - it's relatively lightweight, it has sealed bearings in the headset and hubs, and overall feels like a "real" bike, not a toy. Currently, the bike is built up with 12" wheels. This requires installing the appropriate dropouts and integrated brake mount on the rear end using the tools in the box, then it's just a matter of using thru-axles (like mom and dad's bike!) to put wheels on and installing handlebars.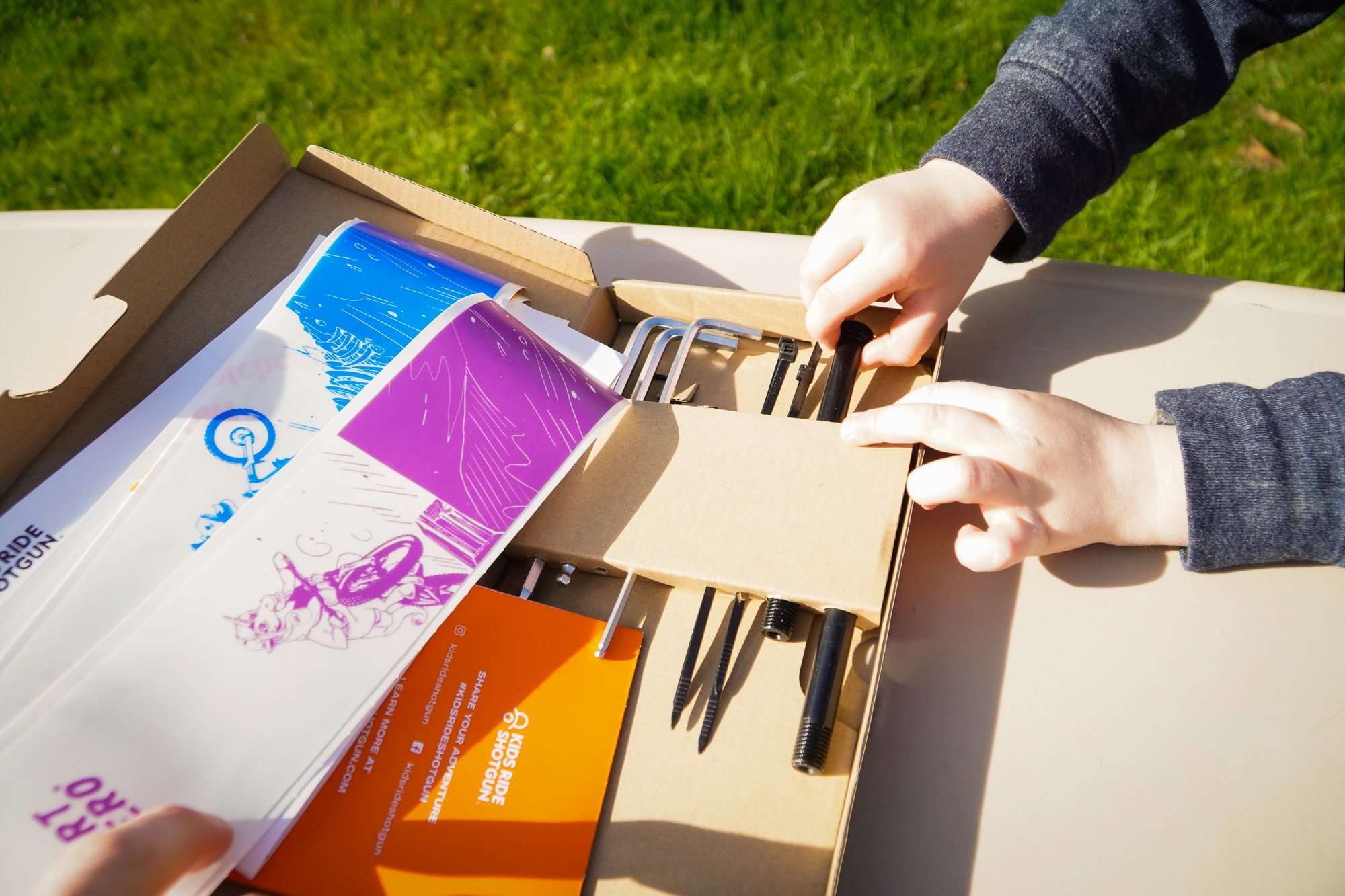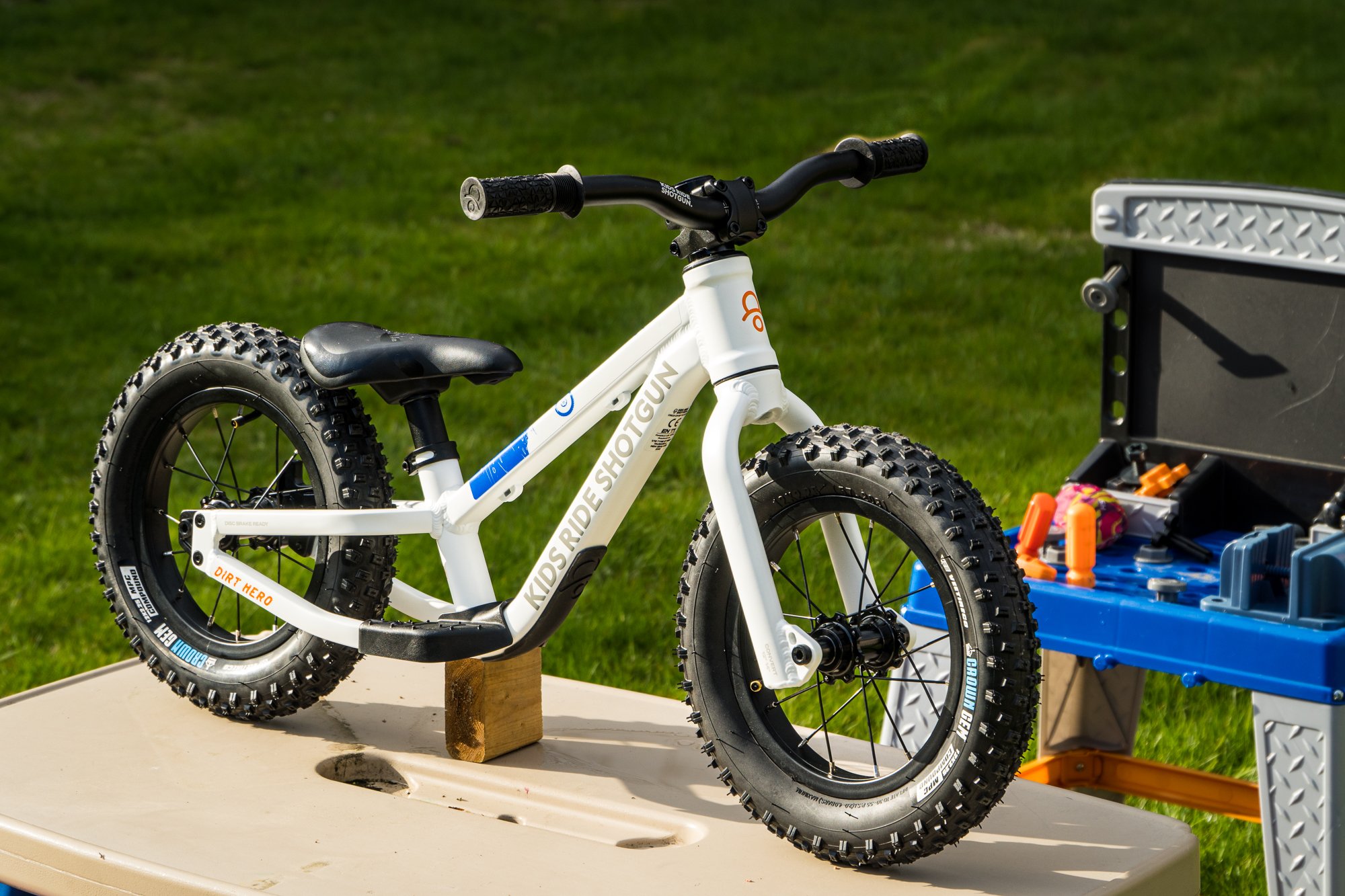 You should, of course, utilize all the 'help' you can get during this unboxing and installation. Especially the most important parts - picking the colour of the top tube protective sticker, and some temporary tattoos for everyone involved. 'A' picked the blue sticker (I'd note it looks and feels a lot like the DYEDBRO kits I use on my bikes, it's quality) and with that we were ready to ride.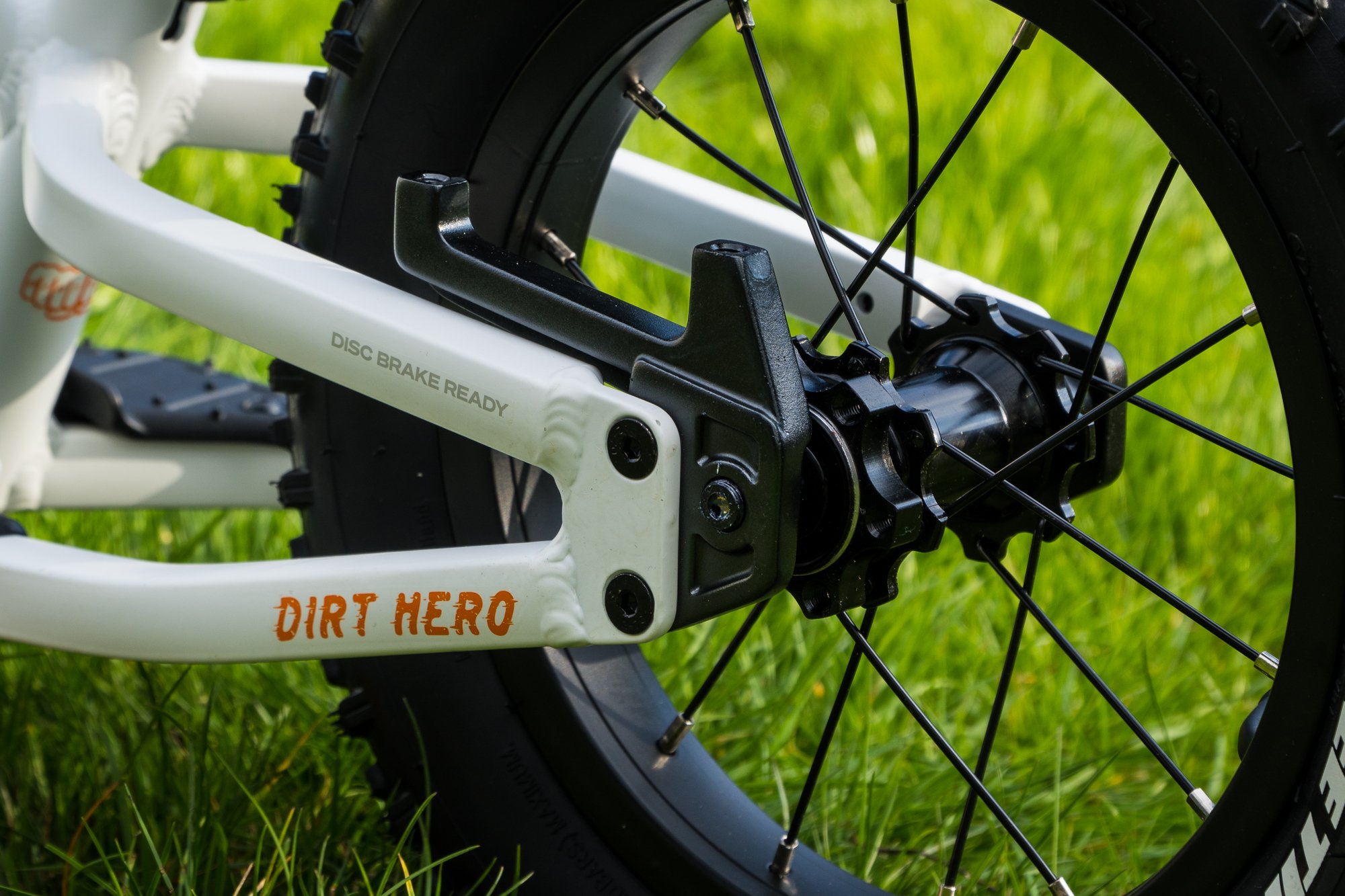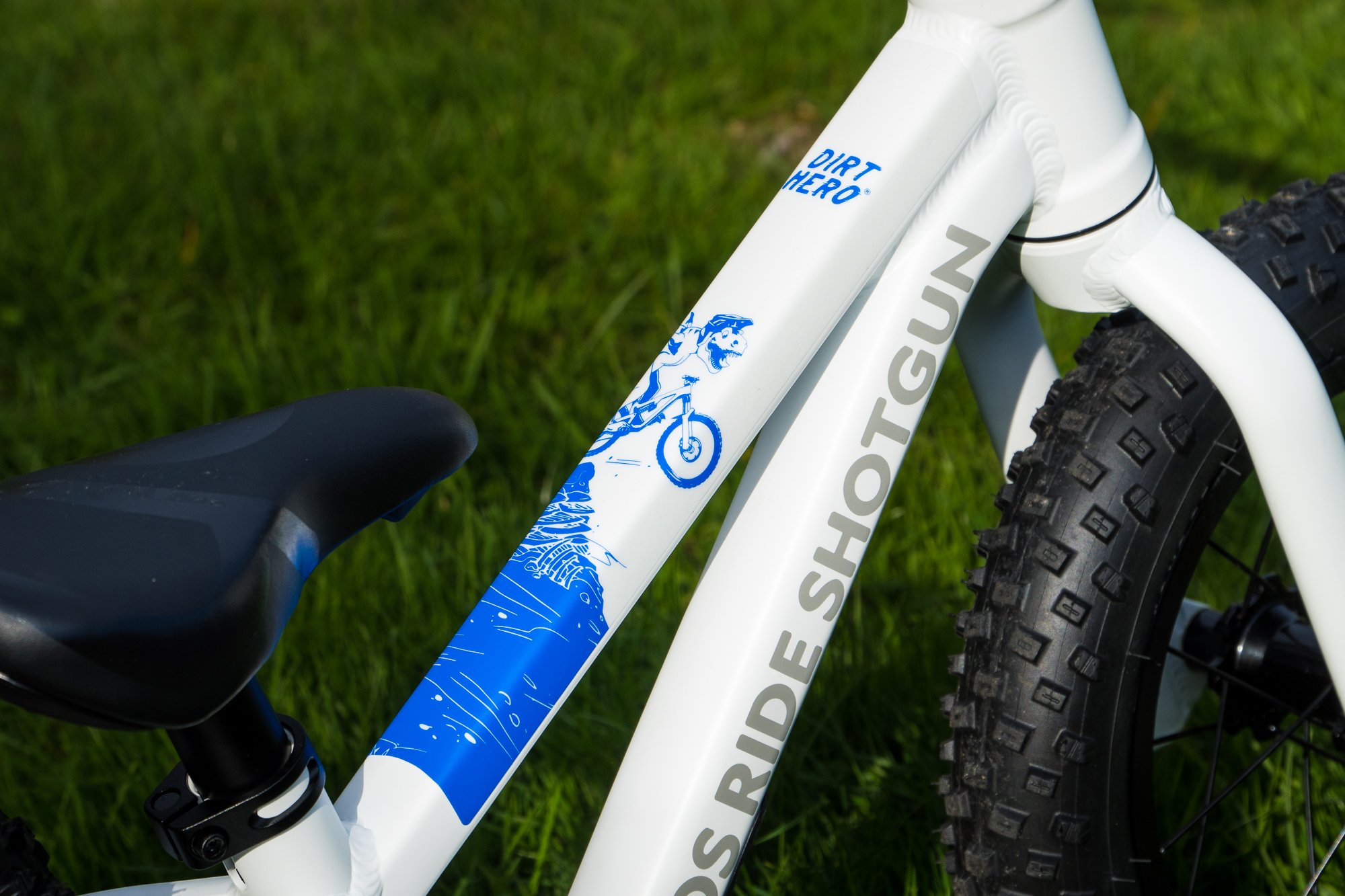 A already knows how to ride a run bike, so beyond that it was a matter of setting saddle height and we were off to the alley. And the first ride was a complete failure. The Dirt Hero has removable plastic around the "bottom bracket" area for kids to put their feet on when coasting. I'd mistakenly pointed these out during assembly, and A couldn't get the coordination together to use them. So we melted down, and quit for the day.
Fortunately the progression toddlers can have from day to day is insane, and on the way home from daycare the next day, we were gliding along. I wish my riding improved at the same rate… or at all.
It's been about a month on the Dirt Hero, and there have been two changes. It's no longer "MY NEW, NEW BIKE" it's just "my bike", and I swapped out the cockpit and EDC Lite from his old bike. It's A's quiver killer - seeing duty at the pump track, as a commuter, on the trails mountain biking, and half-track BMX racing. There's only two niggles on the Dirt Hero so far, and the first isn't attributable to KRS. The ubiquitous 12" Vee Tire Co. Crown Gems won't quite seat on the single wall rims, so there's a bit of a tire wobble. The second is the lower front edge of the plastic footrests is a bit sharp, and if A is in shorts* it'll nick the back of his calves. I'll probably try and heatgun this edge to fold it over a bit. Beyond that there's nothing else I can nitpick so far, really. It's a great bike!
*I know, I know. I try to keep him in long pants and a long-sleeved shirt when riding.
Can you buy cheaper run bikes? Absolutely – but I'd urge you with everything I can muster to buy something at least halfway decent, with real pneumatic tires and that can't do double duty as a boat anchor. If you ride quality stuff, your kid deserves to, too.
If you want to splurge a bit or live by a "buy once, cry once" philosophy, the Kids Ride Shotgun Dirt Hero will grow with your toddler and has all the features I'd be looking for. Kids bikes also retain a remarkable amount of value, and the build quality here is clearly such that it'll survive multiple kids, if that's your chosen path.
There's also no need to buy it all up front - get a frame and some wheels and you can add bigger wheels or a brake later. Or if your kid is older and just learning, start with 14" wheels! The modularity and optionality is a great feature, and the whole package is littered with nice, thoughtful touches that clearly show it was designed by and for people who care about getting kids the best first experience possible on a bike.
This bike is here for long term review, so we'll check in on this as A grows; we'll see how the bigger wheels work, if it needs higher rise bars… who knows! I think I'm most excited to see him start wearing out Crown Gem rear tires doing disc brake induced skids when his hands get a bit bigger. While we won't share any memories about training wheels, we can share the memory of trying to do the longest skid down the driveway possible, and then going back up and trying again.