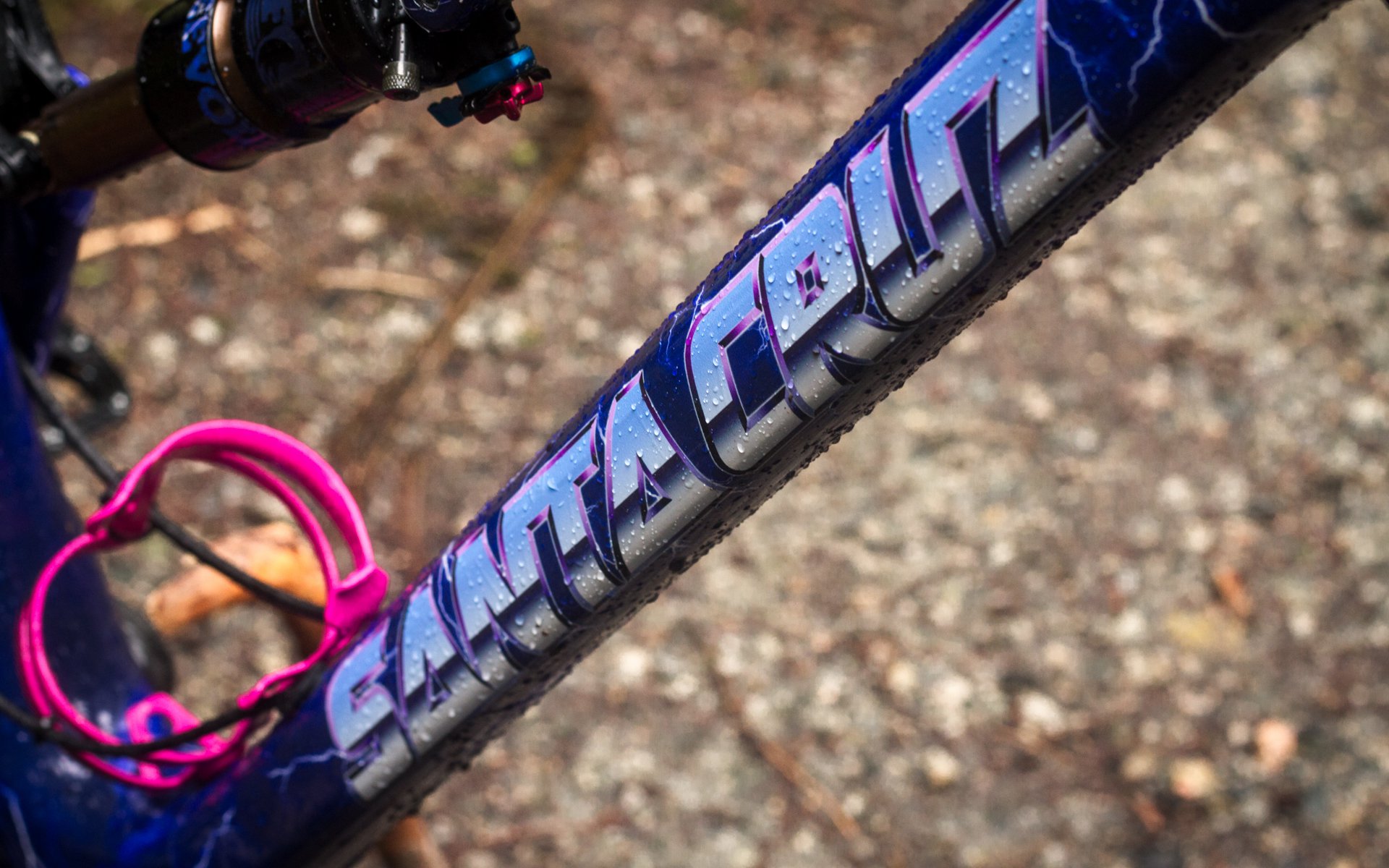 SWEET BIKE BUILDS
Kaz's 'Ride the Lightning' Santa Cruz Bronson
We first met Kaz Yamamura at Crankworx about four years ago. He was just getting into photography and was looking for some experience, so he had asked if he could come along and point his camera at things and make pictures. I'm not sure what he thought the inside of the NSMB workings would be like at that event, but I do remember that it seemed clear early on that we weren't what he was expecting.
Anyway, that was the start of Kaz's time with us and we had a lot of laughs - not only at his expense - during that time. And now look! He's still making pictures sometimes but he also went back to school to finish his civil eng degree, works part-time at Dunbar Cycles and even works on IFHT projects. The other day we caught wind of the custom decal job he applied to his new Bronson CC and we asked him to send along some photos and describe the process, which he has done below.
I kept seeing what the Coastal Crew do to their bikes year after year, and I wanted to do something unique myself. I decided to wrap my dirt-jump bike as a sort of inside joke - and it ended up turning more heads than expected. I wanted to do something cool and radical, yet sleek and simple for my trail bike.
After my dirt jump bike, I started brainstorming other ideas for vinyl wraps. At the time I was listening to some good old fashioned early Metallica, and I thought a 'Ride The Lightning' inspired lightning-on-storm sort of wrap would look good. 

Fast forward to a year later, I got my hands on a Santa Cruz Bronson frame, and wanted to wrap it while it was still fresh. I created the background design in photoshop, and added lightning bolts here and there. 
Instead of applying a mono-colour Santa Cruz decal on top of the vinyl, I decided to create an 80's inspired logo myself. The good people at Santa Cruz sent over a vector file of the logo, and after about a few days playing around in Photoshop, I created the metallic looking logo. 
To match the main logo, I looked around the web for 80's inspired fonts - after doing a test run of different fonts, I decided on one particular font, and made it pink. What says 1980's more than blue and pink?
I went to the print shop down the street from where I work to get it printed. Printing was easy - I handed him a USB stick and within hours it was ready. 
Applying the vinyl took me about 15 hours total - 5 hours a day for 3 days. Armed with my girlfriend's blow dryer, a tailor's measuring tape and some hobby knives, I went to town with cutting, heating and pressing. The hardest part was the downtube and seatstays - I had to cut and place the vinyl so that the logos would fit perfectly on those areas. 
I bought myself a small decal machine to cut out vinyl - the kind that is apparently marketed towards housewives that scrapbook. (I was asked 'Do you do a lot of scrap booking?' when I brought the machine to the checkout.) I used it to create and cut the fork and shock decals using the same vinyl as the bike.

Lastly, I needed to colour match the parts to the bike. Thanks to the lads at Chromag, RaceFace and Dunbar Cycles, I was able to obtain everything I needed within days. I could go on about why I chose certain components, but you're not here to read about that.