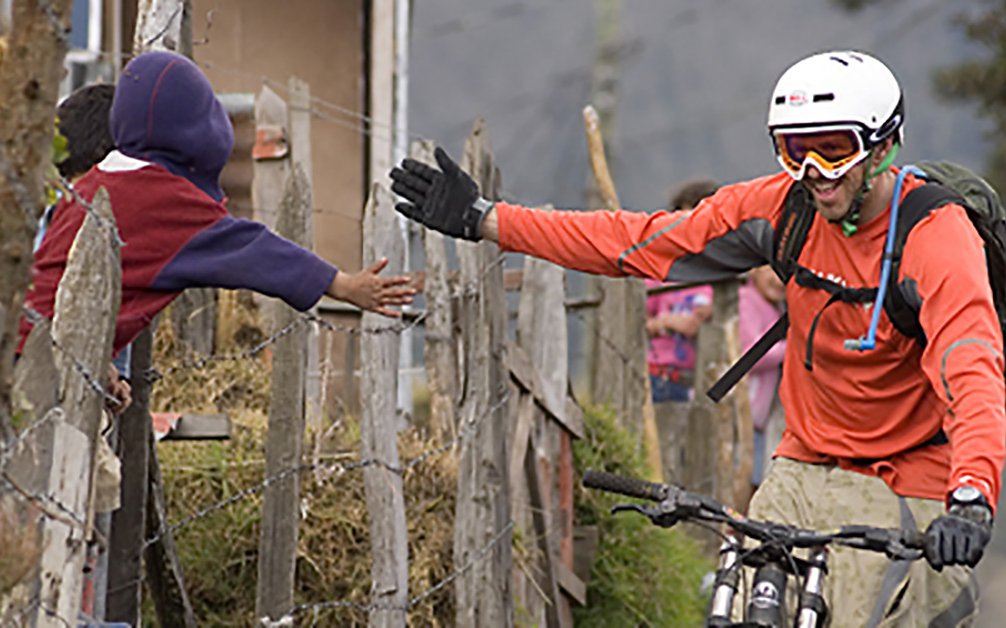 Editorial
Just Say Hi*
This seems more critical every time I ride. Aren't we on the same team, of the same tribe, born of the same dirt mother… Okay – that's probably taking it too far. But there is far more that unites our weird subculture than wheel size, clothing preference or pedal choice could divide. And yet this should apply to other trail users as well, the greater tribe of humans who appreciate putting feet on dirt. 
*originally published December 3rd, 2014 - and even more true today as new riders enter the sport
---
Hi, greetings, gutentag, konnichiwa, ciao, bonjour. You get the idea. It's an ancient salutation, an icebreaker. A good old how-do-you-do. It doesn't have to take long, but a brief acknowledgement of your fellow dirt-riding humans goes a long way.
Years ago there weren't many of us on the trails, so when you came across another member of homo sapiens on two wheels a little chinwag was in order. Fast forward to now that there are quite a few folks out and about, a new dynamic is occurring. Folks are just cruising by on the trails without saying boo. It's happening more and more often. When I pass someone, or more likely get passed, I have to pry a hi out of them, or shock them with an ambush hello. What's that about?
Here in B.C. there aren't a lot of motorcycles, and that scarcity binds them together. You'll see two motos pass on the street, one a bearded Angels wannabe, the other a metrosexual on a crotch rocket, and they'll give each other an air-scooping left hand wave; an acknowledgement that puts their common ground ahead of their differences.
Even when your bike is clean and your kit is brand new you should take a little time to say hello to the little people.
Clearly you aren't going to say hi to everyone you see in a bike park but if you happen to stop in the same low-traffic spot would a how's-it-going kill you? This becomes critical when a rider appears to have a problem. One day that's going to be your broken down ass and it'll be sweet music when you hear, "hey buddy – are you okay?" You can't start filling that karma account too early.
Recently I talked to one of our sage trail builders who just finished refurbishing a wicked local trail. Standing off to the side of his handiwork he was amazed to be passed by a whole crew, none of whom acknowledged his existence. What the… ? I get it. Wicked flow. Strava! Enduro! But c'mon, without these folks out tweaking our trails we'd be riding brake-bumpy, baby head-riddled pieces of crap.
If dirt jumpers can take a moment to say hello – shouldn't we all?
First year university students are studied like lab rats and one key finding involves how bros get to be bros. Researchers looked at socioeconomic factors, race, creed – virtually every indicator at their disposal – and then checked in a few years later to see who had formed deep bonds. It turns out proximity was the biggest indicator. You were most likely to develop a close friendship with whoever happened to be closest to you, suggesting the more we know about each other the more we might actually like the jerk next to us.
And yet modern urban society continues to become more fragmented and isolating. Peer groups narrow until the folks we socialize with rarely disagree with us. They probably make about the same coin, are similarly edumacated and drink Smirnoff Ice just like you. And they almost certainly vote the same way. And yet we get scared by anybody we aren't already acquainted with.
When you greet a fellow rider (cue patriotic theme music) you are also saying that we are brothers and sisters, brought together by the love of sweet single track. That what what binds us is more important than what divides us. Our order doesn't have a secret handshake, a gang sign or even common colours – but we know our tribe. Even off the bike we notice chainring tattoos, plaid shirts, scarred shins and flat brim hats. Rise up riders! Solidify and strengthening the tribe with the one word greeting of your choice.
---
This is not a commandment from up on high. This is just a knob who has ridden his bike more than a couple of times, making an observation.Take it or leave it, crumple it up or give it a try. It's just hot air, and with that I say my fave hello/goodbye: salut!