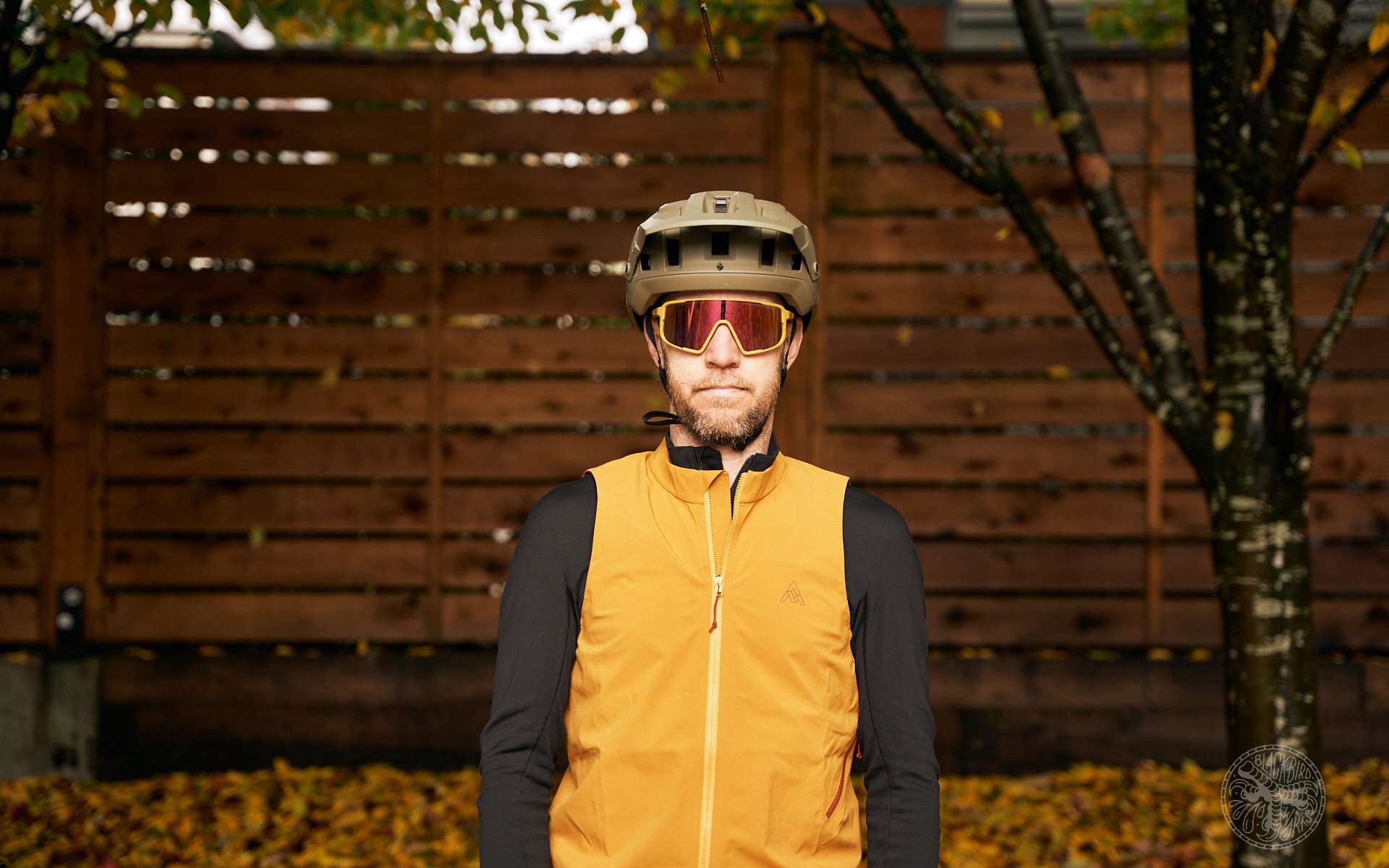 REVIEW
Just a taste of Sweet Protection
There's a fair number of things in life you buy and hope to never use: First aid kits, insurance, avalanche transceivers, gym memberships.
Bike helmets fall on this list - along with all protective gear, really. I'd advocate not skimping dollars in this category; while the science of concussion, TBI, and how to dissipate rotational motion seems to generally be a bit of a confusing mess,* what is clear is that you should wear a helmet.
What is also clear is that you're safer with a helmet on, and that a comfortable helmet is important. Not all helmets are created equal. They're designed (and yes, tested) for different impact levels and road helmets are clearly different than DH lids.
The Sweet Protection Bushwhacker 2Vi MIPS falls on the beefier end of this spectrum, "Built for the speed of modern riders - whether that means e-bikes or long travel 29ers, the Bushwhacker 2Vi® Mips packs the tech for increased protection... Complex multi-density EPS shock absorbing structure with four impact shields (one in each corner of the head), increased coverage, and variable elasticity shell give the Bushwhacker helmet increased protection performance at both low- and high impact speeds without compromising on weight or volume."
At 430 grams it's approximately 60 grams heavier than my daily driver Smith Forefront 2 MIPS, around 350 grams lighter than a Smith Mainline MIPS, and 110 grams heavier than my gravel-appropriate S-Works Prevail 3 MIPS.

*someone is going to post one peer review article in the comments, and say it's gospel. There's a lot of variation in findings, methodologies, and varying results. Although helmet laws for cycling-as-transportation are generally bad, helmets are good for mountain biking.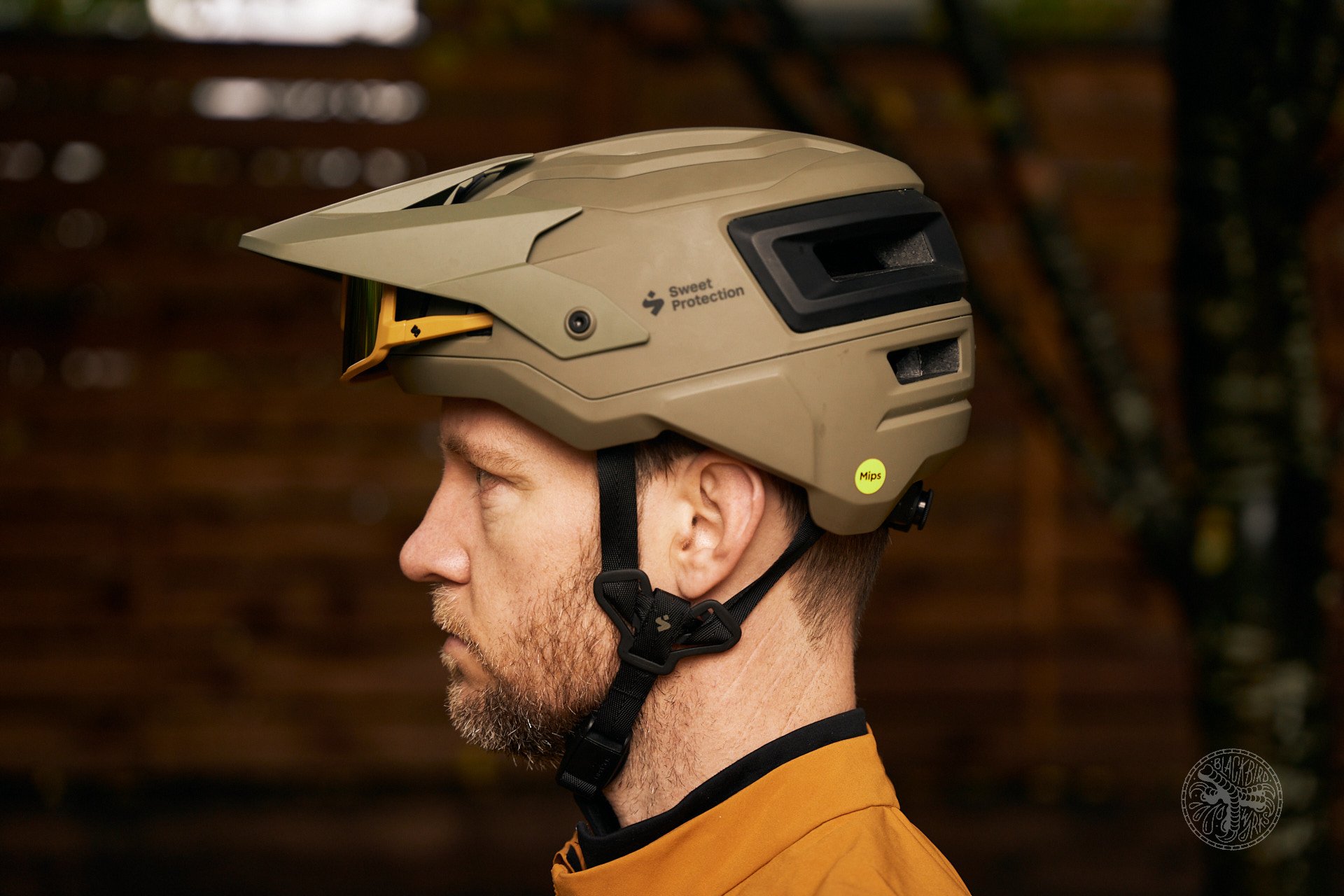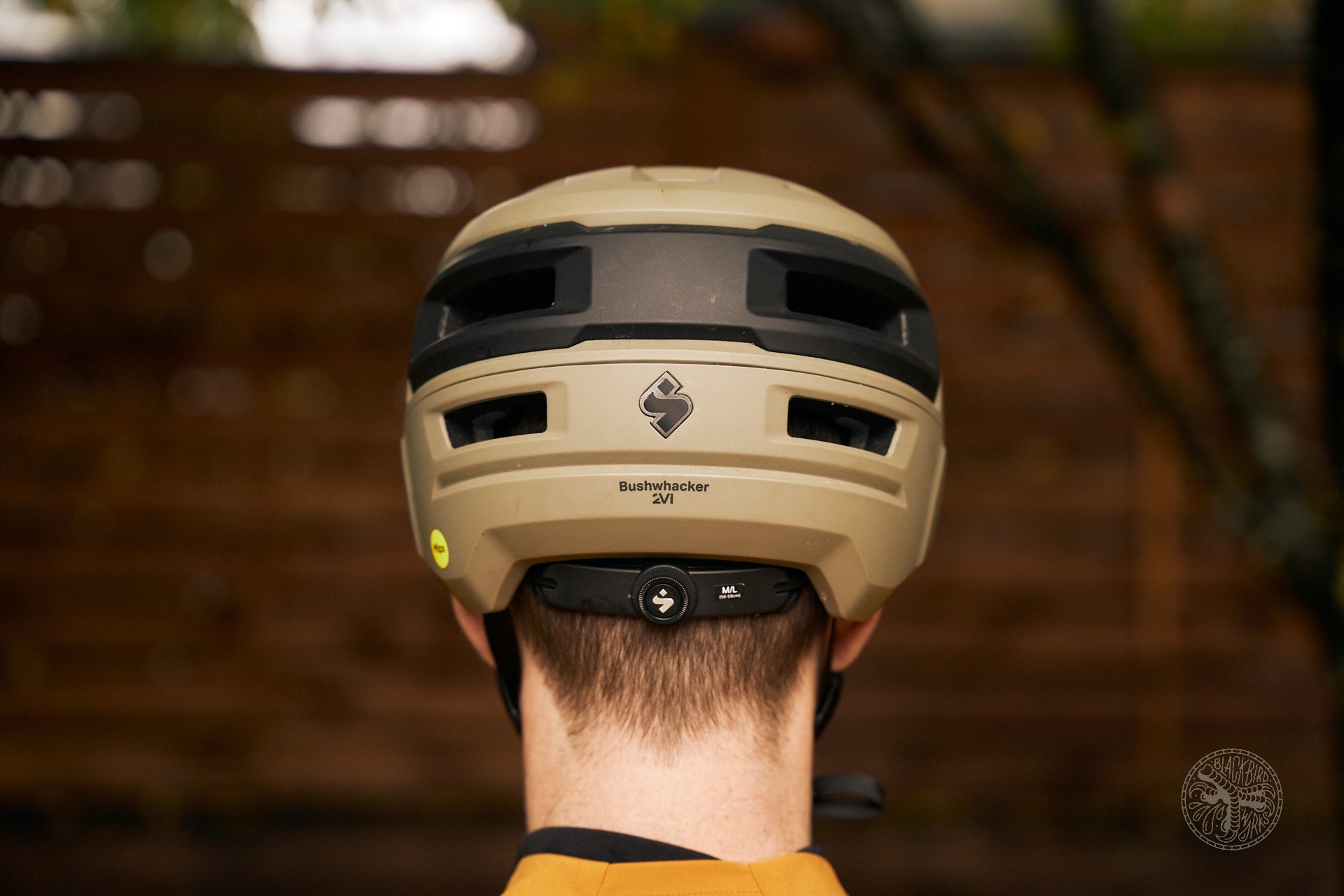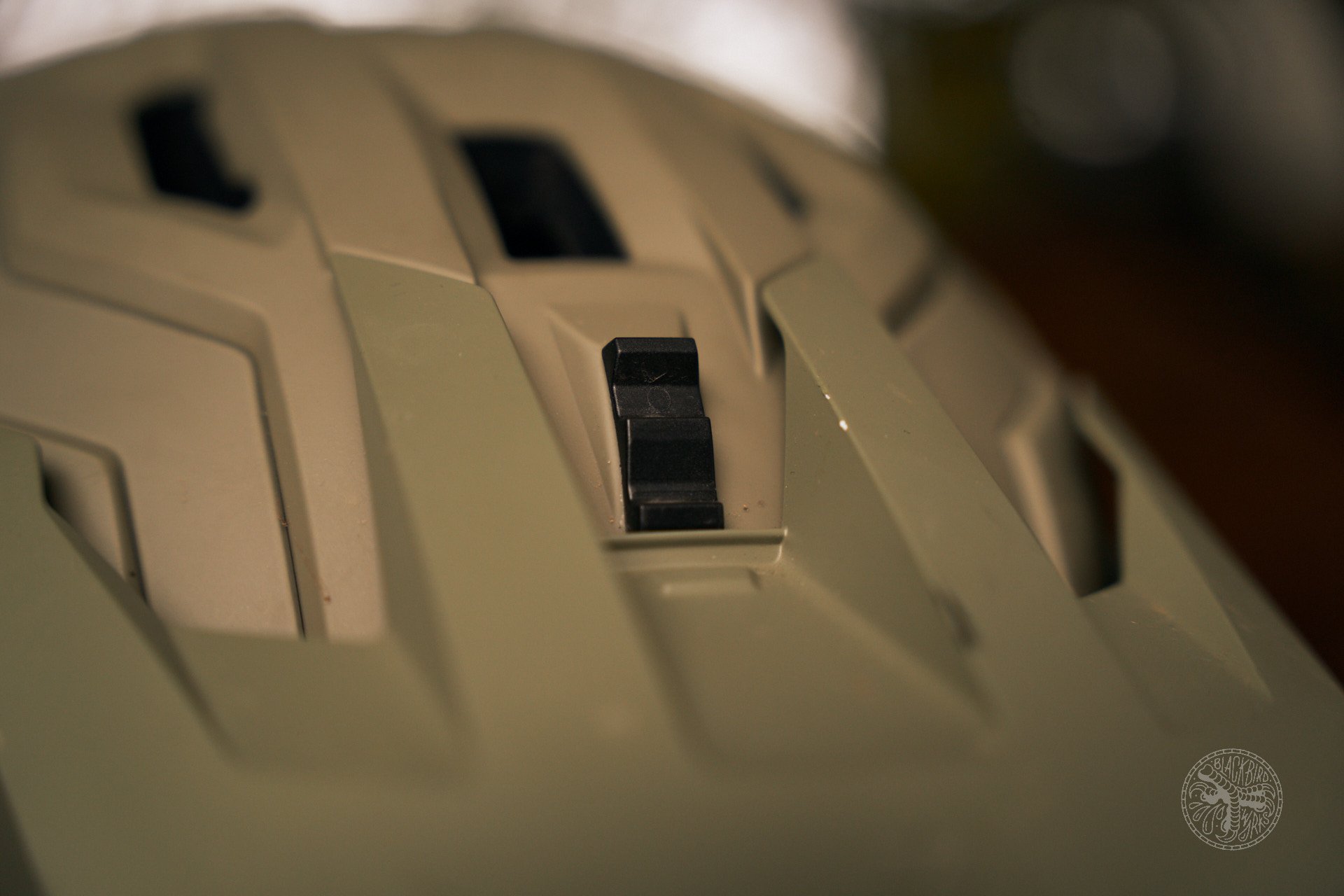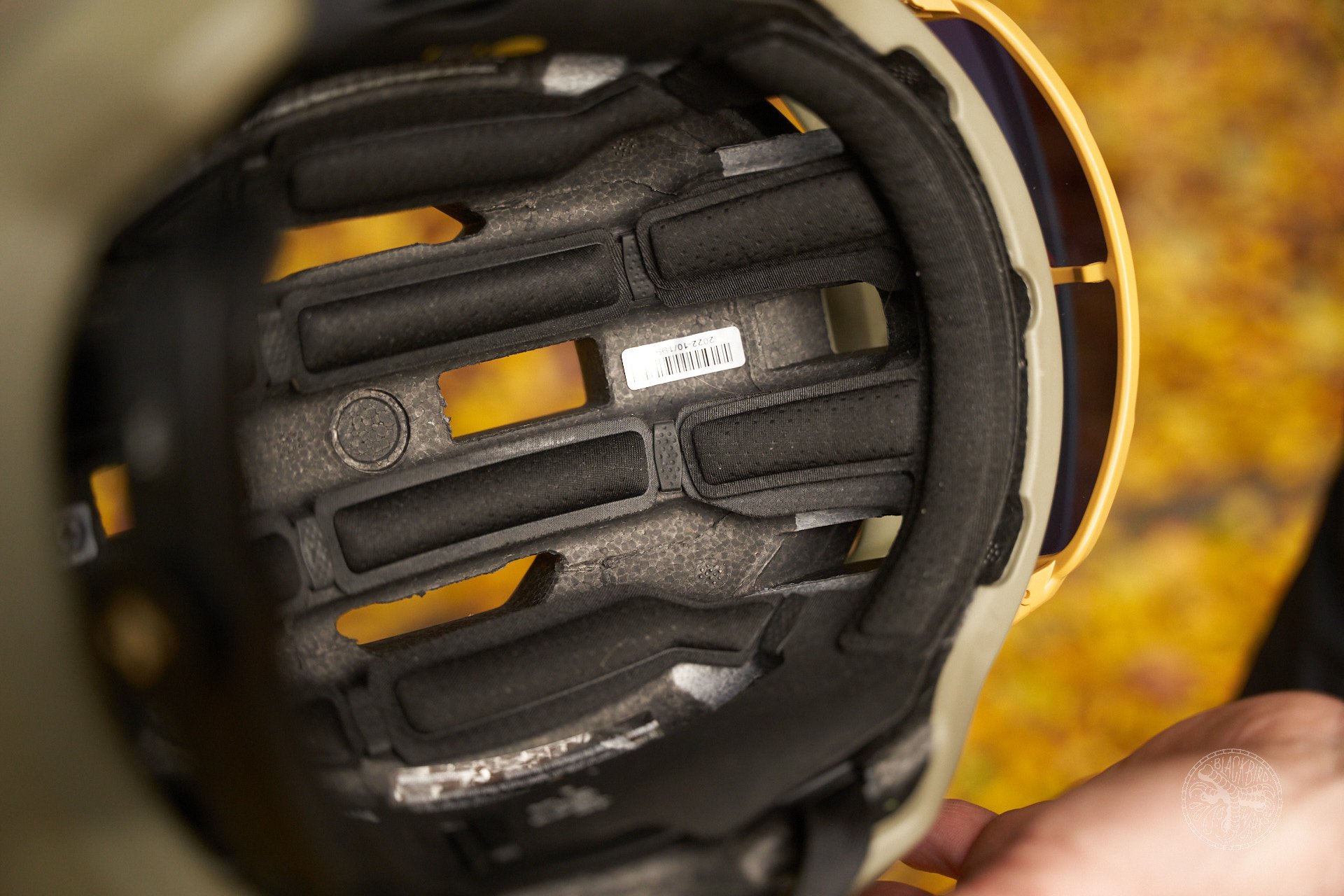 Feature wise, the Bushwhacker comes with most of what you'd expect - a multi-position visor, lots of venting, holes to hold your glasses (more on that later), and a dial on the back to cinch things down. Oh, and if you're someone who has strong opinions about buckles, it's got a Fidlock.
And lets be clear - I'm not dismissing all of the various certifications, five star Virginia Tech rating, and other pieces of paper ensuring your brain is as safe as it can be in a half lid. That part is important, because as a reviewer, my thoughts on helmets are the same as you, the consumer; praying I never actually test it at any impact or rotational angle. Let the people in laboratories smash helmets, I'll just tell you about riding in it.
I spent a few months in the Bushwhacker - if the plan was to pedal up for some ugly, steep, nasty trails, I'd reach for it. The Bushwhacker's additional coverage, especially on the back of my head, felt welcome. While I have no actual evidence its any safer than something like a Forefront 2, it feels like a helmet that means business. This secure feeling isn't at the expense of wearability; its very comfortable (I fall on the smaller end of the M/L size provided for review) adjusted to fit me snugly, and was comfortable in both hot and cold conditions. There's a remarkable amount of airflow for a meaty helmet, which is always appreciated slogging uphill in the summer. And despite being equipped with MIPS, it was squeak free through the review period; a welcome surprise.
I only have one real gripe with this helmet; but before we get to that, let's talk about the Memento RIG Reflect (RIG is Sweet's proprietary lens tech) glasses that came paired with this lid. They fit my face well, I like the modern big lens styling, and the reflective coating has held up remarkably well. They're light, and I've had no retention issues. The arms also fit well into ports under the visor of the Bushwhacker.
The particular 'Topaz' lens in the Mementos I have come with a 12% VLT rating - which here in the woods is basically too dark even at noon in July. So while they're nice glasses I used frequently while riding gravel bikes, they were somewhat useless otherwise. Obviously, your mileage may vary, and that could be a perfect lens for you. And, in some crazy scheme to make money just like Samsonite, Sweet makes more than one lens with muliple lighter and darker options.
This is where my gripe appears - while the Memento fits wonderfully into the Bushwhacker, my particularly riding glasses of choice (100% Speedcraft) absolutely do not fit; they get stuck. This relegates my glasses to the back neck area of my jersey, which is not a big deal climbing and somewhere I'll hang glasses occasionally anyway. It doesn't work for descending.
Overall, I'm pleased with the Bushwhacker. It's comfortable, adjustable, feels secure, looks good, and provides lots of coverage. My glasses don't fit, but there's lots of options from Sweet that certainly will, and other brands probably fit as well. I'd just recommend to try before you buy if it's a requirement.
Sweet Protection Bushwhacker 2Vi MIPS - 310 CAD / 250 USD
Memento RIG Reflect glasses - on sale for 140 CAD right now if you like yellow / 130 USD