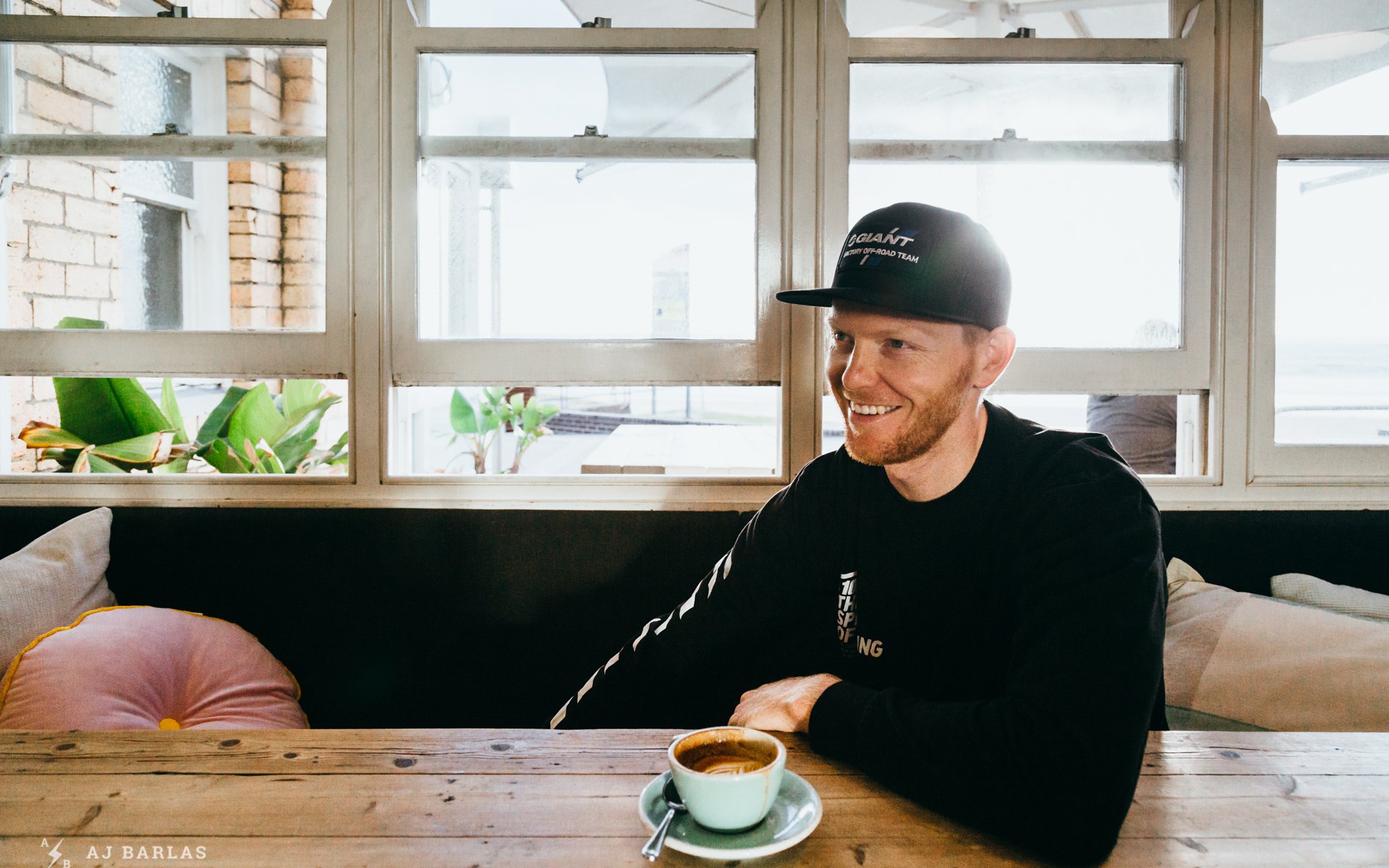 INTERVIEW
Josh Carlson & His Move From Vancouver, B.C. Back to Australia
When the Enduro World Series kicked off in 2012 Giant announced that they would have a factory team participating as a part of the new series. For Josh Carlson, this was his big break and the realization of a dream come true. Carlson had moved to North America to take part in the Super-D and Enduro events that were blowing up and with a number of major brands basing themselves out of North America, saw it as an opportunity to further his riding career. It's a gamble that worked.

Josh and his wife Lisa set up home base in Vancouver, giving him access to the mountain bike mecca of North Vancouver and the Shore. Many would imagine that living in Vancouver as a pro mountain biker, with access to the variety and complexity of trails on the Shore at your doorstep, to be a dream come true but it's not without its downsides. During a 2017 pre-season visit back home to Wollongong, Australia – a coastal city just south of Sydney's urban sprawl – Josh was blown away at how much prep he was able to achieve and how far along the trails in his old stomping grounds had progressed. With his short time spent pre-season training down under amounting to what he feels is the equivalent of an entire winter in Vancouver, and the realization that having his young family close to grandparents was greatly beneficial, discussions about moving back to Australia took a more serious turn. 
Now more than twelve months later the Carlson family – which includes Josh, his wife Lisa, son Eli, their eldest, and daughter Remi – have established themselves back in Wollongong. Josh now has a full Northern Hemisphere winter off-season under his belt in the 'Gong and has been utilizing the Southern Hemisphere's summer weather to his advantage as he prepares for the upcoming 2018 EWS season – one which he feels he is more ready for than ever before thanks to the move. 
I caught up with Josh in his hometown of Wollongong to chat with him about the move, how he and the family are settling in and how it will affect his 2018 race season.  
How have you been enjoying the move back, mate? 

It's been sweet. It's definitely different and there are even times when I still miss Vancouver heaps, you know. I miss our little apartment – as much as I wanted to be in something bigger and better and all that – you miss your little apartment and the little town in Kerrisdale and coffee shops and blah blah blah, and the trails, the boys, the crew. You kind of develop a different… well, you understand, but you do develop a different relationship with the people over there, you choose to be friends with them so everyone has the same interests, everyone has the same good times. Not that you don't choose your friends here, but you've grown up with your friends here so you just, you're friends with them forever, whether you love them or not. 
[Laughter]
Whereas over there you choose to be friends with those people and you have a different connection with them. 
So I'm definitely loving being back and I'm loving now that we're sorted and settled back into Australian life and now its home again, sort of thing. The kids are growing up like crazy, hanging out with family and friends, you know; the trails and the mountain bike riding has been sweet, and even yesterday, like, all of the years that I've been talking about making a trail in Vancouver, now I'm back here I finally went up and made my own trail.
Oh yeah?
[Laughs] Yeah, I just went up in the bush for a couple of hours, took a shovel and a rake and started scratching in my own thing, sort of thing. I remember (Chris) Johnston and I would talk for ages about, "oh, we should scratch a trail in here, and make a trail over here". And it never happened, haha. 
What prevented it from happening there but didn't get in the way of it actually happening here? 
Maybe we were a little bit too, kind of daunted to, sort of thing. We didn't know if we were allowed to. 
Yeah.
We didn't feel like we had enough… maybe status to do that. [Laughs] We didn't want to step on anyone's toes, you know, you've got all of the phantoms of The Shore that you always hear about. The whispers of what trail has Jerry done, or what trail has Lee done, or what trail has this person done, or have you seen this… There's all of this unspoken dark side underground thing that no one talks about and me and Chris being a Kiwi in Australian, never got told. 
[Laughter]
So for us to go scratch in a trail and do that – I guess we never felt like we belonged enough to… I don't know… maybe have the right to make our own trail. Whereas here I know the guys who are building the trails, I know the rights of the land, I know who owns this, who owns that and what's legal and what isn't. Also, I'm riding them a shit ton, you know. It's not as many trails as in Vancouver. 
Right.
Here, it's a little bit limited, but you ride the same ones heaps and I have a different kind of want or need in trails, so I'll make something different to what's already there – if I want to ride it then I'm going to go and build it, I'm not gonna rely on someone else to build it. Whereas in Vancouver you just go and find it. If you wanted something different, go and have a sniff over there and it's probably over that log and through the bushes and down the hill.
Yeah, it's totally like that on The Shore.
It's just different. It's just a totally different zone and mountain biking is growing so much. It's established in Vancouver and now here it's just getting momentum and just getting recognized. So it's just different. In saying that, building trails you still have to tippy-toe around and be making sure you're not pissing off the wrong people or pissing off the guys who built all of the trails in the same area. 
Yeah right. Is it a legal network? 
It's a full illegal network; there are no legal trails here. So any of the trails that I'm talking about or building, they actually aren't even there. It's all on private land or national parks or mining land or university land or something like that and now… it's not necessarily a blind eye, that they turn, but it's like people know what they are, sort of, so now they're not going in there and chucking logs all over it and trying to destroy it. Now it's just, "ah okay, that's a mountain bike trail, right, we're gonna go over here. We're just going to ignore it" or… you know, they're not as negative towards it, to a point. 
Is there a club in town that's helping with that? 
Wollongong Mountain Bike Club is the town's club. There's also the Illawarra Mountain Bike Alliance. They're working hard with the government to get permission to build legal trails and get a gondola.
Oh, no way!
They have big plans to turn Mount Keira into a mountain bike and adventure park. 
Yeah? That's huge!
That's cool… that's massive… that's really, really cool. And that's all going ahead but you gotta play the game and dot your I's and cross your T's and every 'T' you cross is another month's worth of legislation and paperwork and approval and blah blah blah. Then you get that done and another thing comes up and that takes another month. All of a sudden you're a couple years down the track. 
So it's a while but it could be something that's going to happen.
It's a while but I definitely think it could be happening and what makes me excited about it is like… During my career, sure, it'd be amazing to have seen legal trails here, or like you know, the pipedream of a race in Wollongong. Like an EWS or an enduro race in Wollongong? For sure! It could easily happen. It could happen tomorrow if it was legal. I've already done a track that would be incredible; 50ks, 1,800 meters of climbing, it's five hours, six stages… easy! But none of it's legal, so you can't do any of it.  
But what makes me excited is obviously if my career or if my professional mountain biking status could help do that for my son or my daughter in 10 or 15 years' time, you know, when they're mountain biking, if they're mountain biking or whatever. If they could do it, that's a real possibility. During my career, maybe; you could hope and keep everything crossed but for their future, for sure. It could definitely happen. That's what makes me excited about pursuing it and trying to make it happen. 

An EWS or an enduro race in Wollongong? For sure! It could easily happen. It could happen tomorrow if it was legal. I've already done a track that would be incredible; 50ks, 1,800 meters of climbing, it's five hours, six stages… easy!
Yeah! So Wolsky's from here, you're from here, are there any other known riders from Wollongong? 
Amiel Cavalier is from here. He's a Junior Downhill World Champion and he still lurks around on his bike a little bit. There's a really good grommie downhill scene here… but I can't really think of any other international riders that are from here. 
There's a lot of professional athletes that are from here that have killed it on the world scene. Troy Courser (World Cup Superbike racer) is from down south. Wayne Gardner (World Champion Superbike racer) was from around here. Ryan and Jay Marmont, the motocross guys, they're from here. Wollongong has a really strong triathlete base and the Australian Olympic triathlon squad base themselves here, so they all train and live here. Gwen Jorgensen, I think it is, the American two time Olympic gold medalist for triathlon, used to live and train here as well. So there's a bunch of really good athletes based out of here. Enduro athletes, it's probably just myself. 
Because Wolsky lives in Squamish now…
Yeah, because Wolsky's in Squamish, so he's full Canadiana, hahaha. So, um, yeah, it's cool. It's a good breeding ground for athletes like that, but there aren't too many people to make it out of here. 
Is there a lot of support for those other sports in the area? Government or otherwise? 
Government yeah, for triathlon and cycling, sort of, sort of… It's just more recognized and more known. They've got legal swimming pools, and legal places to ride, you know. Whereas for mountain biking, if you base yourself out of here you can't race here – you have to go somewhere else because you can't race here, you can just train here. So it's all good to train here, but you'll have to go and follow the national series or follow the Shimano Enduro Series or follow the mountain biking Australia… something… to get some races. And then if you want, if you really want to make it happen, unfortunately, you have to go overseas and make the commitment to go over there. 
Maybe now with the EWS coming back to Australia and now there's, like, the Asia Pacific Continental Series; I think they're some pretty big stepping stones to getting recognized here, or at least getting your name out there. I guess Chris Panozzo is another Australian, James Hall, the cannonball from Sydney – he's from the Northern Beaches in Sydney and Panozzo is from Victoria. They've been travelling to a bunch of races and getting their names out there. But you know, things like the Asia Pacific continental series at the end of the year, that's something that will get noticed and it's in the off-season of the EWS. So it's not lost in EWS races; it starts in October or November. So races like that are easy to get your name out there. 
You may even get some others from overseas come and have a go… 
There's a race in Derby. People will probably come over for that, especially the Kiwis and like, why not, you know… it's an event there, you're going to get a bit of a leg up going there. Everyone was there last year for the EWS. Rotorua – everyone goes to Rotorua. So yeah, you'll probably see a lot of international people coming over for those events just because it's big. 
There's a North American one in Aspen, Northstar, and Vermont in September and there's a European series… So you think about it; people coming over to race Derby in November, in June and July you can go and race the two European venues for 2019 – you can go on racing Les Orres in France and Canazei, the Italian one – you can go and race those in June and July in between the EWS races. So there's going to be a bunch of Euros racing those, so why not a bunch of Aussies racing Derby?
Do you think that for most of the pro guys it's going to be too much to try and do all these other ones where there's going to be a future EWS event? 
Probably, yeah, for sure. I looked at it and trying to make it all happen and like, you could do I think the Italian one, that Canazei race, the week before Austria this year. So you go to Italy, race that then race Austria and then there was two weeks off and then La Thuile in Italy for this year's race. The weekend after that is the French race for 2019 if you want to go and race that venue and then come to Canada… shit man, that's another week away from home and then you go to Canada racing Whistler for Crankworx, race Crankworx, then the week after is Northstar… So then you're on the road for ten weeks racing almost every weekend except for maybe three. 
Yeah, it would be pretty easy to burn out…
So yeah, you could do it. But I'd rather be home with my kids than trying to get sneaky insight into an event for the next year. 
Which is likely to change, right? They're not going to run exactly the same course…
Yeah, it's not going to be the same course, but it definitely helps. You know when you go to a place you've been to before, like when you go to Whistler? Well, I used to live there so it was different but Ireland even. You go to Wicklow and Ireland, we'd been there for three years in a row, you could ride the tracks once and remember it. So you will know something, you know the area, you know where to get a coffee, you know where to get a feed.
You feel more comfortable?
You just feel a bit more comfy which makes the big difference. 
Yeah. 
But everyone's in the same boat. And I think another thing that might make that more likely is the new one run rule. 
So it is one run, hey? 
You only get one practice run now, to try and preserve the tracks. 

I'm a big believer of like, there should be a local hero. The fact that Greg (Callaghan) won in Ireland was one of the coolest things I've ever seen.
Yeah yeah, I feel like that's good. 
It is good. It also makes the local advantage and that kind of set up of going to those places early, even more… I wouldn't say more important, but more beneficial. 
Yeah. There's always that local advantage though. It's so hard to balance that.
Yeah of course, and I'm a big believer of like, there should be a local hero. The fact that Greg (Callaghan) won in Ireland was one of the coolest things I've ever seen. It was so rad. And you see like 30 family members at the race carrying him across the finish line, it was just the coolest, and then he won it again. And then the third time he got a bit smoked by the pressure and blah blah blah, but that's cool man. Jesse won in Whistler. That's cool. That was super cool. You know, I would like to say that I was close to winning in Whistler. 
Yeah, damn…
But yeah, I think there should be a local at every race, to a point. 

Yeah, I don't feel like it would be right to see someone that no-one has ever heard of suddenly in the top five fighting for the podium.
Totally, yeah, that wouldn't be cool. Wyn Masters won Rotorua, but Wyn's a good athlete and rider that people know. He used his local advantage and he won. That's cool. Local-ish and won. That's cool. Jesse, same. Derby, you see an Australian win in Derby, sweet.

It would be good, yeah. 
There's not really anyone living in Derby. [Laughs] 
Nah. A couple of trail builders. 
A couple of trail builders. Maybe if Ryan De La Rue won in Derby, that would be impressive. That'd be rad. 
With your move back to Oz; How did the team take that decision? It's a big move.
It definitely was – the move back was a decision that took time for sure. It was something that wasn't really on our radar but I had to think about it when we were having Eli (Josh's firstborn). Eli was born in 2015, so when that happened, the next season… I guess I started negotiating with Giant early 2016 for a new deal for 2017 and beyond. And uh, we had Eli then and we're like, "look, we're not exactly sure how this is going to go but we might, we might end up moving back to Australia". So negotiations with Giant started way back then and it was just something that was on their radar, it was on my radar and when we decided to make the decision to think about it, not do it, but think about it, then again they were on board with it and they were talking about it. And when I made the decision –another decision, hahaha – to stay with Giant longterm then they had to be fully on board with it and it had to be a decision that we all discussed and we all were okay with. 
So luckily they were super cool with it and I signed with Giant for three years last year, for '17, '18, '19, and hopefully for the future after that, but they were on board with me coming back and Giant Australia is so big anyway that I can use that and they can use me as activation and gain a bit of extra value out of the extra flight sort of thing, because it's definitely expensive. You get cheap enough flights or if we book the flights at the right time, you can make it cheaper but it's an expensive trip in and out of Sydney every time. You're not really dealing with hundreds of dollars, it's always thousands of dollars every trip. So it was a big deal and Giant were okay with it and they were on board and it worked out sweet.
That's awesome. So are there plans to spend more time in Cali at their North American HQ as a result?
I think we will see how this season plays out. Like, this season is going to be a pretty good indication of if it's possible or not. But from what we can see, I think it's going to be okay. I'm going to have to deal with a lot more travel and be a lot smarter about it, like… it's bigger blocks. It won't be a week – oh, a couple of times – but it won't necessarily be a week out and back, you know, like I'll go to America for two weeks then South America and then home. Back to America for ten days and then home. So it's bigger blocks away, for one, to deal with the jetlag and two, just to make the trip worth it, get as much value out of it. So in the middle of the year we go to Austria, we'll stay in Europe to do some training for a couple of weeks, race La Thuile, from Europe, go back to Canada hang out in Canada for two weeks, training, catching up with the crew and then race Whistler, race Crankworx, maybe race Northstar in California and then go home. 

So through April, we were in the hospital holding Remi and having a second baby and I'm going through on crutches and have got an ultrasound machine on my knee trying to get rid of the swelling because we were going to go racing. Then we have some stuff happen with my daughter that kind of made us pull our heads in and realize there's way more to life than racing sometimes and I had to just sit back and recover…
You had a strong 2016. What happened in 2017?
I finished 2016 tenth in the EWS and I was pretty stoked with that – had a podium, a bunch of good media, good result and then last year, 2017, I just… it was horrible. [Laughs] I finished thirty-second or thirty-third and it was just a year of struggling. Super highs to super lows and it's just like, whoa, hang on a second. 
I just wasn't prepared, wasn't fit, wasn't strong enough and I had a bunch of injuries that never went away. I had hurt my shoulder at the beginning of the year in February. I had a huge confidence high after being back in Australia and some of the best training I've ever had and then I hurt my shoulder and that got better but I was still of the same mentality. So when that got better I was like "good to go, we're still good here". Then the day before my daughter was born I crashed on The Shore. I felt good and had just got back up to speed, was killing it, confident, fast. I had all like… you know I started reading into the geeky data and all the data was there to backup the feeling. So it was just like, this is happening, this is better than last year. 
Then in the back of your head you're like, well, last year I got a podium in Whistler, finished top ten, I was pretty good, but now I'm even better. This is going to be sweet, the season is coming up, oh yeah! We're going to Australia, New Zealand and my daughter was due around that same time so we were kind of on edge and cancelling flights, changing flights and making new flights happen and blah blah blah blah. Then yeah, the day before she was born, I had a huge crash on The Shore on Severed Dick, where there are the big steps in the middle where Penny Lane, the climb, crosses Severed. I came in a little bit hot, kind of like pre-jumped into it and there's a big rock in the first chute and it was all just eroded and crap everywhere. So I hit these and couldn't stop and once you go down the first drop you're into the second, then the third and the fourth drop and I couldn't stop by the second drop and just tomahawked down the hill. I bounced back up and thought, "oh, I'm okay" but as I ran to my bike my knee was not okay.
It wasn't out, dislocated or broken, but whatever damage is still there, it's almost, it's 11 months almost to the day that that happened now and it's barely one hundred percent, barely, and that's to now. So through April, we were in the hospital holding Remi and having a second baby and I'm going through on crutches and have got an ultrasound machine on my knee trying to get rid of the swelling because we were going to go racing. Then we have some stuff happen with my daughter that kind of made us pull our heads in and realize there's way more to life than racing sometimes and I had to just sit back and recover so that… I thought that was recovered because it wasn't broken or didn't tear anything. It's just an injury and I'm like, oh, this is sweet, don't worry about it, just wait till the swelling goes down and it'll be fine. It wasn't fine. 
Went to Portugal in May and I was not prepared and all of a sudden I was still in this headspace of feeling awesome and killing it; I'm fit, strong, and I was in the same headspace as February, but now it'd been 10 weeks since I had done any training – my body wasn't there. I went to Portugal, it rained, I was off the back, freaked out, and then it just compounded. The season was off then. We were in Portugal and we're in Italy launching the new bike, we're racing in France; it was muddy, wet, steep, rah, rah rah, rah, rah rah…
[Laughter]
It just went downhill. Got back to Whistler, finally got some form back, got a bit of speed back, my body had actually healed and then I got kind of drunk on the overconfidence, sort of thing, and I was like, "yes, I can do this, I'm back. Sweet. Back in Whistler, this is easy. Riding Ride Don't Slide I'm like, "yes, this is my jam". The day of practice on the second run on Ride Don't Slide – wasn't necessary but it felt so good and I'm like, "yes, I'm going to kill this, I'm doing more practice. I'm gonna kill it" – I went for a step up double jump thing that was just a couple of braking bumps, but I was just feeling good – missed. Another huge Tomahawk down the hill, hurt my shoulder, had to go back and spent all night icing it, all night on painkillers.
This was the same shoulder as the off-season?

Same shoulder as the off-season. Yeah. I woke up the next day with no sleep, couldn't move my arm, trying to warm it up and just taped it up and chewed on a bunch of painkillers and dealt with it – raced that race with one arm pretty much. To do Ride Don't Slide with one arm is not ideal. 
[Laughter] 
By the end, there's a few video clips floating around and one of the last chutes… A big, rooty chute into a right-hander and then a traverse across and you can see in the film clip my arm just lets go. And then even in the final stage in the bike park, I crashed like a few corners from the finish because my hand just fell off the handlebar, it just couldn't hold on. It was all good, but it just couldn't hold on.
That was another four weeks that I couldn't ride a bike, I just couldn't do anything and then got back on the bike three weeks from Italy, got three weeks in rehab and training and went to Italy and was like, "oh, I feel like a new man," and then all of a sudden I was back inside the top 10. I was like, "oh sweet!" Then I was rooted because I wasn't fit enough, hahaha. Then I went from eight or ninth or tenth or something, I can't remember, back to fourteenth.
Couldn't hang on for day two.
Yeah, I was fine for one day but two days, I just wasn't fit enough. So that was a pretty big wake-up call to how fit I needed to be and how prepared I needed to be for the series, for the season, and to compete.

I hit that (rut) doing 60 or 70 and just hit the ground doing a thousand and didn't really get back up. A lot of people saw that from the chairlift and he (Chris Ball) said the next day the whole speed and level dropped.
It seems like every year everyone is like, I need to be fitter, I need to be fitter. Even Sam has mentioned his bike skills are there but that he needs to be fitter. 

Yeah, and the load of the races is just there, you know, like it's four big days now, and now you've only got one practice run, you have to ride everything and then after 20 hours, on Sunday, at the end of the day, you've still got to be killing it and still prepared to be laying it down on the line to perform. I don't think you need to go to that enth-degree anymore or that hundred percent, but you've still got to be riding pretty quick and pretty hard and pretty pinned the whole way.

Do you think that people were riding at 110-percent before?
I think so. I heard a couple of times in… maybe not in the first year but in 2014, at the first race in Chile, everyone was riding really, really fast. Like when we were in, Nevados de Chillan in Chile down there… Yeah, there were stages that were just wide open and blisteringly fast. I didn't find this out until a couple of years later, but Chris Ball was telling me that when I came down the hill – I had a massive crash on one of those stages and it was all sandy and wild and fast and I was just like, "f*ck it, I'm just gonna to send it". And I did… I hit a rut – those ruts going across the sandy track – and I hit that thing doing 60 or 70 and just hit the ground doing a thousand and didn't really get back up. A lot of people saw that from the chairlift and he (Chris) said the next day the whole speed and level dropped.
Really?
It scared everybody, yeah. I had a couple of people tell me that, so maybe before that everyone was killing it.
Just hell for leather…
Yeah, but then once everyone saw the consequences, like when you see it, whoa, maybe I shouldn't do that. So yeah, and I think that level – going 110-percent – isn't necessarily the answer, now. There are definitely times where you need to do that and when you pin it, you go 110-percent and you're like, "that was on the limit" then all of a sudden you find out you're within seconds of everybody, well everyone's on the limit. Or if you think you're on the limit, then all of a sudden you're 15 seconds off the pace you're just like, what?

Someone else is pushing?
Someone's going and if like, if you're going and they're holding it on, then later you find out that they were on the limit and their wheel was going from side to side and if they missed it, they're not getting up. 

Mentally, do you guys consider that you're all the same speed? When you hear that someone else is going 15 seconds faster are you simply thinking, right, I'm not 100-percent? 
I don't know. You're always thinking like, oh man, I need to be fitter or why is this so hard. Like, shit I need to be fitter here, I need to be stronger there. I need to be this. I need to be that. You're always chasing something. 
Yeah. 
Yeah, but at the end of the day, everyone is so close. What separates everyone is like, the mistakes, you know? And uh, obviously sometimes someone is blinding, blistering fast and way faster than everyone and you're thinking, "whoa, I am not going that fast". But other times, they're like… I've done that, and it didn't even feel that fast. Its like slow-mo and you're like, "it was okay, I think, maybe it was fast". Then all of a sudden you've got a 15-second lead going into the next stage. So it's… it's really interesting. You always think that you're not enough. You always think that you've got to be fitter or think you've got to be stronger, got to be faster, or think you've got to touch the brakes less, but everyone's doing the same. It just comes down to mistakes, consistency, and doing the same speed every run. 
You know Jerome Clementz is one of the most consistent athletes enduro has ever seen. Same with Sam. Sam was so mega consistent last year that it paid off and when you look at the results, there aren't too many people inside the top 10 that were inside the top 10 every round. So that's… I think that's one of the biggest deciding factors and that's where it comes down to… as well as everything else.

So yeah, making no mistakes, it sounds easy, but making no mistakes, to get to that point takes shit tons. It takes a heap of preparation.
Yeah, you've got a series to win, not a race weekend. 

Yeah. Every weekend we're doing, for all intents and purposes, like six World Cup Downhill races, sort of, not to the limit and not to that point of a World Cup Downhill – those guys have the track dialled and they're going for it. If there's a five percent chance or a three percent chance that a line… that it's going to make you a second, you're doing it, whereas we're not going to do that. Well some will, but…
You need to balance it out. 
You've got to balance it out. You've got 50 minutes worth of racing, not five. 
So yeah, making no mistakes, it sounds easy, but making no mistakes, like, to get to that point takes shit tons. It takes a heap of preparation. The amount of training that I do now compared to anything I did before when racing cross-country or racing motorcross… when I think about racing cross-country now, it's like, oh…

It'd be easy?
It'd be easy. 
[Laughter]
But it isn't, of course it isn't. You know, you look at the training those guys are doing and it's super hard, but you're trying to balance all this different stuff and figure it out. You've got to be strong, fit, have all these skills dialled, look after your nutrition, make sure you feed yourself well, sleep, stretch, train, focus, meditation, yoga, blah, blah blah, blah blah. 
How much of that is because it's a new sport? Relatively new. You know, it's five years old, people are still working it out…
Yeah for sure. Not that there's a written thing for downhill or cross-country or whatever. But yeah, no one really knows what works, you know. Sam came from downhill and come across, Jared came from Four-Cross and downhill and whatever and come across. He's been pretty public about the different training methods that he's done over the years. He went real skinny and got super fit racing cross-country and then, you know, went and raced a few downhill races. No one has a set formula of what works, 
I've asked a couple of other enduro athletes the same question and they've never really got into it too much as far as, "oh it's because the sport is developing and I'm trying to work it out". It was more like what you were saying before about trying to work on those weaknesses. This isn't good enough, that isn't good enough. 
Yeah.

You can be as strong as a horse and pedal like crazy but pedalling is not winning the races anymore.
And changing it to suit that. 
Totally. And it's going to come down to you. Everyone's so different and the days are so big and so long, it's what you think your weakness is and you can easily figure that out. Like, you can be as strong as a horse and pedal like crazy but pedalling is not winning the races anymore, you know. So you've got to figure out what your weaknesses are and that's totally what it comes down to. You're not necessarily training a certain way to be a certain form, you're training to make sure everything is solid. make sure everything's strong, everything's ready and prepared so you can control what you can control, not everything else. Everything else is out of your control, you've just gotta deal with it. 
So you had your first kid and that season following was your strongest season and then the second kid was right at the start of the bad season that we just spoke about. You weren't especially public about being hurt that season…
No, I definitely kept it under wraps for sure. I didn't really feel the need to tell everybody that and I definitely didn't want to be making excuses. I wasn't going to come out saying, oh, it's because of this and that – I'm just not that kind of person, so, I was trying to fight and get on top of it, and make it happen. But yeah, after Eli was born, it gave me a whole new appreciation for everything. Then when he came – like the race in Whistler where I got on the podium – to see him at the bottom and he had the same kit as me, the full same set up and like that was so, so, so cool and it gives you a little bit more fire and a little bit more of something to work for, you're riding for something more than just yourself. 
It also helps you switch off. Like when you're home, you're not a bike rider, you're just dad and you just, that's it. The kids need to be fed, they've got a pooey nappy that needed to be changed or Eli wants to go for a bike ride or play with the trucks or Remi just wants to climb everything. So when you do your training, you do your training and you've got your time and you use it, you make the most of it and it's done. The one big thing that's changed is just how scheduled I am now. There's only so much time in the day and you have to fit it all in and still be dad, and still do all that and still deal with the nighttime and the kids waking up in the morning and all of that kind of stuff. It's cool, it definitely gives you a different appreciation and a different outlook on everything. 

Yeah, life. 
On life, yeah. And it's probably made me more focused than ever, on life, training, and racing, on everything. 
The scheduled piece has to help too, I imagine.
Oh, it helps a lot. We sit down on Sunday night every week – I usually have Sunday as a rest day and hang out with the family and we'll go and see my family or Lisa's family and just chill out together and just hang out and then on Sunday night we'll sit down and organize our week. So I'll have a calendar of all my training and all the stuff that I need to do. Then we have a calendar on the fridge of all our of family stuff we need to do and we'll just fit it all in. You know, like… I better check that actually… 
Like today, the missus has got to go take the kids swimming at 10 and then you've just got to fit it in around your life. Obviously I've got work to do and that's my job, but I've got a pretty flexible schedule which is nice, so you can move it all around and fit everything in and make it all happen.
You're not missing training days or anything like that… 
You're not missing training days, nah. And of course, it sucks at 5:00 in the morning or 5:30 in the morning and the kids have been up all night, you know, the missus is exhausted… She's a legend. She tries to look after the kids at nighttime so I can sleep but most of the time, with two kids you're still awake. But at 5:30 when the alarm goes off and there's a bunch ride going in 15 minutes, you still gotta get up and go. [Laughs] Of course it would be nice to stay back in bed and just chill out or stay with them but you've still gotta go to work, still gotta go and get your stuff done. 

Two (kids) is definitely harder than one but like I said it's just as rewarding and that was part of the reason for coming home.
How much more challenging have you found it having a second to find the time for training and everything?
Oh way more challenging, haha, two kids is pretty hectic, but it makes you realize that one kid is relatively easy.
[Laughter] 
You know, two on one and now you've just got one on one… one kid each sort of thing. So it's definitely been a little bit more challenging but at the same time, it's just as rewarding as well. And that's like I mentioned, the scheduling really comes into it and making sure that everything's on track and everyone's okay with it and onboard and just trying to relieve the stress when you can. Looking after one kid or looking after both kids and giving Lisa a break… as much as she lets me do my training and have a break. You've just got to work together and just do it.
Get it done. 
[Laughs]. Get it done, yeah. Two is definitely harder than one but like I said it's just as rewarding and that was part of the reason for coming home. Right? If we had stayed over there, it was just us, so for me to go away travelling it was too hard to do by yourself. To come here and have that family support, it's rad. 
 A short interruption as Josh's psych coach steps into the coffee shop and we get to chatting.
Tell us about how the move back to Australia has helped you balance out family time with your training.
Oh, the move back has balanced it out massively. You know, when I'm out training or I can get up in the morning and go training for a few hours, come back and be there for breakfast and the morning routine. And then, with our families being so close I know that Lisa is not at home by herself, you know. She can go to her mum and dad's to hang out there or go for a swim if it's hot, or go to my parents in the afternoon. Even on the weekend we had one of our friends' weddings and our kids could go to the grandparents' house for the weekend sort of thing, so we had a night off and out and it was lovely. We didn't have that opportunity when we were by ourselves over there (in Canada), the kids came with us everywhere. So to be able to have a nice little break like that was pretty cool.
It also helps with the training – not that you can necessarily do more but I don't feel as guilty, leaving Lisa by herself all day sort of thing. So if I do have a five or six or seven-hour ride, you know. I leave at 6:00, I go and get a coffee, wait for the sun to come up at 6:30, be on the trails by 7:00, but I'm not home until 1:00 or 2:00, so it's a big day, you know, when you've got two little grommies by yourself. So now that I know that there's family there and there's stuff for them to do it puts my mind a little more at ease than it was before. 
You feel like you can focus a little more on what you've got ahead of you?
Yeah, and even things like us both being on board with the whole schedule. So like I said, when we sit down and we know the week that's coming and we both schedule our lives around everything, so everything works out and it's not just… You know, as selfish as you are as an athlete, you still have to look out for each other and we're both a team, so you've gotta make it happen. That's your life and your family and your missus so you've got to look after her as much as you've got to look after yourself and the kids and obviously everything else going on. You know? 
Yeah.
So I think it's… I think it's been massively helpful. Being in the summer over here in the warmer weather, you can train super early in the morning, come back and have a rest, train again, have another rest and go and do it again. So it's pretty regularly two, sometimes three sessions a day. Whereas before it was like one, maybe two sessions a day. So it's been great. 

So what's a day in the life of Josh Carlson look like right now? It sounds like an early wake-up…
Yeah, usually an early wake-up and if I'm not awake early, the kids are awake early, at 6:00 or 6:30 anyway. Haha. There's kind of two different routines throughout the week. So one is wake up with the kids at 6:00, 6:30 or maybe before them if they have a sleep in. So I'll wake up at 6:00 and do a bunch of stretching and jump on the roller and kind of wake my body up that way while the kids are waking up and go and have breakfast with them. Then go to the gym at about 9:00, have an hour or so in the gym, come back and then either a two to four-hour mountain bike session in the afternoon or another roady session and then another mountain bike session. 
The other normal day is when I have bigger ones where I'll be up at 5:00–5:30, out the door by 6:00, on the trails by 7:00 and do a five–six-hour day till 1:00 or 2:00pm. I'll come back, get all of my stuff sorted, have a feed, sometimes catch the kids when they're asleep so I'll have a sleep too, haha. That's always handy, and then I will go to yoga that night or do some stretching at home when the kids go down.

So that's a mellower afternoon?
Yeah. You can hang out, play with the kids, go to a park, go to the grandparents or just hang out and play at home. 
How many days a week are you on? 
Six. Usually six days a week, yeah. I have one full rest day and then another day that's usually like a gym session and a Yoga session that's pretty mellow and the rest of the day is computer work, office work, organizing stuff and kind of… I need a day a week to get on top of all the other stuff that no-one really realizes that a pro has to do. Liaising with sponsors and managers and people – just catching up with everybody, you know, there's a lot going on, for sure.  
Do you feel more pressure to perform now that you're a family man? 
Uh, not really. I feel like you want it more. The pressure feels less maybe because you're thinking about it less. Like when you're working and you're training and you're doing it, that's all you're doing, but when you come home you're not thinking about it anymore. 
Like you were saying, you switch off when you're with the kids.
You switch off, yeah, whereas before its kind of all you would think about.
Yeah, then it builds…
Yeah, it builds and then you can become a bit of a head case – now you go home and you're just dad, you're not really doing anything, just hanging out and you've got your family to believe in you and support you and you want to do it for them. You want to be able to tell them and show them when you're on telly and now Eli is getting old enough that he recognizes me on telly, so when we would watch that stuff on ESPN, he'd say, "oh look there goes daddy", and he'll pick it, out of all the riders he'll see our kit come through, whether it's me or Mckay, he's like, "oh daddy" you know and we'll be like, "oh no, that's Mckay" and he's like "ohhh, Kay, Kay…". So that's cool, that makes you feel rad. 
Being able to do it for them feels awesome and gives even more reason to do it, rather than just yourself. So no, I wouldn't say there is more pressure. 

Will you be staying abroad for extended periods because of the Australian, sort of separation, from the rest of the world?
Yep, for sure. So I'll definitely stay abroad a little bit more this year than I was last year. So like, for the first trip I will go to California and then South America in one big block, so I'll be away from home for a month, then back to Australia and then a couple of trips out and back to California and France out and back, and then I'll go to Europe for an extended block. So instead of like… I guess before if it was this season and I was still living in Vancouver, I'd go to Austria and then come back for a week and then go to Italy and come back for Crankworx, whereas this year I'll go to Austria and stay in Europe somewhere, race Italy, go from Italy back to Canada and then come back to Australia. So there's definitely a few more extended blocks, but maybe a few less smaller trips. 
Is it planned that the team is going to do the same sort of thing?
Yeah, usually. Mckay and Raewon and I have all talked about doing a similar program, like going to Europe. I think Mack might go to Europe a bit earlier and do Sea Otter Spain or something like that.
Oh okay.
So he might go a little bit earlier but we have spoken about doing a similar kind of set up and staying together and ride and train and hang out like a team. Then, same deal, go to Canada to do the same thing. And then everyone comes home. That makes it pretty easy and it's pretty nice. 
Yeah, otherwise you're on your own…
Yeah, you're on your own and it's just not the same. We're lucky that we all get on so good anyway that it's… it's enjoyable to hang out with each other and train with each other and you can just easily go and do that.


We've talked about your relationship with Giant but I don't think we really touched on this. You've been with them for a long time, how long has it been? 
I've pretty much been with them my whole career since I started riding bikes. When I started riding bikes in 2006 or 2007, I went and bought a Giant Anthem and that's the only bike that I've ever bought. 
No way!
[Laughter]
So I just happened to do pretty well when I had that bike and Giant Wollongong – well Giant Wollongong now, Spearman Cycles back then – and Giant Australia kind of hooked me up with bikes to race cross-country. Then when I moved to America in 2011, same deal, they supported that move and helped me do that. Then in 2012 those guys, Jared Rando, a bunch of contacts that I had with Giant U.S. and the Giant Global team – it all fed into that. So it's… it's definitely been a long time, haha. Now to be a part of the factory team and helping develop the bikes and especially the last one that I helped, not I helped but they asked for my feedback and to even listen and do what we asked for was pretty cool. It's overwhelming, but it's pretty cool. 
Yeah, and I made a decision a couple years ago that that was my family and that's where I wanted to be and I enjoy and appreciate that loyalty from them. Like, having a pretty average year last year, they still fully backed me heading into this season and still fully backed my move home because they believe that that'll help me perform. So, of course, it's going to be an extra expense for them but they believe that it'd be better for me as an athlete and as a human, so they were more than happy to support me in doing that. That makes you want to work harder and do more for them at the same time. So it's a good relationship.
For sure. And you said that you signed at the start of 2017 for three years? 
I signed a three year deal with Giant. That will see me through to the end of 2019 and then we'll reassess from there and who knows, fingers crossed, sign another deal but I'm focused on 2018 right now. That's way down the track. 
You moved to North America to give yourself the best chance possible to go pro, would that be the advice you would still give a young up and coming rider, to go to the U.S or Europe?  
I wouldn't say it was a bad idea. [Laughs] You know, it would definitely help but you've got to have a goal and you have to have a plan, you know. Going back even before I looked into enduro, in 2010 I went to Europe to race some World Cups (XCO) and I was either lining up to go to Europe in 2011 to race cross-country World Cups and do some road racing stuff and whatever, or I was going to go to America and try this Super-D stuff and go race some pro XC races and there's a bit more exposure, bigger teams they're probably smaller fields so better chance to get some better results and more exposure. So I did that, raced Super-D; here we are. 
[Laughter] 
You know, who knows what would've happened if I had of gone down the other path and went to Belgium and lived for a year in the cold wet rain and racing road and racing cross-country. Maybe it might have happened, but I wouldn't have added as much fun I don't think. 


I'm fitter, stronger and more focused and better than ever.
Do you… I feel like the Super-D format was in ways better than enduro. How do you feel about it?  
Oh man, I wish Super-D would come back. I think Super-D got swallowed in Enduro because that's just what everyone associated it with. Everyone was like, "Oh this is just like Super-D", but it's not, Enduro is way different to Super-D. The old Ashland Super-D, that was 40 something minutes and Downieville – not that I miss the Downieville climb.
[Laughter]
But the Downieville downhill, that was 50 minutes. You know those, 20, 30, 40-minute downhills are just off the chart. 
With something like a five-minute pedal in the middle. 
Yeah, with heaps of pedalling, like, lots of pedalling in between. It's not just 30 seconds, 40 seconds, one-minute bursts… There was a six-minute climb, I think in the Ashland race, plus all of the pedalling at the bottom… Downieville has pretty much 30 minutes of flat undulating pedalling to the finish, you know, but that stuff was rad! We still talk about it now. You could create a mega Super-D series on the west coast of North America, you know, up and down there with Ashland, Northstar, and Whistler and… Even on the Shore you could create a North Shore mega race with a 20-minute downhill if you want it to.
How are you feeling heading into 2018, are you ready?
I think I am, I feel a little funny right now because… you get to this point and you just don't know. You've done all this training and you see all this stuff and my whole… everything is different. Like pretty much everything except for the frame swapped this year, the country swap, trainer swap; I moved from Perform-X training with Todd Schumlick and now I'm working full time with ftptraining.com and my long-time coach Mark Fenner and Sarah Hunter from Perth, Western Australia. So that's all changed and my training is different. I've been training with power this year and am in a different environment – all of the tracks are different – I've got no gauge, sort of thing. Like in Vancouver I had a gauge and there are so many good riders around I could always gauge times on Strava or times that you've done before. Here it's all new and every weekend it's getting faster and every weekend it's getting better and every weekend or every day I'm learning something new about the bike or a better set up or what tires to run, little bits and pieces like that. 
So there's a lot of unknowns but the only known is that I'm fitter, stronger and more focused and better than ever. Being home in the environment I'm in here, I feel much more relaxed and comfortable and happy that the family is here and happy about the training that I've been doing. I do have a lot of confidence on that side of things so it's just the unknown of like, am I doing it right? Has it worked?
Yeah. A little bit nervous because of that.
Yeah, a little bit nervous. A little bit nervous that the bike is so new, have I set it up properly? So yeah, I've got a pre-season race this weekend at Thredbo and Jared and Richie are going to be down there, so that'd be a good test and a good way to figure it out. Then that's it, the season starts in like four weeks, so its go time. 
So yeah, I guess the shorter answer is I feel good, feel great, feel better than ever. So I think all of the changes that I've made have been good and for the better. Regardless, it's going to be a better year than last year, for sure. 
Yeah, it has to be!
It has to be, it can't get any worse, haha. She's for sure not getting worse, but just being happy, confident and fit. Regardless of the data and the numbers, I feel better. I feel fitter and I feel more focused than I've ever been.
That's big for the mental state. 
Yeah. Last year I just wasn't committed. I thought I was but when you're looking at it, I wasn't, I was just rocking up to the races every weekend and winging it. Just doing it off whatever I had in my back pocket. I wasn't training and hungry for it. As much as I thought I was, when you look back, you know…

Over there (Vancouver) it was a lot of gym work, a lot of indoor work, like indoor trainer, gym, yoga, whereas here I can spend heaps more time with the bike and heaps more time riding.
Yeah, there was something missing? 

Something was missing. A lot was missing.
In Canada, probably the hardest thing to train in was rain and snow. 
Yeah. 

Here it's probably the heat. 
The heat, yeah. 
How's that transition gone for you? 
It's been… not as difficult, but it has been hard to manage. I had to change the way that I trained just to make sure I'm riding around water because you just can't drink enough water and you've gone to do these loops and whatever, but, you know, training through the winter in Vancouver most of the time your water bottle would freeze.
[Laughter]
That sort of thing and you can only train for a few hours, rarely more than four, because it was too cold and you were too wet. Here you're just as wet from sweat, haha, but you've got to make sure that you're hydrating and drinking enough because you'll just get into a hole and you won't come out of it. 
The big difference is over there it was a lot of gym work, a lot of indoor work, like indoor trainer, gym, yoga, whereas here I can spend heaps more time with the bike and heaps more time riding and I guess before I'd do so much gym work that it takes a little bit to transition into my bike riding, whereas now I can do so much bike riding that gym work just complements it. 
Yeah right. 
So that's taken a little bit to get used to. 
That must feel more balanced, hey? 
It does. It's different. It does feel a little bit more balanced and having that much time on the bike, especially having so many new components, it feels great. You know, that's really been sweet. 
Things like your suspension working properly must be nice too? Like, the cold weather in Vancouver makes it harder to get the suspension set up properly.
Yeah. Well, it's kind of the same thing here, but the opposite. It's so hot here that the oil gets real thin and your suspension works differently. So that's another thing that I've had to get used to, you know, is my suspension funny or is it just 36 degrees? Oh, its just 36 degrees, 
[Laughter]
So yeah, that took a little bit to get used to, for sure. But it's easier, you know, when you wake up in the morning, it's 22 degrees and I just put a jersey and shorts on and away you go. I rarely take a rain jacket out and if it is raining then you take a rain jacket but it's still 25 degrees. It's just different. 
While we're on the topic of different. you're riding a lot of new parts this year. How has that transition there been?
It definitely took a while to get used to it for sure. Everything was different. I pretty much went from my full old bike to the next day it was completely different. Different bars, brakes, suspension, tires, drivetrain, cranks, chainring, everything. So when I first got on it, it was like putting your shoes on the wrong feet, haha, it was so different. I think if you could do that incrementally, like new tires, then new suspension on and put new bars on and then brakes or whatever, you would probably figure it out a bit quicker. Putting it all on at once it was like so much to deal with and so much new information. It took a little bit of time to figure out how much different and how everything was. All I had ever known was the gear that we were on. Since I turned pro in 2012 it was all the same gear. So to have all of that change was a completely new world for me, because I had never ridden any of it before. So that was cool, it took some time, but now that I've figured it out, it's a whole new world, a whole new range of everything. 
Do you have all of your new baselines figured out or do you think there's going to be some additional fiddling going on at the first couple of races? 
I think there will always be fiddling going on just because the tracks are so different, but I feel like the last couple of weeks I've made some really big improvements and uh, some really solid setup changes. So I think I have a range that I can use, mainly in the suspension, like my brakes, drivetrain, all of that is pretty dialled. Tires are pretty dialled, I've got a baseline setting that I'll start with and if it's dramatic either way, then I'll know which way to go. And then within my suspension, I figured out the difference between a pedally track and then a g-out kind of track or a really rough track, you know, stuff like that. I feel like I do have a bunch of baseline settings, but no doubt that'll change. The coolest thing about the DVO suspension is that we have the opportunity to change and customize everything.  
So the baseline setting that I have now is straight up the standard setting so we have the opportunity to fully customize that to exactly the way we want it. So that's certainly going to get better. Which is cool. 
Are you working pretty closely with their guys to get set up? 
Yeah, we will. Part of our team camp will be interacting with the DVO guys a lot there, and throughout the year they're super open to feedback to develop the suspension and developing new products and make it the exact way that we want it. It's just for the bike; make it suit the bike and make it suit us as an athlete as well. 
What race are you most excited about this year? 
It's hard to say anything but Whistler. I kind of got a bit of a monkey off my back with the podium a couple years ago, but at the same time, it would have been nice to win that thing and again, the year before I was doing well and flatted and in 2016 I was doing well, but I crashed so it's never been clean. 
That's a race that I always look forward to. I like the terrain, I just, I like riding that style of trail and I've just loved Whistler. It was my home race and I think it will always kind of be my home race. Even riding and racing in Tasmania and Derby, you're racing in Australia, but we don't live in Tasmania. So I'm definitely looking forward to that. Finale is always a good one, and La Thuile, that one's cool. But yeah, you can't go past Whistler. It's the hardest race of the year, the longest race of the year. It's got some of the wildest, gnarliest stages and it's just rad.
Yeah, and it's your old backyard. 
Yeah, exactly right, and it'd be nice to get back up there and perform well at that race for sure.  
What's the goal for the year?
Perform, be consistent, get back up there. I'm not necessarily attached to a result, obviously I'd like to be back in the top ten and consistently up there, but redemption is kind of the goal this year, to really get back on track and back on form and just be consistently performing. Just go to every race and every stage and ride well and just ride the way I've wanted to ride the last couple of years. It's always been something that's a bit of or something's not quite right or something happens here, so I just want to get out of the way and with all the changes that we've had this year and moving back here, I think I'm more settled than ever and in the best space that I can be to make that happen. 
Yeah nice.
Everyone's going to come into the season saying, oh, I'm fitter, I'm stronger, I'm better and faster and blah, blah, blah. Of course you are, everyone's going to be fitter and stronger and faster. So it's just putting it together on race day and that's what I want to do, I want to put it together on race day. 
What would most excite you this year? 
What would excite me the most is to be sitting here at the end of Finale with eight consistent, solid races under my belt and consistently riding well. Obviously a win would be fantastic and to win stages and to be… to win a round and be on the podium, that's the ideal. That's what we all want, but to be consistent and be back performing, that's what will make me happy. 
Yeah. 
I've got everything I need at my fingertips with all of the new sponsors and being back in Australia and being happy, content, confident and fit. 
You've just got to put it together. 
I've just got to put it together and that's what I've been working hard to do, is just put it all together. So it all comes together on race day and it's all easy, you know, a big thing I've been doing this off-season is just doing the little things consistently, like you know, your little race prep routine and wearing a full face when your train and doing a heaps of downhill runs and timed runs and making it all religious. So when it comes to race day, it's not overwhelming…
It's just the same thing.
Yeah, it's just the same thing. You could put it all together and make it happen. So that's good.