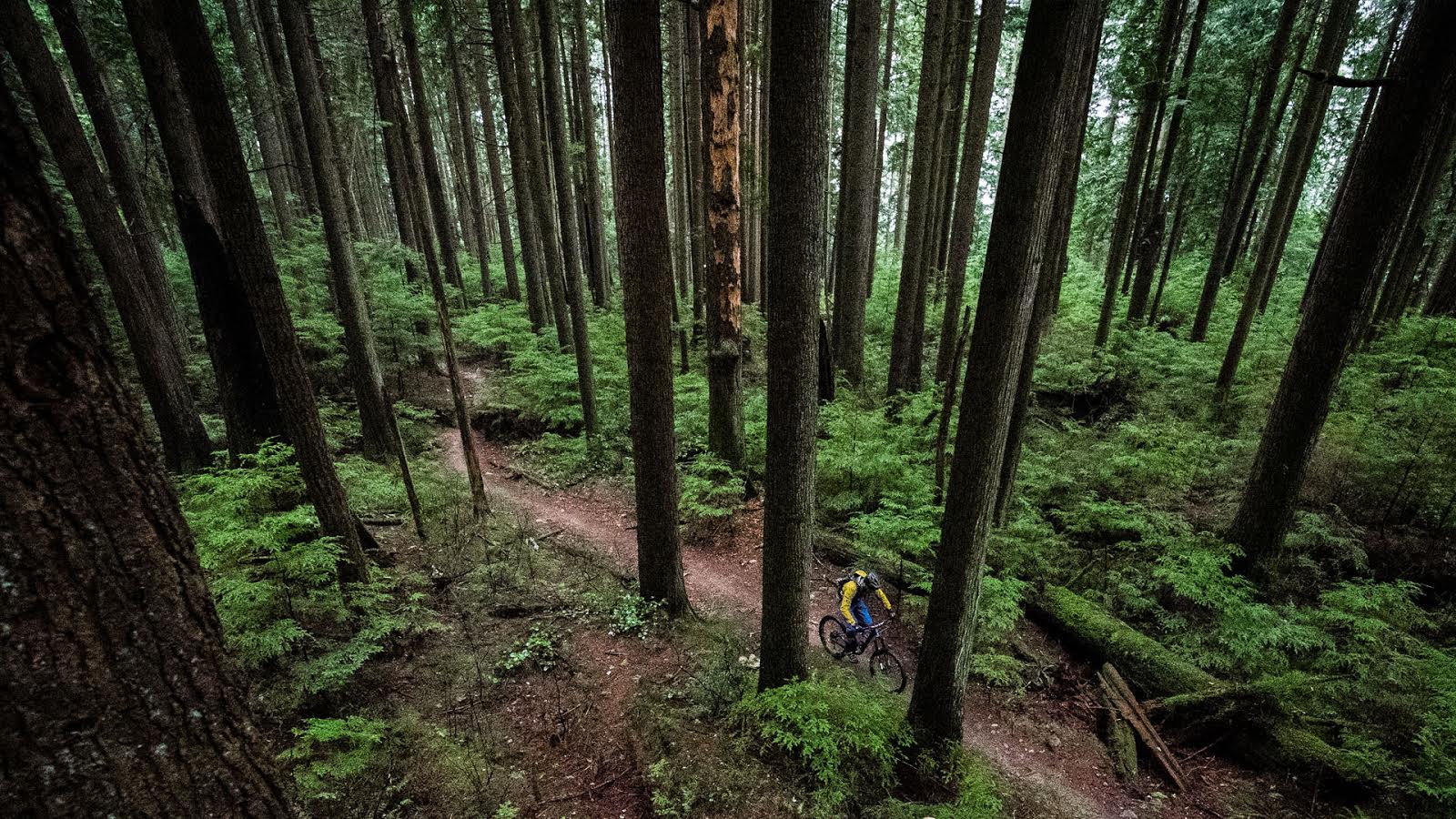 Jones Plus Long Term Review
Mountain bikes are better than ever: every company seems to sell a killer 5-6" trail shredder, with refined geometry and well thought-out spec at multiple price points. Mountain bikes are boring: over the past 24 months, the entire industry seems to have embraced the Doa of long, low and slack; a score of companies offer essentially identical platforms, sometimes indistinguishable visually but for the font of their decals.
The market is glutted with a lot of great bikes that are all pretty similar – though given the rate of change the industry has experienced in the last five years, it's perhaps not a bad place for mountain biking to be. This homogeneity begs a question, however: if everyone is doing things the same way, how do we know they're doing it right; where's the next spurt in innovation going to come from, the evolutionary surge that makes mountain bikes even better – more capable, more fun! – if we're all riding, and happy with, more or less the same bike?
I don't think the Jones Plus bike is the answer – and Jeff Jones certainly didn't design it to save the mountain biking industry from resting on its laurels. To hear him tell it, the Plus is the bike he's been working on and thinking about for years – since 2009 at least – only to have the industry finally reach the point where it became possible for a small company to bring it to production. But in designing the Plus, Jeff threw out virtually every sacred cow in mountain biking; a glance at the first look article will illustrate why Jeff doesn't need to trot out the tired "built from the ground up" bromide for his origin story of the Plus. So, in a way, how it performed on the Shore – still arguably the toughest mountain bike testing ground going – should give us a bit of insight into whether the current industry consensus in mountain bike design is as unassailable as it seems.
On my first ride with the Plus, the comfort that Jeff trumpets as a primary characteristic of his bikes struck me immediately. To the untrained eye the Plus could easily be mistaken for an oversized, space-age beach cruiser, and the body position it put me in was reminiscent of the same: my weight biased over the feet, with my upper body much more centered and relaxed than I would generally expect it to be on a modern mountain bike.
The Plus and I got off to an awkward start, though in retrospect that may have been a result of my decision to take her out on solo rides so I could be alone with the bike and my thoughts. A lot of mountain biking is habit, instinct and muscle memory, and I found myself constantly in my head, unable to find any comfort or flow. I approached steep and technical sections tentatively, constantly expecting to find the limits of the Plus and end up in the weeds. I found myself oversteering into corners and tensing up when the trail got off camber, unwilling to trust the bike in challenging terrain.
Fate intervened and got things on track, however: with my personal bikes out of commission, I swallowed my reservations and showed up for a group ride on the Shore with the Plus, feeling like I'd brought a knife to a gunfight. The pace was relentless and when it came to choosing trails, no accommodation was made for my unconventional bike. I was forced to push myself not to get dropped – and to my surprise and delight, the Plus not only allowed me to keep up, but proved to be both incredibly capable and a blast to ride on the edge.
The secret, it seemed, was to stop thinking so much and trying so hard, and just ride. The centered riding position the Plus put me in ended up not only being quite comfortable, but also the ideal position from which to pilot the bike. Steep climb or descent? Just point and shoot. Hard or tight corner? Lean the bike over and let 'er roll. Throwing my weight around in an exaggerated fashion in order to exert my authority over the bike, as I was accustomed to doing on traditional mountain bikes, proved unnecessary – if anything it had the opposite effect, causing the Plus to feel unbalanced and squirrely. I learned to stay relaxed and centered inside the bike, and was rewarded with both comfort and control in spades.
Sound boring? If you've ever pinballed through technical terrain at speed without suspension damping you'll know the answer to that. Despite its balloon tires and comfortable ride, the Plus never let me forget I was on a rigid bike; trail chatter was nicely muted, but feedback from the terrain was immediate, almost intimate. I was keenly aware of every deflection, every hard corner, every g-out on the trail. Yet the effect wasn't jarring or discombobulating; once I acclimatized to it, the Plus was uncannily capable of being ridden hard, and inspiring confidence, in challenging terrain without the mitigating influence of suspension.
So: comfort, control, confidence, and fun. I kept looking for the downside, the "yeah, but" – the compromise my brain told me had to be built in to the Plus to allow it to ride as well as it did. Trying to catch the bike out, to find its fatal flaw, became almost an obsession.
The big 29+ wheels were always going to provide some advantages when climbing, smoothing over small- and medium-sized roots and trail chatter and maintaining momentum in technical terrain. I expected those same big wheels to be a liability when it came to acceleration and putting down power, but my concerns proved unfounded: with tubeless tires and carbon rims, the wheelset on my test bike was lighter and spritelier than any Plus sized rollers seemingly had a right to be; any additional resistance they presented to spinning up was more than offset by their willingness to roll up, over and through anything they encountered.
Similarly, while the Plus' short reach and slack seat tube angle presented a comfortable position for cruising, I worried that it would be a liability on steep climbs. But the bike was as capable on steep and punchy sections as it was comfortable spinning up a fire road. The Plus' combination of low front end, long chainstays and short reach made grunting up severe grades while keeping the front wheel planted a non-issue; as long as I kept pedalling and picking lines, the bike would rumble up virtually anything in its path.
And when it came to picking those lines, whether climbing or descending, the Plus proved incredibly capable, even in tight, twisting terrain. With its mammoth tires and mile-long wheelbase, I had anticipated that such conditions would be the bike's undoing. But the Plus was un-phased, even by hairpin turns that seemed too narrow for its length to fit through: the front end steered lightly, almost telepathically, and the back end never seemed to get hung up or off-line. I'll chalk the bike's quick handling demeanour up to its front forks' extreme offset and resulting low trail number, though I'm at a loss to explain how the back end managed to consistently pass through the eye of the needle. Somehow, its unorthodox geometry numbers front-and-rear balanced out to make the Plus perfectly at home in the awkward, tight confines of the Shore's classic trails.
Naturally, the Plus was a blast on fun, flowy and fast trails too. Tire roll was palpable under hard cornering forces, but with a bit of additional air pressure and a slightly modified approach it became all but a non-issue. In the spirit of journalistic rigour, I took the Plus on four back-to-back laps of Bobsled, the Shore's preeminent flow trail. By the last run I was comfortably doubling everything in sight, and initiating every turn early: once pushed past its tires' modest side knobs, the Plus would drift comfortably on a 3" wide contact patch until we hit the outside edge of the berm, at which point the centre lugs would catch and we'd be back in business. This technique, while fun, wasn't the fastest way through banked turns. The Plus made up time in flat corners though, finding purchase where a skinny tired steed would skitter or slide and turning an otherwise annoying trail feature into a grin-inducing good time.
Steep, technical descents were another terrain-type on which I unexpectedly found the Plus to shine, though this trait was easier to parse. The bike's light front end, long wheel base and giant wheels helped it roll smoothly through holes and over uneven terrain, while its static geometry – a product of both its lack of suspension and the incredible fore-aft rigidity of the truss fork – kept it feeling stable. The one technical feature that proved to be Plus' kryptonite was large square edged obstacles: where a suspended rear wheel would have smoothed things out by getting up and out of the way, the Plus' long, rigid chainstays would cause it to buck and pitch discomfortingly.
Similarly, while the bike's excellent balance and massive wheels made short work of slow tech and the occasional high-speed impact, I occasionally came into a prolonged rough patch too hot only to be reminded that the Plus was packing exactly 0mm of suspension. That intimate connection to the trail I referenced earlier came at a price: once it started throwing punches too fast for my arms and legs to absorb, there wasn't much left to shield me from impact. Because it had no suspension to dampen terrain feedback, the Plus did a great job helping me stay aware of how close we were to the edge – though it also encouraged and helped me to push that edge more than a rigid bike seemingly has any right to. The lesson: stay away from bike parks and Enduro races – but you didn't need me to tell you that, right?
I covered the spec of the Plus in my first look article, and won't say too much more about it here. After a few months with the bike, I'm inclined to trust Jeff's assertion that the bike's major components – the frame, fork, wheels, and bars especially – form part of an integrated design and should be considered as pieces of the whole rather than individually. The one piece that bears mentioning though is the odd-looking Jones H-bar: the position of the controls made for an even narrower cockpit than its 710mm width would suggest, and proved to be the perfect position from which to rally the Jones through tech and turns. I never once found myself wishing for a wider bar or more leverage – but I did find myself unexpectedly finishing rides without any hand-pain or fatigue.
The last traditional question of every bike review is always the same: who is this bike for? A thorough consideration of any bike should bring the phenotype of its ideal prospective rider to the reviewer's – and the reader's – mind's eye.
By virtue of both its versatility and iconoclasm, the Plus is a challenge to pin down. To dismiss it as the ideal bike for the eccentric, based on the unorthodoxy of either its appearance or its intent, is to pander to the lazy tribalism that suffuses much of modern cycling culture. But those same traits will cause it to draw significant sideeye from most cyclists, making the Plus a tough sell – conceptually if not commercially – in an industry that thrives on dividing and defining its consumers.
If you are a cyclist, not a racist, and either can only have one bike or are interested in exploring that lifestyle conceit, I can't think of a better bike for you. That's admittedly a pretty small club – but it's one the Plus is uniquely suited to expand by dint of the incredible range of places and disciplines in which it excels.
Beyond this, however, I think every cyclist with an interest in expanding his or her understanding and appreciation of the bicycle and its potential should throw a leg over Jeff's newest creation.
I expected that riding the Jones Plus on the Shore would expose the limitations of either the bike, or my understanding and imagination; after a few solid months with the bike, I can confidently say that it was my mind that proved wanting.
So, what if anything does the Plus have to tell us about the evolution of the mountain bike? I've spent a lot of time thinking about this over the past few months, but to be honest the bike raised more questions than it answered. There are aspects of the Plus I still can't quite wrap my mind around: how nimbly it handled and rode, despite its epic wheelbase, for example; or how well it climbed in spite of its slack seat tube angle. And then there's a strong point raised by another reviewer for this site: perhaps the Plus impressed because it was fully optimized as a rigid mountain bike, and none of its systems or concepts would translate to traditional mountain bike design.
At the very least, the Plus' surprisingly capable and fun ride proves that there's more than one way to skin a cat, suggesting that the current state of homogeneity in the market is a plateau in the evolution of mountain bike design rather than its apotheosis. In particular, I think the bike's increased fork-offset, long chainstays, and the interplay between the two, may be of interest to designers looking to increase stability and, rather than at the expense of, playfulness. The Plus is a reminder that every healthy industry needs deep- and free-thinkers like Jeff – people who zig when everyone else is following the road to zag – especially when they design such fine bikes.
For more on Jones – click here…
---
Is the Jones Plus crazy enough to work for you?