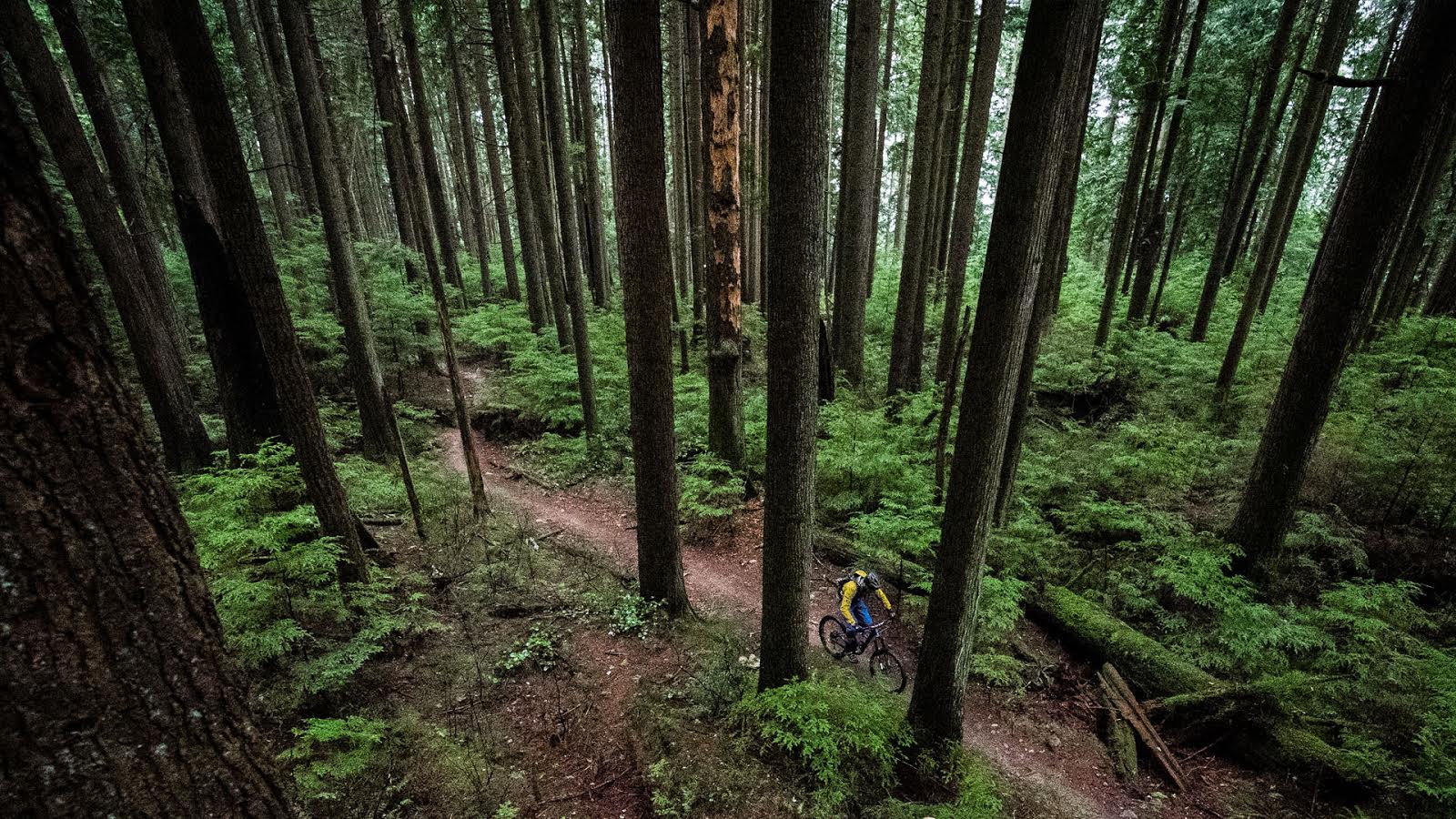 Jones Plus Bike?
A scan of the images below should tell you that Jeff Jones does things a bit differently. A few years ago I stumbled across Jeff's website and down the rabbit hole of his bicycle design ideas. An unsuspended all-mountain bike? I was intrigued, but my lizard brain demanded that I flee from it, and some jerk talked me out of asking to review one.
Last fall Jeff raised another fully-rigid middle finger at conventional industry wisdom, announcing the birth of the Jones Plus. I read his marathon blog-post and was both appalled and impressed: he seemed to have both thrown out basically everything that we know to be true about designing a properly functioning mountain bike, and thrown down the gauntlet by declaring that rather than being designed to fill a specific niche, his new bike excelled at every form of riding.
In an increasingly niche-oriented industry, could one bike truly do it all by doing it all differently? I had to find out, and figured a trial by fire was in order: if the Jones Plus bike could excel on the Shore, a lot of bicycle design axioms might need a second look. This is a first look at a rather unique mountain bike I've been riding over the past few months, with a full review to follow.
The new Jones bike is simply called the Plus, and is made of steel: 4130 chromoly tubes tig welded in Taiwan. The frames are ED coated – an electronically deposited base coat is covered by a single tone powder coat – for durability and a simple but elegant finish.
One of my original beefs with Jeff's design ideas was that, for years, he only offered his frames in one size, claiming they would fit riders between 5'6" and 6'2" tall. The Plus on the other hand is available in two sizes: one with a 24" top tube that fits like all of his other frames; and another with a 25" top tube (shown here) intended for taller/longer riders looking for more room and stability.
While earlier Jones bikes have had reasonably compact back ends – for 29ers – the chainstays on the Plus bike are nineteen inches long. That's basically unheard of, and would seem to suggest a bike that rides like a bus, but Jeff contends he's been able to all but offset their impact on the bike's handling by changing things up out front; more on that in a moment. The long chainstays are meant to provide the Plus with stability at speed and on long rides by extending the bike's wheelbase into DH/touring bike territory. Made of steel, they're also intended to provide a bit of cushion in chunky terrain and on landings.
A closer look at the back end reveals a very Shore-worthy drivetrain: Shimano XTR Shadow Plus derailleur and a 11-42 tooth 11-speed cassette, mated with a 28 tooth Race Face N/W chainring mounted to a set of carbon Next SL cranks. Also visible here are a replaceable derailleur hanger and hooded dropouts. Just above the dropouts are four threaded braze-ons for fenders, racks, or what have you; I can't really imagine what series of additions would require four separate mounting points, but if you need them you've got them.
Like all Jones frames, the Plus sports an eccentric bottom bracket. This allows the rider to set up their bike with a singlespeed drivetrain or an internally geared hub, adjust bottom bracket height to preference, or use standard 29" wheels and tires without raising the bike's centre of gravity inordinately.
Out front, rather than a traditional flat or riser bar, we've got a Bend version of the Jones H-Bar, which sweeps back at a 45* angle. Besides the wild-looking Space Frame, the H-Bar is probably Jeff's best known product. It's quite popular with the alt-bike and off-road touring set, but Jeff contends it's equally at home on technical trails, and he recently boosted the width to 710mm.
Rather than a normal suspension or bladed unit, the Plus sports a truss fork. Two traditional looking fork blades are mirrored by a second pair that run from a collar above the bike's headset down to the front axle. The two sets of blades are also joined by a set of spurs extending from the fork crown. 
According to Jeff, the truss configuration allowed him a lot of latitude when it came to dialling in the Plus' handling. The truss fork allowed him to take the bigger-wheel/more-offset corollary to previously unheard of extremes: 76mm of offset, to be exact, which means a front axle over an inch further forward than, well, anything else out there!
The last stop on our tour is the ground floor. The front hub is a proprietary 15mm x 142mm thru-axle, front-specific number developed by Jeff, who has been spec'ing extra wide front hubs on his bikes for many years for the stronger and stiffer wheels they provide. The hubs are laced to 50mm wide prototype carbon 29+ rims, mounted with 29 x 3" Maxxis Chronicle tires set up tubeless. Stopping these massive hoops is the job of a set of Shimano Saint M820 brakes chomping down on 203mm Ice Tech rotors front and rear.
Visually the Jones Plus is the unique sum of its rather unconventional parts. I've done my best in this first look to highlight each of them, because I think they're interesting and worthy of examination. But focusing too much on them individually misses the point of the bike: they're meant to work in concert, creating a very specific, distinct and capable ride. I've been itching to get one of Jeff's bikes out to our neck of the woods for years, figuring it would either flame out spectacularly, or blow my mind. So which will it be? You're going to have to wait for the full review for the answer.
---
How could this bike possibly be your everything? And our everything?