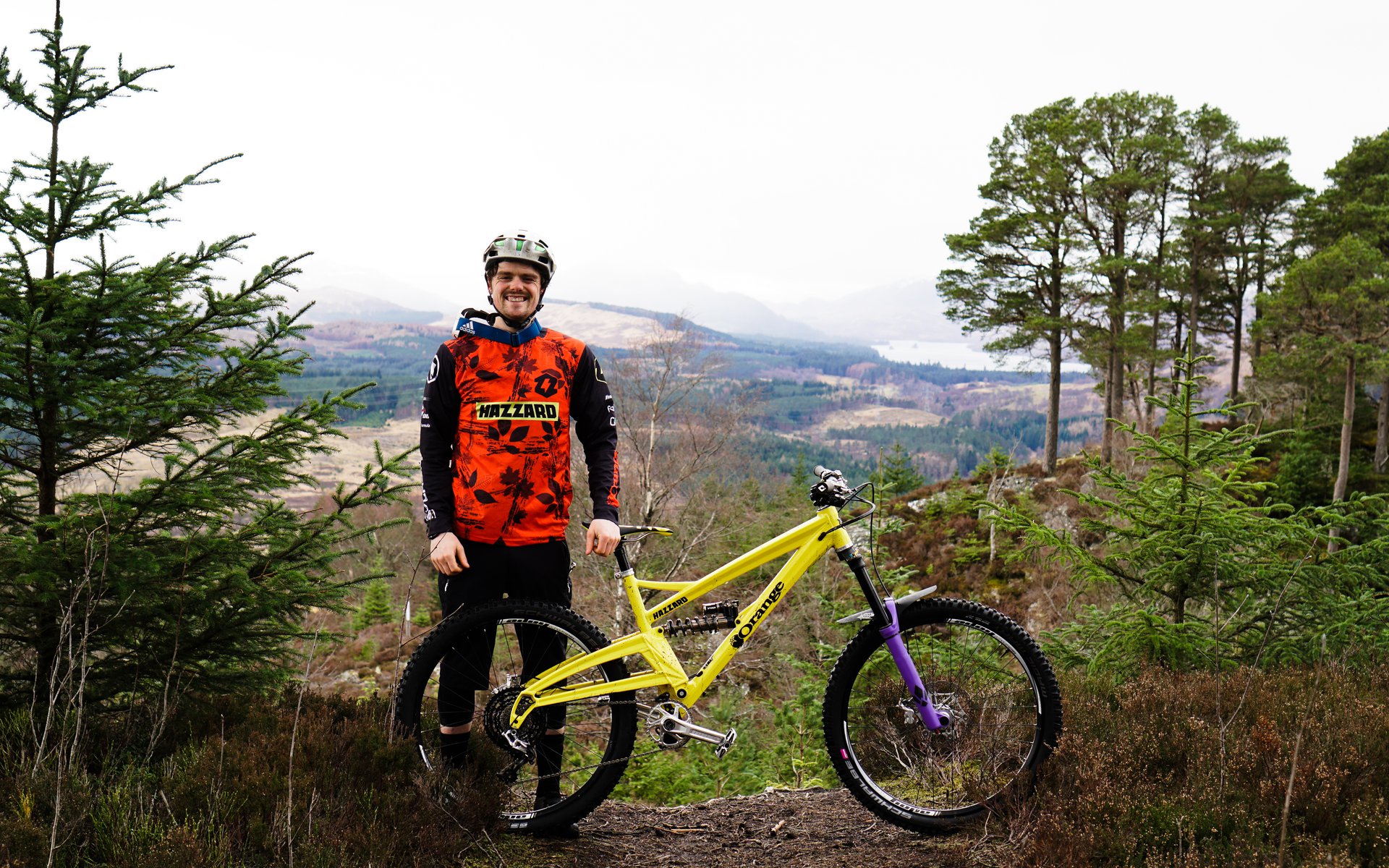 Interview
Joe Barnes Launches Hazzard Racing
Scottish racer, Joe Barnes went through quite a transformation during the 2018/19 off-season. The former Canyon Factory Racing EWS athlete has picked up and taken his brand out on its own. He's also become a new father, his lady Fiona giving birth to their baby boy in March. Joe says it wasn't planned to begin these new adventures at the same time, but he's finding everything is working together well.
Those aware of Joe's Dudes of Hazzard videos know of his skills on the wild, tech and gnar tracks (see below if unfamiliar). Now Joe has formed his very own team to showcase the joy of bikes through their videos in addition to their racing exploits.
In his early years, Joe was focused on DH results, placing a career-best 26th at the 2009 World Cup in Maribor. But DH alone wasn't all that interested him. He rode cross-country, starting at the same time as he did downhill, and soon after began trail riding. Mass start enduro events like the Avalanche Series caught his attention before stage racing had taken off as well. Joe plans to revisit the format with the new team. Before the EWS started he raced stage events throughout Ireland and organized his own in Scotland. Of all the former DH racers now involved in the EWS, Joe is one who was ready and waiting for the format to take off.
Dudes of Hazzard isn't new either. Joe first began swinging the camera around when he was 15 — he's now 30. At 19 he started travelling with Liam Moynihan and fellow Hazzard Racing rider, Fergus Lamb. They documented the times away at the races and riding around the world. Little did they know the videos would take off. Later, while Joe was racing for Canyon Factory Racing, the Dudes videos began to garner more exposure than the race coverage. It surprised his sponsor but despite the exposure, Canyon still placed more emphasis on racing and they wanted Joe to continue down that path.
Rolling into 2019 Joe has gone full circle. He's partnered with Orange, which was the first "proper bike" he rode back when he was 14. He says the brands involved with Hazzard Racing see value in their videos too, allowing Joe to continue filming and producing his "cringy" clips for the world to see. I reached out to Joe to discuss the new team and how it came about, who's involved, and what fans can expect from Hazzard Racing in 2019.

Joe! How's the off-season going for you?
The off-season has been going excellently. I have been getting out on the bikes pretty much for the full winter as the snow never really happened this year. They even opened the downhill tracks at Nevis Range early for bikes so that has been great for testing and getting the long runs that we usually miss out on in the Scottish winter.
You recently announced your own team for 2019. What brought that on?
It's something I have wanted to do for a good while now. I had a great time on the Canyon Factory team but for me to run my own show has always been the dream. It's exciting to be able to put as much creative juice into it as possible from the content, look and schedule in order to get the best out of this amazing opportunity and leave the biggest mark we can on the sport as it grows.
Who's supporting the new Hazzard Racing team and how did the partnerships form?
Orange is a big one for me as I rode one since my first proper bike when I was 14 until I rode for Canyon at age 24. I grew up on the brand and, with Cutmedia, they supported me through racing World Cups, the first video series and into my mass start enduro racing. To go back really comes full circle for me and I am so happy the opening was there for this to happen.
Endura, who provide our full clothing and protection, is a Scottish company and brilliant for us with their in house custom design and manufacturing set-up for making our look exactly how we want it. Components again have been a dream to set-up with Hope, Fabric, ODI, Formula, EXT, OneUp, Muckynutz, Ion, Adidas, Schwalbe and Crankbrothers all rounding out the plan.
What will you be riding?
Myself and Lachlan, who will be fronting the racing program, have both gone for the Orange Alpine 6 bike that comes with 27.5" wheels and 165mm travel. We are both short dudes and the bike suits us at home perfectly. With that familiarity taking it to the races comes naturally.
A 180mm Formula Selva fork for monster trucking in the chop. EXT have worked on a really nice tune for the rear shock for us. Schwalbe cut Dirty Dan on the rear and Magic Mary on the front. Hope's V4 brakes for that power in all conditions and at all times. The One-up EDC tool has been a revelation for us too. It's nice to never be caught short or have heavy pockets. The bikes are set up tough to take abuse, but agile to flick the switch to race mode.

Tell us about the riders you have on the team with you.
Lachlan Blair will front the race program with me. He is a bit younger than me at 23 and on his way to setting some hot times this year. In 2017 he took a step up and got a nice 21st place in the Fort William World Cup DH before an unfortunate gust of wind on the Leogang finish booter took him out with a broken femur. Back to full strength and with some racing back under his belt, I am excited to see what Lachlan can do this year with some good support behind him.
The third rider is my good friend Ferg Lamb who I've raced with since I was a wee nipper. Ferg is a loose goose on all bikes and perfect for our video series that accompanies the races while he races his own DH, Enduro and Moto Enduro all over Scotland.
Does being a team owner change your approach to the races at all?
I am not sure because we haven't been at any races yet, but I know I expect a lot from the boys to match the passion I put in myself. We have all raced together for years so not much will change there. Maybe I will cringe when Ferg ruins another wheel, but it has to be done.
We've seen a return of the classic Dudes of Hazzard "rut tickling" and good times with the Hazzard Racing videos. Can we expect to see more this season?
Yes, most definitely. I have set out plans for a full series of videos this year and have loved making the first one so far. I had a feeling I wanted to convey for the series and the new team is perfect to base this around. We have so many rut tracks in Fort William it's the only thing to ride in winter, but once the summer starts and we get out for some trips there might be a little more than just slop from us. Slop for now though while the rain still pours.
You've been racing the EWS since it began but your videos show you in a different light. Can we expect to see more of the fun-loving character in the vids at the races now with your own team?
I hope so, but while also retaining the race professionalism. Filming at races is hard with the pressures on time and schedule you have, but we are going to try and get some race footy out there and document the races also.
You appeared to have a great relationship with Canyon. How many years were you part of their program?
I really did have a great time with them. It was incredible how the whole company got behind what I was doing and even more so with the Dudes boys also. We provided some lighthearted casual style to the serious side of the company. The Germans were great fun and a real laugh to be around and I think we matched really well. I rode for them for six years, from the start of the EWS until this year and remained on the team through loads of changes of riders and staff.
Has your experience with Canyon helped with setting up Hazzard Racing?
Yes, I couldn't have done this without my time on the Factory team and learning how to manage sponsors and contracts. I had my own mechanics who lived in Fort William whilst on Canyon and this was a great experience to work out operating procedures and the set-up required to maintain numerous peoples race bikes.
Was it hard to say goodbye?
I think it would have been, but we both also knew it was time to part ways. They put in a good offer for Hazzard Racing but for me launching the team on Orange made more sense with the direction I wanted to take this.

You've also got a lot going on at home! How has the impending fatherhood affected your move?
I know, it's a busy old winter! I have just become a Dad to my wee boy and couldn't be happier about this. It's just a coincidence that it's the same year as Hazzard Racing, but actually working out well that they are both together. I am missing the first two EWS events to help my misses, Fiona and also feel the extra time at home is good for my season after a busy first year getting the team set up. I am one of about four people who had done every EWS since the start until the end of last season. It's a brutal series to race consistently in, so I don't mind taking my eye off the ball for a couple of months to regroup.
What's the schedule for the season look like? Will you be at all EWS stops or taking some time out to be papa bear?
Like I say, missing the first two and then just see how it goes. We don't have a fixed schedule with sponsors as we want to work out the best for racing and also travelling. I think we will get over to the Euro ones and deffo America as that looks like a great venue. We'll also mix it up with the top UK races that are key for the team and something we have missed out on in recent years. I can't wait to get stuck back into these.
Outside of the EWS, what other focuses does Hazzard Racing have?
UK race domination, race the Mega Avalanche again and bring back my videos to a new audience.
What are your goals for the team?
Win races, make cringe videos and inspire the youth to ride bikes.
Thanks Joe! Looking forward to those videos!