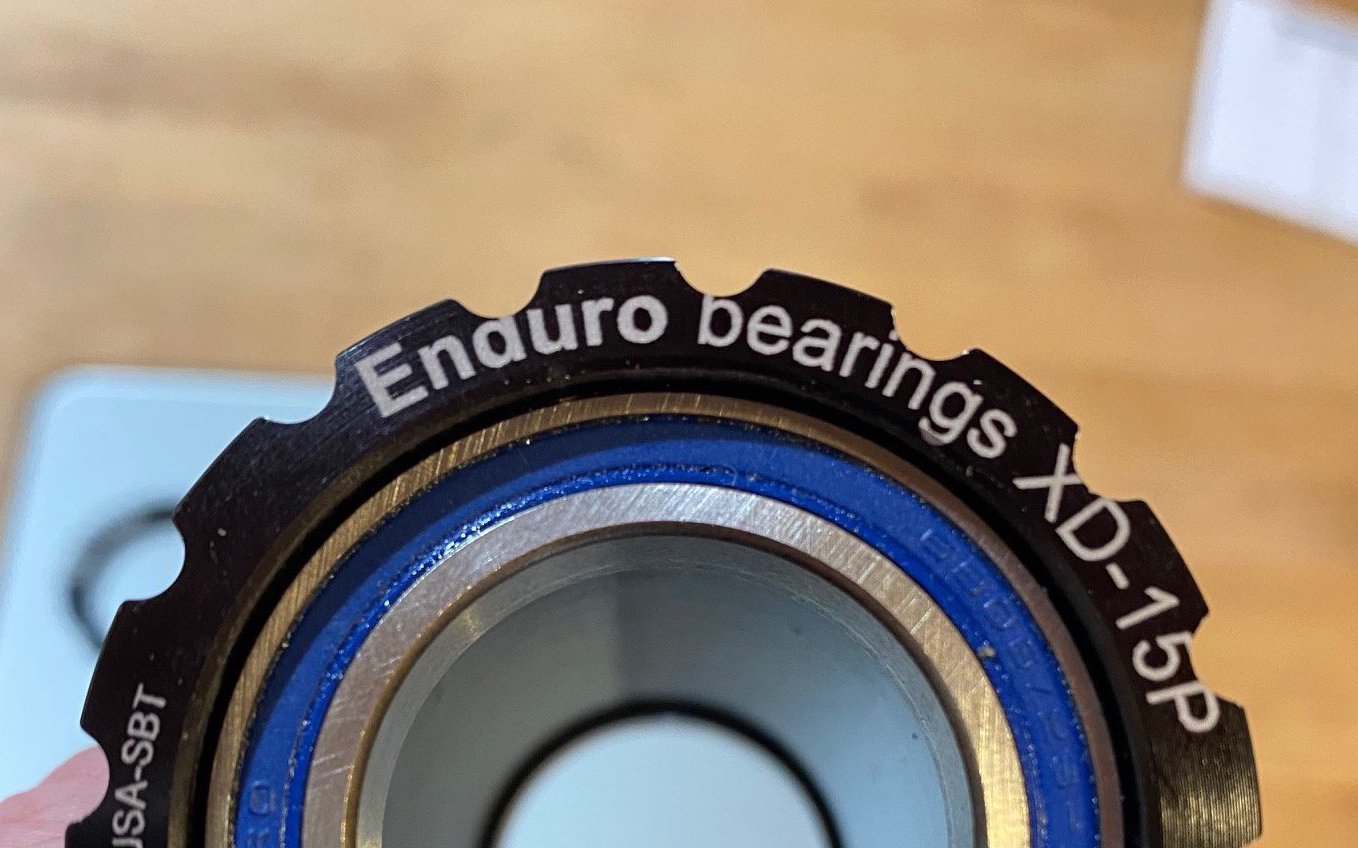 Enduro XD-15 TorqTite Bottom Bracket
Jewelry For The Muck
Enduro TorqTite XD-15 bottom bracket.
MSRP: $229US
Maybe I should have titled this "Does a bottom bracket really warrant 1100 words before it's even installed?"
Right up front, I am going to admit that there seems to be something elementally wrong about installing very expensive, beautifully machined, high precision bearing assemblies down in the gritty purgatory that sits between the cranks of a mountain bike. However, there also seems to be something elementally wrong about manufacturing a highly evolved, beautifully designed, painstakingly laid-up carbon fiber frame and then making the bottom bracket hole a press-fit. It's an affront to my aesthetic sensibilities, and an insult to my inner mechanic.
Which brings us to this little problem solver here: Enduro's TorqTite bottom bracket designed to fit inside a BB386 sized hole and keep a set of 30mm cranks spinning happily. In this case, I opted not only to de-press-fit my frame, but I decided to see if Enduro's XD-15 ceramic bearings are worth the substantial scratch required to purchase a set. So, this will be something of a long term review. But, like all long journeys, you gotta start somewhere. In this case, let's start a couple "Why" clauses.
Why do I hate press fit bottom brackets so much?
I don't hate them. Hate's a very strong word. Done right, a press fit bottom bracket can save valuable weight and space. But "done right" is apparently open for some pretty broad interpretation. If things are not dead nuts perfect in every sense of alignment and sizing, then press fit bottom brackets can be creaky, problematic, recurring nightmares. And while I may not hate press fit bottom brackets, I absolutely loathe creaky bottom brackets of any type. My experience has been that sooner or later, almost every press fit BB is going to start making some ugly noises.
In the case of the bike that this little Enduro gem is destined for, the bottom bracket hole looked pretty well designed, and the OE bottom bracket went in smoothly enough. After the first few break in rides, things were working just fine. But the assembly of the bike had left me less than stoked. Delrin cups, pressed into a carbon fiber frame, with the instructions calling for a generous slathering of silicone RTV to hold it all in place. I use silicone RTV on car windshields and the high-temp version on poorly designed motorcycle exhausts, and every time I crack a tube of that stuff open, I don't feel like I am enacting a robust or long lasting solution. I feel like I am one small step removed from bailing wire and duct tape. It just seems wrong to use it to install a bottom bracket in the part of a bike that sees the greatest uneven load cycles and the harshest environmental abuse.
In the face of my grim assessment, TorqTite to the rescue! An aluminum drive side cup necks smoothly up to fit snugly into the BB386 sized hole. There's a similarly proportioned non-drive side cup that has an aluminum sleeve with a stepped collar threaded onto it. Threads on the other end of the collar then screw into the drive side cup and the whole assembly sucks together nice and tight, using the thread tension to pull the cups into the frame and torque down cleanly and hopefully creak-free. No RTV required. It is elegantly simple, cleanly machined, and it feels almost criminal to make parts this pretty go sit invisibly in the bowels of my bike. Enduro is not the only choice when it comes to this kind of retrofit bottom bracket, but nobody else is claiming to have a ceramic bearing running in a super-hardened race that actually gets smoother with time, and is basically impervious to contaminants. Seems too good to be true, right? This brings us to "Why" number two.
Why would you go to the expense of installing ceramic bearings in a bottom bracket when they're just gonna get eaten by the world anyway?
Ceramic bearings are easy to look at as needless expense. The kind of thing that roadies like to waste their money on while buying oversize jockey wheels. The claims are always about reduced friction and precision, but even steel ball bearings are capable of insane levels of precision these days, so that leads to what makes ceramic awesome. And what makes ceramic so awesome is its hardness. Ceramic balls are ridiculously tough. So tough that ceramic balls and just the right amount of grit can tear the bejeezus out of most hardened steel bearing races. Which, in the end, is not really any better a scenario than your usual shitty weather bearing failure.
XD-15 is the name of the steel used in the races of this bottom bracket, and it is not the same as other hardened steels. It's a nitrogen infused steel alloy initially developed for use in airplane wings, where a primary concern was corrosion caused by de-icing compounds. It's insanely expensive and something of a pain in the ass to work with. Too tough to pull through mandrels and form into tubes, XD-15 bearing races are machined into inner and outer shape from rod stock, then heat treated on ceramic tables, then cryo-treated down to close to absolute zero, THEN given three separate black oxide coatings. All of these treatments normalize the grain structure of the bearing race. The black oxide coating is then removed from the race where the bearings will roll, Japanese ceramic balls are inserted, Klüber Isoflex grease is spooged into the bearing, silicone seals are slapped into place, and off to the races (ha!) we go. This is what Enduro does. They make bearings, which is a lot more of a pain than buying someone else's bearings and etching your logo onto the outside.
Enduro is so confident that this combination of ceramic balls and XD-15 races will not only resist wear, but actually get smoother with time and use, that they back these with a lifetime warranty.
So, that's why I am installing this bottom bracket.
But still, damn, that's a lot of money. I could buy five of the press-fit BBs that I am replacing for the cost of this. And a lifetime warranty, while cool, might not be worth a whole lot if I decide to unload this bike in a couple years. However, the idea of a bottom bracket that straight up outlasts the rest of the bike has a perverse appeal, so I'm going to see what happens.
Meanwhile, if you're looking to shore up a creaky press-fit hole in the bottom of your bike, but don't want to shell out for the Eternal Flame ceramic option, Enduro offers the same bottom bracket with some very sweet 440c bearings for a substantially less wallet-staggering $149.