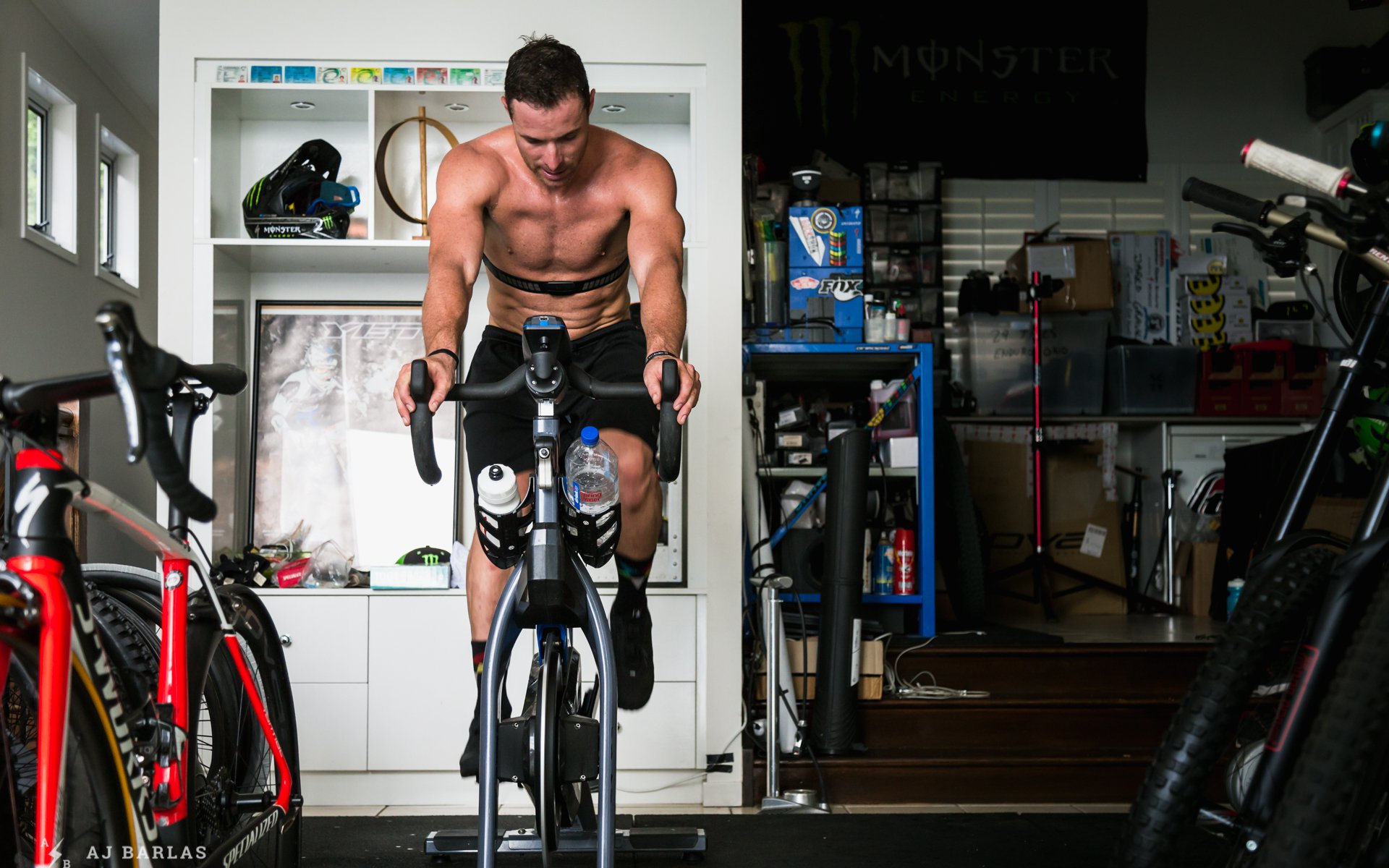 At Home with the Multi-Discipline Champion
Jared Graves: Dangerously Motivated
It's about 28 degrees going on 50 as I pick up the little buzz-box Fiat rental car and begin my drive from the Gold Coast of Australia, situated in South-East Queensland, and head inland toward Toowoomba, Jared Graves' hometown. Veering west off the motorway just prior to Brisbane I find myself going over one of the questions that I kept hearing from friends and family prior to my trip; "why does he live in Toowoomba?" In all honesty, I didn't have an answer for them, I'd never been to Toowoomba and had never really heard much about the place other than in the odd geography class in school. 
The stretch of highway from Ipswich, a city just west of Brisbane, to Toowoomba had me asking myself that very question over and over again – It's flat, barely a bump for a hundred kilometres and the road is straight with nothing but farming fields for the majority of the stretch. That was until I hit a small town by the name of Withcott, which lay at the foot of some serious looking terrain. From here the road went up, gaining elevation quickly and making the small European rental car whine as I tried to maintain the speed limit up the 10% grade into Toowoomba – it failed.
 After making it up the incline I rolled right into town. Toowoomba is perched atop the Great Dividing Range; the most substantial mountain range in Australia and the third longest land-based range in the world. It stretches along much of the East Coast of the country – from far north Queensland, through New South Wales and down into Victoria – and includes the New South Wales ski resorts of Thredbo and Perisher, which are situated at the highest point of the range. Once realizing Toowoomba is located on top of the range the answer to the question began to be clearer: elevation.
There's more to it for Jared, though. Having grown up in Toowoomba the place has always been home to him and despite traveling all over Australia and the world, he continues to return there. He's quick to note that of all the riding he's done in Australia, Toowoomba has some of the best vertical combined with a great climate. Thredbo, an example of a riding location in Aussie that one may contest as a better option, is sure good in the summer months but winter is no friend for a cyclist down there. Jared estimates that there's about 350m of vertical drop on offer in Toowoomba, which is a good amount in Australia and on Jared's regular rides he can mix anything from about three minutes of national level dedicated downhill track to 15-minute lung busters littered with variety thanks to a number of connected trails.
That elevation also results in temperatures being slightly more favourable in the summer and although it still gets really hot – often seeing temperatures in the mid-30s – it's regularly a couple of degrees cooler than nearby Brisbane. The town's size is another attribute that Jared points out as a benefit. With a population of roughly 115,000, Toowoomba is "big enough to have everything that I need, but small enough that there aren't many of the distractions". It works in his favour on the trails as well: despite there being a great and growing riding scene in his hometown, he enjoys being somewhat anonymous when out training. It isn't hard to see that while riders in town who know Jared are indeed proud of him and his achievements, the rural Aussie mentality of the residents plays well into Jared being, as he puts it, "just another face in the crowd". 

It's a good thing too because for someone with a laser-like focus on their goals like Jared, the time out riding is incredibly valuable. The ability to say a quick "g'day" and continue on his way allows him to keep on track, whether he's in the middle of an intense interval or lapping one of the shuttle trails that he frequents. Couple that with the sheer amount of time spent on the bike and it's even more important to be able to go with as few interruptions as possible.
For the 2017/18 off-season though, things have been a little different for Jared and he's spent more time than ever riding at locations surrounding his beloved hometown of Toowoomba. It's a twist on his approach that he has introduced for a couple of reasons; it keeps his trails at home interesting, and it gets him spending more time on trails that he doesn't know well, or at all – an attribute that is obviously going to favour an enduro racer but one that will be even more important come 2018, with the EWS moving to a one practice run rule for all rounds of the season this year. 

That's not the only place that Jared made changes to his preparation either and he is now training in what he feels to be the most enduro specific manner he ever has. Gone are the heavy amounts of XC racing from the past and the DH races mixed in to keep those skills sharp, combatting the amount of time on the XC bike – a move Jared felt backfired a little. Instead, Jared has returned to reaching for some of the top end power and strength he initially brought across from racing Four-Cross and BMX, something he has noticed disappearing a little more each year and an attribute that he is striving to reintroduce. While he still spends time riding road, even doing the occasional race, and riding other disciplines too, his focus is more on the enduro bike than ever before.

Cross-country fitness is so different to the fitness that you need for enduro. You just turn into a diesel, more or less. It's not the right fitness to be fast for enduro.
Whether on the bike or in the gym, variety keeps things interesting and fun. While he's spending more time on his mountain bike than before – at least four days a week – this variety is found in all facets of his program. Coaches will say that doing different things and evolving the training is important to keep the body guessing; reason being that once it adapts to particular techniques it needs a refresh to continue improving. That's something that Jared's always focused on and continues to improve on with each season. 

This off-season his focus started with a good effort of trying a lot of different setups early on. Seeing what is happening in the industry and wanting to have some first-hand experience, Jared made a lot of changes to his setup and admits that he found some really interesting benefits to it, which he prefers to keep to himself for the moment. However,  you can expect to see him setting his bike up to feel good in every area of his riding, as opposed to focusing too much on feeling great in one area. "You need to know exactly what your bike is going to do in a given situation and if you're constantly changing suspension settings, tire pressures and bar height and head angles – all of that sort of stuff… If you're constantly playing with that sort of stuff you're never going to get a really in-tune feeling with your bike because it's changing too much." 
Overall, the changes made to his setup were pretty minor, but he is happy to have gone through the whole process and tried a bunch of different things. Feeling smoother on the trail this year than he has previously, and not simply in the visual sense but with things like braking, has instilled a confidence and a fire in Jared that he admits he hasn't had in some time. Motivation is the driving force behind any athlete and for someone like Jared, a multi-discipline champion with a work ethic to suit, it spells danger to the competition. 


I sort of have a motivation at the moment that I haven't had for quite a number of years and I'm really enjoying that.
Over the years, Jared has been quite open about his training and his thoughts on recovery within. During that time he's learnt that for him, active recovery works best, even if it's a super gentle road ride that only lasts an hour, it's something he feels he responds better to rather than a day on the couch doing nothing. However, his focus on active recovery is mixed into more than his "rest days" and when in the gym I was surprised to see him doing light spins on his trainer rather than standing to have a drink for the 30–60 second breaks between sets.
Heading into crunch time and the first Enduro World Series event of the year in Chile, Jared is really happy with how things are going, though like most years he feels the off-season slipped away, leaving him wanting more time. During our time together there was a week or so before his first race since last season, the Thredbo Super Enduro, and with plans of another race in Chile prior to the first event, those pre-race jitters should be put at ease and the cobwebs removed. 


Recovery is more important than the training itself most of the time
It's hard work being a professional rider, especially if you want to be the best in the world. Spending a couple of days with Jared, and Richie – who spends a month or so with Jared every off-season, as the two are quite close – showed that. From the early morning wake up calls to beat the heat of the Toowoomba sun, whether it be in the gym or out on the bike, to the constant self-evaluation and focus on doing better, it's no piece of cake. 
And perhaps this is where the farming mentality of Toowoomba has gotten deeper into who Jared is and what he has achieved than one could imagine? Where we grow up plays a pivotal role in who we become and this country town is based heavily on farming, thanks to the nutrient-rich soil. The work ethic of farmers is not to be doubted and with the prominence of this industry and lifestyle in the area, it surely has rubbed off on Jared – after spending time at home with him, I'd argue it's played a big role. These traits have helped Jared immensely and they continue to do so in what is one of the most decorated riding careers of any Australian professional cyclist, making him a danger to anyone in any cycling discipline he sets his mind to.
---