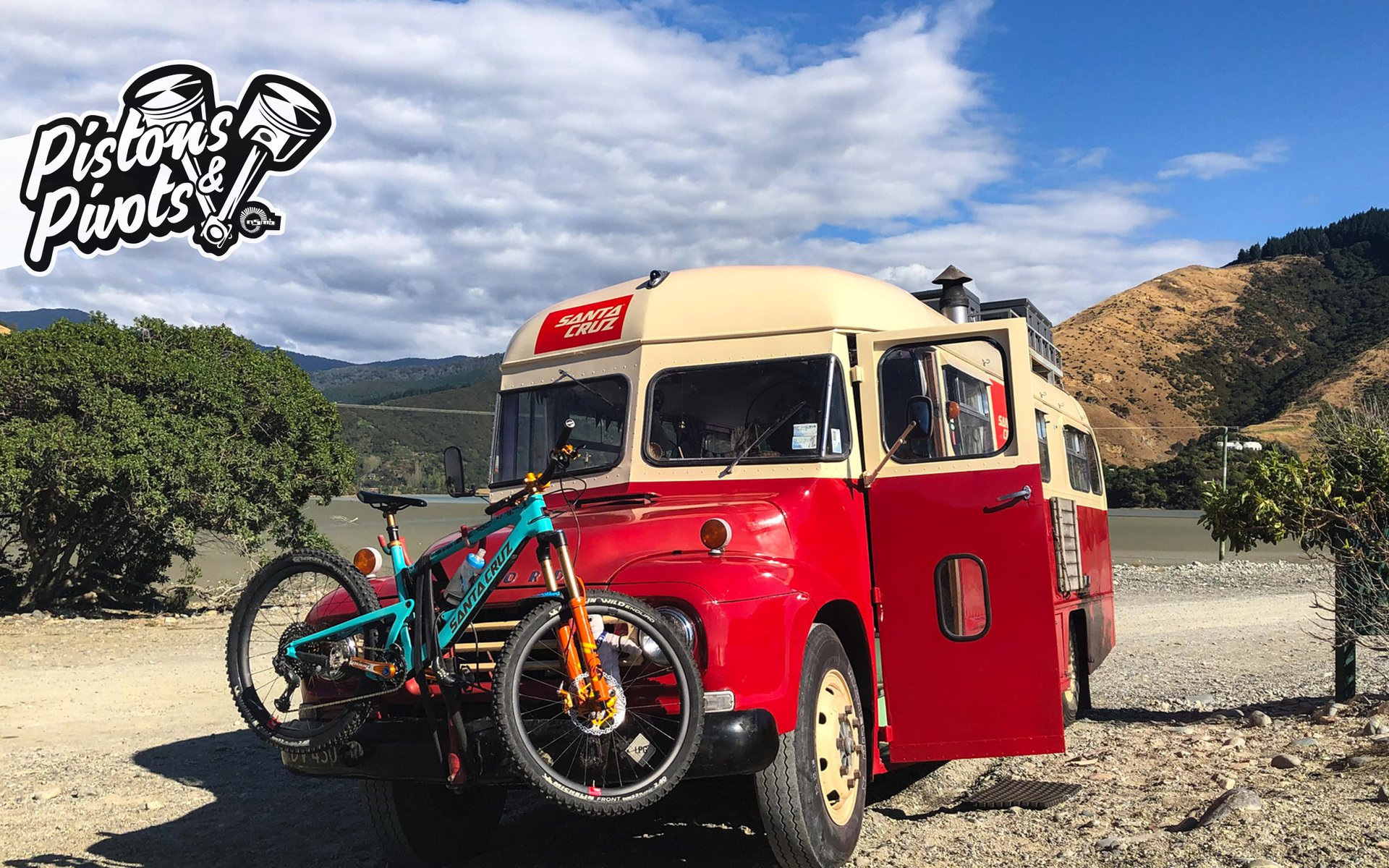 PISTONS AND PIVOTS
Jamie Nicoll's Converted 1960 Bedford Bus and Santa Cruz Quiver
Stepping into Jamie Nicoll's 1960 Bedford is like finding yourself in a well-lit Hobbit hole. All that's missing is a large pantry and a wizard blowing colourful smoke rings. There is a wee pot belly stove, a comfy sofa, ornate woodwork everywhere, and the sort of charm and warmth that could never be mass produced. Ikea doesn't exist in the Bedford's orbit.
Jamie is a bit of a wizard himself. As one of the first enduro racers, who travelled around the world to enduro events the year before the EWS was formed, Jamie was among the pioneers. In that first EWS season he managed 3rd place at Whistler and 8th overall. He won the Trans B.C. in 2016 and managed 3rd in the Trans Provence in 2014 and 2015 to name just a few of his accomplishments. These days, as a member of Santa Cruz's team of free agents, he goes in search of adventure in places like Finland's Arctic in the dead of winter
The original bus, a Bedford J4 model, was used as you'd expect; it ferried kids to school on New Zealand's South Island. The best thing about the bus today is that it is a labour of love; Jamie's done almost all the work to convert and restore it on his own. But I'm getting ahead of myself. This is such a personal project that I wanted Jamie to talk about the Bedford himself.
Cam McRae - Jamie, please tell me what year your bus was born and when and where it was it used to ferry school kids around?
Jamie Nicoll - It's a 1960 Bedford J4. It worked up until 1994 in Oxford, Canterbury, a small rural town on the foothills of the Southern Alps inland from Christchurch city. It spent most of its days on unsealed gravel roads taking primary kids to the local school. In the 80's the Ministry of Education sold off its red and cream colored buses to private companies and from then on the local garage, Emerson Motors, took over the school-run contract in the area. They painted their small fleet in the American School bus colors of yellow and black and added small-block American style engines to them running the buses on Liquid Propane Gas (LPG)
Cam McRae - It was built in the UK I imagine?
Jamie Nicoll - The chassis, drive train and truck cab all built in the UK and sent out to NZ, where New Zealand Motor bodies build the bus body, lengthened the chassis, the wheelbase and a rear extension, plus cut the cab and grafted the bus body onto the nose section just behind the firewall
Cam McRae -Does the bus have a name?
Jamie Nicoll - Nah aye, it doesn't, I've been thinking about " Bruce the Bedford" for a couple of years though...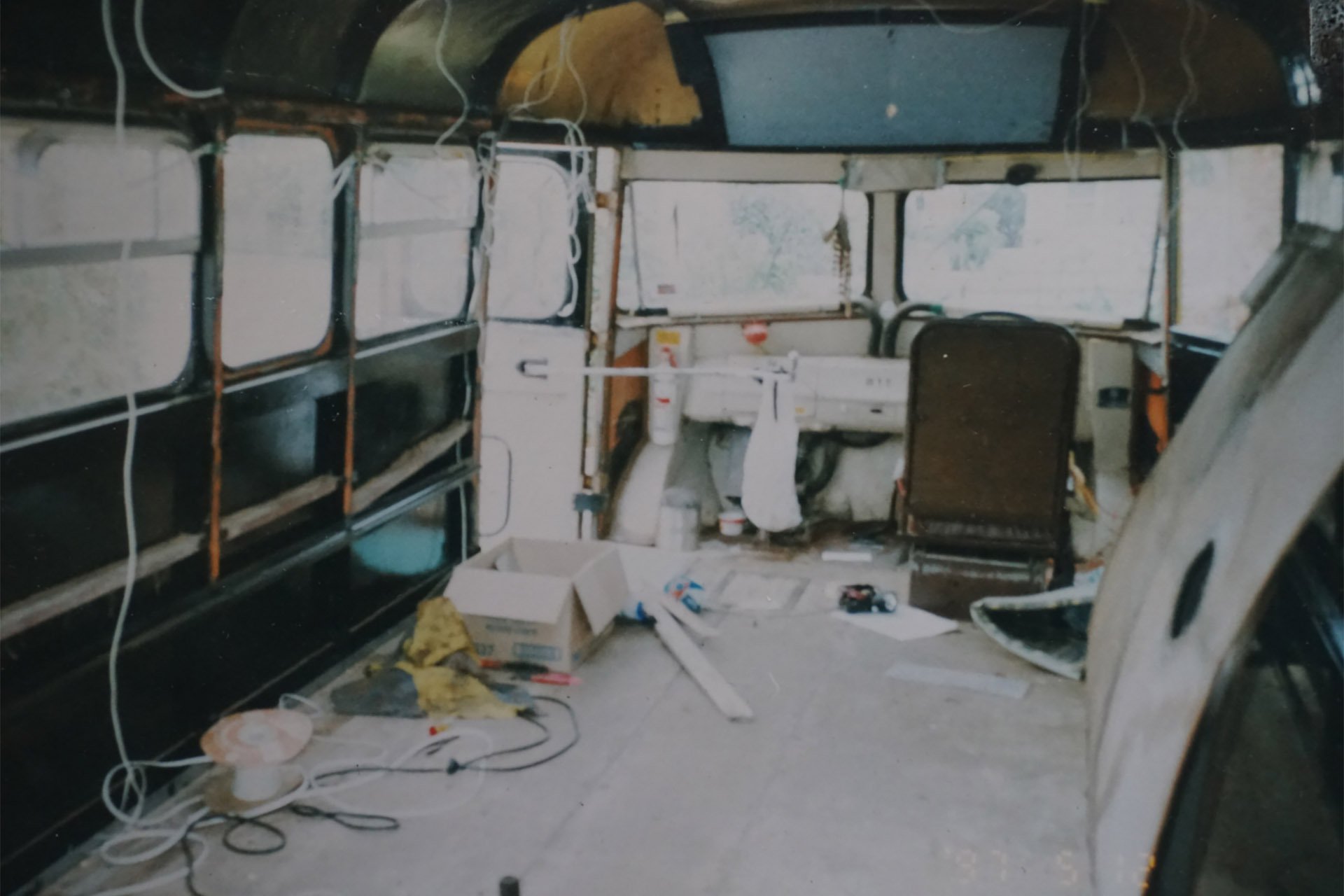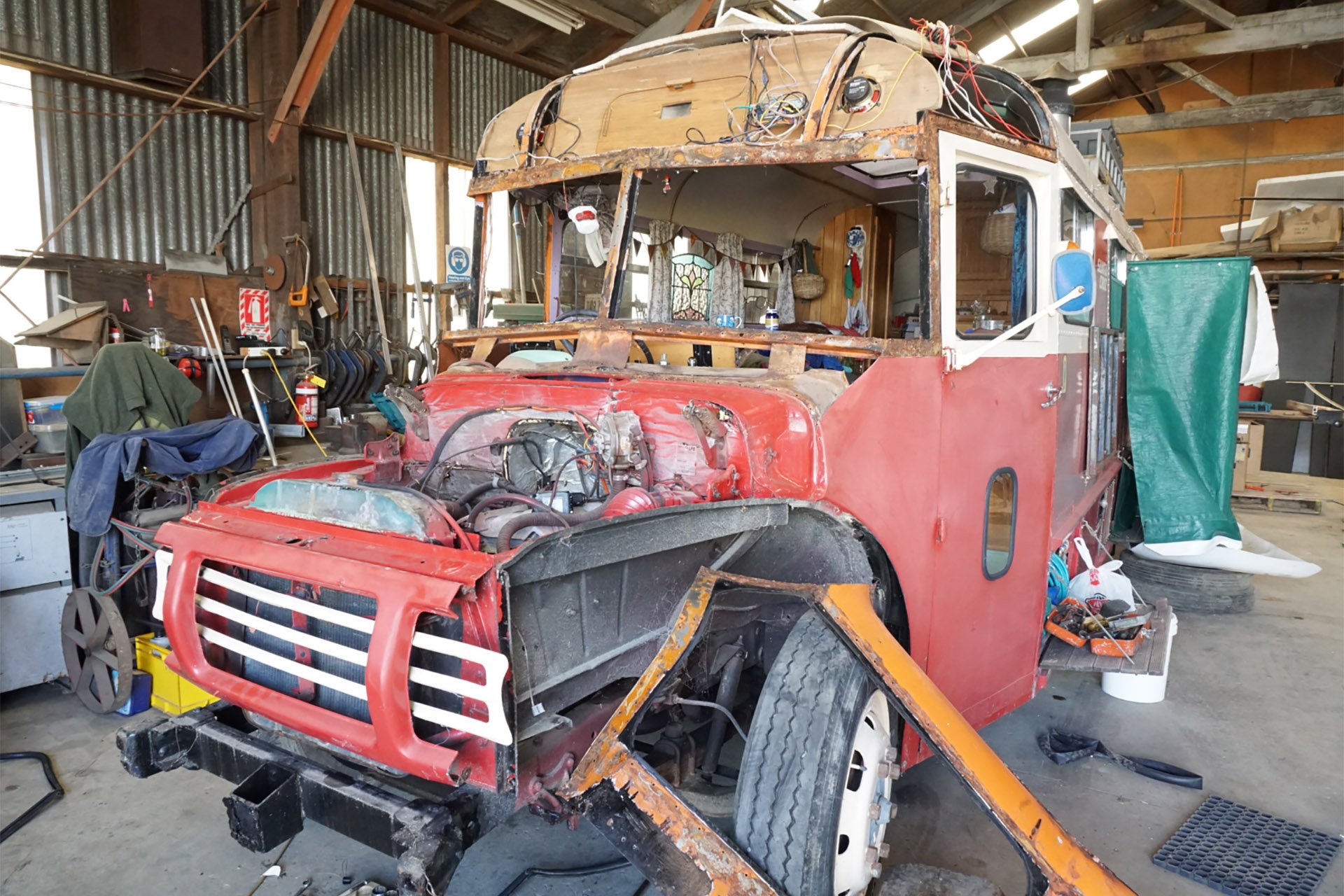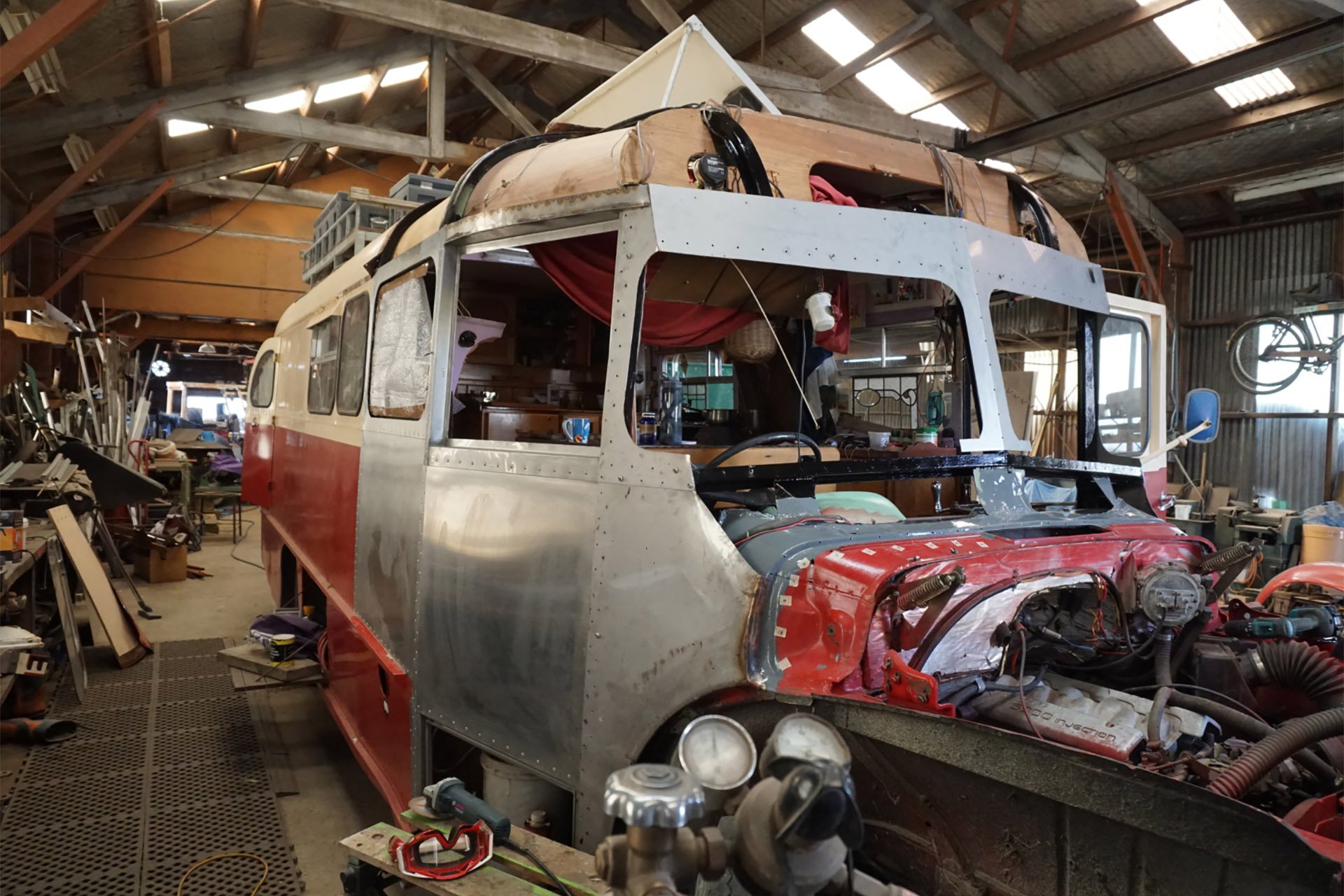 Were you looking for a bus or did it find you? What year was this?
In 1996, I wanted to work as a glacier guild in South Westland and I knew accommodation was hard to find, that's when an early MTB idol of mine Shane Burmester, who at that time drove around the race circuit in an awesome wee green J2 Bedford told me about a J4 for sale and off I went to look at it. I was only 17 and this thing had no warrant of fitness certificate, wiring issues and needed some love.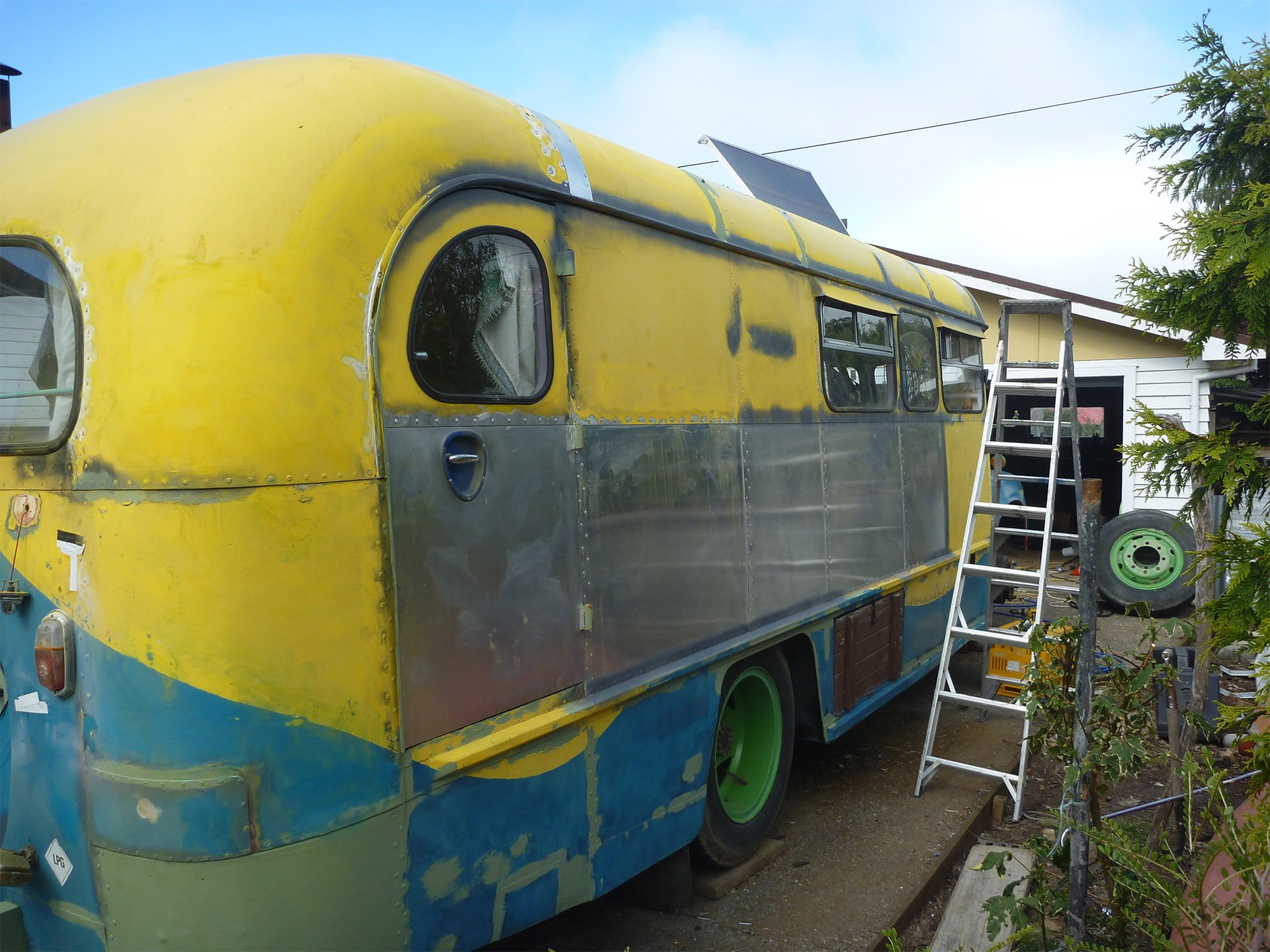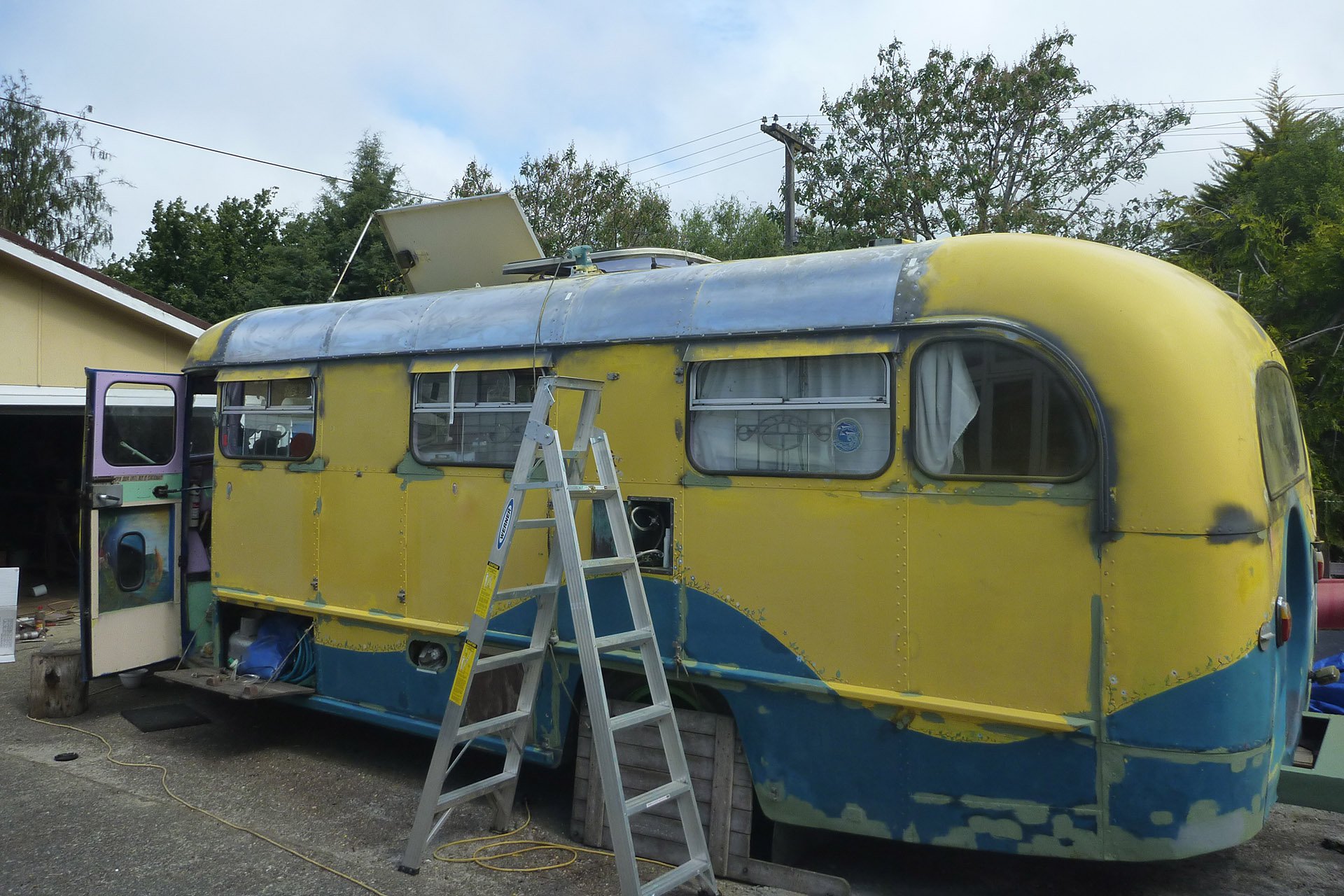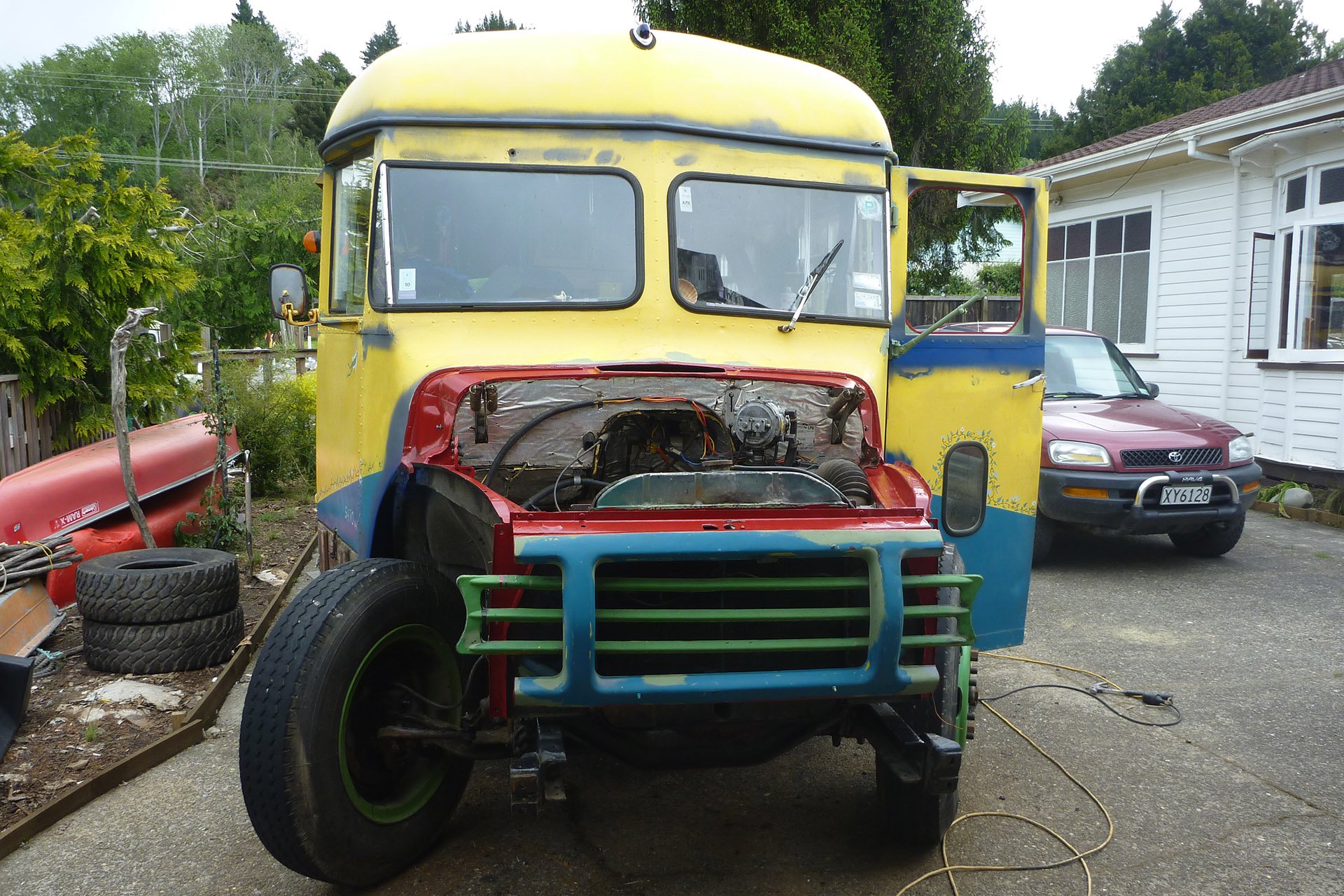 What sort of shape was it in when you took delivery?
It was running, seats had been removed, surface rust on its gravel blasted chassis, but otherwise very good bones, which I didn't really appreciate until later.
Did you know your plan from the beginning or did it evolve as you began work?
Well, I thought about it a LOT, talked about it a LOT. I took it up to my mum's place in Wellington on the North Island and not long after was invited to work on it at my classmate's parent's farm, with their big woodwork workshop. I was a bit naïve about how long things might take, they called me " the boy who came for two weeks and stayed for two years". That's how long it took to finish the interior and a bit of mechanical maintenance. The father David was amazing at nutting ideas out with me and a very skilled all-rounder, his day job was head of mechanical development for a government research center, with amazing access to tools, machines and a wealth of practical scientist's knowledge. David would let me come in and work there sometimes in the late afternoon. I was maybe the son he never had and he was an amazing father figure that's for sure. He made new suspension parts for the bus and taught me to weld, do plumbing and maintain my bus engine.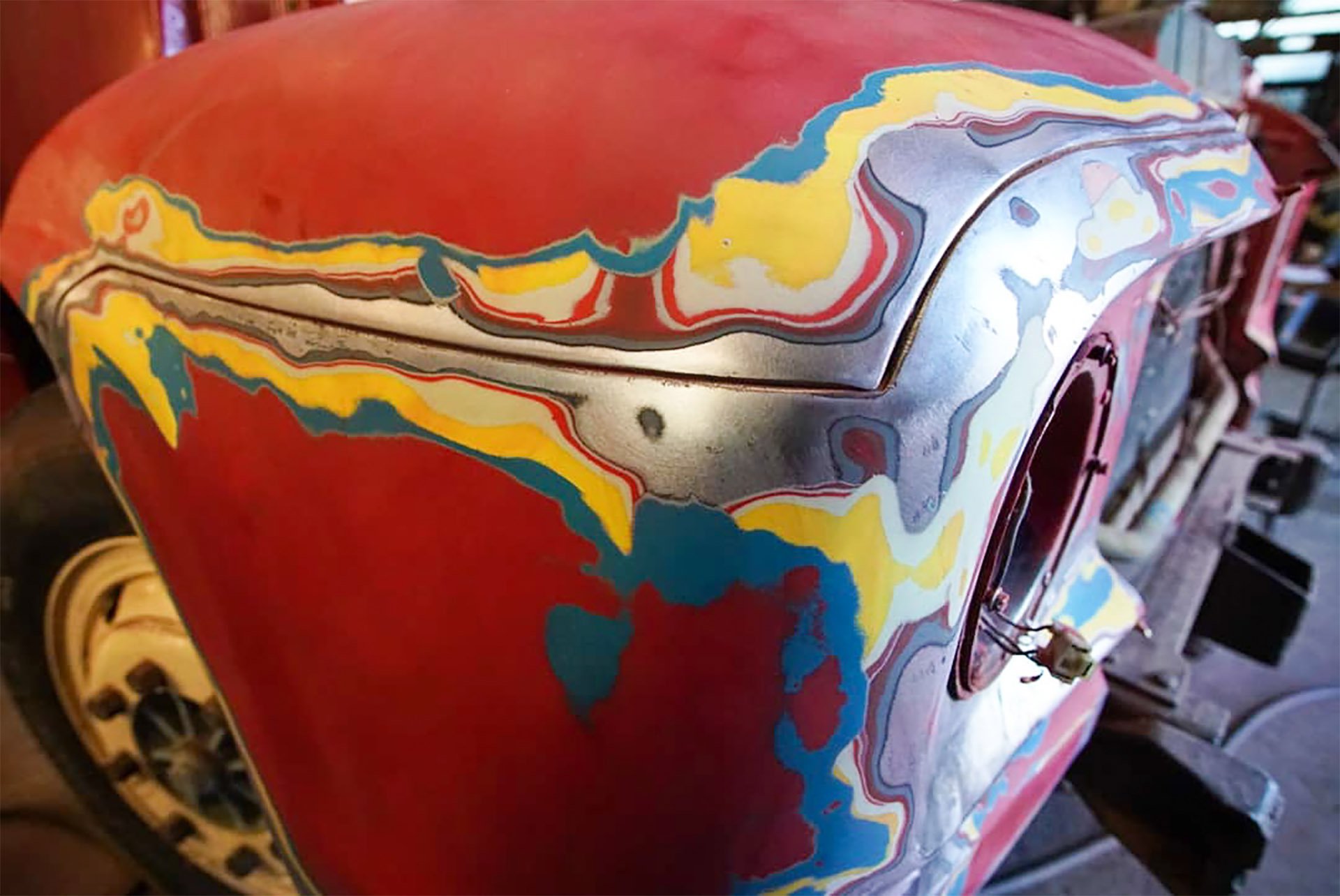 Obviously woodwork, attention to detail and fine craftsmanship are important to you. Was there a philosophy that guided your work?
I luckily naturally had a high-grade work ethic and practiced making things from a very young age. Later I also had a very good woodwork teacher at school that taught me a lot and would let me come in and work on my school projects when I had been thrown out of class for being disruptive or something.
Do you have a background in woodwork and auto mechanics? If not how did you learn to do a massive project like this?
Looking and seeing how something has been done or put together is maybe a skill of mine and allows me to copy the process through that understanding of what's been done to make or construct that thing. I was also taught by some great mentors who seem to just appear in my life at the right time.
What were some of the early challenges in your conversion and restoration?
Everything really, it was a massive job back in the mid 90's and again now with the re-paneling and restoration 24 years later, easier now with more skills and less stress about how much things cost. First, it started with 2 months under the bus with a wire brush attached to a drill cleaning and painting, then lifting up and dropping the floor down onto the main subframe...lifting the floor first would have been better and paying a sandblaster might have been a good idea in hindsight too.
Did you also do the mechanical work yourself?
Yes, nearly everything, engine changes, wiring in the new engines ECU to changing synchro rings, seals and bearings.
Where did the new engine and transmission come from?
The engine is now a 1991 Holden 308, 5-liter V8 ( that's a Chevy engine, I understand), it came out of a saloon car. When I got the bus it was running a 1987 308 on liquid propane gas.
It sounds incredible. Was it already tuned like that or did you mod it for higher performance?
The only thing I've done is attached a straight through short exhaust and silencer to the extractors. I used a 2 ½ inch exhaust...I would use a 3" now.
I have to ask what the top speed you've had her at is?
On the flat, it can easily pull over 60 miles an hour...I have seen it higher though. I fitted a higher ratio pinion in the diff some year ago, which helps keep the noise down and speed up. The 4-speed Bedford gearbox is a bit of a killer of speed on the hills though!
What's the best place you've parked?
Central Desert volcanic plateau in the North Island is a favorite. I got snowed in there once and extracted by the Army after 4 days, amazing being towed through big snowdrifts by two Unimogs.
You are part way through replacing all the body panels. Are you hammering each panel by hand? Using steel or aluminum? How long do some of the more complex pieces, those with lots of curves, take to fabricate?
The front section around the front windows took the longest (2 months) and was hand-shaped with hammers as well as using rollers, all in 1.2mm thick stainless steel. The other curves on the roof are easily rolled. The forehead and bum are fiberglass and have been cleaned up and reused. The lower skirts are Stainless as its easier for me to Tig weld them than try welding thin aluminum. The sides and roof are all 1.2mm marine-grade aluminum.
How much time do you spend living in the bus?
About 3 months every summer for the last 2 summers and probably it will be about 6 weeks worth this NZ summer. I'm typing this out, sitting amongst the mess and dust of a semi pulled apart bus.
Once you have replaced all the body panels, what's the next project?
Good question. Drive the bus around more. Then the next big project is to spend the rest of summer kitting out a second Land Cruiser in preparation for shipping it to Australia for some big adventures and crossing the 1,000 km Simson desert, before shipping to Vladivostock to start a big drive to Europe via Siberia, Mongolia, Kazakhstan and on westwards. I can see I might need to do another "Pistons and Pivots" story on that wagon.
We'd love to do that. Do you expect the Bedford to ever be finished?
Yes, but also no...there are always things to be tickled up and maintained, that's how it rolls right?
What elements are you most proud of, or perhaps those you enjoy most?
The space I've created gives me so much enjoyment, after all these years of living in it, I still just get so much stoke out of the space I've made and the little wood burner fire.
In Nelson several people were very interested in your bus. Does it always draw a crowd?
Haha, yes it does an some say it draws the girls too, no comment there but its definitely fun! People love it for many reasons, I hear someone older people standing outside in some parking lot somewhere and saying " I think I went to school in the bus" that always makes me laugh!
How often does it become a party bus?
Oh, it sees a fair bit of action, I drive it around NZ to many MTB events every summer for Santa Cruz and people love filling up the lounge, also it is such a joy to drive this 7.5 ton machine!
How does the bus fit into your life as a mountain biker in NZ?
As a pro adventure rider spending half the year overseas, it is perfect and great for having a low-cost base here at home in NZ, and when back home and with up to ten bikes loaded on it, it fits in very well too.
Is there a shower?
Yes on the outside...it's awesome! and good!
Any idea how much fuel it uses generally?
Nah not really, it is what it is. Has a range of about 350 kms on the 320 liter LPG tank.
What powers the bus off-grid? Fridge? Stove? Hot water?
Solar for water (300 liters) pump and lighting etc, LPG fridge, cooking and hot water via a califont water heater.
How many miles were on it when you purchased it and how many now?
The odometer doesn't do 7 digits so I reckon it's been around the clock a few times
Have you ever thought about how many hours you've put into your bus?
Many times... Somewhere between 3 - 4 years.
Do you expect to keep it forever?
Sure do...not planning on ever selling it anyway.
What is the biggest crowd you have ever taken for a longer distance trip?
13 I think. 50-01 crew, Rat, Loose, Craig Evens, plus Cedric Gracia, Max Schumann, Gary Perkin, Mark Scott and Iago Garay were the biggest crew that traveled in the bus for a week 10 of us all up.
When we met you were on a Hightower LT. What's in the quiver now?
Megatower and Tallboys are the Santa Cruz bikes of choice for me, I have so much fun on the small bikes like 5010s or Tallboys. People underestimate and maybe don't realize what they are missing out on with the small nimble, playful and light bikes.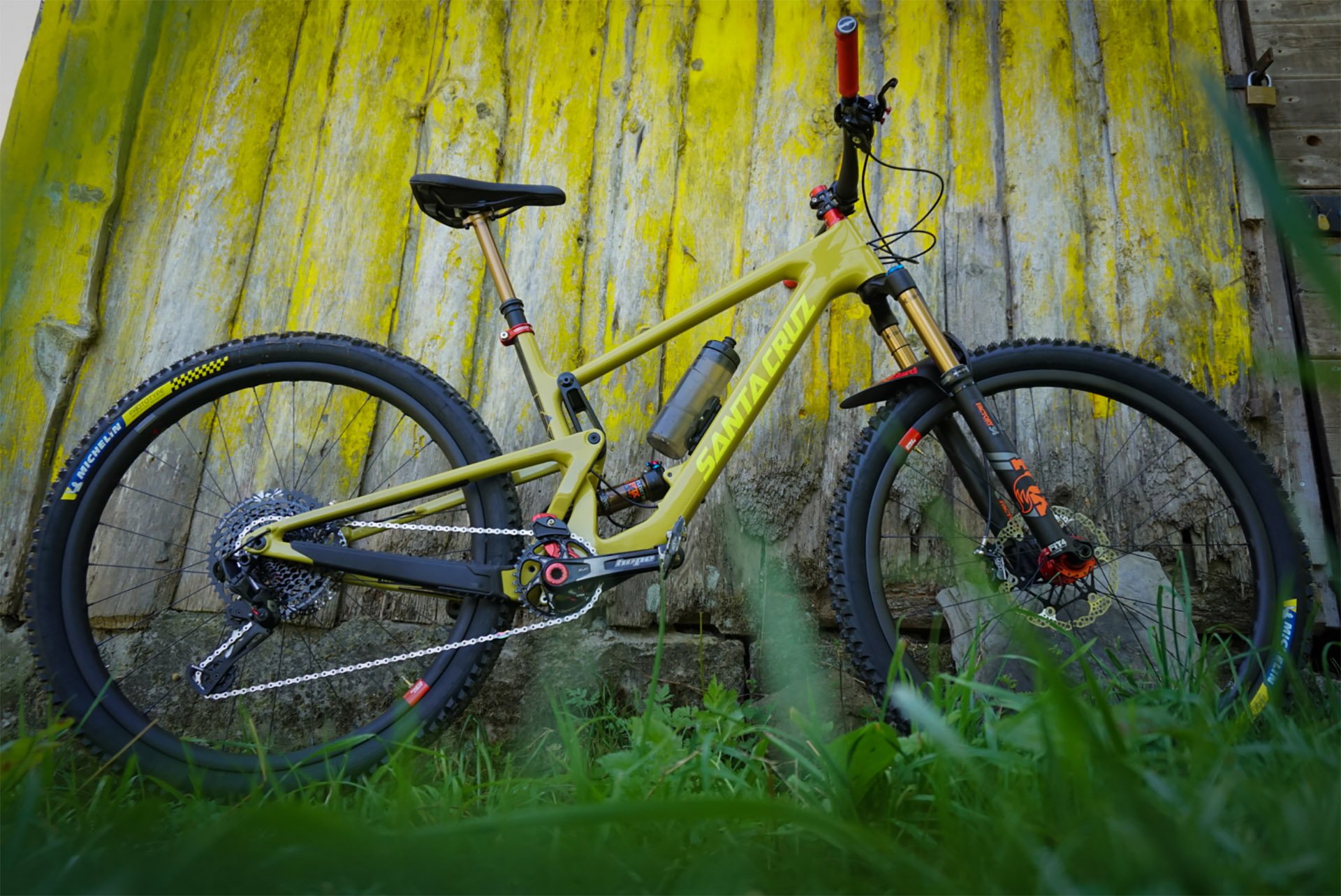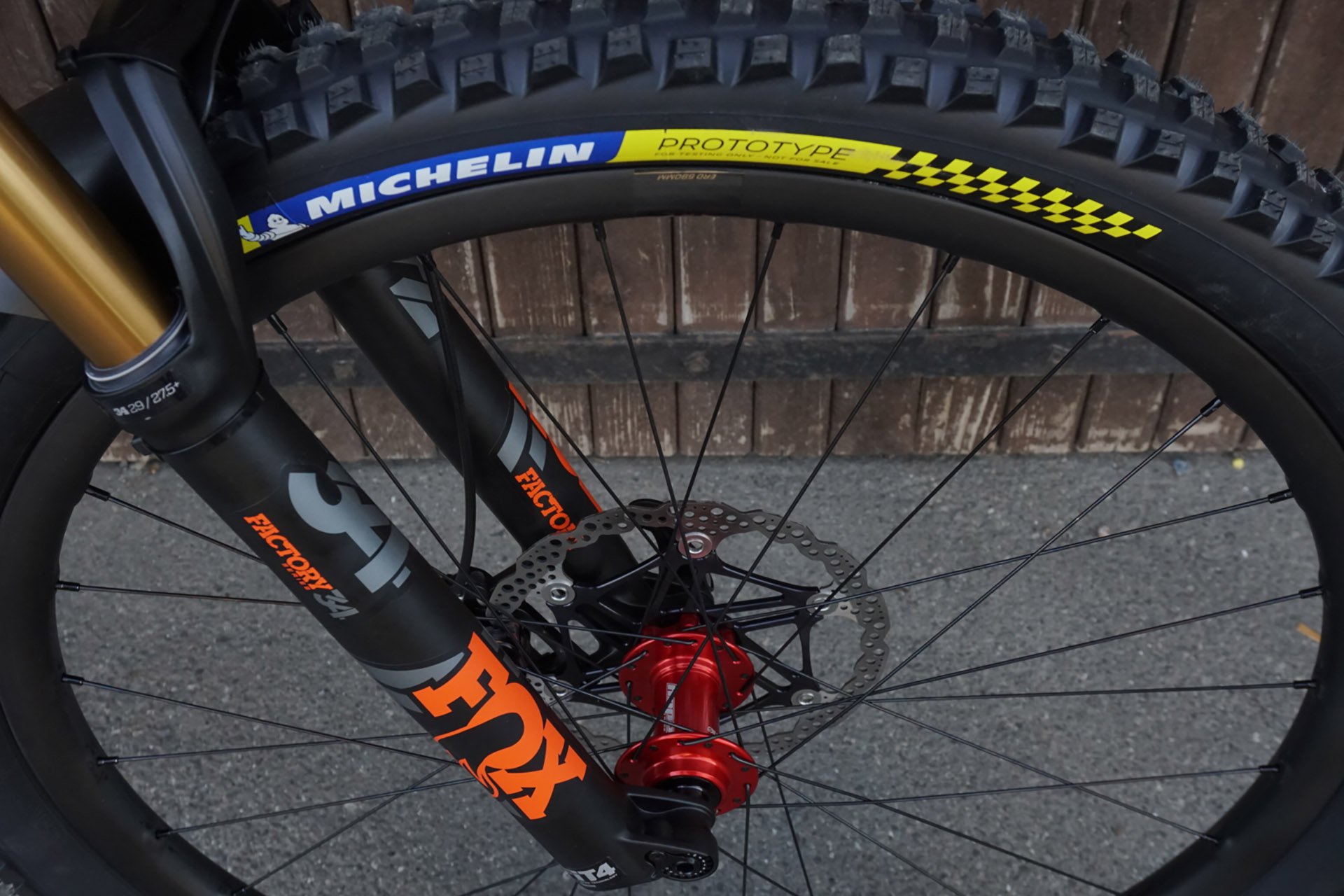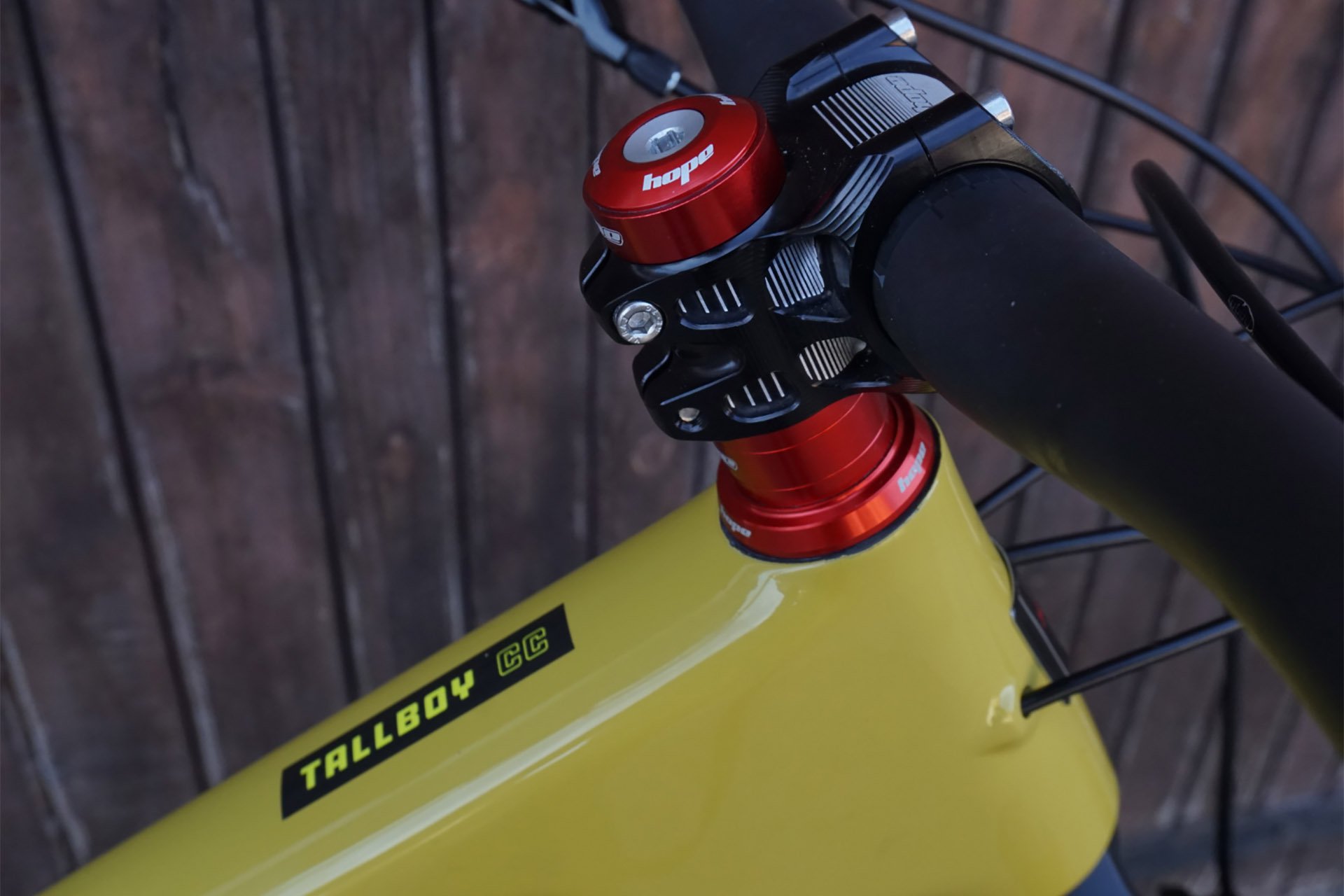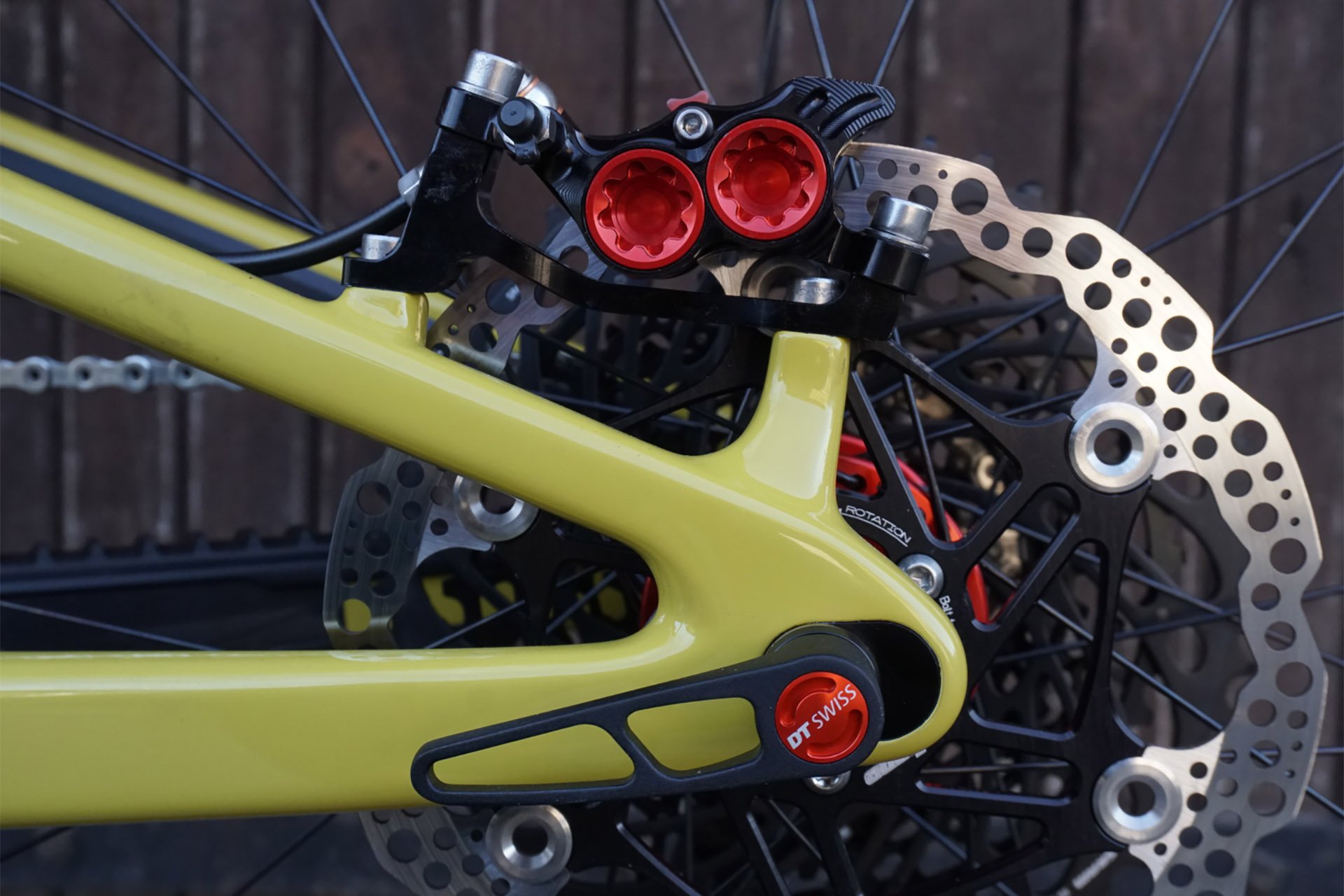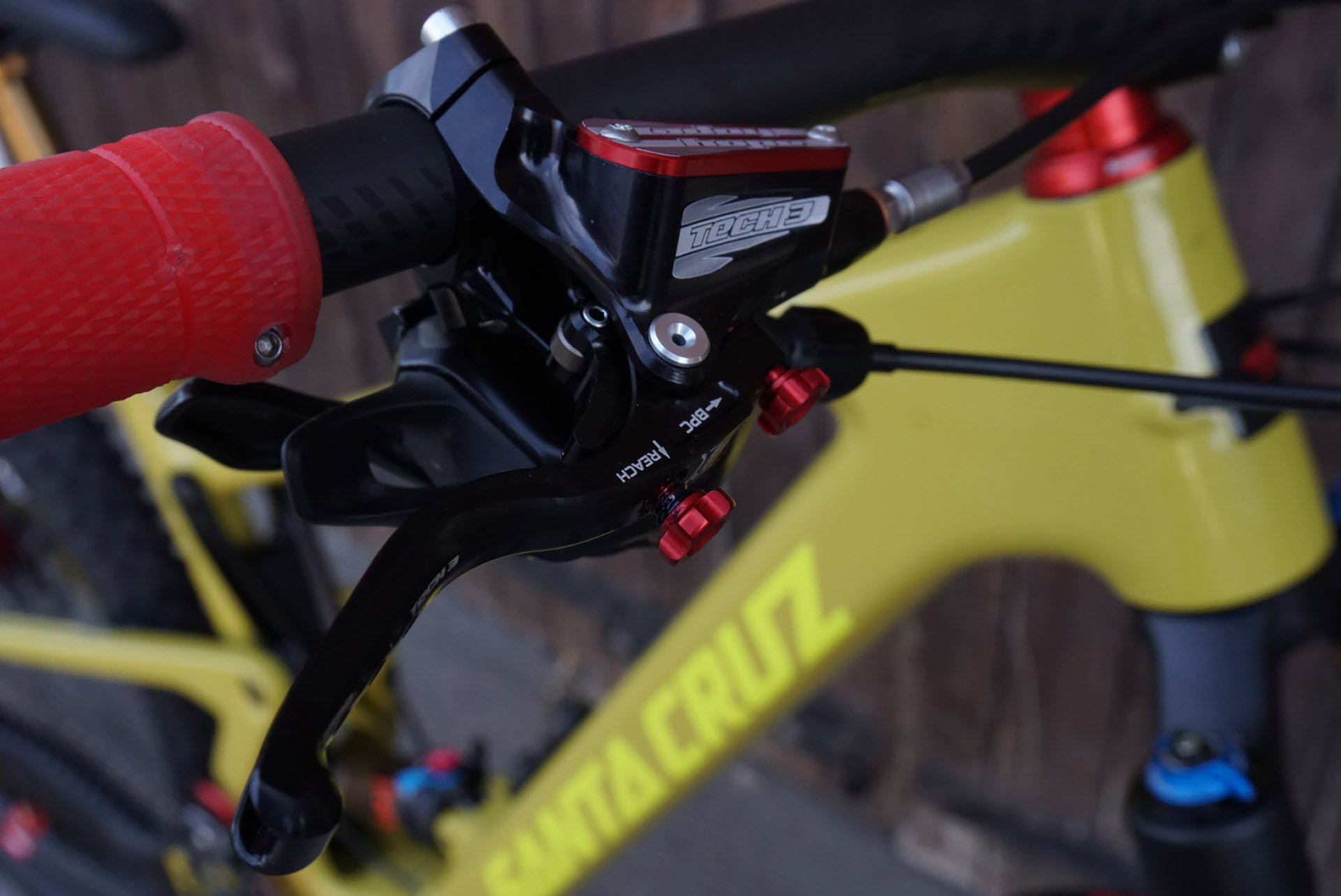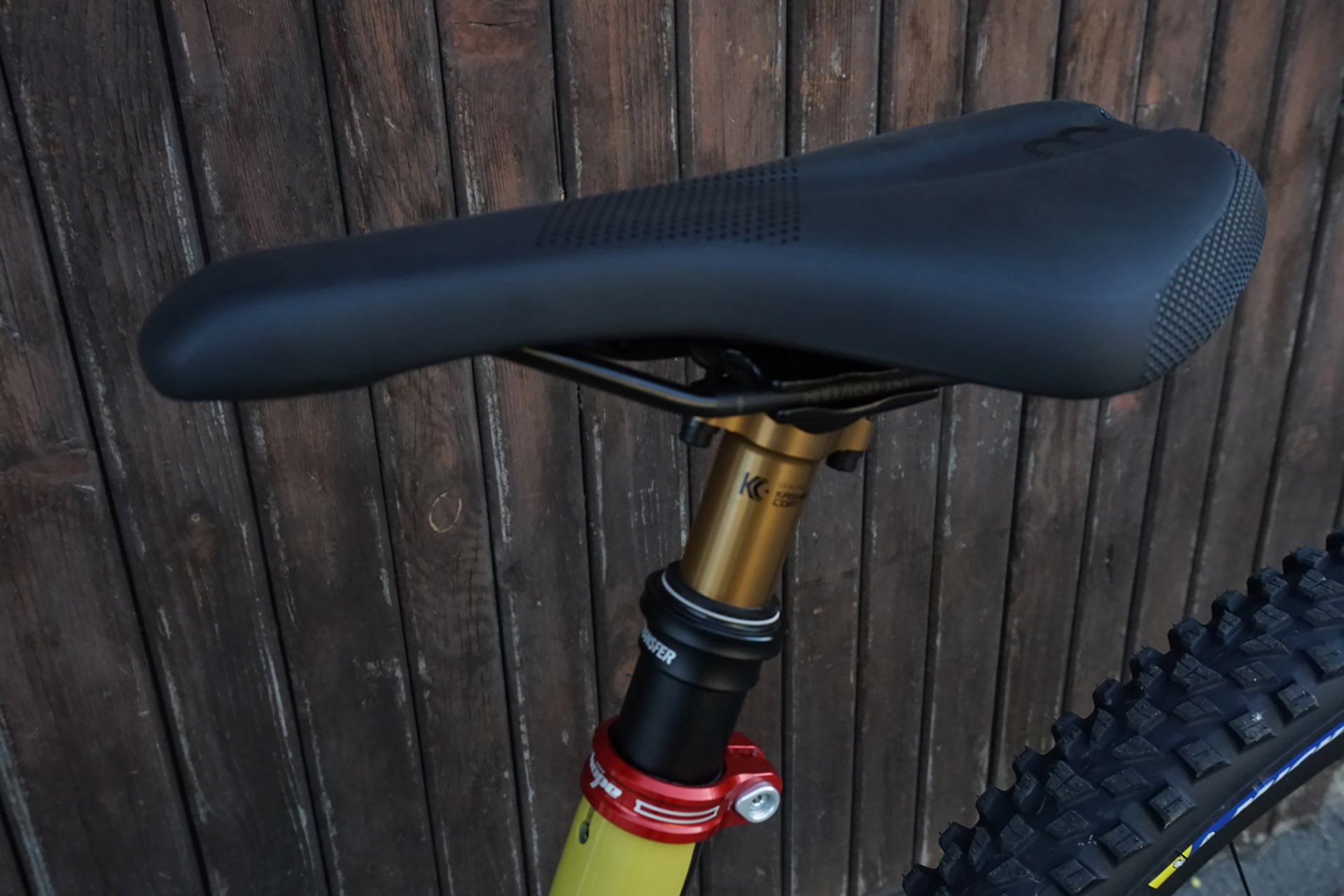 Are builds special for you? You seem to go deep with the anodized Hope parts and details to personalize things.
Yeah, it's so much fun thinking and planning in your head what frame color with what Hope components will work well together. The suspense of whether you have got it right or not, so fun!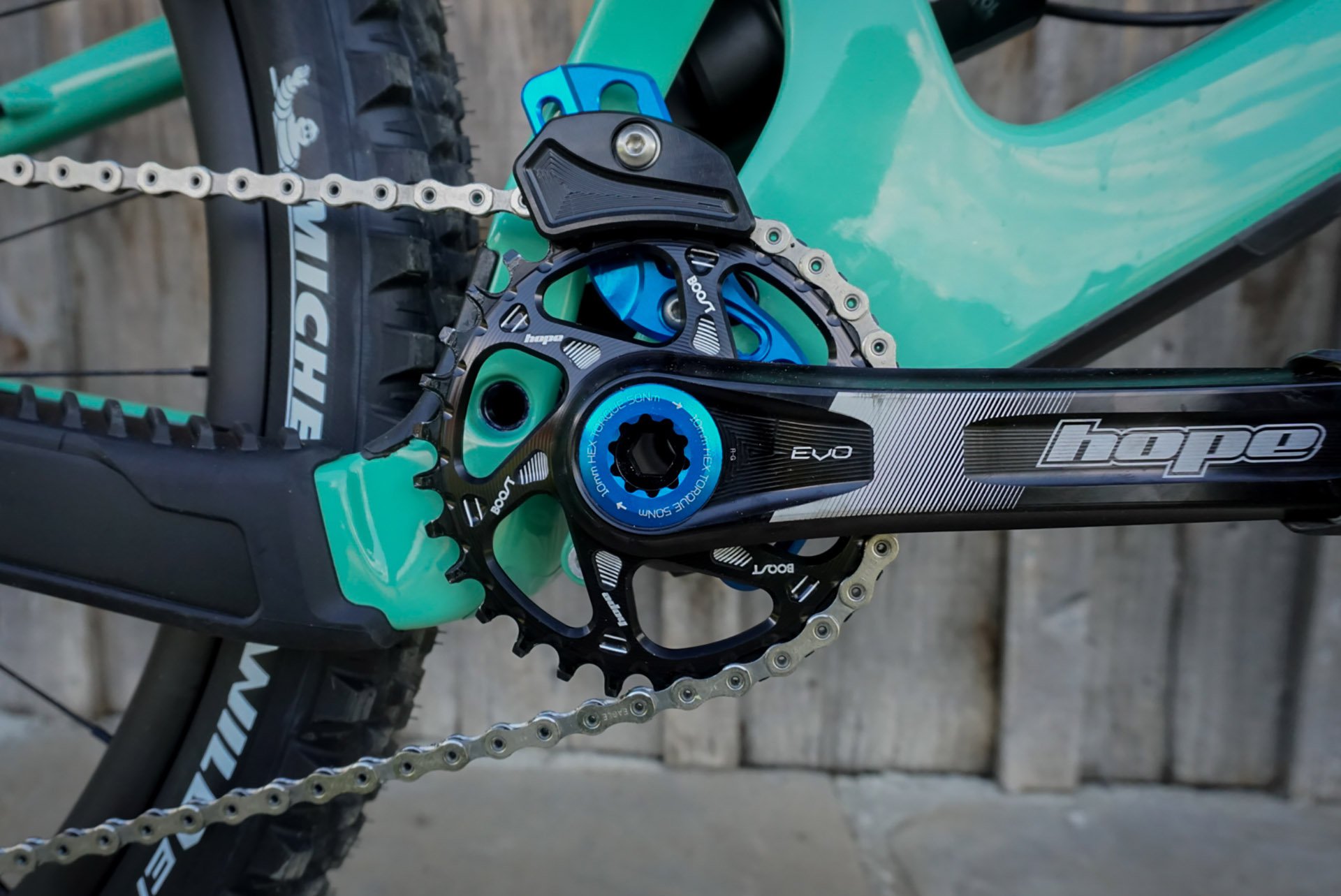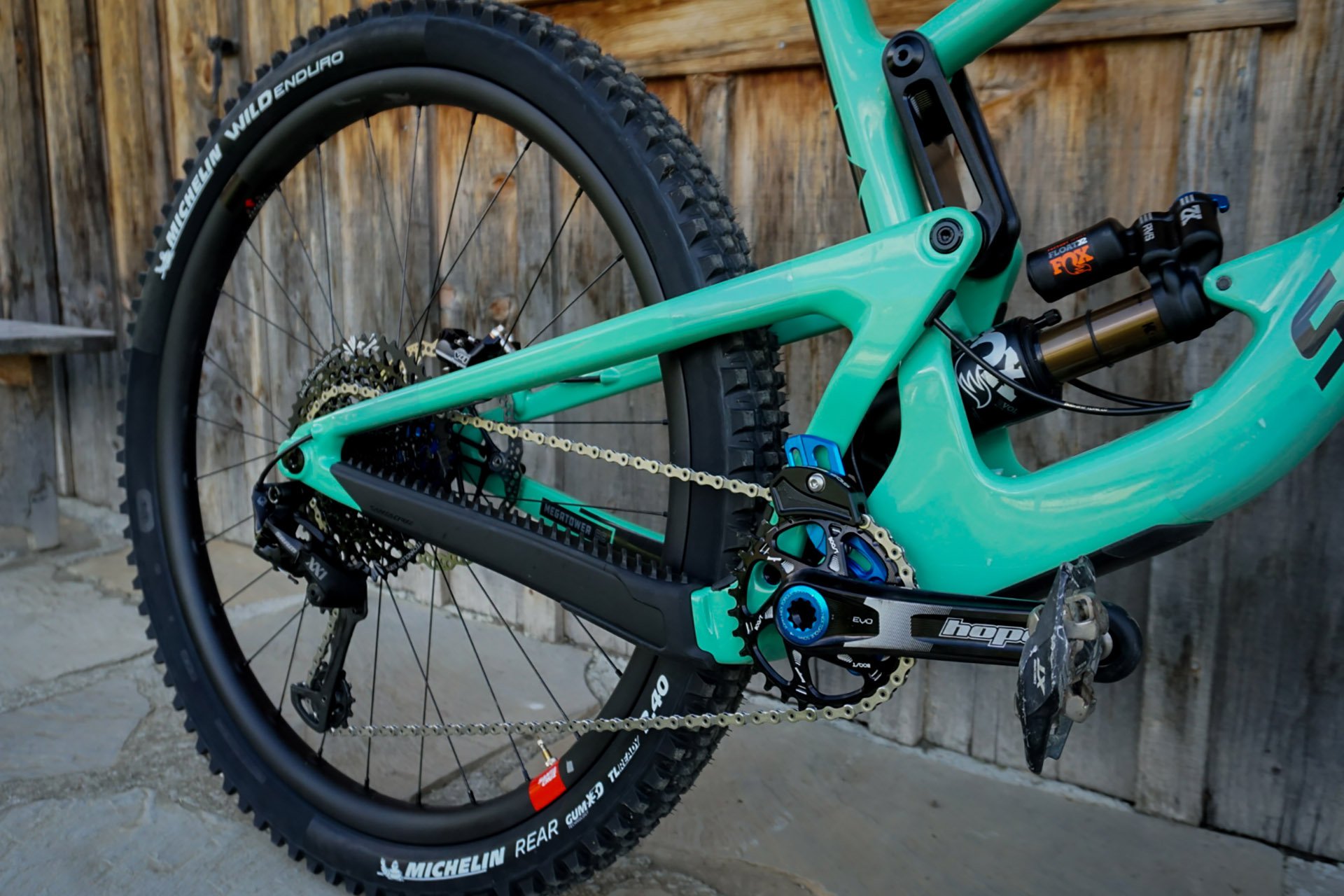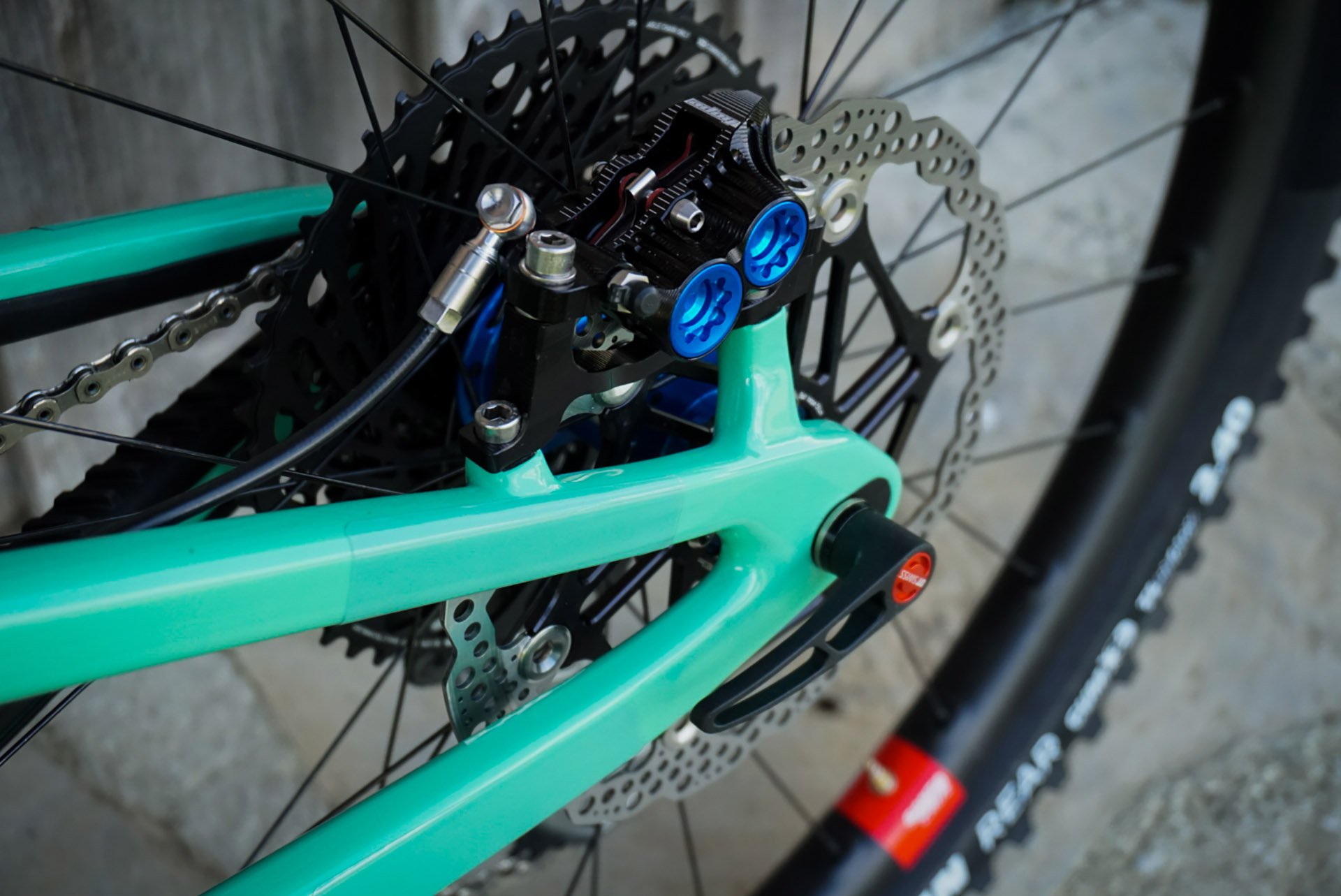 What do you value most in componentry?
Reliability and function for sure.
Is there anything special about the way you set up your bike?
Not really, normally I put on a 10mm longer fork than they would come standard with. I nearly always use the low setting on the "Flip Chip" too.
Thanks Jamie! You can follow Jamie on instagram @jamienicolladventures. Hopefully we'll see him again before too long.