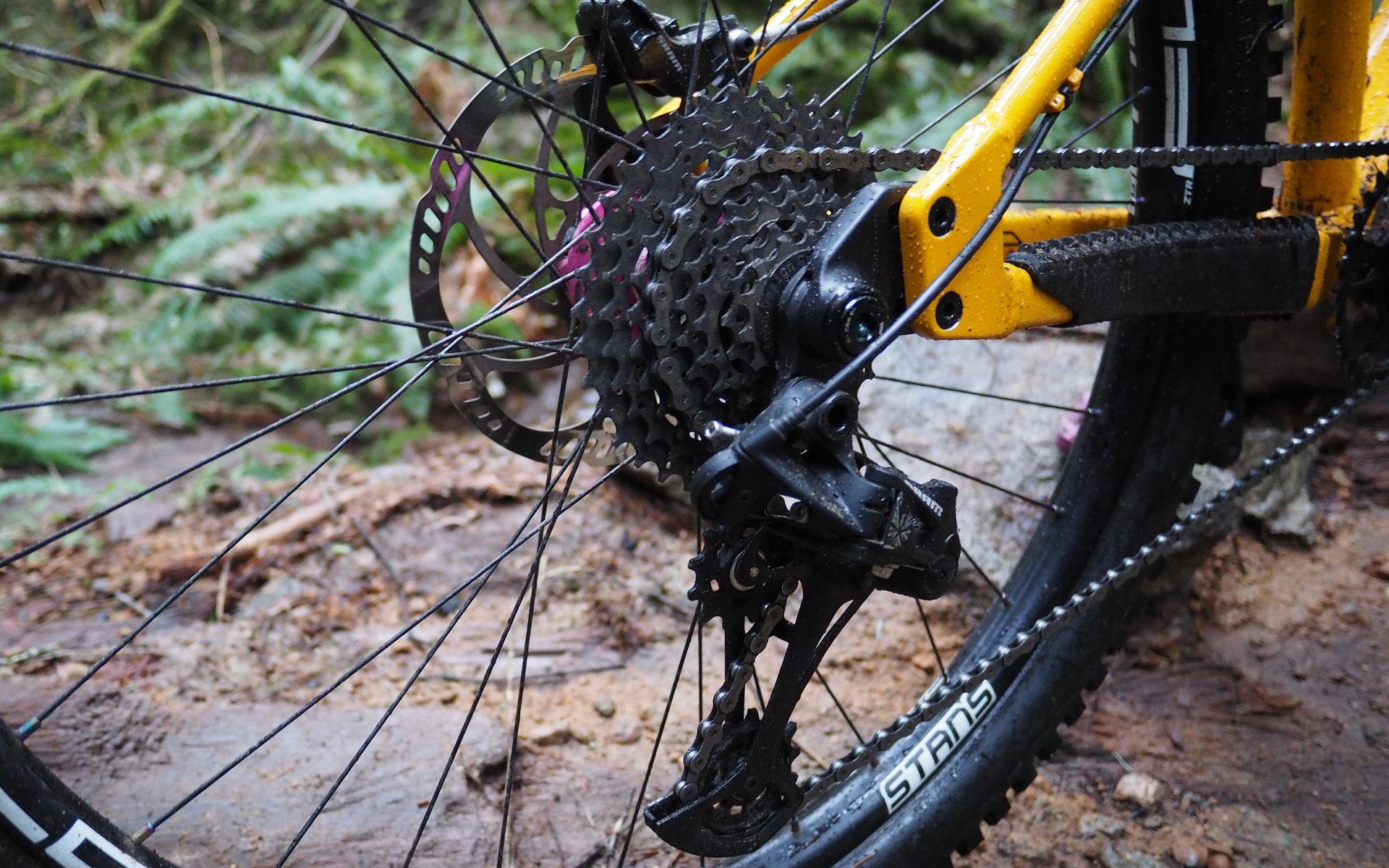 EDITORIAL - DOES THE FUTURE HAVE FEWER GEARS VIII
Jailbreak Your Rear Hub (or don't)
HG Freedom
I originally intended to write this piece in the heart of the COVID parts shortage. Back when folks were willing to trade their souls for a just peak at a fresh 12-speed cassette. It was going to be called '8-Speed Your 12-Speed.' A few things stopped me but chief among them was a good friend pointing out that the vast majority of 12-speed drivetrains are attached to bikes with either Shimano Micro Spline or SRAM XD freehub drivers.
Whatever the pros and cons of the various cassette mounting standards, when it comes to adaptability and experimentation the 35-year-old HG freehub body is where it's at. The other standards are newer and the manufacturing of compatible cassettes is tightly controlled. The limited splined area on XD drivers, relying on the structure of the cassette when pedaling in higher gears, makes respacing them impossible, and on Micro Spline cassettes the smallest cogs interface with each other, making reorganization impractical.
Indeed, when it comes to a stock 12-speed mountain bike, only those equipped with SRAM NX Eagle drivetrains, and thus an HG driver, would be applicable without swapping the freehub body. I imagined this would be too far for most folks to go since it would require two acts of faith. First, buying the HG driver and then, since no 12-speed cassettes were available, period, trusting that the different spacing of a 9, 10, or 11 cog unit would work with their drivetrain.
Before I chase the rabbit any further, there are undeniable advantages to Micro Spline and XD drive systems over HG. Their raison d'être is that they can both use 10t cogs where the smallest option on HG is an 11t.* The other factor is the durability of an aluminum driver body. XD has no freehub splines to chew up in the high gears and Micro Spline relies on the freehub design and cassette interlocking to also negate the number one complaint assigned to HG.
* I think that's phooey personally
Further, swapping your 12-speed Shimano bike from a Micro Spline to an HG driver, even while keeping an 11-51t cassette like a SunRace MZ, means giving up the under-load shifting advantages of the new Shimano HG+ drivetrain architecture. I don't ever bang off shifts under load anyway, but if you do then Shimano HG+ is your drivetrain. On the SRAM front, ditching XD means surrendering the pile of weight savings, or at least potential weight savings for us GX users, of an X0 or XX one-piece cassette compared to pie-plate equipped HG options.
It's also not really possible to talk about the cost of swapping to an HG driver with any kind of universality. Comparing the swap of a Chris King hub from XD, or Micro Spline, to HG with, say, the cost of swapping a Bontrager is like trying to have a generalized discussion about the cost of buying a house. Are you buying in North Vancouver, BC or Saskatoon, SK? There's going to be an upfront cost to swapping a hub to HG and if you add on buying a new HG compatible cassette, this could cost more than buying an equivalent quality cassette that fits your existing driver.
Now that SRAM has opened things up, the support for XD drivers has been growing. In theory, supply issues aside, you can now buy an 11-speed or 12-speed XD cassette from SRAM and SunRace. And don't forget e13's novel two-piece solution. Will Shimano open up Micro Spline the same way? Time will tell. Also, with Shimano manufacturing a substantial lineup of intercompatible HG+ products, it is hard to imagine that inventory issues will persist as Micro Spline enjoys a few birthdays. I mean, unless they go all I-Spec on it with Micro Spline-A, B, 2, and EV within a decade. Now that the worst of the product shortages seem to be over, there's probably no justification for folks that 'just want to ride bikes' to bother switching over.
But for the bikes nerds, interested in experimentation, an HG freehub opens up a whole world of experimentation. Looking at the price of basic HG cassettes I'd even go as far as to call it affordable experimentation. One of my favourite examples from the Covid-shortages is not to let your quest for perfect keep you off your bike when there are good options. Despite the different spacing between cogs, a SRAM Eagle 12-speed drivetrain does a lovely job of shifting most of a 10-speed cassette - from whatever brand. On the Chameleon MX I haven't even shortened the stock chain.
But it's deeper than that. Ditch a cog, improve your chainline. Without having to widen the back end, reducing trail clearance. Try single speeding. Yes, sure, even with a full suspension bike. Build your own fabulous-Four, wide-Five, or sexy-Six speed cassette made up of the gear ratios you actually need to ride the trails where you live. There are limitations in the size of cog-to-cog jump any derailleur can handle as well as the ability to take up a certain size of cog at any point along it's path. But, how do you know until you try? And heck, if the derailleur won't cooperate and line up with enough cogs, you should try a friction thumb shifter.
I think it's really important to note that if you like your bike the way it is, that's awesome. No one should feel bad because they just want to ride their mountain bike, or because it's enough work to stay on top of maintenance without making the time to play around with mix-matching standards just to see what happens. But, if your bike is down, it's Friday night, there's a ride you don't want to miss tomorrow, and all you have are some 'incompatible' spare parts and your beverage of choice, good-enough can get you back in the saddle. I now know more than one person who discovered their love for mullet bikes or running really-long travel forks on their hardtail exactly that way.
For folks looking to add some bike nerdery to their lives, or some interesting projects to try with the kids using stuff they already own, or wanting to own the ultimate in adaptable drivetrains, I think an HG conversion makes a lot of sense as a jumping on point. Will it save you a few bucks in the long run? Could do, but probably not. So, whether it's worth it to you or not is going to be a personal decision. If you have any questions maybe we can figure out how to jailbreak your hub or maybe start figuring out if your future has fewer gears.