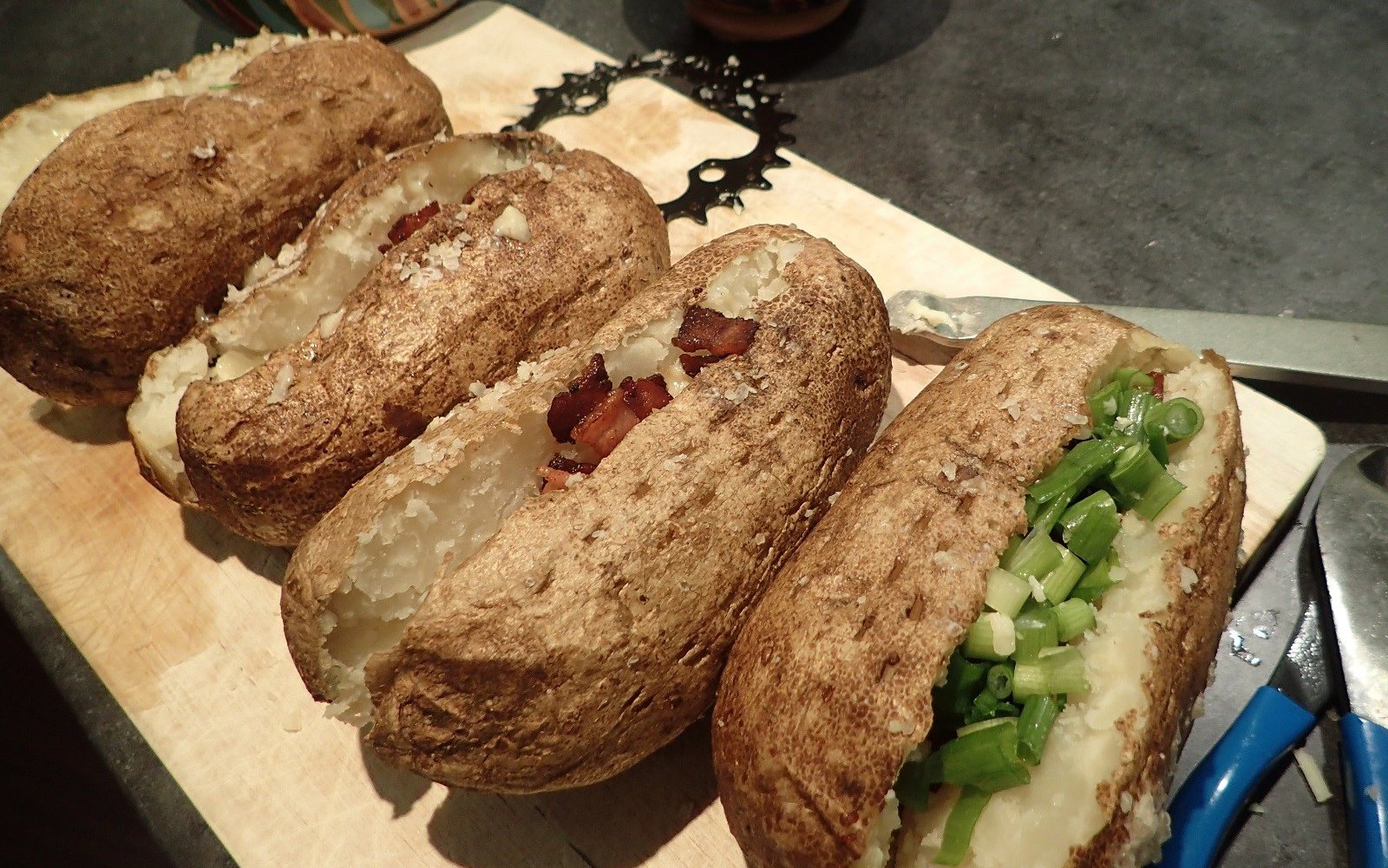 Cooking with NSMB.com
Is that a F#cking Potato?!
A younger me was a heavier me. Twenty pounds. Maybe more. I lost count. And I was a hungrier me too.
Older, possibly wiser, honestly faster, and with significantly more grizzled (please note I did not say chiseled) features, I now pedal loops in forty five minutes with a half-bottle of water that took younger me three Honey Stinger Waffles, a half a pack of Clif Blocks, and a fully loaded three litre Camelbak. I'm not claiming to be fast, or even moderately quick by anyone's measure. Just faster.
The day of discovery was across the border. I was on a large group ride rambling around the hundred acre wood that is Galbraith near Bellingham Washington (Thanks WMBC!). A glorious day. Hot but with a nice breeze blowing. I'd recently started experimenting with a 1x drivetrain, pushing 32t x 11-32 nine-speed on my 33lb full suspension bike. 1:1 ratio is all you need isn't it? It was a singletrack climbing suffer-fest. Finally we reached our planned resting point, a now overgrown Lake Whatcom lookout.
Time. For. FOOD!
Ripping into my pack I remove an energy bar, and I'm mowing down so quickly you couldn't have captured it in slomo. It's dry. It has a strong physical resemblance to its eventual end product. The taste is inoffensive at best. I'm not finished number one and I'm already thinking about number two (the energy bar, not the end product).
Next to me, a wizened old man named Todd, who has aged gracefully since then, is industriously unwrapping some aluminum foil.
Wait! Is that a f#cking baked potato?!
Todd eases into a grin that expresses absolute victory as my half-wrapped chunk of dried out turd chew hits the ground. Can he do that? Cheese? Salt? Butter! Bacon bits? Chives? All the f#ckng fixin's? Years removed I can vividly recall the unholy scream my stomach unleashed at the realization there are alternatives to eating $10 worth of pre-packaged future-sh!t on a ride.
Is THAT really a f#cking baked potato?
A few minutes of prep and then, while your oven is doing its thing, you have an hour to dial in your bike for tomorrow's ride. It's SO DELICIOUS. You think you like baked potato at home? Wait until you try it in the middle of nowhere while your friends are all trying to chew through flavoured belt leather.
I eat very little on most rides these days, but it has been a long time since any part of that very little was an energy bar. If it's a long enough ride for chow it's a long enough ride for something filling. For real food.
Split 'em in the middle and push from either end to open them up. If you can ride without gloves you aren't allowed to cry about a little burning sensation on your hands… for everyone else — Chris King makes Salt-&-Pepper shakers, why doesn't TroyLee make Oven Mitts?
In the time it took you to comment on the article, get called out for commenting without reading the article, get defensive, actually read the article, revise your comment, and put some lube on your bike chain, your baked potatoes are ready for tomorrow's ride. Unfortunately, your brake pads are still metal-backing-plate-on-rotor but what can you do?
It takes the same amount of time to make four potatoes as it does to make one so why not make one for everyone?
Or not. It's twice as delicious when everyone else watches you enjoy it.
---
Do you bring real food on the ride? Maybe a steak? Some sushi?