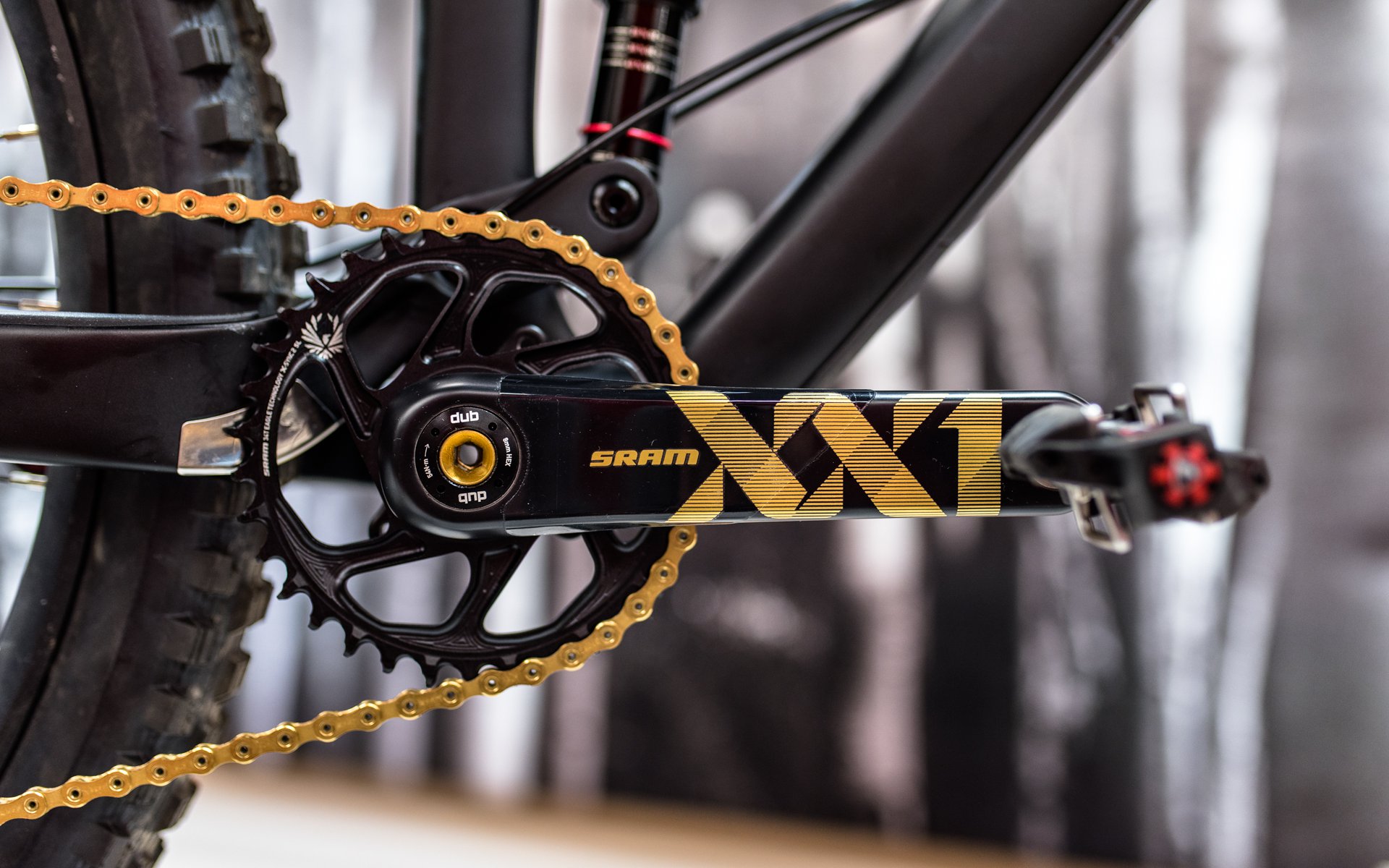 Product Intro
Introducing SRAM DUB Cranks and Bottom Brackets
When we heard SRAM was going to announce something new most of us had guesses and while some of them were even educated, nobody guessed cranks or bottom brackets. Current systems aren't perfect and there are standards issues, but what could be done? SRAM felt a lot could be done so they started from scratch to create a single system that will work with every common BB standard but, they told us, without any durability or sealing compromises. The XX1 version will also take over as the lightest system, dropping almost 100g from SRAM's previous flagship crank and BB.
My first question was how the engineers and technicians at SRAM's San Luis Obispo development facility managed to deal with durability for a large spindled crank with a PF92 interface that leaves little room for burly bearings. It isn't mentioned in the marketing materials but the spindle is only slightly thinner than the troublesome 30mm spindles that seem to make PF92 bottom brackets prone to premature failure. 

The flower pattern is very similar in time and complexity to our current 30mm spindle and crank interface. The general design was based off of that already proven interface, but then we made some geometry updates to the DUB spindle flower pattern in order to provide a more consistent install and removal feel. With the new modified flower pattern we will now have a more consistent feel for install and removal than we did before with our 30mm systems. As for the process itself in manufacturing the pattern, both the spindle flower interface and the crank flower interface are done with precision CNC machining. This certainly takes more time than a typical coined interface, but given the results of the entire system we are happy to spend the extra time to ensure we have a good robust interface. - SRAM
Fat spindles are strong which allows weight to be shaved so middle ground needed to be established. The final diameter ended up being just slightly less than 29mm, but I was told that for an engineer working with these restrictive parameters that's like "a football field." Apparently, the thickness of a dime was enough to allow SRAM to create bearings that are well sealed and durable. The quote below details what SRAM told us about the testing procedure. 

As for durability data from the BB side of things. the spindle diameter was just a result of us reducing the size enough to get the sealing we wanted. Sure 1mm might not sound like a lot, but in seal design language 1mm is a big deal. Same way people at first thought +3mm of clearance with Boost148 frames couldn't make that big a difference. Turns out for a frame designer, 3mm is HUGE and you have seen the awesome new bikes they have come up with since the introduction of that platform. So there will certainly be skeptics like there are with all designs, but the proof is in the results. In all of our lab testing, when compared to the same conditions as our other BBs, the DUB bottom brackets have outperformed our previously most durable bottom bracket (GXP threaded). And the DUB BBs do so in every configuration we offer, not just the one that is compatible with Threaded BSA frame shell standards. - SRAM
One of the signature accomplishments of the DUB system is producing what SRAM is calling "the world's all-time lightest crankset." The XX1 with 175mm arms, spindle and a 32 tooth ring weighs 422g according to SRAM. Add a PF92 BB at 71g and you are at 493g complete. Apparently most riders will be better served by the XO1 chainring because the XX1 has taken machining to the wall but otherwise this set up is durable enough for most riders.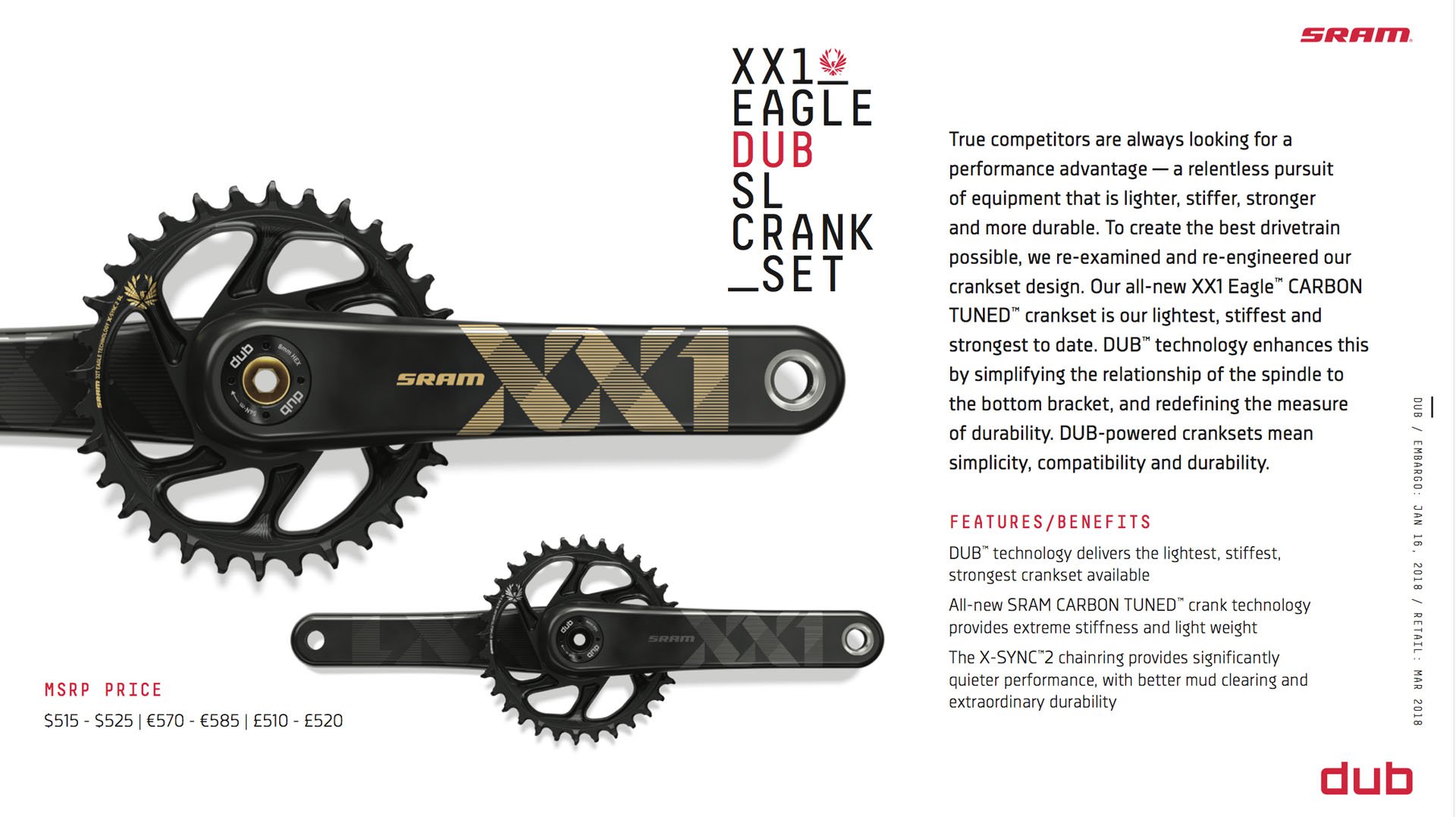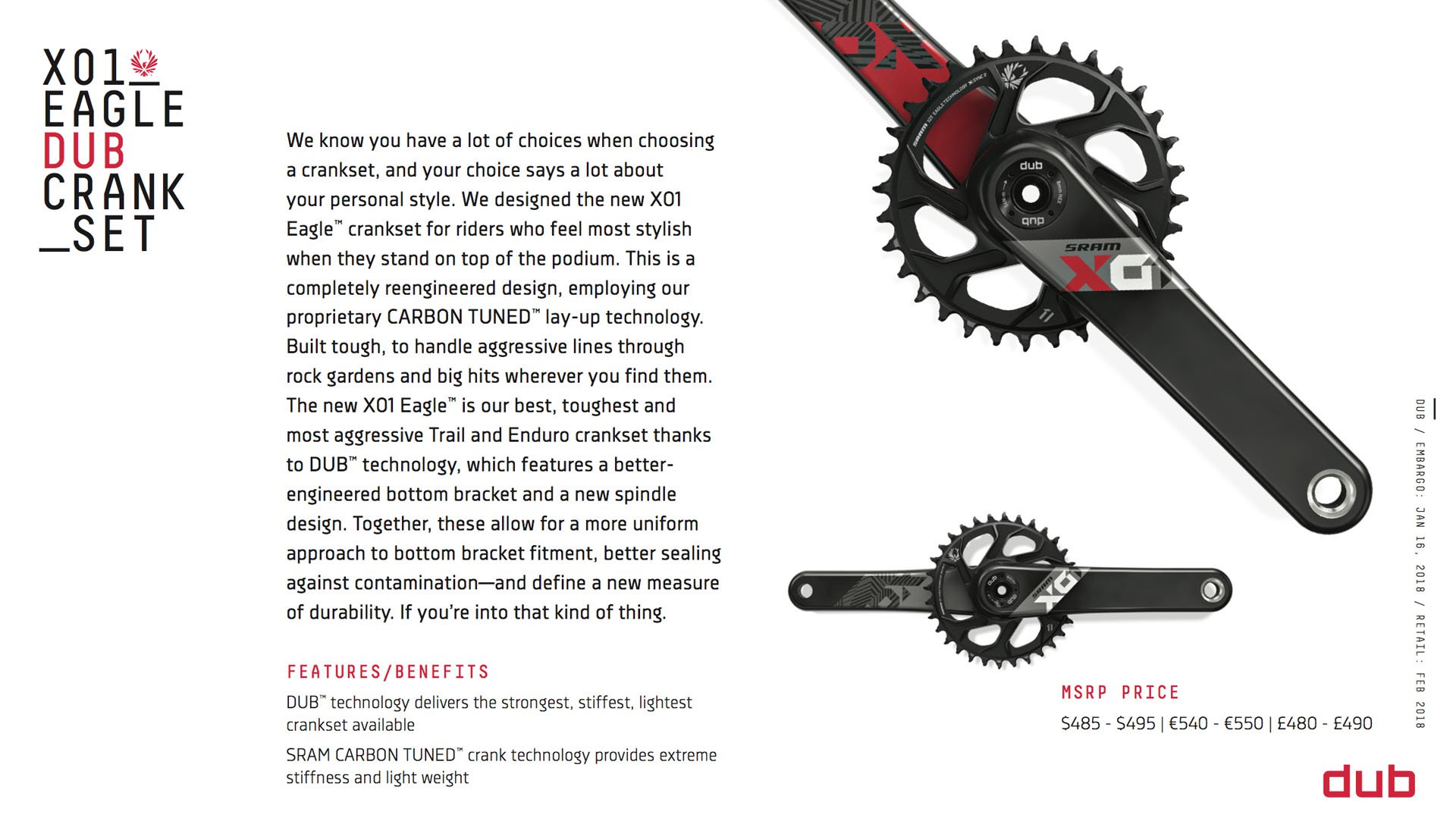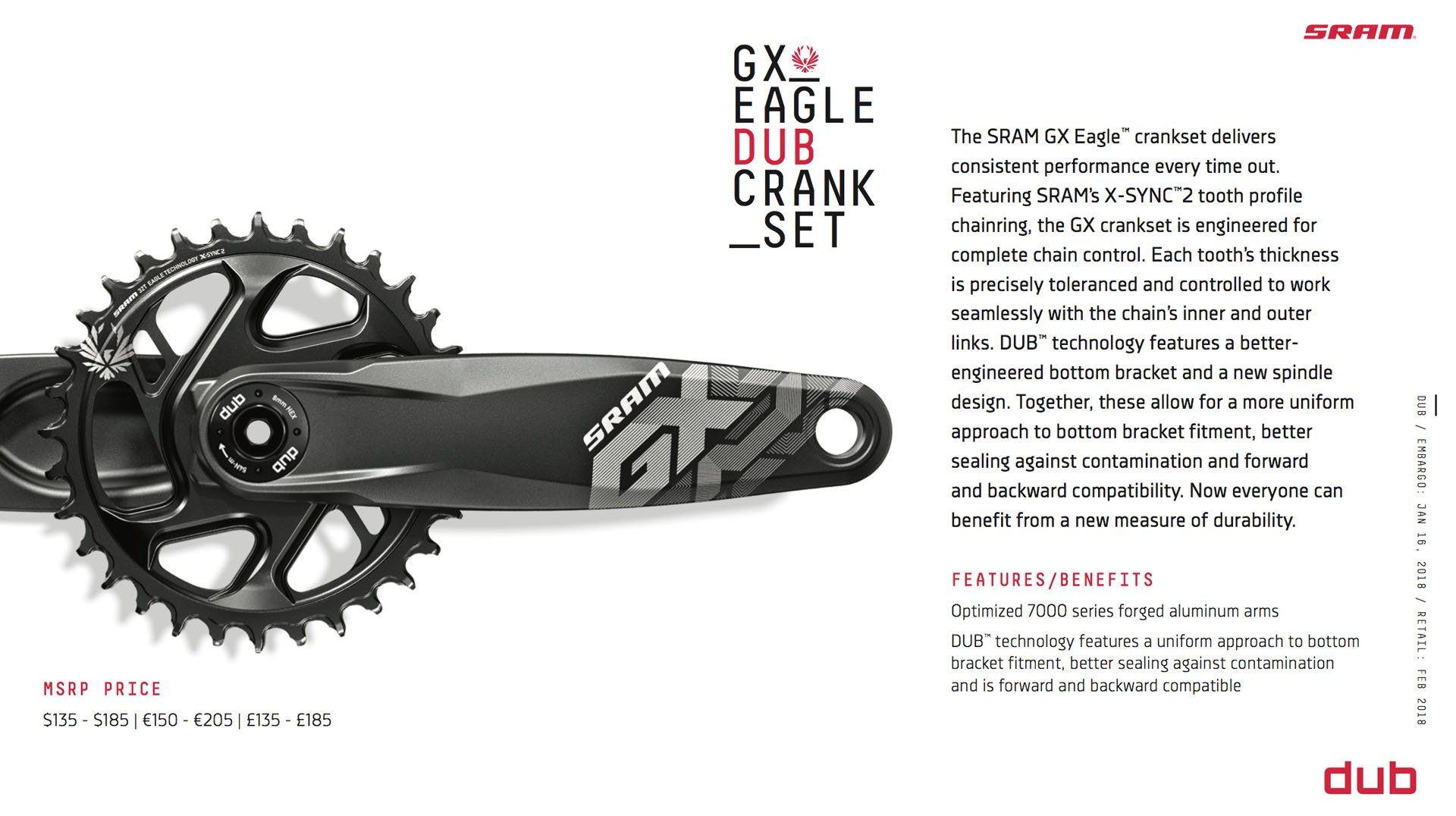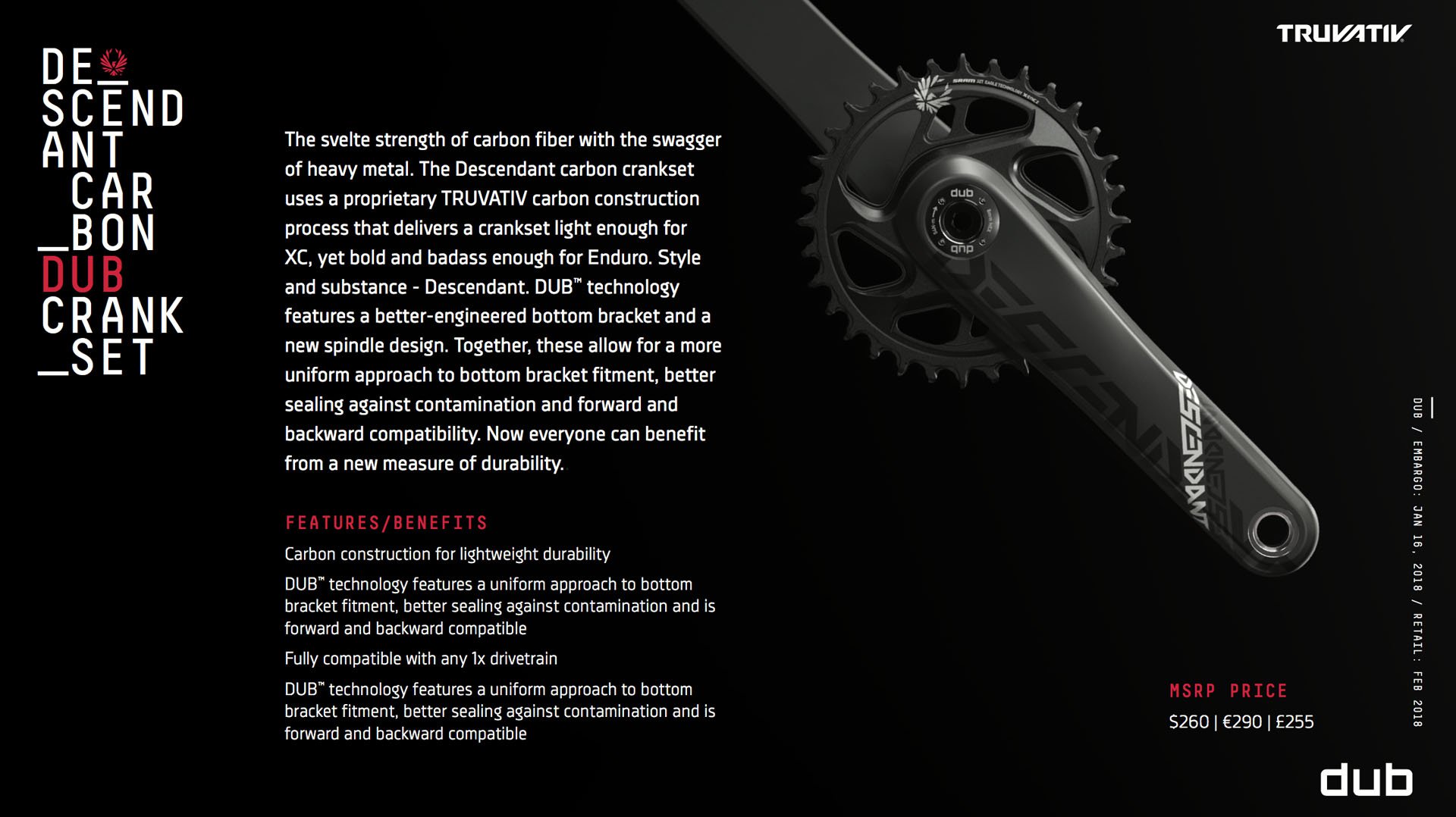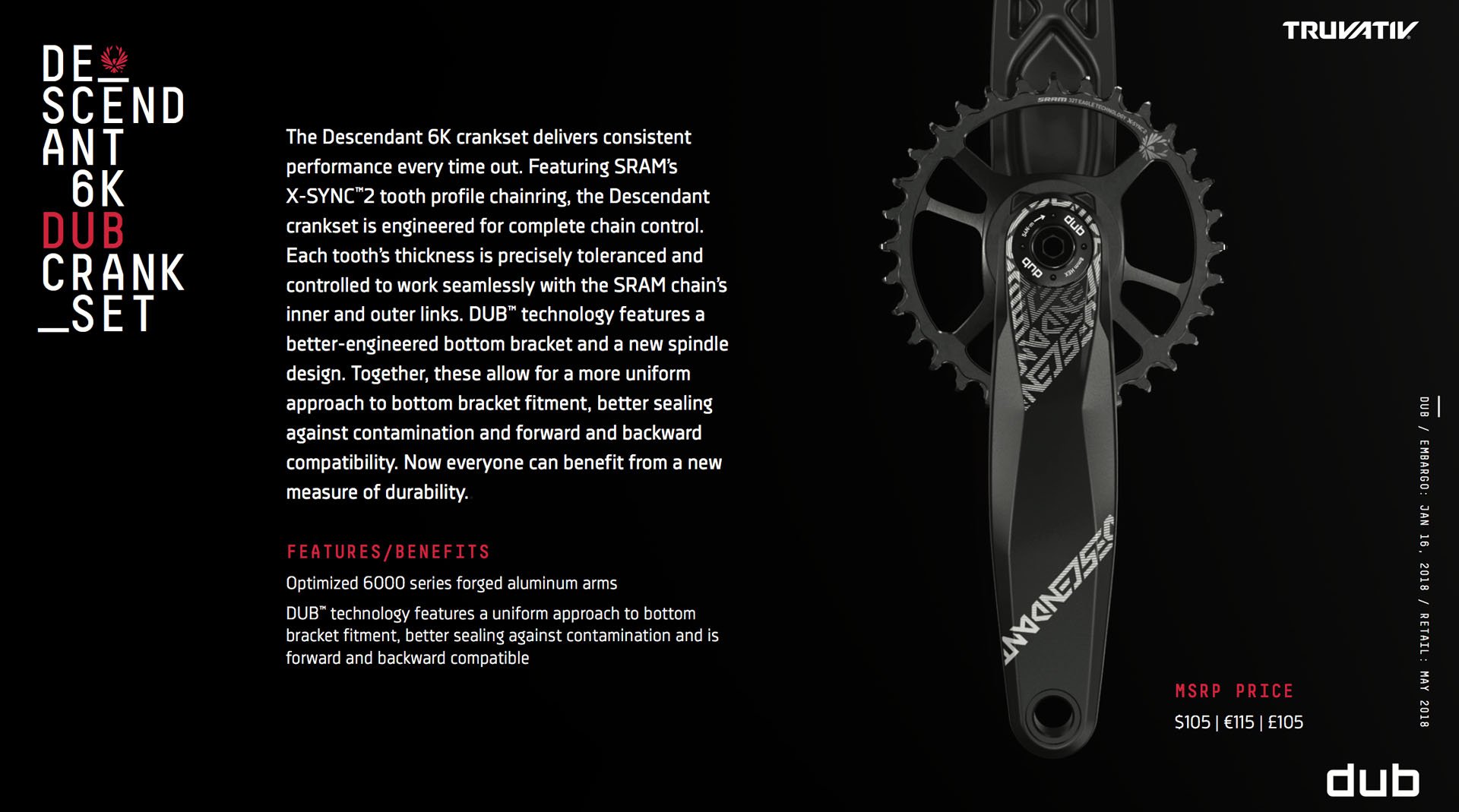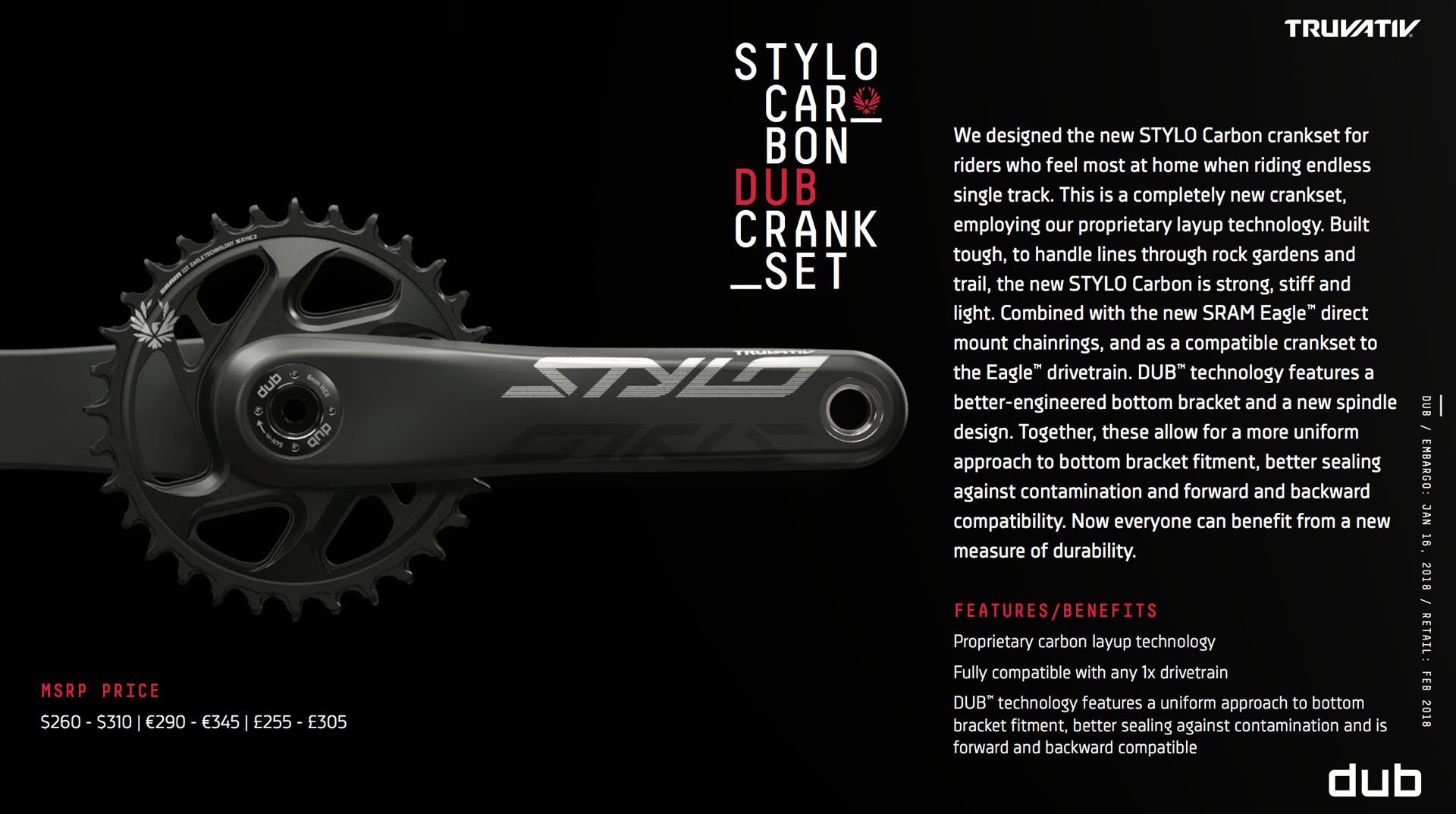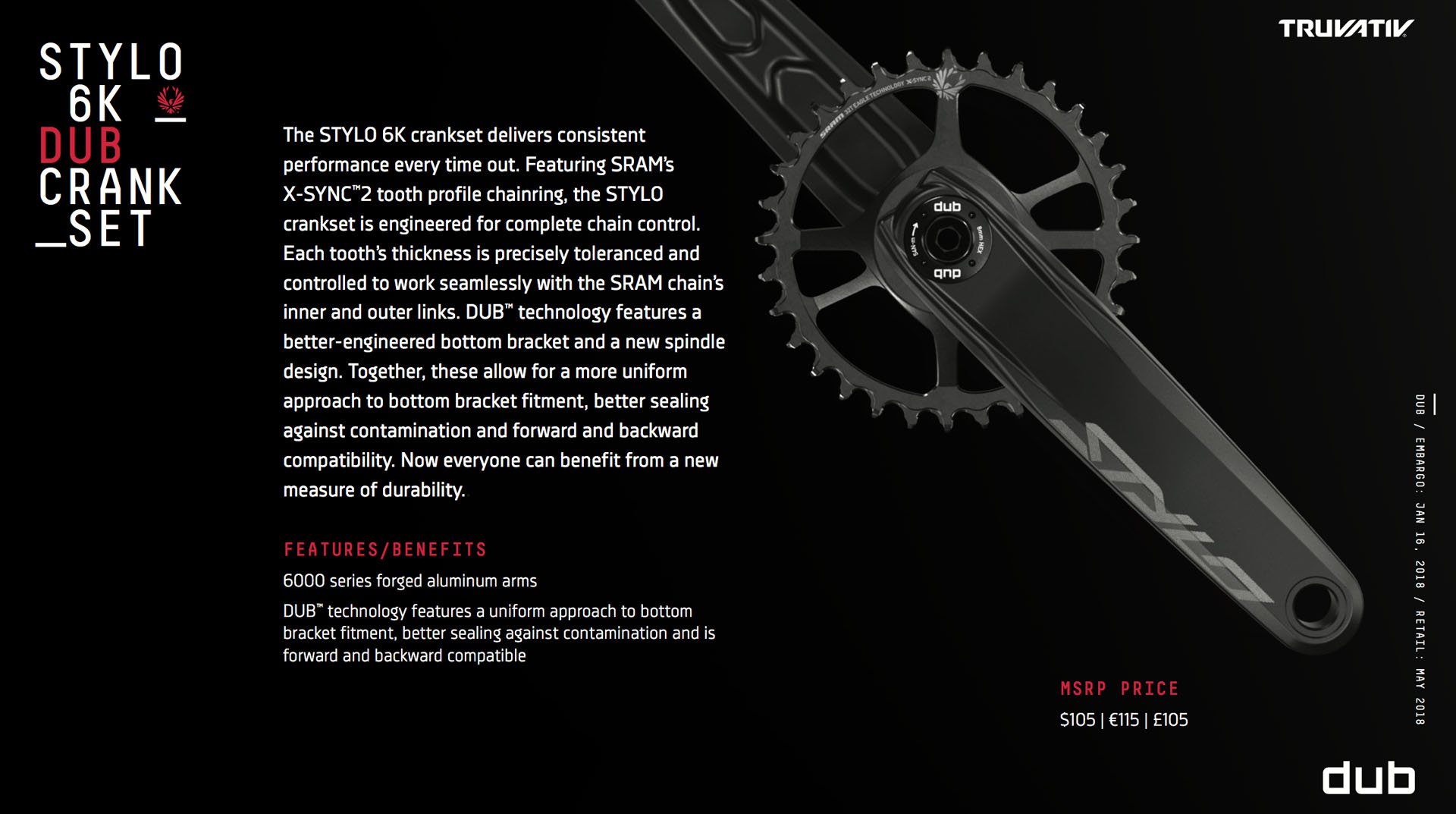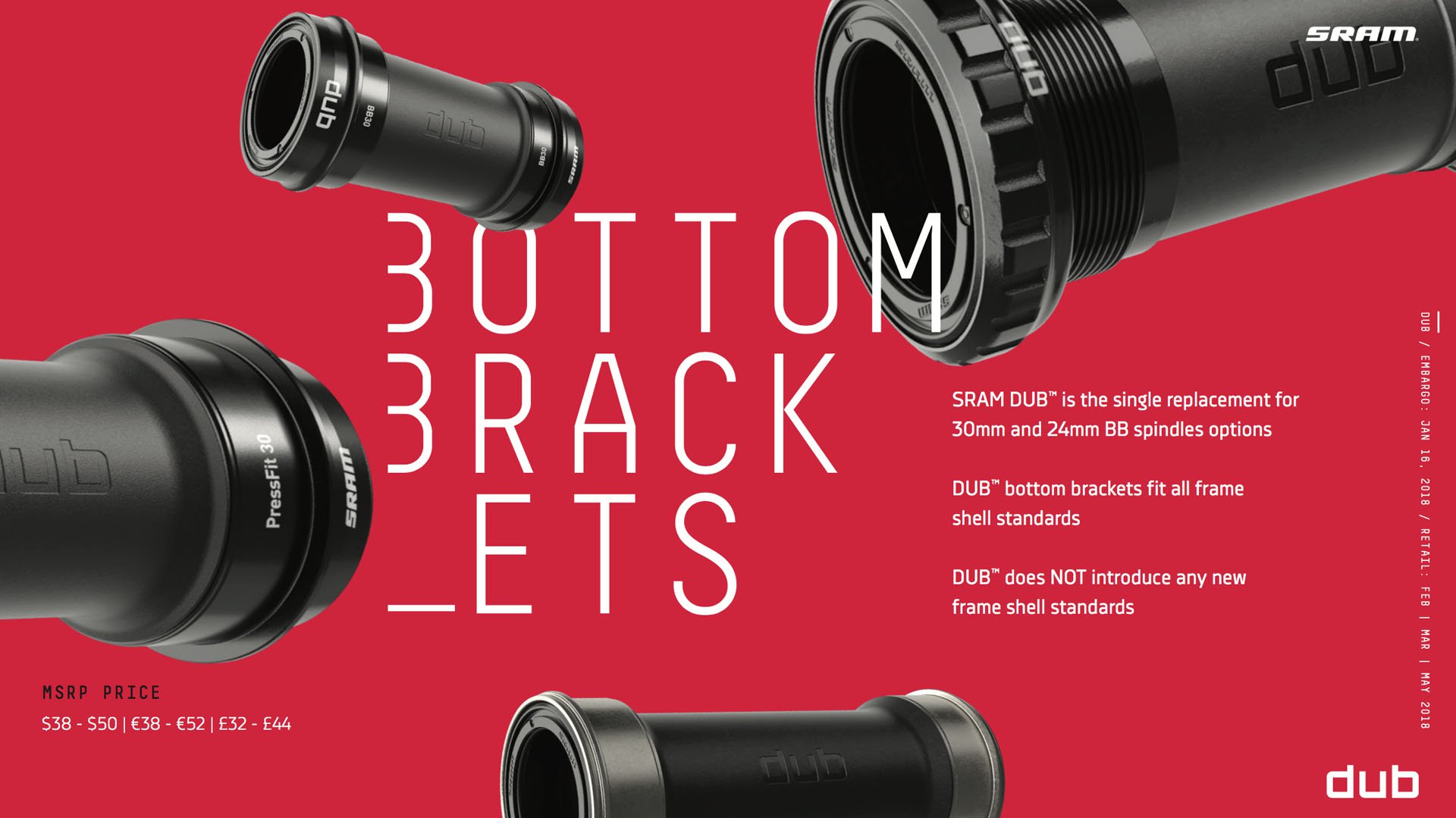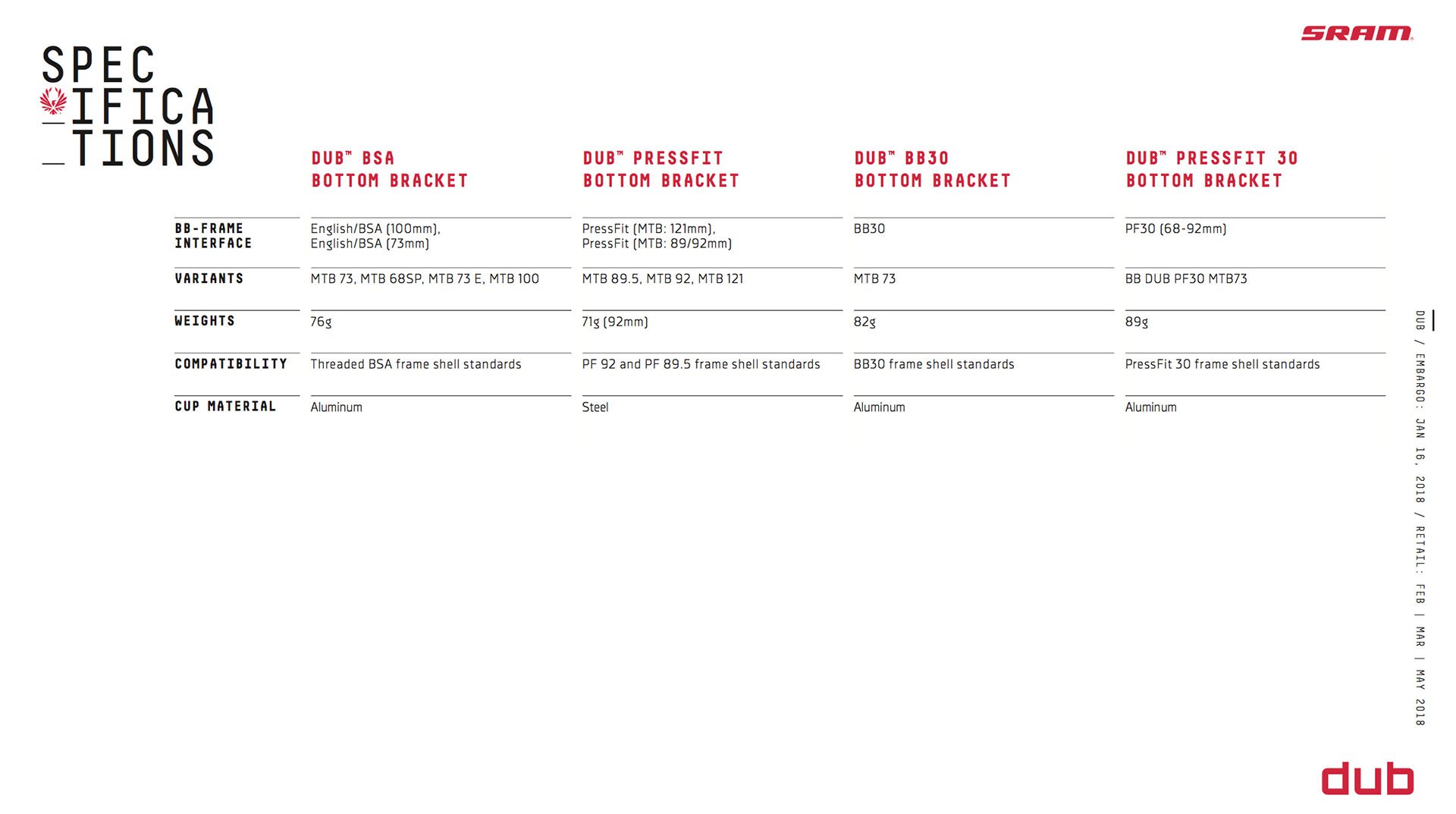 Cranks are one of the components I sometimes keep when it's time to sell a bike, but in the past standards have often made that impractical. If DUB lives up to the durability claims it'll be possible to hang on to cranks before you've even chosen your next bike. While this system is particularly attractive for original equipment spec, it also has the potential to simplify the mountain bike's nether regions for consumers looking to upgrade in the aftermarket. Pricing will be on par with what you can expect for current SRAM products and tiers.
Look for DUB at your LBS in March and on 2018 bike models shortly.