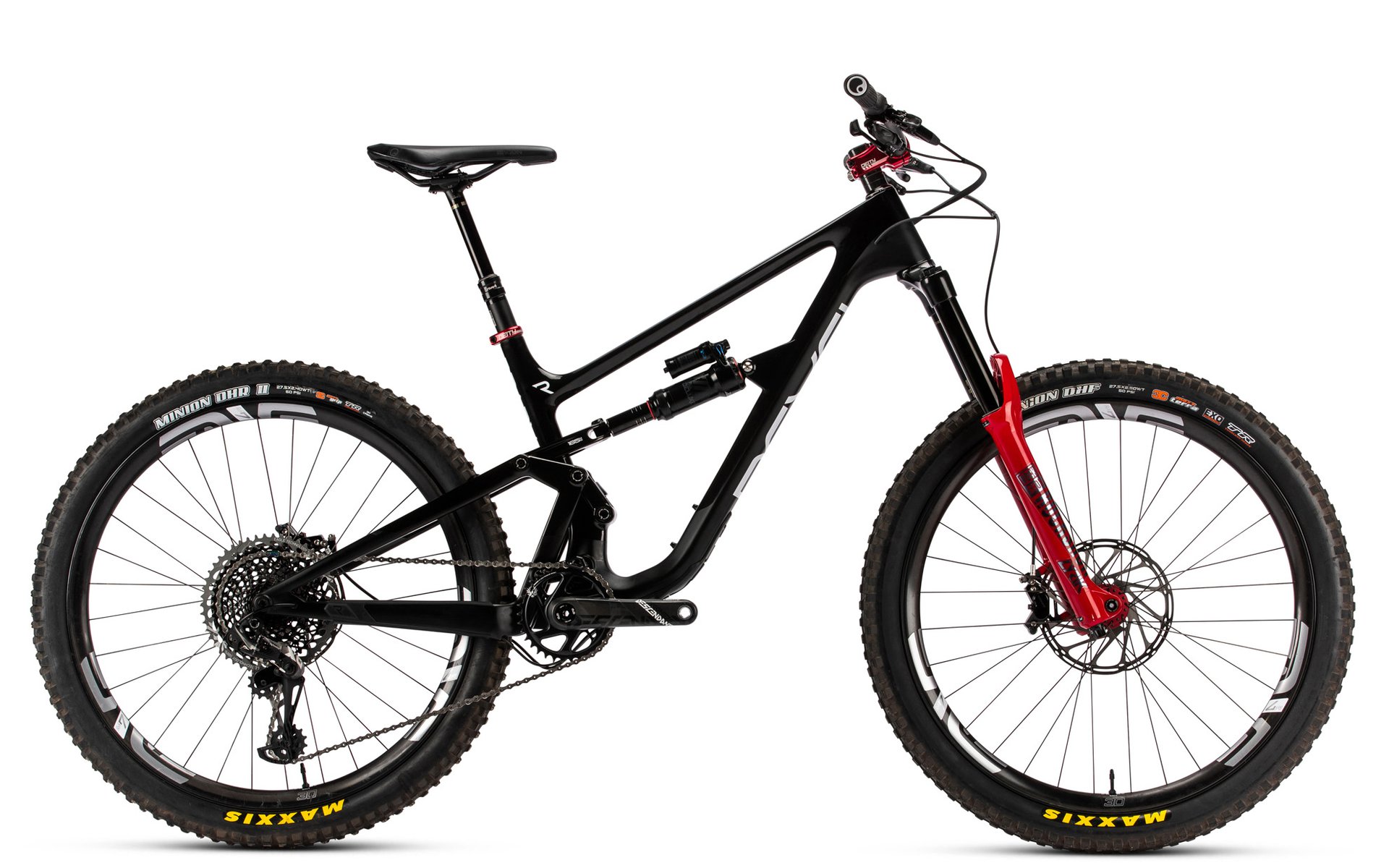 PRESS RELEASE
Introducing Revel Bikes
What follows is the press release from Revel Bikes, a new boutique brand from Colorado who have just announced two new carbon bikes, the 27.5" x 165mm Rascal, and the 29" x 130mm Rail. We put some questions to Revel Bikes owner, Adam Miller, and you can see his answers here. What follows is the press release from Revel Bikes.
Revel Bikes
The time has finally arrived for the world to meet Revel Bikes! The culmination of years of work by an all-star team of bicycle industry veterans has produced two of the best trail bikes the world has ever seen.
After launching two successful hardtail companies (Borealis and Why Cycles), Adam Miller, founder, started shopping around for a full suspension trail bike for himself. After testing riding every major brand, he hopped on a Canfield Balance at a trade show. After only a few hundred yards of riding, he knew that this relatively unknown system was the suspension he needed in his life. Adam tracked down the brothers and asked if they would be willing to license the suspension design, and right there, Revel Bikes was born.
With the mission to create the best trail bikes the world has ever seen and to only make bikes that he wants to ride, Adam set out to assemble his team. He tapped into engineering, carbon fibre layup, sales and marketing expertise from his immediate group of friends that also happen to be wildly successful in their respective fields within the bike industry. Jeremiah Starkey (Rockshox, Trust Performance, Selle Royal) is lead engineer and COO, Jason Schiers (Founder of Enve) is the carbon layup genius. Mike Giese is the team's Industrial Designer. Two and a half years of development and prototyping has now led us to this day.
Revel is leading with two models. First, the Rail, a 165mm travel 27.5" wheeled all-mountain machine that can take the biggest hits the mountain has to offer while still gingerly pedaling to the top. Second, the Rascal, a 130mm travel 29er that is just as comfortable on that one-hour lunch ride as it is on all day wanderings above tree line.
Both models are available to purchase today and bikes are available to ship all over the world. Frames are $2599 USD and complete bikes start at $4999 USD.
The Rail
The Revel team created the Rail with two things in mind: maximum thrills and climbing hills. A tuned carbon layup makes railing through berms pure joy. The Rail will put an end to the traditional trail bike compromises to ascent efficiency to which you've grown accustomed. The Rail has 27.5" wheels, 170mm of front travel, and 165mm of rear travel.
The Rascal
The Rascal lives up to its name- it is a sleek looking machine that is mischievously fast, nimble, and adept. Think capability and playfulness in both ascend and full send mode. Our vision for the Rascal was to deliver a confidence-inspiring and ultra-versatile mountain bike in all applications. Sporting 29" wheels, the Rascal provides 140mm of front and 130mm of rear travel.
Why CBF?
CBF™ focuses on designing around the Center of Curvature (CC) and balancing that with the Instant Center (IC). Until now, most suspension systems have focused solely on the IC. CBF points the chainline and drive forces directly into the IC throughout 100-percent of the travel by balancing the CC over the chainring, resulting in maximum pedaling efficiency, regardless of where you are in the travel, what terrain you are on or what kind of power you're putting down. All the power you put into the pedals propels you one direction–forward—allowing the suspension to do its job completely independent of drivetrain and braking forces, and making the sag setting much less important. When we first rode the largely-unknown CBF system, we knew it was something special, and we knew we could make the best riding carbon mountain bikes using this magical formula.
Center of Curvature:
The Canfield brothers stumbled upon the importance of the CC after years of designing big hit, rampage ready bikes. The IC constantly shifts throughout the stroke of suspension in multi-link bikes, causing the rear wheel to depart from perfect-arc rotation known only to single-pivot bikes (which is a less than perfect design for most other suspension criteria). However, if you connect the rear axle at any point on its path with the ever-changing IC, the area where all those lines intersect for the entire range of travel is the CC. This is the "virtual pivot point" around which the rear wheel actually rotates (a fairly large area on most bikes). On most multi-link bikes, the CC changes location as the rear wheel moves through travel, sometimes over an area as large as several square feet.
Revel Bikes are available worldwide through www.revelbikes.com and select bike shops around the USA (and hopefully soon to be world!). Complete bikes start at $4999 with framesets retailing at $2599. All complete bikes are SRAM equipped with Industry Nine or Enve Wheel options, including the new Hydra and 101 wheelsets from i9.
Revel's Director of Stoke, Chris Reichel says "We really take pride in giving you the ultimate bike buying experience and offer several custom options on our website. We even go so far as making sure you get the biggest dropper post- just let us know your seat height and we will put the biggest 125, 150, or 170mm post on your bike." To top it off, all Revel Bikes come with a lifetime warranty and crash replacement policy.
---
COMMITMENT TO SUSTAINABILITY
Here at Revel, our goal is more than designing and sharing amazing bikes that we love to ride, and it's more than merely trying to offer the best customer service and purchasing experience possible.

We are committed to trying to having an environmentally sustainable business to the extent we possibly can. We ship all our bikes in reusable Evoc travel cases to eliminate cardboard waste. You can keep the case or ship it back, on our dime, for a small credit so we can reuse it for someone else. We recycle all inbound cardboard and plastic that comes to our office, and we don't use plastic and paperware in our office break room. Further, we chose to work with a manufacturer that abides as much as possible to these principles too; they too are committed recycling all scrap carbon, minimizing or eliminating the use of any harsh chemicals in the manufacturing process, and recycling and disposing of any shop items responsibly.
To read NSMB's interview with Revel Bikes owner Adam Miller, go here.