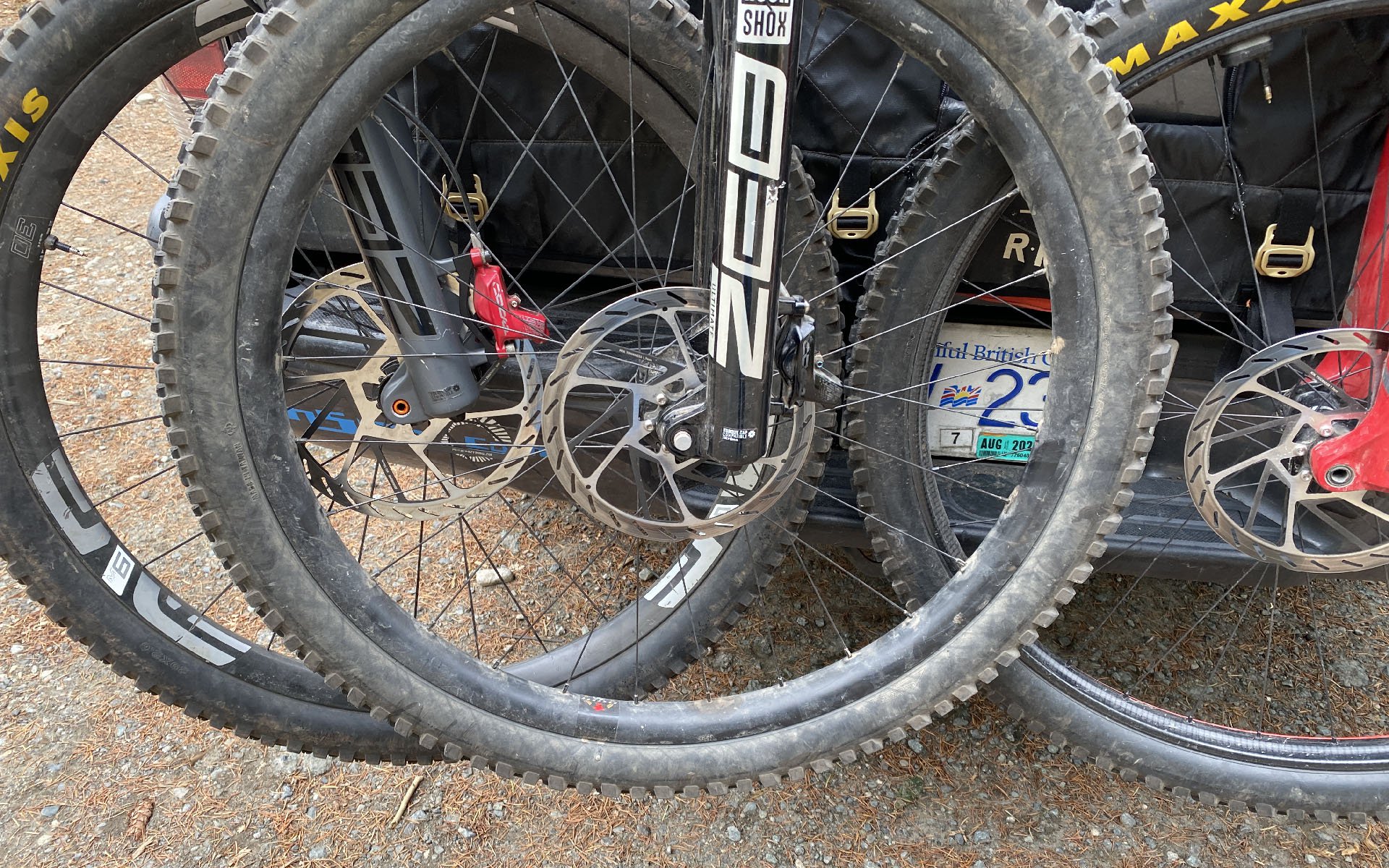 Impressions/photos/PRESS RELEASE
Introducing the New SRAM HS2 Rotor
Rotors can really ruin your day. If you've ever contaminated your pads and/or rotors you've likely had the experience of brakes that shudder and have little power or modulation. This ordeal emphasizes the influence our rotors have over our ability to control our bikes. You may have noticed that Shimano goes to great lengths, particularly with their top of the line rotors, to make them cool faster and stop better. Materials are combined, complex shapes are used, and coatings are applied, all to keep rotors cool. Until recently, SRAM has produced rotors that are entirely flat, made of uncoated stainless steel and the same thickness throughout.
Cam's First Impressions of the new SRAM HS2 Rotor
The HS2 is the first to offer a thicker 2.0mm rotor with alternating narrower 1.7mm coated spokes for increased heat dissipation. I rode them on the same trail in relatively short order to get a decent sense of any differences between the two.
The rotors, paired with new pads, bedded in quickly and easily and the first thing I noticed was a quieter application. The other rotors weren't brand new but I was comparing SRAM's original rotors in 220/200mm size on Code RSC brakes to control other variables. Conditions were similar as well.
I have been very impressed with the long term performance of SRAM's Code RSC brakes in general, but I was still able to notice an increase in power, with no loss of modulation. On the long, rough, and sustained downhill I also experienced less hand fatigue likely because it felt like I was able to slow the bike with less hand strength.
This assessment wasn't as controlled as I'd like, and the conditions were relatively dry, but I am encouraged by the early results. I have found that SRAM's stock rotors with SRAM pads are often quite noisy in the wet and I'm looking forward to determining if these provide any advantage in this regard.
For riders who regularly tackle steep and burly terrain, improved power and modulation can make a massive performance difference for a reasonable cash outlay and I'm keen to see how these perform over a longer term.
Cam McRae
---
Pete's First Impressions
My first rides on the new HS2 rotors have varied from Cam's in that I've been primarily running them on the Santa Cruz Blur that I'm currently testing and riding more than any other bike. That bike came with SRAM Level brakes which, on paper, were not something to get excited about given my feeling that SRAM's Guide/G2 brakes in recent years have not been up to par for riding on the Shore. But I was wrong for this use case, and on Sechelt's admittedly less technical trails, on an XC bike, they've been consistent, modulate well, and actually quite powerful once I went to 180mm rotors. So I wasn't unhappy at all, and the new HS2 rotors bedded in quickly and have been excellent so far over about 8-10 rides. I wasn't experiencing much noise before I switched rotors, but I do think these are quieter and the approaching rainy season will help me confirm or deny that claim.
I certainly can't perceive the 7% power difference SRAM is claiming, but on a few descents here that have long downhill sections where I can carry even more speed if I get my braking points just right, the whole system is working brilliantly. Again, not that easy to attribute to the rotors per se, and I wouldn't be running out tomorrow to buy them to replace perfectly good ones I already own, but for future OE spec or rotors on your ride that need to be replaced, incremental gains like this are nice to look forward to. The fact that this is a change that applies to all of SRAM's brakes makes it a bit of a sneaky big deal for them - and for riders on SRAM brakes now or in the future.
I do have a set of the new rotors on my Transition Sentinel, which sadly hasn't been getting much ride time lately (and my comfort in the steeps has suffered as a result), but this fall will give me better opportunities to ride some longer, steeper, rougher trails and see how the heat dissipation may have improved in more challenging conditions.
(what follows is a SRAM press release)
---
The all new HS2 Rotor is a mountain bike specific design aimed at improving brake performance while reducing noise and increasing heat dissipation. Featuring a new brake track pattern for increased pad traction and recessed spokes with thermal dissipating paint, the HS2 is a more powerful, quieter rotor with best-in-class heat management.
Features:
Thicker 2.00mm rotor
Superior heat management (40°C less than Centerline, per Garda test)
7% more power
Available in 6 bolt and Centerlock
Diameter : 160mm, 180mm, 200mm, 220mm
Material : Steel
MTB specific
MSRP
160mm - $50.00 USD
180mm - $55.00 USD
200mm - $60.00 USD
220mm - $65 USD