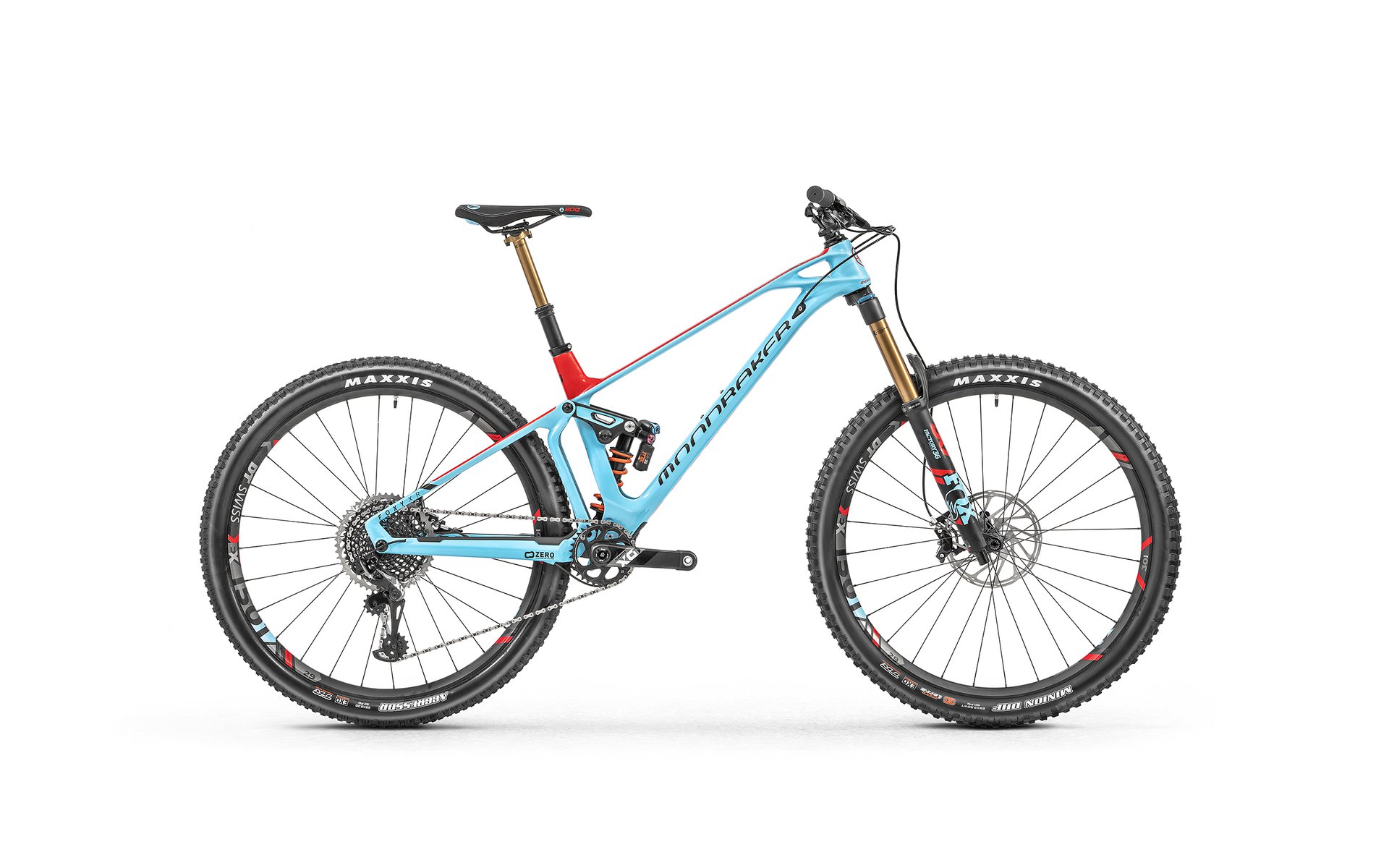 INTERVIEW & PRESS RELEASE
Introducing the Mondraker Foxy Carbon 29
Today, Mondraker reveals the Foxy 29. The new bike adds three models to the Foxy range, providing more options for the capable trail bike. In the process, geometry and suspension have been updated to optimize the bike for the bigger wheels. 
Like the Foxy 27.5, the bigger-wheeled model features Modraker's Forward Geometry, adjustable chainstays and head angle, and the brand's Zero Suspension. The bike features 150mm of travel at the rear and 160mm up front – the Foxy 27.5 models have 150mm travel forks, with the exception of the XR model. The bike will be available in four sizes, from small (15-inch seat tube) to extra large (20-inch seat tube). 
The Foxy has been around for awhile on 27.5-inch wheels and I found myself wondering why it's taken this long to make a 29er in the aggressive trail bike category, With that in mind, I reached out to Mondraker to learn more about the bike.   
Mondraker has been designing some innovative bikes for a while now but there have been no 29-inch wheeled models in the aggressive trail category. Why is that?
Yes, it's true that in the last couple of years we lacked 29-inch models in our range. We had some trail models in the past and even three all-mountain "Crafty 29" models in 2015, with 140mm rear wheel travel and 140/150mm forks. That evolved to 27.5+ for 2016–2017 but they were discontinued this season. For 2018 we decided to make a major update to our 27.5 Foxy Carbon while we were working simultaneously on the 29-inch version that we're releasing now. The 29er has some very interesting and evolved features as the first model of our 2019 Mondraker collection.
How does the Foxy 29 suspension differ to the 27.5 model and why?
For the last three years, our development team has been working on both suspension efficiency and geometry. Subtle changes and tiny updates sometimes make a big difference and that's something we've been working on behind the scenes for quite some time. Compared to the 27.5, the Foxy 29 features a different configuration for all pivot placements of the Zero Suspension System, with slightly higher anti-squat numbers that result in crisper acceleration, more agility, and snappier pedalling efficiency. 
This matches our super capable rear suspension performance with its planted and super responsive feel, which is thanks to our unique and distinctive feature where the shock is compressed from both ends. Also, compared to the 27.5", slightly different – but still very close – custom shock settings round off our most refined and evolved suspension design we've released to date.
What are the key points of difference in geometry between the 29 and 27.5 Foxy? 
Due to the fact that it's a 29-inch wheeled bike, there are some small geometry updates we made to try and make it very close to our successful 27.5 on one side while trying to step up our Forward Geometry concept on the other. The angles are the same; 75.5-degree seat tube and 66.0-degree head tube (adjustable to 65.0-degree as an option) even though we spec 160mm forks here on the 29" on all three models. (Ed: Other than the Foxy XR 27.5 that we tested, the Foxy 27.5 has a 150mm fork.) 
Compared to the Foxy Carbon 27.5, reach numbers are shorter by 10mm, but top tube lengths are around 3mm shorter per size. The shorter length of the Foxy 29 is something interesting that we've been testing extensively for the last few years on several different 27.5 and 29-inch prototypes. The testing eventually led us to find that the slightly shorter length for the 29 is in fact really close to our Dune Carbon numbers, a bike that you have ridden a lot and know well, AJ.
Yeah, the Dune is a fun bike. What was the biggest challenge when working on the Foxy 29 project?
There were many challenges but none more than those encountered when working on the 27.5. The Foxy Carbon 29 is a tried and true 29-inch wheel model, with dedicated Stealth Air carbon layup construction and an evolved design overall, but without any particularly big challenges that stand out. We faced some delivery delays with the 2018 27.5 models that have already been sorted out and the early introduction of this new 2019 Foxy Carbon 29 will put aside those issues from last year.  
Forward Geometry has arguably been one of the most suitable for some time to use a shorter fork offset but you didn't until now. How long has the team been riding and experimenting with offsets and why is it only now that a shorter offset is available to consumers?
We have been riding and experimenting with shorter fork offsets for three years now. For the last couple of years, we have been pushing main suspension suppliers to be able to release more models (not just a few) with shorter fork offset options so we could spec them across the model range. Forward Geometry and our long reach numbers perfectly match shorter fork offsets and this is something we introduce here on the 2019 Foxy Carbon 29. Our distinctive super reactive steering with the short 30mm stems perfectly match shorter offsets with their slightly longer "trail" numbers improving high-speed stability, better front tire control and overall grip, resulting in a more playful and enjoyable ride and extra confidence. 
That leads to a faster ride overall, which always is a win-win situation. Here on the Foxy 29 is the first time we introduce shorter fork offsets with clear performance gains – although we have used it on other models like our Podium Carbon XC hardtail race bike for the last couple of seasons – and it's something we are considering more seriously for other models on our 2019 collection. 
---
Full Press Release:
Our most popular platform and Mondraker's flagship model welcomes a 29-inch sibling: The almighty Foxy Carbon 29. Following the successful introduction of the improved and iconic Foxy Carbon in 2018, celebrating its 15th Anniversary has never been this remarkable. You've been waiting for so long, but the Foxy Carbon 29 is much more than what you've ever expected. Trail, All Mountain, Enduro? You name it. Our most innovative, most efficient, and most capable mountain bike is set to deliver. Point and shoot. Foxy Carbon 29 is the wonder bike and knows no barriers. Its versatility pushes the boundaries from trail to enduro racing and is ideal for any type of use and rider, regardless of their skills.
Foxy Carbon 29 takes versatility, suspension and pedalling performance to a whole new level in a lightweight and cutting-edge, futuristic design package with the best Mondraker racing experience, core values, and breakthrough technologies applied in mountain biking nowadays.
The Zero Suspension System has been specifically developed for 29-inch wheels with a snappier response and better pedalling efficiency. Modifying rear suspension pivot placements lead to higher anti-squat figures that result in crisp acceleration, a perfectly stable and remarkably agile ride that matches Zero's proprietary planted feeling and suppleness with the combination of bigger wheels. A metric sized shock with Trunnion mount, Carbon Stiffness Control upper linkage technology blending carbon and aluminium on the unique upper suspension link, stiff and reliable 15 mm collet thru-axle pivots with larger Enduro branded bearings on all three models, and the same 150mm of rear suspension travel as its 27.5-inch counterpart leads to our most efficient and capable bike with extraordinary rear suspension, enhanced performance and unique Foxy Carbon 29 experience.
Highlights
New All Mountain-Enduro range with 160mm front and 150mm rear suspension travel

Three models: Foxy Carbon R 29, Foxy Carbon RR 29, Foxy Carbon XR 29

Four sizes: S (15") / M (16,5") / L (18,5") / XL (20")

Stealth Air technology

Mondraker 29-inch Forward Geometry

New optimized 29-specific Zero kinematics with metric Trunnion shock mount – 150mm travel

Adjustable geometry +/-1-degree head angle

Shorter fork offsets

 CSC technology upper link

1x12 drivetrain specific design

HHG internal cable routing: Hidden Housing Guide

Oversized pivot thru axles and enduro bearings

Boost standard hub spacing – 12x148mm and 15x110mm

Integrated and removable rear shock fender

Exclusive downtube and chainstay protectors

ISCG05 / BB73 threaded bottom bracket / Tapered headtube / Post mount rear brake caliper

Limited lifetime warranty