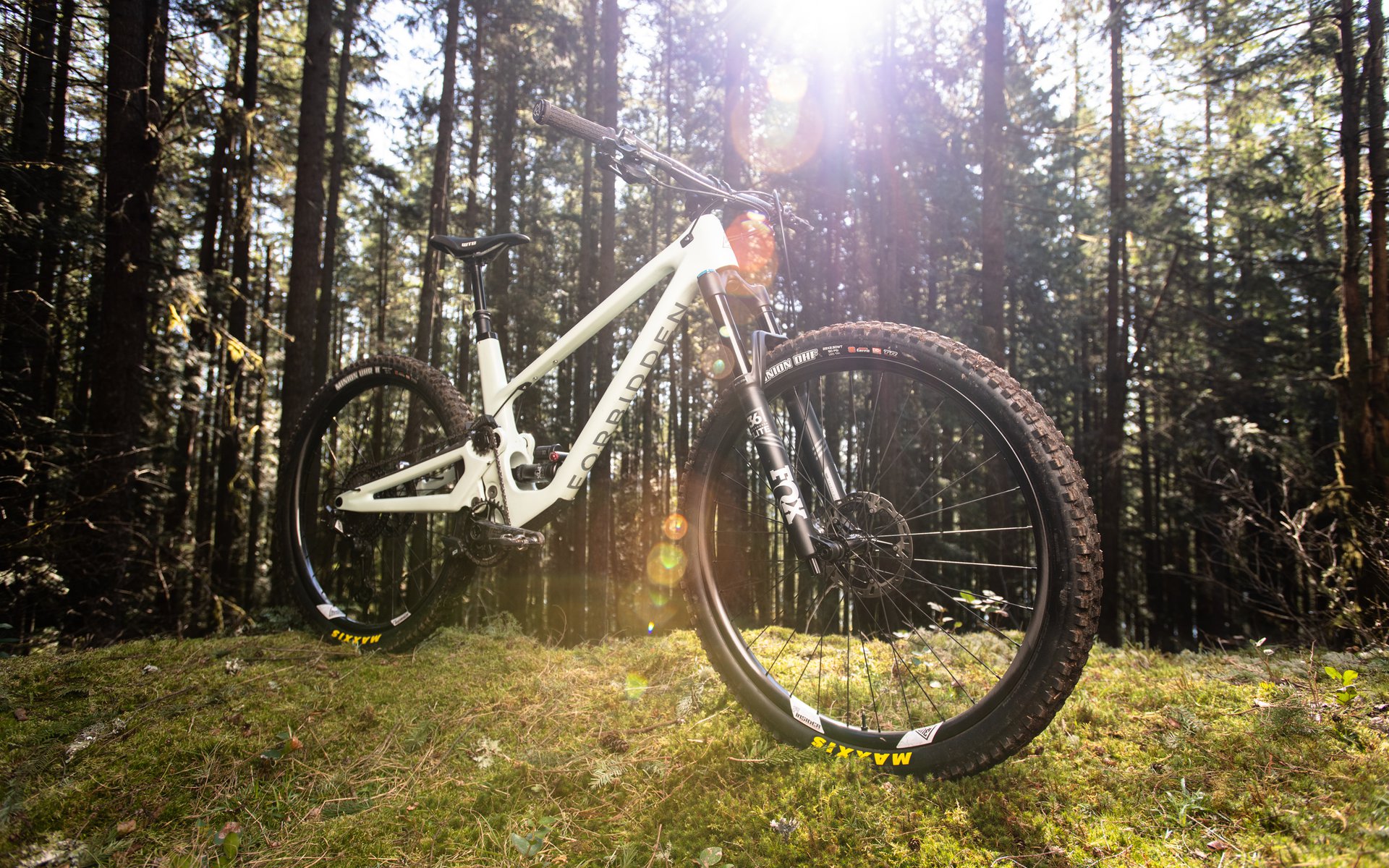 First Impressions
Introducing the Forbidden Bikes Druid
I can hear you muttering, "Forbidden? Druid who? What is that?". Forbidden Bike Co. is a small, mountain bike company based on Vancouver Island. The name Forbidden is taken from Forbidden Plateau, a popular riding spot close to Forbidden's home in Cumberland, BC. Their first bike is called the Druid and it launches today.
Who is Forbidden?
Forbidden Bikes was formed by three gents from the UK; Owen Pemberton, Alastair Beckett and Trevor Ferrao. Owen was a bike designer at Norco for many years and is responsible for most of the more recent gravity-focused bikes like the Aurum HSP. Alastair was a product manager at Nukeproof and Trevor is the finance guy. Between them they have an interesting and complementary skill set from product direction and design, supplier access and of course the financing required to make it all happen. So while Forbidden is a new brand, the Druid is the product of an experienced team.
The Druid?
The Druid, Forbidden's first kick at the can, is a 130 mm travel trail frame, but a quick glance will tell you it's unlike the competition . High pivot trail bikes are rare beasts indeed*, and this is probably the best place to address why high single pivot? A rearward axle motion allows the rear wheel to move with, not against, any size of impact. This in turn allows the bike to maintain its momentum through rough terrain. The lengthening of the rear-center during compression also exhibits the advantageous trait of stabilizing the chassis during bigger impacts. Furthermore the high pivot placement on the Forbidden means that the axle path is rearward for all of the travel. So in short, high pivot bikes are better at adsorbing bumps, so they carry more speed, and are more stable when deeper in the travel. If this all sounds like marketing wank to you, I thought the same until experienced it. Years ago I tried a friend's Zerode G1 downhill bike while practicing for a race on a notoriously rough trail called Ned's Atomic Dustbin here in Vancouver. After hitting the first rough section I yelled, "what is this witchcraft!? Where did all the rocks go?" Need more proof? A french gentleman has been doing alright on the downhill World Cups lately aboard his Commencal Supreme DH.
*Wraith Bicycles makes a jackshaft driven high pivot similar to those made by Balfa
Why The Idler Pulley?
High single pivot bikes produce chain growth from the rear tire moving away from the chain ring resulting in horrendous pedal kick back. When the suspension is compressed, the pedals would be pulled back making the bike difficult and uncomfortable to ride. An idler pulley can reduce or eliminate chain growth. The pulley location on the Druid was engineered to create a small amount of chain growth and more importantly control the anti-squat in order to provide a firm platform when putting the power down. For the turbo nerds I put a bunch of suspension kinematics plots in the Bonus section at the bottom.
Quick glance at the standards and such are as follows:
130 mm rear travel
Designed for 140 - 150 mm fork travel
Steer tube is 44 | 56 (ideal for zero stack headsets on tapered forks)
Standard threaded bottom bracket
31.6 mm Seat Post
Boost 148 rear axle
Frame weight is reported to be 3000 grams (6.6 lbs) with the shock in size small and medium. Sizes large and extra large will weight a bit more
Colours are; Matte Carbon (Black) and Gloss Moss (shown here)
Suspension Kinematics Plots: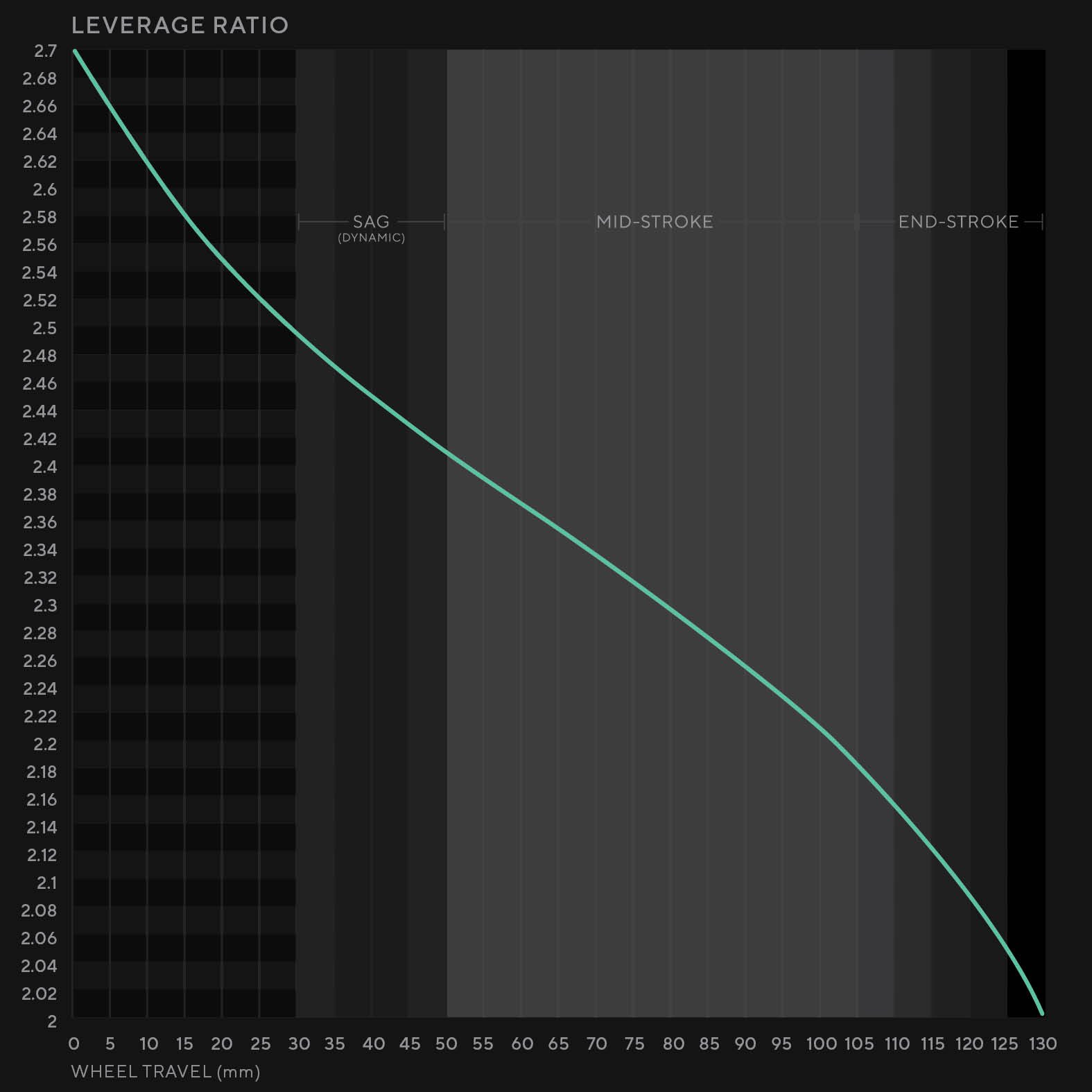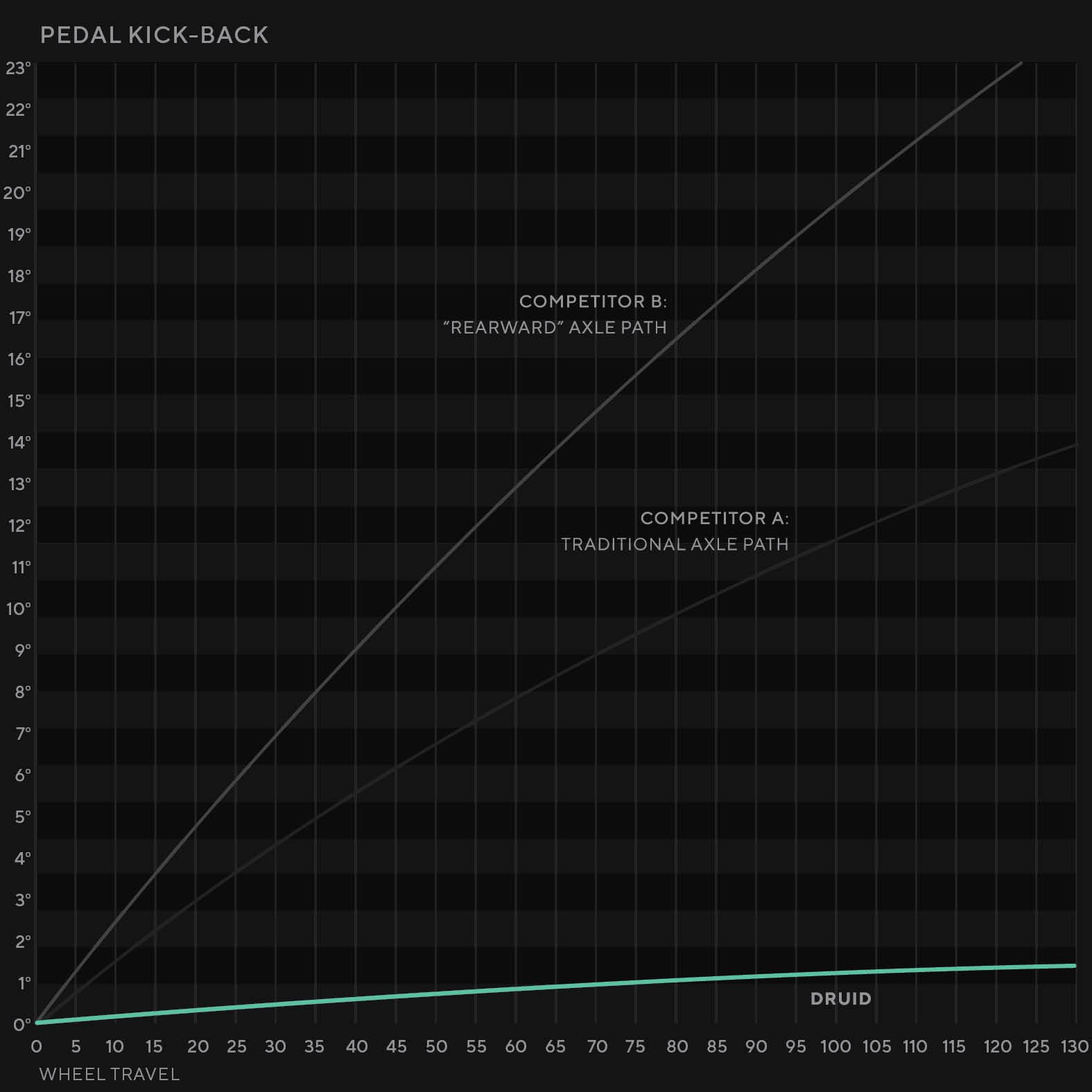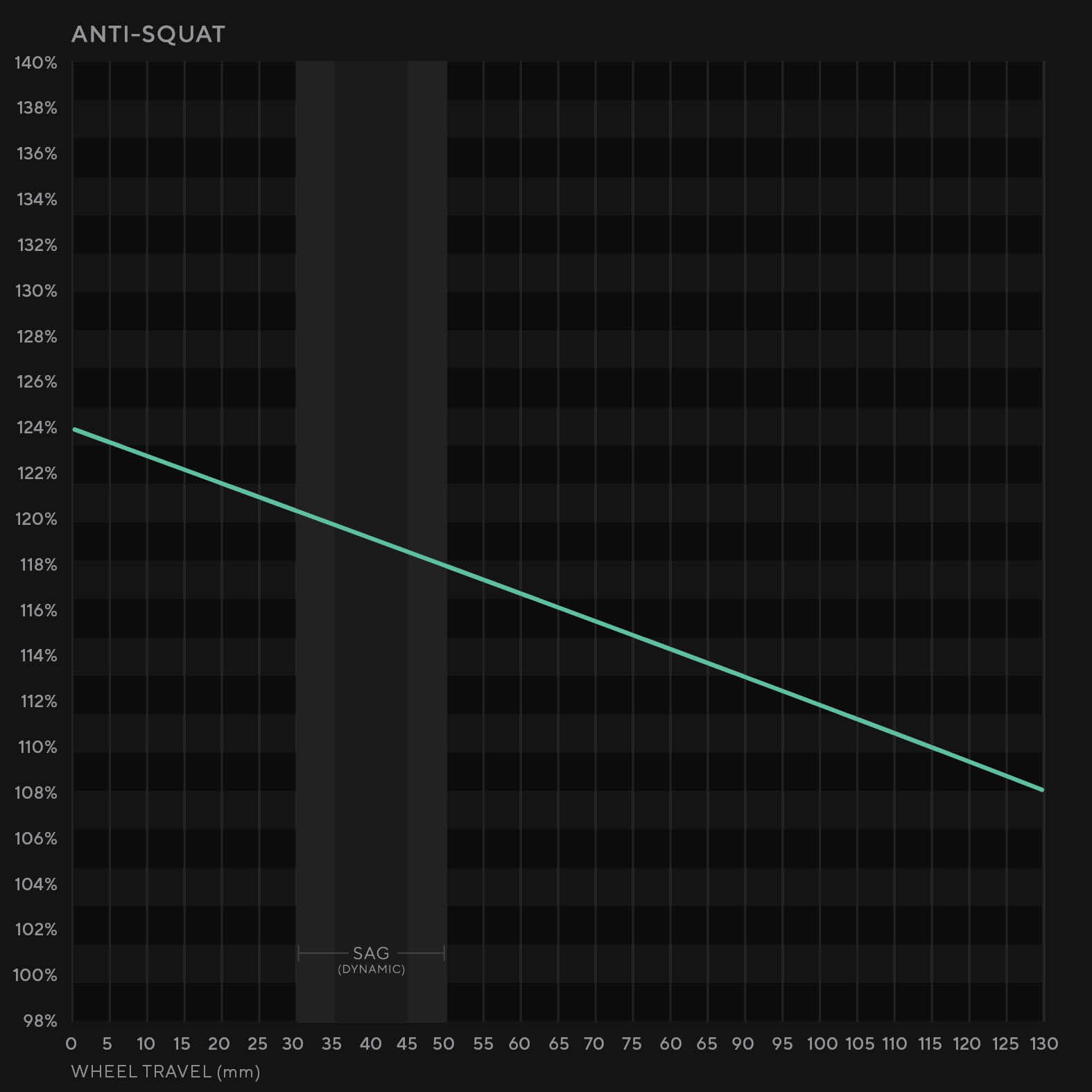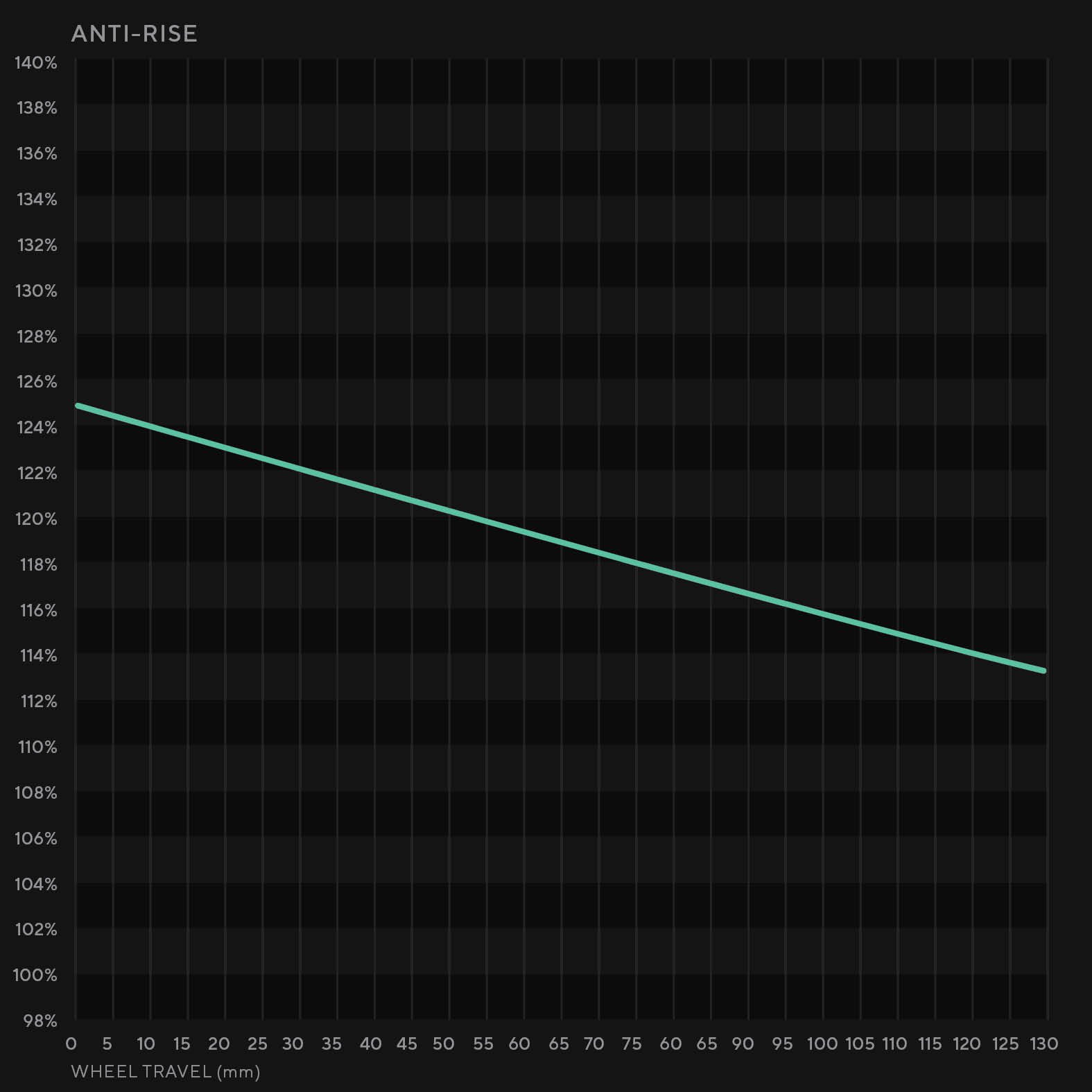 Geometry:
The Druid is 29 inch wheel-specific platform designed for a 140 to 150 mm fork. Forbidden experimented with the extremes of the new school longer, lower, slacker trend and decided to come back to what they feel is well-rounded geometry that suits a variety of riding styles and terrain. The goal was to create a capable and fast bike but also a bike that is fun and entertaining to ride on any trail. In order to optimize balance, each size Druid has distinct measurements in key areas. For each size the seat tube angles and head tube heights are tuned, and both the front and rear center of the frames scale with to each size. I can't speak for the other sizes, but the geometry on the tested Large size worked harmoniously.
I've had the Druid in my hands for a few days now and I've been struck by the fit, finish and attention to detail. I wouldn't have been surprised if this had been a relatively bare frame that executes an idea. Instead the frame quality, paint, hardware, cable guides, seat post clamp, chain slap protector, guide components, the pulley, and the down tube protector all mesh seamlessly with the finished product. You can tell Forbidden has spent a lot of time sweating the details. When I first saw the colour I was bit unsure about it. My buddy Sean Richardson claims it's the same soothing colour he's painting his bathroom. Despite that image it's really grown on me; muted and mystical, but interesting and revealing at the same time. Combined with the subtle graphics, I think the Druid is gorgeous.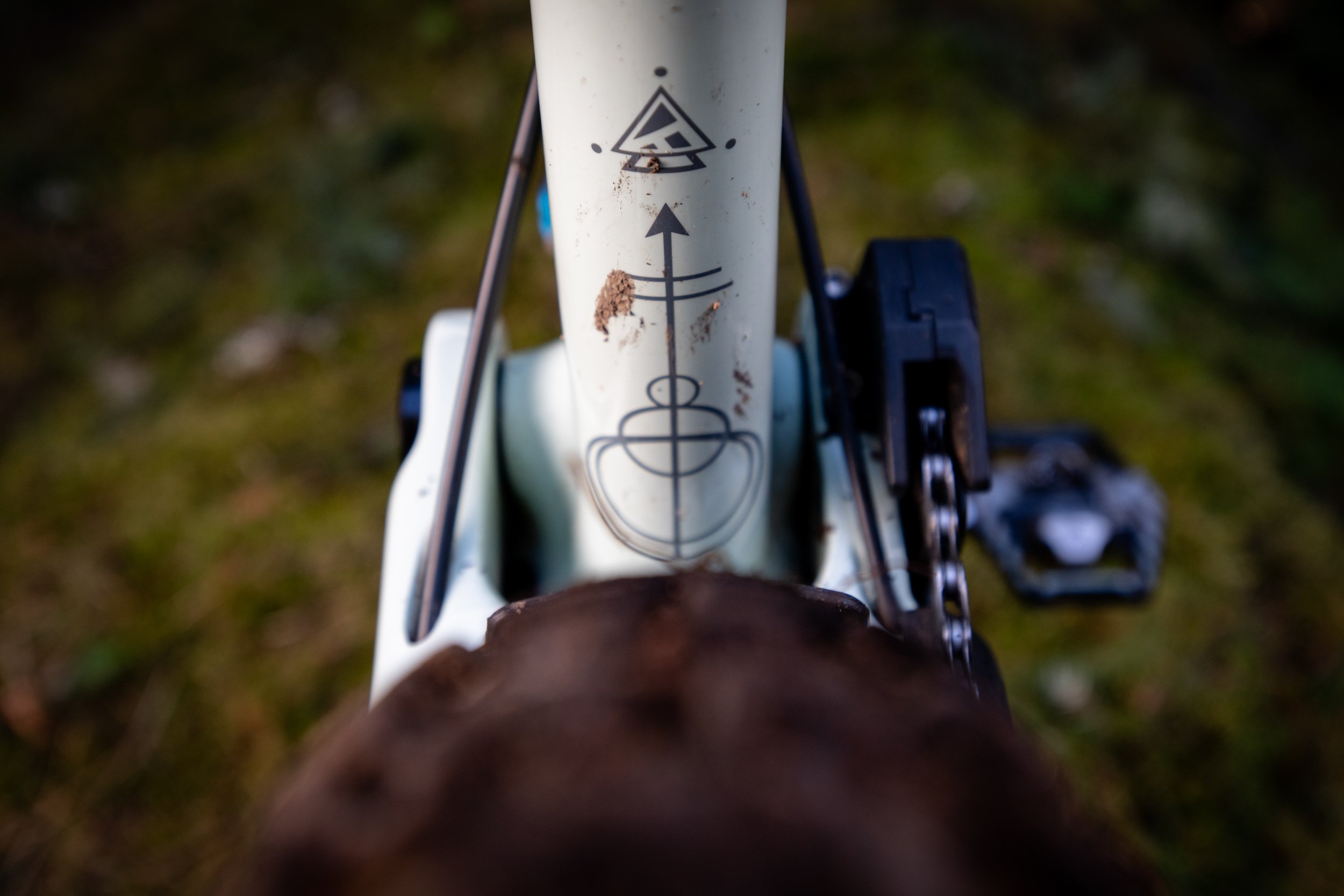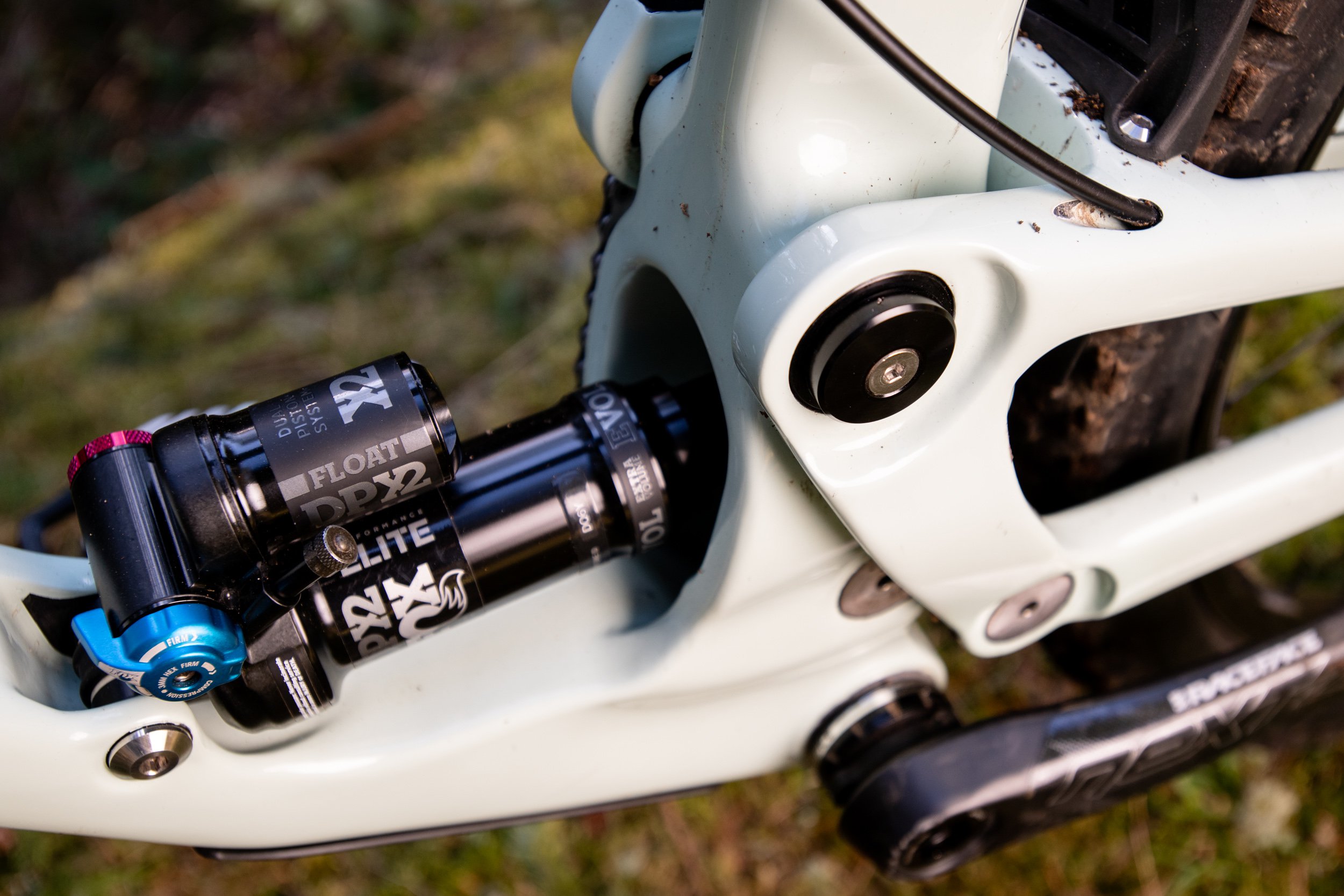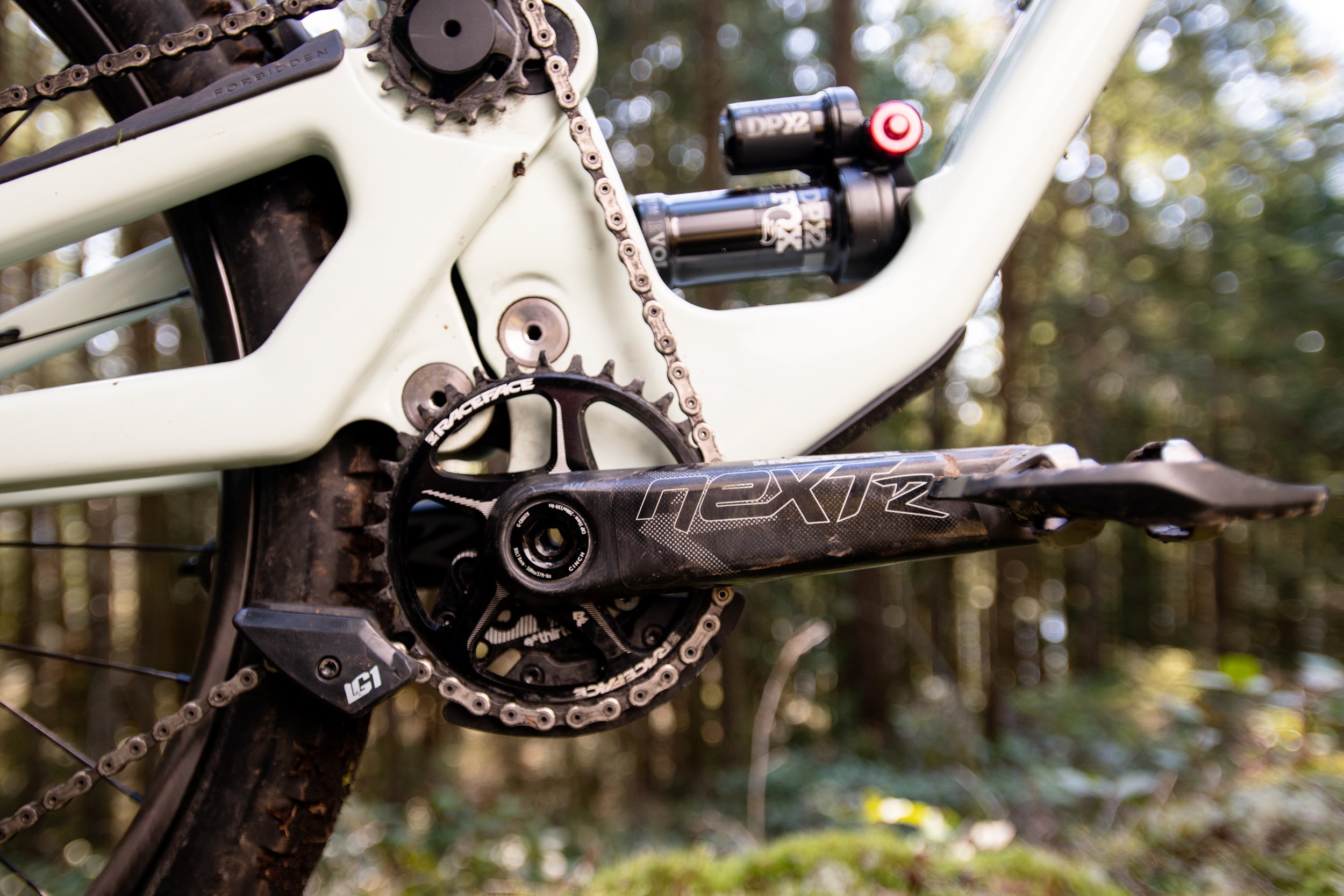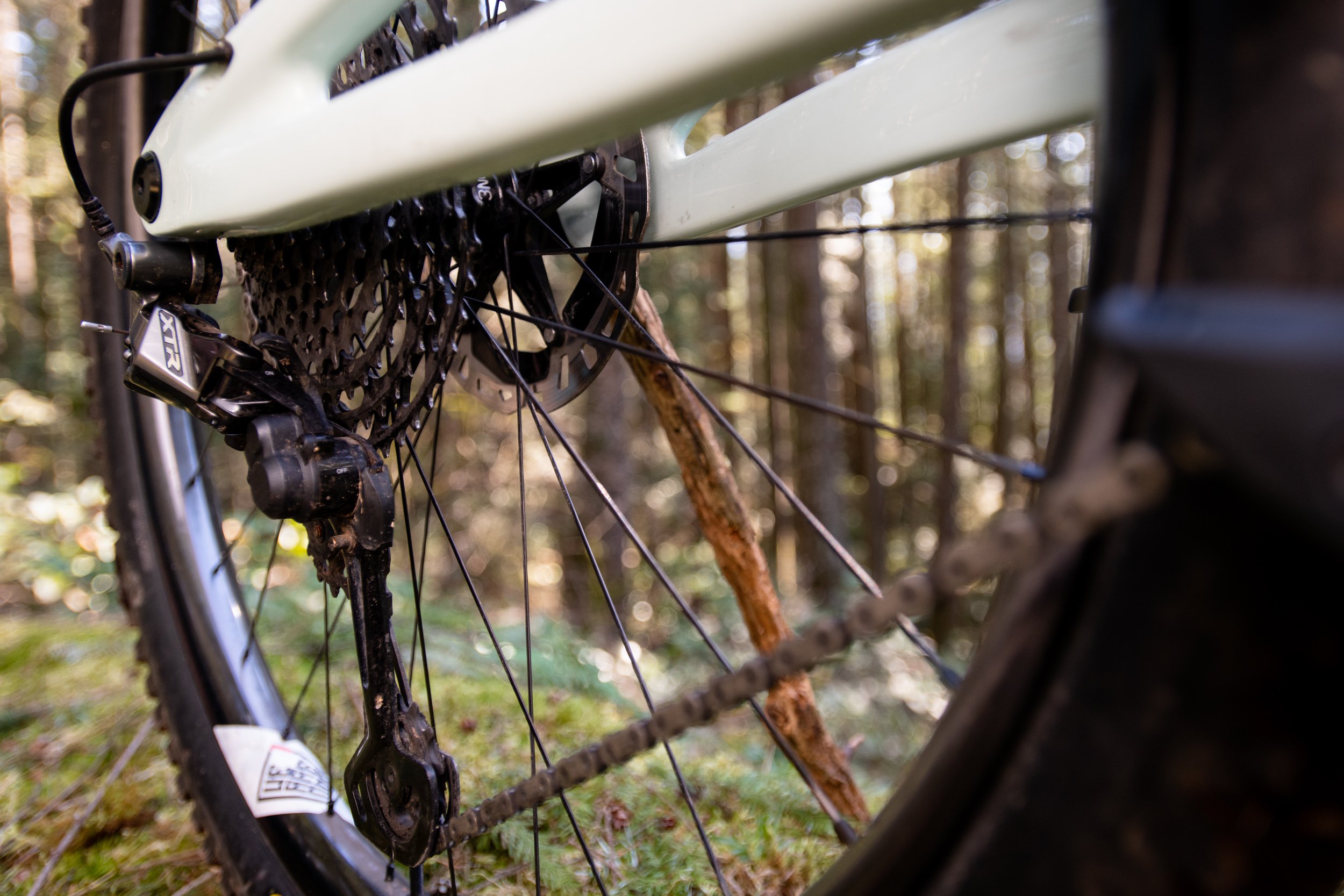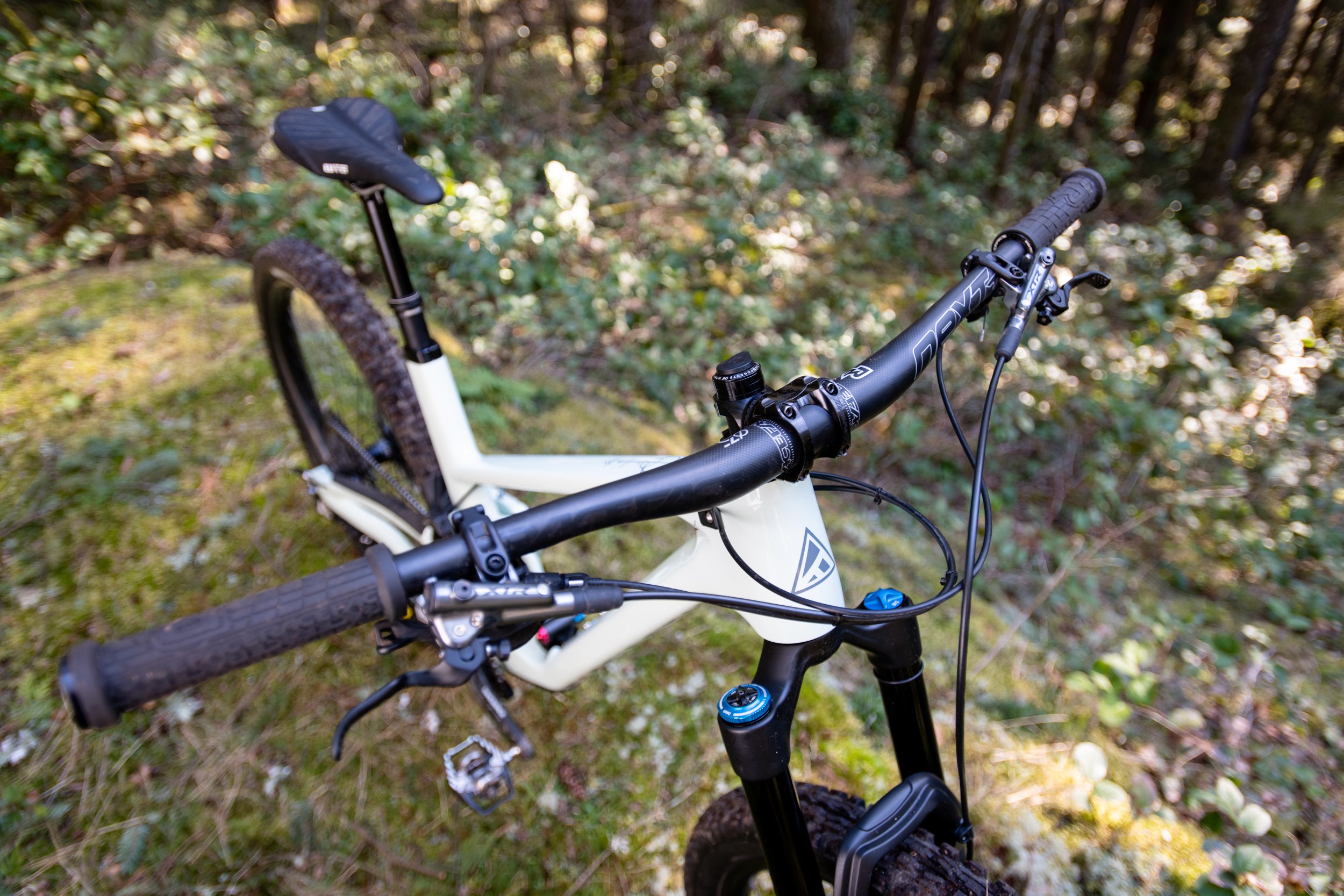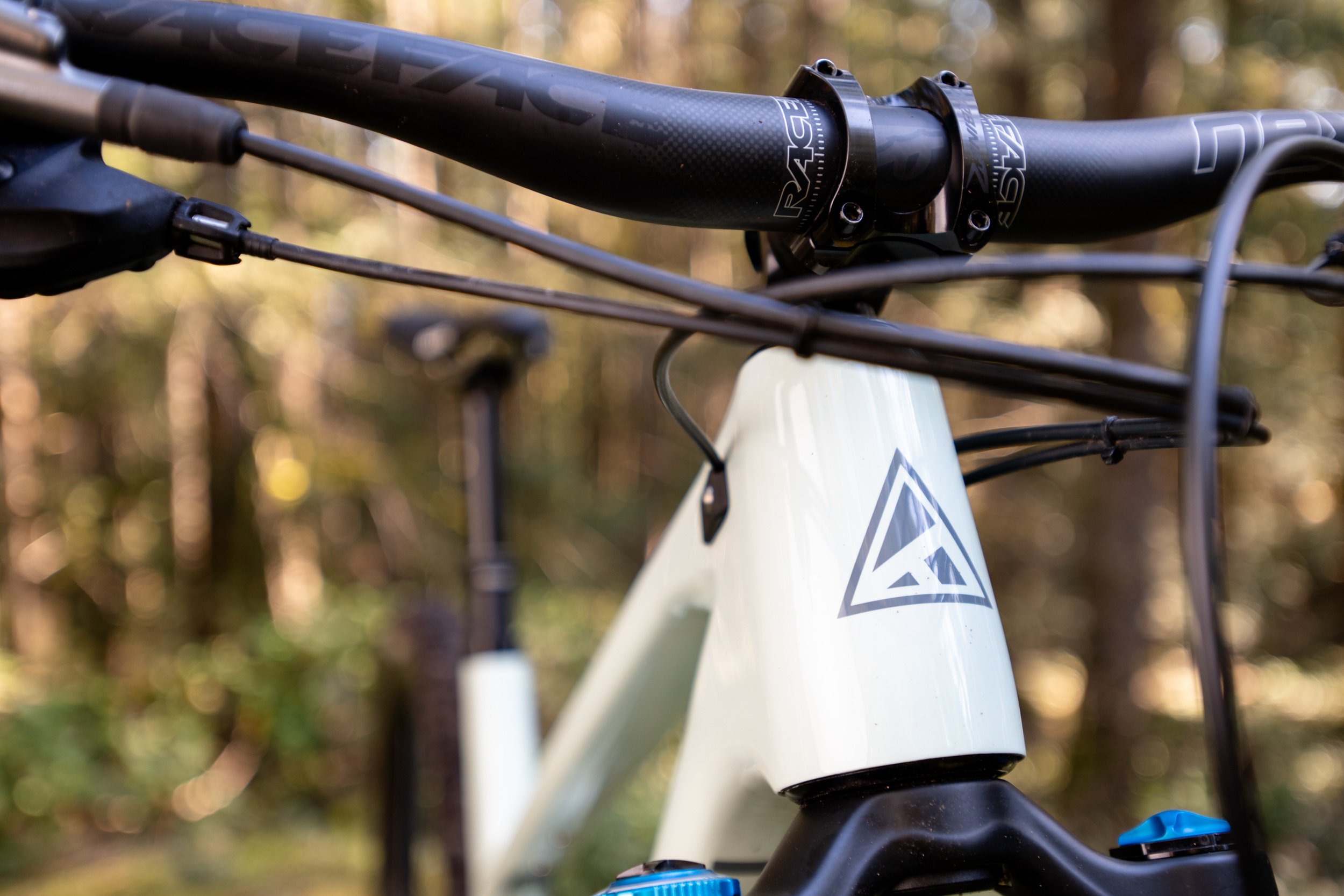 Ride Impressions:
Clearly this isn't a long term review, but I've put in four bigger rides on the Druid on three mountains since I've had the bike. The most unexpected experience aboard the Druid was the first climb. Having ridden high pivot DH bikes before, I knew to expect excellent suspension performance when descending. However as soon as I put power to pedals I was met with an unexpectedly firm and supportive sensation. With the shock in open mode, there is virtually no suspension movement, even during hard efforts. This meant I never felt the need to use the Climb Switch on the shock. The active nature of the high pivot, with minimal chain growth and no need for added shock support when climbing, means the Druid makes phenomenal traction up technical climbs. The seated position with the steep seat tube kept the front tire well weighted too. All combined and the Druid made some of the nastier technical sections around here a breeze to clean. I think in large part high pivot bikes have stayed DH bikes, because the idler pulley was perceived to have too much drag (at least it's the only reason I can come up with). Spinning the pedals backwards there is a tiny bit more drag than a conventional setup but this force is so small in relation to your power outfit, I didn't notice any lack of drive-train efficiency on even the steepest hills (and trust me I need all the drive-train efficiency I can get). I expected the Druid to be all about the downhill party but it's proven to be just as impressive going up.
When I was given the Druid I had no idea what the geometry or the travel was. I knew this wasn't a long travel enduro machine, but my goodness is this bike capable when descending. Based on how well it rode, I've ventured a ways outside of the intended use charts, and I've yet to be disappointed. Maybe it's also worth mentioning that I really haven't liked the 29er trail bikes I've ridden to date. This was different. Minutes into the first descent and I was jumping through corners, sliding about, scrubbing lips, and loving life. The Druid seems this mix of agile, easy to ride, stable and spritely. I was instantly comfortable. So comfortable in fact I easily cleared a committing and tricky gap on a trail I ride often, and maybe only attempt 20% of the time on my personal bike. The progressiveness of the linkage seems well judged too. I'm using the stock shock volume spacer, and this should be spot on for most folks, with space either way to tune to your personal taste. Where most 29ers have felt awkward and difficult to turn, the Druid seemed agile and playful. Yet when things get rough also stable and planted. The Druid eats bumps like no other 130 mm travel bike I've ridden. Between the big wheels and high pivot, it holds monumental speed down chunky tracks. It carries so much speed everywhere, I've been consistently over jumping features. I thought the extra chain and guides might make it easier for the chain to derail, or to be noisy. I can happily report back that I've had no chain issues so far, and the back end is surprisingly quiet.
Given the unique layout of the Druid I see a couple potential issues. Some folks have asked me if a standard length chain will fit. On the large and extra large a standard chain might not be long enough. So you might have to buy two chains when you build the bike, but that second chain will provide additional links for all future chain replacements since you'll only need a couple additional links for each replacement. It's not ideal, but I think it's a small additional price to pay. Forbidden is working on sourcing longer chains, but given the number of different chains and drive-trains, this could be tricky. The only other issue I could think of is the idler durability. The test bike I'm on has had a number of reviewers on it before, and I've put in four big rides on it so far. The idler still runs smooth, but this hasn't been a long term test, and the weather has been glorious. I'm interested to see how the idler holds up over more use and in nastier conditions. That said I don't have any reason to doubt Forbidden's solution. The team has plenty of experience with previous high pivot bikes, and those idlers haven't presented any major issues that I'm aware of.
Price and Availability:
At this point you're probably wanting one of these. The Druid is only available as a frame kit, and is now available for purchase for a cost of 3,999 CAD / 3,099 USD / 3,150 GBP. The frame kit includes the frame, custom tuned Performance Elite Fox DPX2, both e13 chain guides, hardware, and protective pieces. The sales model is currently direct to consumer, as well as a growing number of dealers. The first batch is mostly sold already, with a second batch due in July 2019. So if you're interested, head on over to the website here.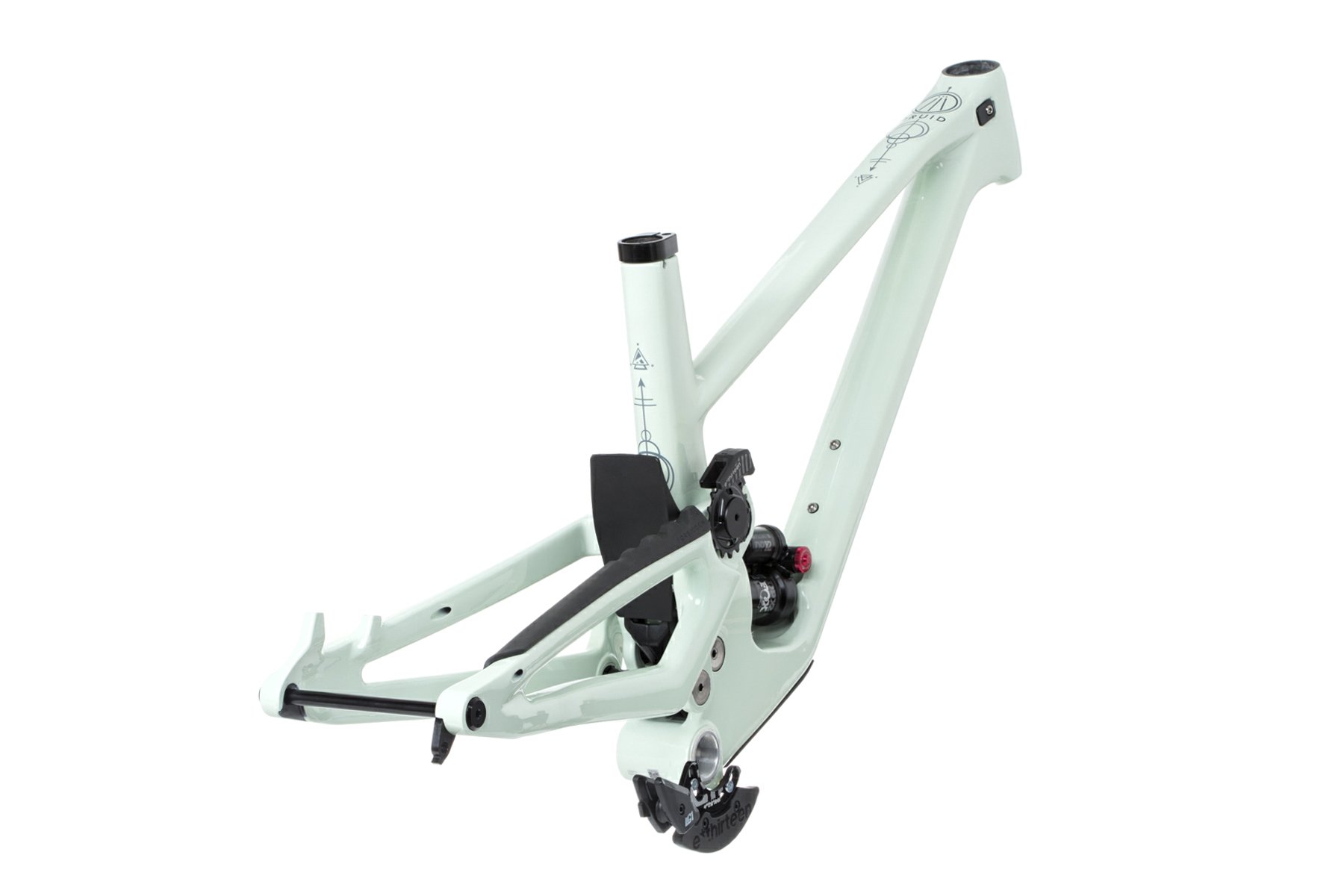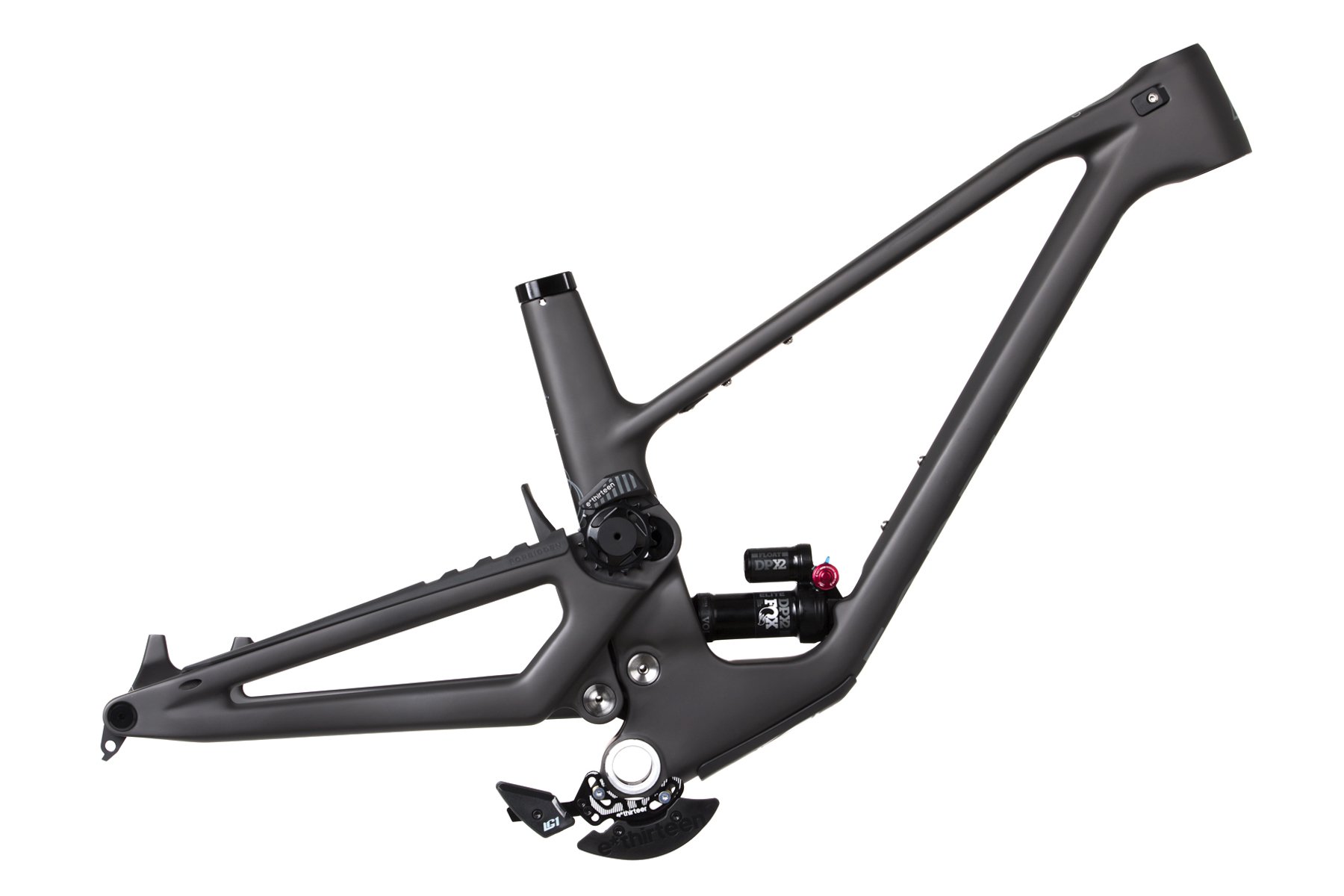 If you couldn't tell through my words, this bike has me excited. I love the concept, the bike is gorgeous, and the way this bike rides up and down mountains is mesmerizing. Given how well this bikes climbs and descends I'm baffled there aren't more high pivot trail bikes around. Price wise, its not cheap, but pricing is inline with other boutique carbon bike frames. I think the Druid offers a ride experience that more than justifies the cost of admission. The bike industry experience of the Forbidden team rings clear with the attention to detail and build quality of the Druid. Even the name is clever and well thought out. Once people start riding these I think the biggest issue Forbidden is going to have is keeping these things in stock.