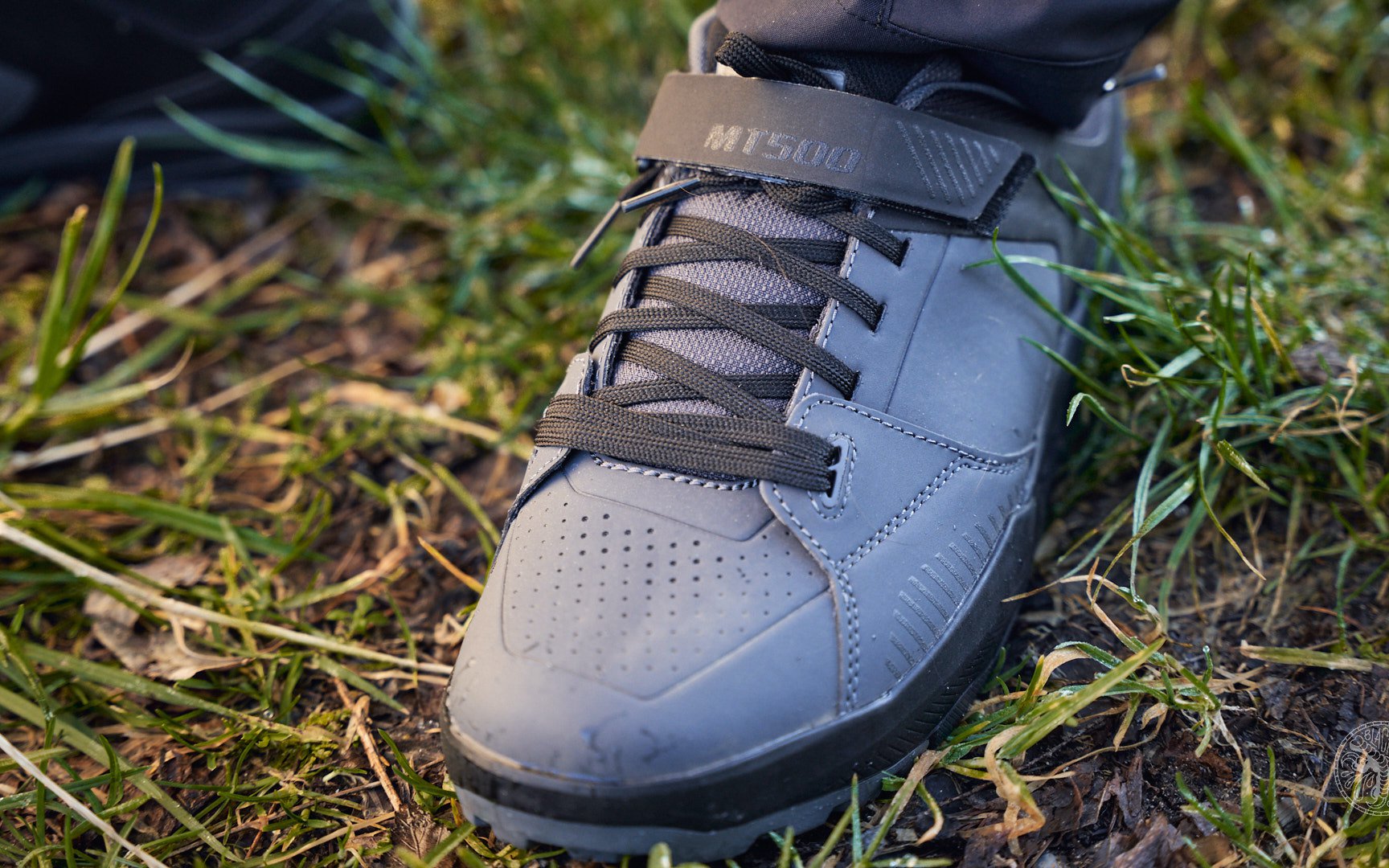 Product Intro/First Impressions
Introducing Endura MT500 Burner Flat Shoes
It turns out that I'm really picky when it comes to shoes. For as long as I can remember, I've stuck with a brand that is basically synonymous with flat pedals - a company whose name starts with an "F" and ends with "ive Ten". Every time I try to break my streak and try something new, I've almost always been disappointed. I've learned that I'm after a very specific combination of high pedal grip, with a sole stiffness somewhere between "medium" to "low".    
So, when I was asked to check out Endura's first stab at a flat pedal shoe, I was excited - and a little bit nervous. I mean, this is their FIRST shoe, what are the chances of them getting it right on their first try?
Well, it turns out that Endura did their homework on the MT500 Burner Flat, and then tested the bejeezus out of it for good measure. The result is a shoe that (in my opinion) is on par with the long-time reigning champ of grip. A good shoe is a combination of comfortable fit, the right stiffness, pedal grip, and protection to keep your feet in one piece. I'm usually able to judge if a shoe works for me within the first 5 minutes of riding, and after that long with the Burners, I actually said out loud: "Aw yeeeah, these work!!"
The Burner is comfortable on and off the bike, has a sole stiffness that I'll call "medium," and hits the sweet spot for support, while still allowing your foot to conform to the pedal. Grip is excellent right out of the box - without that overly "locked-in" sensation that is common with my regular brand. These shoes are seriously impressive, especially considering they are Endura's first stab at footwear. 
I'll be riding the soles off a pair of Burners, and reporting back on long-term performance and durability. I don't want to jinx it, but maybe the Burner is the shoe to break my streak with that other brand…..
Text by Ryan Walters
Photos - Deniz Merdano
Information and photos below provided by Endura
---
Endura Enters The Footwear Game
StickyFOOT Rubber
Throughout the development of the footwear line, the importance of the rubber compound on the sole has been highlighted as a key element. Developed specifically for the needs of the modern MTB rider, Endura's StickyFOOT rubber compounds use a unique concoction of ingredients to create outsoles specifically tuned to offer the perfect balance of pedal grip and durability, providing unrivaled performance and a hardwearing long lifespan.
Used in all pedal contact areas on Endura footwear, the StickyFOOT Grip compound offers maximum grip, conforming to pedal pins and locking the foot in place on the pedals. Combining a high level of walking traction with high durability StickyFOOT offers a long lifespan in the areas of the sole likely to experience higher levels of wear and tear.
Ergonomistry
Developed with ergonomics expert Phil Burt, Endura's exclusive EGM insole maximizes comfort and power transfer in both MT500 shoe models, using the following components:
Metatarsal Button - This carefully placed, contoured soft raised button helps spread your big toe from the rest, greatly improving your forefoot function and comfort-vital in mountain biking, while preventing the unwanted scrunching of the toes.
Sole Stimulant - These small raised soft tactile dots are strategically placed to improve your foot's proprioception, greatly improving its ability to soften and stiffen through coordinated muscular contractions.
Power Arch - Carefully profiled and contoured support helps the arch of your foot to cope better with the conflicting demands that riding places upon it, delivering better power transfer and improved comfort.
Endura was founded in Scotland in 1993 with a no-nonsense commitment to advancing the performance and function of cycle apparel for all. As a maverick brand, it immediately launched a host of novel and challenging products that have gone on to earn iconic status globally and in many cases reset the benchmark of function and durability for the industry. This philosophy and disruptive innovation has carried the brand from Scottish local hero to global market leader.