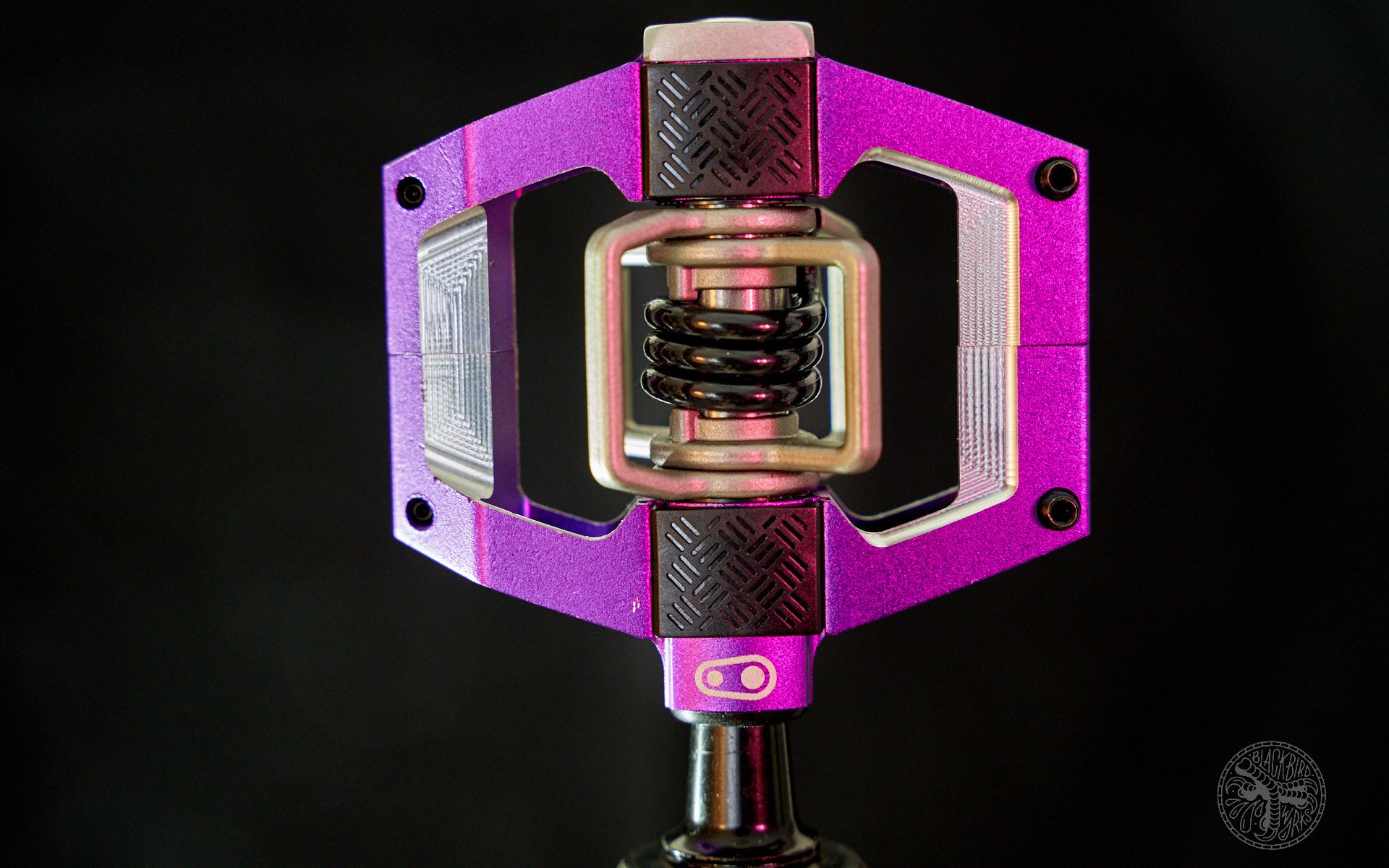 Review
The New Crankbrothers Mallet Trail Pedals
"Purple... you had me at purple," I told Katie Osterloh of Crankbrothers when she asked if I'd be interested in trying some pedals. This new Mallet Trail is designed to fill the gap between the Candy, the choice for XC and Gravel (and a great all time name for a product) and the Mallet E, that's larger and offers the under shoe support that Enduro chargers want and need.
Specifications
The Crankbrothers Mallet Trails are lightweight pedals that feature the easy to engage, 4-sided cleat system Crankbrothers is famous for. This floating retention system makes for an open middle pedal cavity that sheds mud and debris better than any other pedal on the market. Instead of a static cleat capture, the system can rotate 360° for entry on all 4 sides of the cage. There are also 2 adjustable pins on the leading edge of the pedals which help with traction if your shoes are flexible enough to reach them. The pedals measure 78mm wide and 105mm long.
Crankbrothers designed the Mallet Trail around a 57mm Q Factor for a slightly wider stance on the bike. This allows for better heel articulation and it means you can ditch the pedal washers on your cranks.
Traction pads rest under the metatarsal support of your shoes. These pads can be swapped for 1 or 2mm thickness options for "on ice" or a more grippy feeling float depending on your shoes. As the pads increase in thickness, the cleats move further away from your pedal and will require more force to engage. My pre-production set came with 1mm pads that sit more or less flush with the pedal body.
Insides
A 6mm hex key gives you access to the 8mm Nylock nut on the end of the pedal spindle. With no special sockets necessary, I was able to slip a standard socket in the hole to undo the pedal.
After a few turns of the ratchet, I was greeted with ample grease inside. I was happy to see it was sticky and blue in colour, suggesting marine applications. The tip of the axle supports an Enduro-branded MAX cartridge bearing pressed onto the pedal axle. The crank end of the pedal has a specially-made Crankbrothers IGUS bearing that is claimed to last 8x longer than the competition. The Mallet Trail comes in at 172 grams on my kitchen scale. While it's nice and light, it's also surprisingly rugged feeling for a pedal in this category.
Mallet Trails come with a set of Standard Release Cleats in gold. They offer 6° of float and a 15° release. I like the amount of body language I can put into the bike before my feet come unclipped. There is no hard wall of resistance to lean into before unclipping like you have on Shimano pedals. I like this feeling and the cleats become even more predictable as they wear in and learn my riding style. The brass alloy cleats may not be as durable as the steel ones shimano uses but I prefer the way the soft feel translates into great on-bike performance.
The Time cleat system is almost identical to crankbrothers and I can go back and forth between without a hiccup. I've also successfully clipped my time cleats into CB Mallet Trails without issue. I did not ride trails that way, but this accident was an indication that the two brands have very similar setups when it comes to shoe retention.
If you want to customize your fit, you can choose from four different cleats in the CB line up, from 0° float and 15° release to 6° float and 10° release or 0° float and 10° release.
On the Trail
Matched to a pair of Mallet DH shoes in size 42, The Mallet Trails have welcoming manners. The amount of support they provide the flexible DH shoes is adequate but if you want fully locked-in, drop your heels confidence from your setup, I'd recommend Mallet E shoes. Paired with a stiffer-soled shoe and bigger lugs, the Mallet Trail comes to life, offering plenty of support and staying out of rocks' way effortlessly.
I came unclipped a couple of times while trying to move the rear of the bike around on the trail. In situations where I would still stay clipped in on Time pedals, I found it easier to get out of the Mallets in general. If Crankbrothers found a way to adjust the spring tension on their pedals, I think they would have a clear winner in overall pedal performance. With many DH and Enduro racers running the Mallets in different forms on the circuit, including many who aren't sponsored, it's hard to argue about their real life performance.
There are 3 cool colours to choose from and a few optional kits to rebuild your pedals. $180 US gets you a lightweight, versatile pedal with many fit and adjustment options. The combinations of cleats, spacers and shoes provide ample solutions to get you comfortable on the tiny pieces of metal you'll be resting your feet on.
Crankbrothers Mallet Trail Pedals
179.99 USD // 244.99 CAD

Deniz Merdano
5'8"
162lbs
Playful, lively riding style
Photographer and Story Teller
Lenticular Aesthetician