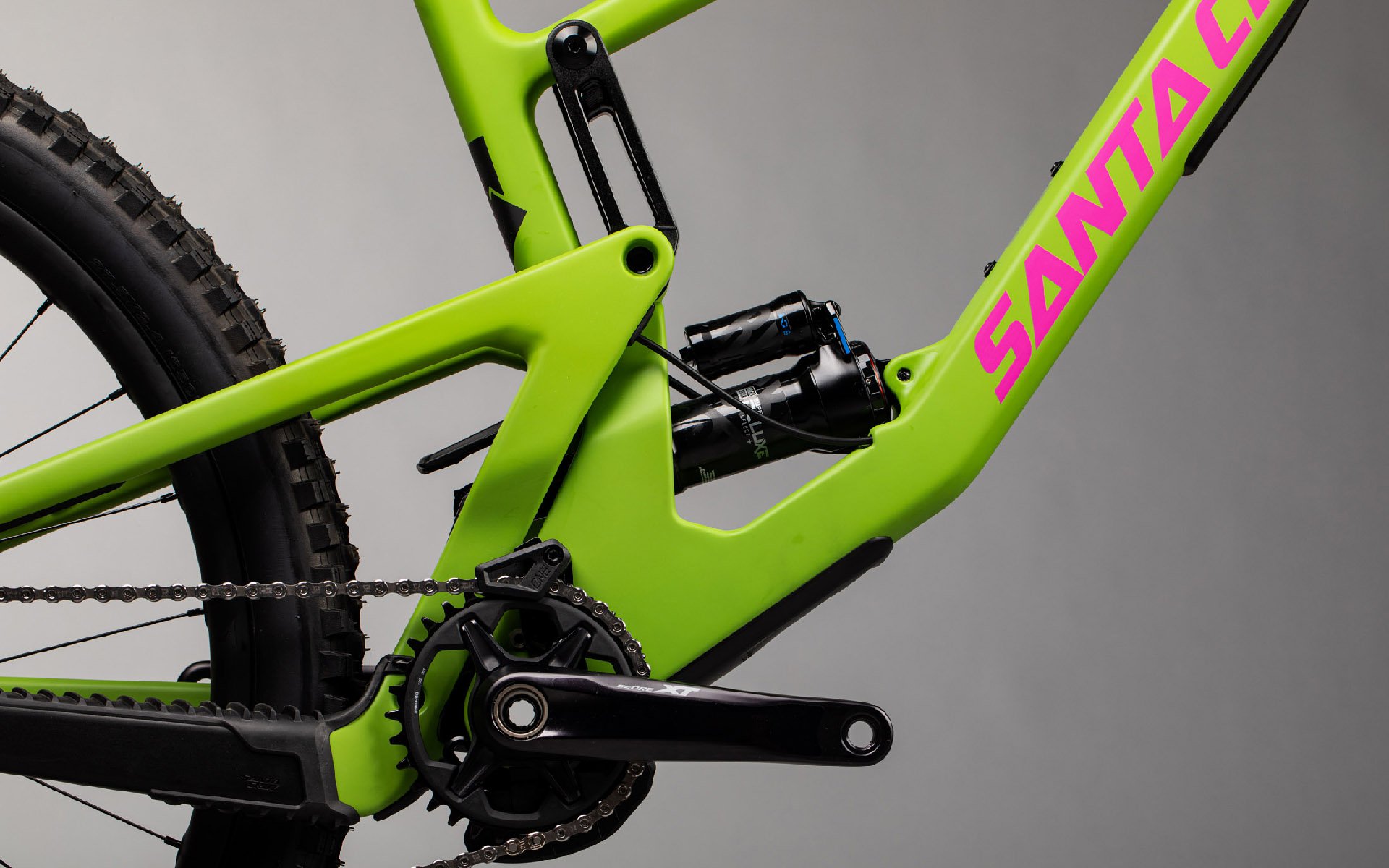 FIRST IMPRESSIONS REVIEW
Introducing the 2021 Santa Cruz Nomad XO1
Every once in awhile something in life comes along that alters what you believe is true. The parameters determined by experience are eroded by new information. Or sometimes it's old information presented in a new way. It wasn't that I thought I no longer liked 650b wheels,* it was simply that I was quite sure I preferred 29. When I became so enamoured with the most recent incarnation of the Santa Cruz Bronson, I wasn't fully aboard the 29er train but since that time I've ridden big wheels almost exclusively, with the odd fat or mullet foray. And I thought I was done. It turns out my my unwritten obituary for anything smaller than 29" wheels was premature.
*"27.5" remains deceiving and easily as awkward as the metric nomenclature
I've tested enough Santa Cruz bikes to know my sizing, but it's a bit odd. I'm quite happy on size large 29ers, although a reach number between L and XL would likely be perfection, but for 27" wheels an XL fits me beautifully while a large feels a little small. I had a hard time understanding this, considering the reach numbers between models of different wheel sizes is relatively consistent, but Santa Cruz Product Manager Josh Kissner had an explanation; "With a 29er, the taller rear axle makes it harder to get your weight rearward and get the front unweighted. So I think you end up riding more back on a 29er to kind of make up for that, which kind of stretches out your arms." Makes sense to me.
Highlights
27.5-inch wheels
170mm of lower link driven VPP rear travel + 170mm fork • 64-degree head angle and 78-degree SA (in Hi)
Size-specific CS lengths
C & CC frame & Reserve 30 carbon wheel options
Sizes: S, M, L, XL
Improved leverage curve and twin swingarm uprights
37mm fork offset
Available with coil and air shocks
SRAM Universal Derailleur Hanger
Lifetime warranty
Unfortunately there was a miscommunication and I was sent a large Nomad. I rode it in the high position, which stretches the reach just slightly, but it still felt a little cramped. The good news for me is that if I had received the correct size, my 29er would probably be up for sale right now, based on how much I enjoyed the Nomad in a less than optimal size. Fortunately the Nomad, like every other new bike, has grown longer in every size so the large now has a reach of 472mm (in the high setting) vs. the old Nomad at 460mm and the current Bronson at 459. So it wasn't entirely tragic and I was able to soldier on.
Our example weighs 32lbs without pedals which is very respectable for a bike with 170mm of travel front and rear. And it climbs like a lightweight as well. One of my favourite developments is the size-specific rear triangles. A rider on an XS is no longer stuck with the same rear end as a rider on an XL and vice versa. So the longer 236mm (high) chain stays of the large add some climbing stability and bite (at least that's one of Josh Kissner's explanations) compared to the 430mm stays of either the Bronson or the previous Nomad in the same size. Another performance factor for climbing and descending is the additional swingarm upright. The previous Nomad was Santa Cruz's first shot at porting the lower link driven shock architecture of the V10 down to a smaller bike, and the single vertical strut was not the perfect solution for dealing with lateral forces up or down. All this adds up to a long travel bike that climbs shockingly well, despite everyone knowing 29ers are superior climbers. From memory it climbs every bit as well as the Bronson and very close to the 145mm rear travel Hightower. I also found, when climbing Good Sir Martin, Mount Seymour's switchback-laden climbing trail, that I had a little more room on every tight corner .
But let's not get bogged down about climbing; this is a gravity machine after all. It's no longer surprising to me when I find I get on well with a new bike from Santa Cruz, but with the Nomad I felt like I'd been riding it for weeks. I was sending lines on the edge of my ability* on the very first ride. And feeling, dare I say, rather spicy. I got a leg up because Santa Cruz provided some comprehensive setup numbers, compiled by in-house suspension-focussed engineer and elite DH rider, Kiran Mackinnon. The numbers were pretty much bang on for me, although I took off a turn of high and low speed compression front and rear to compensate for our current chilly weather. I rode with 85psi in the Fox 38 fork and 185psi in the Fox X2 rear shock and everything seemed to sing.
*note - this isn't saying much

It's cool that we're able to offer choice and we want to let the market decide when 27 five is dead, right? We don't want to preemptively kill it. We'll keep putting them out there and if people stop buying them eventually then we'll stop making them, - Santa Cruz Product Manager Josh Kissner
The modern geometry with smaller wheels make me want to jump off everything I can and take high lines into corners. A bonus was that the janky tech trails the Shore is famous for got a little bit easier. I felt like I had more room to set up between moves because it was easy to do shorter radius turns, despite the 1257mm wheelbase.
Turns are of course a strength of smaller wheels because you can angle the bike more steeply and more easily because of the lower axles. It often felt like I was on a root beer coloured light speeder because of the velocity with which the new Nomad changes direction. Rather than turn, the Nomad seems to carve, even with our current slick conditions. Despite my enthusiasm, I did have a day when I occasionally was wishing for 29" wheels. We started off in the snow and I was feeling great and having a ball. The same feelings continued once the snow gave way to glistening woodwork, but one we got to the part of the ride with long steep rock faces, my confidence ebbed a little. I was gripping the bars a little too tight and just not feeling it, but I know it wasn't the bike. I'd ridden the same trail a few days earlier and had a blast. Feeling a little sketchy, the bottoms of the rock faces looked more distant than usual and more abrupt. Riding with a little less hutzpah, bigger wheels would have taken the edge off those hard landings and eased my pain just a little. In every other situation I was completely happy on 2seven5.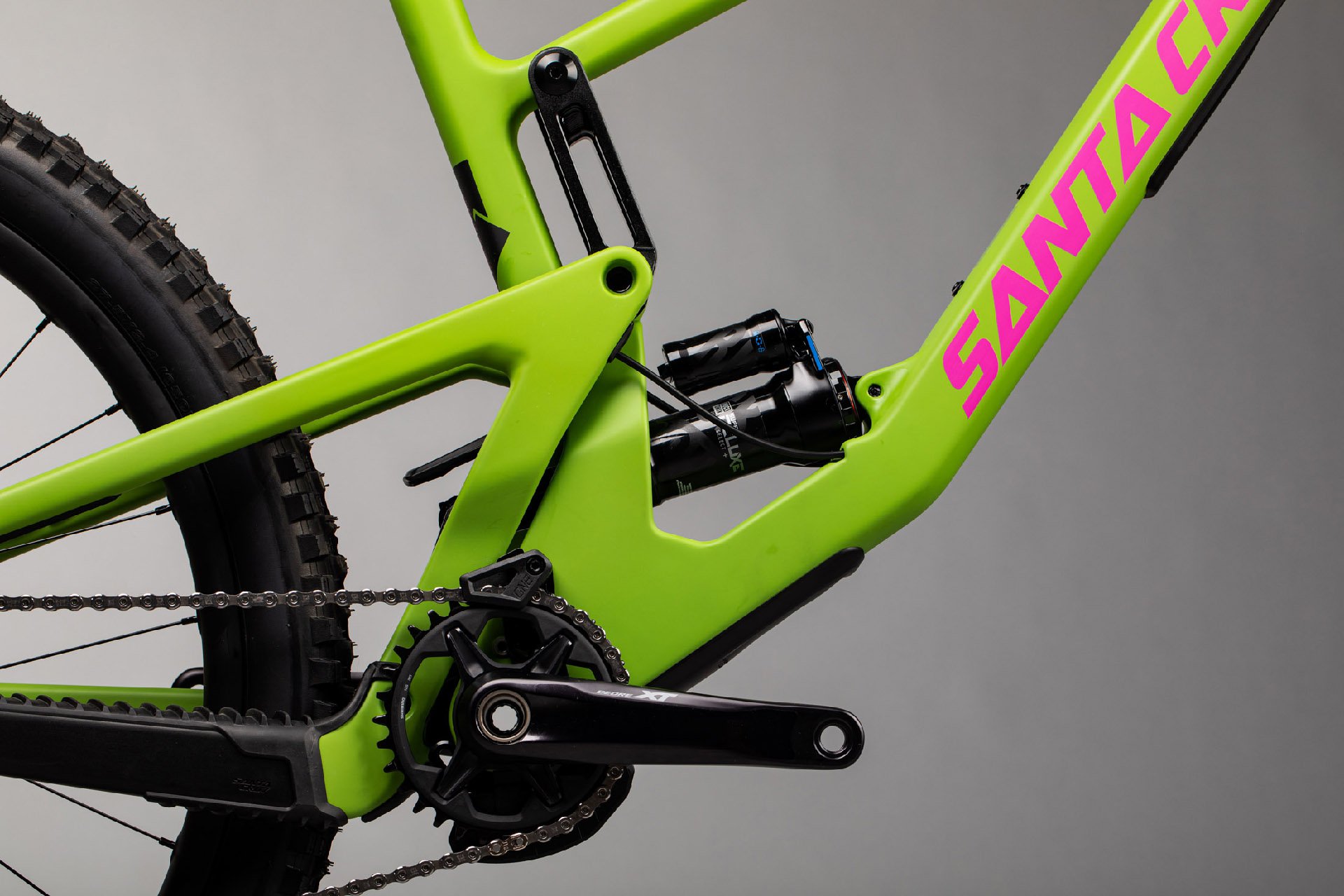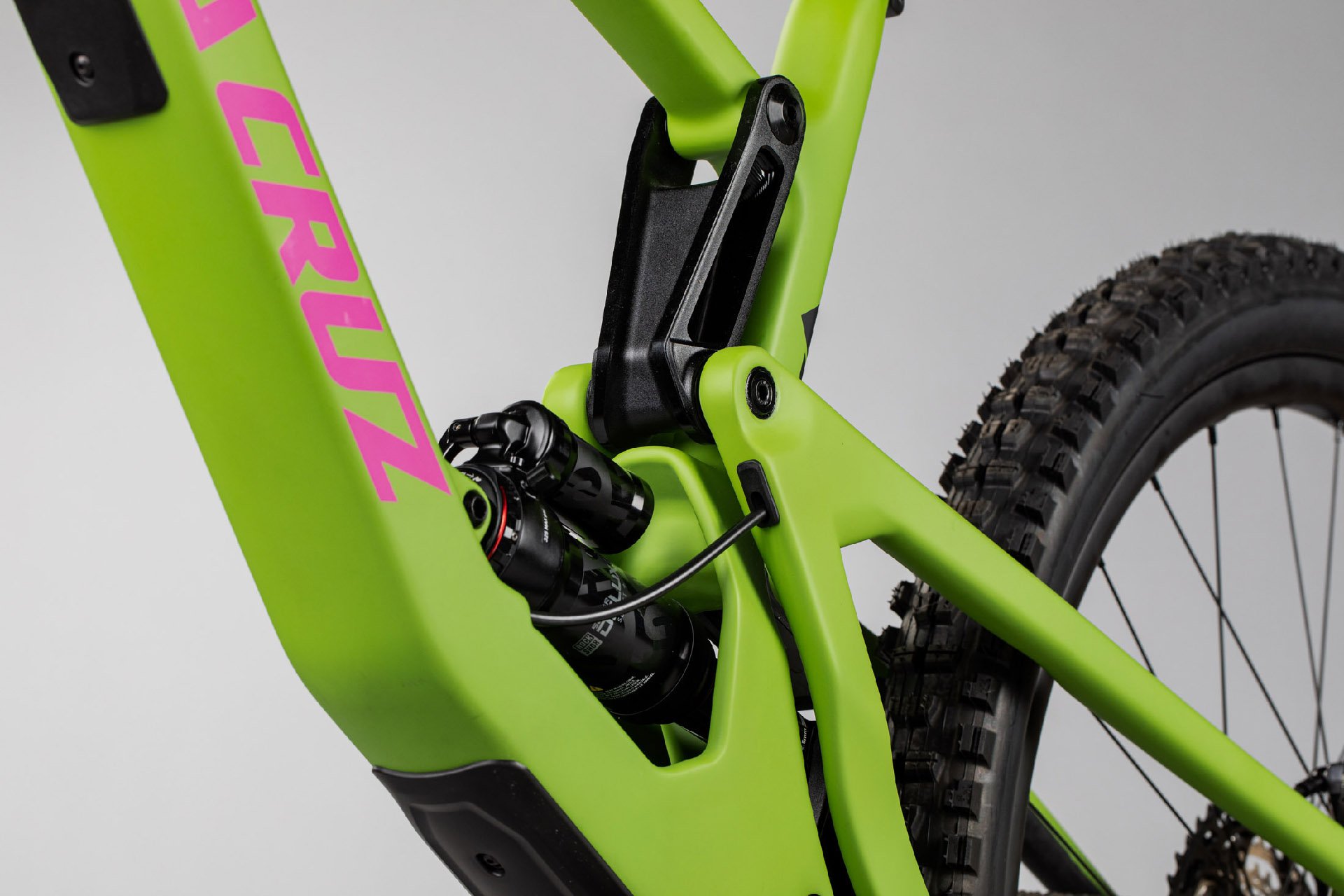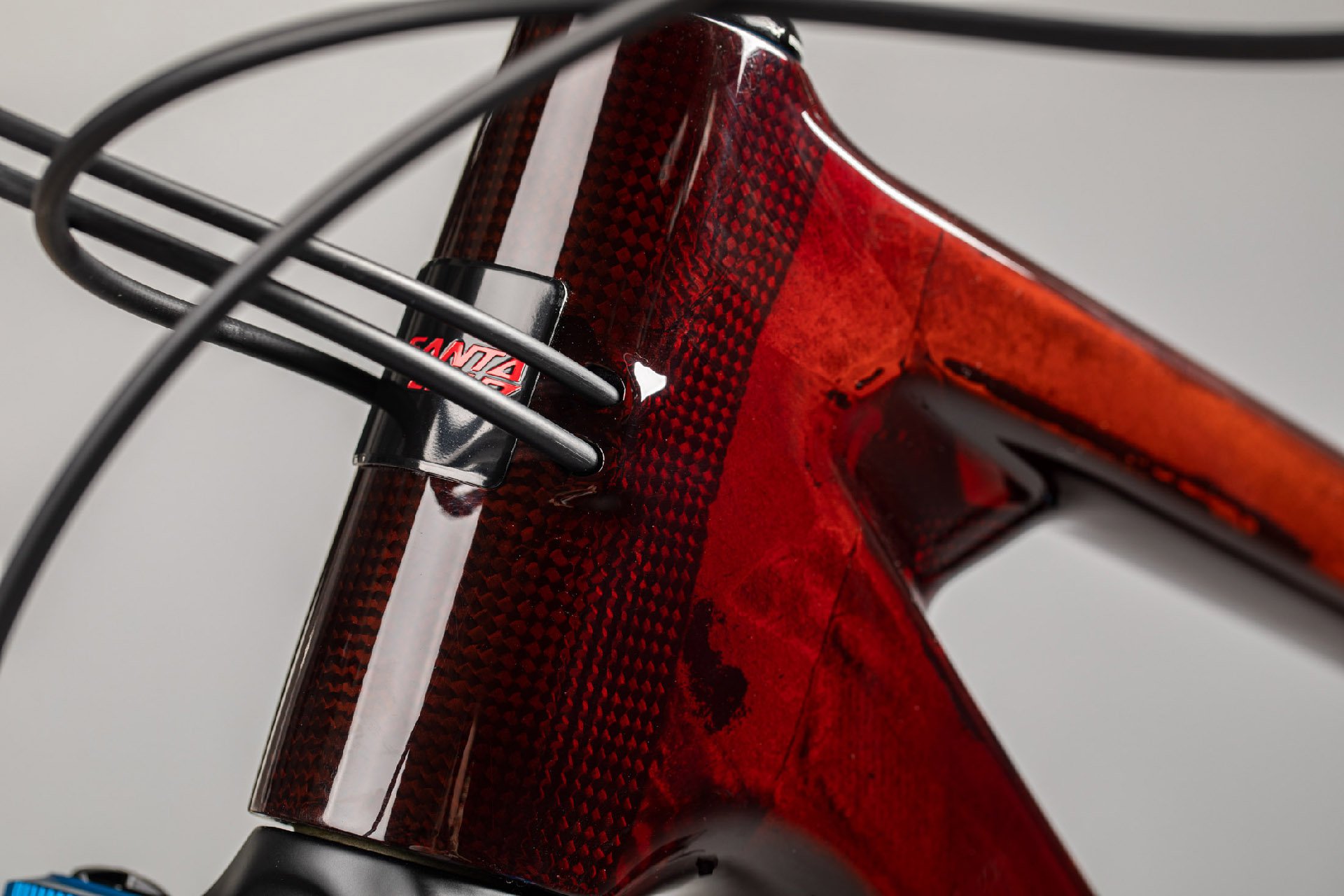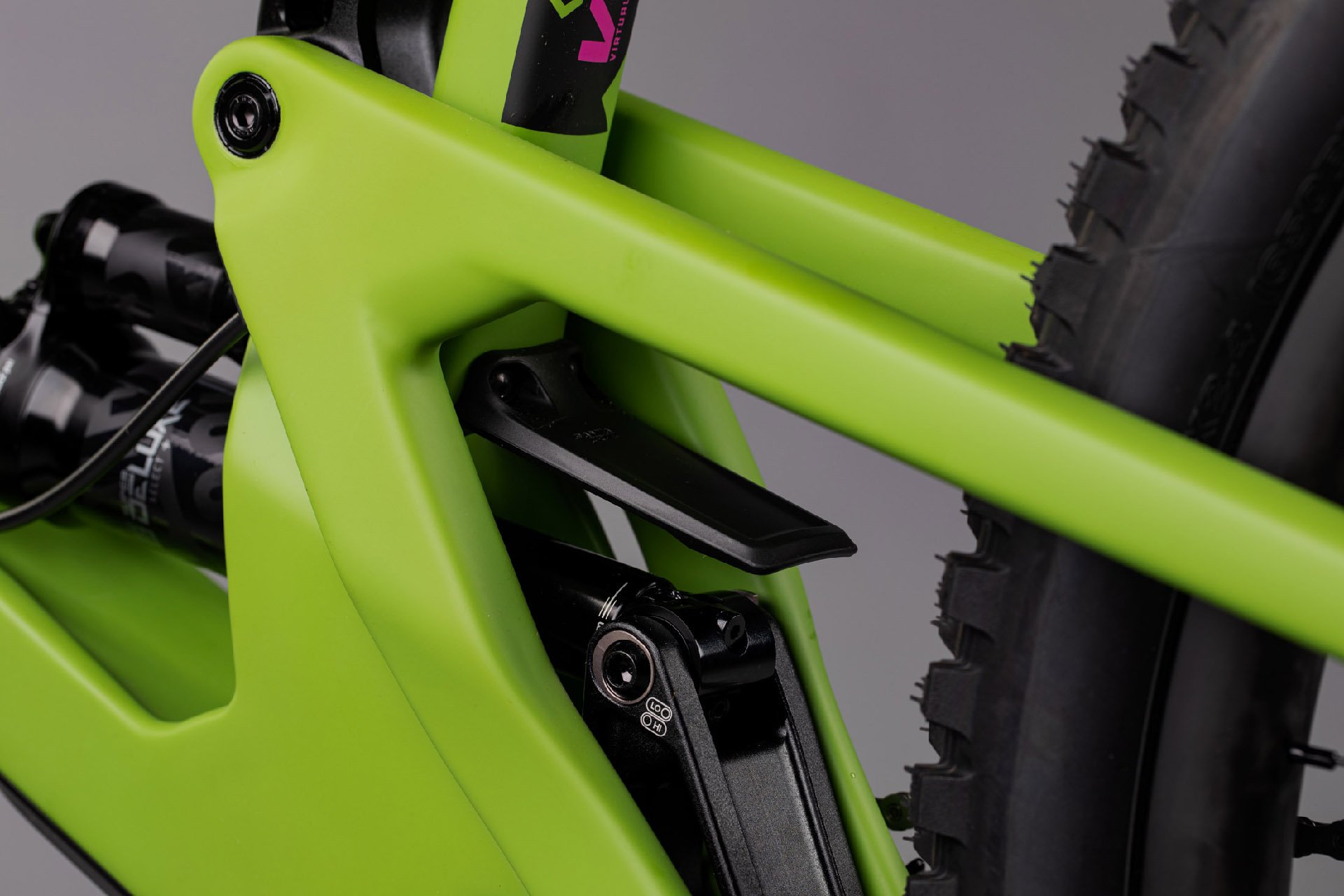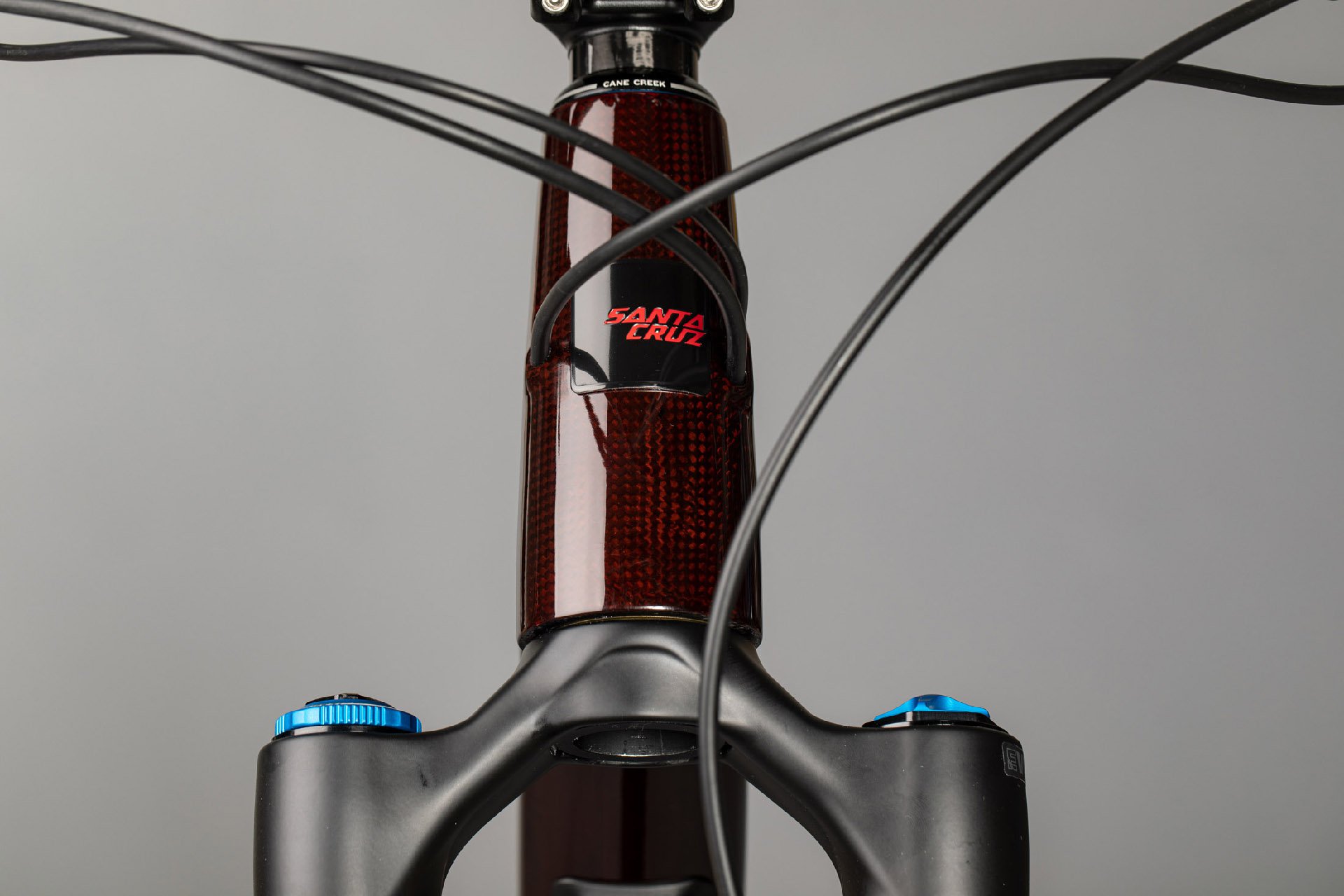 The leverage curve has been changed somewhat but for a slightly lower ratio throughout the travel, but the changes aren't dramatic. One of the final engineering challenges was the suspension kinematics and Santa Cruz engineers tried various configurations as Josh Kissner explained:
"In the end we ended up in a really similar spot actually, but we tried lower progression, higher progression, lower average leverage etc; long story short, we played around with a bunch of stuff. The small improvements we made combined with large improvements to shocks, in our mind makes a much improved package."
Component Spec.
As seems to be the case with Santa Cruz in recent years, there is very little I could gripe about in the component choices, but not much to get too excited about either. Maxxis EXO+ rubber, with a MaxxGrip Assegai up front and a MaxxTerra DHRII out back are great choices but the coil spec. models get Double Downs front and rear. SRAM Code RSC brakes work great as usual, and the drivetrain is full XO1 rather than some hybrid with a cheaper chain and cassette. The OneUp Bash is a nice addition that I've already tried out.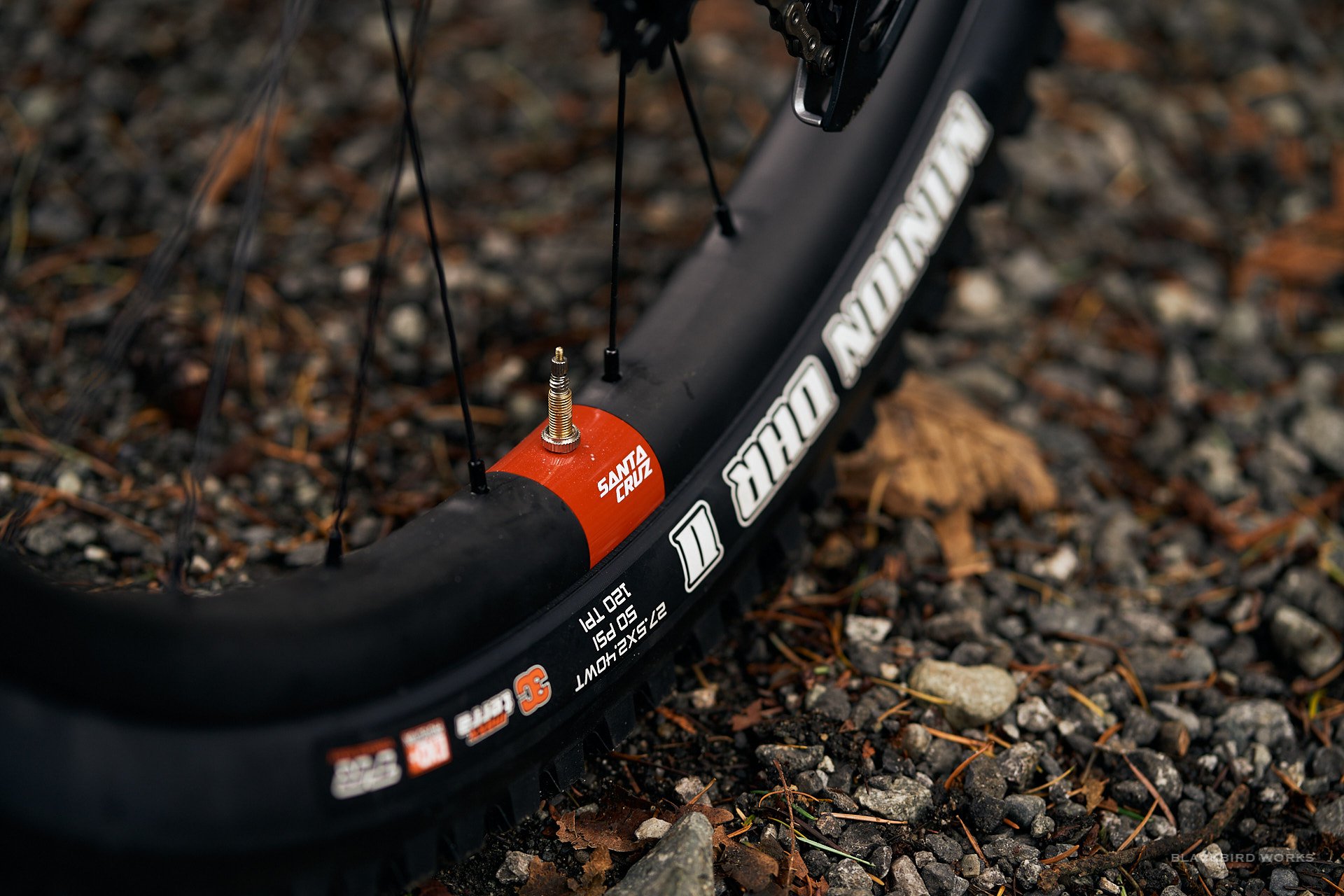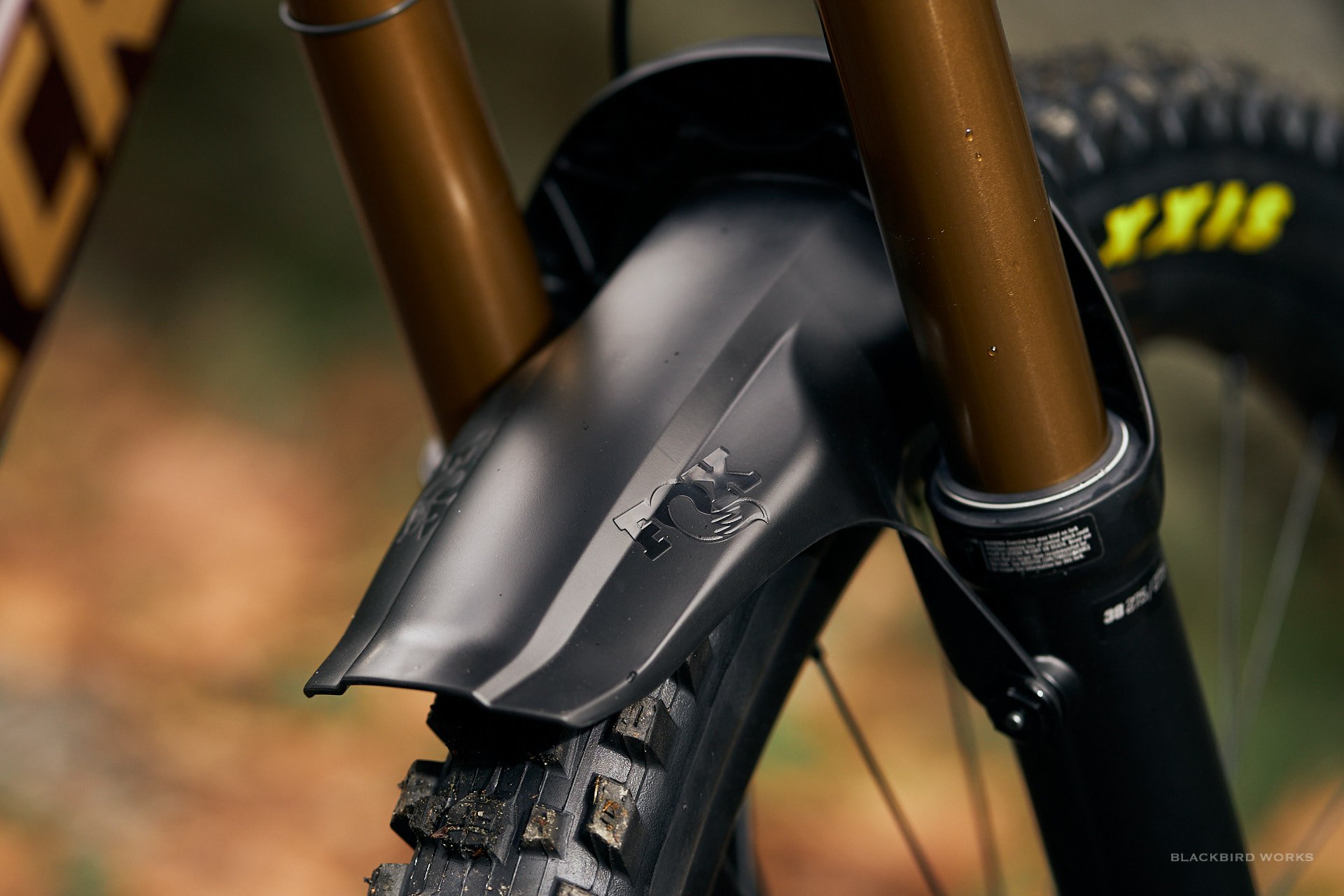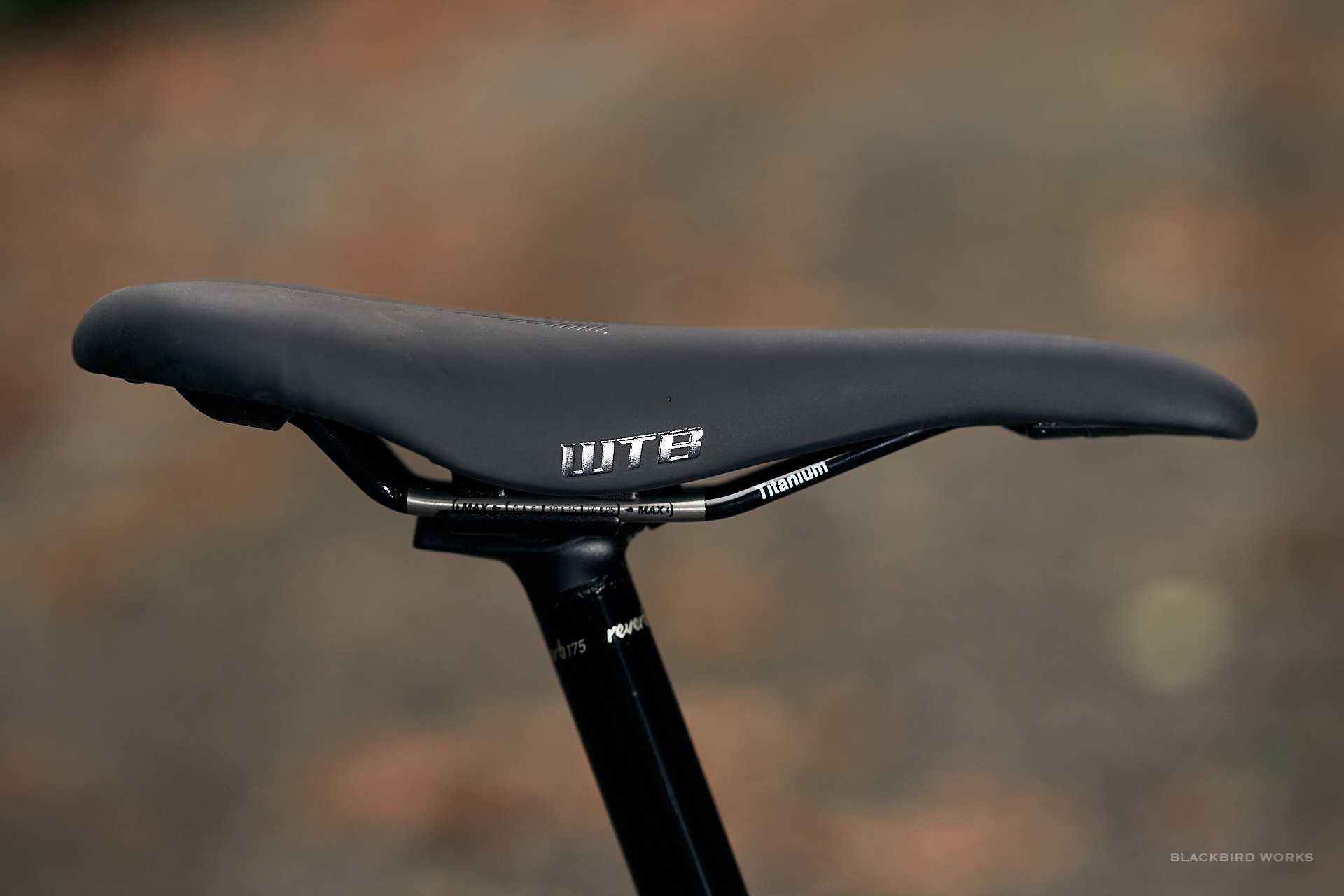 Preliminary Verdict
After just 5 rides on the Nomad I'm convinced it could be my personal bike. It's a blast to ride and it does everything well, and that was my impression riding a size that was just slightly too small, which was enough to keep my confidence in check just a little. It's important to remember that while 29" wheels are the flavour of the moment, with a side of mullet, 650b wheels are exactly the same shape, and they roll even better in some circumstances. Something that gets overlooked is that, while 29ers slow down less when they encounter a bump in the trail, 275 wheels speed up faster when you pump the backsides. If fun is your goal, tweener wheels in general, and the new Nomad in particular, should be on your radar.
Also - because of the sizing issue, Trevor Hansen is going to handle the long term review. He's already ridden the bike and it fits him very well.
The Nomad Carbon CC XO1 (seen here) or the XO1 Coil will set you back 7499 USD with Raceface ARC rims rather than the Santa Cruz Reserves seen here. The Carbon C base model is 4999 USD.
Head to Santa Cruz Bicycles for more info, after you watch Sam Dale, his Nomad and his van in the video below.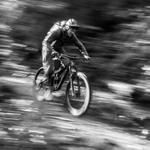 Cam McRae
Height - 6'/183cm (mostly legs)
Weight - 170lbs/77kg
Inseam - 34"/86cm
Ape Index - 0.986
Age - 56
Trail I've been stoked on lately - Boogieman
Bar Width - 760mm
Preferred Reach - 485-500mm (longer with 27.5 wheels than 29)