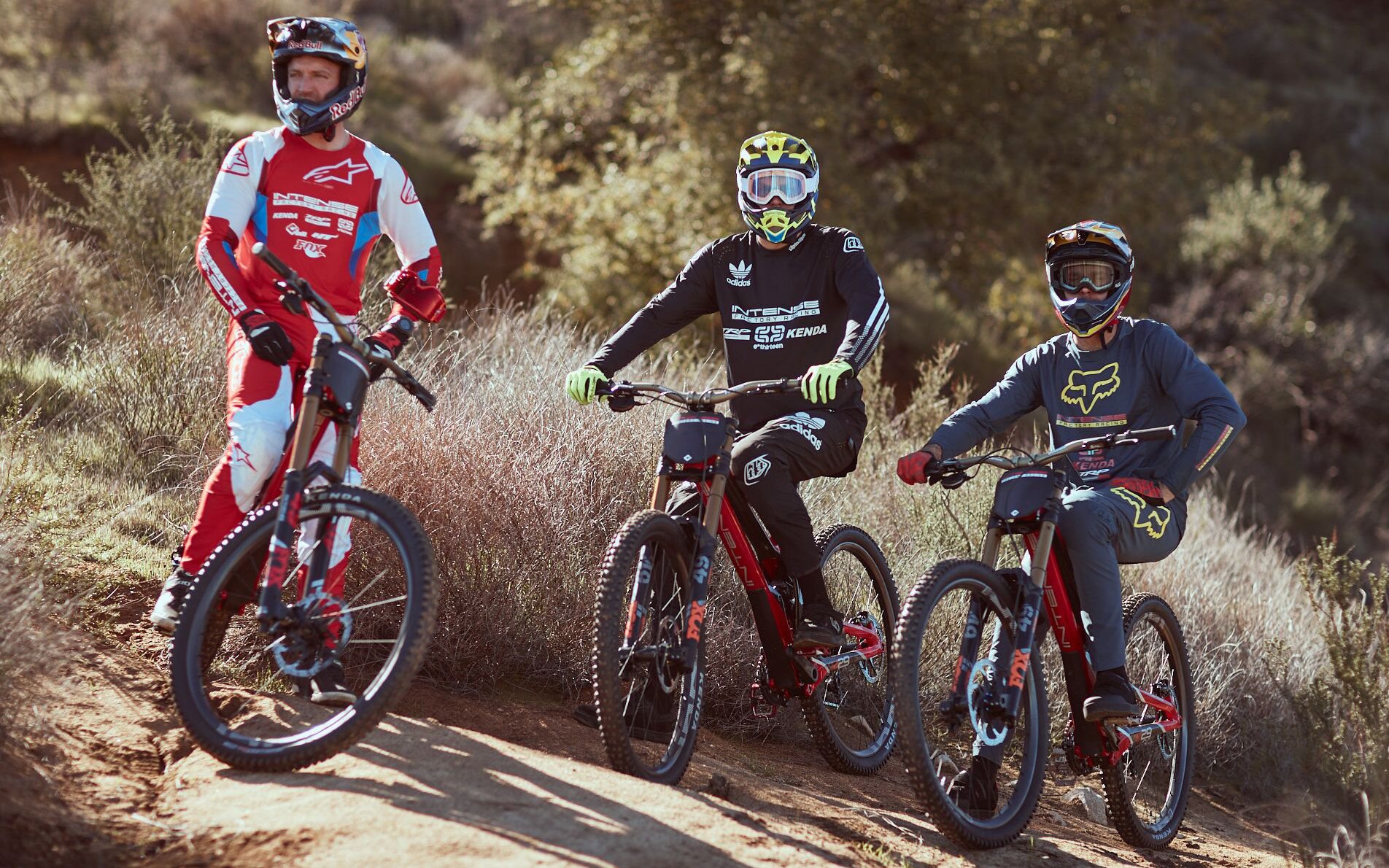 Talking Turkey with the Whole Squad
Interview: Gwin, Neko, Moir, Steber & Schumlick Talk Intense Factory Racing
Intense Factory Racing's team changes have been subject to some of the loudest speculation during this World Cup DH off-season. So when the team announcement went public a week ago it wasn't a big surprise. Still, a lot has changed for the team, as Jack Moir mentions below, and everyone at Intense is excited for the year ahead. 
And why wouldn't you be? Once the go-to bike for downhill racing, Intense has set their sights high for 2019, signing Aaron Gwin along with Neko Mullaly. The two American pinners, one the most decorated U.S. rider ever, now riding for the American-owned brand. But with changes come questions. I reached out to the team, including new Team Manager Todd Schumlick and Intense CEO, Jeff Steber, about the new chapter.  
---
Aaron Gwin
Aaron, being from the same area as Intense, did you ever imagine riding for them?  
I've been fortunate to ride for some of the best brands in the business but there has always been something really cool to me about the thought of working with Intense. I've been buddies with the owner Jeff Steber for a while now and we've got lot of similar passions. There's also just the accessibility of their HQ being 10 minutes from my house that creates a really unique kind of potential. 
What benefits of your proximity to Intense are you most looking forward to?
So far it's just been the accessibility. I can hop in my truck and in a few minutes, sit down in front of whoever I need to talk to. It creates a more personal relationship that I haven't experienced with a sponsor quite like this before. I already knew most of the guys who worked over there as well so it's been a very easy, natural transition. I couldn't think of a better situation and I'm really happy to be representing the Intense brand, based right here in my hometown.
There's been some chatter about Jeff/Intense's ability to turn out quick prototypes and that being appealing to you. How accurate have those claims been?
They have been very accurate! haha Within a week or two we were throwing around ideas and Jeff is already working on some of our ideas now :)
Product development seems to be an area you enjoy. What are you looking forward to digging into?
We both have a major passion for product development and making bikes go fast. As a racer, that's the ultimate scenario. To have a company owner primarily focused on his downhill race team, is something pretty unique. I'm looking forward to just sharing knowledge as we go and working together to improve on what is already an amazing line of bikes.
The UCI has changed the rules to allow different wheelsizes and Neko hasn't been shy about testing a 29 front/27 rear combo already. Is this something you're considering and have you tried it yet?
I have an Intense Tazer (e-bike) that I've been riding quite a bit lately and it has a staggered wheel size. I'm really loving it but I haven't tried that set up for downhill yet. The plan, for now, is to stick with the 29er. Who knows where we'll go in the future though, we're definitely down to try just about anything if we think there's a possible advantage.
Past relationships with frame manufacturers have been reasonably short. It's sounded like you desire a long-term relationship. Are you and Intense planning on that?

Ya that's always been the hope for sure but it depends on the circumstances. I've definitely got a good program going with Intense and I'm very happy there. The plan/hope on both of our sides is to work together long term.
Our contract is for 3 years with a few different options to extend.
---
---
Neko Mulally
Neko, Aaron and yourself have shared pits on numerous teams. But it seems that you and Aaron were sort of a package for 2019. Is this accurate?
I wouldn't say that we were a package deal, it just worked out that both of our opportunities with the YT Mob came to an end, and this opportunity with Intense made sense for us both to join. Aaron is a bigger piece to the puzzle than I am, so once he worked out his deal, he needed a teammate and a spot for me opened up. 
With World Cup racing, your own bike park and other domestic programs you work on, what are your goals for 2019?
I'd like to be up inside the top ten consistently, I believe that's where I belong. 
You bring a lot more than race experience and results to the team. How important were your endeavours outside of racing for the new contract?

The things I have done outside of race definitely show who I am as a person, which I think adds value to my brand, but as far as my deal with Intense goes, my job is to be the best downhill racer I can and that is my priority.
Many race fans are already aware that Aaron is heavily involved with product development but what some may not realize is how involved you are. You've been testing hybrid wheeled DH bikes for years now, as far back as Scott. Are you and Aaron working on anything like this with Intense?
I feel like I am pretty in tune with bicycle performance and I like when I can bring that to the table as a team member. Trying out the mixed sized wheels was a fun experiment. I got the information I was looking for and feel that I learned something by trying it out. For now, I'd say we'll be racing the full 29er at the upcoming races, and there is no talk of modifying the M29 in that way.

Aaron's wanted to give back to American Racing and you do too. Is there a deeper partnership brewing there? Are you two working on anything new, or improving on current domestic support programs that you have?

It's tough to race at the top level and manage other projects. I've learned that over the past few years myself. Aaron and I often talk about ideas to grow the sport, but for now we're both focused on the racing and hopefully, our success will have an impact in our region. I still own Windrock Bike Park, organize the Tennessee National, and am a member of USA Cycling's mountain bike committee, so hopefully that helps to give back in a small way.

---
---
Jack Moir
Jack, big changes for you this year. Have any of them affected your approach to the season?
Yeah for sure, I'm the only one from the team (riders and staff) carrying on from last year, and pretty much the only thing I have ridden on the new bike is the frame. So yeah, I guess you could say that haha.
Race fans have been quick to comment on how fun the dynamic of the team appeared the last couple of seasons. Can we expect that and your laid back attitude to continue? Will there be more self-mocking wrestler slams on social media, or is it time to buckle down?
I think it's time to buckle down now more than ever, especially with the resources available to me now, and the group of people I'm surrounded by. That doesn't mean my attitude towards racing is going to change though, I'm still going to have fun riding and go as fast as I can. I think I'm just going to have a bit more structure around my program now, and have a few really knowledgable people to be able to bounce ideas off. For sure I'll keep pumping out those Randy Orton RKO's for you 😉.
You've been so close to winning a World Cup and posted top ten results. Do you think having Aaron as a teammate will help get to that podium more, or is it keep with the plan you have?
I hope so haha, maybe I can find a few key ingredients to complete the recipe? Aaron has definitely been the guy to beat ever since I started racing World Cups. He was dominating back when I did my first World Cup at MSA in 2012 and he is still at the top now, so I'm super grateful to be given the opportunity to race alongside and learn from someone like that. I went for one gym session this afternoon with these guys and learnt more about training in one hour than I think I have in my whole career…
Jack's crash during training camp kept him off the bike for day two with a concussion. Video: Intense Cycles
Riders like Kovarik and Bernat have been long-time Intense riders. You've been with the brand for five years now. Are you the next generation Intense Lifer? Is that a goal you'd like to pursue?
Yeah, that would be cool! They're a great group of people that are extremely passionate about racing and share the same dream as me. They've had my back through some pretty shitty times and that really drives me to work hard and do everything I can to repay them. We've also had some awesome times over the years but I feel the best is yet to come.
Even though you're on the same bike as last year, the components have all changed. Is it taking some adjusting or does being on the same bike make it easier to for you manage?
Yeah, pretty much everything has changed. I've barely done any riding on the bike so far; I only did a couple photo shoots and then took a big slam, giving myself a bit of a concussion, so just been cruising the rest of team camp. I think everything is pretty dialled, so shouldn't take too much getting used to.

---
Jeff Steber
Jeff, it must be exciting for you to have not one, but two American World Cup racers back on Intense?
It has been a dream for some time to work with Aaron for several reasons, our dedication to racing at the highest level, product development, we are basically neighbors and it also doesn't hurt that he likes and plays guitar either.
We go way back with Neko, about 10 years, as we had tried to work him into our IFR racing program as a junior rider, it just didn't work out at the time. We've kept an eye on his racing career. Full circle now and we're stoked it's happening now.
Did you ever imagine one of those racers being among the best downhill racers of all time?
We had discussed over the years but the stars never aligned for it to happen. "Racing is our true North " is a bold statement Aaron on IFR shows our commitment to that ethos.
There have been rumours about Intense not being able to afford Aaron, Aaron taking shares in the company etc. Are you able to discuss how Intense and Aaron were able to align for the new team?
Time to nip rumors in the bud and that is not the case. The spirit of the deal is looking at a lifetime arrangement that extends with Intense even after racing, that is the goal.

You just released the M29, which by all accounts is an excellent DH bike. Are there plans to update it with Aaron's input?
One of my goals for IFR is to develop new tech that can then trickle down through the product line. Constant improvement, helping the racers go faster more consistently so there will always be a prototyping process in place.
The current M29 was the result of working through the 2017 WC race season on a series of alloy test mules with Jack and Dean. By World Champs we had a beautiful, refined carbon fiber race machine. The IFR team raced those through the 2018 WC season and we continued to make small refinements. You will see the process continue throughout 2019 with the new program. It's an evolve or die mentality.
Intense has leaned more toward punk rock in its history. To many, Aaron is the epitome of a professional racer. How can we expect to see the two come together over the next couple of years?
I personally see Intense more on the Classic rock side but that aside we have grown up quite a bit as a brand. I would say the culture of the brand better aligns with Aaron these days and we have very similar goals.
Intense always cast a big shadow as an authentic brand. Now it's time for the enterprise to grow into and out of the shadow; exciting times for sure.
---
---
Todd Schumlick
Todd, new year, new team. You've mentioned being a hired TM is different from owning the team. Can you explain some of those differences for readers?  
For me, being team owner and manager (of Norco Factory Racing) meant taking on a multitude of details and decision making. At times, with all that is expected from sponsors, riders, staff, media, social media, etc., making all the decisions can be a bit overwhelming. In my current position, as team manager, my field of vision is a bit more focused. I think to experience both sides, as owner and manager, gives me more appreciation and understanding of each. Obviously, this also depends on the situation or team.   
What do you look forward to most with the change from team owner?  
Asking my boss for a raise. Ha! As mentioned above, the extra time and energy to focus on the riders, events, sponsors, and logistics.   
What supporting sponsors will the team be riding? Will all riders be on the same brands?
The entire team is on the same product, including Fox, e*13, TRP, Kenda, Renthal, SDG, ODI, Flat Tire Defender, HT, Kogel, and few other smaller partners.
You've worked with Aaron for quite some time as a trainer. Did you ever see yourself being the manager of the team he's on?  
I guess I did, but nothing I really focused on. After working together for the past six years, we've definitely developed a strong relationship. Over that time we've also discussed each other's position (as team owner/manager and rider), so there's been a mutual understanding as well.     
How does being Aaron's TM and coach affect the relationship?
I've had the same with past teams (motocross and mtb) and all have worked out pretty well so far.   
Who's wrenching? Is Chappy continuing with IFR? I believe John (Hall) came with Aaron but Ben, Neko's last mechanic, stayed with YT. Who will look after Neko and Jack?  
Chappy is now working in-house with Intense, and he still works closely with the team from the factory side. But yes, John Hall will assist Aaron, Sam Yates (a mechanic I recruited from Norco Factory Racing) will assist Neko, and Daniel Paine will assist Jack.  
---
It didn't take Aaron Gwin long to find the top of the podium on YT, how long before he makes it 21 wins aboard Intense? We won't know how the new team is settling in until April 27th in Maribor Slovenia, but your money won't likely be safe betting against them.