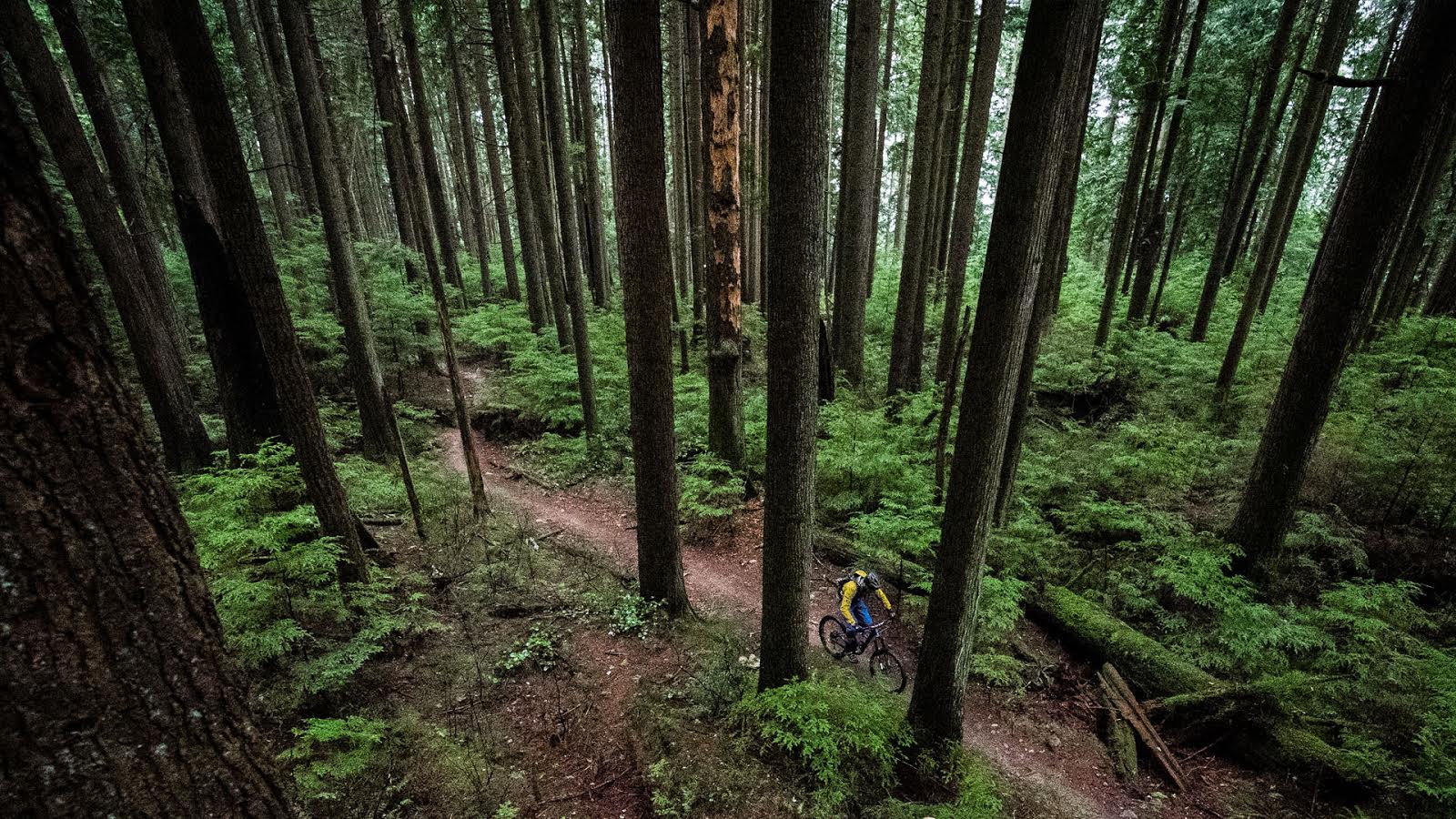 Interview: Guiding in the Alps
A conversation with Stephen Matthews & Joe Schwartz on riding bikes and guiding in the Alps with Big Mountain Adventures.
Photos: Blake Jorgenson & Chris Winter
On any given day deep in the forests of the North Shore you might bump into two influential BC mountain bike personalities, Joe Schwartz and Stephen Matthews. They'll surely take the time to say hi and ask how you're doing and then surely ride away with loads of skill and finesse, be it up or down the trail. Born and bred in Nelson B.C., Schwartz has a long list of impressive accomplishments on his mountain bike; from rolling out of the formidable start gate of Red Bull Rampage to film segments along Robbie Bourdon in earlier New World Disorder movies. These days he's still riding as hard as ever albeit keeping his tires closer to the earth riding in the BC Bike Race, coaching for the Summer Gravity Camps and as a senior guide with Big Mountain Adventures.
Stephen Matthews began working with Big Mountain in 2009 and got his start with the company assisting on the Alpenrock gravity trip in Switzerland. Since then, he has spent considerable time in Europe both guiding and travelling for Big Mountain. Stephen is constantly drawn back to Switzerland and the Alps because of the infinite possibilities of trail connections using lifts, funiculars, and trams. "For me," says Matthews, "riding in the Alps is the epitome of adventure. It's a different kind of adventure from travelling in backcountry BC; it has way more infrastructure and way more people. The surprises come from finding cafés in the middle of nowhere, trails that link up towns that are valleys away from each other, and meeting curious people who don't understand how you or your bike got here. I'm also on board with a place that runs off cheese, chocolate, and meat."
Big Mountain: Tell us about yourself. What gets you out of bed in the morning? What fires you up these days?
Joe Schwartz: I do a lot of juggling with my career and passions. I am pretty much fired up every day to learn something new, to challenge myself physically or intellectually. These days I'm really fired up on pedaling up hills and bombing down them on a mid-travel mountain bike, long singletrack adventures, and skiing big mountains in the winter.
I suppose life in general keeps me pretty fired up.
You ride for Ghost bikes now, a German company. Do you think that your Ghost will react differently rolling down trails so close to zee homeland?
Stephen Matthews: I think the bike will continue to ride the same as it has been doing, but the people will maybe react differently. Ghost Bikes are a large company in Europe, so the bikes are definitely more common to see out on the trails there. What I'm hoping is that connections aren't drawn between the bike and our location, because I don't speak a lick of German. Except for "Apfelstrudle bitte".
You are a seriously accomplished rider with a deep history riding mountain bikes. What are your top three most proud mountain bike moments/accomplishments and why?
JS: I was really honoured to carry the Olympic Torch in 2010 on my mountain bike in my hometown of Nelson BC. That was a cool moment. I am pretty stoked to have competed in the Red Bull Rampage too, an event that seems to re-define the sport of mountain biking every time it is held. Third, I am super proud/lucky/fortunate to have been able to travel the world with my mountain bike for so many years, meet so many cool people, and have some pretty life-changing adventures. Not something to be taken for granted, that's for sure.
What are your top five Alpenrock DH highlights? A fav café? A section of trail? A particular day?
SM: 1. The endless singletrack. Every descent we do is seemingly endless with loads of opportunity for interpretation and line creation. The tracks just keep going and going and vary in style throughout each descent.
2. The food at La Vallee Hotel in Lourtier. The Pelletier family prepare an unbelievable breakfast and dinner for us each day we're there. I can put back a hefty count of raclette plates, but the secret to daily success is in the breakfast. Take one of the La Vallee's freshly baked croissants and cut in half, add Nutella on one side and Raspberry Jam on the other, then make another one. Raspberry Hazelnut croissants for breakfast are reason enough to never diet.
3. Rooftop patio beers at our hotel in Zermatt with the Matterhorn backdrop. It also adds to the uniqueness of it when you tally up the 25,000 ft of descending the group completed that day.
4. Beer and wine every evening after showing people the best time of their lives.
5. My favourite day is our shuttle day on local trail gems. Jean-Marc helps us out with the shuttle service, and we get to drop in on buff local descents that not everyone gets to ride. "Pet Cemetary" is an all time favourite, Check it out in Simmons and Hunter's section of "Strength in Numbers".
What do you like most about Italian culture?
SM: I like their desire to host you and show take pride in their presentation. Everyone is well dressed and put together, and there's a huge emphasis on properly made dishes and drinks. The dinners and drinks I've had in Italy are unbelievable.
What's the best trail that you've ever ridden?
JS: So many good ones….. hard question, they are all so good.
You've ridden with many of the best mountain bikers over the years. What rider do you admire most right now and why?
JS: There are a lot of shredder kids these days, in many different aspects of the sport. I have always admired Wade Simmons for his humility and crazy skills on a bicycle.
What's your favorite thing about riding with clients?
SM: I like being able to see people genuinely enjoying life. The clients are so far removed from their daily itineraries, that you can actually see a change in personality by the middle of the trip. Their appreciation of their choice to come is so clear, so it's nice to be able to facilitate lasting find memories.
You've been coaching for SGC for years now. What would you say are the top three tips that help a rider improve her/his skills?
JS: Look where you want to go, elbows out, and knees bent!
What are you working on right now on your bike?
JS: I'd like to be a faster Enduro racer. I'd say the thing that I would like to work on the most is my fitness and strength on the bike. I know that involves training and (gasp) gym time, but it would be cool to feel really fit and strong.
You just completed the BCBR. Congratulations. How was it?
JS: It was so awesome. I was a little worried going into it, as I hadn't had a chance to ride too much in May and June. It turns out my ski touring fitness was still there, and I persevered through the week. It was a great time, so much good singletrack and I met a lot of really nice people.
Looking into your crystal ball, where do you see our sport in 5 years? 10 years? Are there any trends or technological advances that you foresee?
JS: Well, 26 inch wheel bikes are going to go the way of the dodo, maybe stick around for a little while in the DH arena. Electric shifting. Bike parks everywhere. A huge boom in mountain bike tourism. An increase in rad, multi day Enduro-style races. My biggest prediction is 10 years from now people will still be having fun on their bicycles, no matter the wheel size or technology change.
You've been a guide for Big Mountain Adventures in Switzerland for awhile now. What is it about Switzerland that keeps bringing you back?
JS: Switzerland is the greatest place to experience true mountain culture while on your mountain bike. I love the scenery, the food, the people, the access to the mountains. Most of all I love the seemingly endless array of singletrack epics.
The Swiss have mountain infrastructure dialed. What is the most impressive feature in your opinion, and why?
SM: I think the most impressive feature to me is the underground Funicular railway in Zermatt. The railway goes straight up the mountain underground, and climbs about 660m vertical in 5 mins.
Do you have a favorite trail in Switzerland?
JS: Probably the Brazilian. It's a full-on ride, with a big ascent and a bigger descent, and awesome scenery along the way. I loved the old trips we used to do when we overnighted in a sketchy gondola building at the top with the single most amazing view in all of Switzerland. The next morning we would ascend up the valley, and ride the Brazilian, making sure to stop midway in a small mountain town for cafes and pain au chocolat.
What do you like most about guiding mountain bikers on epic rides in the big mountains?
JS: Showing people some of the most amazing places on earth. I love being able to share those experiences with likeminded folks.
Enduro or all-mountain?
JS: Neither: just fun-riding.
Want to ride with Joe or Stephen in the Swiss Alps this summer? Mr. Matthews is at the helm of the infamous Alpenrock DH trip August 25 to September 4. Joe is guiding two Cloudraker all-mountain trips, September 2-10 and September 10-18.
---
Alright boys, got room in your suitcases for an extra body and a bike?