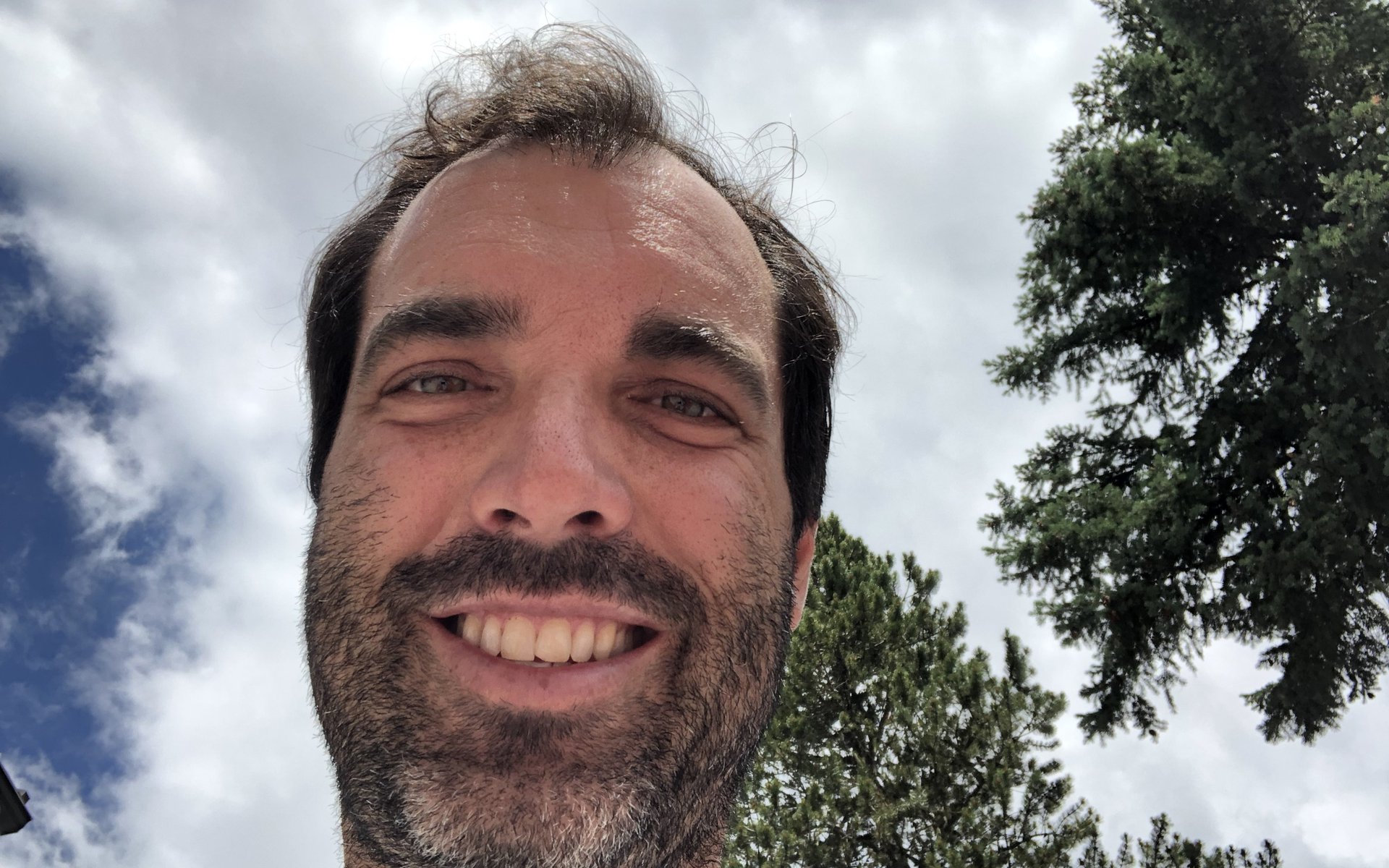 INTERVIEW
Interview: Dr. Clark Lewis on COVID-19 and Mountain Biking
There are elements to this interview that veer from our mountain biking mandate towards politics. Normally we don't wade too deeply into that mire, but it seems like the time for propriety is long past. This is not a normal time, so we're not applying normal rules.
Dr. Clark Lewis is an emergency room doctor in Whistler, and an accomplished rider who has tested gear for us in the past. He's also the inspiration behind Chromag's Doctahawk hardtail frame; it was Clark who pushed for the extreme numbers that put the bike in a category of its own. He's also a man with opinions that he's not afraid to share. We talked about mountain biking in the time of Corona, what may happen here in Canada if we don't buckle up properly, and the situation south of the border where things are veering towards the unkown. Some of this might make you a little uncomfortable, but other points make it clear that Clark is a mountain biker at heart. It's not all roses, but it's candid and real, and we couldn't ask for anything more.
UPDATE (03/26/20 - 17:30): We received an official statement from BC Search and Rescue Association (BCSARA) and have updated this article accordingly.
Cam McRae: Thanks for taking some time during this crazy situation, Clark. It's nice to be able to speak to someone from our community who is on the front lines.
Clark Lewis: Thanks Cam. I'm happy to be able to do it.
Based on your earlier comments, it's clear you have some big concerns about the way mountain bikers are carrying themselves in relation to COVID-19. What are your feelings about what you've seen so far and what you would like to see?
I think that I would argue that shuttling is not helpful. First of all, you're not isolating. Secondly, you are likely throwing yourselves into bigger terrain, which may be more risky. That's arguable since most mountain bike injuries that we see are from flow trails. By far. That's the vast majority in Whistler. I don't know what it's like for sure on the North Shore, but in Whistler, the vast majority of the injuries we see are from flow trails in the bike park, usually from jumpy trails, but not always. Any flow trail where you're going fast. Basically speed creates injury. That's pretty obvious. And I think because Cypress and Seymour are closed,* you know, we're seeing record, this is anecdotal, but it's pretty obvious like having witnessed it the other day, record numbers are shuttlers in Squamish and Pemberton as well.
And part of those are city riders and part of them are Whistler riders, but it doesn't matter where you're from. And I think it's too bad because there's a little bit of this weird localism going on now as well. Like, 'don't come to Pemberton, we don't want you up here'. It's more about just behaving yourself. Like if people were distancing, riding solo, taking it easy wouldn't be an issue. So I don't think people should stop riding completely because we also have to balance mental health and I think that's a good way to blow off steam.
But there's no search and rescue right now.* That has not been widely advertised. I don't know if you should publish that, but we're trying to get them to make that more well known that they probably are not going to respond to most calls because they're not trained to use the proper personal protective equipment.
*Statement from North Shore Search and Rescue (updated as of March 26 at 17:30 -Ed): NSR is still operating. We are however going to be reducing our field teams and size on calls to reduce exposure on calls. We do also have Personal Protective Equipment available to us. Pretty much all mountain bike accidents are now done by NVFD. They are fully kitted out as well.
Official statement from the BC Search and Rescue Association follows (emphasis is ours):
Points to consider BEFORE you go outdoors:
The current situation is complex and constantly changing given some parks and high use areas being closed and others remaining open.
The volume and type of GSAR responses is also changing, some areas may see reductions while others will see increases depending on access, user numbers, and levels of experience.
Responsible organizations may close additional areas if outdoor users continue to ignore physical distancing or if the number of responses for injured or lost persons does not decrease.
While it is recognized that physical activity is essential for mental wellbeing in these trying times, the need for physical distance during any activity is more important.
GSAR volunteers are emergency workers, when they respond to save lives they are at the same level of risk as are other front line emergency workers.
Currently all responders are at an increased risk and are at the same time hampered by a shortage of personal protection equipment required to limit exposures.
In GSAR we operate within the safety maxim - Self, Team, Bystanders and then Subject, meaning individual members and teams will step back from a response if it puts them at undue risk. They also need to return to their families.
Should risk of exposure to the responders exceed an acceptable level a response will be delayed until additional steps can be taken to reduce the risk.
On behalf of the ground search and rescue community we are asking everyone that is planning to go outside, even on short hikes, to reduce your risks to as close to zero as possible. If you are outdoors and get injured or lost call 911, we will try to respond but understand there could be delays while extra precautions to protect responders are taken. Be prepared to take care of yourself and your family if going into the outdoors, look to https://www.bcsara.com/adventuresmart/ for more information but remember extra caution is needed during this time. If you are not fully prepared then stick to walks in an urban area close to home while maintaining physical distancing and following the Provincial Health Officer's directions.
And from a medical perspective, we are now up to the point where we're assuming that everyone is infected. Everyone that we meet until proven otherwise. So for emergency surgeries, if you have just a clavicle or wrist or something that would normally get surgery, that's not getting fixed right now and it's possible, you know, if things go totally haywire, with more strict isolation mandates from the government, it's possible you wouldn't even get in the door and in the hospital. If it's total pandemonium. That's unlikely. But it's just better right now for us if you don't get hurt.
Cam McRae: That makes complete sense. I'm curious about your critique of localism because doesn't it make sense that people from North Van - where there's a higher rate of infection - shouldn't go to places like Pemberton or Whistler right now where there is a lower rate of infection?
Clark Lewis: Well, yes, but no one should be going anywhere right now. And the problem is that we haven't had a very strict government mandate saying that. The measures have been sort of halfway so far: self isolate, social distancing, but they're not saying 'stay in your home'. They're saying 'don't travel if you don't have to', but there's no consequence for going. You can drive to Squamish if you want. Go shuttling, there's no cost, there's no consequence for doing that. Other than social consequences.
That's true. So do you think there should be? Do you think the government is a step behind here?
I've thought that for... since January. Yeah. I've been a bit pessimistic about this for longer than most people and who knows if it'll turn into a big deal or not here. Why not do what they did in countries where they successfully smashed it down like South Korea and Singapore and Thailand and Taiwan where they overreacted at the start and didn't let it turn into a problem. And they did that by doing strict isolation measures right away.
Well, South Korea is interesting because they've done so much testing and we're doing very little testing.
Yeah, we're doing very little testing because we simply don't have the capacity for it. And it doesn't matter whether that's right or wrong, it's just not an option. So people need to wrap their brain around isolating if you're sick and you know, there, it would be nice if we could do proper testing, but it's just not possible.
So the South Korean model isn't going to be workable here and as a result we need to take isolation very seriously.
Yes. That's, that's my perspective. That's kind of consensus among most physicians. And I don't think the why, the explanation has been communicated well by government. So people are still asking, why are we not testing? Why are we not testing? And it's because they can't. So if they would just say what I said... Whether that's right or wrong is open for debate and that's fine. I think, you know, the government is doing its best with the tools that it has and so that's kind of a separate argument for why, why can't they test? They just can't. So right now we're focusing, trying to focus on using isolation to minimize the spread and hopefully when the weather turns we can get through to the summer and hopefully we get a bit of a break this summer. So we'll see.
Are you seeing other action sports athletes behaving badly? Is mountain biking particularly bad? Maybe because of the weather* or are other sports acting similarly?
*after a very nasty winter in southern B.C., the weather has been spectacular for much of the month of March.
I don't know the answer to that. I know that professional athletes are going to train however they can, because that's their job and they have to do that. For people who are just keen, like keen mountain bikers, people who just like doing it, I think they can keep doing it. They just need to not be yahoos. Just try and colour within the lines right now, take it easy, stay off fast trails. I mean flow trails. There's not a lot in North Van, but there are some, there's a bunch in Squamish, you could argue all of Pemberton is like a flow trail and super fast riding. And so just just take it easy. But then also if you take it too easy you're more likely to crash so there's that school of thought as well.
Some people feel, some of my colleagues, think no one should be mountain biking at all. Period. And that's what I'm doing myself, because that's the only way I can guarantee that I don't get hurt, but I don't think that's absolutely necessary. The mountain biker part of me doesn't want people to totally stop, but you should consider stopping. I think everyone needs to make their own choice. If you can't rein it in, if you know yourself and you only like to ride flow trails and you're not a very good rider or you like taking chances and you can't ride a different way, then maybe you need to have the conversation with yourself about that. But I know lots of people who, I mean, knock on wood, there's lots of people who don't get hurt because they don't ride like that. But maybe you should go trail running instead, I don't know.
Yeah. So you could bust your ankle...
You could. Sure. Hahaha! And that's more of a philosophical perspective on risk management in life and balancing risk and reward and all that stuff that non bikers are very, very, very well familiar with. Even if they haven't thought about it on a day to day basis. It's one of those sports where you know it's dangerous but you accept that risk because that's part of the fun, that risk. We're just in this really weird moment in history now that may have some consequences that you don't like. I don't know. It's tricky.
So your main takeaways are, flow trails might seem easier, but the accident rate is higher, shuttling is stupid right now, because it makes social distancing imossible. And when you ride, keep your social distance, ride within your abilities, and stay healthy.
Yeah, I think that's reasonable for now. It's possible there will be a stricter mandate coming. I suspect there will be, if we start to get more cases then government will probably be more strict about having people stop. Stop doing more stuff basically. But for now, I think that's pretty reasonable. Some of my colleagues will disagree with that. But I would say that's probably a fair balance as a physician and a participant. From my perspective.
Do you think it's realistic for people to say, ride with a friend and maintain social distance, or do you think that should be off the table?
I think it is reasonable and possible to do. And you know, the idea was when you're outside, dilution is your friend, So you're breathing into the air, as long as you're not having a hacking cough, even if you are a carrier, if you stay away from someone and don't touch them and don't cough on them, that's how it's spread. You touch someone, you cough on them. Or you touch something and they touch it. You don't get it just from breathing the air near them outside. I think it can be done safely. Yes.
That's good to know. So one more question about, about COVID-19 itself. At this point we're doing very little testing. We're not even testing people who probably have it, but are well enough to stay home. From your perspective, obviously the problem is much larger than the numbers indicate now because of the amount of testing we're doing. Is your perspective that we're losing control of it now or do you think some of the measures we're enacting are bearing some fruit?
I think that our leadership is trying really hard and doing the best they can with the resources that we have. That's my official answer.

For people who are just keen, like keen mountain bikers, people who just like doing it, I think they can keep doing it. They just need to not be yahoos. Just try and colour within the lines right now, take it easy, stay off fast trails.
Haha! Now about the problem. Do you think the problem is worse than even informed people think it is?
There is a minority school of thought that thinks that this is a historical human-changing events. You know, one of the biggest things to ever happen in evolution that we just can't see it because we're in it. I'm not that extreme about it, but I do think that this is a much bigger deal than most people think. Economically. And sociologically as well.
Wow.
I think it's a big deal, but not everyone does think it's that bad. So I don't know. I think we're doing okay overall. It's just better to stay ahead of the curve and be over cautious right now. Why not?
It makes total sense. And not telling people we'll be up and running again by Easter, like Trump is?
Yeah, that's not happening. I think most people know that.
As New York doubles every three days.
Yeah. That's that logarithmic scale. But if you don't understand what a logarithmic scale looks like, the cases double based on the infectivity rates with some other variables. But it's kind of predictable and so it looks crazy, but it's just an exponential thing, so if you're doubling every five days, then it's kind of predictable. You know there's going to be a million cases really soon. But it seems quite sudden when it happens if you don't understand that.
Because we think in linear terms?
Yeah. So it's just the way this works. Yeah. The States is fucked. They're going to be, in my opinion, the hardest hit by far by a multitude, than every other country in the world.
Why do you say that?
Because they have no leadership. In fact, they have a harmful leadership, but not that they're unhelpful, that they're actually harmful. What they're doing? Man, I'm worried about civil unrest and rioting.
Really?
I think down there things are going to get super dark in some parts. And then Trump and his cohort are keen to minimize the economic damage, but the way they're doing it is they're going to kill a whole bunch of people first and then there's still going to be economic damage along with that. You can't have a million people die, which is what they're on track for now, without causing economic carnage and 20% unemployment and on and on.
So it's better to shut things down now, for a shorter period of time, get on top of it, you know? Take it in the nuts now economically, so you have some control over it. That's what I think. And that's, there's a pretty reasonably large school of thought around that. Some macro economists are thinking like that as well. And, but then there's other guys who don't appreciate how big the problem could be. They don't think like that. They think the cure is worse than the disease. To shut everything down is just going to ruin their economy worse than a bunch of deaths would. But I don't think they really appreciate what they're saying.
That is a lot to digest. Thank you very much, Clark. I appreciate your time. And thanks for your hard work now and in the days to come.
Thanks Cam.
---
You've heard the rules, from someone with experience as a doctor for mountain bikers, and as a mountain biker patient. If you must keep riding, go for it, but stay the fuck out of hospital. That is job one if you are out on the trails. This isn't foolproof even when approached cautiously, but it's the responsibility of each of us to make sure we don't take up valuable space in the hospital.
Clark would be the first to tell you that his suggestions are not gospel, simply observations made based on his experience. The same goes for his speculation about where things are headed with the COVID-19 crisis in various jurisdictions. This is uncharted territory, but his feelings are based on his knowledge of infectious diseases, what the statistics say now, and what those numbers look like when projected forward.
Stay safe out there. This is life and death we are talking about now.