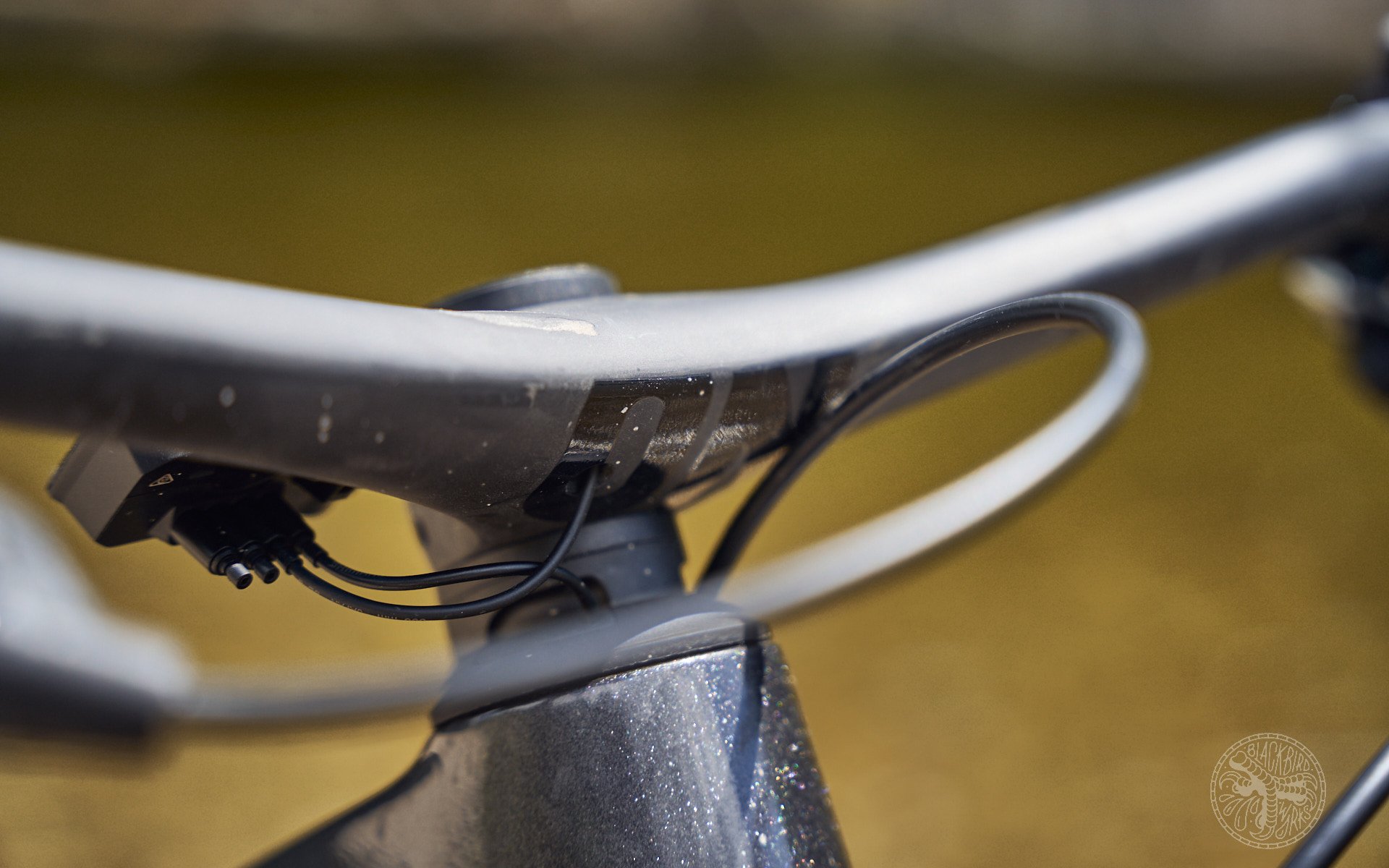 EDITORIAL
Internal Routing: Will Sanity Prevail?
The Anti E-Bike Evil Genius?
There's only one King or Queen of my list of evil geniuses, and I have no idea who they are, where they live, or if they even ride mountain bikes. However, I want to meet the nihilist who willed through-the-headset cable routing into existence and then sold the idea to a pile of mountain bike companies - companies that presumably have employees who've actually worked on a bike before. I picture Al Pacino in The Devil's Advocate, strutting, impassioned and angsty, explaining the clean look and cost savings to a collection of bike company honchos. Just have to act fast before riders or your staff figure it out. "Don't get too cocky... No matter how good you are don't ever let them see you coming."
There are plenty of rigs already rolling around that are going to require a brake bleed next time they need a headset bearing. And from the quality of a lot of the OE headsets rolling around - even on premium bikes - that can be 3-6 months or less, particularly if you're riding the North Shore in the off season. But in this case the devil did not quite manage to pull off his best trick, because an ever increasing number of riders are aware of this bullshit and it's exorcising any desire for a rig with a couple of holes in the bearing cap.
*Cover photo: Deniz Merdano
Why stop there? Route the rear brake line through the main pivot bearings. Route the dropper post through the bottom bracket cups. Have the front brake line run up the hollow center of the air system shaft, through the crown, out a port in the steerer tube, through the stem, into a port in the handlebar, and exit at the brake lever. Okay, that last one is almost cheating since, basically, the product already exists.
Transition Back To Better
I'll take BSA bottom brackets and zip-tying cables to my frame, or yours, any day of the week. But I'm under no illusions. The steady return of the threaded BSA is an example of function eating form for lunch, and of bike companies actually listening to their customers. Folks either want a BSA bottom bracket or don't care; in this case abstention is a vote to have your bottom bracket bearings in two threaded aluminum cups. But the much cleaner lines of internally routed cable systems, not to mention the much lower costs for many internal versus external setups, aren't going anywhere.
Whether it's tube-in-tube internal routing or the simpler, less expensive way, with cables floating in the void and rubber grommets sealing out the elements, it's a win for rationality if we can get back there. And there's hope! Why would Transition have released photos of their Spring 2023 Relay model in June 2022, a full year early, if not to say: "sorry, we f*cked up, but here, look - we won't do it again." Most importantly, it's a stem and root declaration that they won't be weeding the rest of their model lineup with ported bearing protectors.

"The announcement heralding Transition's new Repeater e-bike made me sad. Seeing what I consider to be one of the more true-to-self core brands succumb to the inevitable survival pressures that dictate terms here in consumerville was a tough pill to swallow. But I understood the "why" of it. However, choosing to spec headsets with holes drilled in them, a decision made by a company based in Bellingham, for cryin' out loud, that's what really broke my heart." Mike Ferrentino, Vanity's Pricetag
The Relay seems like it'll be a huge improvement over the Repeater and an indication that through-the-headset routing isn't coming to the rest of their bikes. The absence of extra faff and potential steerer tube wear on their meat-powered rigs is a cause for celebration. Will other brands follow? At this point I have to think that any brand not routing cables through holes in their headsets has been warned away from this particular standard. And yet, driven by the aesthetics over everything integration of the road bike world it's hard to imagine brands like Scott taking a step back towards ugly utilitarianism when they can pass four cockpit cables through a stem integrated with your handlebar. Just the effort spent making the rebound knob and air valve on a rear shock less accessible is astounding.
Integration Is Not Salvation
It's not as if turning our collective backs on ported bearing caps is rendering any bicycle obsolete. Bearing caps almost never need to be replaced and it's also easy enough to drill some holes in a fresh one if required. Acros, the headset company equipping a lot of these bikes, probably has enough of them in a warehouse to support every bike that's been shipped with a drilled bearing cap from now until they're placed on the garbage heap.
So, let's all do our part to kill this with fire before it spreads any further. If you would have bought a new bike, but for the through-the-headset routing, then take a minute to let the company know. Maybe they don't care this year when everything's selling but they know in two years, inventory woes will be over and holes in a headset bearing cap are a silly reason to lose sales. If you own or work at a shop, remember that one day you're going to have to explain to a customer why replacing a headset bearing comes with a hundred dollar labour charge and they might as well get a brake bleed, new cable housing, and a fork service at the same time. If you work at a bike brand, relay the fact that Transition used this dumb system on one model of bike for one year, and now saner minds are prevailing.
And if you're the Anti E-Bike Evil Genius, working at Acros or otherwise, who managed to convince mountain bicycle brands to push this unholy frame concept for their blender bikes, hell... nice try. Slow clap for you. I'd love to hear how you pulled it off. E-bike sales aren't going anywhere but up, so I hope you understand why we have to cut it out before it spreads to purely-person-powered machines as well.