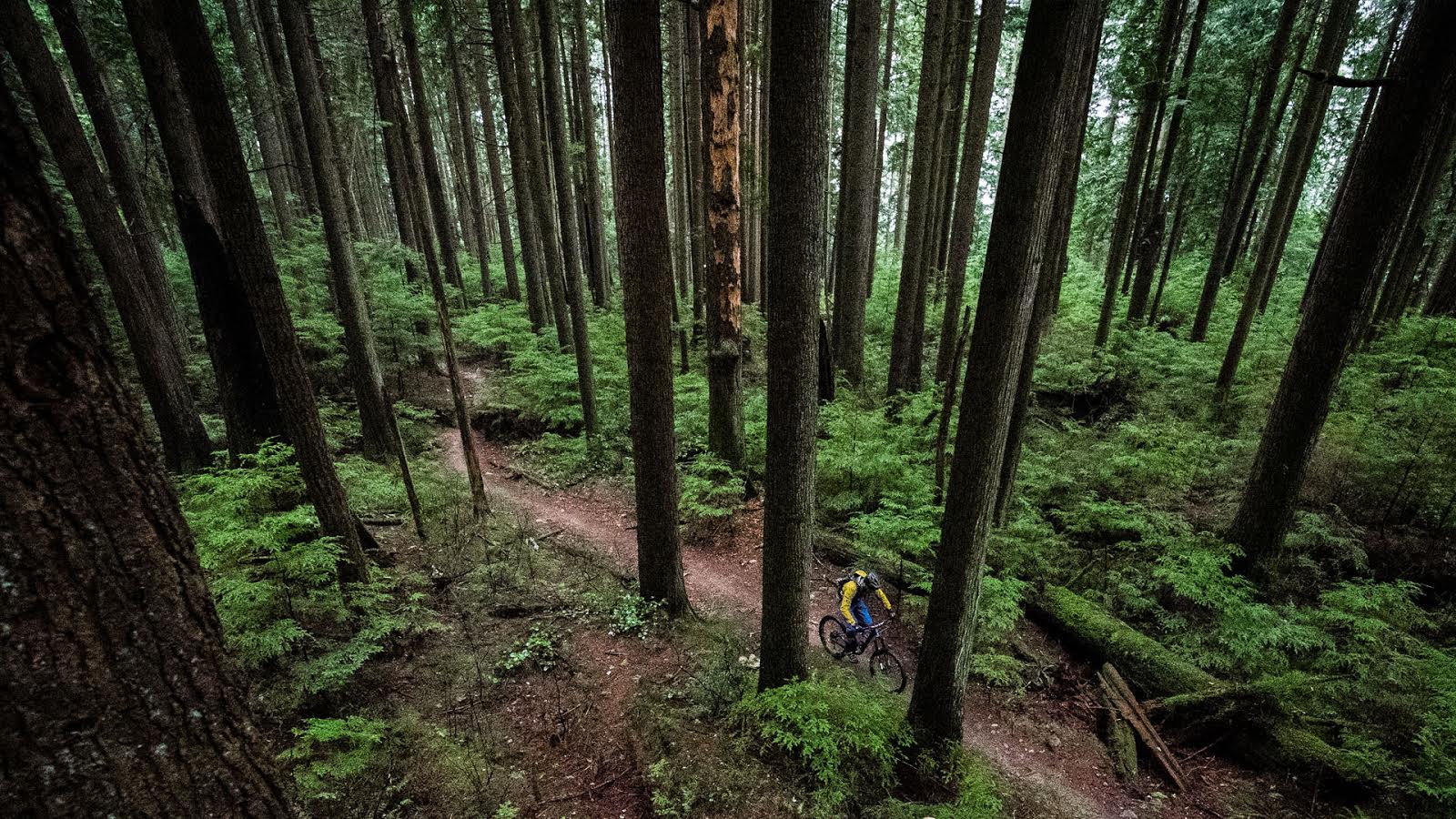 2017 Intense Primer Pro
Intense Primer Pro
What weighs 27.2 pounds and looks awesome? An orange & grey, size large, 2017 Intense Primer Pro. I am told that I have questionable taste so I asked around. The consensus is that this carbon rocketship is one of the nicest looking machines Intense has ever made.
Once paired with a 140mm fork and 29″ wheels, the 115 or 130mm travel Primer Pro frame is in position to attack the trail bike genre. I would describe the current state of this category as wicked fast mid-travel bikes that are pedaled all day while snatching riders from the jaws of doom with their big hoops and aggressive geometry.
Primer vs. Carbine
Intense's history as a race brand is wholly documented, aggressively marketed, and if you're wondering what Leigh Donovan or any of their other past champions are up to these days, it seems they still love to ride bikes.
I'm most interested in what the Primer Pro has inherited from its bigger sibling the Carbine. I've ridden the last two generations of Carbine – with a variety of shocks – and they are wickedly fast. The Primer has shorter stays, a longer reach, and only a half-degree steeper headtube angle. This from a bike pumping out only 10mm less rear wheel travel and up to 20mm less front travel.
This is where the Primer Pro vs. Carbine gets interesting. With a 150mm or 160mm fork installed the Primer Pro would still have a far steeper seat tube angle (STA) than a Carbine – both effective and actual. That's amazing potential for a trendy bit of 29'er over-forking.
For the purpose of this review process, I'll be running the stock 140mm fork. That said, the Primer is also available as a frameset.
Suspension Components
First off I'd like to clear up a bit of confusion. This is after all an $8400 (CAD) bike equipped with Fox Performance level suspension? The Fox Performance Elite DPS EVOL shock is identical to Fox's boutique Factory models minus the Kashima treatment so this shouldn't be seen as a big downgrade.
I like that Intense used a very common 200 x 50mm shock (7.875 x 2.0″) as opposed to a smaller, lighter, and less common 190 x 50mm shock (7.5 x 2.0″).
The stock fork is a Boost (110 x 15mm) Fox 34 Float Performance Elite. The 'Elite' moniker is reserved for original equipment Performance forks equipped with a bladder-style Fox FIT4 damper. This is a notable upgrade compared to the standard Fox Performance fork which uses Fox's new budget conscious 'Grip' damper. The fork feels great right out of the box.
Suspension Design
The suspension design is now called 'JS Tuned' in honour of Intense's founder and head designer Jeff Steber. Don't Panic! It's still the tried and true virtual pivot point design that Intense has been employing for years. A solid front triangle and solid rear triangle joined by two short-and-stiff counter-rotating links. That's great because the suspension system is proven to work well in most situations.
Intense's two travel positions are quickly accessed by swapping the shock's rear eyelet between two holes in the linkage. This is accomplished by removing and installing a single 5mm hex head bolt. What's interesting is that the travel swap preserves the bike's static geometry. The leverage ratio does change from an average 2.3:1 in the short travel setting to 2.6:1 in the long travel setting. That means that the air pressure needed to get proper sag and support may need a refresh between travel settings.
Is It Still Okay…
… to talk about stock handlebars being too narrow?
My tape measure says the 31.8 x 50mm Thomson stem is mated to a 760mm handlebar. On a size large frame. MEC, who carries Intense bikes in Canada, state the cockpit combo boost the Primer Pro's "specialness" but I'm scratching my head a little. I'm 5'9″ with T-Rex's ape index and I prefer a 780mm or 800mm bar on my bike. Prefer a narrower setup? It's a lot cheaper (and easier) to chop a bar down than replace (or grow) it to a wider one.
One of the first comments I heard about the gray & orange Intense was a disparaging note about the lack of a carbon handlebar on an $8400 bike. I'm on record as being a big fan of Renthal's aluminum bars in general, so that doesn't bother me at all. Well, aside from the width.
Watcha Rollin' On?
The Primer Pro is spec'd with DT Swiss M 1700 Spline 2 wheels with IS 6-bolt rotor mounting. The rims sport a narrow internal width of 22.5mm but DT Swiss categorizes them for 'All Mountain' usage. Its a great looking laterally and torsionally stiff wheelset and the rear hub internals are upgradeable for faster engagement.
The M 1700 wheelset comes with a maximum rider weight limit of 120kg /266lbs. Riders approaching 19 stone with gear aren't uncommon and I know a few guys who only hit that after a good movement – so be aware Super Duper Clydesdales.
The Primer Pro's wheels are tubeless ready with rim tape installed. The stock tubes are paper thin – insert reminder of 27lbs weight here – so I'd recommend going Tubeless or changing them out before hitting any aggressive trails.
The rear wheel on the Intense comes stock with DT Swiss' 18t star ratchet set. That means a lackluster 20-degrees of movement between engagement points. It is a very, very, quick and tool-free job to upgrade to DT's 36t or 54t ratchet kits for significantly faster hub engagement at some cost to durability. The upgrade is an additional $125-$145 (CAD) on top of the cost of the bike.
A Product Manager's Hardest Job?
In my mind picking OE tires for a bike is a product manager's biggest challenge. Personally, I think Intense did a great job with the Primer Pro. The front tire is a Schwalbe Nobby Nic 29 x 2.35 in the Trailstar compound and the rear is a Nobby Nic 29 x 2.25 in the harder, faster-rolling, longer-wearing Pacestar compound.
It's winter on the North Shore, so I have swapped the 2.35 Trailstar Nic to the rear and installed a used Magic Mary up front for the local conditions but for much of the year, and most places, the stock combo is great for a 130mm trail bike.
Defined or Restrained?
Does the Intense Primer Pro level build kit help define or simply restrain the bike?
The 760mm bar, SRAM LEVEL TLM brakes, Schwalbe Nobby Nic tires front and rear, 22.5mm internal width DT Swiss rims, and the 27lb weight all place it firmly in the trail bike category.
At the same time, my experience with the Carbine is such that I'd choose a more aggressive build if this was my personal bike. In my mind, the Primer is fighting for aggressive 29'er traction with category originators like the Kona Process 111, Banshee Phantom, Transition Smuggler, and Specialized Stumpjumper. I think the Primer would make the most of the weight penalty for more powerful brakes, a wide bar, and a more aggressive tire up front.
SRAM says the LEVEL brakes are "optimized specifically for cross-country and light trail use" so I'm perplexed by that spec choice. Especially given that the more aggressive Guide brakes have an awesome lever feel but aren't exactly rim vices on the trail.
I recognize this bike is spec'd for a wide range of riders hitting varied terrain all over the world. There are always going to be some compromises for any given region with a stock bike. So, I am going to try running larger rotors before drawing conclusions for the follow-up article.
Eagle!
Gears for climbing, gears for descending, gears for in between. Like the Santa Cruz Nomad I have been riding, 1x drivetrains work optimally for Intense bikes. The 34t ring up front is a great pairing for the Primer.
As with my other Eagle experience, the shifting is crisp but smooth and there is no chain derailment during backpedaling. The derailleur cage also has more clearance when mated with 29″ wheels.
Second Look
The Primer Pro auditions for the role of an awesome 'Shore XC' bike as it sits. No question. The Fox Performance Elite fork and shock are smooth out of the box. Combined with the VPP suspension they provide great support. The fresh SRAM X0 Eagle drivetrain shifts elegantly through a 500% gear range.
I think most riders appreciate that OE-spec tires are not going to suit every customer. Swapping the stock rubber to something appropriate to local conditions is the fairest way to test a bike. And, a local Intense dealer should be able to support their customers with the best advice for local terrain.
I've already swapped out the 760mm bar for a wider one. I'd also like to try the bike with more aggressive brakes for comparison's sake but I'm going to start by up-sizing the brake rotors first. It's a very fun machine to ride and I'm looking forward to this test period.
For more on the Primer hit up Intense Cycles. In Canada you can check it on the MEC site.
---
I'm Primered for an Intense winter.