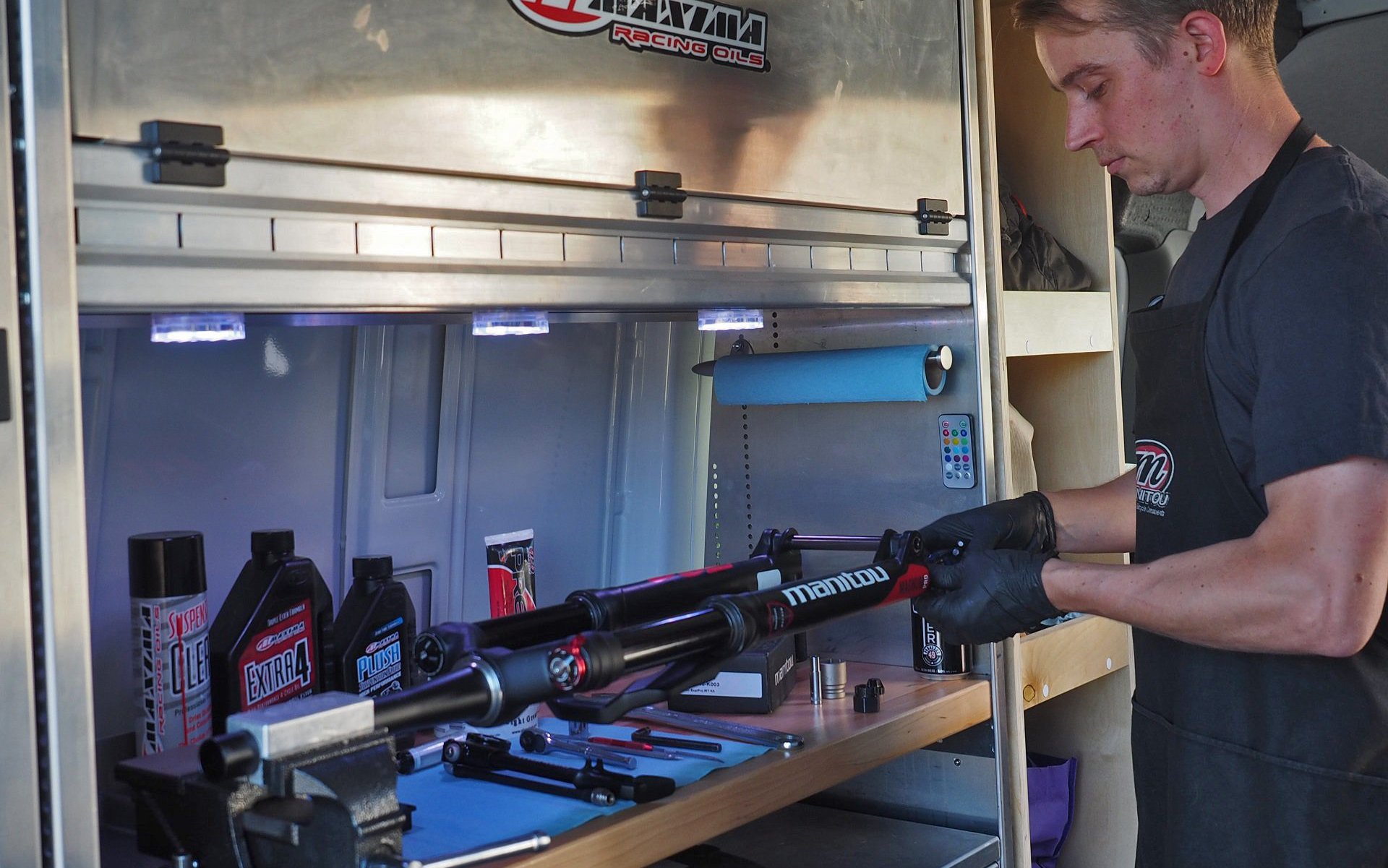 Teardown | First Look
Inside Manitou's Moto-Inspired Mattoc (Magnum) Pro
Manitou Magnum Pro 29+
Manitou's 29+ Magnum suspension fork is available at two different levels.
The Manitou Magnum Comp fork featured on our Trek Stache test bike is easy to setup. Changes to air pressure, compression and rebound settings can all readily be felt right on the show floor and dialing my ideal settings took one ride. 
The Manitou Magnum Pro, on the other hand, is a much more complex animal. It is their top-end fork and as with every brand, it has a more sophisticated chassis and higher end internals. But on another level, it assumes a more discerning rider will make the time to maximize performance.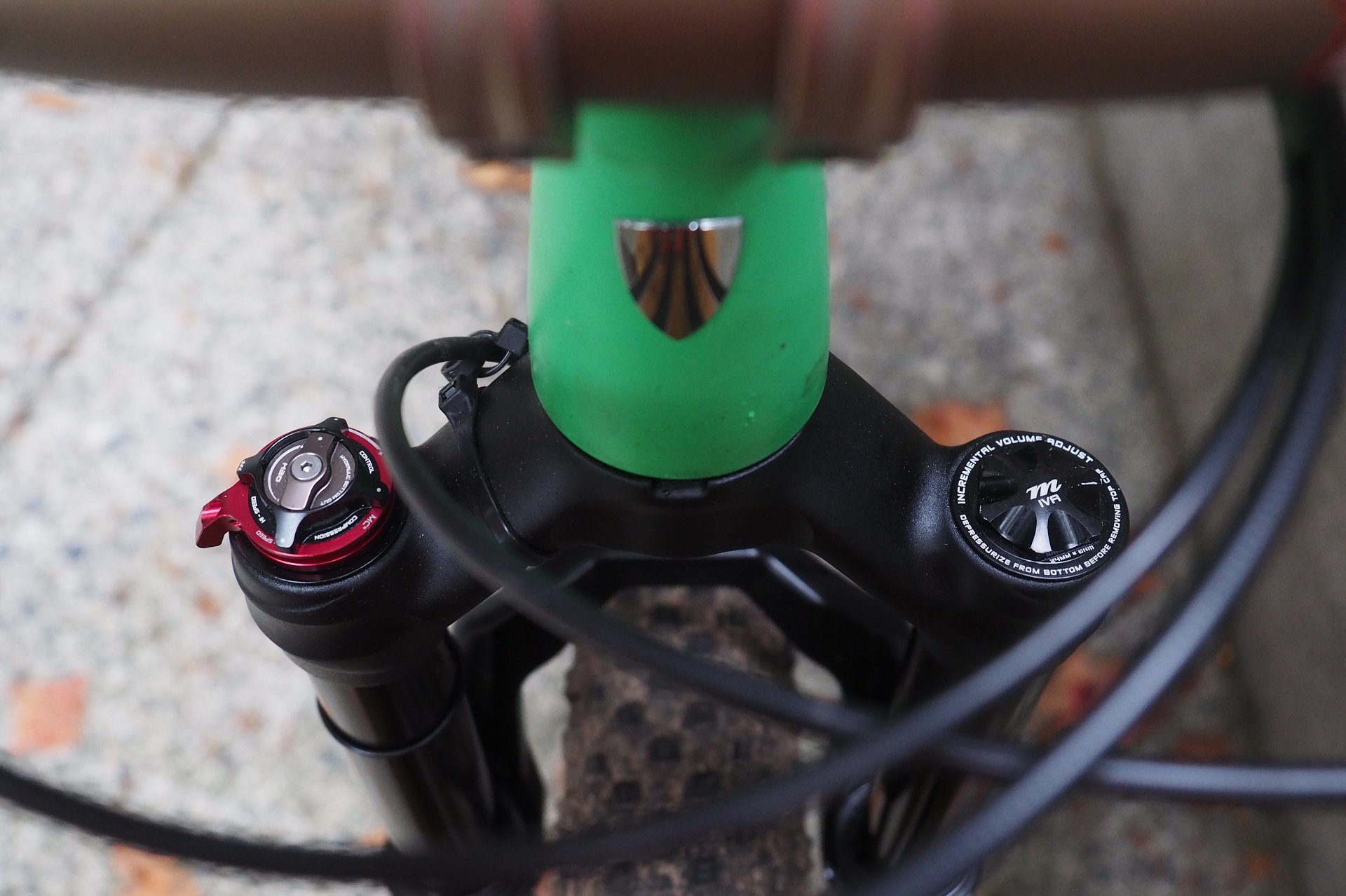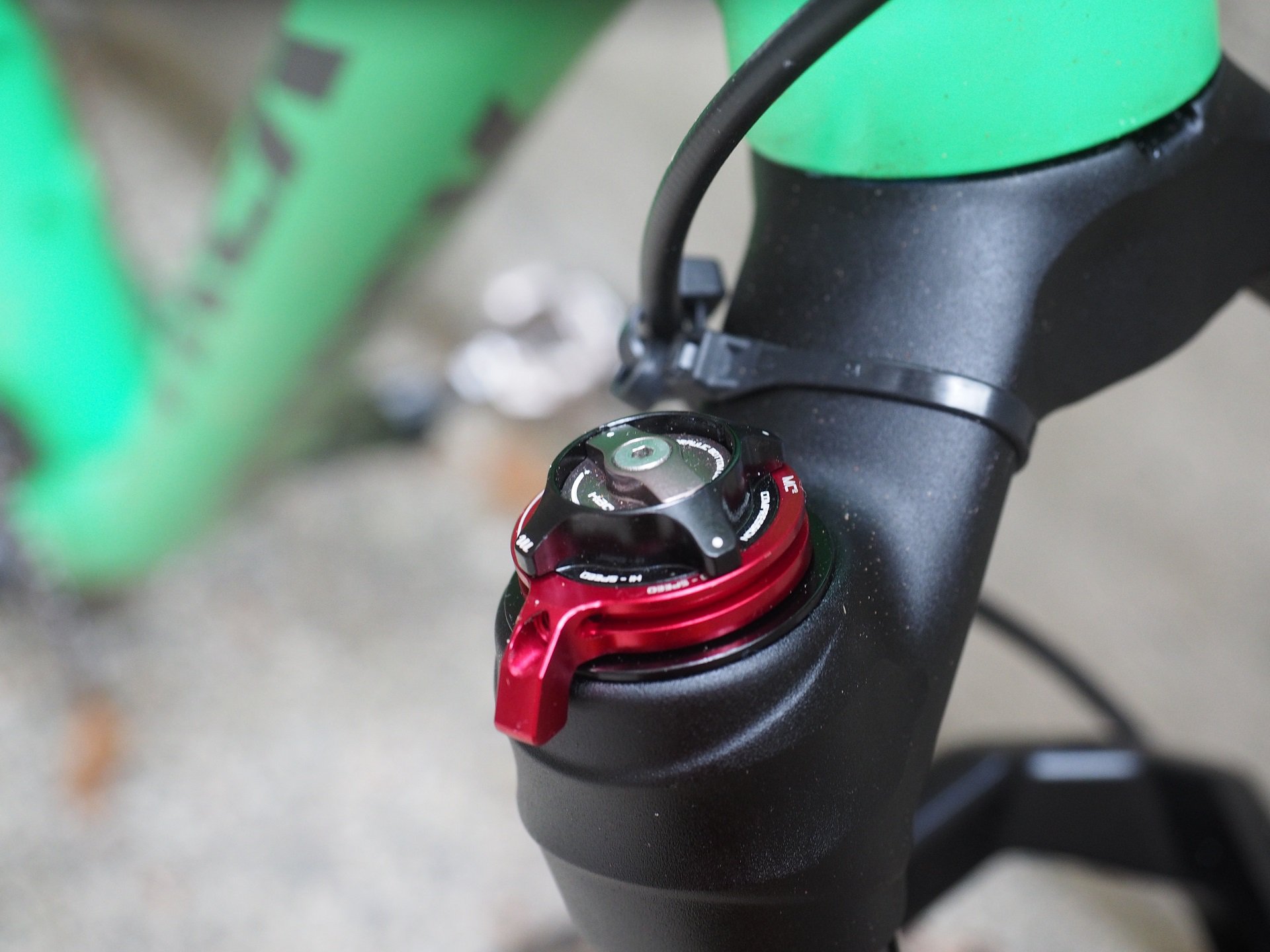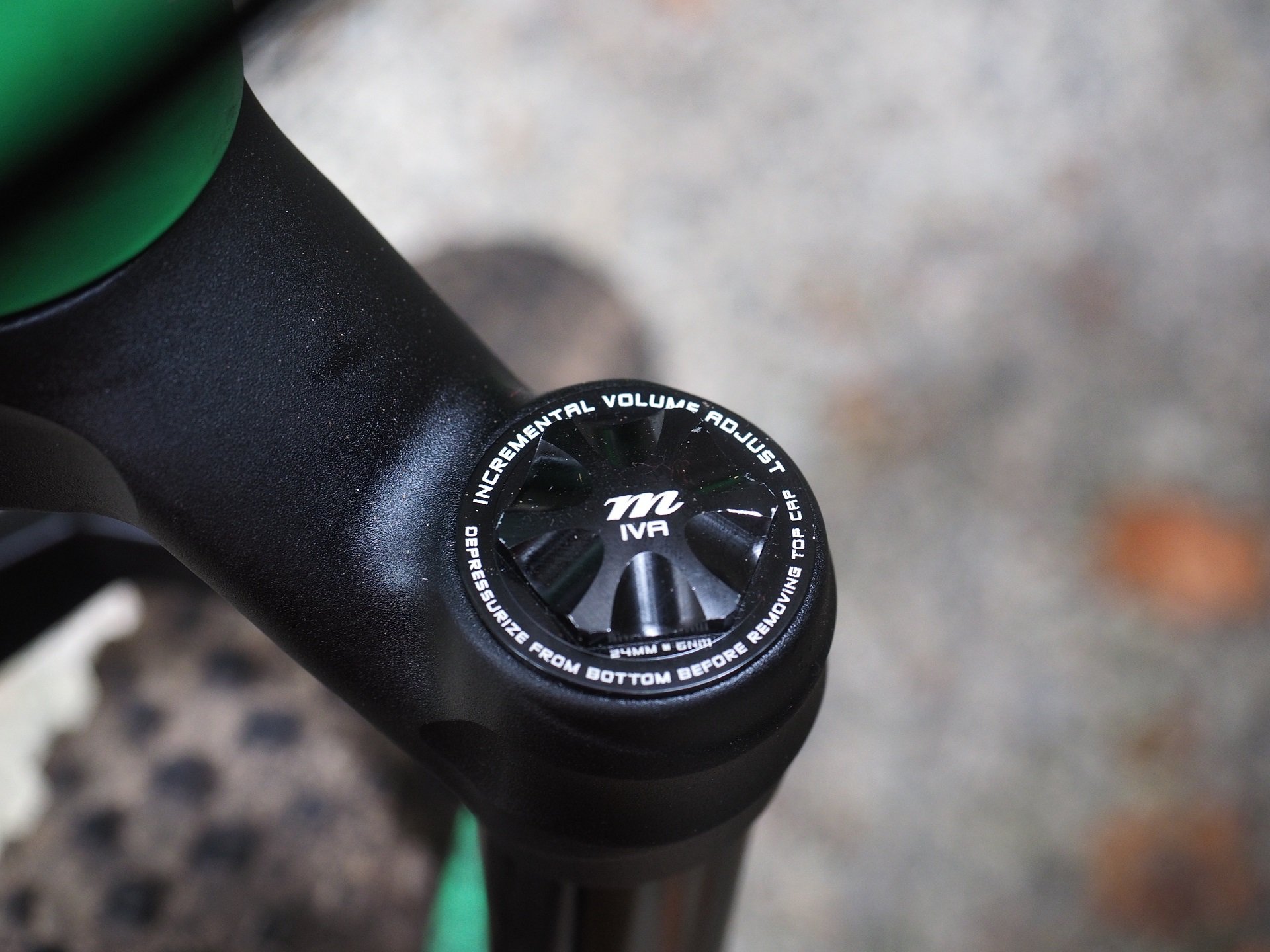 Adjustable air pressure, air volume, low speed compression, rebound, high speed compression and hydraulic bottom out are all working together to optimize traction and support. Modifications to some of those settings are readily apparent but the velocity necessary to feel changes to HSC and hydraulic bottom out make on-trail tuning ideal. 
I'm not suggesting the Magnum Pro is difficult to get riding well right out of the box. But the concept is that anyone willing to make thoughtful changes and keep track of them will be rewarded with the ultimate ride quality. 
Smithtech
Service and support are important factors in considering any suspension fork purchase. In addition to talking with Ed Kwaterski and Eric Schutt at Manitou I'm grateful for the assistance of their west coast authorized service center Smithtech. 
Manitou has a couple of authorized service and warranty centers in Canada, a handful of service centers in addition to handling their own warranty in the USA and a reputation for solid support in Europe.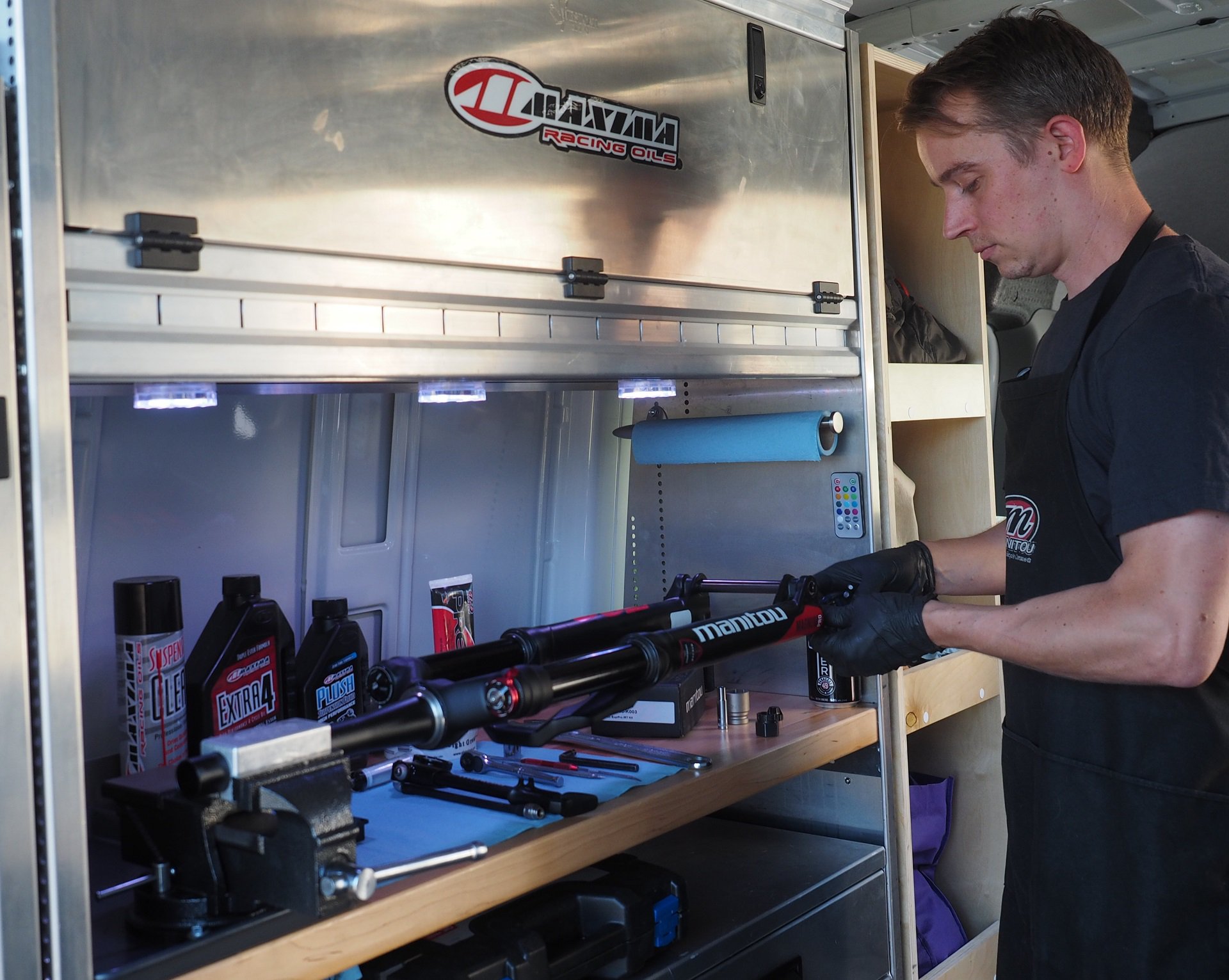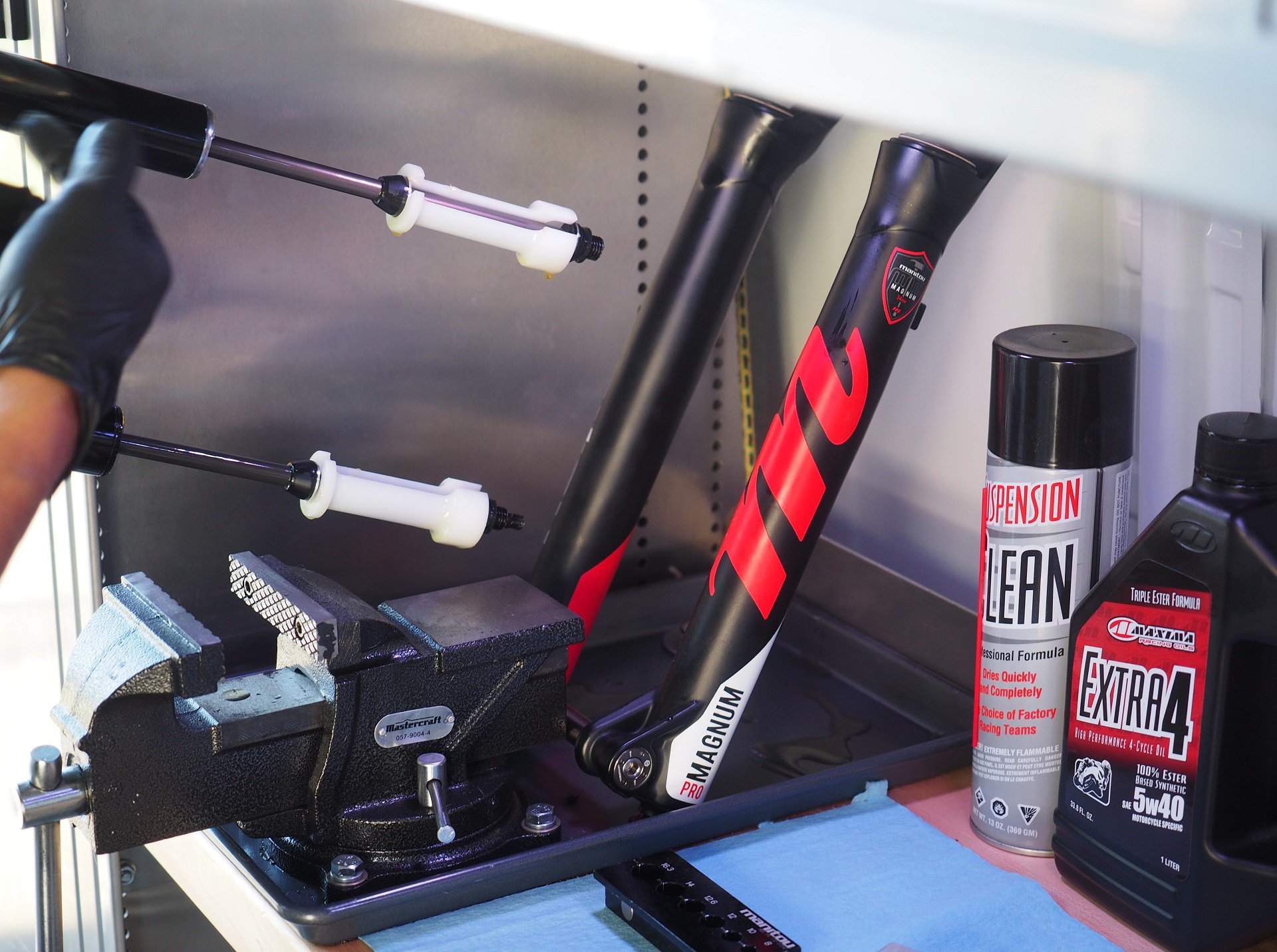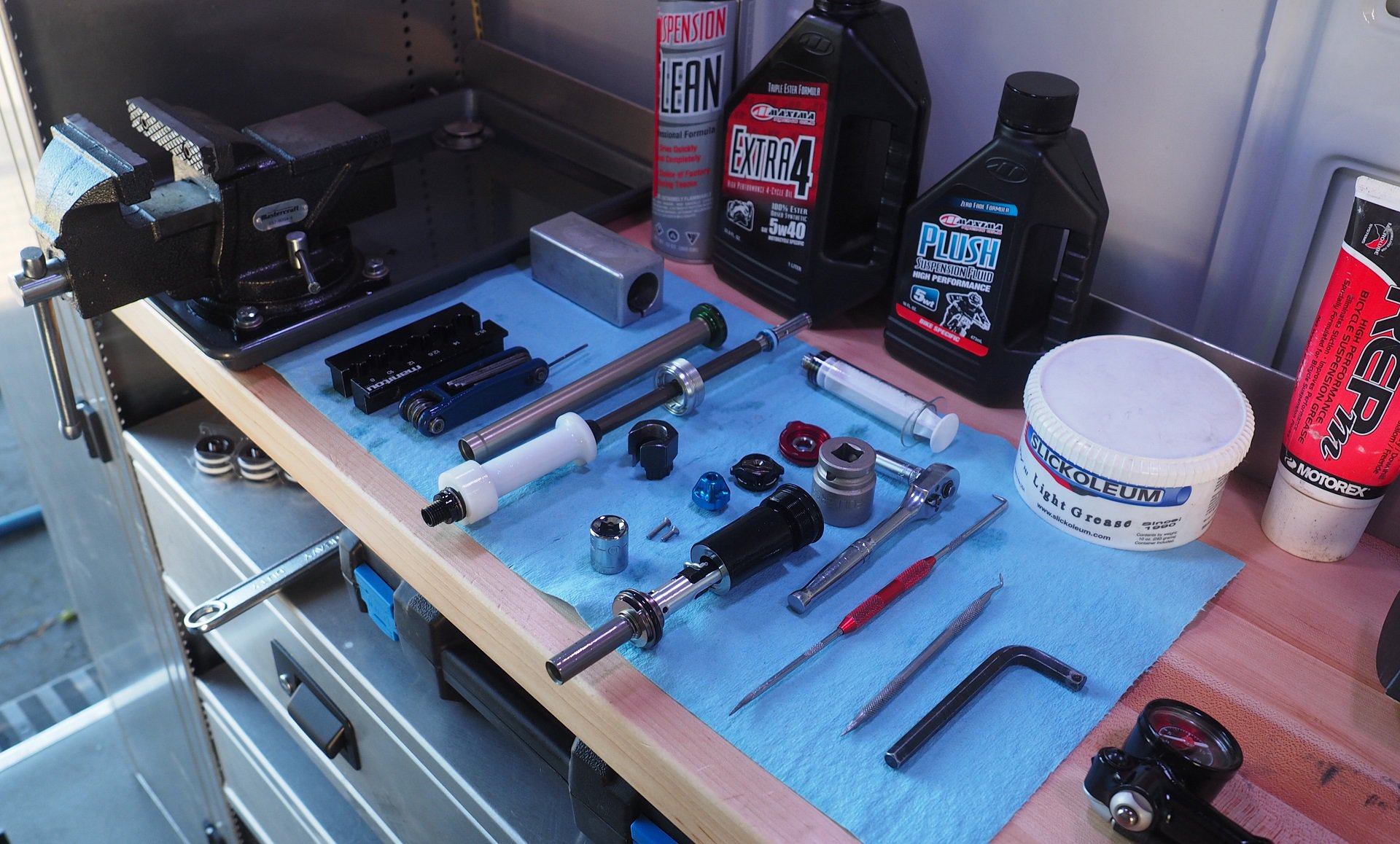 Zac Smith handles West Coast service, warranty and athlete support from his base of operations on the North Shore and on the road in his Sprinter. Zac is turning the wrenches for this teardown. 
Tools of the Trade
Rebuilding the Magnum requires three specific tools, all upcycled from existing products. A machined out cassette tool, a turned down 8mm socket and a turned down (chamferless) 24mm socket. 
Manitou is as open with information as any suspension brand and provides extensive service manuals and setup guides for all of their suspension forks. The manuals include break downs with part numbers making it very easy for a home or shop mechanic to order exactly the parts they need.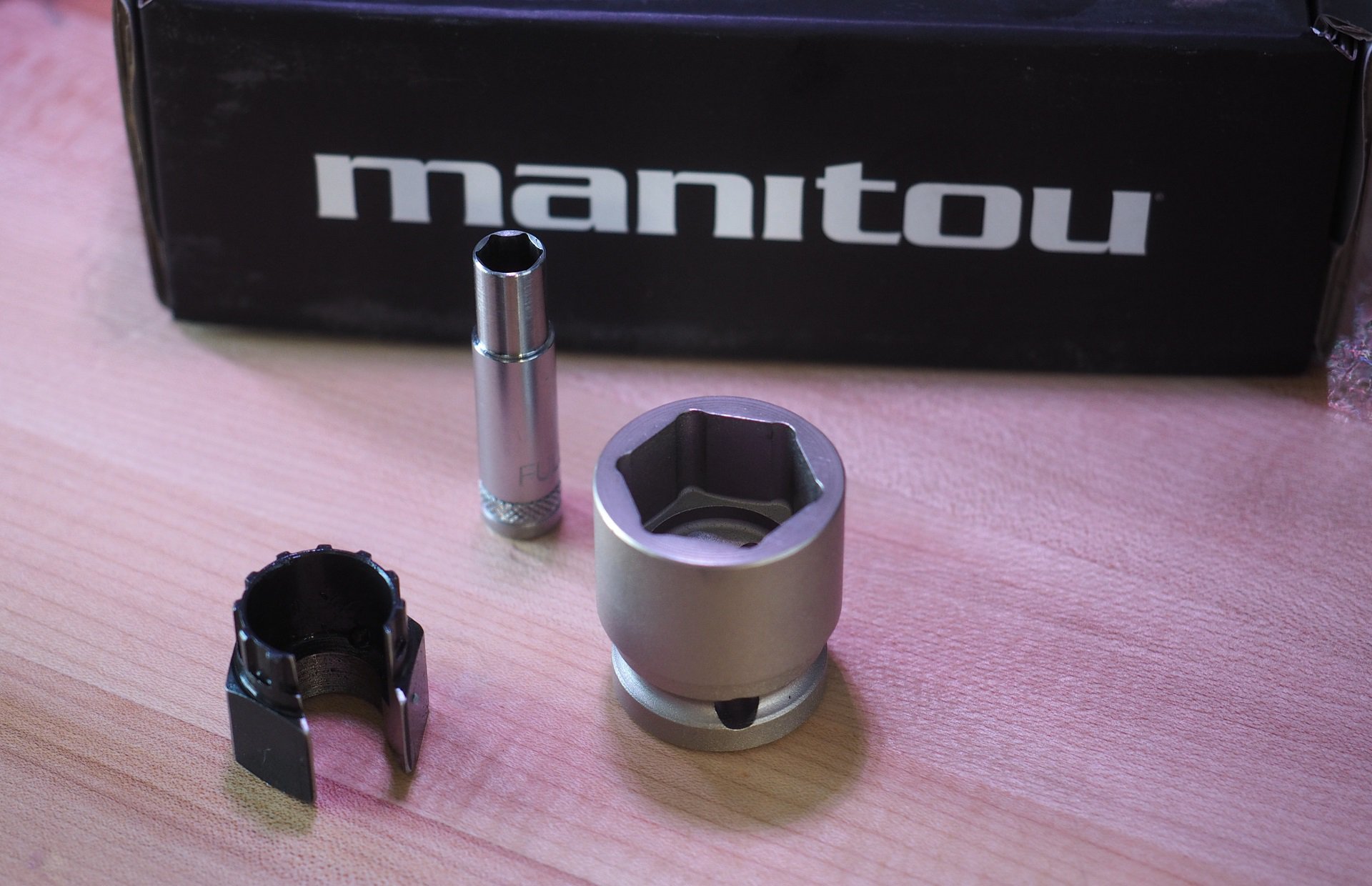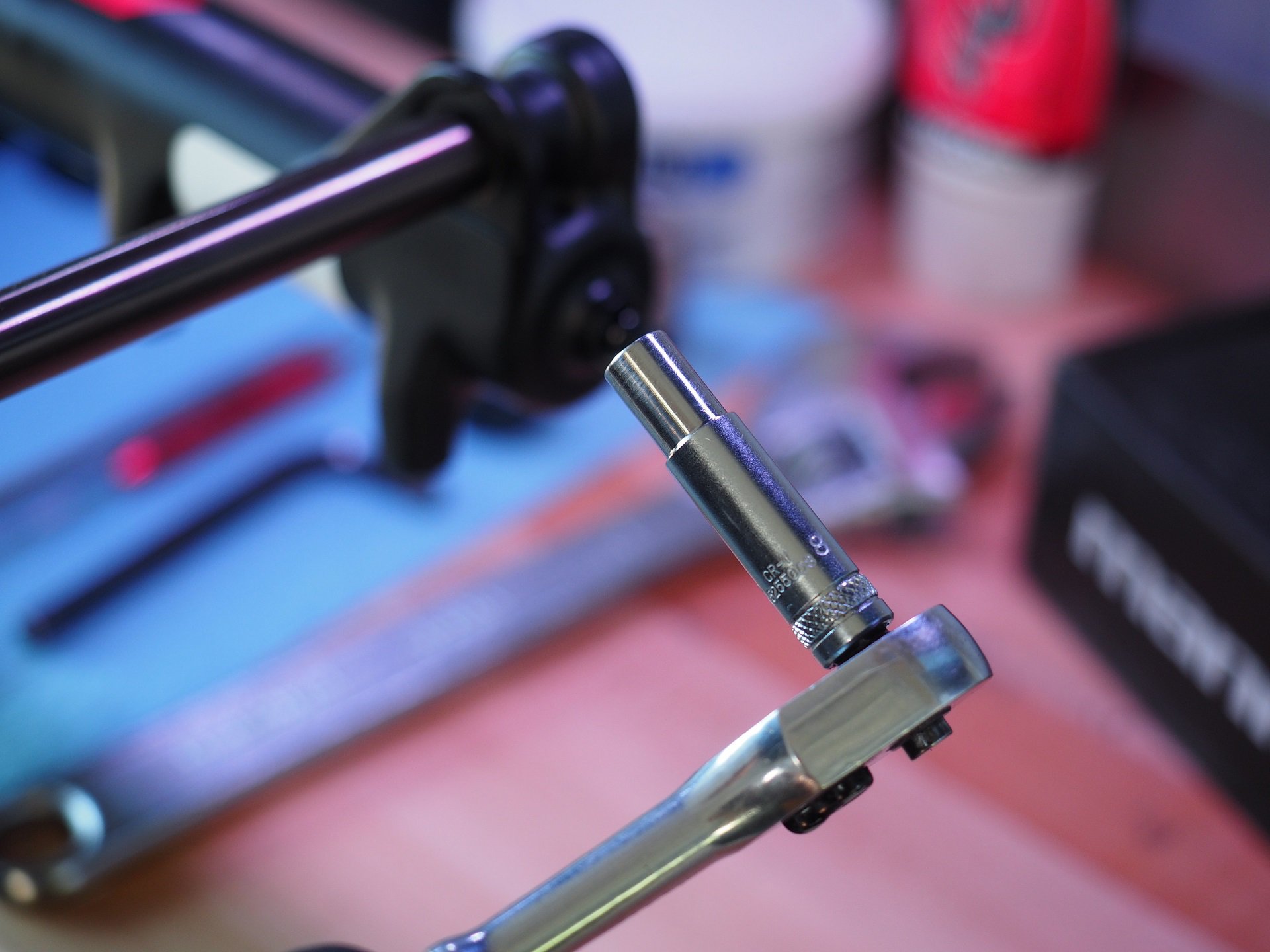 Not everyone has access to a lathe so Manitou will be offering a three piece tool kit consisting of both sockets and the machined out cassette tool. It will be available to shops and consumers. 

Even the cheapest moto forks have hydraulic bottom out systems" - Ed Kwaterski, Chief Engineer @ Manitou
Manitou is convinced that a hydraulic bottom out system is a necessity for high-performance mountain bike suspension. Ed and Eric predict that a number of suspension brands will be adding the feature to their suspension forks in the near future. 
The Magnum's hydraulic bottom out system is speed-sensitive and adjustable. The harder the fork is cycled the more resistance a rider will experience and that adjustability means that air pressure and compression settings can be adjusted separately from bottom out. 
Assisting the hydraulic bottom out is a rubber compression bumper. Every fork has some kind of bottom out bumper but usually these are just in place to prevent metal-on-metal contact. The Magnum Pro's bumper is most easily understood by imagining the more progressive function of the bottom out bumper on a coil shock. 
Between the hydraulic system and the bumper, finding the end of the travel on the Manitou should never be a harsh proposition.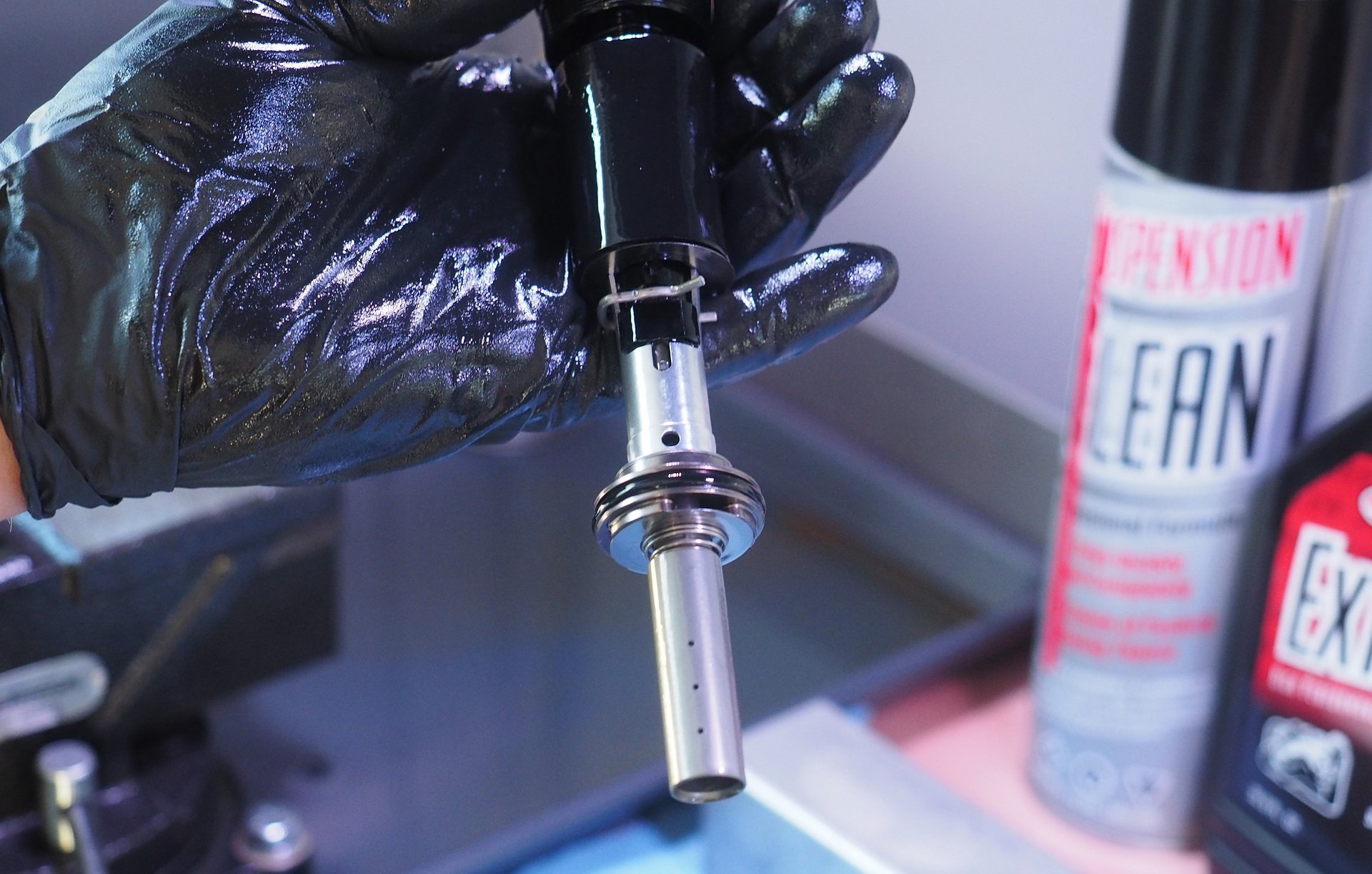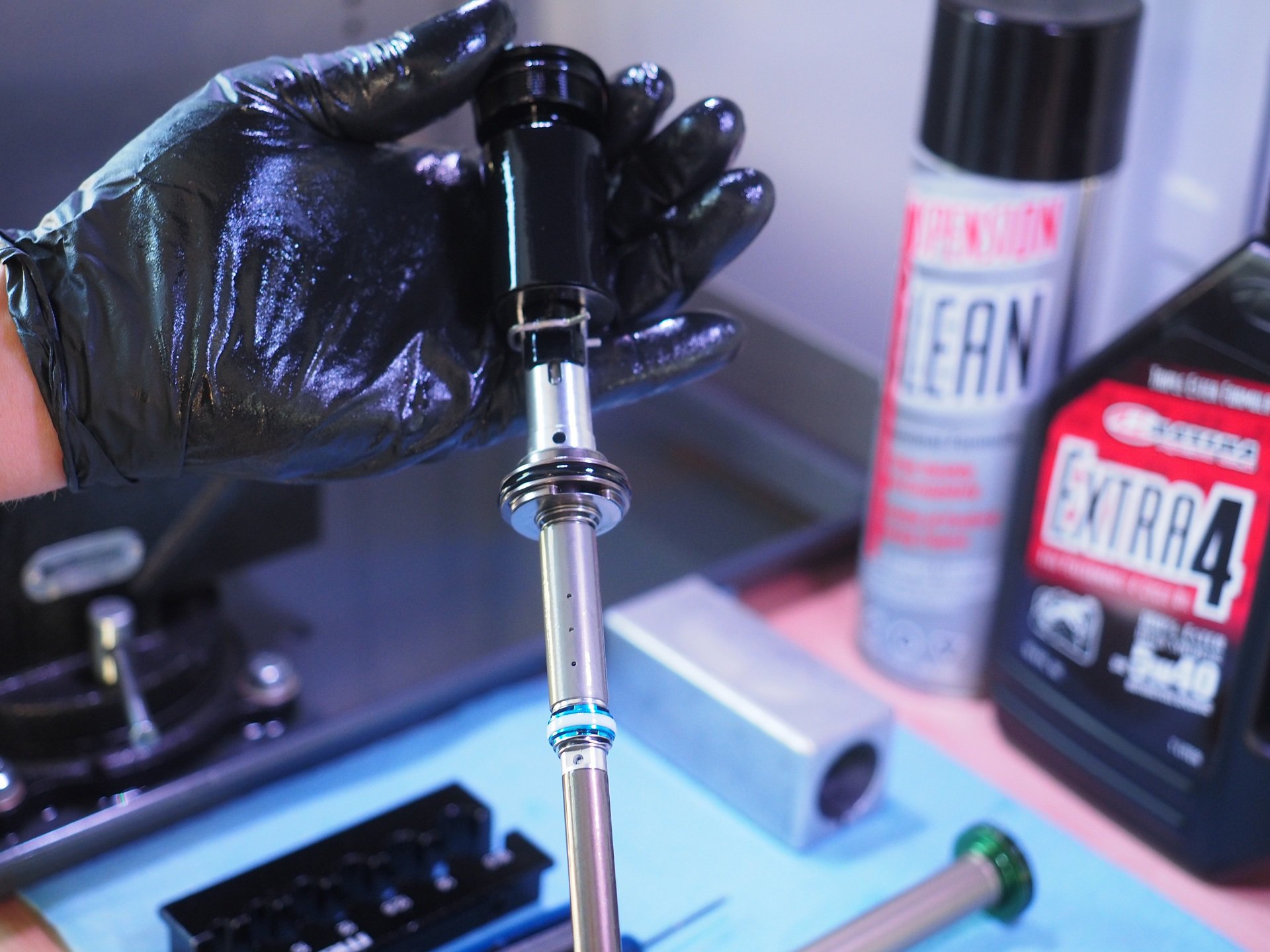 MC² Damper
In addition to the hydraulic bottom out system Manitou also derives their MC² damper design from their preferred motorcycle designs. 
Where most high-end suspension systems now use an expanding bladder system, Manitou prefers to package a floating piston into their Pro level forks. The damper is inserted into oil and a foam compensator compresses to deal with excess oil - just as a bladder would expand - and stores air to prevent cavitation.
The low-speed and high-speed platform is intended to function as a system and I'll have much more setup information as part of the fork review once I've dialed in damper performance.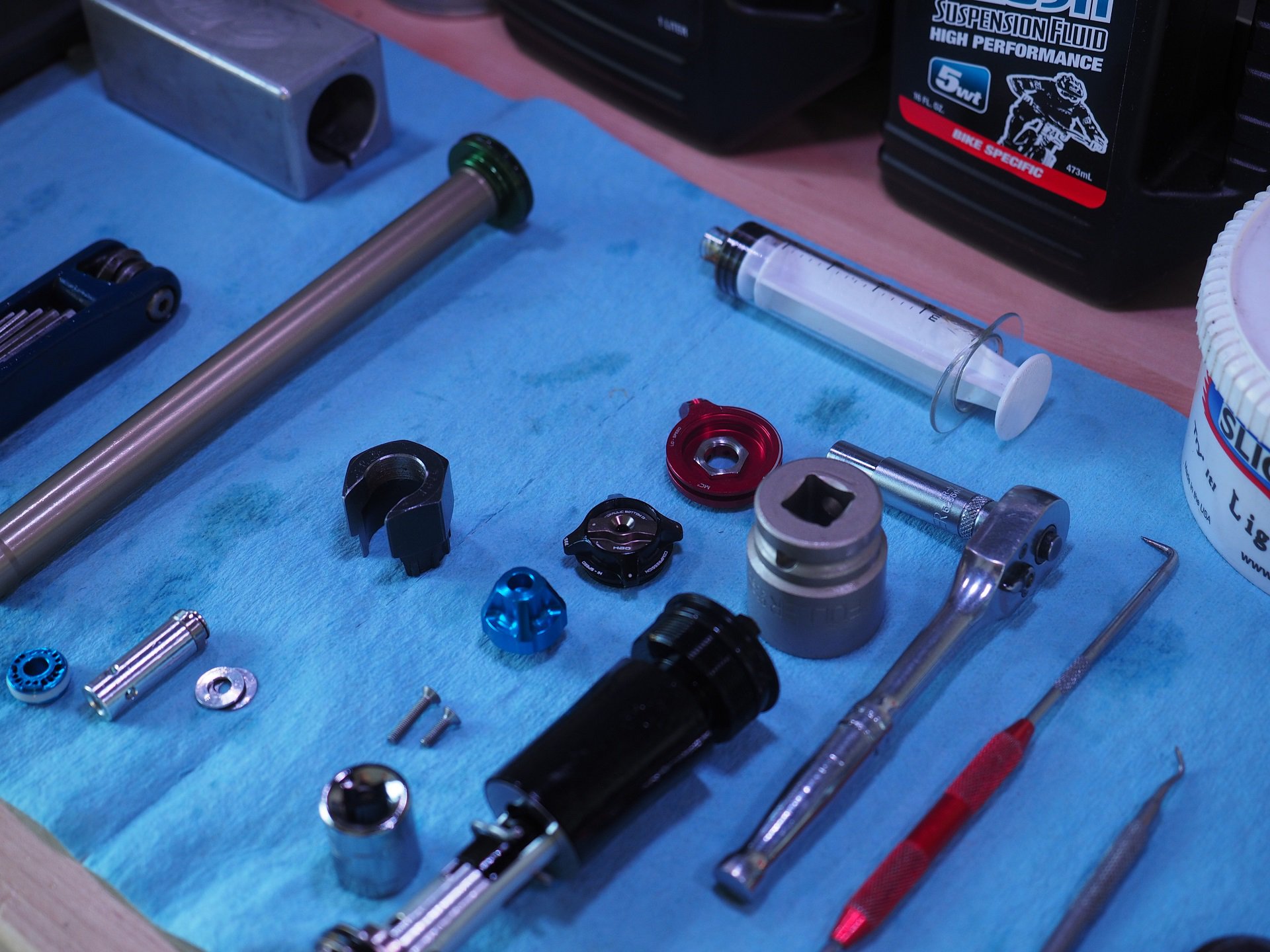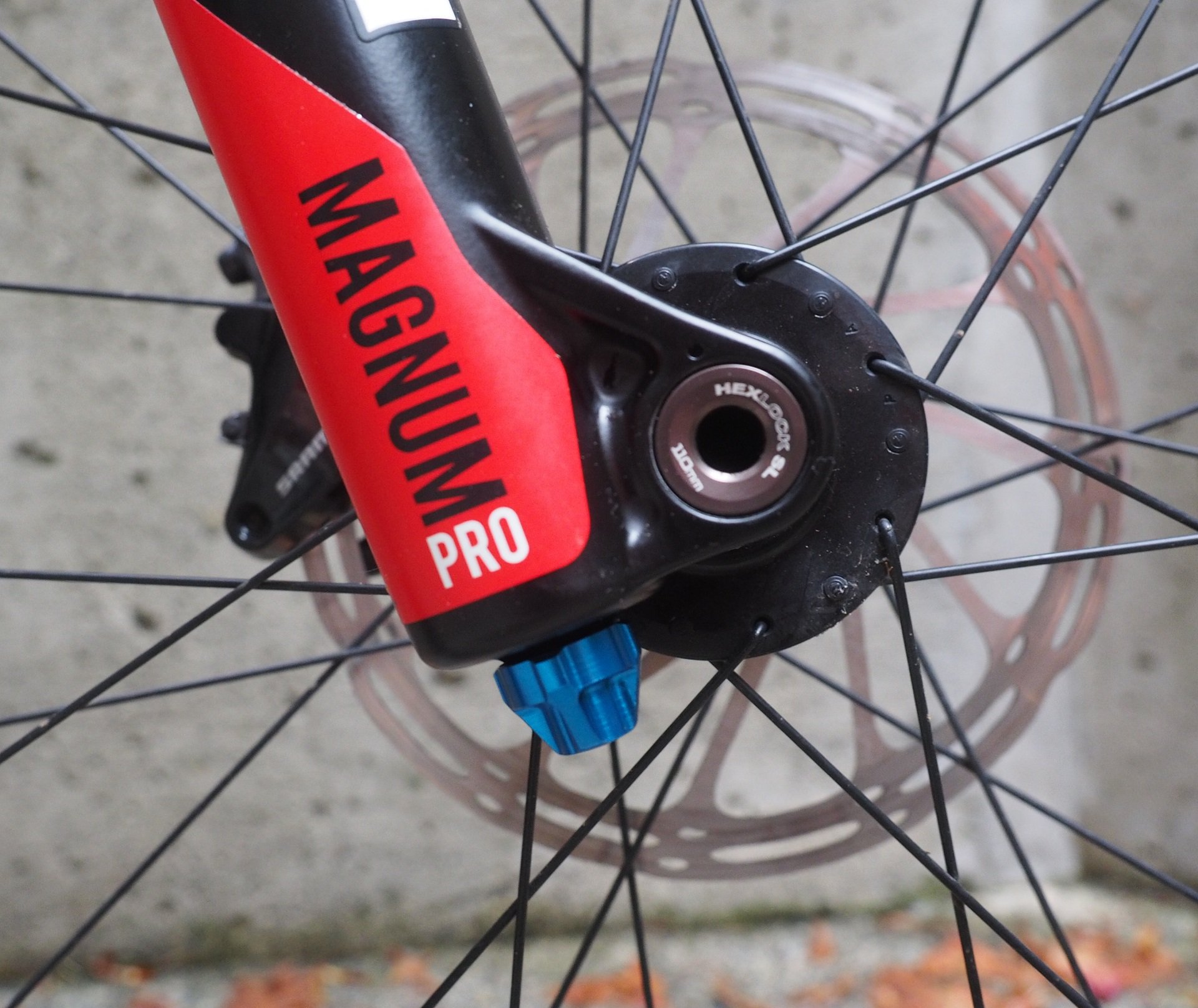 The obvious advantages of the MC² damper are ease of service and consistency vs. bleeding a bladder damper without a vacuum system. Manitou also claims longer damper service intervals. 
I've always enjoyed that Manitou uses anodized blue for their rebound knobs and anodized red for low speed compression adjuster. It's pleasantly contrarian in the face of the big two.  
IVA Air System
Manitou has two air system options for the Magnum Pro. IVA, which is stock with the fork, uses a token system to adjust air volume. IRT is a third air chamber (in addition to the positive and self-adjusting negative air chambers) which allows for adjustment of the air spring curve.
Ed, Eric, and Zac all refer to IRT as a "game changer" and while the term is overused their excitement about the system is palpable. I'll be riding the IVA volume adjust system first and then switching over to IRT to provide a comparison between the two for the review. 
IRT is technically another moto-inspired feature. It aims to duplicate the performance achieved by balancing preload, spring rate, and oil volume using only an air system.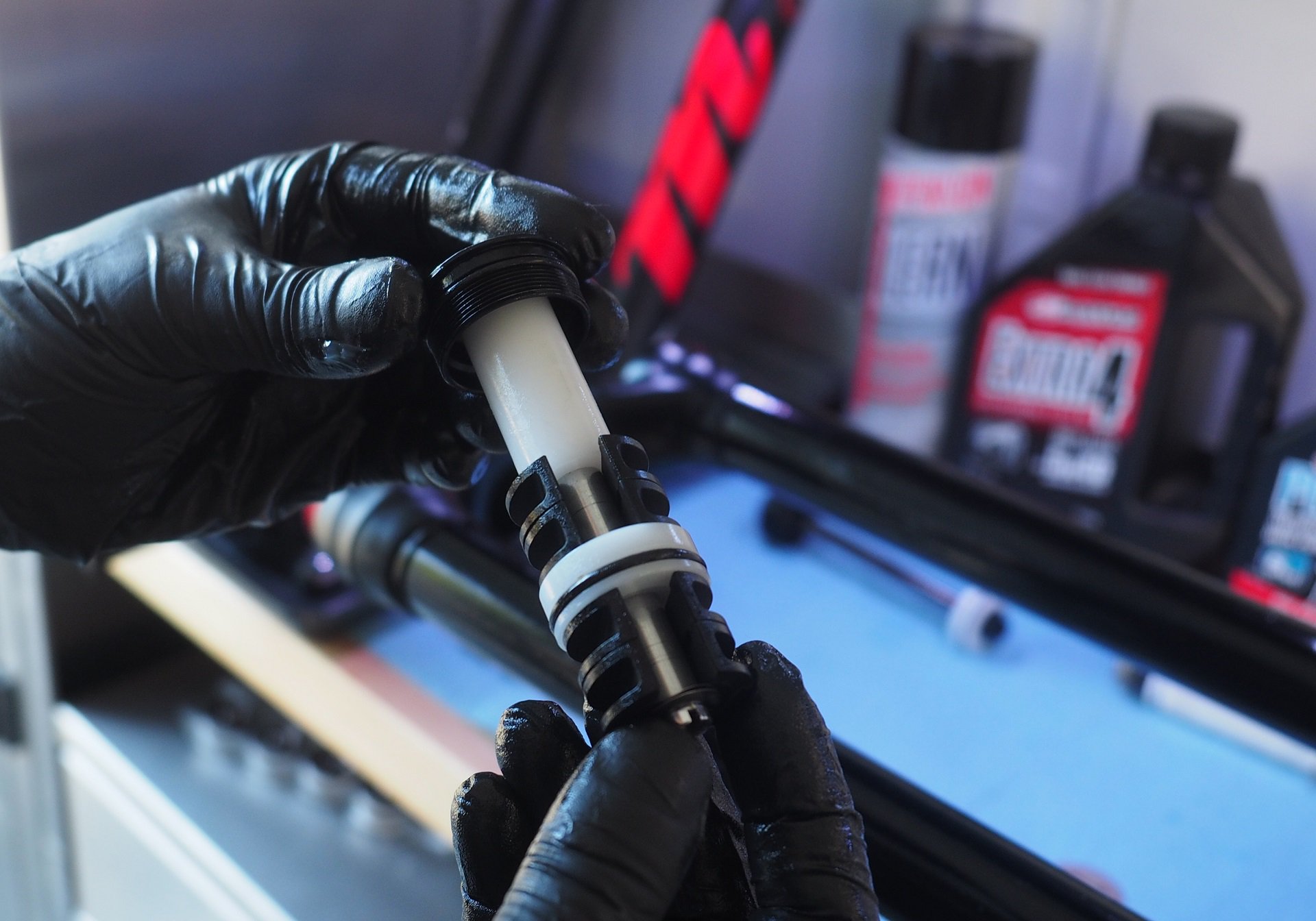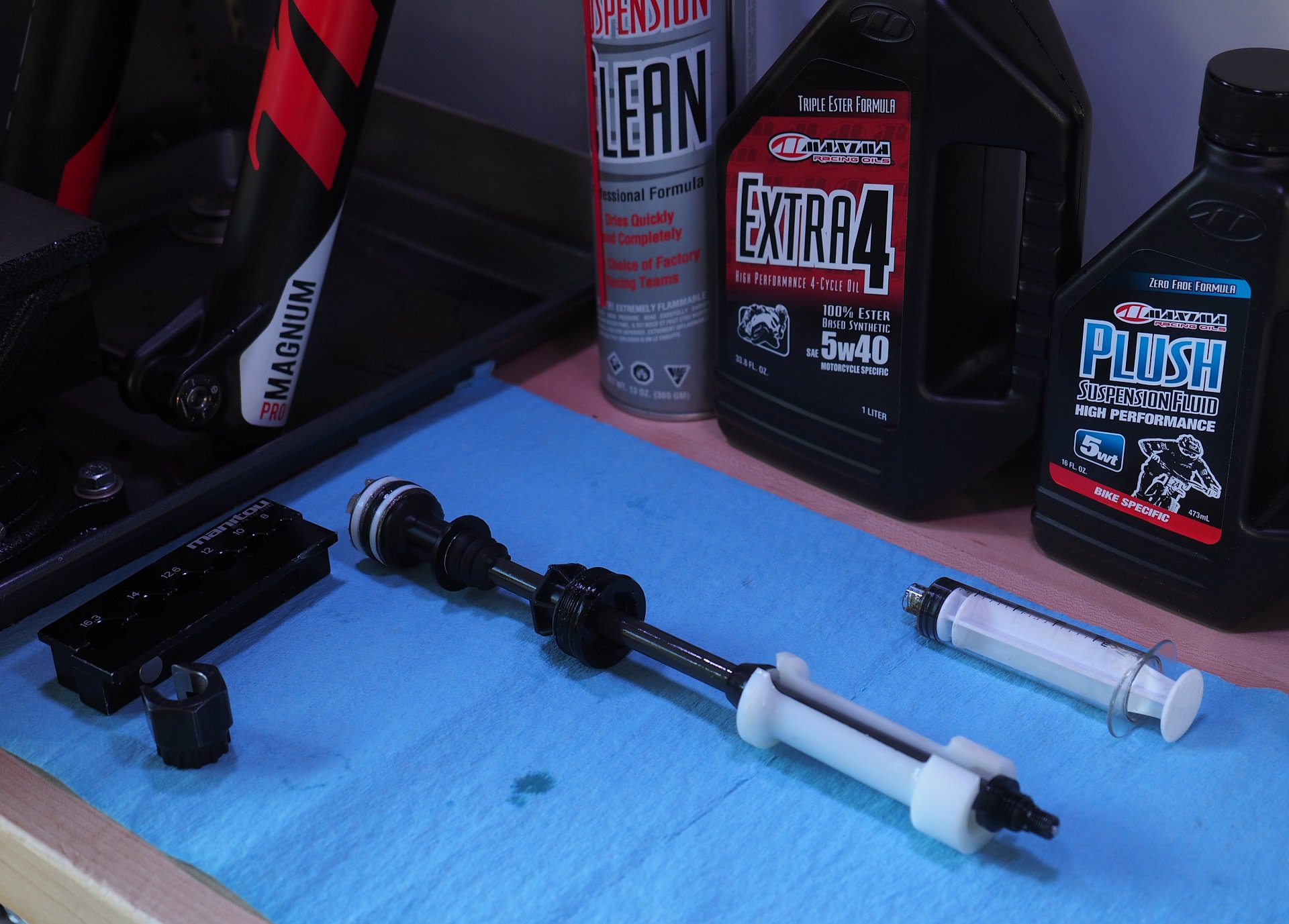 IVA is a token based volume adjust system where all the tokens are housed inside the fork. They pop off and their position relative to the air piston changes the volume of the main chamber. There is a large - macro adjustable - available via four tokens. 
The air system's travel is also adjustable by swapping spacers inside the fork. It isn't advertised but technically travel can be varied by any amount just by re-sizing the travel spacers. I'm running the fork at its full 120mm travel on the Stache but someone playing with their bike's geometry could easily achieve 115mm, 105mm, etc travel as desired.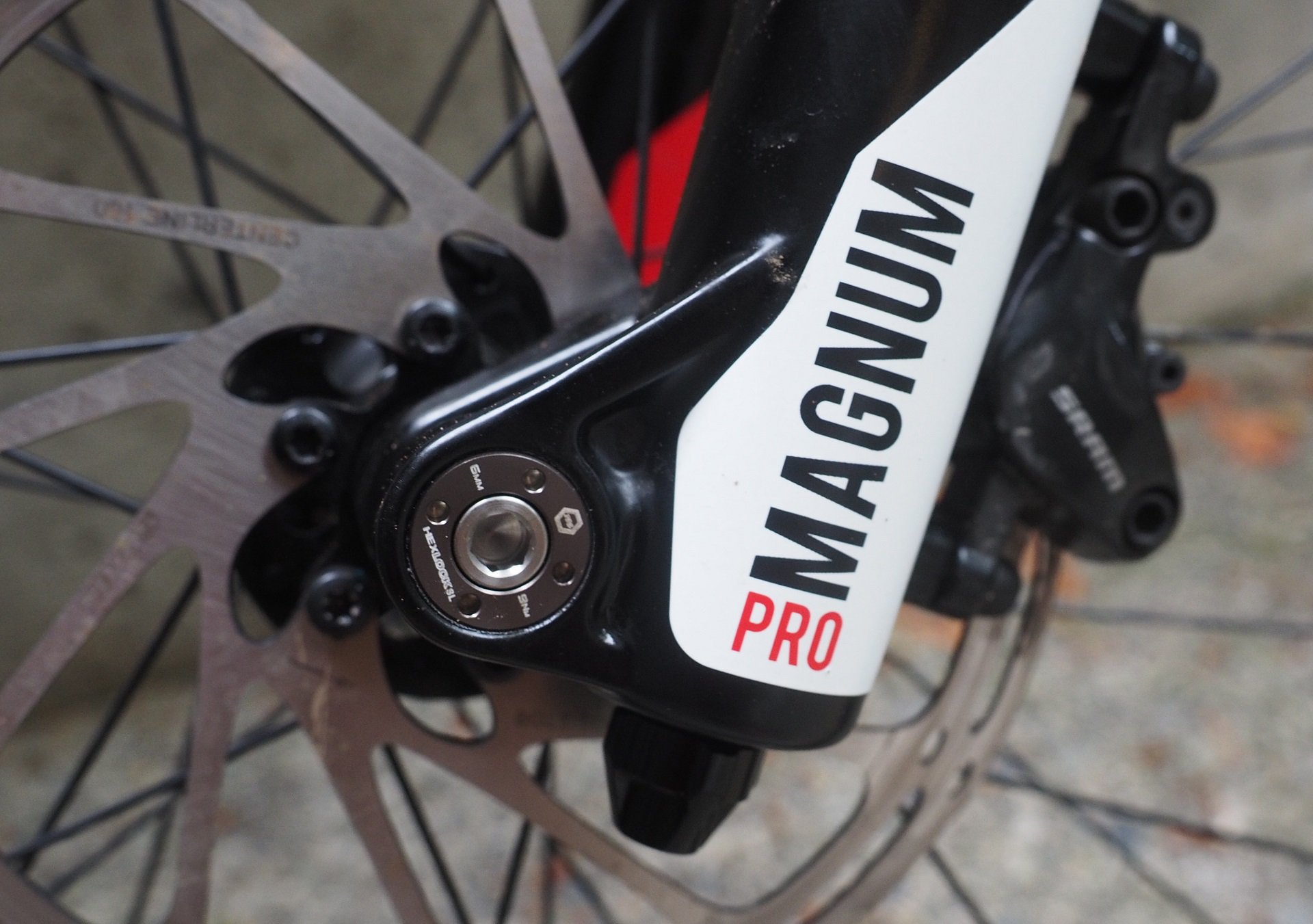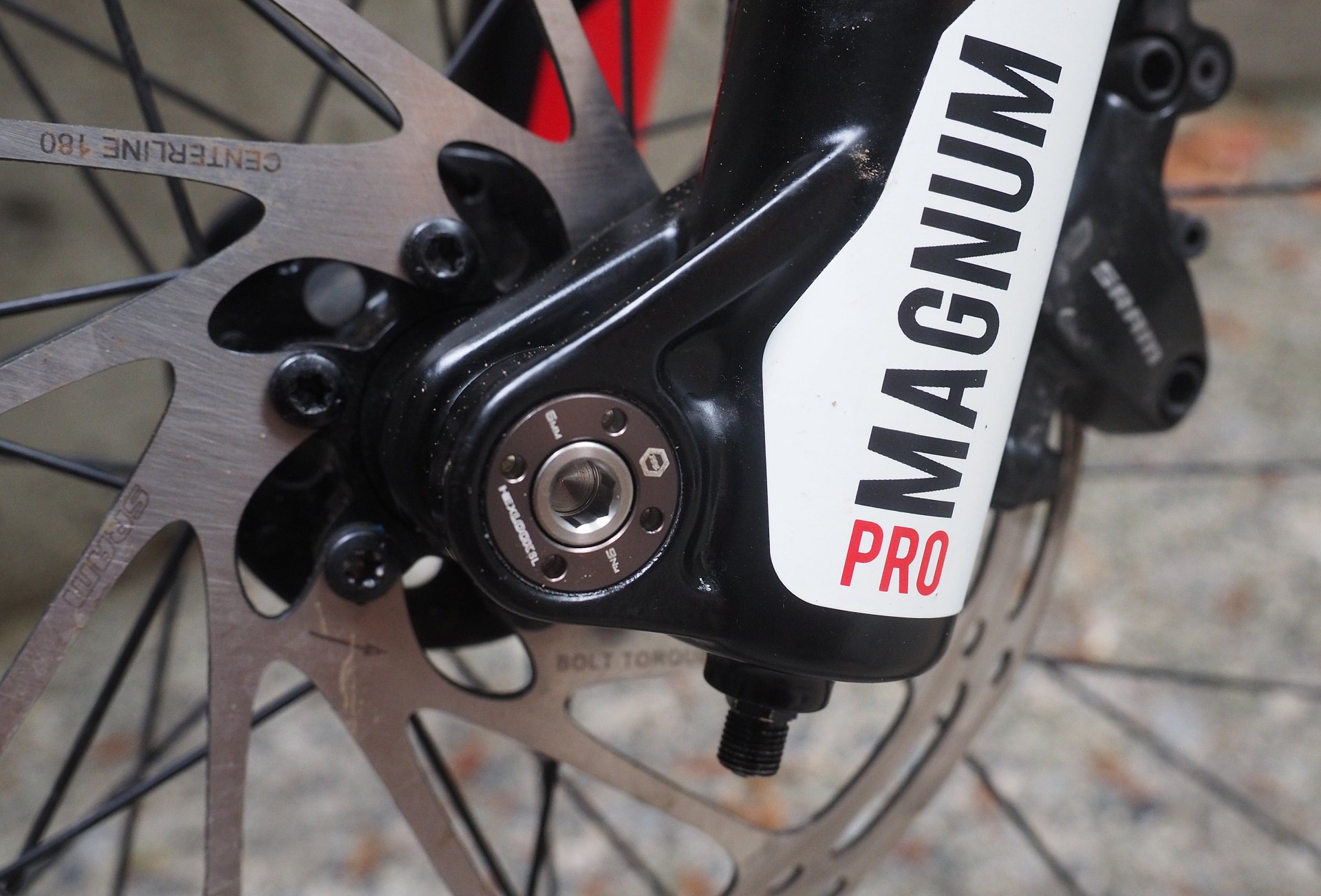 The main air chamber is filled at the bottom of the disc brake side of the fork and cycling the fork will automatically balance the negative air spring. When an IRT system is installed the third chamber (which controls the air spring curve) is filled via an additional valve at the top of the fork. 
Chassis
Looking at the Magnum Pro vs. the Comp model that comes stock on the Stache, the obvious differences are in the damper adjustments and the orientation of the air valve but the beauty of the Pro model is much more than skin deep. 
For example, both forks share the same crown forging but the Pro chassis has significant internal machining - an oval bore - to reduce weight without any loss of stiffness. 
The Pro model features tapered 7000 series aluminum stanchions instead of the straight gauge 6000 series aluminum stanchions on the Comp. The 7000 series material is more difficult to work with but with Taperwall configuration the Pro chassis has thicker stanchions at the crown which should result in increased stiffness and resilience without a weight penalty. 
Hexlock Axle System
Manitou's Hexlock axles go back to the first generation of their Dorado DH forks. The six-sided dropout interfaces resist twisting to increase chassis stiffness. The Magnum chassis can be equipped with either a QR model of the axle or a bolt-on version that uses a 6mm hex key.
I rarely get flats these days and short of replacing rotors or servicing wheel bearings have little occasion to remove my front wheel. I'll take the bolt-on SL axle any day. Lighter, simpler and more straight forward in the heat of battle - although a tool is required.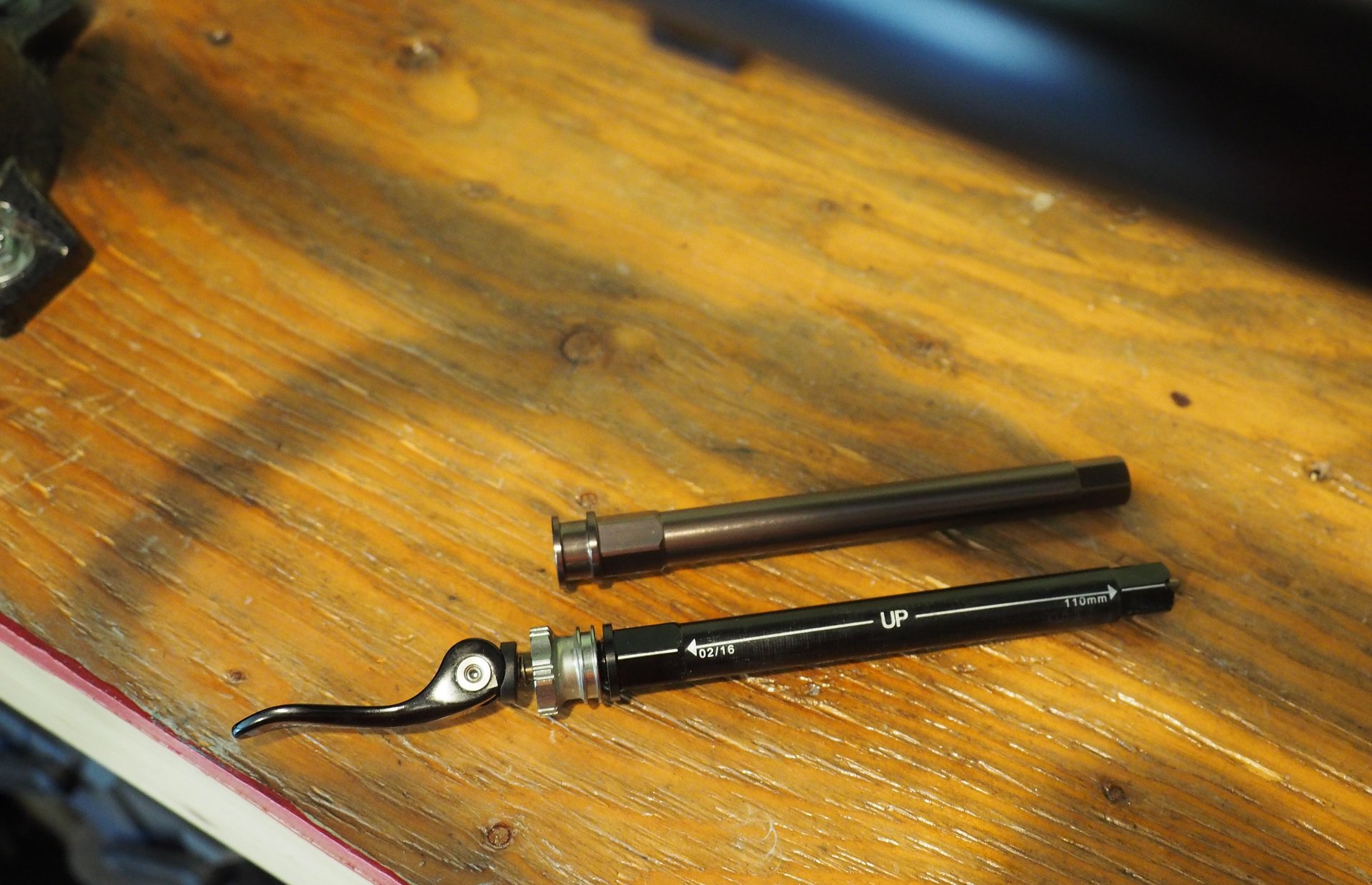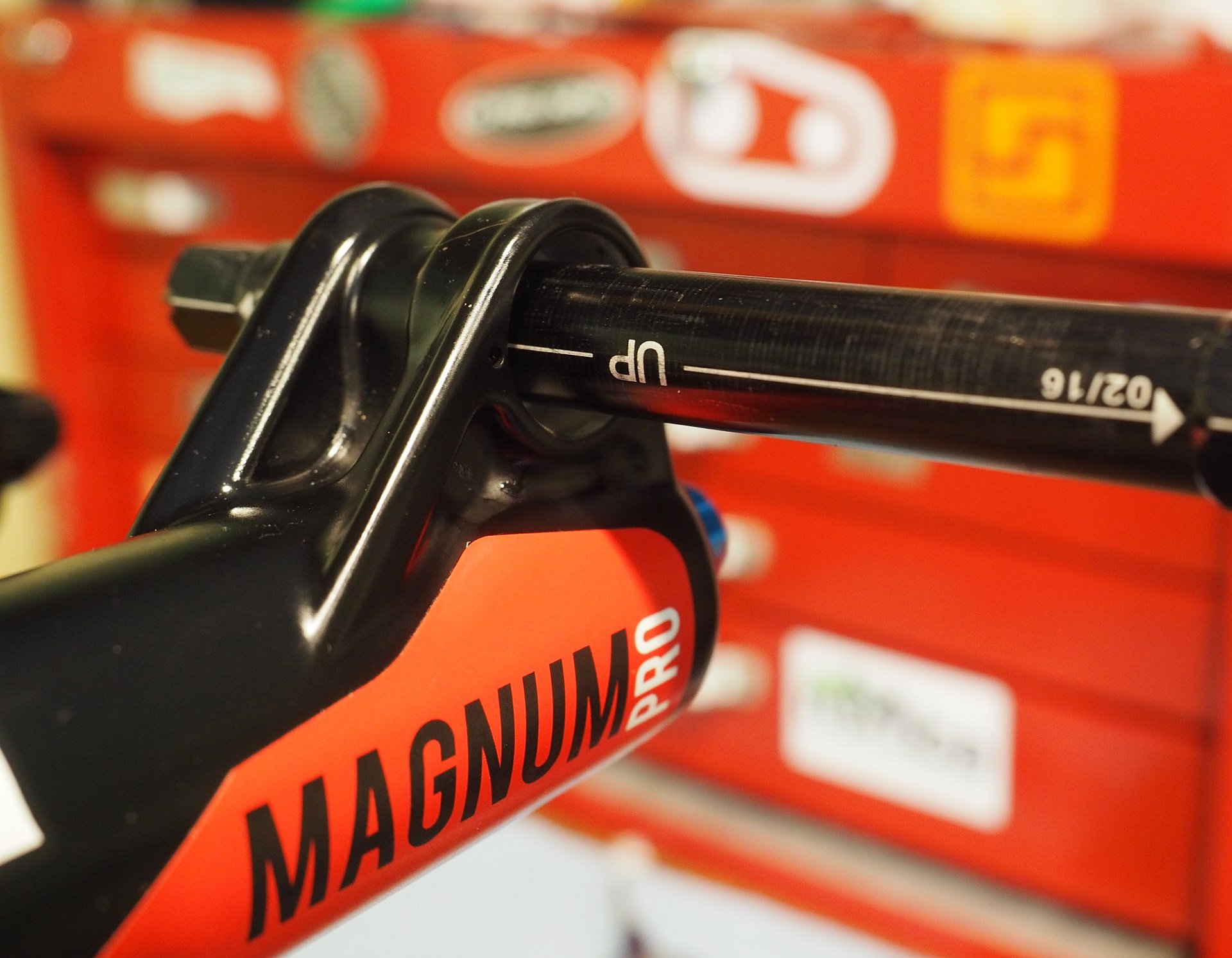 The secret of the Hexlock QR axle is to orient the text on the axle that says "UP" in the upward position. The axle quickly clicks into place and then has easily adjustable QR lever tension. There is a dimple on the drop out of the fork lowers for a precise install. 
The Magnum Comp is a fairly rudimentary fork (not surprising given the price point of the Stache) and I think it took me all of five minutes to have base settings that I varied only slightly through my test period. Compression, rebound and air pressure with obvious changes with every click or two of the adjusters. 
The Magnum Pro is another story with significantly more adjustments and three features that require on trail tuning to sort out; hydraulic bottom out, air volume, and HSC.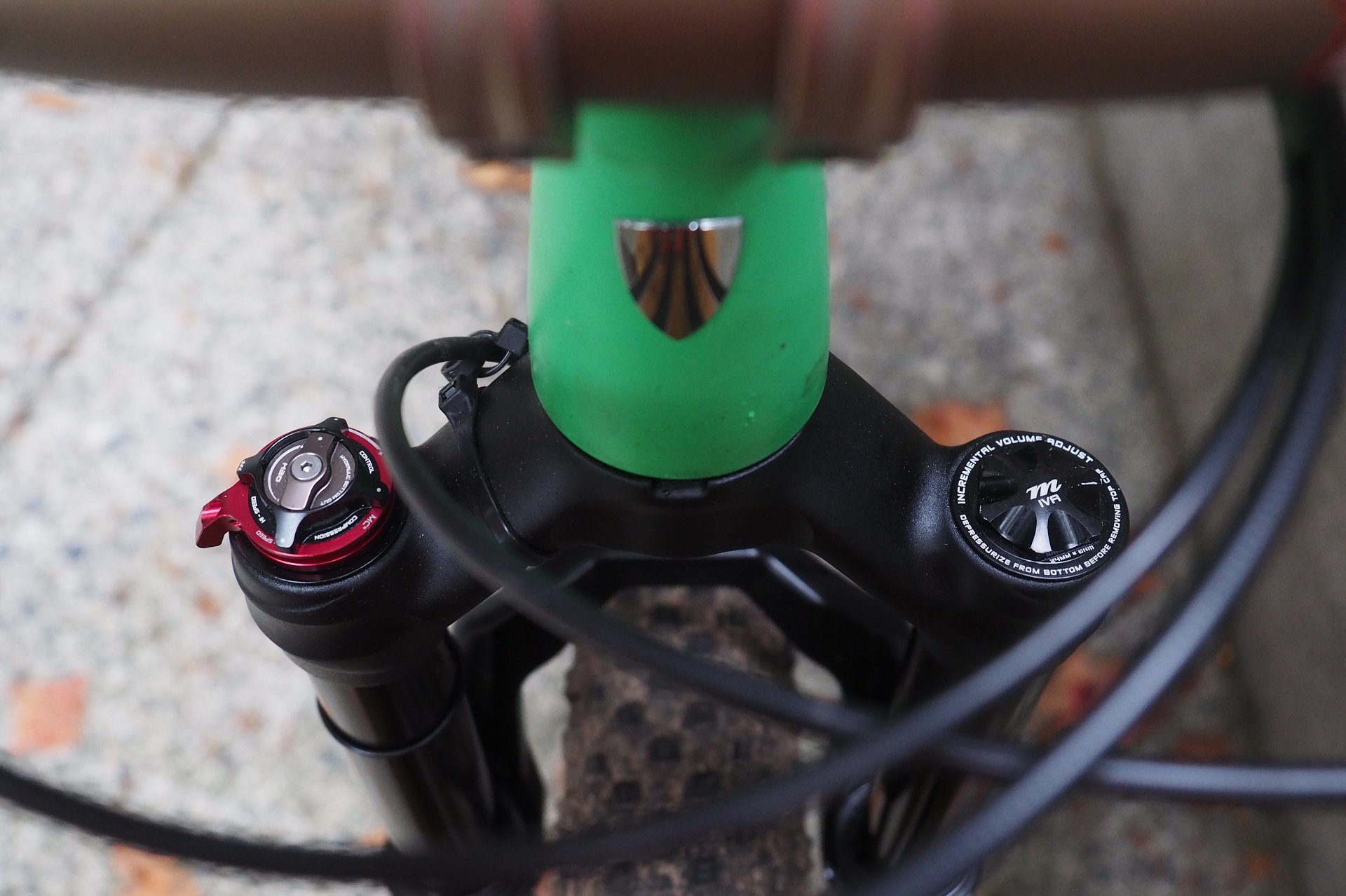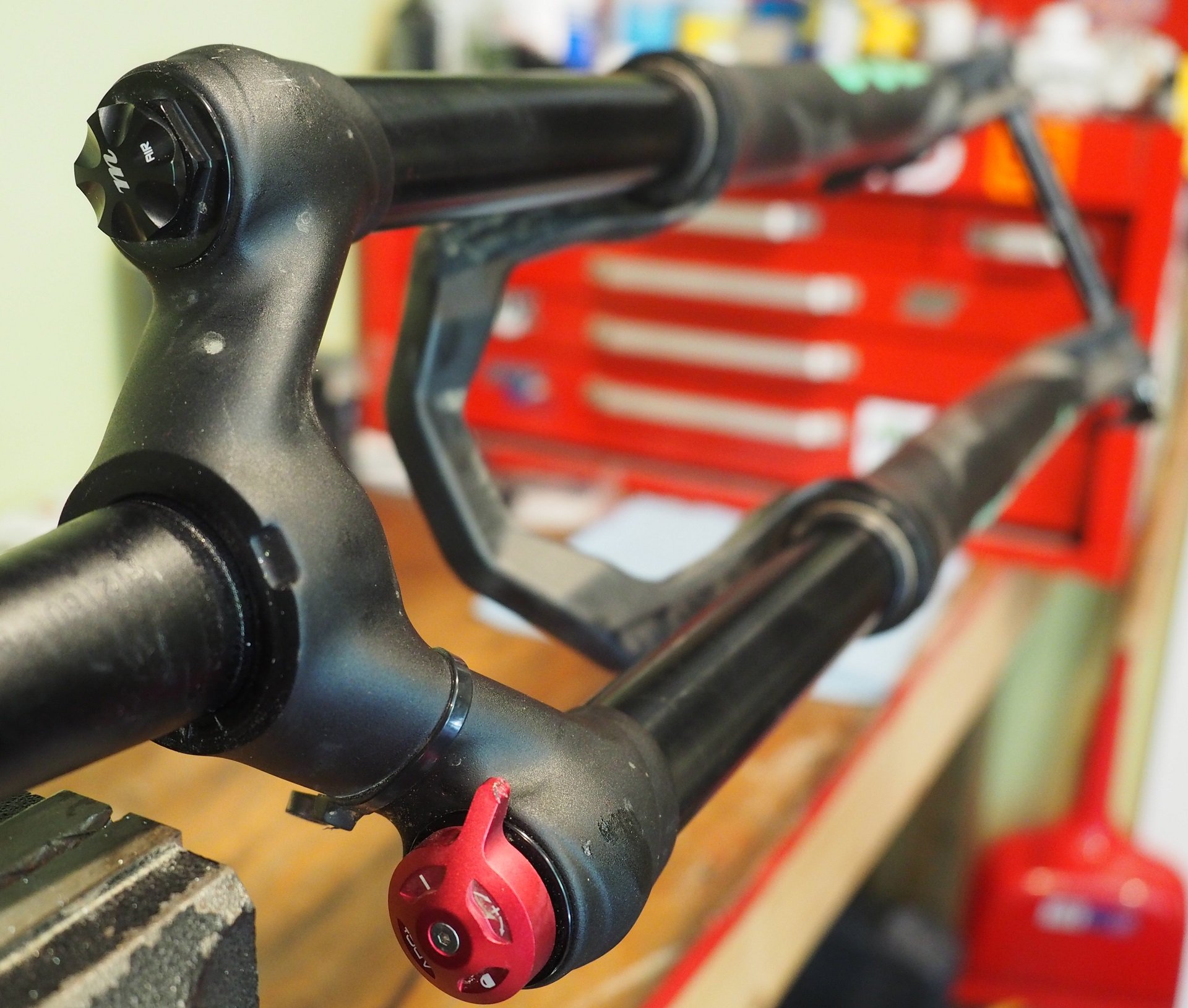 I'm starting out with 23% sag with the two volume spacers engaged. Rebound is adjusted to preference and LSC, HSC and the hydraulic bottom out are all set right in the middle of the range. A note pad and a pen will be standard fare for a few rides and I'm planning to hit some rough and janky Ned's laps to get everything sorted out.
I'll be back with some base settings, an IVA and IRT comparison and a full fork review in a few months. 
The full featured Manitou Magnum Pro 29+ has a street price of $800 (USD). For more information check here.