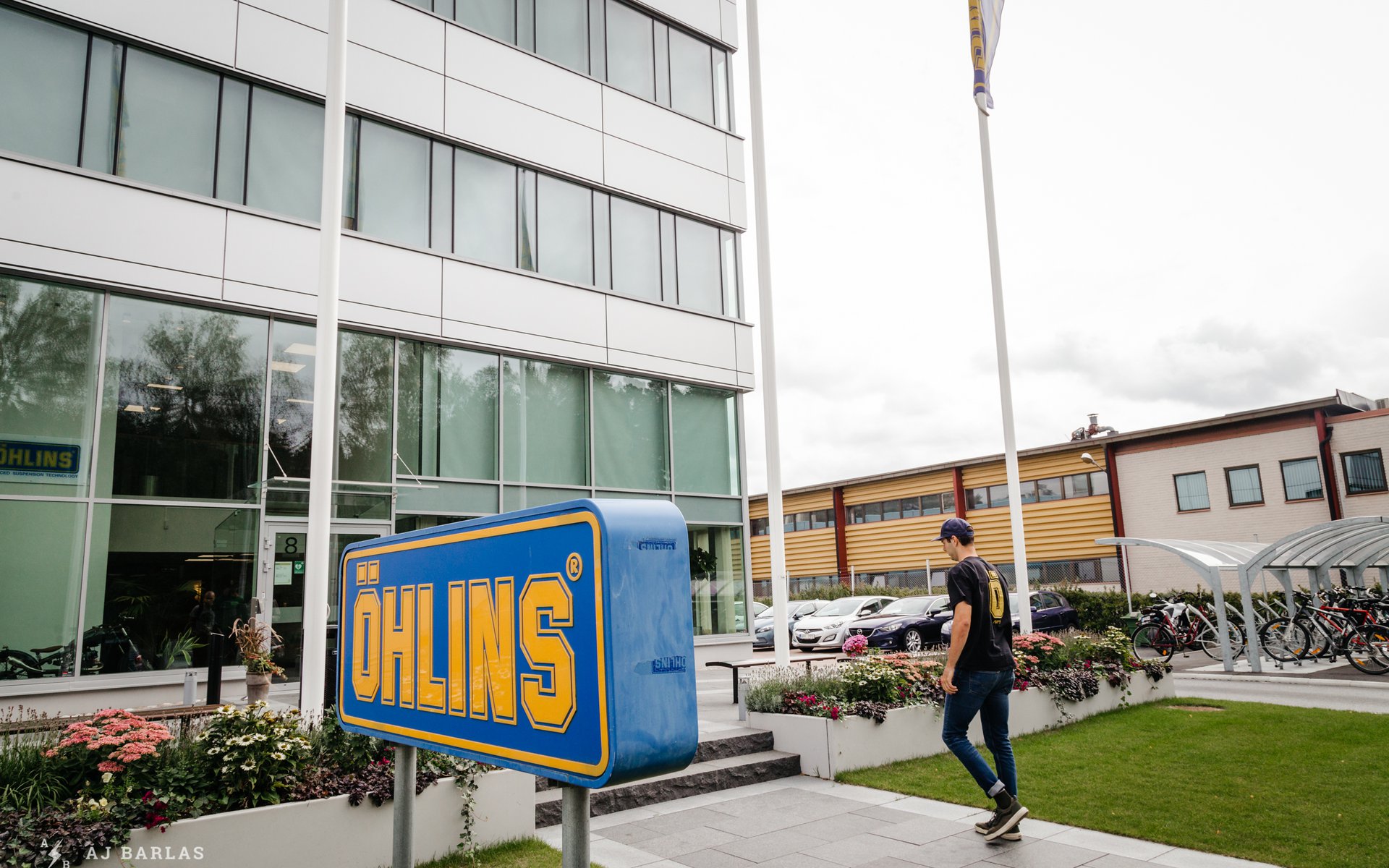 Factory Tour
Inside Öhlins' Swedish Headquarters
If you're like me you know Öhlins is based in Sweden, but you don't know much about the company's reach. Just off the motorway about 20 minutes from downtown Stockholm, stands the expansive yet humble Öhlins headquarters. And while this is where the brand calls home, they also have facilities in Taiwan, Thailand and Japan. 
Their Swedish headquarters is 130,000 sq. ft. and still expanding. Construction of a new machine shop building has begun, as they've outgrown the current space. Of the 240 people employed there only 18 work on MTB products, 5 of whom are tech or business. 
In 2018, the Taiwanese facility was updated, adding a large production facility for Öhlins staff and engineers to replace contracted employees. These steps were taken to prevent some of the production problems seen in recent years and to increase efficiency by having full control of the line and the process. 
The Swedish headquarters is full of history that the others don't have. Terje, who looks after Specialized Gravity racers Loïc Bruni, Finn Iles and until this year, Miranda Miller, was kind enough to show me around. There were still areas that media aren't allowed to see and some spots I saw, but can never speak of. What I was able to see and shoot was fascinating, providing a great look inside one of the most renowned suspension manufacturers in motorsports. 

Staff work on rotational shifts, one from 630–1430 and a second from 1430–2230. The shifts rotate, with one week on the morning shift and the next on the evening, keeping things equal for all members. They have regular breaks and are served meals freshly cooked in the on-site kitchen. There's a lot Öhlins has done for suspension over the years, including developing the Double Barrel shock with Cane Creek.  And with that, I'll let the images tell the story.
History
The tour began with a look at company milestones. From the first twin tube damper and aftermarket damper cartridges ever developed to a special two-wheel drive system for motorcycles that blew my mind. There's much to see. 
Manufacturing & Production
Kenth Öhlins built his first shock back in the mid-'70s while looking to improve the ride of his KTM motocross bike. He officially founded the company in 1976 and has since continued to push innovation in suspension. Wanting to limit variances in the product line, Öhlins manufactures much of what you see in their own facilities around the globe, each a copy of the Swedish setup but their Thai location is an exact copy. 


Warehouse & Shipping
Manufacturing and assembly of hundreds of intricate products requires a lot of storage space. Öhlins keeps all finished parts in a holding area for 24–72 hours to ensure there are no leaks. Then they are logged and prepared to be shipped. 
Engineering & R&D
Before anything hits the production line, the team of engineers work tirelessly on developing the functionality they want. New products are constantly being worked on and while some won't ever see the light of day, some elements of a design may end up in a different product. The mountain bike department consists of 18 engineers, many of whom specialize in either front or rear products, or specific components to suspension, like the air spring, or damper. 


Office Space & Tech Training
Öhlins also does things a little differently in the office. Much of the mountain bike industry consists of sales teams but at Öhlins, they have account managers and an order receiver/logistics team. As you may be aware, Öhlins has a history in motorsports where teams come to them and pay for their products. For others, it's typically the brand buying into a team as part of a sponsorship agreement. This appears to have trickled into how Öhlins function in the office, explaining the lack of a traditional sales team. 
They also provide personalized training to their distributors. While at the factory, I was fortunate to sit in on part of a training session with techs from all corners of the globe. With the launch of the new 36 Trail and TTX Air products, multiple sessions were planned to bring the techs up to speed with the new products, as well as how to pull apart and service them.