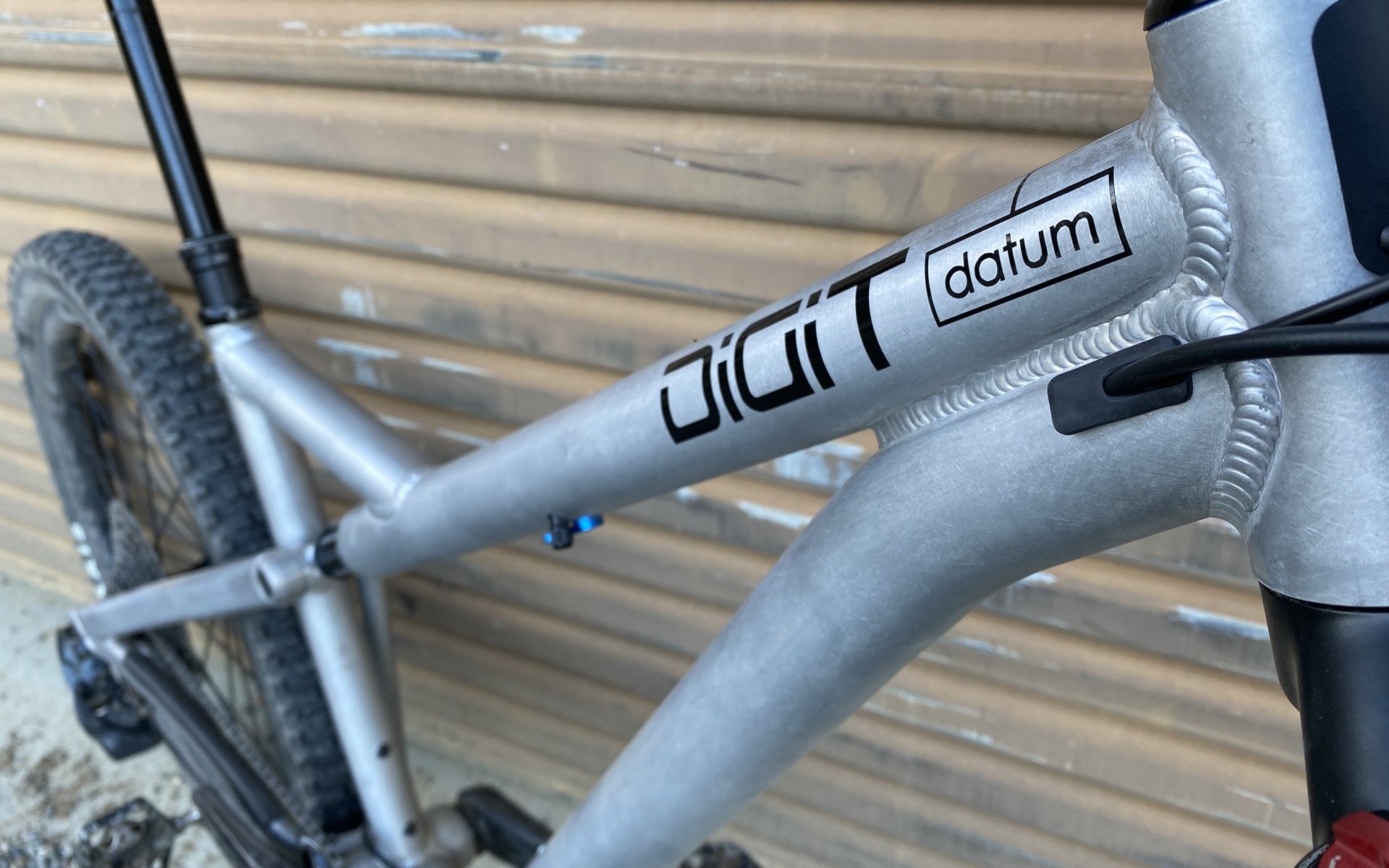 Preview
In Pursuit Of Simplicity
Tim Lane has done some serious time in the bike industry; he was a suspension tech in the UK prior to getting hired as an engineer at GT when they were still the pride of Santa Ana, he designed bikes for Felt, he came out with an innovative lightweight integrated bib-short/baggy that had the misfortune of showing up on the market the year before Specialized went crazy with SWAT gear. He has an inquisitive mind, a problem solver's take on life, and can articulate his ideas well enough to sway even diehard skeptics. He's a smart guy. Which makes me wonder why on earth he'd want to start a new bike brand from the ground up, out of his garage, from little more than an idea for a bike, a Kickstarter campaign and a mountain of hope.
Everyone knows the old trope: How do you make a million dollars in the bike industry? Start with two million dollars. Or as Tim said over lunch when I took delivery of this fine silver beast last week; "I'm finding out that starting a business means you work really hard AND spend a lot of money, instead of getting paid to work."
But then there's this bike. This isn't my first meeting with Tim, or with the Digit Datum. A little over a year ago I got to spend a few hours riding his prototype mule, sweating my brains out on a tour of some of Santa Cruz County's finest blown out steeps. That ride convinced me that maybe Tim was onto something. But what is that something?
In the case of the Digit Datum, that something is a 140mm rear travel, 160mm front travel, mulleted trail bike aimed squarely at the heart of the Santa Cruz Bronson/Pivot Switchblade/Ibis Ripmo part of the market. In fact, the prototype I rode last year utilized a Bronson rear triangle while Tim sorted out his proof of concept. The goal of the Datum is to replicate the kinematics and widely capable ride characteristics of modern short-dual-link suspensions, but do so with half as many pivots and bearings. The result, in this case, is the Datum. A 6.4 pound aluminum frame (including shock), with a lower link that pivots concentrically on the bottom bracket axle, and a bespoke shock integrated into the top tube of the frame acting as a strut, thus negating the need for an upper linkage and bearings.
So, this is a first look at a production Digit Datum. Datum, in this case, is a reference point. It's the first bike in what Tim hopes will become a line of bikes. If you were to look at the human hand, there's the index finger, then the datum, then ring, then pinky. At the Philly Bike Expo a couple weeks ago, Tim showed off the prototype Digit Ring, a slightly shorter travel 29er. We can assume the eventual xc bike will be the Pinky, and the park bike the Index, maybe?
Anyway, back to the bike. In a market where designs are becoming increasingly complex, and where carbon fiber is achieving a primacy that has become almost commonplace, opting to do as much or more with less, so to speak, is a bold (but subtle at the same time) move. Instead of marketing additive features – frame storage, flip chips, modular adjustable things, idler wheels, more links, more bearings, really big red and blue knobs – the Datum is aiming to deliver the ride quality that modern riders crave, in a commendably lightweight, simple package, made out of aluminum, made in the USA, no less.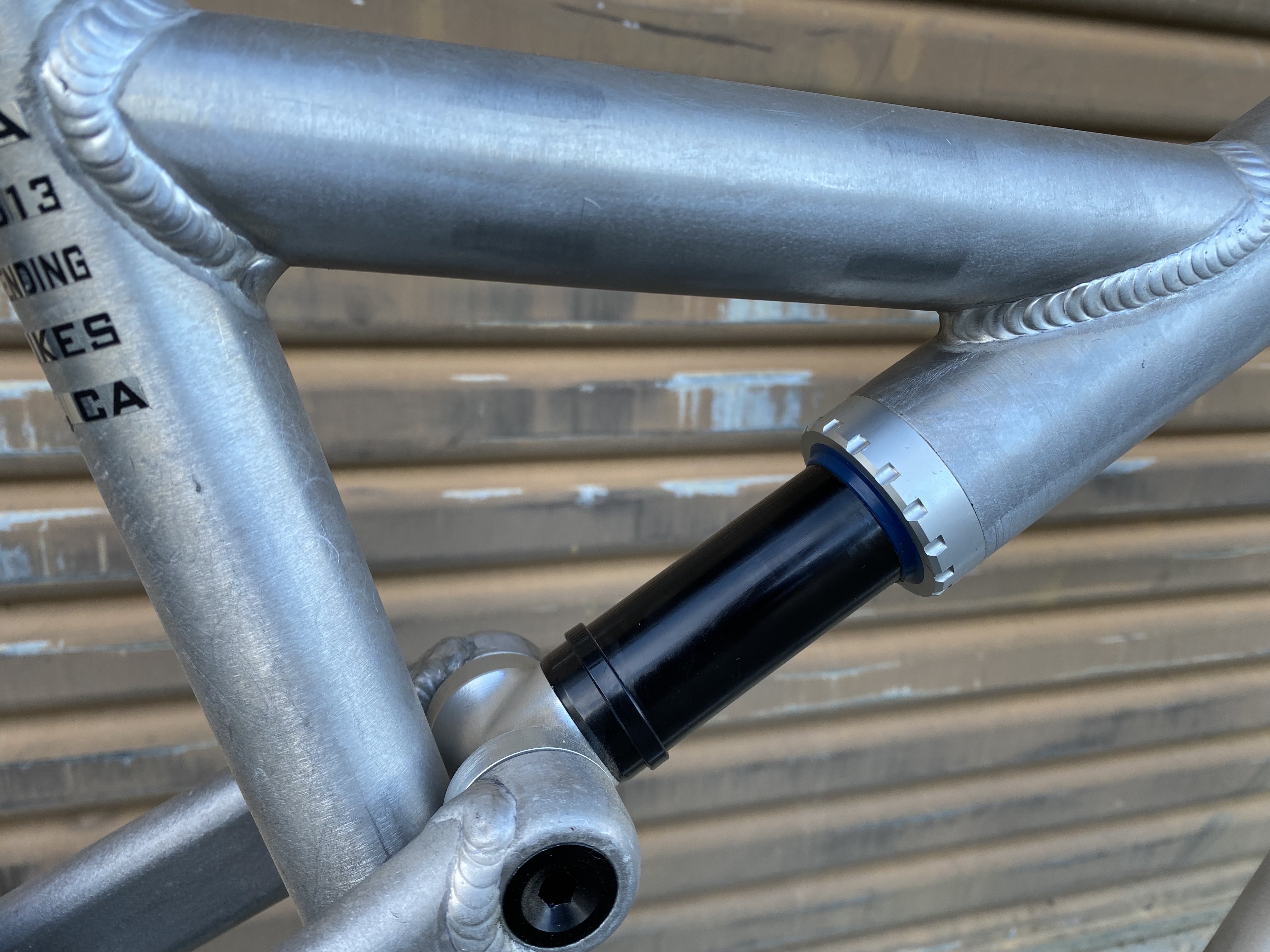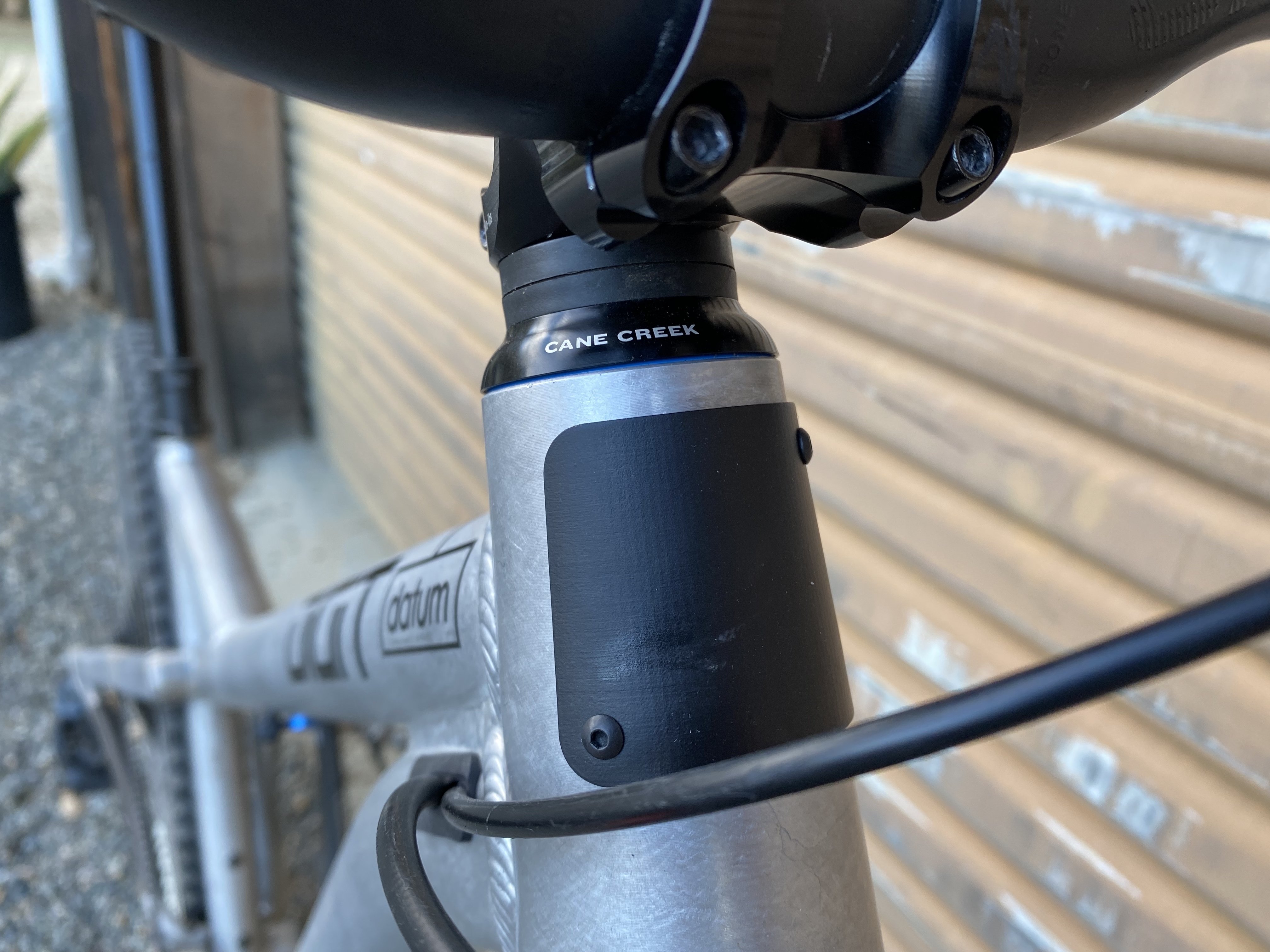 The Elephant In The Room
Okay, so let's just get straight to it: People are going to freak out that this bike comes with a shock that isn't made by RockShox or Fox or DVO or Push or EXT or (insert name of your favourite brand of suspension maker here). How can a dude working in his own garage build something as complex as a shock? And, for that matter, how can we expect that this shock made by some dude in a garage will handle all the OBVIOUSLY MASSIVE STRUCTURAL FORCES that will be fed through it as a load bearing part of the frame without just going kablooey in a messy way?
According to Tim, building a shock isn't really any more complex than building landing gear struts (one of the other past careers in the life of Tim Lane involved designing landing gear parts for Airbus), just a bit different, and most of the valve and shim and hardware parts needed to build a shock are readily available if you've got your tolerances down pat. In addition to Tim's years as a suspension tech, he's designed a ton of bikes to work around the shocks built by others, and he knows his way around design and manufacturing and is acutely aware of the many ways that vendor/machinist minefields can crop up. And this, in particular, is one of the reasons I want to get some proper hours on the bike and see how everything holds up.
Before we get too into the weeds on this, here are some interesting factlets about the shock/strut as it is on the Datum:
- It can be removed with a bottom bracket tool and a strap wrench, and a couple teeny allen wrenches. The strut pulls out through the head tube, so you have to drop the fork as well, but having done it once now, it is nowhere near as daunting as it looks, and I'd lay money it's easier to deal with than pulling the shock on a new Scott.
- The shock contains roughly six times as much oil as most inline shocks, and about four times the air volume. Service intervals and internal wear should hopefully be greatly reduced in comparison to some of the usual suspects.
- This is an integral part of the frame, there are beveled catch points on the shock body that correspond to frame and mounting nut flanges that serve to capture and align the strut and securely anchor it in place.
- Bushings inside the shock are 75mm apart, guiding a 30mm stanchion/shaft through its travel. Any eccentric load forces go through here. The internal damper shaft (say for instance the things that get bent/broken regularly by certain long yoke suspension designs) isn't subject to any lateral loads at all.
Gah, I feel like we are already getting into the weeds. I'm gonna write up a separate piece about the shock itself, including some full assembly/disassembly pics, and hopefully can contain some of the dialog about proprietary shocks there. That way, I can focus on the ride characteristics of the bike without constantly having to re-enter the shock conversation.
As it sits right now, a couple short rides in, The Datum works. Works very well, in fact. Pedaling dynamics are awesome. Combining the smaller, lighter rear wheel with a nicely configured amount of anti-squat right around the sag point results in snappy acceleration and seated pedaling manners that would put some shorter travel bikes to shame. In terms of easy pedaling hoverbikes, I'd rate the pedaling up there with the Ibis Ripmo. It also manages a nice plush responsiveness to high frequency trail chatter while ramping up enough in bigger stuff that I haven't felt the need to add in any extra compression damping or hope for more progression. Yet.
The Other Stuff
Digits are being sold frame only at the moment, so that makes this part of the test a whole lot easier. This bike has a Manitou Mezzer Pro fork, an XO AXS drivetrain, OneUp bars and seatpost, Spinergy wheels, and some kind of SRAM brakes, Codes I think. And I don't really care about any of it, since people who end up buying Digits are going to build them up their own way. The only thing I will say about the components on this test bike for now are that a, batteries still suck, and b, it's taking a few rides to get the Mezzer and its IRT thingie to feel as plush and consistent through the travel as the rear suspension. Thanks, Andrew, for digging into these forks, by the way. That has helped a ton.
As for the rest of the ride, size large; 65-degree head angle, 75-degree seat angle, 480mm reach, 344mm bb height, 1239mm wheelbase numbers. Uninterrupted seat tube so loooong droppers can rejoice. Custom butted 6061 aluminum welded up somewhere in SoCal. Double row Enduro bearings on the BB pivot, double row bearings for the BB itself as well, and double bearings in the swingarm pivot. No flip chips, no adjustable headset, surprisingly quiet internal cable routing (I am assuming it doesn't have any internal guides given the weight and the frame material). Good lateral stiffness, overall a playful demeanor, clean lines. This is a made in the USA frame and shock that sells for 3500 USD.
I love a good underdog story. And Tim is absolutely that. He's going against all that is currently fashionable and trendy, and following his own muse in an attempt to build a trail bike that does all the things we want our trail bikes to do with fewer parts, less weight, and hopefully impressive reliability. He is literally putting his money where his mouth is, as far as his convictions on design and manufacturing are concerned. I'm looking forward to seeing how it goes, and hoping it goes well.