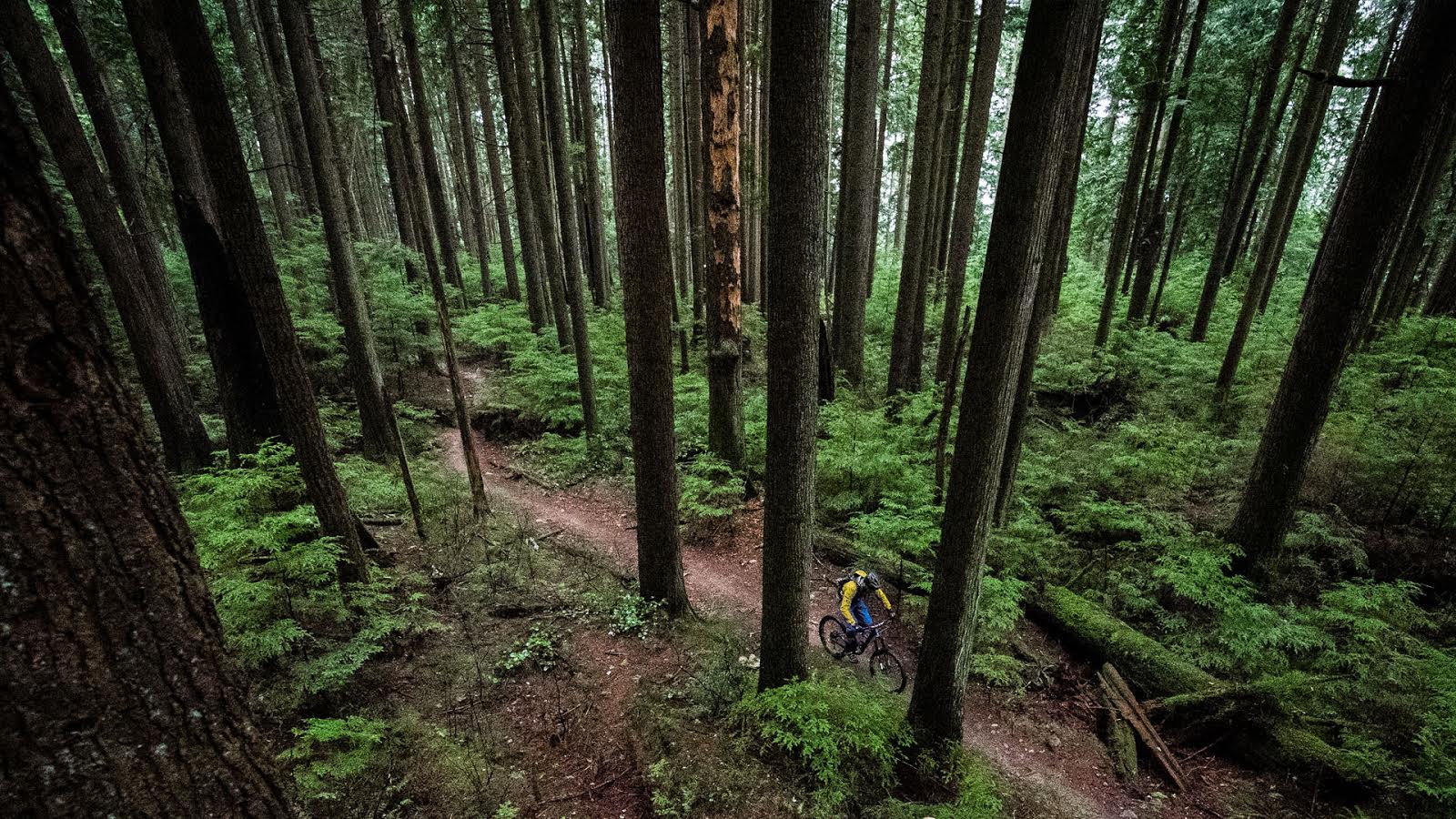 In Praise of the Climb
In Praise of the Climb
What goes down must first go up. Or maybe it goes down then goes up, but either way, one follows – or precedes – the other. It's the Newtonian law that mountain bikers are both constrained by and turned loose by. You gotta get up to get down, or if you go down then there's gonna be some up to pay off.
I don't ride pedalable, all mountain bikes because I like going up hills. Going up hills isn't what I'm programmed to do or wired to enjoy. Climbing is a necessary evil, a bargain I make with the devil on my shoulder so I can get somewhere that's worthwhile being (i.e. the top of a trail that goes downhill) or riding something that actually satisfies my need to ride mountain bikes (freewheeling and gliding downhill).
But thank god, there is some fun in going up…sorta.
The Nimby climb in Pemberton is an excellent, well made piece of singletrack that winds riders up nearly 500m of elevation in a little over 4.5km of trail, and it's fair to say it changed the dynamic of the riding and the riding community there because there's alway been a metric shit ton of good downhill trails; the problem was getting to them.
When you climb up Nimby you are provided with stunning views of the surrounding landscape and the forest that houses it. There's beautiful sinewy pieces of trail that weave through the woodland and sections of trail that are challenging not only because of the physical output. It's long enough that you either suffer through its duration or drift into a different mental state, somewhere between being so utterly within your body but also somewhere far away from the physical realities. However, it's still a climb and if it weren't for the numerous amazing descents that it leads to I might never have ridden it. From Nimby there's flowing trails like Back Pains that provide easy to come by thrills and there's heinous trails that have more in common with an elevator that's had its cable cut (Gravitron). There's even a trail I had a big hand in making and knowing that riders can get to it easily and enjoy what I put a lot of my heart and soul into makes Nimby even more important, at least to me.
A good climb is hard to come by and Nimby is one of the best. Squamish has nurtured and reared a gaggle of great climbing trails in recent years, and North Vancouver has been adding smart, upwardly trending singletrack to its inventory of trails. But Whistler hasn't yet got the buzz for trails that feed riders in the buzzing single track. We have a few – Yummy Numby and bits of connectors like Piece of Cake and A La Mode and…errrr, there's others but I just can't remember them right this minute…
Anyway, what I'm saying isn't just that Whistler suffers from CCCR (Chronic Crap Climb Syndrome) but that we should praise, applaud and show our affection for climbing trails done right. For these pieces of singletrack are worth as much, if not more, than all the downhills they lead to. When people talk about their favourite trails the common answer is always to list the best downhill trails (or downward trending trails) but perhaps one day climbing trails will be just as sexy – and not just to the kinds of riders who love to suffer, are perhaps more lycra-inclined, and monitor their heart rate with the same focus that most of us don't monitor our beer intake.
Climbing any trail is a son of a bitch; a kick in the throat with a red hot hoof or a punch in the thighs with an icy mallet. Sure, Nimby is good because it makes the way up easier and more pleasant than pedaling up the road would be, but it's still an effort. I'm not going to bullshit you and say that climbing Nimby (or any trail for that matter) a spiritual experience that gives my life meaning or puff out my chest and declare that all mountain bikers riders should earn their turns or that I get a tingle in my shammy from putting battery acid in my thighs and needles in my lungs. I only like going up a climb because once it's over there's always going to be a good descent to come. I hope.
Please, dear Dog, never let me climb a hill that doesn't lead to delicious downhill recompense.
---
Is the climb just a necessary evil for you, or do you enjoy a little time in the pain cave?