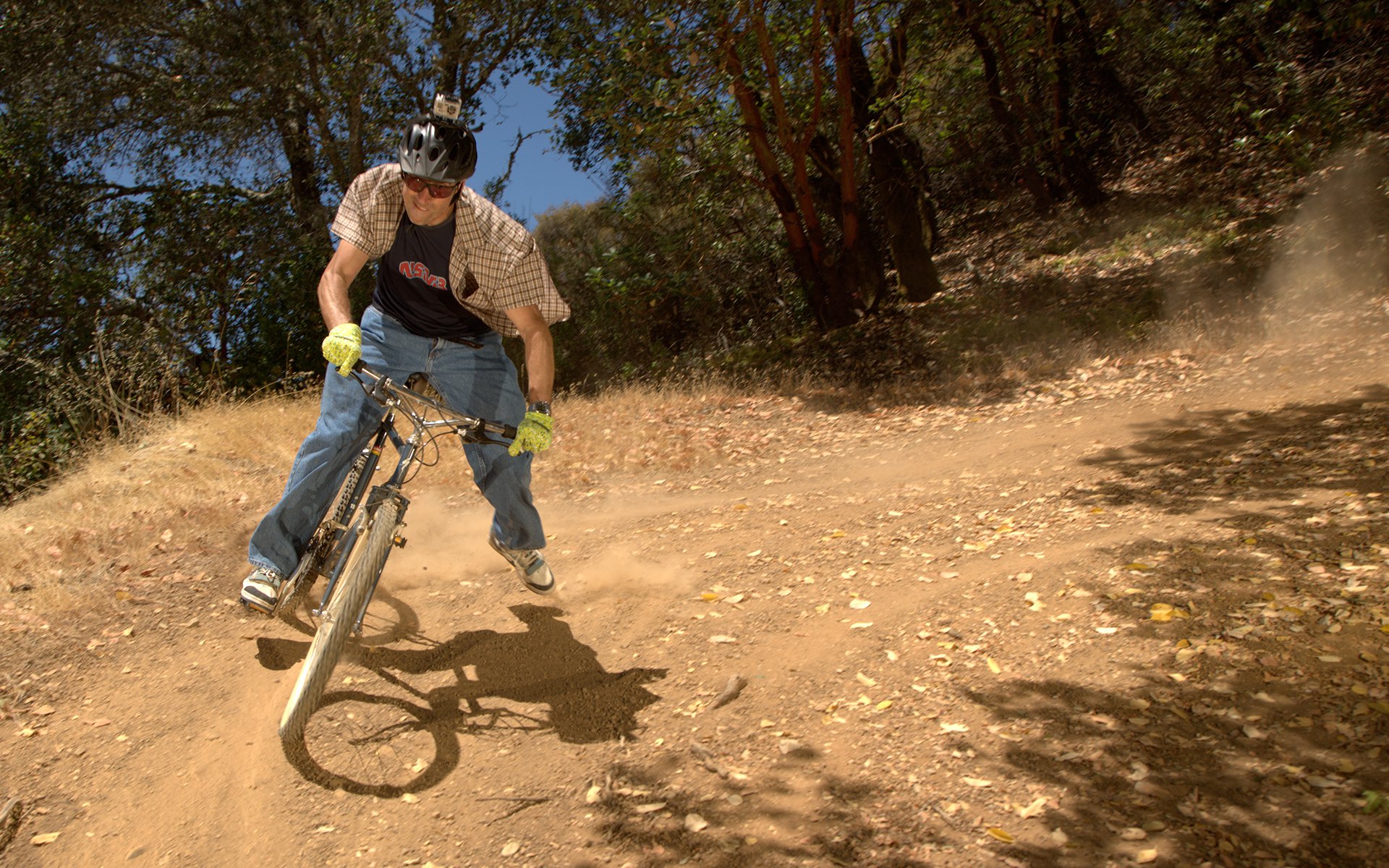 Editorial
I'm a Bit Drunk (on the Kool-Aid)
Feel free to call me a corporate sellout. A stooge. Maybe even a turncoat. There are frankly days lately when I can't believe what's coming out of my mouth, but the truth is I'm a convert. A convert to choice, to new, to weird, to large, to fat, and to quirky. 
As a younger man, I was a confirmed Luddite. I was late to SPDs, suspension forks, and duallies. Initially I even scoffed at the idea of dropper posts. In fact I stubbornly rode for years refusing to drop my seatpost at all. And I rode toe clips for an absurdly long sentence. If it wasn't broke (or I didn't realize it was) I damned well wasn't going to fix it. 

It was like driving Nürburgring in a Dodge Caravan
When I began XC racing in the early 90s I did it on a 1984 Ritchey Timberline that was pretty much unchanged from when I purchased it new; cantilever brakes and rigid fork intact. I reveled in being a step or six behind and to this day I appreciate those who resist change in a calculated way. This could be because in retrospect my resistance was mostly pig-headed and cheap. And the worst part is it made me feel a little superior to those who bought into the NEXT BIG THING!
My dad's father was born in a sod house in the corner of a quarter section of land in south-western Manitoba and all four of my grandparents were in their prime during the dirty thirties, scraping to get by like most everyone else. It's hardly surprising I grew up leary of expensive newfangled products.
And now my days of cynicism and resistance are mostly over. I have documented the most recent fissure in my armour in several glowing bike reviews. Wagon wheelers kept me at bay for several years. I didn't like the way they cornered and I found them ungainly and boring to ride. It was like driving Nürburgring in a Dodge Caravan. The Trek Shremedy 29er (since discontinued) made me a convert and it's made me curious about other formats and sizes as well. I also concede that much of my issue with early 29ers was being too stuck in my 26-inch ways to figure out how to ride them properly. I used to snicker at 29ers and now I am mostly a convert. 
We used to scoff at fat bikes at Interbike and laugh at the dudes riding them but this winter I had a blast on the Kona Wozo  on both snow and dirt. All of this experience enjoying formats I formerly scorned makes me feel like Debbie doing Dallas; I'm eager to give everything a shot. Drop bars off road? Weird suspension platforms like Marin's Wolf Ridge? Plus Tires? Even 29+? In this highly competitive landscape, brands don't leave much to chance so if it gets to market more often than not, even if it's unconventional or quirky, it seems to work as advertised. Once you correct for marketing hyperbole that is.
And recently I got myself a personal bike that is a reflection of my change of heart. I'd been without a duallie of my own (cue the violins) for quite some time because the ones I owned no longer fit many of the test parts we had coming in. And after riding some newer bikes they started to feel cramped when I went back to them. My beloved 26" Specialized Enduro had to go as did my non-boost 27.5 2015 Giant Reign. Both were excellent bikes and I would have loved to keep them (especially the heritage-wheeled Enduro which I considered hanging onto forever) but space, finances, and testing duties dictated otherwise. The bike I was looking for was going to be swappable between 27+ and 29, have 140mm of suspension or more in the rear and be compatible with the product we had coming in. 
In the end, I didn't meet all my criteria because I had become smitten with the Yeti SB 5.5c. It has a new-fangled Infinity Link suspension platform, 29" wheels, Eagle, and it is of course fully Boosted. If you had told me 2 years back that I'd be riding a bike with big hoops I'd have told you to lay off the crack. Boost is a standard I scoffed at as well but it has enabled big wheels to gain strength without weight and allowed engineers to shorten chain stays to improve the performance of these long-legged rides. Or maybe all the marketing just got to me...
The pace of change in the bike business has become ridiculous. Riders have become cynical and it's completely justified. And yet there is an element of this frantic change that satisfies the old school hold out in me as well. I just sold a pair of barely ridden Shimano XT wheels - or rather I gave them away. They are unblemished, tubeless ready, light and tough but they went for a song - $140 for the set with tires. You can barely get a single 29" rim for that. The same buyers' market exists for 26" wheeled bikes, any non-boost wheels and double cranksets to name just a few. It may be a little tougher to find a 26" tire at your LBS but online you can pick up some Maxxis Minions for around $30. And yes, this is probably a good time to stock up.
I am aware that I'm saying all of this from a privileged position. My work gives me access to some of the nicest bikes in the world to test and I sometimes get deals most riders don't have access to. At the same time if I went back to being Joe Rider I'd be following half a step behind the early adopters, grabbing their old bikes for pennies on the dollar. And then I'd pedal away; a smug smile on my face and money in my pocket. 
Long Live the Good Old Days!