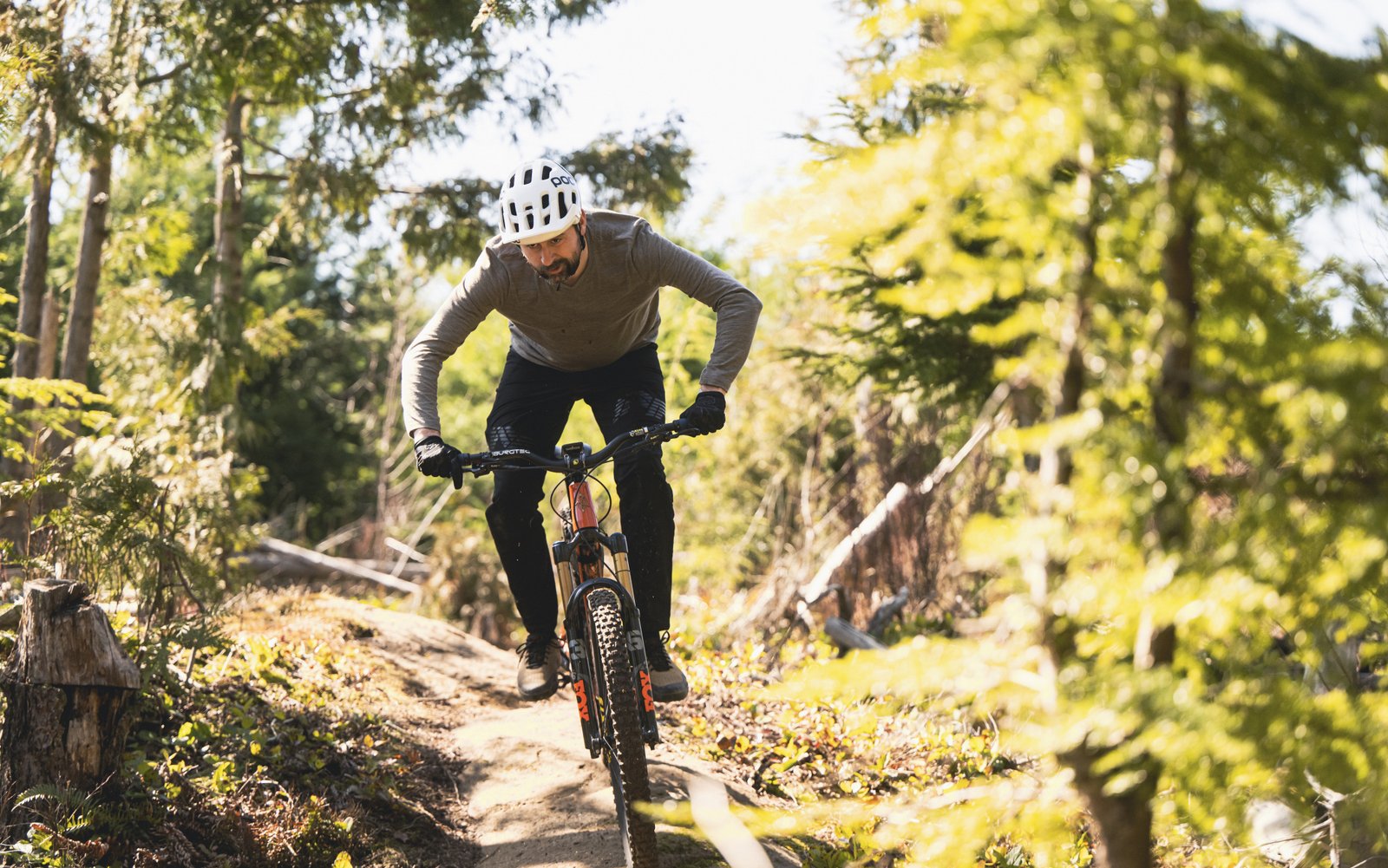 REVIEW
Ibis Ripmo AF Long, Long Term Review*
What's the secret to a good bike review? Honestly, who the hell knows? Many of them suck! Some are great. You could read one that goes deep into kinematics, one that goes deep into ride feel, and one that goes deep into mechanical details and come away thinking "that was a pretty good review!" I feel like my style bounces around a little bit, perhaps down to mood or zeitgeist or some other factor. Lately, I've been going for a more holistic view. A little bit touchy-feely. "Who am I?" would be a good way to think of things. You know, if I was a bike.
On top of your review strategy, there are endless other variables that may have an impact. What season are you riding in? How's your fitness? What trails are you riding a lot of? How long do you have the bike for? All of these have an impact on what you spit out the back of the review process.
This little Ripmo has been in my possession for an awfully long time (first look in December 2020!). It's seen a host of changes, an incredible array of riding conditions and run my entire spectrum of riding styles. As well, my final review of this bike was lumped together with a final review of the Canyon Spectral that I was also riding at the time. There were so many similarities between these bikes, it felt impossible to separate my impressions. Add this up and it's time to take another look at this bike.
This isn't necessarily going to be a re-review of this bike. I'm going to focus more on the changes that I made and the impact that it had. I'm going to talk about them in descending order of import, from biggest bang for the buck down to meh. Looking at it another way, I would consider buying this bike if I was shopping for one. Probably not this bike. If I stripped it back to stock, things would be a whole lot less appealing, and boy did somebody beat the piss out of this thing. So not this bike, that's for sure. So another way to look at this would be if I were to buy myself a new Ripmo AF, what changes would be required, which would be nice-to-have, and which wouldn't matter.
*Header Image - Paris Gore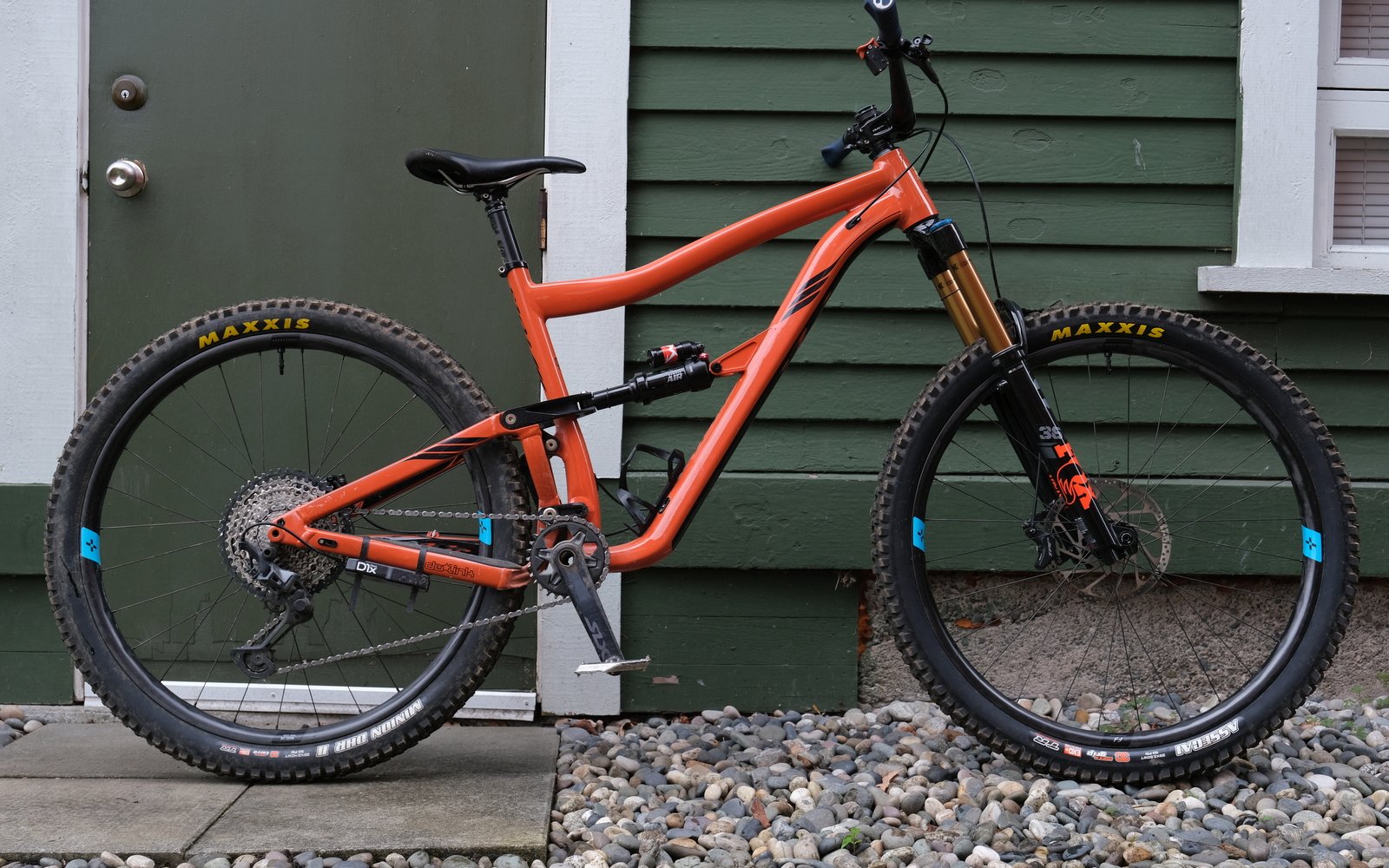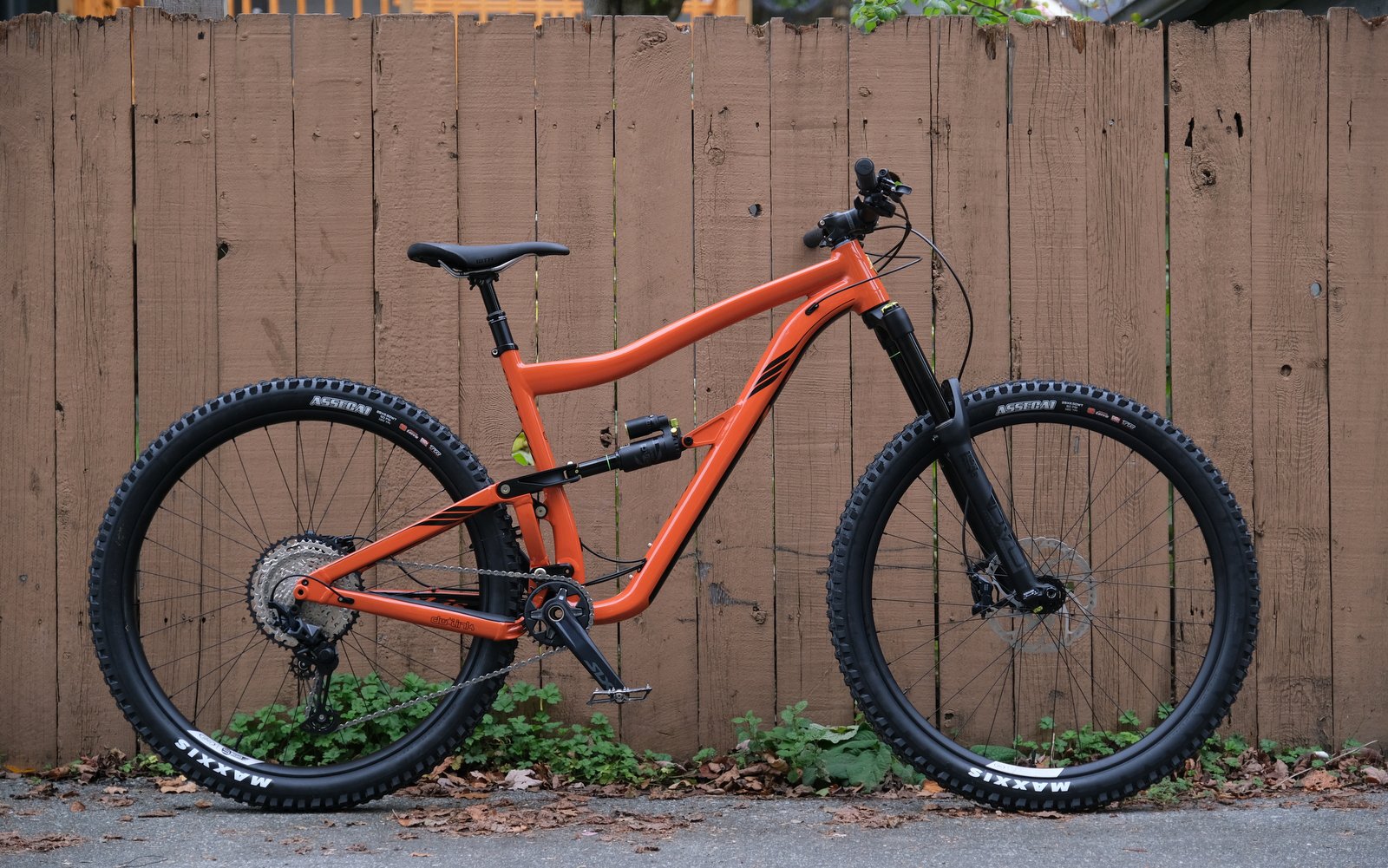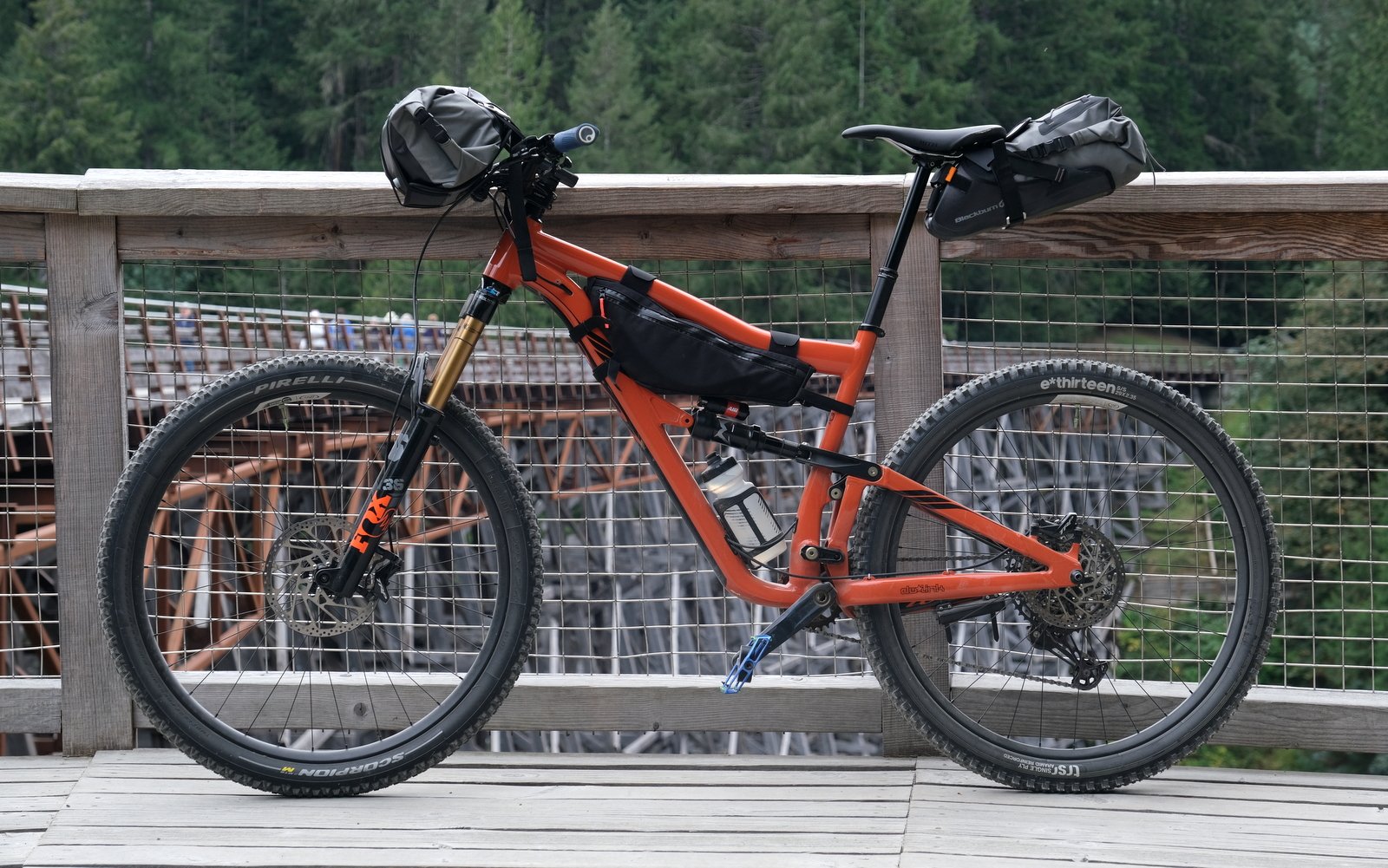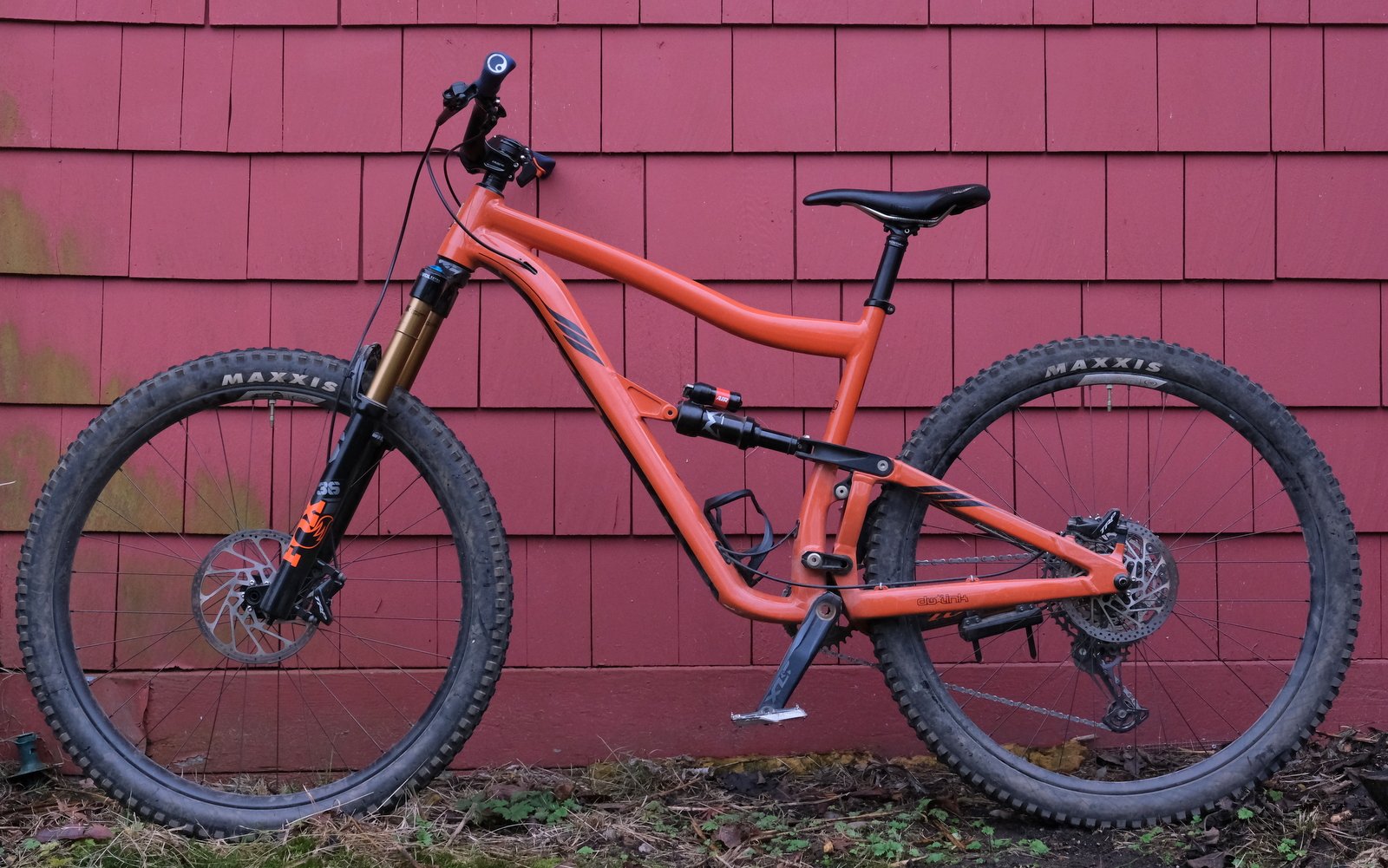 Cockpit - Required
The cockpit that showed up on this bike was fine. The house brand bars and stem did the job, and the Lizard Skins grips provided a lot of grip. The largest issue was bar height. Unfortunately, the steerer tube was cut such that I could really only cheat 1 spacer in under the stem, which didn't give me enough height out of handlebars.
Swapping to the Burgtec Ride High bar was the first step in turning this around. If you take the specs at face value, the 50mm rise of this bar added a good 25mm of bar height compared to the stock one. This was definitely heading in the right direction. The added sweep felt better in my hands as well.
Shortly after swapping to that bar, I also made the change over to ergonomic grips. This had a huge impact on how this bike (and others) rode for me. I still remember that first ride with those horrible looking commuter grips bolted onto the Ripmo. I felt like I had so much more control of the bike and I could put it wherever I wanted.
My last major control change was actually a fork change (more on that later). I mounted a Fox 36 to the front of the bike and that allowed me to cut the steerer long enough that I could go crazy with spacers. I brought the bar height up even higher, and the bike felt even better.
On both a bang-for-the-buck and outright performance level, all of these changes were impactful. It can be shocking how much a bike changes from even minor modifications to controls. Each of these made me more comfortable on the bike and gave me more control and consistency.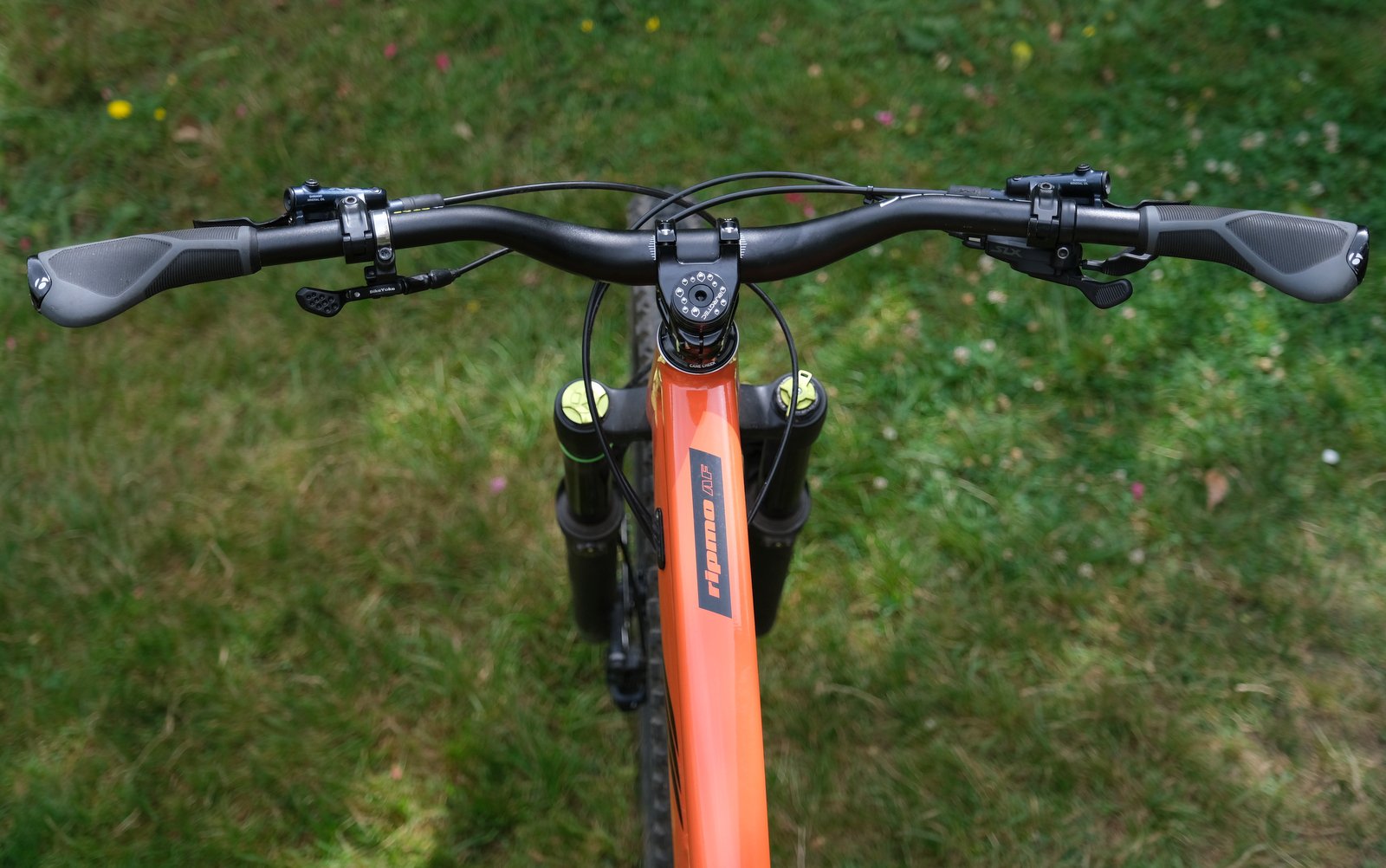 Rear Shock - Required
I originally had this much further down the list, but when I went through the consideration of actually buying this bike, I realized that I have zero interest in reverting to the stock shock. Moving to the Marzocchi shock made a big difference in how this bike rides, it just took a specific mental exercise to realize how important it was.
As I said in the review for that shock, the stock DVO isn't necessarily a bad shock. It is a bit hard to separate the shock from the tune (and from the suspension overall, really), but most of what I didn't like about that shock seemed to be down to the tuning decisions that Ibis made. I think lighter and less aggressive riders are going to get exactly what they need from it. If you weigh a bit more or have any sort of consequence in your riding though, I think you will appreciate a shock with a firmer compression tune. Yes, a bit more air pressure could help alleviate some of the bottoming issues, but that's going to put more strain on that light damping and take you out of the sweet spot of the leverage curve. The slightly firmer tune of the Marzocchi is an improvement.
The volume of the Marzocchi is really tuneable as well. You can tune the DVO with bands, but I maxxed it out and still wanted more. A larger spacer in the Marzocchi helped give me an extra little bit of bottom out resistance, and there was still room for more.
The latest spec gets rid of the DVO and swaps in the same Marzocchi Bomber Air shock that I tried (or, alternatively, a DVO coil shock which I don't think is a good fit for this bike). This is an interesting change. I for sure don't like that this shock doesn't have a climb switch and I worry that Ibis probably has specc'd a similarly light tune. The good news is that if that's the case, any Fox service center can easily swap in a Med or Stiff tune for you.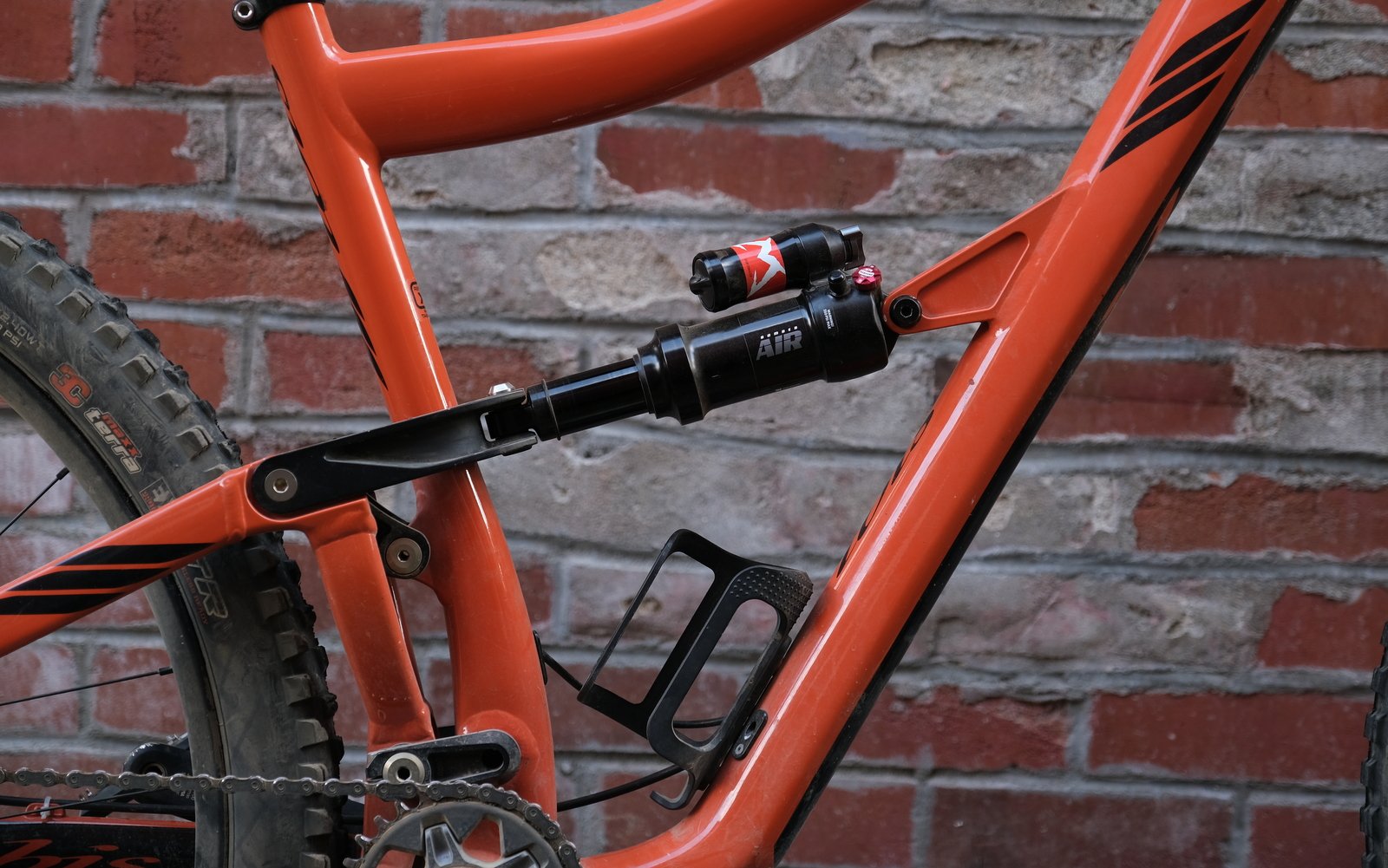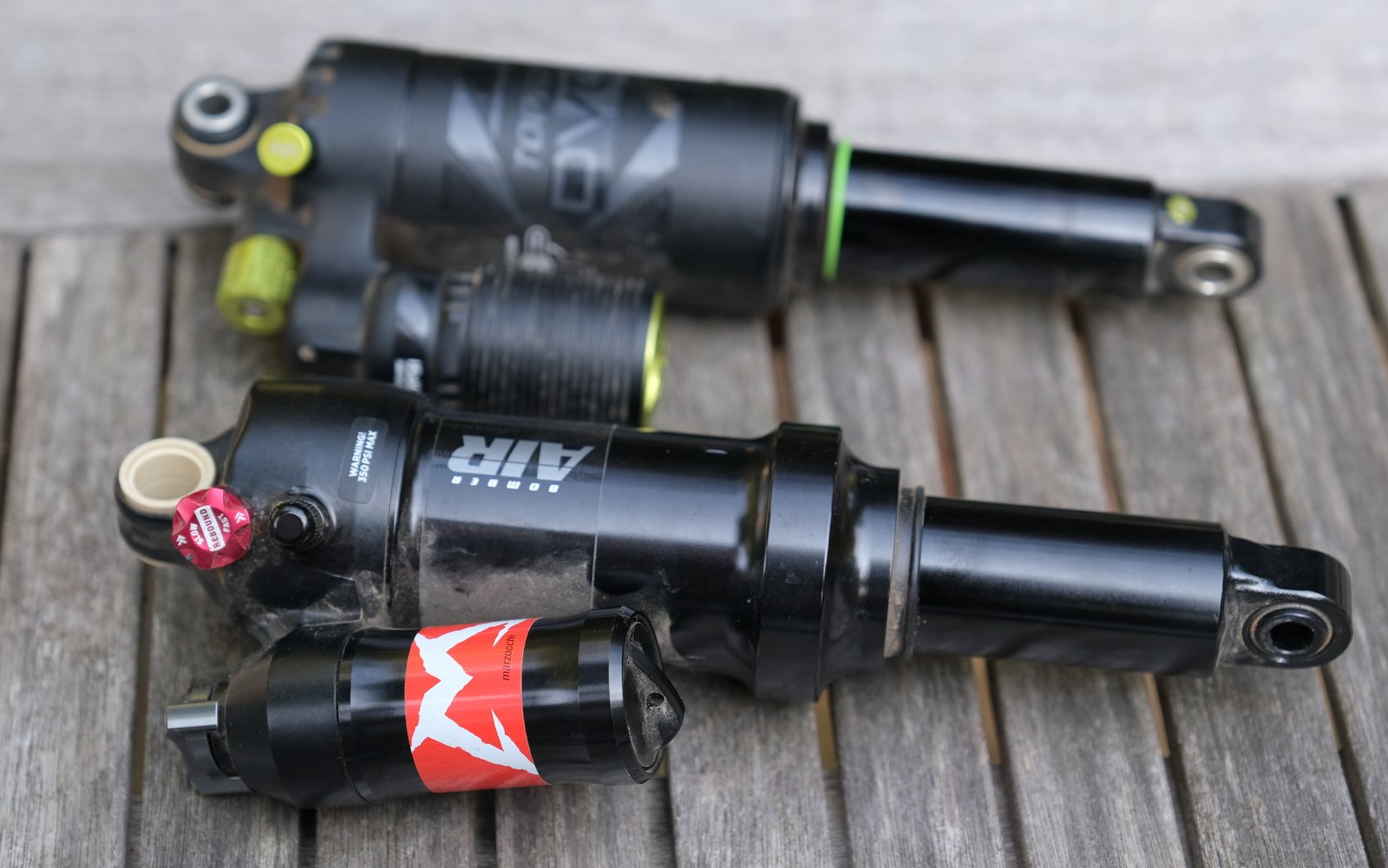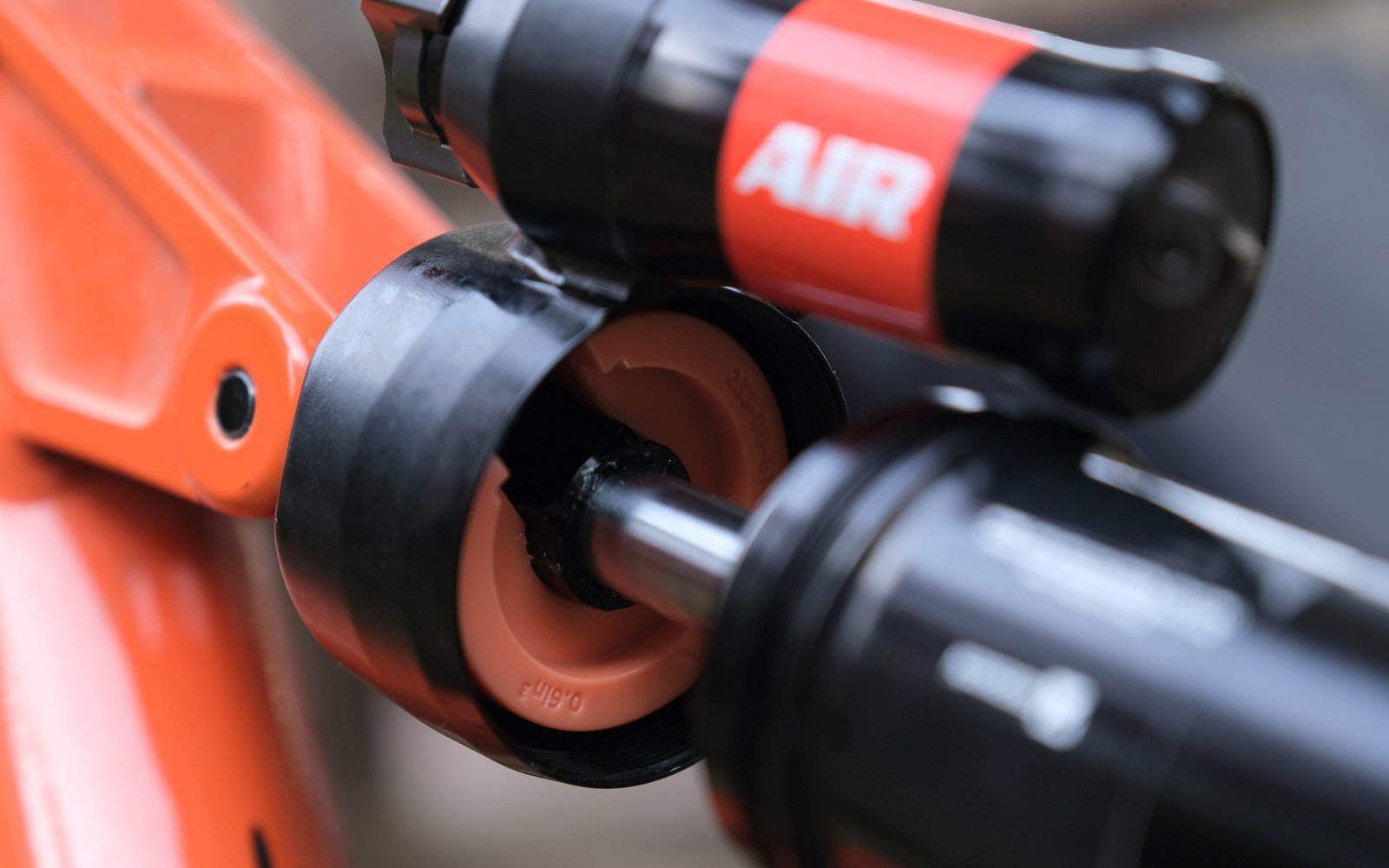 Tires – Required
The Ripmo AF ships with Maxxis Assegai EXO+ Maxx Terra front and rear. Depending on where you live, this is fine or terrible. Some will complain about the lack of a Maxx Grip version on the front. Some will complain about the casing. Most will complain about the slow rolling boat anchor on the back.
It's actually difficult to wrap your head around how slowly the Assegai on the rear rolls. Throw a DHRII on the back (same casing and compound) and the bike feels like it is rolling a whole lot faster without losing much (if anything) on the downhills.
If you can stomach Maxx Terra on the front of your bike, immediately take that Assegai off the rear, save it for when your stock front tire wears out, and buy something faster rolling for the rear. If you're a compound or casing zealot that can't deal with EXO+ or Maxx Terra, take them both off right away and sell them to somebody that doesn't care. Whatever you do though, do yourself a favor and immediately pull that tire off the rear of your bike. It doesn't belong on the back of a Ripmo.
Brakes – Must Have/Nice-to-have
The Ripmo came stock with SLX brakes, with metallic pads and non-ice tech rotors. This was fine, but not great. The problem seemed to be with the rotors. Once I swapped the ice tech rotors (and wheels) from the Canyon Spectral I was testing at the same time, braking performance was much, much better. Why this was the case, I'm not sure. I don't think it was down to the thermal performance of the ice tech rotor. There is obviously something different between the braking track of the cheaper rotors and the ice techs. Swapping rotors made things good enough.
Taking things further, TRP was kind enough to send me not one, but two sets of brakes to review. I've talked in depth about the Slate EVO's, and they were an upgrade from the stock SLX's. With metallic pads installed, more power and better modulation would be my summary.
Since that review I've swapped over to the Trail EVO's (and then back to the Slates). There are a few differences between the Trail and the Slate, but what I was expecting was a slightly upmarket feeling but the same basic sensations – similar to an XT vs. an SLX brake. This wasn't exactly the case.
Where the Slate is US$150 per wheel (no rotor), the Trail is US$225. Finish is better and the lever/master cylinder is nicer, but that's about all you get for the money. The Trail has the same short stroke as the Slate (I didn't measure, but they feel pretty similar) but I couldn't get the bite point close enough to the lever for my liking. I don't run my levers particularly close to the bar, so this was somewhat surprising. I asked TRP about this. At one point they suggested there was a change being made, and at another point they weren't so sure. This really all does just come down to the length of the reach adjustment bolt. So other sets of Trail EVO's may or may not have the same issue.
I'm also a bit confused by the bleed ports on the Trail. The Slate uses the stock Shimano fitting at the master cylinder, so you can get away with using the Shimano plastic funnel for bleeding. The Trail does not. So you may find you need additional bleed tools to set this brake up. Not a huge deal, but a bit weird to me.
So, bottom line, replacing the brakes is a nice-to-have, but new rotors are a must. If you are going to swap brakes, the Slate EVOs are a nice option.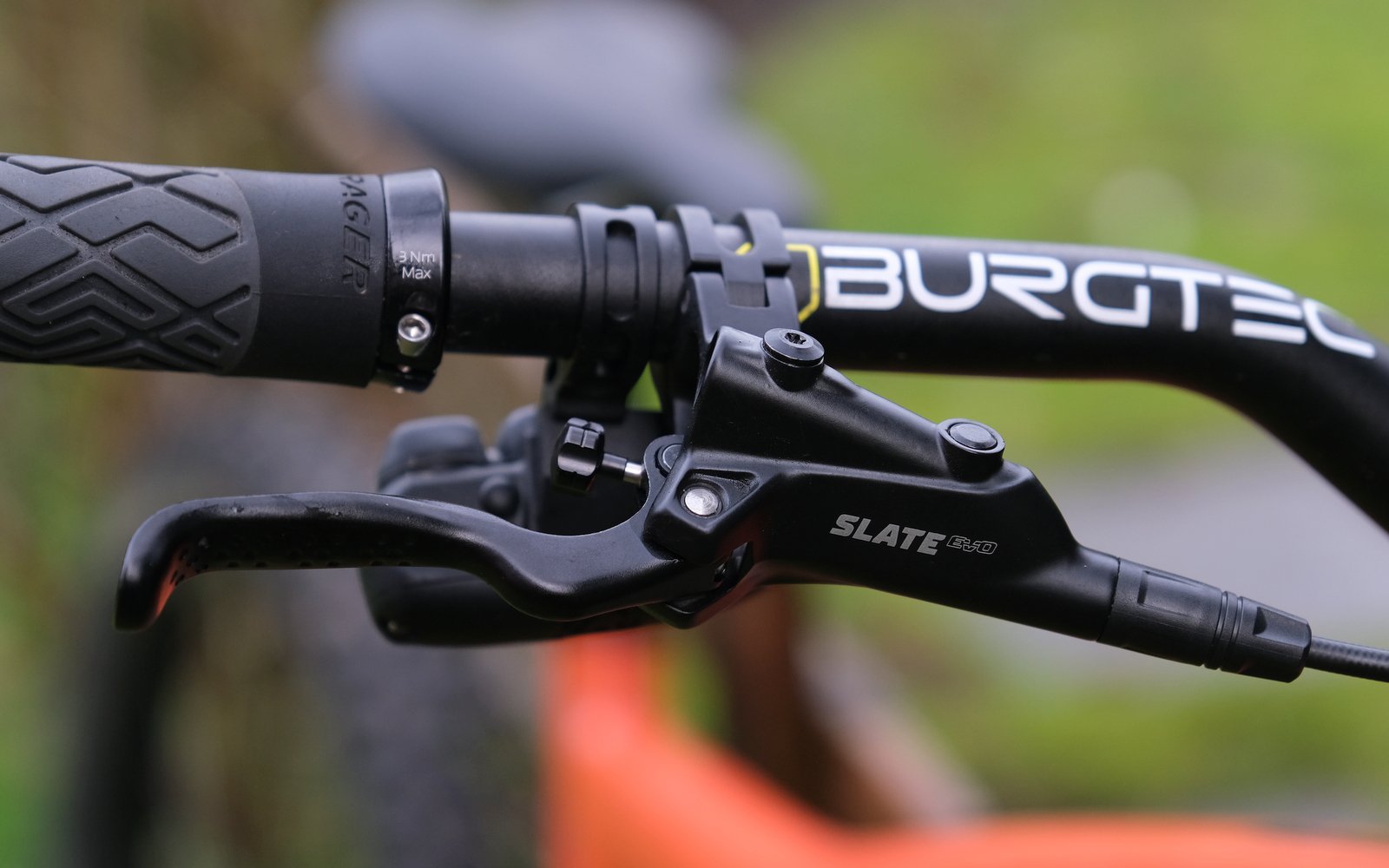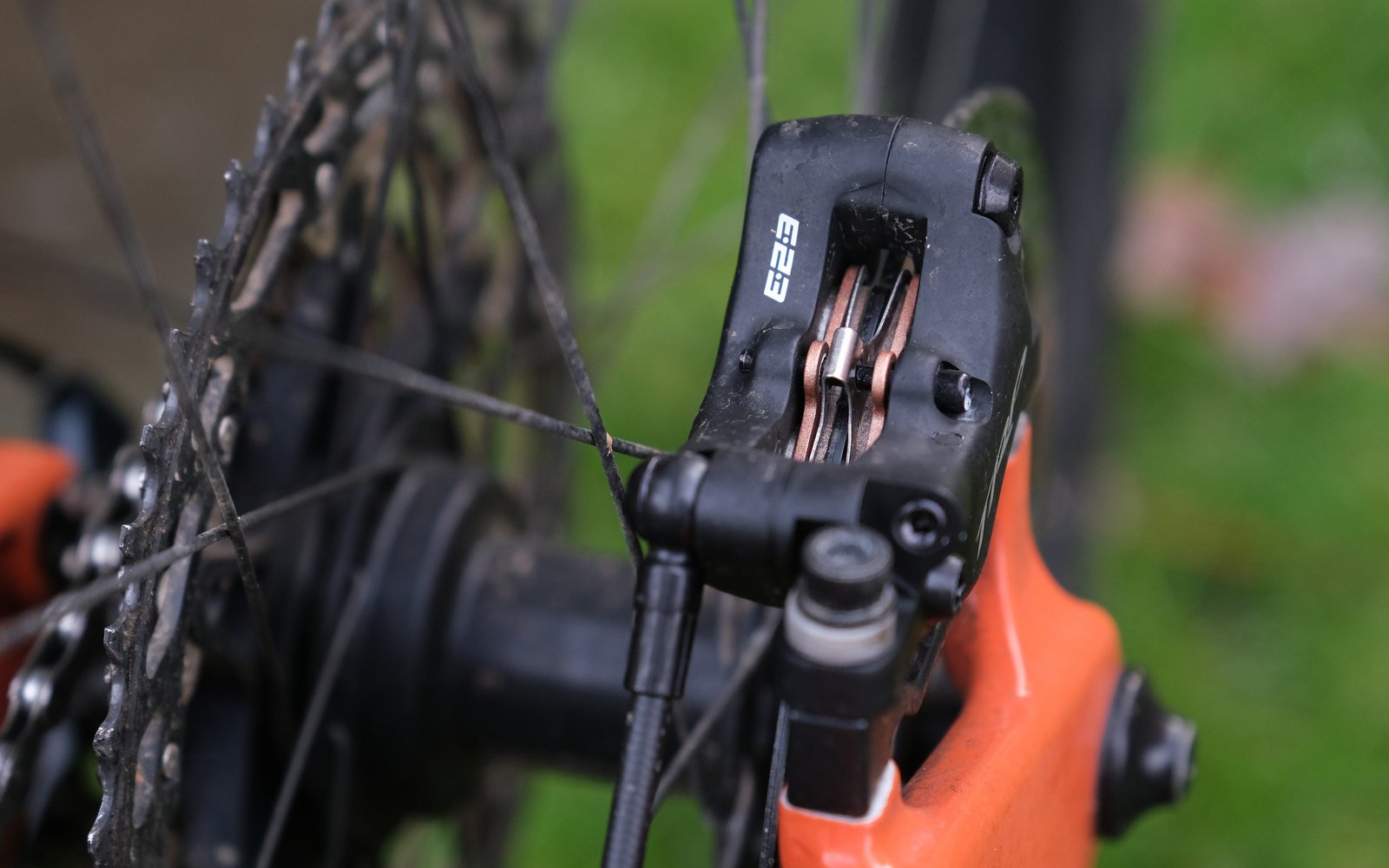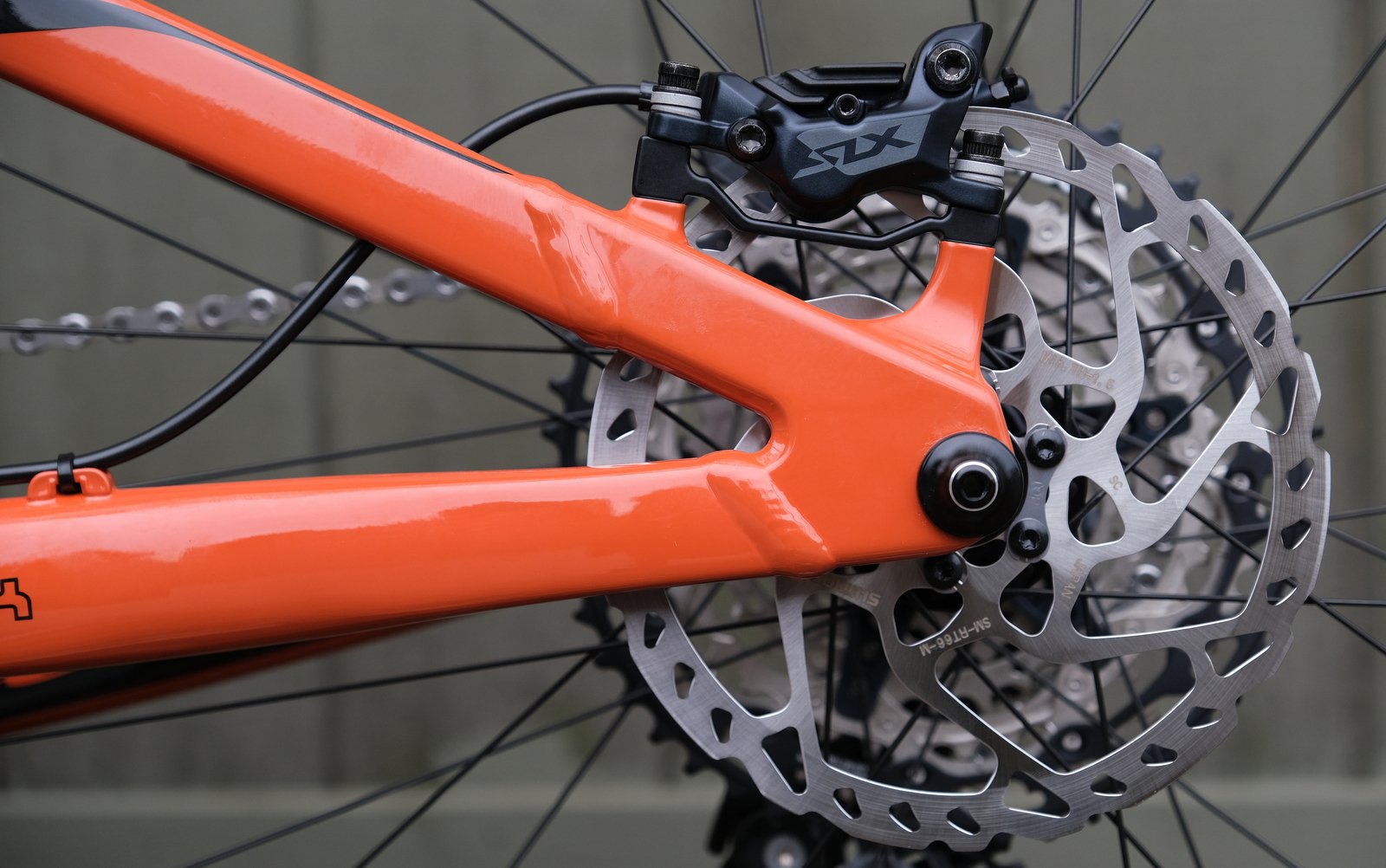 Drivetrain – Meh/Must Have
I put this in both categories because on one hand I don't care, but on the other, the bike doesn't work if I don't make this switch.
Deep into a Sunshine Coast ride I found myself popping off the side of a dumb little ladder bridge. As I was doing so, I realized that I had fucked up a split second before I heard the crunching noise of my rear derailleur exploding. This sucked for two reasons. First, I had a long uphill walk ahead of me before I could coast down to the ferry. Second, this was at the height of our Covid supply chain woes and I knew that nobody was going to be giving up a new rear derailleur all that easily.
So what I did was dig an XT with a broken parallelogram out of the bowels of Cams bike room and I mated that up to the okay looking parallelogram of my broken SLX. The franken-derailleur sort of worked, but skipped in a bunch of gears. Perhaps something was bent, or perhaps an SLX body just doesn't work all that well with an XT cage?
To the rescue came the Archer D1X system. For me, the killer feature of this system is the ability to set it up for any cable pull and any number of gears that you might ever want to shift. Adjusting for the idiosyncracies of a cobbled together rear derailleur was no problem at all.
Since the time of review, Archer hooked me up with their new style of shift paddle. This thing makes a huge difference in how the system functions. It's much more intuitive and easy to use. There's no more hunting for a small button sitting beside another small button. Just press the top half for a harder gear or the bottom half for an easier gear.
All that being said, I think through this process I've learned that I'm not an electronic shifting kind of guy. I like how easy it is to use and how crisply it shifts. Indeed, I'd go so far as to say my cobbled together, tired, old SLX on the Ripmo shifts better than the much newer XT on the GG Gnarvana that I'm testing right now. So from a function perspective, it's amazing.
What I can't stand is worrying about batteries. I meant to get back onto the Ripmo earlier this year but I found myself in a cycle of "I should ride the Ripmo today! Oh crap, I haven't charged the batteries. I should pull the batteries out after I ride the GG." And then I never did. Granted, if I had only one bike, I probably wouldn't have delayed this happening for so long. And it doesn't help that it's kind of a pain to charge the Archer system. It's a pain to get the batteries out of the shifter (the part that pulls the cable) and you have to yank the remote (the part on the handlebars) right off if you don't have your bike sitting near an outlet. It's an extra hassle and something that is easier on an AXS system (aside from having to change a CR2 in the handlebar shifter on AXS). I would prefer to not have to worry about such things.
Other than that, it's a pretty great system. It works really well and I love the universality. Ya, it's a bit clunky, and a bit expensive, but what isn't these days? If I owned this bike I would probably source a new derailleur and hanger and revert to mechanical shifting, but for now the Archer got me out of my bind, works really well and it stays on the bike.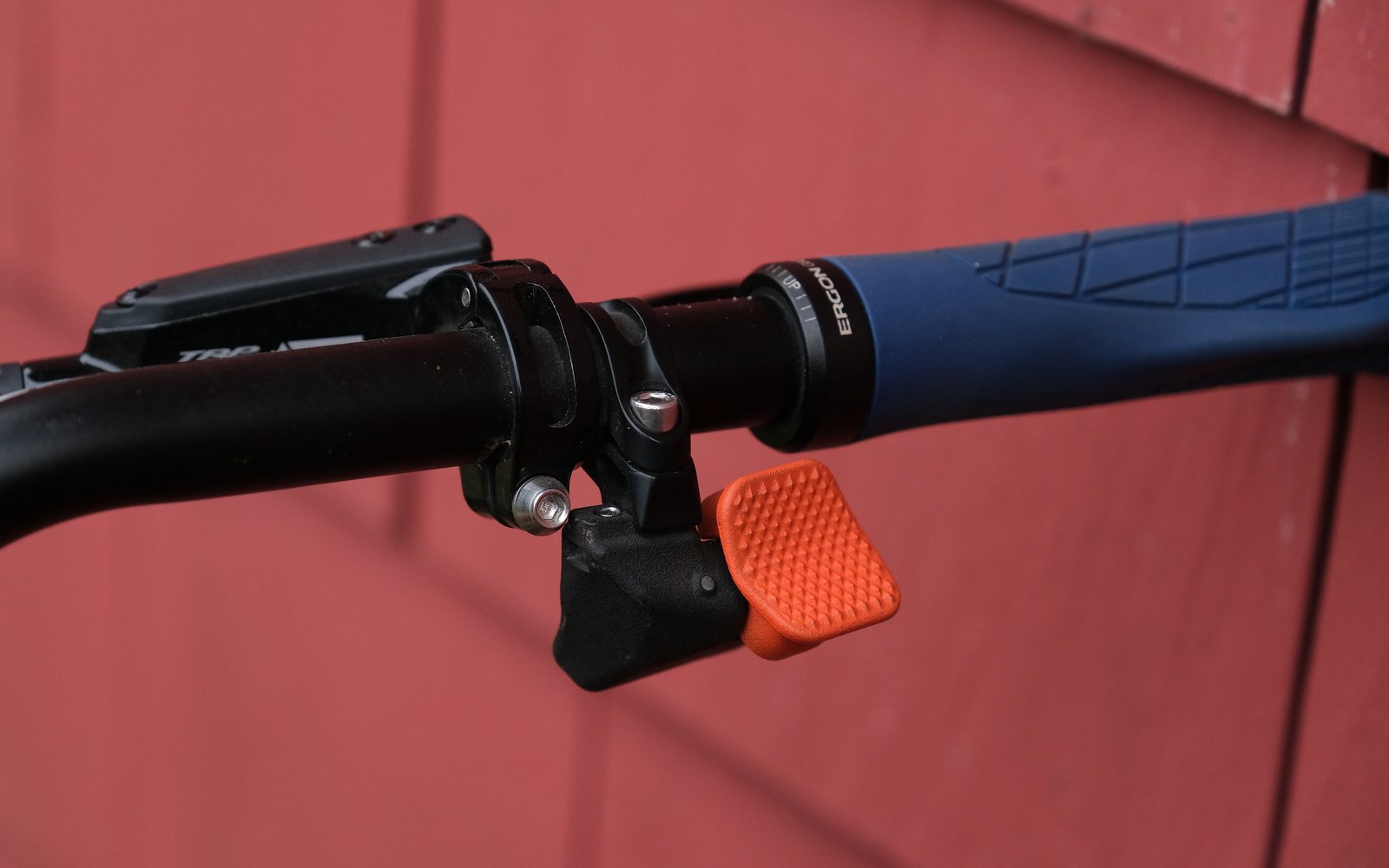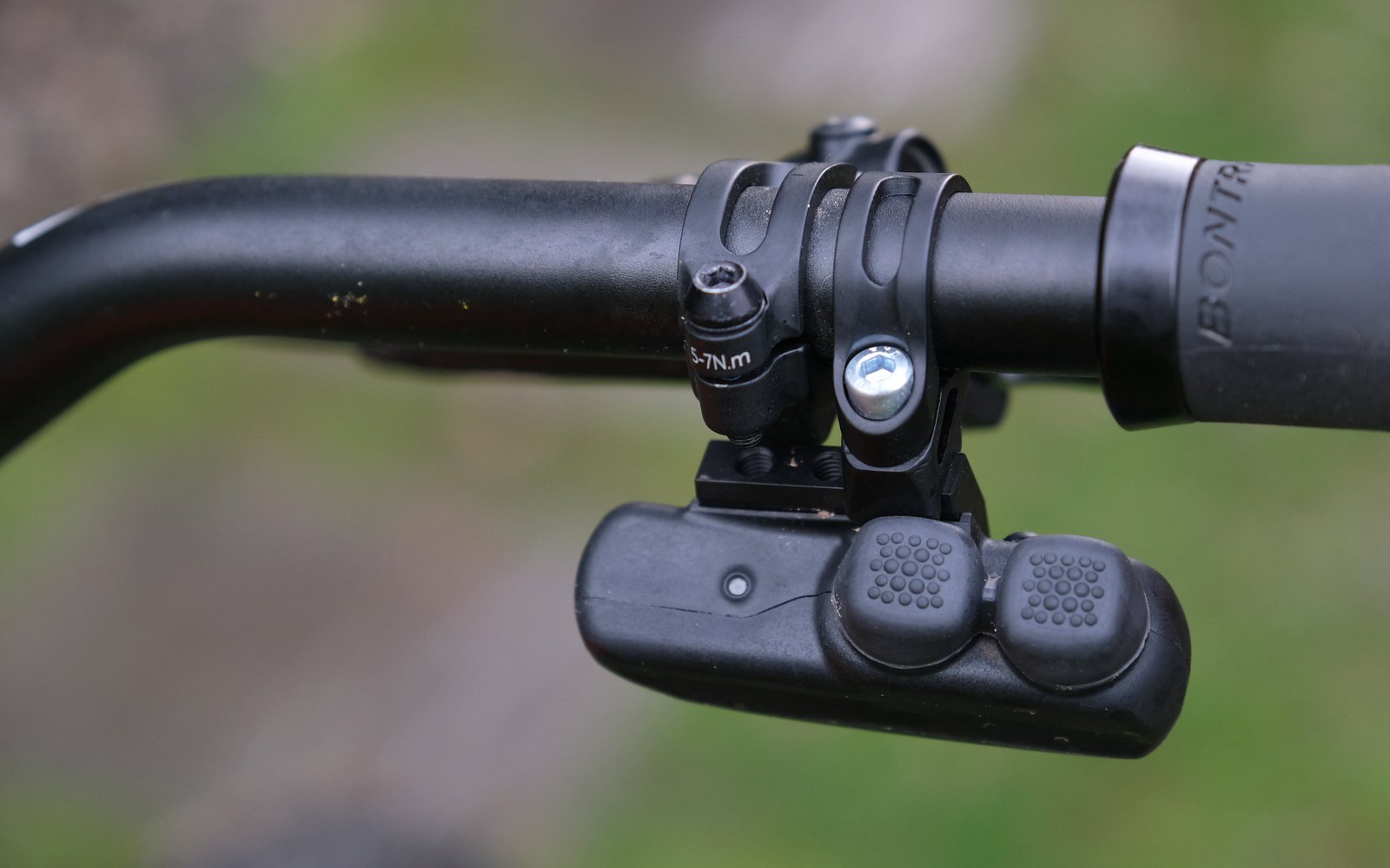 Inserts – Meh/Nice-to-have
Fairly early in the process, I installed a set of Rimpact inserts on the Ripmo. This was one of my earliest (if not the earliest) experiences with inserts, and I started to experiment with slightly lower pressure. And I liked it!
Since, I've played around with the new EXO+ on this bike with no insert and has been fine. I'm running the same pressure and there haven't been any issues. Mentally, I probably approach certain sections a bit more gingerly, but not overly so. I haven't been within sight of a bike park, so my use case isn't the same as many people out there. For me, not having to mess around with inserts is nice and if I was really concerned I'd probably just go Double Down on the rear instead. In fact, I bought one, but I just haven't bothered installing it.
In a perfect world, I would always run inserts if I didn't have to deal with installation. Rimpacts aren't even all that bad in this regard, but they're still enough of a hassle to prevent me from changing tires very often. For a bike like this where versatility is a lot of the appeal, the trade-off isn't worth it.
Wheels - Meh
During the main testing period, I did a lot of wheel swapping between the Ripmo and the Spectral. Actually, it was more like swapping the Spectral wheels back and forth between both of the bikes. This was for a variety of reasons, most with nothing to do with the actual wheels.
Most important were the brake rotors. As you read above, the Ice Tech rotors worked much better than the stock Ibis ones, and it was just easiest to leave them on one set of wheels and swap them between bikes. I was also swapping pads, but that was down to the stock organic pads on the Spectral. We talked about this already.
Next were the tires. I did spend a fair amount of time on the front/rear Assegai combo that came stock on the Ripmo, but the DHF/DHR II combo of the Spectral rolled faster and had similar levels of grip. Both were Maxx Terra/EXO +, and both had Rimpact inserts installed. We also talked about this already.
The wheels themselves on the Ripmo are just fine. Since the Spectral went back, they've seen lots of mileage, and a few different sets of tires. The one thing I don't like about the asymmetric profile is that it makes tire swaps difficult, especially with inserts. The trick I learned is…shit! I forgot the trick! Because of the offset rim, it's far easier if you get a certain side of the bead seated first. The problem is that I've forgotten which. One way totally sucks and the other works fine. I think you need to seat the longer side first. That way, as you put the second bead on it's much easier to get that bead seated in the channel of the rim, which gives you the necessary slack in the bead to get it installed. If you seat the short side first and then have to push the second bead over all that rim bed to get at the channel it's a real pain in the ass. Ya…that sounds right. I'm going with that. Either way, offset rims kind of suck for seating tires.
For the last few weeks I've had a nice, expensive set of carbon fiber wheels on the Ripmo. I haven't noticed a huge difference in ride quality with this change. The stock wheels are showing some wobbles and I'm confident the carbon ones will run true for a long period of time, but the change isn't all that noticeable. It's just wound up being an expensive way to true my wheels. I'm not complaining, but if it were my money I'd run the stock wheels until they exploded, and then I'd probably replace them with some aluminum rims from DT Swiss.
Fork - Meh
That's not to say I don't like the 36! But I certainly wouldn't pay that much money to swap out the DVO. There's a lot more tuning room in the DVO and I think I could get it there (or nearly there) with a bit of work and tuning.
Interestingly, the new version comes stock with a Marzocchi Z1 Coil! I'd be really curious to try that out.
Things that I didn't change
That brings me to the relatively short list of things that I didn't change.
Headset – nothing wrong with the stock Cane Creek headset!
Dropper – The stock Bike Yoke is so smooth. It's noticeably smoother than the Bike Yoke on the GG Gnarvana, which I think has some struggles in the routing department. Speaking of which, I wish Bike Yoke would move to having the cable end at the post, rather than a fiddly little barrel bolt. That's probably the only thing I would change. Ibis is even shipping size specific posts now! 215mm drop on the XL!
WTB Silverado Saddle – The stock saddle is a little worse for wear, but super comfortable. I'm a fan.
SLX Cranks, Chain, Cassette – No issues here. All working just fine. It's probably time to swap the chain, though. I think this is the best bang-for-the-buck drivetrain out there right now. I even prefer it to XT in some regards.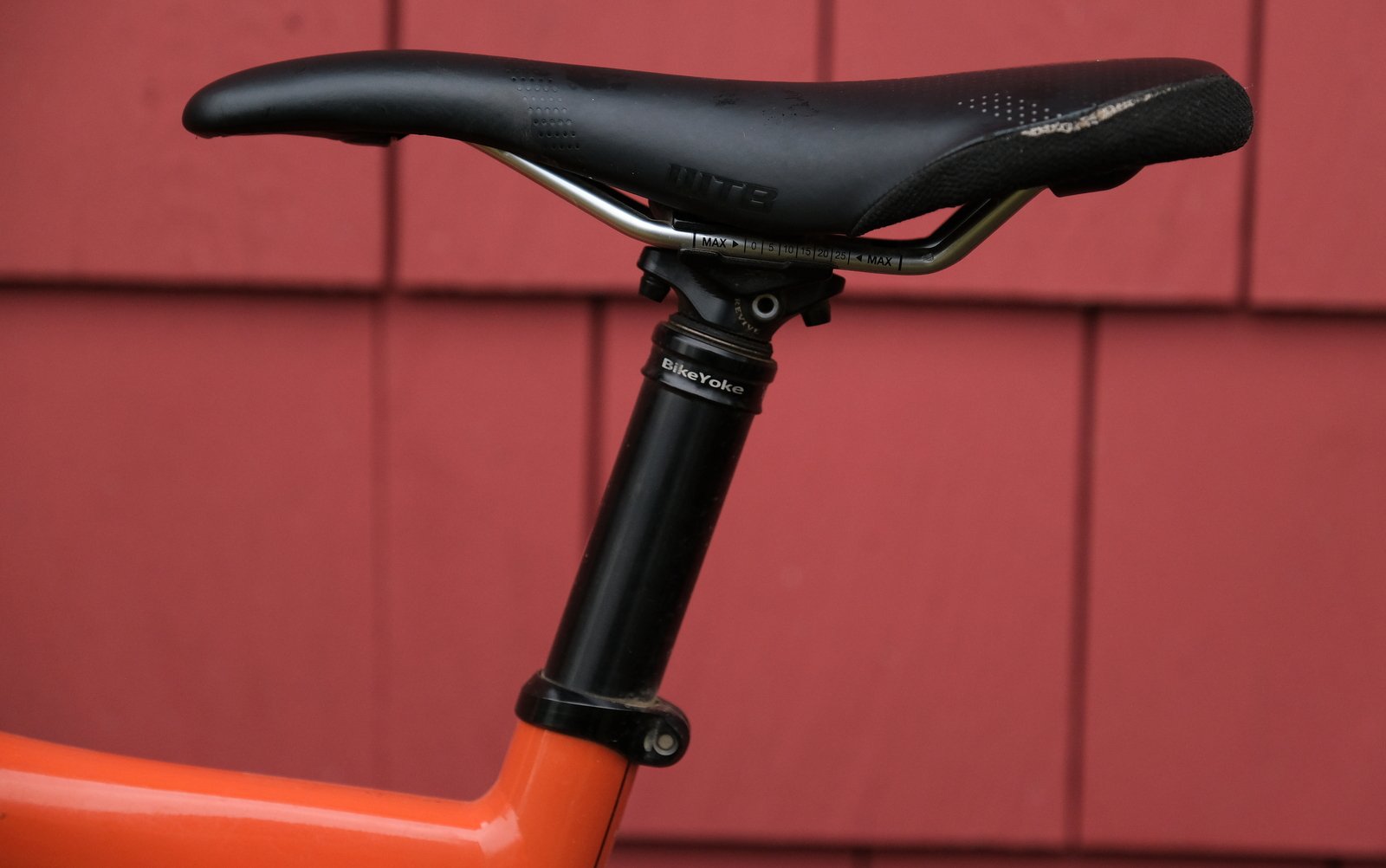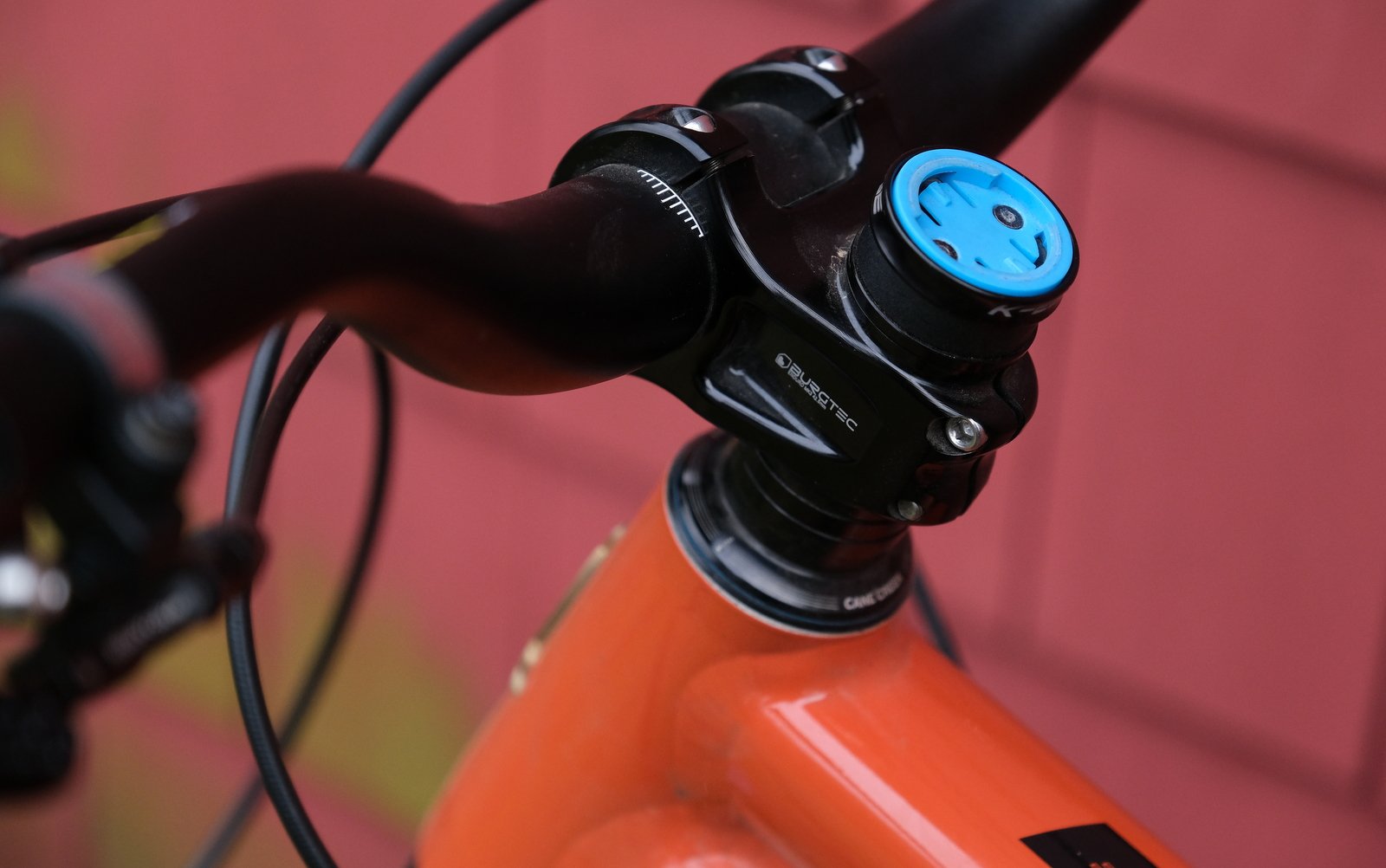 Now, about that frame
People have a lot of things to say about the Ripmo AF. Great spec! Great price! Great value! Fun to ride! Not many people are talking about how much of a looker the frame is. There's just something about that frame (especially the XL version) that shrugs off lust.
It's a pretty bomber frame choice though, other than a few nitpicks. The first is the aluminum cable stops which damage your cables. One of them even got stuck in the frame, and is now just a big hole in the frame with a brake line sticking out. Ibis does offer plastic versions to swap in, and might even be shipping those stock now. The aluminum ones need to go.
I also wish there was a slightly taller head tube. That would alleviate some of my control challenges, and I think it would also balance out the look of the bike a bit. 120mm certainly isn't the shortest head tube I've seen on an XL bike, but I wish bike companies would add a bit more length on their larger sizes.
Kinematics wise, I'd tweak things a little bit, as well. Ibis talks a lot about how progressive the linkage is, but most of that comes before sag. I think a bit more bottom out resistance would help this bike out.
Other than that, though, it's been a remarkably solid frame. The paint has a few chips in the usual spots, but nothing crazy. And the bushings and bearings in the linkage are running great still! I don't know how many miles I've put on this bike, but it's seen a lot of mud and a lot of hosing down.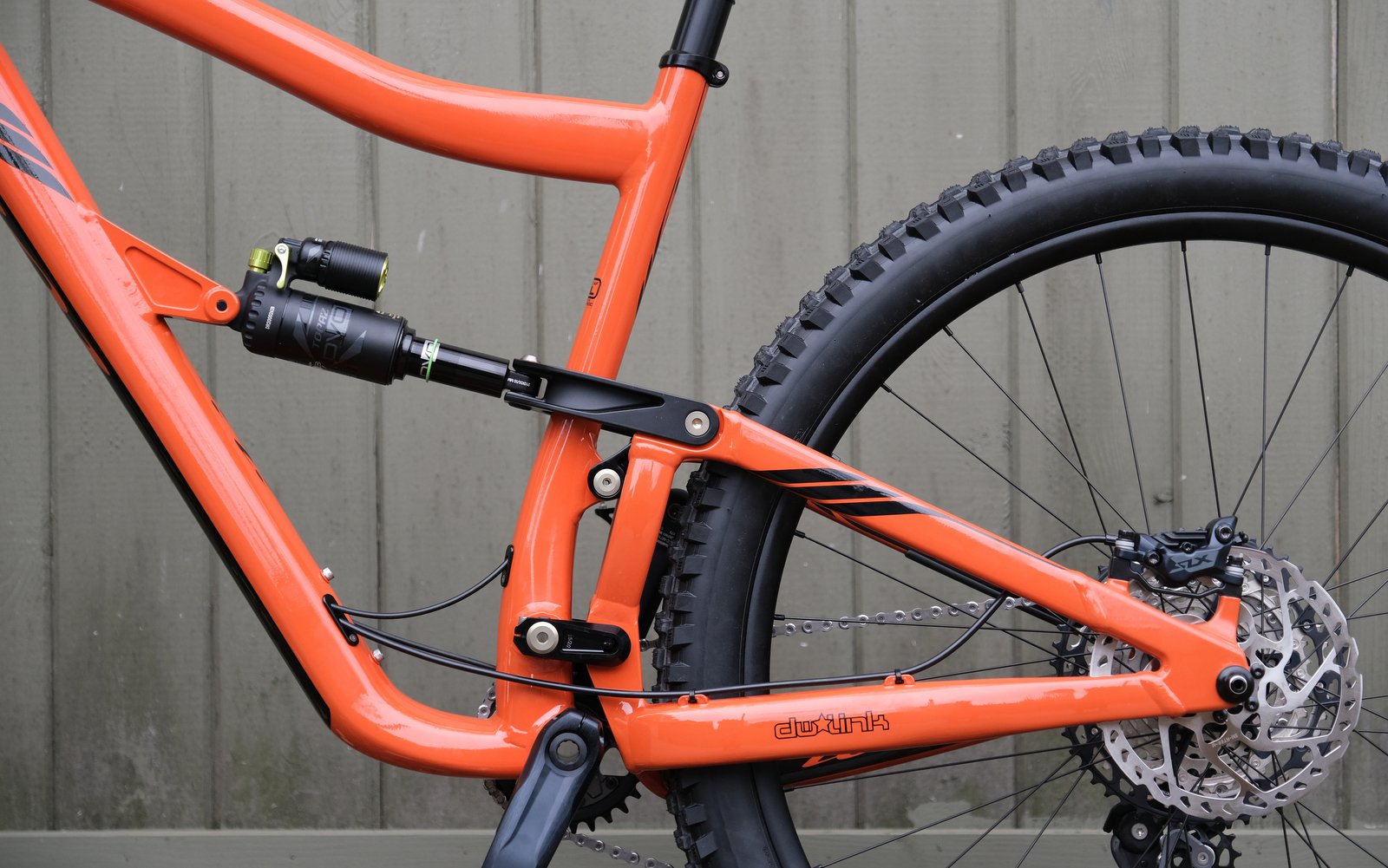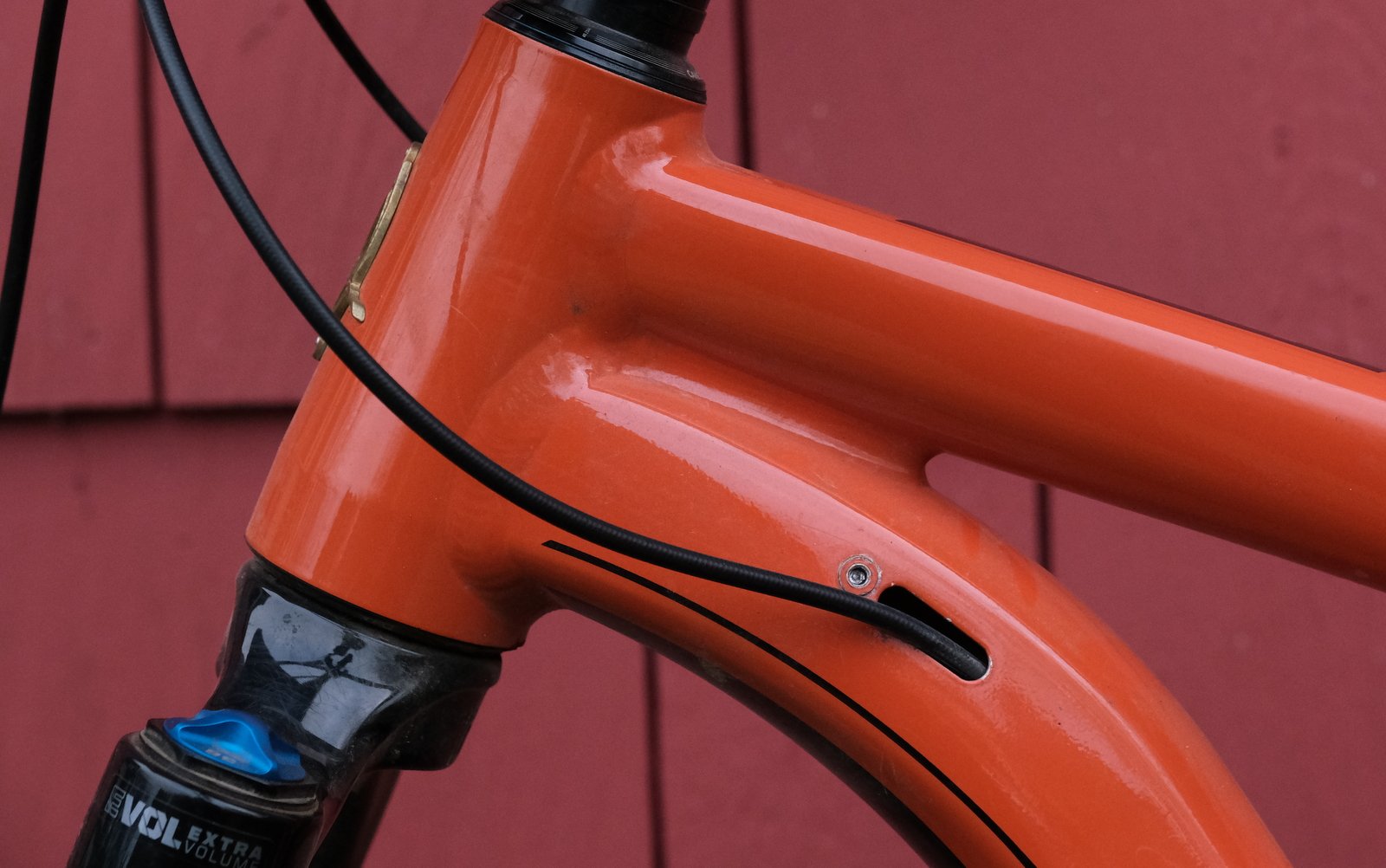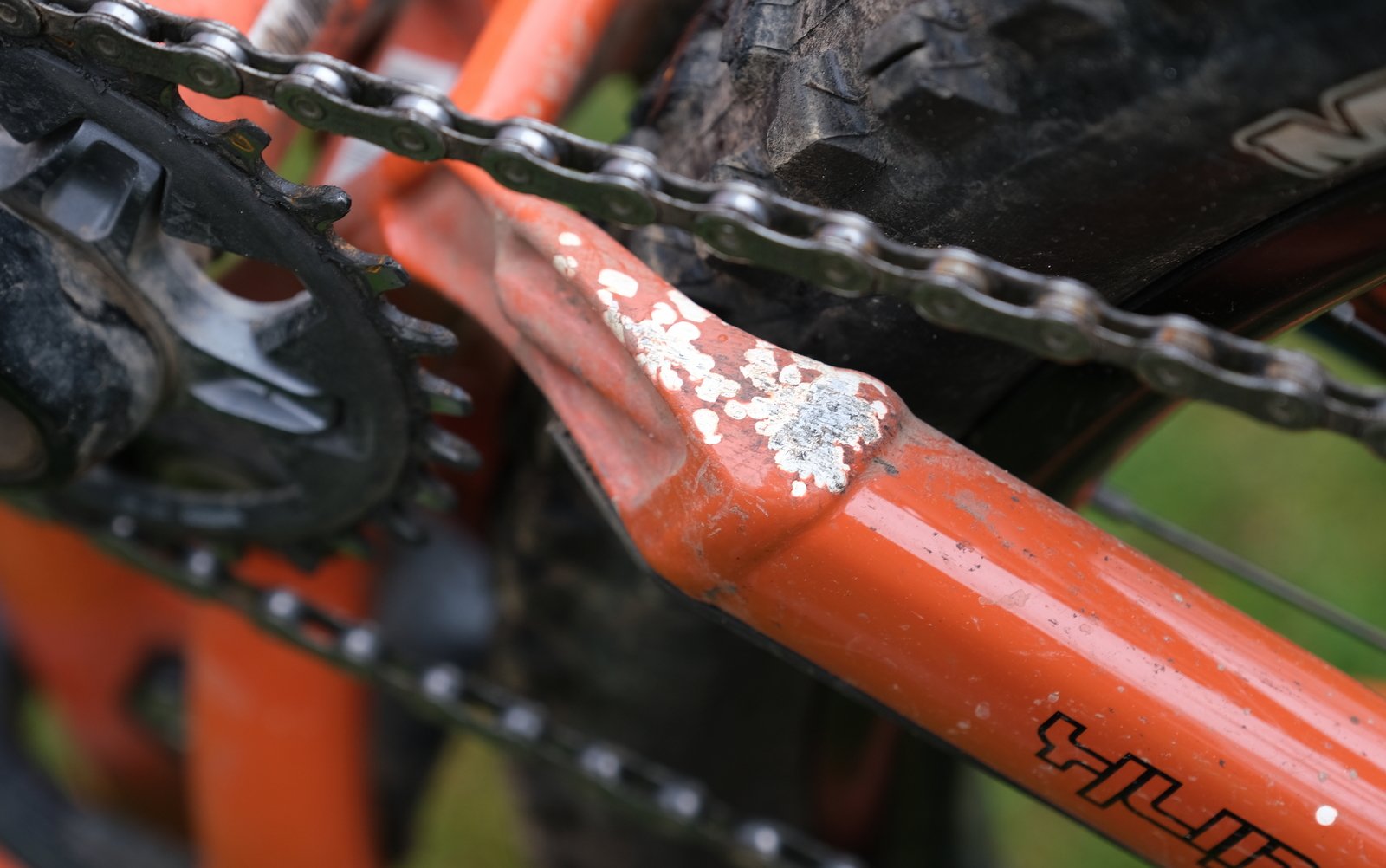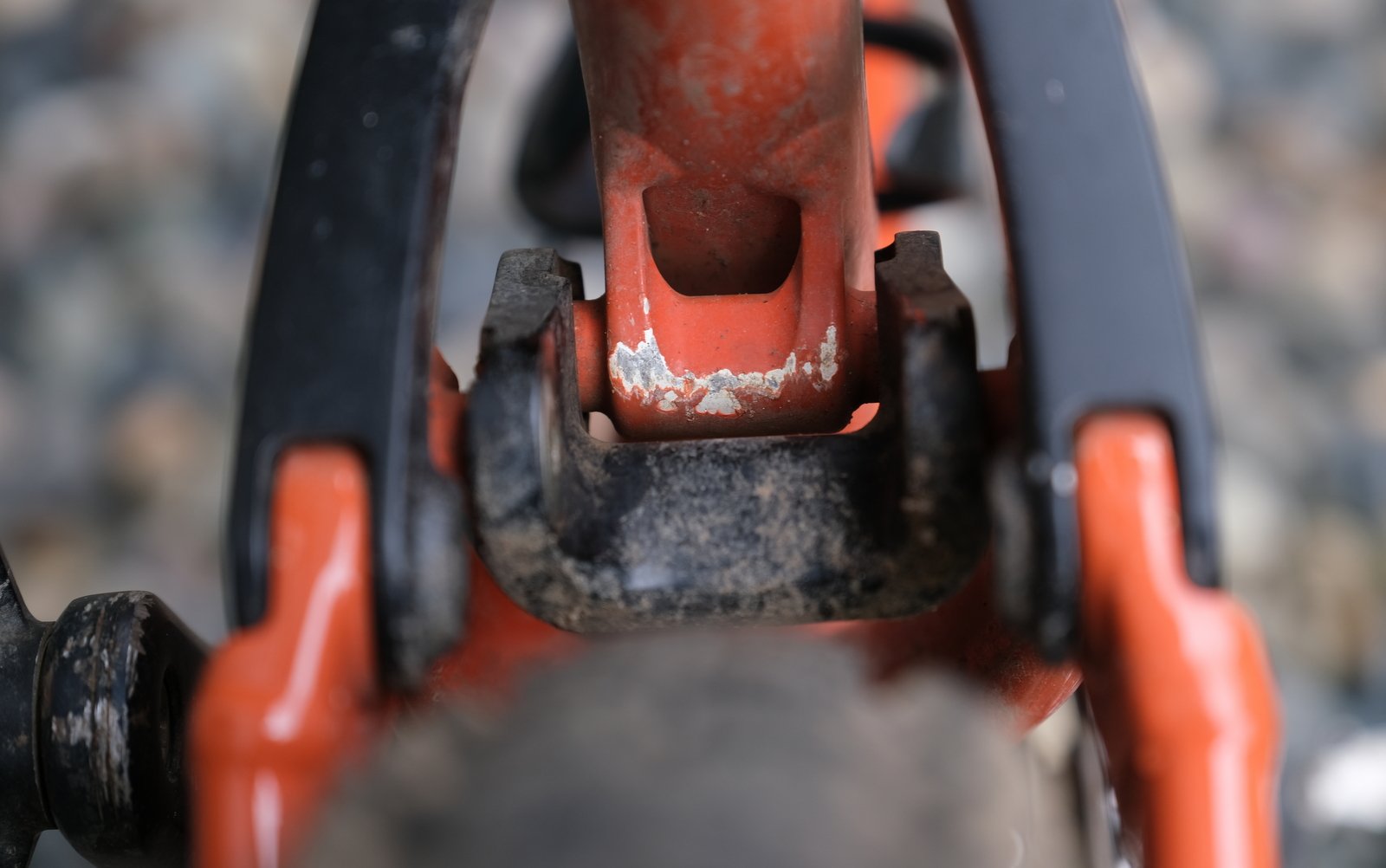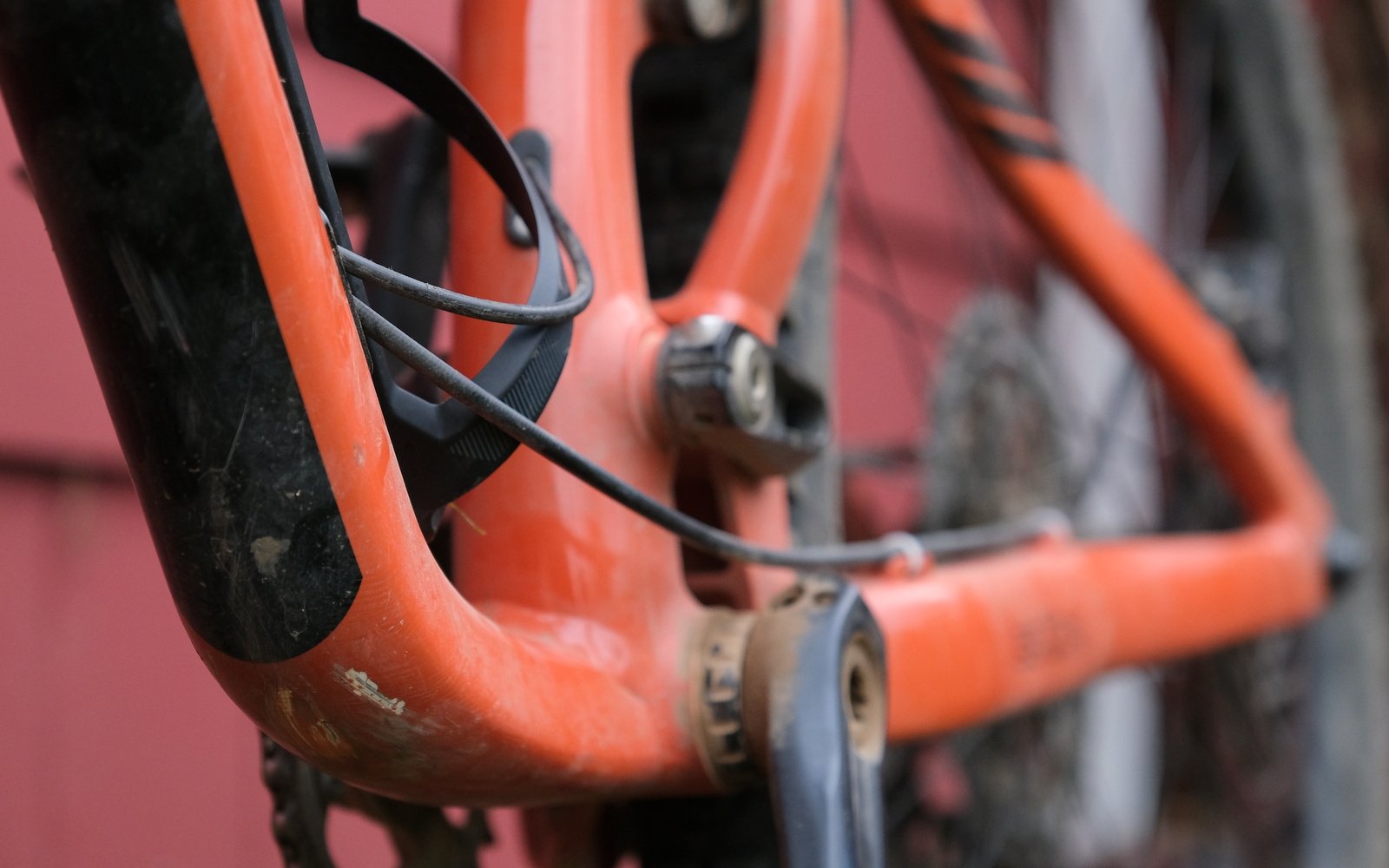 Final Thoughts
Where does that leave me with this bike? Stock, compared to the Spectral, I preferred the Spectral. I thought it rode lighter and firmer and I appreciated that. Now, with all of those changes, I think my opinion has changed.
I still think this bike is too soft, but I'm bothered less by it. I'm realizing that there is a trade-off here though. This is a very forgiving bike that is very easy to ride. It would be silly to think that the softer rear end doesn't play a part in that. It's not the best bike for hammering fast through rough terrain, but it climbs amazingly well and is quite a bit of fun to stuff in and out of corners. Yes, I would like a bit more bottom out resistance and a bit more support through the middle, but who's to say that doesn't change the character of the bike and make it worse overall?
The most interesting part of this build for me is that despite all of the dramatic changes, what I think made the biggest difference was just getting my hands up where they needed to be. Once I did that, the bike felt a lot more consistent and comfortable. Who would have thought the most important change would be the one that was easiest and cheapest?
That's an interesting lesson for me in bike testing. Over the years I've moved from incredibly picky about controls and set-up to just riding whatever is put in front of me. I'm definitely more adaptable now, but perhaps I need to re-visit some of my pickiness? This lesson definitely stresses the importance of getting your basic fit dialed in before moving on to larger changes.
So that's the story of this bike. It's not perfect, but it's an easy bike to ride and very forgiving. It's more at home on smoother and smaller terrain. It can handle the larger stuff, but it will let you know about it. It pedals well and can cover distances. Add that all together and it's a pretty great package that is easy to own and will allow you to do lots of different things. Just leave some money to swap your rotors, buy a new rear tire, tune your rear shock and invest in the right cockpit setup. The same could probably be said of many bikes.
Sorry,
Uncle Dave