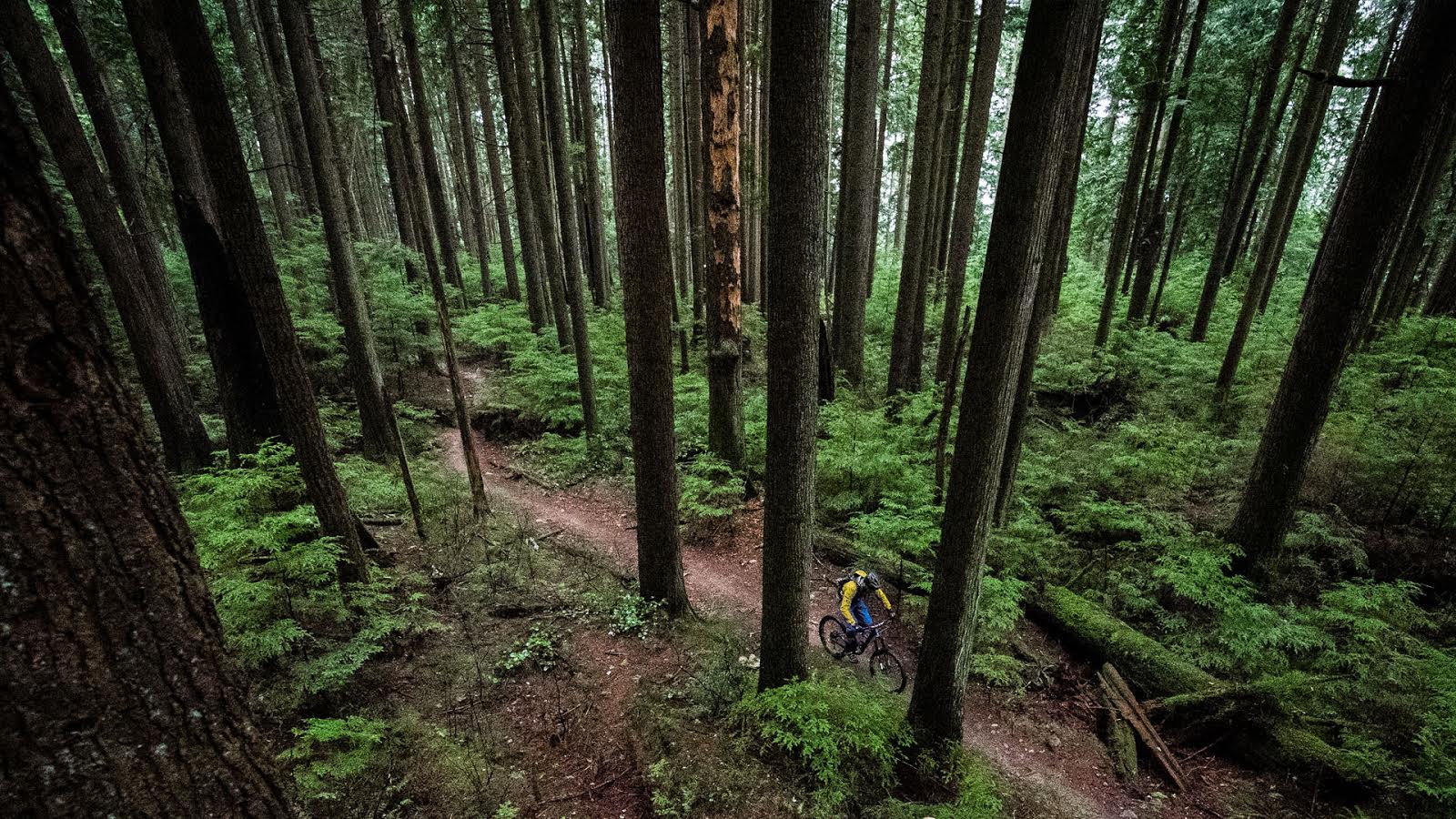 2014 Ibis Mojo HDR 650b Reviewed
I wasn't a DW link virgin but my cherry wasn't fully popped either. I had spent some time on a 26″ Mojo HD, but not enough to find out if we were going to get chummy. I remember feeling somewhat under-gunned in a few situations but some of that was the fault of the feathery build. I wondered if I'd get along with this bike because of my preference for bikes on the plush end of the spectrum. I gravitate toward rides that allow you to feel what the suspension is doing and that run a little deeper in the travel, characteristics I knew I wouldn't find on bikes built around Dave Weagle's well-received DW link platform.
If you missed it, check out our first look at the bike with more product photos here.
This is a bike that responds quickly to your inputs so it took me a little while to feel confident getting huge air like this. (my wheels are actually off the ground but I only know that because I was there)
Of the bikes I have really liked there are some I've fallen for immediately and others that only made me smitten after a long courtship. It wasn't love at first ride with this Mojo by a long shot but I was intrigued early on. One of the challenges was finding a set up for the Fox 34 CTD fork that kept me happy in varying terrain. I could get it to feel good on slower terrain but it lacked support at speed. I felt I had the air spring at the right spot but it was not responding well to intense impacts in rapid succession, despite the dial twisting I was doing. Eventually I began going downhill with the fork in Trail rather than Descend mode and voilà  – the courtship was in full swing.
Here's the bike with 26″ wheels and 160mm of travel. You'll need a longer stroke shock and a different set of Ibis' Limbo Chips – but then you are off to the 26″ Luddite races. You can even run a 180mm fork and ride in cutoffs. We didn't ride the bike this way.
The HDR 650b is a little like a fox in wolf's clothing. Several people commented on what a burly bike it appears to be. The wide rims make the Maxxis DHF 2.3 tires look positively massive and, combined with the wide frame sections, the impression is that this is a big boned and sturdy machine. The scale tells another story, and with the beefy rubber and a spec that's more geared toward overall performance than bragging to your buddies, it weighs in at 29.2 lbs (13.24 kg). The travel is also at odds with the robust look as well. Most people eyeing up the bike assume it's a 150 or 160mm travel beast but it bounces only 130 in the rear and 140 up front. Riding the bike can fool you as well, and once I had the settings right on both ends it shredded down better than many 150mm travel platforms I've ridden. Aside from the occasional harsh bottom out up front I never wished for more travel.
In corners the Mojo HDR 650b was so stable I could easily adjust my line mid-radius.
The Ride
On one ride I over-inflated the rear shock but then, like a dumbass, left home without my shock pump. For much of the terrain we were riding this didn't slow me down. I was riding high in the travel and things were firmer than I wanted but the low-speed feel wasn't bad and the bike still performed well. Despite only using two thirds of full travel on some very rough terrain the only real downside was a lack of traction in the rear when things got steep. On other platforms, too much air can spoil your day. Not so on the HDR, a tribute to both the geometry and the dw link action.
The Mojo HDR 650b loves speed. The bike can be fitted with a splined adapter that accepts ISCG 05 guides.
Solid; that term keeps flashing in my head as I think about the way this bike rides. It inspires confidence in corners and holds a line with such composure I found it easy to correct the radius mid way. I usually felt like I was in the right spot though, because the bike went where I pointed it. I think some of this impression comes from the new Ibis 741 wheels. They are so rigid and precise that I developed the nerve to aim for sneaky lines between rocks that I wouldn't have tried on other bikes. There's no lag or slop and the frame's solid state feel works beautifully with the robust hoops. Another factor is that Ibis has beefed up the lower link over previous versions of the Mojo.
It's tough to find a full suspension bike with a prettier silhouette than this.
This precision encourages creative line choice and playfulness. And while the 67.1˚ head angle isn't overly slack, when combined with the rollover of the mid sized wheels the bike feels great when you get your weight over the front end and pretend you are Chris Kovarik. This is particularly true with the wider bar/shorter stem combo I slapped on for the test.
I was most surprised by how well the HDR's 130mm of rear travel devoured rough, steep and technical terrain. It kept asking for burlier trails.
Despite the Kovarik reference it took me some time to start feeling loose on the HDR. Inputs are instantly felt so coming off bikes that are a little less responsive meant I had to reel in my enthusiasm at first. This is a bike that rewards smoothness and subtlety rather than ham-fisted strength. Eventually I dialled that in and began to get rowdy in my own timid way.
I am itching to finish this review so I can get out on the HDR right now. It's going to be tough to give this one back.
True to DW link's anti-squat form, the bike is a solid climber. I sometimes used the climb switch on the Cane Creek DB Air but I didn't suffer if I forgot. Traction was excellent and there were several challenging tech sections that felt relatively easy for the first time. These same characteristics help the bike leap out of corners when you twist the throttle; a gratifyingly instantaneous response.
Mojo HDR 650b Geometry Chart
I didn't get a chance to try a 150mm fork but I think I'd like to try little more squish and a little slacker head angle for some terrain. As it is the numbers work great with the recommended 140.
I currently weigh around 170lbs and I'm a shade over 6′ tall, and I'm longer of leg than torso. I found the cockpit of the size large HDR a little on the cramped side to start but after ten rides or so I felt right at home. To a certain extent I did this to myself by slapping on a 50mm stem – but that's the way I roll – and I haven't regretted the swap. After some playing around I settled on Cane Creek's baseline settings of 13mm of sag as well as the low speed compression and high and low speed rebound damping, but I opted for a little less high speed compression damping (two full turns rather than the recommended 3.5 out of 4 turns max).
I didn't notice any problems but the graphics show that I did push a few rocks into the space between the tire and the frame. I can't imagine needing a burlier tire than these Maxxis Minion DHF 3C EXO tires either. They were perfect. Ibis hasn't heard of any consumer issues with clearance and these tires allow for more room than their minimum standard. Photos – Cam McRae
Potential Issues and gripes
When the bike first arrived it looked to me like there wasn't much tire clearance where the chainstays come together. I was under the impression that these 41mm rims increased the diameter of a given tire because the side walls follow a more vertical path from rim to tread. Andy Jacques-Maynes, an Ibis engineer, told me this wasn't the case and having measured tires on narrower rims it turns out the diameter doesn't change; only the width and profile of the tire. So there is less clearance but not in the centre of the tread. While I wasn't able to ride the bike in extremely muddy conditions, I did have it out on several wet days without any issues.
Other issue with the tight quarters of the HDR 650's configuration; challenging tool access to the Cane Creek DBair's adjustment knobs and no space for a bottle cage within reach (only under the downtube).
Dropper posts are now mandatory for bikes in this category and most frames at the upper end of the range are now plumbed for internal routing to get that hose or cable out the way. This may seem like a luxury but it cleans up the look and it's useful for clamping your bike in a stand. And let's face it, for 6K and up you are paying for some luxury. Our Mojo HDR has three cable clamps mounted to the top tube to accommodate a dropper and, if you haven't yet been charmed by one-by systems, a front changer. On lesser frames, without the organic swoop flow of this sultry beast, it wouldn't be out of place. But in this case it's like somebody has tagged a Picasso. I'm sure we'll see this changed in the future and it may not be an issue for you.
It wouldn't be a deal breaker for me, but top tube mounted cables on such a beautiful bike are a bit of a shame. Photo – Cam McRae
Geometry with 26″ wheels and a 160mm fork. 
Eyeing up a Mojo HDR but not ready to commit to 650b wheels? The frame can be ordered in either config and if and when you change your mind you'll need to swap the shock and Ibis' Limbo Chips and you're ready to slap on some tweener wheels.
The orientation of the big Cane Creek DB Air CS makes it difficult to get tools in to set up your compression and rebound. It's even tough to get a ball end Allen wrench in there because of the angle, so hang on to those old L wrenches. These tight quarters also mean your only bottle cage mount is beneath the downtube.
Spec
Bars and stem are the only gripe I could dig up about the parts here – and since those are highly subjective it's not really a gripe. I would argue for wider bars in general because they can always be cut down, but for many a 740mm bar is sufficient. The XO1 1 by 11 drivetrain was flawless as were the Shimano XT brakes. I've already spoken about the wheels. Complete bikes often come with down-spec tires but not this one. Maxxis Minion DHF 3C EXO would be one of the tires I'd choose myself. They are light but sturdy and, for a tire with this much grip and cornering bite, they roll extremely well. The Thomson Elite Dropper isn't the usual spec for the XO1 build kit but it delivered without a hiccup. The combination of mechanical actuation and a hydraulic mechanism makes a lot of sense and the lever is tidy and intuitive.  It's very clear that this is a rider's build rather than one aimed only at hitting a specific price point. For more on the spec check out our first look here.
The Mojo HDR seems equally at home on fast and windy, slow and techy or steep and gnarly.
Wallet Hit
In Canada the Mojo at this (XO1) spec level retails for CDN $6248. Upgrading from Stans to the new Ibis carbon 741 rims adds $892.62 and a LEV dropper (or the Thomson) adds $408 for a total of $7549. In the US those numbers are $5599 + 365 (post) + $799 (wheels) for a total of $6763. Aside from the post upgrade, this looks like great value on either side of the border.
Final Word
Most bikes have focussed talents. Some love speed but flounder when things are tight and steep. Many take flight on smooth rootless lines and in corners but beat you up in the rough stuff. And of course many excellent climbers suck on the down and vice versa. The HDR 650b didn't have me avoiding any trails at all. I rode it on steep technical lines where I was unsure how it would do and it left me impressed. As expected it was great at speed, in Squamish for example,  but I didn't identify any shortcomings on North Shore tech either. And it slurped up bermy flow like a pig with a stick of butter, all while providing excellent power transfer and traction on the way up. I generally opt for bikes that are closer to the DH end of the AM spectrum but because the Mojo HDR 650b does fine on burly terrain but outrides bikes with more travel where more finesse and power are required, it would be a bike I'd love to call my own. Ibis nailed it with the incredibly versatile and fun Mojo HDR 650b.
---
Is this a bike that could find a place in your garage?