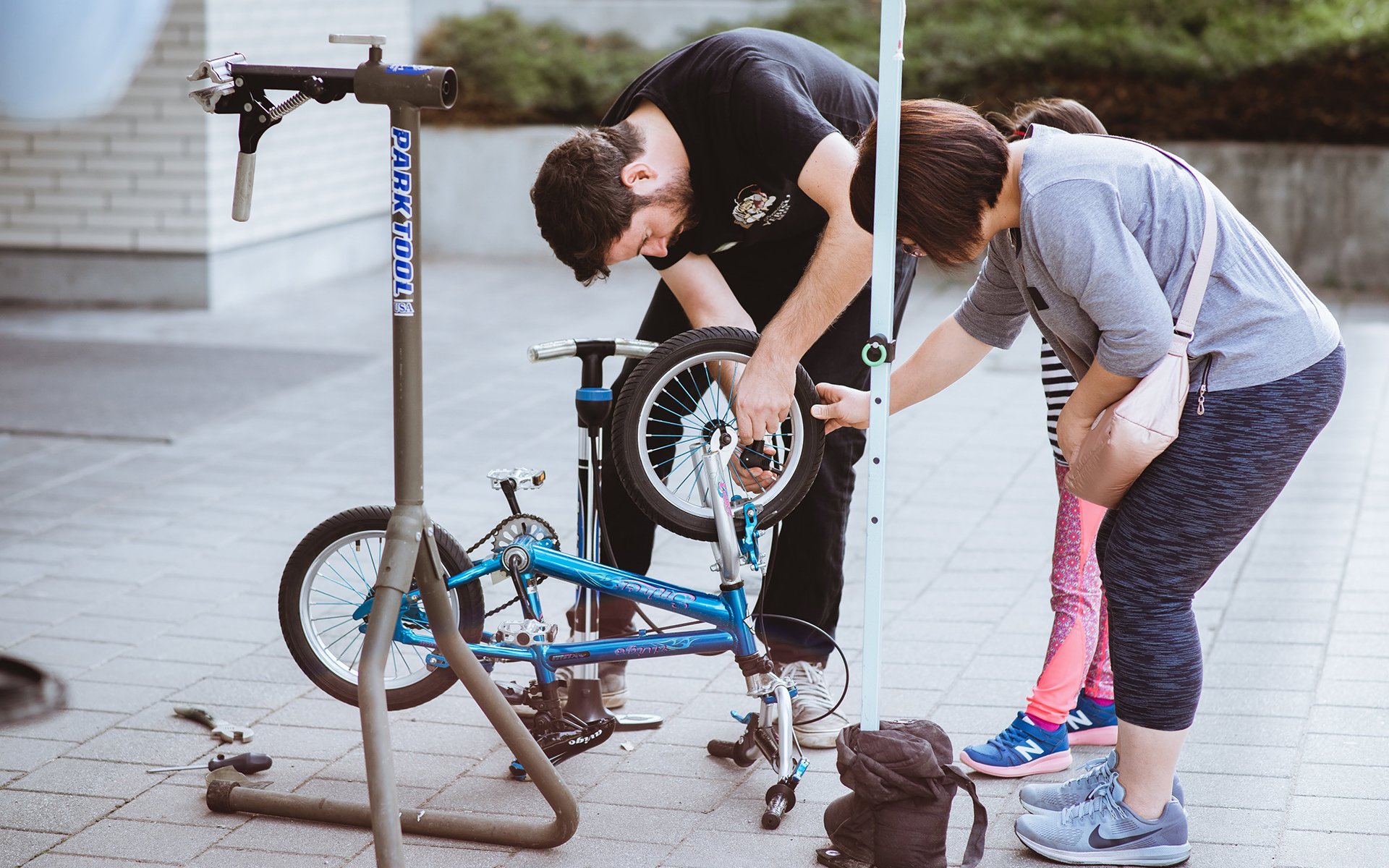 Ask Uncle Dave
Uncle Dave! I hate tossing broken stuff. Where can I get things repaired instead?
It began with a hair straightener, of all things.
"It's not working. Can you fix it?"
As we've previously established, electrical appliance repairs aren't really my thing. I have one trick: take it apart, put it back together and hope it works. And it did! And then it didn't. She told me how much it cost and it was obvious that I needed to put more effort into a fix. Enter the repair workshop.
The concept is pretty great. Bring together people that have broken shit with people that know how to fix said shit. I was a little bit embarrassed to show up with a hair straightener, but nevertheless I did. They called my name and we were off to the races.
My saviour was a nice man named Daniel. He was profoundly over-qualified for the task at hand (Electrical Engineer), and we tucked into that hair straightener like two curly haired country folk getting primped for a night on the town. I showed him how to take it apart, he pulled gizmos out of a bag and made lights go on and off. An hour later we had it. "It's your kanuter valve!" he said. "Unfortunately, I don't have one."
Still, this felt like a victory. I mean, the rest of the room was lighting up with shouts and cheers...honestly, the vibe was electric (ha! no pun intended). People were hauling in the oddest things for repair and each shout of "fixed" caused the room to explode. But even though I left with a still broken hair straightener, I felt much better about its brokeness. I went to a weird little east side electrical gizmo shop, stood in line with a bunch of other anti-socials, bought a new kanuter valve, and got to work, primed with my newfound knowledge. And...still broken. Threw the damned thing out.
A few months later, I saw a poster, looking for volunteers for the next repair workshop. "Bicycles" was on the list of things that needed repair. "Hey! I can fix bicycles!" I thought.
It turned out that my friend Daniel was one of the people behind that next repair workshop. Things seemed remarkably organized and it felt like a really great day that they were putting together. Introductions circulated around the room:
"I've been a seamstress for 20 years."
"I'm in IT. So I'll be fixing computers."
"Well...I guess I can fix small appliances. I'm also a car mechanic and I used to work on airplanes. I can fix computers too. "
Jesus.
"I...ahhhh...I work on bikes sometimes?"
I'm always a teensy bit suspicious of anything in which I'm designated an "expert."
The day came and I found myself set up in front of a community center, surrounded by my tools and repair stand. We had a great vantage point to the dozens of people wandering in with broken lamps, fans and vacuums, not to mention the ripped clothing and broken umbrellas. Our main task seemed to be explaining to them that we were only there to fix bikes, and the real work was taking place further down the hall. Our excitement ebbed. We got comfortable.
Finally, a client! A lady approached with a broken lawn mower! Well...a lawn mower with the wheels set too low. I can fix that! If I had brought the right tools. Still, we had a live one, and that mower was mine to adjust. I ran inside, borrowed a set of open ended wrenches and got to work. It turned out to be a very, very fine wheel lowering. I even helped her load it back into her SUV.
And the floodgates opened! A family approached with bicycle in hand! It was a tiny little thing, blue with pink highlights. And a flat tire. "Hey! I can fix that!"
Working on kids bikes is remarkably difficult. Everything is bolted in place and tiny. Throw in nerves from finally having a bike to work on and I was all over the place. The tiny little owner looked on with suspicion.
I got the tire off and the whole family crowded around to see what I was doing. I found the hole in the tube and I showed them. They seemed impressed. I showed them how you have to check the tire to see if the thing that made the hole is still embedded in the rubber somewhere. They were even more impressed. I showed them the sharp little something that was stuck in the carcass, and then I struggled to work it out with a pair of pliers. The excitement levels were at Trudeaumania 2015 levels! Then I botched a couple of patches and got glue all over my fingers. I was Andrew Sheer freestyling a response to a room full of journalists! Everybody cringed. There was silence, doubt and apprehension. Fingers were crossed. The second patch held! The tire was fixed! The proud little owner pedalled a few victory laps and then tore off for the parking lot.
In the meantime, and older gentleman had rolled in with a beat looking mountain bike. Lurking underneath the rusted cables, split housing, mangled grips and spray bombed paint was a beautiful old Kona. Syncros post... XT components... a second generation Manitou (first gen Answer version). My compatriot was struggling to make the bike shift again when the owner mentioned that he was having problems with his fork. I went and had a look. Sucker was fully slammed and the crown was rubbed smooth by the tire. "Hey...I can't fix that! But I can show you what's wrong!"
I explained to the owner that it was two little pieces of rubber that held the fork up and provided the spring. I explained that since his fork was a good 25+ years old there was a good chance that the rubber had deteriorated and that was his problem. I pulled the fork out of the crown, popped off the top caps, and turned it upside down, expecting some powdered rubber to come pouring out.
Nothing.
I looked inside.
Nothing. Nothing! Dude had been riding his second generation Manitou around with no elastomers! Like... I have no idea.
I explained this all to the owner. "Must be air pressure that holds it up." No! Springs! Elastomers!
"How do we pump up the air pressure?" You can't! Elastomers! They're gone! Missing!
This went around in circles. I put the fork back together and I tried to explain that he couldn't ride the bike like that. I showed him that the one thing preventing his tire from more firmly contacting his fork crown was the little rubber boots on the outside of the fork that are only there to keep mud off the sliders. I explained that if he happened to be riding at a fast speed, hit a bump and those rubber boots gave way, there was a good chance his bike would stop dead and he'd skid along on his face. I told him that he could try to find some new springs for his fork, but that there was a good chance he might not be able to, and might have to buy a new fork, and until he did one of these two things, he shouldn't ride the bike. He was very, very far from interested in all of these things that I was saying.
"Can you raise the seat a bit? It's too low."
I asked him if he was going to ride the bike, even considering all of the things I had just told him.
"It works much better now."
I pleaded with him. "Instant death! You're going to kill yourself! Please don't ride this bike!"
"The seat is still too low."
I begged him! I literally begged him. I made damned sure he signed the waiver. He rode off to the parking lot.
I finished the day off with a headset adjustment on a Razor scooter. I packed up my tools and left with a mixed bag of emotions. On one hand, I sat on my ass for a good long while. On the other hand, it was pretty great to be able to show somebody how simple it can be to fix a bicycle. I could see the family that I helped ducking off to Canadian Tire to buy a patch kit the next time their tire goes flat. Or not. Probably not. Either way, they left with a fixed bike and teensy bit of freshly earned knowledge.
On the other, other hand, I was involved in working on a bike that shouldn't be ridden and might wind up killing somebody. I wasn't able to fix the problem, and the owner wouldn't listen to any of my extensive warnings. I wondered how one is able to coast through life with such casual disregard for safety.
Still...I'm going to mark it down as an overall positive. I'll be back at the next event (Sept. 29th...1601 Venables Street, 10AM-2PM...bring your broken shit!). Hopefully word has gotten out and there will be a few more flat tires for me to repair. And if anybody...preferably a deep pocketed bicycle company... is willing to help out with tools and expendables, that would be great too.
Sponsorship levels:
Bronze - Reward: Long distance high fives
Tubes of all sizes
Patch kits
Cables and housing
Grips and bar tape
Silver - Reward: 3 Instagram likes
36mm headset wrenches (for Razor scooters)
Gold - Reward: Eternal gratitude
An off the shelf bike repair kit that I can pull out once per month, rather than raiding my toolkit. Like this one. Or this one.
Sorry,
Uncle Dave
Uncle Dave's Music Club
This is a stretch. I know that. But still, it feels kind of on theme? Cleaning is fixing, and down with consumption? I dunno. Anyhow, from their wonderful 1994 album How to Clean Everything, we have Propagandhi. I still think this is one of the greatest album covers ever made.
I used to think John K. Samson was crazy for leaving Propagandhi to go play folk music, but it makes a lot more sense to me now.
And I wish I had been able to take more from this song back in 1996.