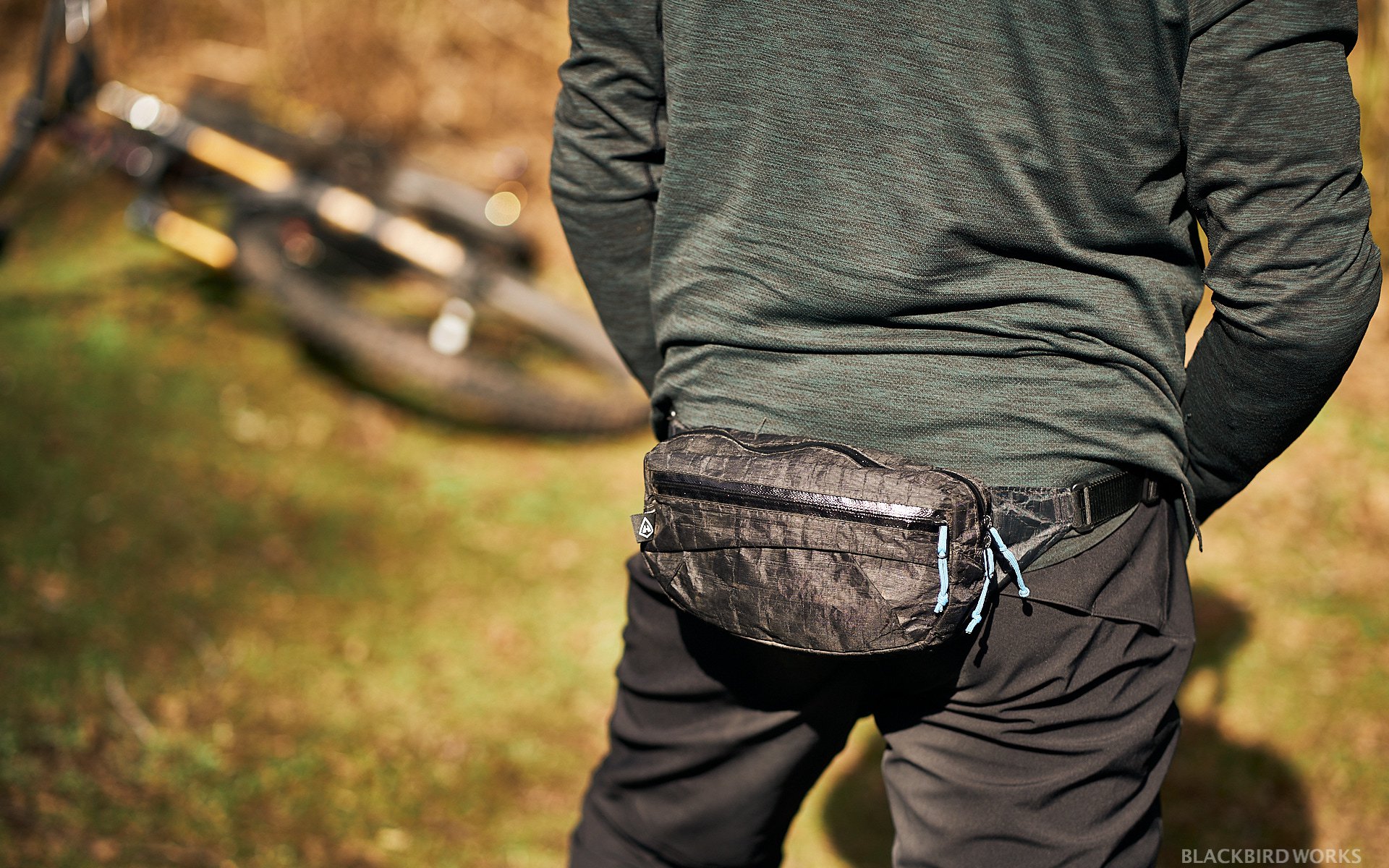 REVIEW
Hyperlite Versa Hip Bag
Since abandoning my Camelbaks in favour of stashing gear on my bike and in pockets, I have finally settled on fanny packs - er, hip bags - for carrying gear. I am lucky that my Specialized Enduro has a SWAT box for my tube, CO2, pump, tools and first aid, so the amount of additional storage needed is minimal. The only items I need stowed are a jacket, car key, phone and riding glasses. Before I tested Race Face's hip bags I used a small $20 hip bag from MEC that did the job. When I received the Hyperlite Versa hip bag to test, I noticed how similar its design was to the MEC bag, however the material quality, additional features, better belt and water resistance make the Versa a much better option by a long shot.
I am assuming 'Versa' is short for versatile and that is definitely what this pack is. One of the main features of this bag is its ability to convert so you can wear it as part of a back pack across the sternum, waist belt, or attached to any number of places on the pack. This video details the how-tos for the feature. Something I might use when the world is used to travelling again. For now, it stays on my fanny - I mean hips.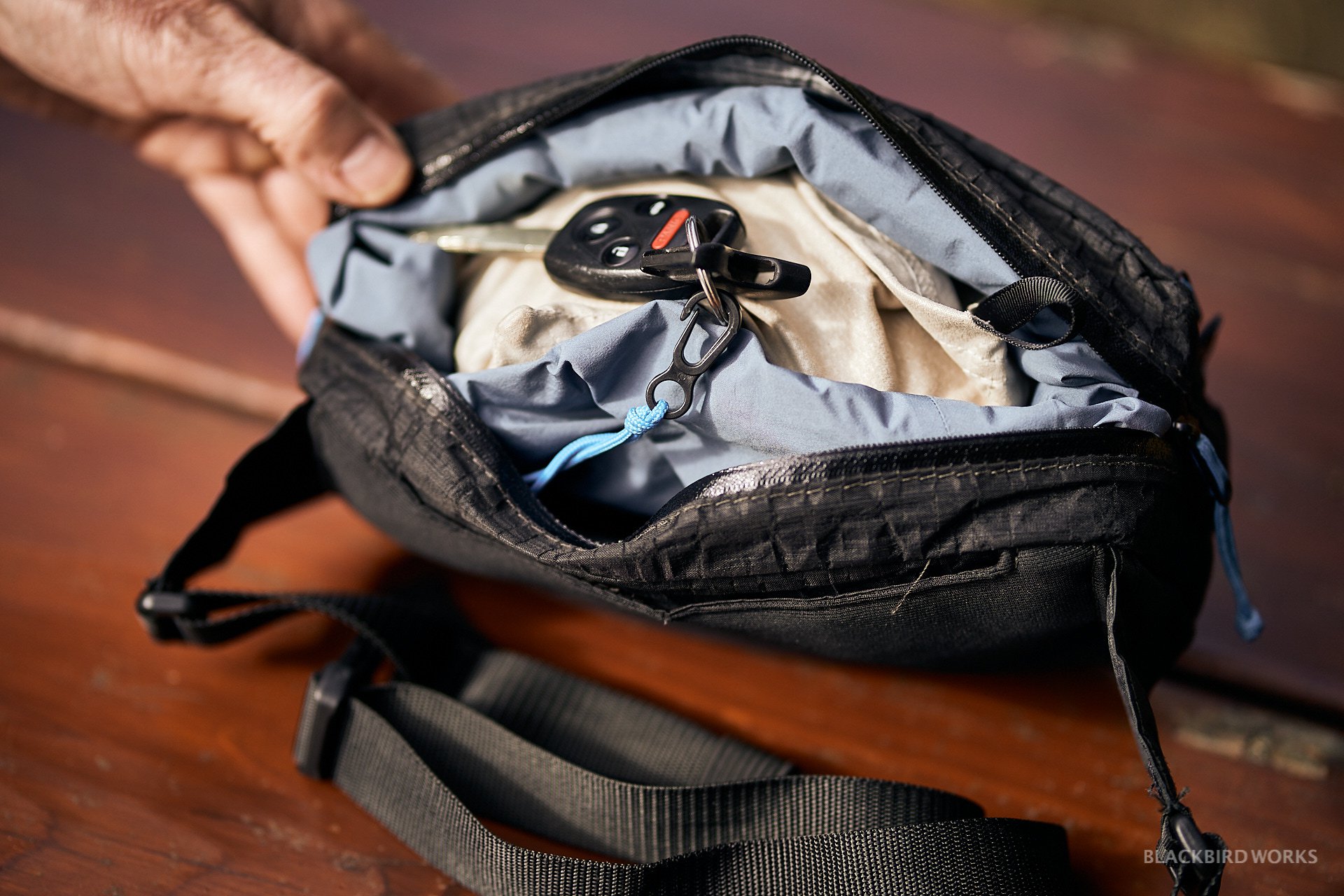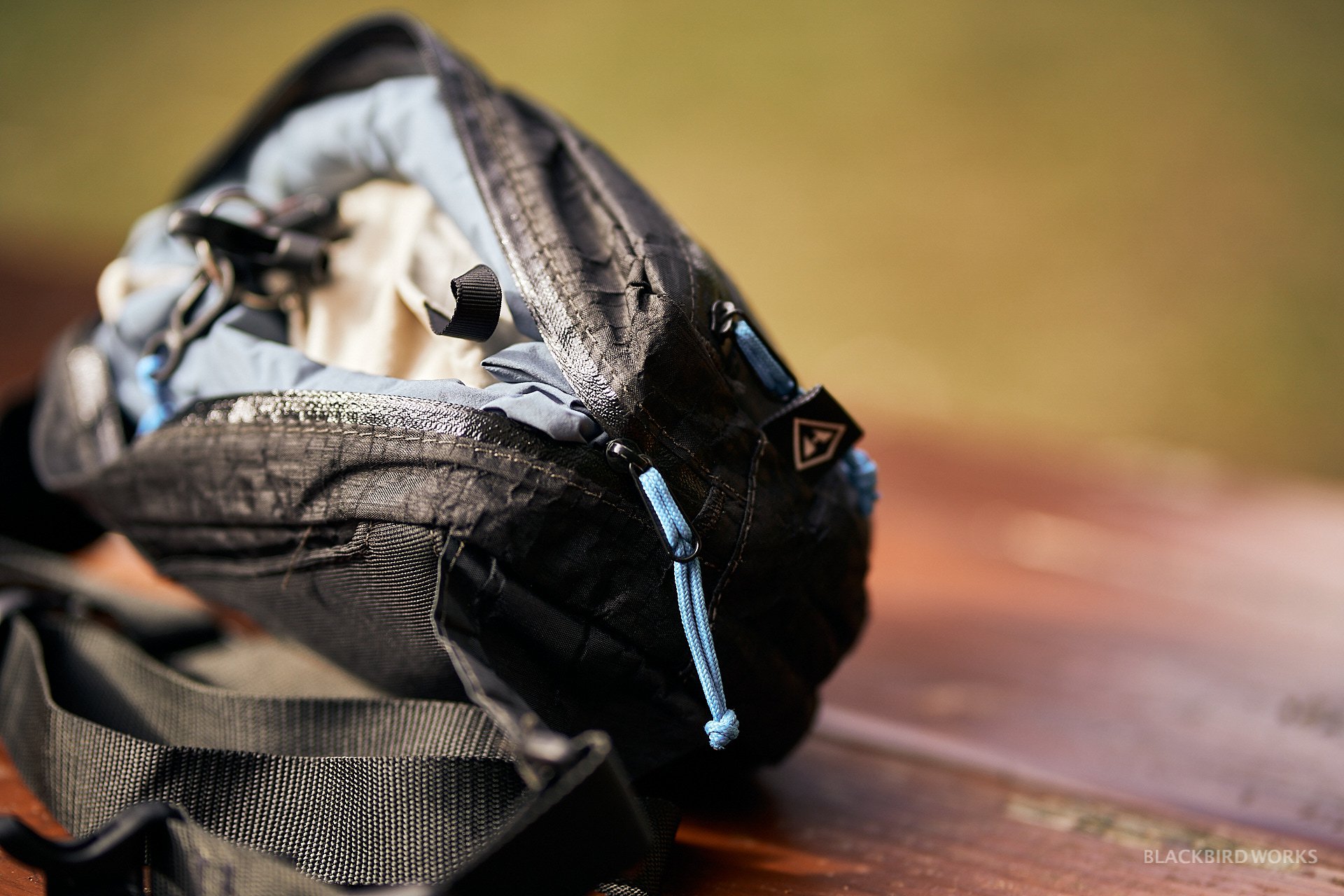 The bag is made from Dyneema Composite Fabrics DCH50 (all caps and some numbers means it's good, eh) which is a tough, water resistant material. My gear has stayed dry all winter and spring so far. The zippers are YKK #3 which DuckDuckGo (me no Google no mo) says means about 3mm wide. The zipper lining material is thick, strong and designed to keep water out - which it has done successfully throughout the test. The belt is easily adjustable and made from one inch webbing. It is not as comfortable as the Race Face bags' elasticized belts but I did not notice any discomfort, so that's that then. The lite in Hyperlite comes out as 83 grams which is super - I mean hyper - light.
The Versa has three pockets and a claimed volume of 2.25 litres which could be considered small, but it packs a fair amount of gear in all those pockets. In the small front-facing one I put my key, even though the inner key clip is in the main pocket. I think the front is for easy access: tools, glasses wipes, chakra crystals to rub before big drops.
The main compartment has an elasticized mesh pocket in which I like to keep my phone. In addition, the main pocket is of a size that fits a packable jacket and riding glasses and that's about it. Hyperlite even provides a waterproof bag for glasses that I use to stash my Smith lens cloth on wet days until I realized that the bag was so water resistant enough that I didn't need the additional waterproof bag. The inner key clip was attached to this main pocket but my clip and string ripped out and is lost in the wild. The third pocket is designed for easy access so it has no zipper. This seems more useful when the bag is attached to the chest or hip straps of a backpack and you need easy access to phones or other items. I do not trust the opening enough to put anything of value in this cache while riding. I think the Versa would be more versatile if this pocket had a couple of Velcro closures so it could still be used for easy access but offer some safety for keeping contents from sliding out. The open pouch is slightly padded for some comfort on the low back/upper glute areas.
I prefer to ride with nothing on my back and hips but the Hyperlite Versa hip pack is the compromise I am willing to make when I need to pack some stuff for the ride or a short hike. The bag's quality is excellent, the water-resistance is excellent even in North Shore winter conditions, and the comfort level is good. The bag's price reflects the aforementioned goodness and I think it's well worth it at $70 USD.