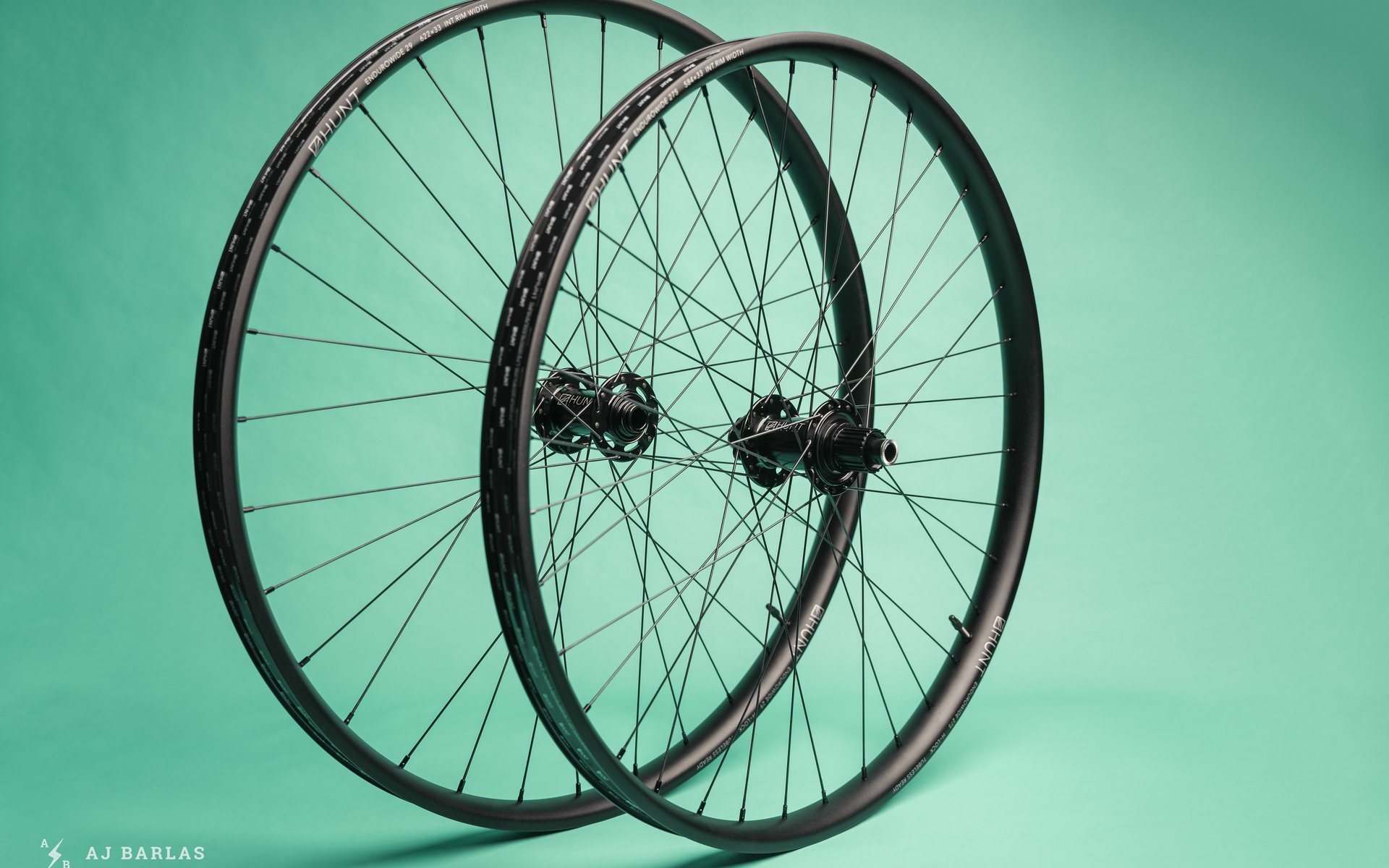 A High Value Wheelset
Hunt Enduro Wide Alloy Wheel Review
Whether because riders are avoiding carbon prices, they prefer the feel of alloy, or are resistant to change, alloy rims remain in heavy circulation. The spring release of Race Face's Turbine wheels, an alloy set that caused a stir, helped demonstrate the remaining support for aluminium rims.
What if you could get a set of wheels with similar features for considerably less? The recently released Turbine wheels will set you back 1,000 CAD. Compare that to the Hunt Enduro Wide's 782 CAD price; you have enough remaining for a few bike park days.
Hunt, a member of The Rider Firm, the umbrella company that also houses Privateer Bikes, has made value a point of difference since launching from the English city of Sussex five years ago. Hunt's wheel selection is diverse, and the Enduro Wide is their hard-hitting alloy wheel for aggressive riding.
Enduro Wide Highlights:
6069-T6 heat-treated alloy
33/31mm f/r internal width
28f/32r Spoke Count, Triple Butted (2.2-1.8-2.0)
Rear rim structure includes more support than the front
29-inch and 27.5-inch rim diameters available
Boost or Superboost rear hub options
Select from one of three hub drivers, SRAM XD, Shimano HG or Shimano Microspline
5-degree RapidEngage rear hub
Weight: 2,156g (29")

Weight (f): 1,033g / (r): 1,123g
Mix-wheel: 2,096g

Price: 782 CAD (recently on sale for 661 CAD)

Prices fluctuate regularly
Hunt Enduro Wide V1 vs Hunt Enduro Wide V2
Hunt's first aggressive mountain bike wheel was the Enduro Wide v1, and I first rode a set in 2020. They impressed, offering a solid level of performance with a quality fit and finish before considering the ~$700 price tag. Small details like machined surfaces on the hub's rotor mount and the high engagement rear hub were something I'd come to expect from wheels at double the price.
That rim didn't feature any of the progressive technology found in several rims today, like the attention paid to improving the strength of the rim's bead wall. Added resilience in this area minimizes damage from strikes, holding the rim's shape for longer, an essential element to the durability of an alloy rim. The v1 rims featured a relatively thin bead wall, something I noted during the initial inspection as a potential weak point for an otherwise great start to a product. Ultimately, this was the demise of the rear wheel in that test. More on that later.
The v2 now features a 6069-T6 alloy which Hunt claims offers 69% greater tensile strength. Additionally, Hunt added 'support shoulders' to the structure of the rear rim to further increase strength, provide a stiffer rim and minimize impact damage.
The v2 rims feature a slightly different profile front to rear, with the front sitting shallower to allow more comfort and control, while the rear rim is taller for stiffness and improved strength. The new rim designs also allowed Hunt to switch up their spoke count. The v1 wheels featured a 36-spoke rear wheel with a 32-spoke front, while the v2 features a 32-spoke rear and 28-spoke front. In use, the updates have made the latest version of the rear wheel significantly more durable than the original.
The rear hub continues to feature 5 degree engagement, but the machined surfaces for brake rotors are gone. It's not something that I can say I've ever noticed a benefit to, whether working on or riding hubs with the feature. But the machined surface was a nice touch that conveyed a sense of quality.
The original and latest version of the Hunt Enduro Wide wheels feature triple-butted j-bend spokes, making replacements easier to find in a pinch. Hunt also includes a few spares, including nipples, with the purchase so customers have some on hand.
In addition to the material and structural updates to the rims, v2 Enduro Wide rim widths are front and rear-specific. The v1 Enduro Wide Rim featured a 33mm internal width on both ends while the v2 is 31mm rear, while the front remained at 33mm. My last custom wheelset featured a similar approach, with a wider 30mm front and 27mm rear rim. The wider front provides a more significant footprint from the front tire, which should result in increased grip, while the slimmer rear rim sharpens the tread ever-so-slightly to improve response from edge to edge. I tell myself I can notice the difference but have never tested it back-to-back; placebo is powerful.
With a preference for 27–30mm rims, I hesitated to go wider with the Enduro Wide and was discussing the Trail Wide with Hunt in the lead-up to the review. After those discussions, I was assured that the Enduro Wides were the better rim/wheel from their range for my riding. Hunt's Trail Wide v1 featured a 27mm internal width, but the construction of the narrower rim was also less robust. This could be a negative for some riders and is worth noting; Hunt's wheels and the widths of each rim are built around a riding style, and they're not alone with this approach. If a narrower alloy wheel is desired, but the strength and durability of a hard-hitting rim are necessary, then look at a custom build using rims that offer different widths in the same construction.
Both the v1 and v2 rims mounted up tubeless without fuss using a floor pump, and the included Hunt tubeless tape, already in place when they arrive at your door, has held up great on both wheelsets. Tubeless valves are also included with the wheels, and the valve caps include valve core removers.
Riding the EWv1 and EWv2 Wheelsets
Once the wheels were mounted with tires, the wider rim's impact was clear, with the 2.5 Assegai of the front wheel displaying a flatter, broader profile than my previous 30mm rim. On the trail, the wider rim and flatter tire profile slowed the reaction time of the bike when moving from one tire edge to the other. The upside was greater stability in rough, chunky terrain. After several rides, the wider profile fell out of mind, and the ride quality of the rims felt normal.
Hunt was kind enough to supply a dual 29 and a smaller 27.5 rear for a mix-wheel setup of the v1 wheels, assisting me in my mix-wheel comparison GeoMetron G1. I favoured the mixed layout during testing and ran with it into the winter. As trail conditions slowed, so did my suspension. While still opening the damper settings to accommodate, the slower reaction time from the bike contributed to a lovely new flat spot on the rear wheel. The incident happened on a trail feature I wouldn't expect anything from, particularly at the leisurely pace it occurred.
Damage to the wheel was enough to cause issues with the seal of the tubeless tire, and mounting new tires wasn't possible without giving the bead wall a tickle with a set of vice grips. This fixed the bead, but the impact had also damaged the rim bed and permanently threw off spoke tension in the wheel. Fortunately, it wasn't long after this that I caught wind of the updated version and patiently awaited their arrival.
With the second iteration of the Enduro Wide rear wheel featuring a narrower width and similar profile, it danced seamlessly from edge to edge. Working on this review has me keen to try narrower rims of the same dimension front and rear to see if that creates a noticeable difference. Another time; for now, things remain wider 'for grip and smashing' in the front and narrower 'for response' in the rear. While unable to ride with the regularity I once did, the time that the v2 rear wheel has spent on the bike and with no damage to date demonstrates a successful update in the durability department. Its actually seen more bike park abuse than v1 ever did and remains solid.
The hubs on v2 differ from v1, and there hasn't been a single blip; I'm confident and comfortable with them. The wheels continue to live on my 160-170mm bike, my only bike, and as a result, they have seen bike park laps and various trail conditions all over B.C. They've not given me any cause for concern and have seen nothing outside of a couple of quarter turns on the spoke nipples in three years. Nothing is invincible, and all alloy rims can be dented with the right impact, but the Enduro Wide v2 wheels have been a treat to rag all over the rocks and roots of B.C. for a reasonably competitive upfront cost.
Where Are Savings Found?
While Hunt's Enduro Wide wheels approach a few features different from Race Face with their Turbines, they target the same audience. Another alloy wheel to consider that competes in the same space as these two is Santa Cruz's Reserve HD|30 Alloy, also released in 2023. The Reserve and Turbine wheels have a higher price of admission than the Enduro Wides, but they come with a lifetime warranty, whereas Hunt provides a 3-year warranty. Reserve and Hunt offer crash replacement options—50% off retail for Reserve and 35% off from Hunt—while Race Face offers a warranty on all their hard goods, including damage sustained in crashes.
No matter which way you slice it, for a few extra dollars, Reserve and particularly Race Face, may remove the need to purchase another rim or wheel ever again. Hunt's warranty doesn't read as if they include flat spots or other common issues but they offer an excellent product for a few hundred less.
Closing
Today, more than ever, spending extra on rims and wheels needs to be well justified. Lifetime or long-term warranties are fantastic and go a long way with the discerning customer as long as they can be trusted. The Reserve HD|30 Alloy wheel warranty is one that, by all accounts, sounds like one worth the additional upfront cost and Race Face's new Turbine warranty is similar; possibly better again.
For 700+ CAD, the Hunt Enduro Wide wheels offer a wider profile rim that competes with the aforementioned options. The difference? They're built with j-bend spokes for simplicity, and a high-engagement rear hub with large double-sealed cartridge bearings and an oversized 17mm rear axle, and their warranty is no slouch. The Reserve wheel starts with a lower engaging hub for a little extra money but has that lifetime warranty, and the Race Face Turbine alloy is built with straight-pull spokes. They're different, but the real jammer is, do the differences outweigh the extra cost for the better on-paper warranty?
I can only assume these new warranties from Race Face and Reserve, which arrived just months ago, will force competitors like Hunt to join the warranty race and in my contact with Hunt, they are 'discussing it internally.' They do, however, note that beyond their three-year warranty, they'll continue to support their customers. This all leaves us with options that never existed in this sport's history, and that's a great thing for riders everywhere.
Head to the Hunt Wheels website for more information on the Enduro Wide wheels.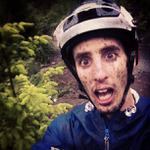 AJ Barlas
Age: 39
Height: 191cm/6'3"
Weight: 73kg/160lbs
Ape Index: 1.037
Inseam: 32"
Trail on Repeat: Changes as often as my mood.
Current Regular: Every test product spends time on Entrail