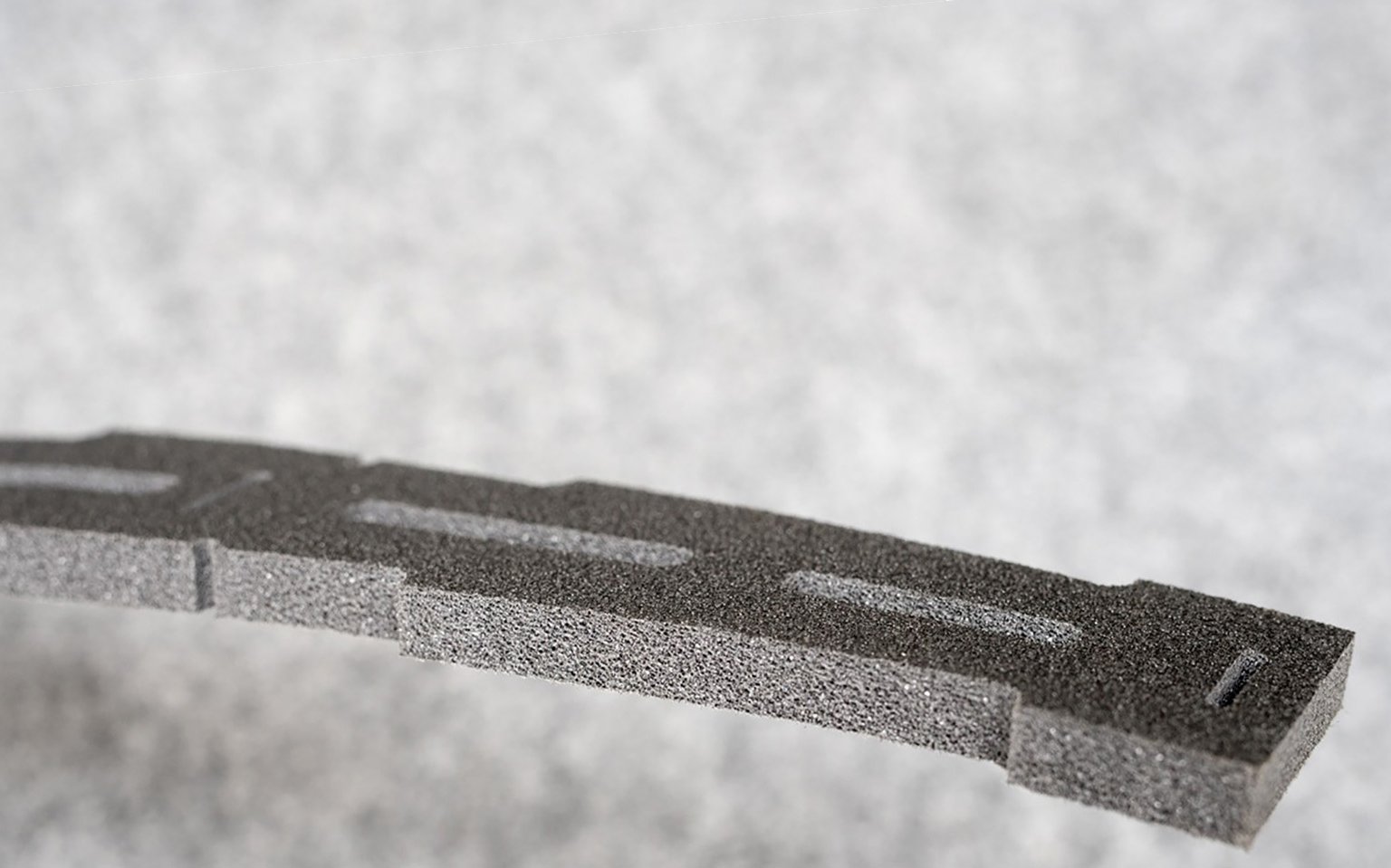 FLAT and DING PREVENTION - A REVIEW
Huck Norris Saves The Day
Huck Norris
Huck Norris is a simple foam liner that lives in your tubeless tires. The shape is optimized to keep weight low and to postion the liner between your rim and the inside of your tire in the event of an impact, preventing both punctures and rim damage. But Huck Norris wouldn't rest after just a pair of claims. 
The system weighs 85 grams a wheel, is really simple to install and looks like someone went to town on a drab pool noodle with a razor blade. It costs €79 a pair and it works. Yep, it really works.
For all the technical details and more information on the specific, totally not pool noodle or yoga mat material, please check out Cam's first look here. 
Huck Norris vs. Procore
I'm on record as being a pretty big fan of Schwalbe's Procore system. I'm going hedge that statement by saying 'other than the added weight and complexity' but otherwise the difference in air volume improves ride quality unequivocally with every tire I've used. The bottom out bumper has undoubtedly saved me at least one rim and I love the way my tire beads are supported from inside. 
Wait, isn't this a Huck Norris review? I hadn't seen any media for Huck Norris the first time I heard of it. A couple guys were talking - laughing actually - about the system they'd seen online and the "gimmicky" idea of adding a cross section of a pool noodle to their tubeless setups. I was immediately intrigued. 
Can it combine stupidly-easy installation with a substantial percentage of the benefits of Procore?
I sort of left it there. These days, for a few reasons, I only run Procore on the front of one bike all the time and on the front of another occasionally. But Huck Norris wasn't done with me. A couple short months later the system has proven itself and saved my testing experience on the Trek Stache.
Cheaper, much easier to install, compatible with a range of internal rim widths and with zero maintenance beyond topping up the tubeless solution it soaks up. It won't keep my tire bead in place in the event of a catastrophic sidewall failure but aside from that, there is a lot to like about the simple man's rim protection. 
Bontrager Chupacabra
Bontrager's 29 x 3" Chupacabra tires are an awesome rubber choice. For other places. I'm sure this is the case because the relatively light, relatively durable, fast rolling, and very supple tires are a favorite of a few riders I know who don't live anywhere near the wet coast of British Columbia. 
I wanted to love the Stache right out of the box but even compared to other more XC-Trail rubber I couldn't get the Chupacabras to behave - particularly up front in greasy North Shore conditions. I found it impossible to balance air pressure low enough for decent traction, and high enough for proper support. I bottomed the front and rear rims a handful of times in the experimentation process. 

When NSMB received a pair of inserts wide enough for the Stache's Duroc rims I knew it was the trail gods trying to make the world right again. I didn't ride the Stache again until I had installed them and I've ridden it plenty since. 
Huck Norris makes five claims about their 'puncture protection' system. A few are over-inflated. But for the most part I think they hold pressure.
Dents
With Huck Norris installed, rims dent rocks. 
I'm going to call this one True. I have hard bottomed both my front and rear rims numerous times with Huck Norris installed and there is no visible damage to the rims. One of the front bottom outs was vicious enough to force sealant out around my tire bead on one side and after a loud celebration of having survived the moment I continued on my ride with zero hassles. 
Both the sound and feeling of said bottom out is also greatly reduced running Huck Norris compared to the standard rock + tire + rim affair I'm used to. It's still plainly obvious when I bottom out on the rim but much like the big rubber bumper on the shaft of a coil shock there isn't the sound or feeling of expensive bike parts being trashed against each other. 
In addition to absorbing a fair amount of sealant (adding weight) there are a couple of places in both the front and rear inserts where Huck Norris didn't fully recover from bruising hits. There is still elasticity in these zones so I'll say the insert has lots of life left but I think it is best to consider it a product that will require replacement over time if it's being put to work regularly. 
Punctures
With Huck Norris installed, tires bite snakes. 
This smells a lot like bullsh*t but I'll give the claim a passing grade. I have actually managed to snake bite a single wall tire while running it tubeless. And in that case sealant was pouring out of both holes - quite a bit more novel than a single hole in my tire. Huck Norris ensures my tire can't pinch itself between the rim and a rock. That prevents one type of punctures. 
That said, the system isn't going to do sweet all if the Chupacabra's 120tpi casing meets any kind of invincible force or immovable object.
Tubeless Setup
With Huck Norris installed, tires blow up compressors. 
I haven't used an air compressor to inflate one of my tubeless setups for years - just a big floor pump and a valve core remover - but this is another entry in the True category for the system. 
Setting up the wide 3" Chupacabra tires tubeless on the Sun Duroc rims is far from the worst tubeless-ing I've been through but I did use a little soapy water on the rear to fast forward the process. Installation is easily accomplished with a high volume floor pump, with the valve cores removed and then re-inserted once the tires beaded up.
With Huck Norris, inflating my tires is a faster and easier process. Like Procore, the insert applies enough pressure to the bead for the inside that getting things going is a lot less of an exercise. Pump, pump, pump and pop. Re-insert the valve core, top up and go ride my bike. 
On its own, the ease of installation isn't an 85g per wheel (plus additional sealant) upgrade but it's a nice auxiliary feature. 
No Need to Overinflate 
With Huck Norris installed, tires dictate air pressure to the trail. 
I found achieving the right air pressure for the Chupacabras in greasy local conditions was a mythological task. I used my patented fat bike technique of airing down the tires until they felt squirrely and then adding a few pumps of air until they were supportive enough. No dice. 
It was either a zero-grip slip & slide on a pair of basketballs or regular rim strikes and the cringing idea of trashing the single ply tires at the farthest possible place from home.  
With Huck Norris, I've managed to balance support and traction without sacrificing rim and tire longevity. I bottom on the inserts regularly and only very rarely is it hard enough to register any concern. 

No DH Tires?!
With Huck Norris installed, tires cut up rocks. 
This claim, I'm afraid, doesn't hold any sealant for me. Would Huck Norris make more sense than burlier rubber if I were a Super-Clydesdale riding terrain the Chupacabras are made for? Maybe.
Locally, I'll take the damping quality of my 29 x 3" Minion DHF 3c over the Chupacabra + Huck Norris combo any day. 
The Minion is, however, heavier than the Chupa/Huck Norris combo. If you are hard on tires and rims and light fast-rolling rubber makes sense where you ride, you should consider Huck Norris a solution to regular burping and flats. 
If it comes down to ride quality I'll still happily take a bit more sidewall support at a higher price. That said, I know lots of people trying to decide between 1.5-ply tires and massive rubber like Schwalbe's Super Gravity and Maxxis' Double Down and in those cases adding Huck Norris to the more supple but still aggressive casing is likely an awesome combo. 
Riding vs. Racing?
Huck Norris is light enough, and simple enough, that I can think of potential racing situations where the system could be in play. Privateer wheel killers trying to prevent flats, dented aluminum rims, or cracked carbon rims and flaming credit cards, could do well to chuck Huck in their back wheel on rocky courses. Of course, I also predicted the same for Procore so what do I know? 
For most racing situations, the extra weight is probably better applied to the sidewalls where it will also help resist tearing. When you are racing, even in Enduro or DH, rolling weight remains a consideration. 
When it comes to riding I think Huck Norris is positioned to excel exactly as the company advertises. Having to run overly aggressive, over damped rubber in locales where lightweight, supple, fast rolling tires excel, is no longer mandatory. Riders who are hard on wheels and rubber and who live where the trails are fast can choose tires like the Racing Ralph, Ikon or Chupacabra with XC wheels while preserving peace of mind. 
Ride Huck Norris?
Huck Norris really has saved my local Trek Stache experience by allowing me to focus on setting up its tires for support and traction without paying attention to other factors. That's awesome. 
For my personal bikes I find that running aggressive tires like Specialized's Grid and Maxxis' EXO sidewall models is a perfect balance between support and traction. 
With that in mind, I can think of a number of situations where Huck Norris and a lightweight, fast-rolling tire would be a premium combination. For Enduro racing? At such a light weight I have to ask why not, at least in the rear wheel and especially for anyone hard on rims. Paranoid about carbon hoops? Rather ride than change flats? Planning to eat a few hundred grams of beef jerky after the ride? Anyone who thinks Huck Norris would work well for them is probably right. 
The price is €69/pair (it's been reduced from €79 - Ed.) and that includes a front fender and shipping. For more information check out the website -  Huck Norris.