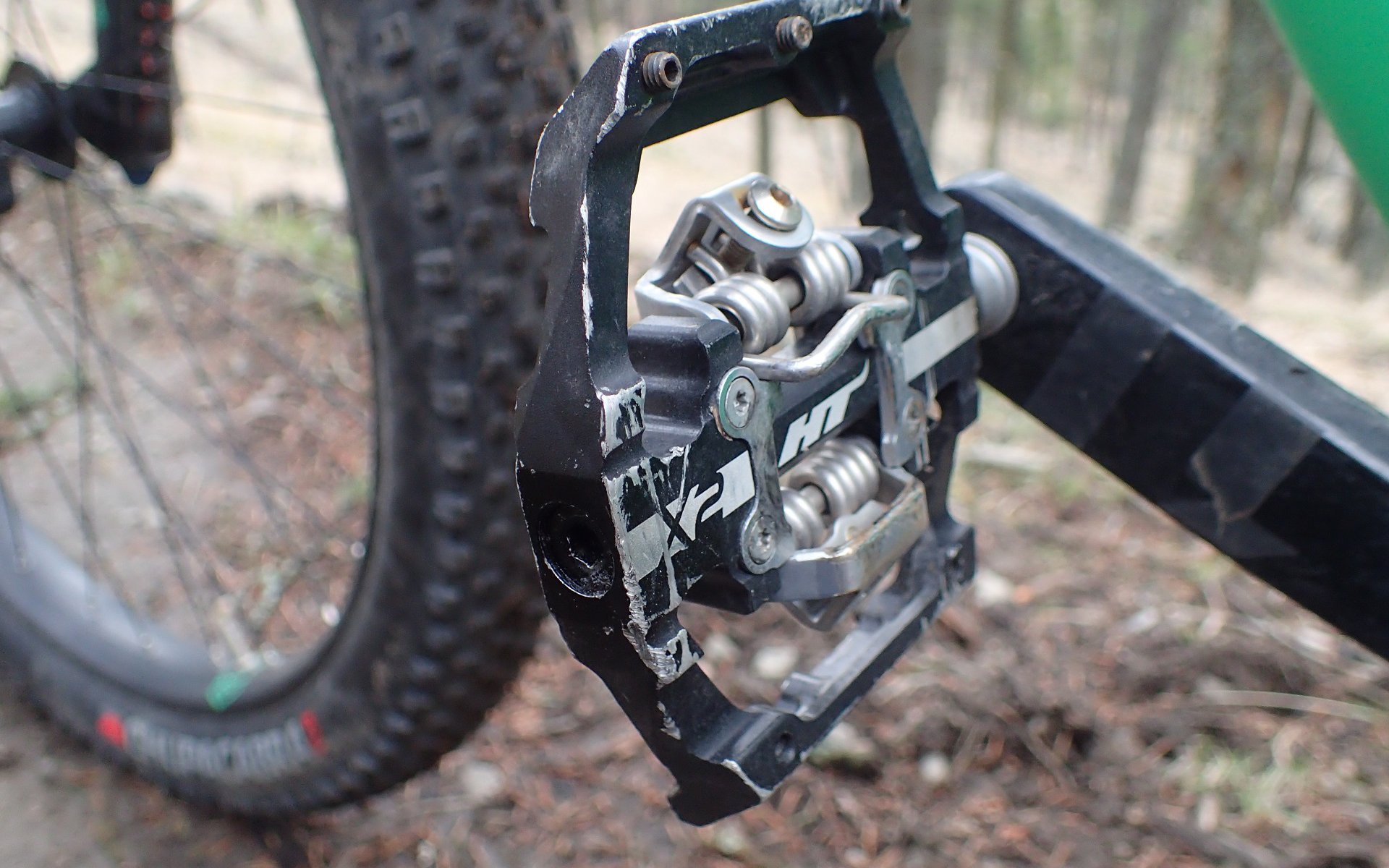 REVIEW
HT X2 Pedals Reviewed
Proven Pedals
HT has been making pedals for 55 years, both under their name and for other brands. Even so, when it comes to high-performance clip-in options they're one of the new players on the scene. With proprietary cleats, multiple body options and even a range of anodized colours I think it's fair to say they went all in.
HT pedals have been well proven on the World Cup DH circuit and at Enduro World Series races by the likes of Aaron Gwin and Jared Graves along with a stack of other sponsored athletes. Those guys get paid to ride them but how do they measure up for the average rider?
Hold Me Tight
I've had a few riders point out that the HT pedal mechanism is similar to Crankbrothers, or a Shimano|Crankbrothers hybrid, and the way the pedal cleat is captured by springs both front and back bears some resemblance. Time pedals are not dissimilar in that regard so it may just come down to the limited number of ways to skin a clip-in pedal without trying to do something really different.
And yet there are distinctions to be made. The HT X2 binding mechanism holds the cleat in a more positive manner than any other pedal on the market. It has ample float but there is no sliding back and forth or vague side to side play present at all.
As I noted in my first look, I have tried both the 4-degree and 8-degree float version of the cleats through my test. I prefer the slightly more positive exit of the 4-degree model but I happily do back-to-back rides on either setup and I think it's great the larger float option exists.
It is a delightful sensation when climbing hard out of the saddle or pedaling out of a corner because all my effort feels like it is going into the process of moving my bike along. I also love that they are dead silent in usage with no clicking, creaking, or squeaking coming from the pedal-cleat interface.
I removed the traction pins from the rear of the pedal, which makes unclipping easier, but I left all three up front for those rare times when I'm riding without a foot clipped in, for whatever reason. Those times are especially rare with the HT mechanism; I never once had an unexpected release under any conditions.
The big pedal body is also awesome at providing an extra degree of out-of-the-saddle pedaling stiffness while wearing shoes engineered more towards walking. Riders with a preference for more flexible soles should add the X2 to their list of best-of-both-worlds pedal setups along with Shimano's DX and Crankbrothers' Mallet.
Not For Beginners
Anyone who is new to clip-in pedals, is an un-committed unclipper or simply prefers a light release action should skip HT's clipless pedals. Not sure if that's you? Put another way, anyone who is running their Shimano clip-in pedals without significant spring tension or who swears by the light kick-out of Crankbrothers' mechanism should give the HTs a pass.
I like a fairly firm engagement and I replace cleats more than most riders. Despite my preferences, I am running the X2 on its lightest tension setting even with the cleats well worn in at this point. Entry and exit did get easier after a few rides but it is still a firm binding system.
A Note On Footwear
I had no problems running the HT X2 with Mavic's Deemax Pro shoes with one thin plastic cleat shim to overcome the depth of the Deemax Pro's cleat pocket. Like my Giro Empires, these shoes have enough curvature that the cleat is proudly positioned for a solid stomp-in-and-pedal.
As I covered previously, the only shoe I can say for certain doesn't interface well with the X2 are my FiveTens. This is really unfortunate to me as they are the shoes I've owned in the last 5-10 years that most need the extra support from a wide pedal body.
Snowmaggedon
I've used the HT X2 pedals extensively in the snow this year. On my own single speed, the Intense Primer, a Kona Wozo and the Marin Hawk Hill. Once I switched over to shoes with a rockered sole I had no issues at all with unclipping. These pedals clear snow as well as anything I've used - including Crankbrothers - and notably better than my Shimano pedals.
On the rare occasions that I couldn't slam my snow-laden cleat into the X2 pedals the wide body and three traction pins provided enough stability and grab to just 'ride it out' in a few sketchy situations.
A lot of riders on the Shore switched back to flats this winter. Actually, it's interesting how many people I know are still on flat pedals instead of going back to clip-ins even now that the snow has melted. Not I! Even on a WOZO in the snow I'm more comfortable and confident clipped in.
I never got around to installing the X2 cleats on the Northwave boots I use for commuting and really nasty wet night rides but I suspect that they would be the ultimate combination for anyone who rides in snow but prefers to be clipped in. That will definitely be my combo, along with my new fatbike, if the Shore is going to be covered by snow again next winter.
Maintenance
I suppose there are two schools of thought when it comes to pedal maintenance. I pull the bodies off of my various Shimano pedals and grease the guts at least once a year and I have adjusted the bearing preload before but for the most part they go until they die. The axle & bearing kits are expensive enough that generally when things go after a few seasons it's time to recycle the pedals and start fresh.
On the other hand, the HT X2 pedals have easy to replace guts that are identical to many flat pedal systems. They include a tool to pull them apart and I took that as a sign that there is an expectation the pedals will need bushings and bearings replaced at some point. That point for me is now.
My non-drive side pedal has developed a decent bit of slop. The drive side spins along fine when I'm pedaling but when I turn it with my hand there is notably more resistance than when it was fresh. Without having pulled the pedals apart yet I'd guess both of these issues could be easily resolved with new bearings and fresh grease.
I know some people will take this as a negative, even when I add caveats about grinding my single speed out of the saddle up steep Shore trails for months in the winter - but I'm personally quite happy with a product that I can fully tear down and rebuild over a couple of beers.
If I worked at HT I'd be looking to make a minor redesign to all their pedals. I'd put a high-quality quad seal at the axle end and a grease fitting on the outside pedal cap and absolutely fill these suckers with grease and recommend a purge every 3 months. It would make the guts last longer and take an already easy maintenance procedure and make it a no excuses maintenance procedure. Pump until clean grease is coming out and go ride my bike. Racers looking for the fastest possible rotation could run a lighter grease or oil instead.

X2 For You?
Whether it's aggressive riders looking for very positive retention ripping down technical trails or a single speeder hammering up out of the saddle tired of their cleats knocking about and wanting maximum efficiency, I can think of a lot of riders for whom the HT X2 is the perfect pedal.
I know a few guys who've shaved a hundred grams going to the T1 but I really like the big body. Some people will be turned off by doing a bit of maintenance but it really is a simple and straight forward process.
Is the X2 for you? It really comes down to cleat retention. Anyone who is running near max tension on a set of Shimano pedals and wishing for more hold, and I know lots of you, should be looking to HT clip-in pedals. Anyone brand new to clip-in pedals, running less than 50% tension on Shimano pedals or loving some Crankbrothers action should skip them.
I think they're awesome. And it's great that HT offers unique performance in a marketplace where the median is well serviced.
For more on HT pedals, including the new hybrid flat and platform clip-in pedal the D1, click here...