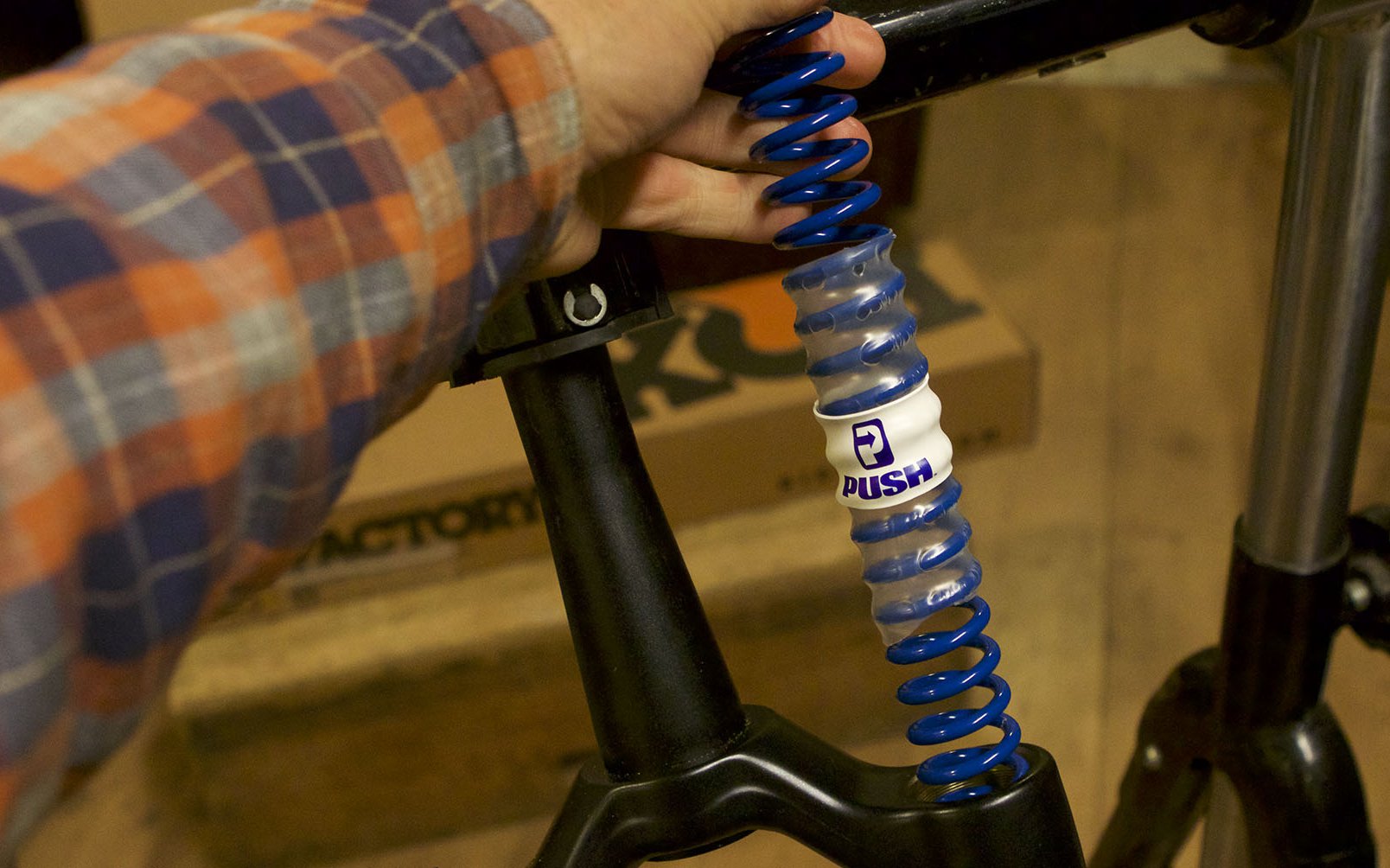 Fork Upgrade DIY
How To: Convert your Fox 36 to Coil with Push ACS3
I thought about taking this to a real mechanic for the install. Swapping a fork from an air system to coil sounded non-trivial to me, and I figured I could justify it by saying I needed my hands free to take photos. In the end I decided DIY was the way to go - despite not having a few of the required special tools on hand. What's worse than getting most of the way through a job only to find you are missing some essential proprietary tool? I looked at the comprehensive list of requirements Push provided and decided to throw my hat over the fence.
Push provided a video of the process and, including swapping seals and doing a bit of an overhaul, the process took just over 14 minutes, while Darren Murphy from Push explained every step. How hard could it be? I did work as a mechanic in a bike shop, back in the age of V-brakes and full rigid bikes, so I'm not completely hopeless. I enjoy tinkering and building when things are going well and I'm not rushed so what the hell!
After releasing air and pulling the top cap it's time to undo the lower leg assemblies and remove the lower legs entirely. An oil pan would have been nice but I needed to improvise. 
Once the lower leg assembly was off it was time to remove everything from the air spring side of the fork. The first step was to remove the spring retaining clip that keeps the air assembly in place. Darren recommends using a dental pick but I have a sharpened spoke with the end curled for a handle. This works for most jobs requiring a pick but in this case it was a trying task. Every time I got the edge of the clip peeled away from the inner stanchion wall it would snap back into place. I fought with it for at least 15 minutes before finally getting it out. A better tool, or maybe even a knife from the kitchen, would have made this task easy.
After draining all the fluid into the frisbee, I was a little worried I wouldn't have enough to replace it. I found a syringe that had never been used and to my surprise there was even more than the 80 mls recommended by Push. 
After replacing the unused fluid all I had to do was strap everything back together.
Taking an already excellent fork like the Fox 36 and converting it is not for the faint of heart. You'll immediately void your warranty, simply because these aren't Fox's parts, and you can't undo the job without an expensive replacement CSU. It will also cost you $389 US for the parts, without a rebuild kit. The fork I worked on also went from 2,100 grams to 2,360 - a little over half a pound.
If your 36 is on its last legs or there is some incurable problem with the air spring, this might be just the ticket. Or if you are simply looking for the incomparable feel and performance of a coil spring with the added bonus of Push's Air Bump Stop cartridge that allows you to adjust the bottom out between 5 and 50 psi. In theory, this means you should get the excellent small bump performance, traction, and smoothness of a coil with the bottom out resistance of an air spring. Remember that Marzocchi Bomber you used to ride? Let's see if this can feel as buttery! Testing begins now.
For more, including the excellent install video, check out the Push ACS3 here...