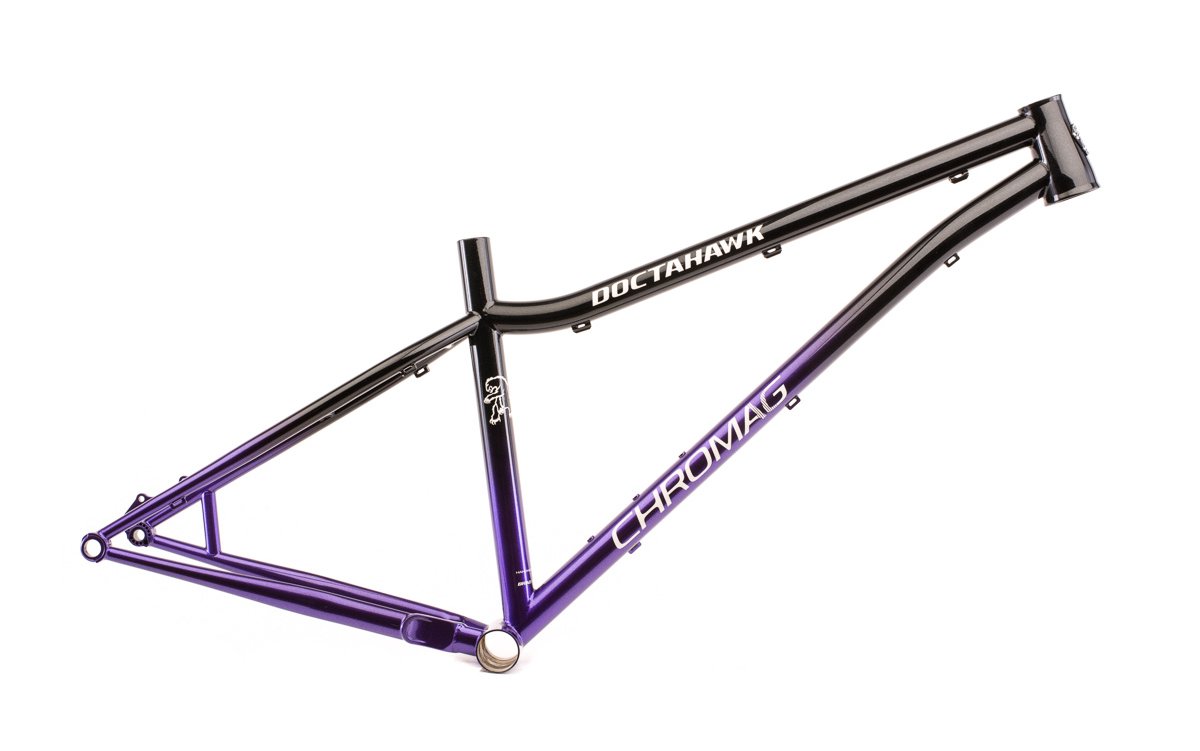 Interview With Chromag's Ian Ritz
How About That Chromag Doctahawk?
Chromag isn't afraid to colour outside the line. In fact, the company was founded around charting their own path. Since day zip, their hardtail frames have steered to the aggressive side; durable and capable bikes. As such, they've always featured more travel up front than typical hardtails. The release of their Doctahawk frame continues the bloodline but it may have skipped a generation or two.
When the news of the Doctahawk dropped on Pinkbike, hoards of keyboard warriors scoffed at the numbers and even doubted its capability. They questioned the long-travel fork with nothing in the rear, and some even claimed Chromag got so caught up in the what they were making, that they forgot to ask if they should be making it. What they forgot is that the people behind Chromag build what they want to ride. It's a refreshing outlook in a world of lemmings, and the Doctahawk epitomizes this point of view. 
I'm not a hardtail guy, but I am a fan of bikes with original approaches to shape and size.  I wanted to know more about the Chromag Doctahawk, which has intrigued me since I first laid eyes on Ian's Tomahawk proto. I wanted to know more. Thankfully, Chromag was keen to spread the word.
Interview with Ian Ritz
It's been a little while since we've seen a brand new Chromag model. How did the Doctahawk come to be?

Our riding buddy and tester, Clark Lewis (AKA Doc Tomahawk) was pushing me to make this bike. We sat down together for a few design sessions and drew it up. At the time I was skeptical considering how much longer the front center was than our current designs—which we had already made about an inch longer a year ago, but I was curious and we ended up making three prototypes to test.
Where does the Doctahawk fit into the range?
Like most of our models, this is a hardtail for riding all types of trail, and it very much relates to the terrain we have here in Whistler and all around B.C.  I wouldn't slot it into any one category because while it's a great descender, it easily rivals the climbing ability of our other frames. As a 29er, it resembles our Primer/Rootdown platform, however, most notably; it's about an inch longer per size. Since the seat tube is also a lot shorter per size, a rider could easily be moving up a couple inches in reach. 
The longer wheelbase really changes the way it feels and it's definitely not as spontaneous feeling in terms of pulling up the front end. If you want to manual, it takes a bit of planning, but it just plows through stuff. In this sense, it's a bit of a sled that eats up chunder and corners really well at speed. You might call it a more 'aggressive' hardtail, I mean… we do build it with a 180mm fork… But really it's just a different geometry theory. It's a different bike and it may not be for everybody. Then again, it could be where frame geometry is going. Time will tell.
There's also a new welder working on the Doctahawk model. Tell us about him and how that relationship formed.
Brad Howlett is our new welder and the Doctahawk will be his model. He's based in Nanaimo and has actually been involved with our frame fabrication for a couple years as Chris Dekerf's copilot, assisting in the building of our Surface frames. Brad worked for Rocky Mountain and Dekerf in the '90s and then worked as a race car chassis fabricator for the following decade or so. Chris recommended Brad to us last year and if you know Chris… well, let's just say he has high standards. It was a strong vote in his favour. Plus, he's a really nice guy and an avid rider. As a Chromag welder, he checks all the boxes.
Our Canadian made models are welder specific. Mike Truelove makes the Samurais and Primers, Chris Dekerf makes the Surface frames. With Brad, we decided to try him out on the Doctahawk and if they flew, he would make them.



Since Chromag's inception, the bikes have been aggressive hardtails but the Doctahawk steps it up a notch. How and why did Chromag go so aggressive with the new bike?
I think we would have gotten there eventually. I was quite interested in what some other builders were doing in this direction. But Clark really wanted to push the numbers. If he hadn't been so adamant it might have taken us another year or two. Like previous bikes of ours, this started out as a geometry experiment and turned into a new model.
People seem to be losing it based on the static numbers in the geometry chart. Can you explain how they work and why they're as aggressive as they are?
For us, it's not as extreme in every direction as you might think. With the same fork, it's only about a degree slacker than our Rootdown/Primer (note that the Doctahawk is built for a fork ranging from 160–180mm) and the seat tube is one to two degrees steeper. The most dramatic difference is the front center length and I could see lots of people having a hard time getting their heads around that. Depending on what you are coming from, a bike with a similar seat tube length could be 3–4 inches shorter in wheelbase than the Doctahawk! 
So yeah, this is a bike that's quite long overall and has a really long reach. The pedal to cockpit is the most dramatic difference and that changes things quite a bit. For me, it took some adaptation to learn to ride it. Now I love it. Geo has been going this way for a while now and we aren't the first to build bikes this long. Who knows, they may go longer. After a season on one, it doesn't feel like we're pushing the limits at all. 
A lot of folks also seem to be hung up on the wheelbase and reach but seem to miss that the steep STA and shorter 40mm stem provide a pretty standard cockpit. What would you say to doubters that think such a bike can't climb well?
I could only prove this by offering a demo but climbing this bike is not a problem. I've had some of my best climbs ever including cleaning Value Added in Squamish for my first time ever. If you know this trail, it's steep, with lots of braided slippery roots and really tight switchbacks. It's got to be a really good day to make the climb. In May we have the Nimby Fifty race coming up which is a good couple hours plus, starting with an hour-long technical climb. The Doctahawk will be the bike I'll ride.


Why run a 180mm travel fork on a hardtail?

Maybe the purist aspect of riding a hardtail doesn't coincide with running an extremely long fork, but we are riding these bikes on demanding terrain and without rear suspension, you use the fork a lot. We've always had long forks on our bikes and when a 180mm Lyrik became available… who wouldn't want to try it! The availability of a 180mm Lyrik was a driver in some part of the frame design.
How much does the fork travel influence the static and dynamic geometry of the Doctahawk?
Quite a lot. Obviously, as soon as you sag a fork, the angles of a hardtail will change. Considering that the fork is constantly active on a bumpy ride, you probably spend a good majority of the time into a good portion of that travel. There has been some discussion here suggesting that a hardtail could have a slacker front end than a full suspension because of this.
The bottom bracket height on the Doctahawk is the same as the Rootdown, but there is 20mm more travel up front. Are you recommending less sag when setting up the Doctahawk?
20mm at the fork equates to 5.9mm difference in height at the BB. Assuming that the times when you are concerned about bb height and pedal clearance is when you are pedalling through obstacles and not using the majority of your travel, you could probably cut that difference in half again. That's a bit theoretical but I can say that increased pedal strikes have not been noticed in testing.
The chainstay length grows as the frame size increases, but STA remains constant. Can you explain why?
We have been experimenting with longer chainstays and particularly as this model is so very long in the bigger sizes, we felt it appropriate to lengthen the chainstays per size.
We haven't felt that STA would change relative to sizes… at least not so far. I certainly would like to hear any theories on it.


What is the STA when the fork is set to Chromag's recommended sag measurement?

HTA and STA angle changes about a degree per 25mm of travel. Assuming about 35–40mm of sag you're looking at about a degree and a half, give or take.
Despite the long reach the bikes are being specified with the same 40mm stem length as the Rootdown. Why not a shorter 31–35mm Chromag stem to provide close to the same cockpit length?
40mm is the default spec in our build kits but we do adjust per the customer's preference. In most cases, I would expect that a rider moving to the Doctahawk would be downsizing.
What is Chromag's experience with different fork offset on such a bike? What offset is specified with a complete Doctahawk?
We tested both offsets with this bike and I'd say the difference is quite minimal and in many cases, hard to notice at all. We all adapted to the offset we had at each session pretty quickly. I observed that the shorter offset tends to wander a bit during slow speed scenarios, like climbing, but was less prone to deflection from head on bumps with a bit of speed.
Is the Doctahawk available to the public now? Have any gone out to customers yet?
Yes! We made a very small initial production of 12 frames and have since sold those. We've been taking pre-orders on the next batch.
Check out all of the details for the Chromag Doctahawk on their website.
---