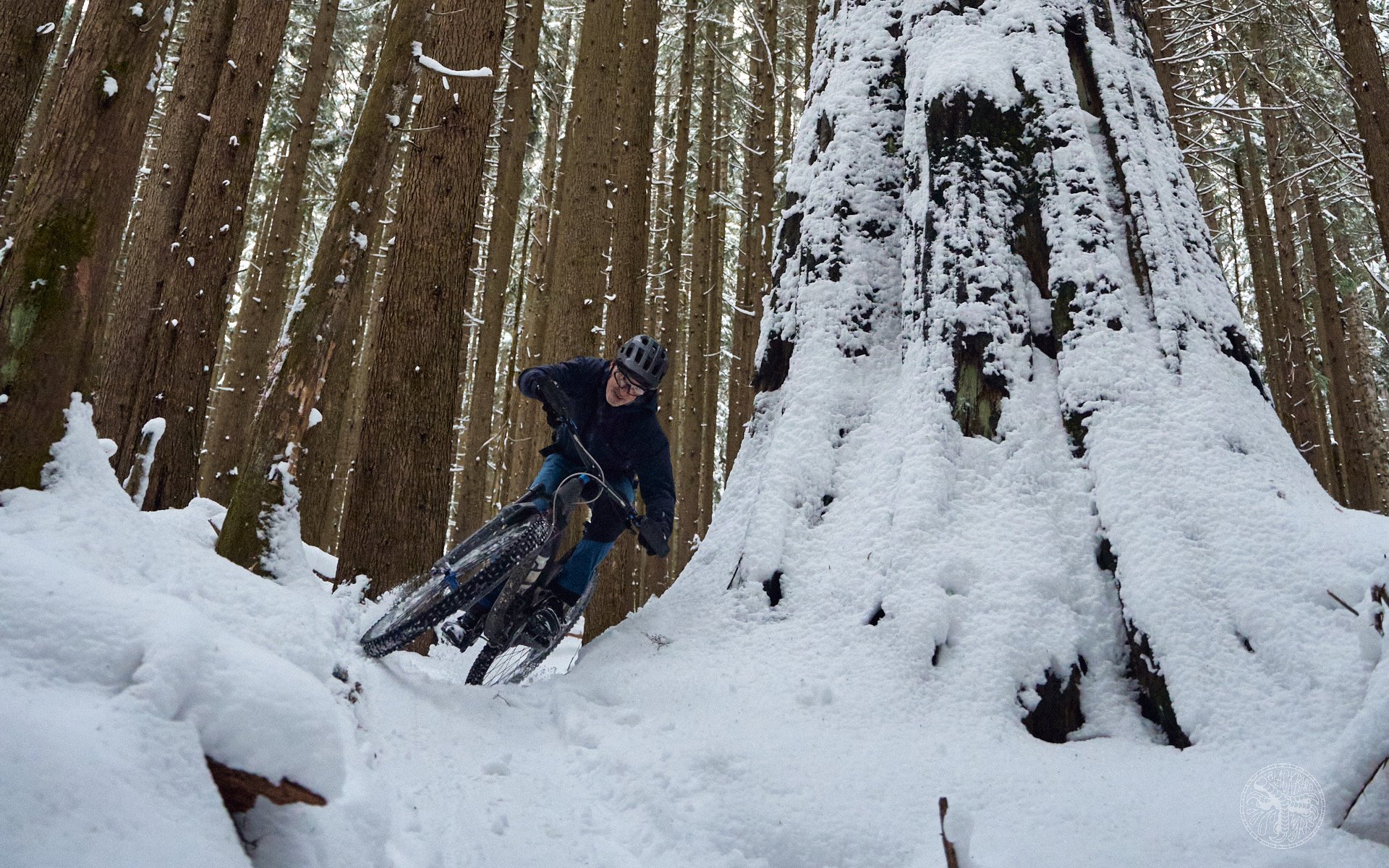 REVIEW
Hope Tech 4 E4 Brakes
I wanted one more ride before I finalized this review, and the weather was decent; a little wet but a relatively warm 6º celsius when we dropped in. The trails were in good shape, thanks to our local trail gods and goddesses, and snow free. The problem was the rider. I hadn't ridden since before Xmas and after 10 days, the flu was still infesting my head, lungs and throat.
I was nervous and tight as we dropped in but determined to confirm my impressions and wring a little more info out of Hope's Tech 4 E4 brakes. It sort of worked out, and yet it didn't. The problem is, these brakes do everything I ask of them so intuitively and so seamlessly, I generally forget they are there.
Whether it's feathering into a low grip situation where speed control without wheel slip is essential, or panic-stopping to avoid a fallen buddy, it's all incredibly easy. It feels as though the levers are an extension of my hand. On a day when I should have ridden as poorly as I felt, I managed quite well indeed, and much of the thanks, particularly for the earlier and steeper trails, should be postmarked for; Barnoldswick, U.K.
Sidebar:
I have to confess the photo is a mock-up. The Hope rotor wasn't compatible with the centre-lock XTR hub and six-bolt adapter because it ended up aligned too far outboard and couldn't be centred. I wanted to use the We Are One Faction rims I've been riding since 2019 but I had to swap out the XTR rear hub as well to fit the We Are One Arrival's 157 mm rear dropouts. It used to be that you'd replace rims and keep using hubs but carbon rims may have changed that. Thanks to Obsession: Bikes for the excellent builds.
Braking Priorities
I should talk a little about what I look for in brakes because it might be different from what you are after. My priorities, in loose order, are power, modulation, lever action, and resistance to heat-induced performance reduction. Obviously ease of bleeding, aesthetics and quality of construction and design come in to play as well, but those generally follow along with top performing products.
Modulation
The ability to control the application of power, AKA modulation, is very important for the riding we do around here because of the often-wet weather, the varied trail surfaces of dirt, rock, and wood, and the steep terrain. My ham-fisted definition of modulation is; the ability to add or subtract braking force by tiny increments to reach the optimal amount of force required for the circumstance and the rider.
We are often riding in situations where any front wheel slippage, particularly at low speed, could mean disaster. This might be creeping along a piece of off camber granite in order to set up for a rock face, riding a ladder bridge on a cold wet day, or controlling speed in a steep chute with a tricky sniper exit. In other areas, with better weather, trails with less jank and steepness and more flow, modulation is less critical. On a high speed flow trail you are generally on your brakes or off them, and speed provides its own modulation. The easiest way to think about modulation for me is to recall what it's like riding on contaminated rotors that howl, grab and vibrate. In these instances there is very little modulation; the brakes are either on or off.
Power
I ranked this first because without enough power, modulation will be of less help, and you'll be squeezing the levers so hard your hands will be useless regardless. A brake manufacturer calculates the clamping force at the rotor, but in practice the force you are able to generate will depend upon your weight, (more weight has a positive impact in terms of downforce but also negative because there is more mass to slow down) tire pressure, rubber compound, as well as knob height, shape and pattern and the trail surface.*
*I've been told by one large tire manufacturer that knob shape makes very little difference to lab results
Lever Feel
This is an interesting one because there are times when lever feel and performance are decoupled. Brakes with really good modulation can often feel a little less distinct when you squeeze them off the trail. Conversely, brakes that contact the rotor with a satisfying thud can belong to the on/off category. I also find that brakes with a solid return spring, (more on that below) that clacks the lever back when released, feel excellent in the garage, but it's important to know that every time you engage the lever, you are pulling against that spring in addition to moving the pistons, adding fatigue and reducing control. Which means the important elements of lever feel can only be evaluated on the trail.
Handling Heat
If you've ever experienced brakes that slowly lose power into a long run, and then go right to the bar when you stop for a moment, requiring some time to recover, you know how important this can be. Unfortunately I don't have much data on monster descents for these brakes but even on rides in high summer, they felt as good towards the bottom of the hill as they did when I was rolling in.
Tech 4 E4
I'm not sure what the second 4 means in Hope nomenclature, but the first one tells us this is the 4th model of this brake. Updates from the Tech 3 E4 include:
New hybrid phenolic/stainless steel pistons for longer service life without sacrificing heat dissipation properties
All-new internal sealing and roller bearings at the lever pivot for reduced friction, alowing for a lower-rate return spring
Hinged bar clamp for the first time
Improved mounting for SRAM controls, apparently with more adjustability than previously (there are Shimano mounts for as well)
E4s come stock with Hope's new green "Race" pad compound which is faster wearing but more powerful and resistant to heat than Hope's other pads. (I can attest to the power but I'm not sure about the pads' lower-rated wet weather performance, which I found excellent)
The Tech 4 E4 is said to generate 30% more power than the Tech 3 and has a new, more ergonomic, lever design.
The caliper is machined from a single piece of billet which should make it very stiff, potentially improving power transmission from hand to rotor. These are the first Hopes I've used so I can't compare them to any previous generations.
A Word about Braided Lines
The first time I realized I was able to purchase braided stainless steel cable-housing, back in the early 2000s I think, I used them at every opportunity I had for several years. In the early days of discs, it was far too easy to crimp, fold, crush, or break mountain bike brake lines during a ride. Spurting DOT 5.1 or mineral oil all over the trail, and your bike, wasn't an unusual occurrence, particularly considering all the crashing we did. Over the bars was a particularly efficient method of ripping a brake line out of a lever. The shiny stainless wrapped hoses seemed indestructible in comparison. I don't recall seeing one damaged and I didn't manage to personally either.
I can't remember the last time I was on a ride when anyone in the group compromised a brake line. It has to be well over ten years. There may be exceptions, but the hose I have used in recent years, by most brake manufacturers, has been bombproof. I'm sure it can break, like everything else, but it's not easy to do. It's possible the braided versions are much stronger, but if that's the case, it doesn't seem necessary.
This means you better be buying these for aesthetic reasons because they are more of a pain to cut, (the braided outer needs to be trimmed with an exacto knife to mate the housing with fittings), they don't hang as well because they aren't uniformly flexible, and they cost more money. I also think, for this build, black would look better, but I wasn't too worried about that, as you can tell by my over-spacered stem.
The Levers
There are two easily manipulated adjusting knobs in the front of the levers. One is labelled as 'BPC', which I assume means bite point control, and the other simply says reach. The BPC reduces or increases the lever throw, which also moves the levers starting point, and the reach moves the starting point of the lever in or out without changing the throw. This should be done in sequence with BPC first because it also changes the lever's starting point.
I had no trouble finding an ideal position for my hands with these adjustments and the lever is machined with dimples on the face of the blade for added grip. I worry a little about the exposure of the knobs, which could become damaged in the event of a crash but there have been no problems thus far.
The light action, thanks to the softer return spring and redesigned internals, is the most impressive feature here, allowing force to be generated at the rotor with very little effort from my digits.
On The Trail
As any F1 racer will tell you, good brakes help you go fast. You don't need to plan nearly as far ahead, because braking distances shorten, and later and more compact braking, lowers lap times. When you are sure you can throw down an anchor and stay in complete control, the stress stays lower as you hurtle into a corner or any blind situation.
I'm not as interested in speed, but these benefits translate well to North Shore riding. Sniper braking points are common, on interrupted rock faces, after launches or gaps, or during steep chutes requiring direction changes mid way. These brakes take much of the guess work out of these moves because I can confidently look down and realize I'll be able to rein things in with little more than a bike length of space.
Despite the 200 mm rotor, I haven't yet been in a situation where I wanted more power from the E4s. There is gobs of clamping force that is easily controlled. It seems to me the credits need to be divided between the pumping mechanism, the incredibly light lever feel and low clamping force required from your hands, and the excellent pads.
For me however, the biggest star of the show is the modulation. Modulation is most noticeable at slow speeds, where poor brakes often reveal their flaws, but these brakes continue to allow for minute adjustments in lever force deep into the power stroke.
On a couple of moves on my most recent ride, with my buddy Mike in front of me, he let his rear wheel slip down a couple of short rock faces and on some other short steep sections. In many cases a little rear wheel slip isn't a big deal, as long as you are able to slow adequately, and often times it's kind of fun. In these instances however I consciously tried to prevent my rear wheel from losing traction and to my surprise, it was easy. In fact I could keep Mike's speed, riding silently without any wheel slip, or go a little slower if I chose.
On top of these other benefits, the reduction in hand fatigue is easily noticeable because so little force is needed from your fingers. This further aids modulation because tired hands aren't good at sensitivity.
Bleeding
I was sent Hope's Easy Bleed tool ($45 here in Canada) which has a reservoir, like a Shimano bleed kit, as well as an alternate master cylinder cap which the reservoir threads into. Once that's in place you simply unscrew the reach and contact adjustments so they are all the way out, fasten the handlebar to the top tube in the direction of the lever you are bleeding, and alternately add fluid and pump the lever. After that you need to alternate between pumping the lever and opening the lower valve to allow air to escape. Continue doing this until the lever feels firm. You can also expose the pistons on one side of the caliper, by squeezing the lever and putting pressure on the other side with some non-marking tool, and then carefully push the pistons back in while opening the valve to allow more bubbles to escape.
The bleed can also be carried out without the kit as long as you source an appropriate section of hose to act as the "waste pipe" in Hope's words. If you do it this way you'll need to have the master cylinder open and be aware of the fluid level, adding a little as you go so as not to draw air into the system. If you bleed your own brakes a single use will pay for the bleed kit so it's a good investment. Since I first installed these in early summer, the action hasn't changed at all and Hope recommends a once yearly bleed.
Interview: Hope Design Engineer Sam Gibbs
I had some questions for Hope so I thought I'd add them to this review. Hope Design Engineer Sam Gibbs was gracious enough to answer my questions.
Can you please tell me how Hope's take on the importance of power vs. modulation, and the relationship between the two, influences the brakes you produce?
Sam Gibbs - They are both important, you will have problems if you prioritise one while forgetting the other. Obviously if your brake is very under powered this will increase the effort needed every time you use the brake and lead to a lot more fatigue. Our aim with the Tech 4 was to increase the power output of the brake while maintaining or improving the modulation offered by the Tech 3 brake. Basically we wanted to have our cake and eat it!
Aside from being produced  in Barnoldswick, can you tell me how Hope brakes differ from the big brands?I think we have far fewer compromises to make compared to a larger brand.
We don't supply OE so we don't have the same price pressures, we can choose the best manufacturing method, hold tighter tolerances, use better materials. The end result is something different to what larger brands can offer both in design, aesthetics and performance.
One of the first things I noticed about the Tech 4 E4 brakes was the return spring. It feels lighter than other brakes I've used. I actually wondered if my bleed was inadequate at first. I've always liked the feel of a strong return spring - at least in the workshop - but I realize that positive feeling would come at a cost to your hands since you are pulling against that spring every time.
Yes the return spring has a lower spring rate than our Tech 3 brake. The spring force directly resists the force applied by your hand so lowering this force will reduce hand fatigue and give more control to your braking. Reducing friction in the pivot and internal piston has allowed us to go for a lighter spring.

I'm very impressed with the racing compound pads. They have been almost entirely silent even in snow, slush, and cold rain. Power and feel are similarly impressive. Can you tell me about the compound and what the goals were for these pads?
The racing green pads are an organic compound pad. The main goal with these pads was to have high friction co-efficient, especially at low temperatures. A lot of riding situations don't generate a lot of heat in the braking system and it's one area we felt our existing pad compounds options could be improved. In the end we ended up with a compound that gives us excellent friction properties right across the full range of temperatures and pressures. The only real downside to these pads is the durability.
The set I'm testing came with braided hose. I assume these are more durable and resistant to crimping or other damage? Are there other advantages to the braided lines?
Yes, the advantage to braided hose is it's resistance to damage. It used to be the case that braided lines flexed less under pressure but standard hose has improved greatly in that respect so there is little benefit there now. Also internally routed cables mean brake lines are less likely to get damaged so the benefits are reduced further.
Your literature notes a hybrid stainless steel piston with a phenolic insert. Low friction, heat reistance and durability seem to be the goals with this design. Was this difficult to implement? How much better are the new pistons over those in the Tech 3?
The Tech 3 caliper pistons were entirely made from phenolic resin. This is great for managing heat as the phenolic is a great insulator. The problem with phenolic pistons is they tend to become dry over time so need to be lubricated to prevent excess piston retraction. The stainless pistons help with this, they need less maintenance, and we need the phenolic insert to help manage the heat. We now have 2 parts to make so they are more expensive to make, I wouldn't say there is a major performance benefit here over a well maintained Tech 3 piston, the Tech 4 pistons give more consistent braking performance over a longer period of time.
Can you tell me about the differences riders would feel between the V4 and the E4 (how much difference in power etc.) and how the products' design,like the  influences these differences?
The V4 brakes are significantly more powerful, (more than 10%) but compromise a little on weight. The E4 brakes are lighter and smaller packaged which may be a consideration on some frames and forks depending on what rotor size you want to run. You will also notice a slightly firmer lever feel on the E4 due to the smaller brake ratio, which may be desirable depending on personal preferences. The softer bite point on the V4 brake helps modulate the extra power.
Scott from NRG didn't think I would need 220 mm rotors considering how powerful these brakes are and he was correct. Can you tell me if you have tested how much difference there is? Do larger rotors also provide better modulation?
Theoretically going from a 200mm rotor to a 220mm rotor will give you 10% more power. In reality there are many other variables which make it hard to put an exact figure on it. I can't say we have ever directly tested it and I don't think we would be able to give a reliable figure if we did. I wouldn't say modulation would improve or worsen but you will need to recalibrate your lever inputs to account for the increase in power.
Aside from bleeding and checking/replacing pads, what sort of maintenance do you recommend for your brakes?
We recommend checking your braking system before every ride. Check operation, visually check for any damage or leaks and make sure bolts are tightened. Check brake discs are straight and check for signs of overheating. Our brakes generally don't need bleeding more than once a year, as pads wear it's quite usual for caliper pistons to need re-adjusting to make sure they are centred and all pushing an equal amount on the disc, the disc shouldn't be getting bent to one side when the brake is applied. Whenever pads are changed we recommend cleaning, lubricating and re-centring the caliper pistons. There are video guides for all of this on our website.

From your perspective what is the most impressive element of the Tech 4 E4 in terms of either manufacturing, design or performance?
Ultimately it's all about the performance of the brake, this is a function of the way the brake has been designed and manufactured. The Tech 4 brake offers high power that is consistent and easy/intuitive to use thanks to great modulation and lever feel.
Thanks Sam!
Downsides?
I'm looking for scraps here because these brakes have been so good. The inability to swap from Moto/euro lever orientation without a bleed will be a negative for some people, but most brakes have that issue aside from SRAM. About the only niggle I have found is that, currently at least, the clearance between pads and rotor is very tight and I've recently struggled to have them aligned without any rubbing. I haven't yet tried resetting the pistons with the master cylinder open so excess fluid is pushed out (the alternate cover and bleed cup should make this process simple) and that may give me more clearance. I will update this article once I've done that. Otherwise these have been the brakes I've been looking for.
In Conclusion
In the last four months it seems I've been making riding comebacks monthly and every return feels a little shakier than the last. Having a well-tuned bike has helped me get rolling again (I've had lots of time for bike work) but I think the Tech 4 E4s have made the biggest difference to my confidence. These Hope brakes have changed the way I evaluate moves, because I feel so confident about my ability to control my speed in virtually every situation I've encountered. This has made my re-entries much less bumpy than usual.
Every element required for the riding I do, including the power, modulation, lever action, adjustability and construction, is at the top of the heap.
I could rave on, but in short, these are the best brakes I have used to date.
Hope Tech 4 E4 Brakes - 380 - 400 CAD / 220-280 USD / 175-220 UK£ / 220-275 EU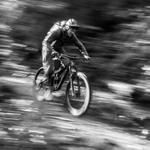 Cam McRae
Height - 6'/183cm (mostly legs)
Weight - 170lbs/77kg
Inseam - 34"/86cm
Ape Index - 0.986
Age - 56
Trail I've been stoked on lately - Boogieman
Bar Width - 760mm
Preferred Reach - 485-500mm (longer with 27.5 wheels than 29)