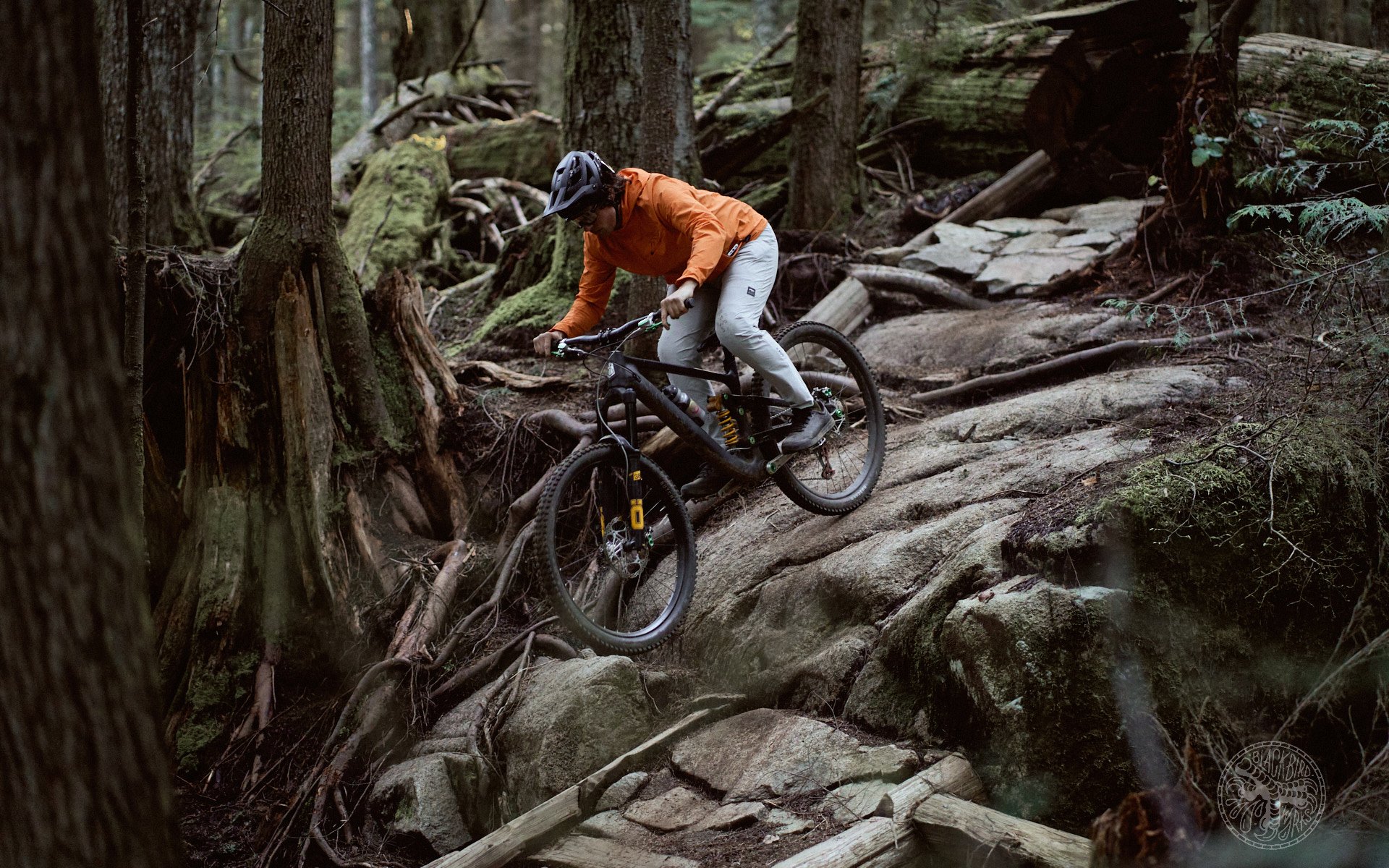 REVIEW
Hope HB916 Review
Hope is synonomous with meticulously machined hubs, brakes, and a litany of blingy bicycle components. Suspension, drivetrains, dropper posts, tires, grips and saddles are bits which Hope doesn't do. The former aerospace manufacturer hailing from Barnoldswick, UK has also stealthily crafted carbon fiber frames for a few years, in the sense that they fly under the radar of North American (or myopically, Canadian) distribution.
Browsing through Hope's site after reading Cam's excellent Hope Tech 4 E4 Brake review, I skimmed over the HB916 pictures and numbers, wondering how its mid/high pivot suspension performs. During the throes of an extraordinarily long winter, NRG Enterprises of Nelson, BC sent one to NSMB.com headquarters with my name on it - I hadn't set out to manifest that destiny, but yes, please!
Receiving new test bikes is always a treat, though I'd never experienced an unboxing like this. Removing the packaging revealed an exquisite carbon herringbone weave on the top tube, adorned with an industrial yet elegant metallic HB 916 logo under satin clear coat. Green anodized pivot bolts and matching brake levers appeared next, followed by the yellow fork decals and shock spring of Öhlins dampers. The HB916 is an incredibly attractive bike - to the point that my significant other mocked me when I stared at its beautiful lines in our guest bedroom (let's be real: bike room). Beyond the beauty of the HB916, I wondered what type of terrain it would excel on. Would it have a sense of versatility, or lay waste to a specific type of riding and disregard the rest?
The HB916 was here for a good time, not a long time. Maximizing hours behind its bars was crucial to understand where it excels. Winter was the shitty friend who overstayed their welcome, threatening to keep favoured sustained test descents closed well past regular spring thaws. Snow finally abated and I was Hope-ful about riding the HB916 as much as humanly possible before my time was up.
The Hope HB916 Chassis
Hope's goal was to build an enduro race bike that would be comfortable not only on race day, but also for long sessions in the saddle punctuated by huge descents - enduro marathons such as the Stone King Rally or Megavalanche come to mind.
The HB916's chassis is hand-built, constructed with a carbon front triangle, with machined aluminum rocker links bonded to carbon seat stays and chainstays. Again, nearly every piece of hardware is manufactured by Hope themselves, controlling every step of the build process.
The raw carbon finish is one to behold. Far from the gaudy raw carbon weaves of past days, the chevron pattern of the unidirectional weave on the top tube is stunning - at least to me - protected by a matte clearcoat.
Hope utilizes a mid/high pivot with concentric rear pivot suspension platform. A 205 x 65mm trunnion mount shock governs 160mm of travel, which we'll discuss further down.
An 18t idler pulley is placed eccentrically back from the lower main pivot, a machined pulley cage ensures the chain stays put on the idler.
Hope employs a 148mm boost rear end and 51mm chainline with a T47 bottom bracket standard. Max rear tire size is 2.6", the largest chainring allowed is a 36t. A 34.9mm custom machined seat clamp lives atop the seat tube.
Pivot bearings (with lifetime warranty to the original owner) live within the alloy rocker links, spaced as far outboard as possible for maximum stability and bearing life. Hope etches a sag indicator on the main pivot bolt, denoting the optimal 30% sag point, forgoing the use of a tape measure (or pedantic litigation issues of sag indicators printed on suspension products). The test bike arrived with green ano pivot bolts (buyers can order six different colours of hardware) etched with torque values. Sure, torque specs can be found in a service manual, but Hope's pragmatism is welcomed and I'd appreciate torque values printed on all bike hardware released from here on out!
In the adjustability department, a flip chip at the seatstay/upper link junction lets riders quickly swap between a 29" or 27.5" rear wheel. An included alternate upper headset cup slackens the head angle by 0.8°, bringing the reasonably slack 64° HA to 63.2°.
Frame storage is facilitated by a "Butty Box", a machined door latching into the downtube via leaf spring and lever cam, with a rubber gasket surround to keep debris out. The door is drilled for a bottle mount. Hope machines an alloy internal surround bonded to the carbon downtube, designed to keep the storage door interface tight. A handmade waterproof zippered pouch is included to stash tools, snacks, or your (legal in Canada) weed. Or all three. Tidy cable management not only can be seen in the downtube void, but with machined cable guides at the headtube junction and chainstays.
Finally, rubber molded bits keep trail and chain chatter nearly silent. Protection lives on the lower half of the downtube, underside of the seatstay, and top of chainstay.
The Hope HB916 is a top tier bike, commanding a high price tag. The natural carbon finish frame retails for an eye-watering 7,300 CAD. There's two other paint options, which are $7,700 for the Neutral painted frame, and $8,100 for the iridescent Chameleon painted frame. These are the most expensive frame prices I can recall. One can also order a complete HB916 without drivetrain ($11,500), with a GX build ($12,500), or XX1 AXS build ($13,950). Lead times are currently 9 months, so put your order in ASAP if you intend on riding one for spring 2024.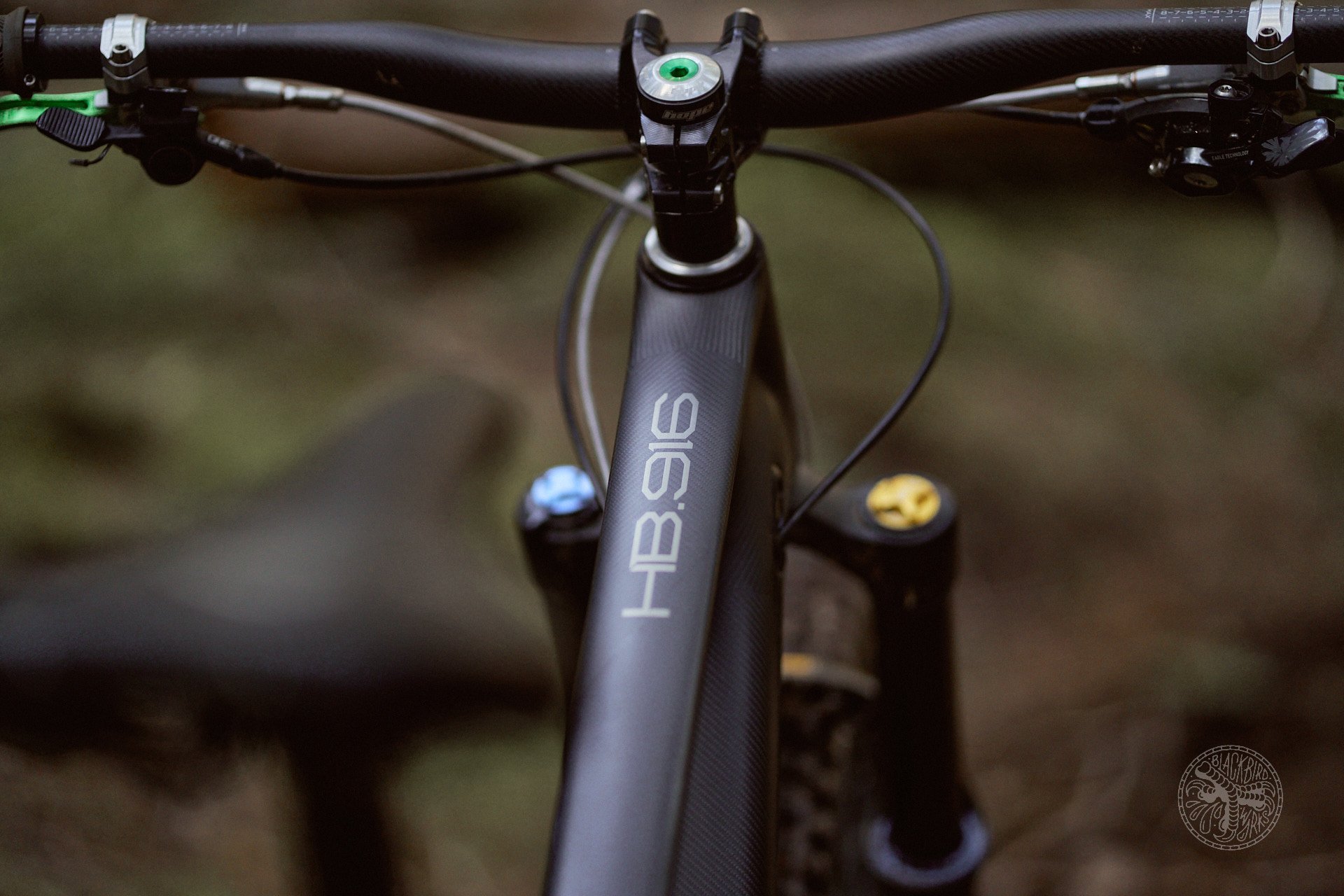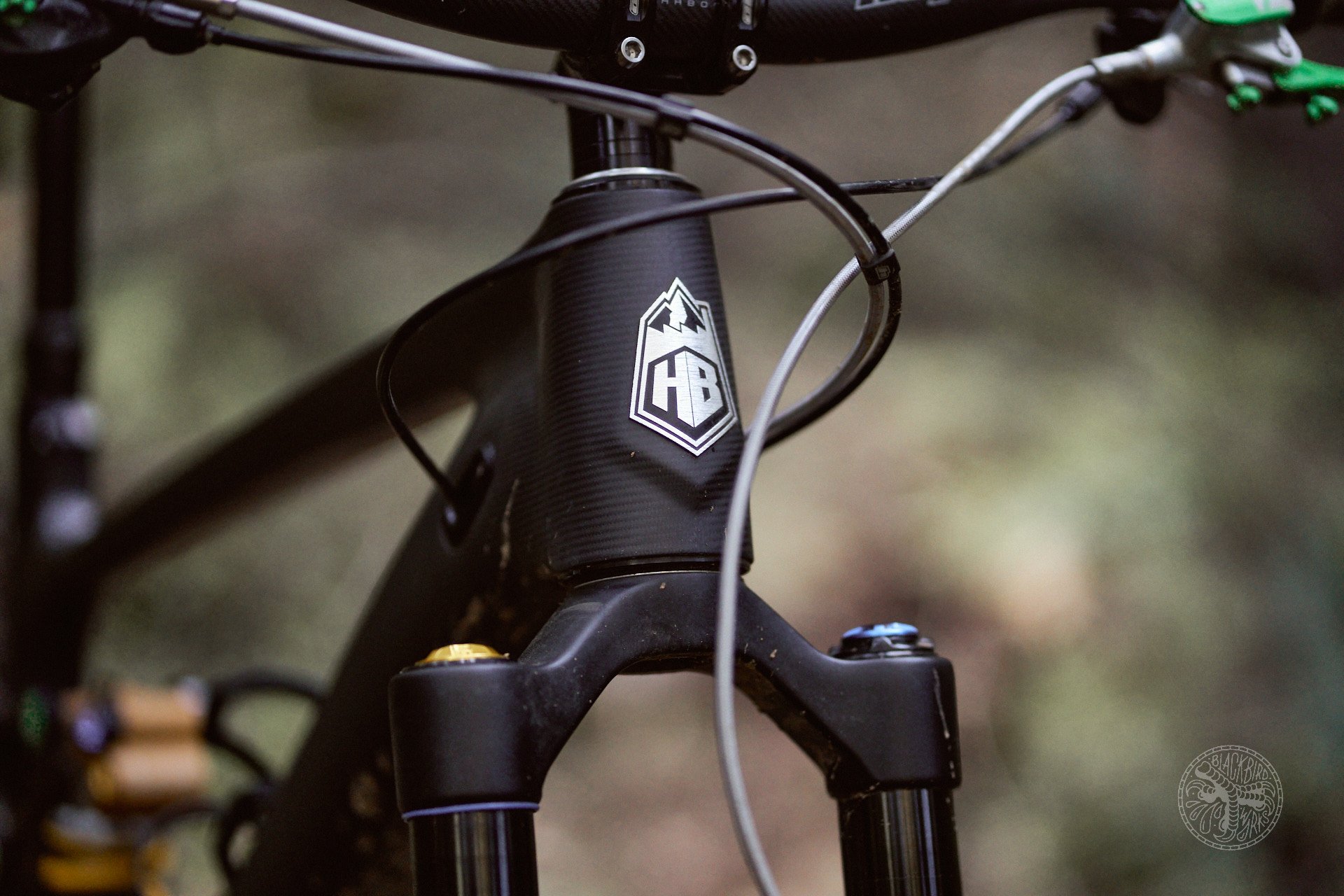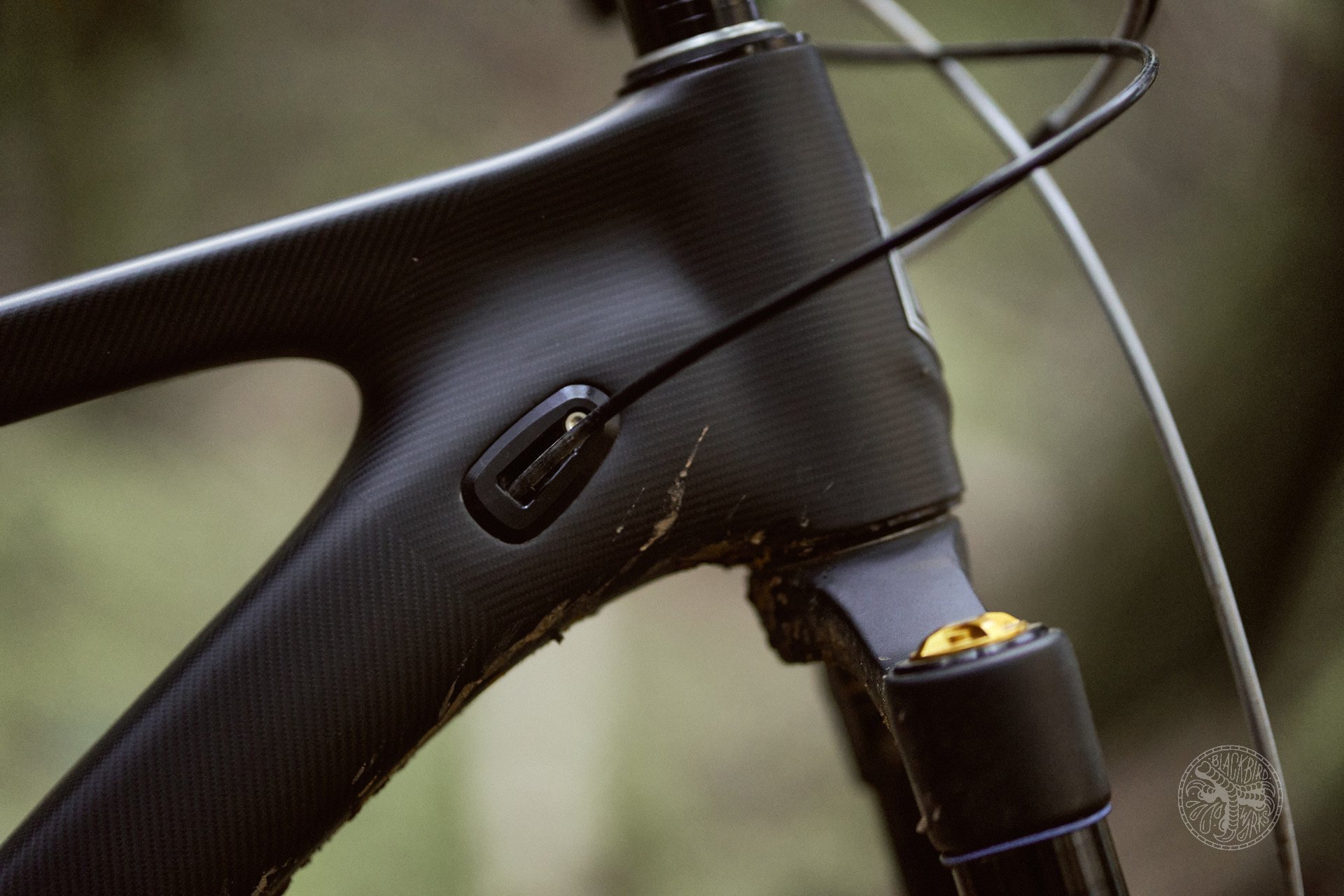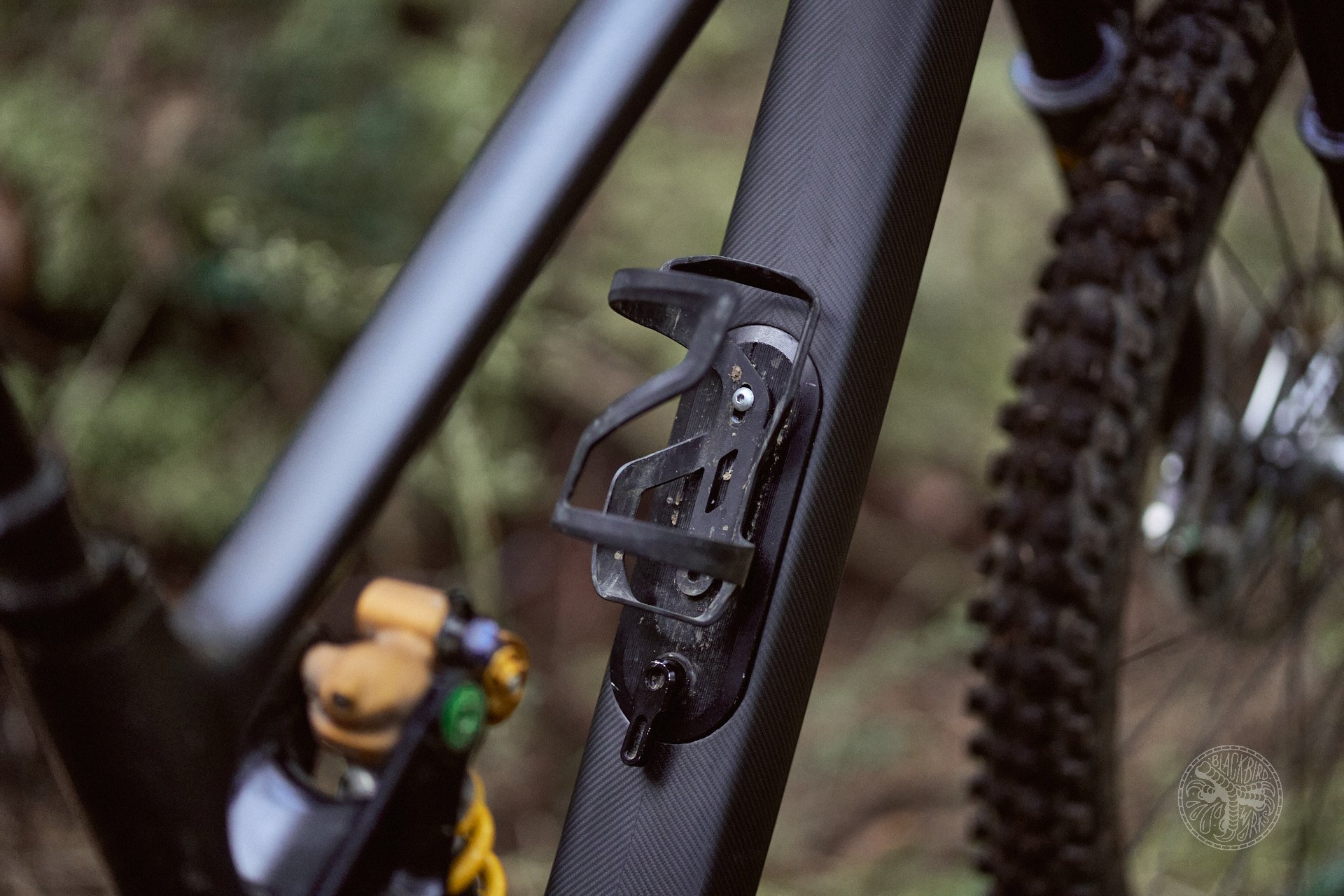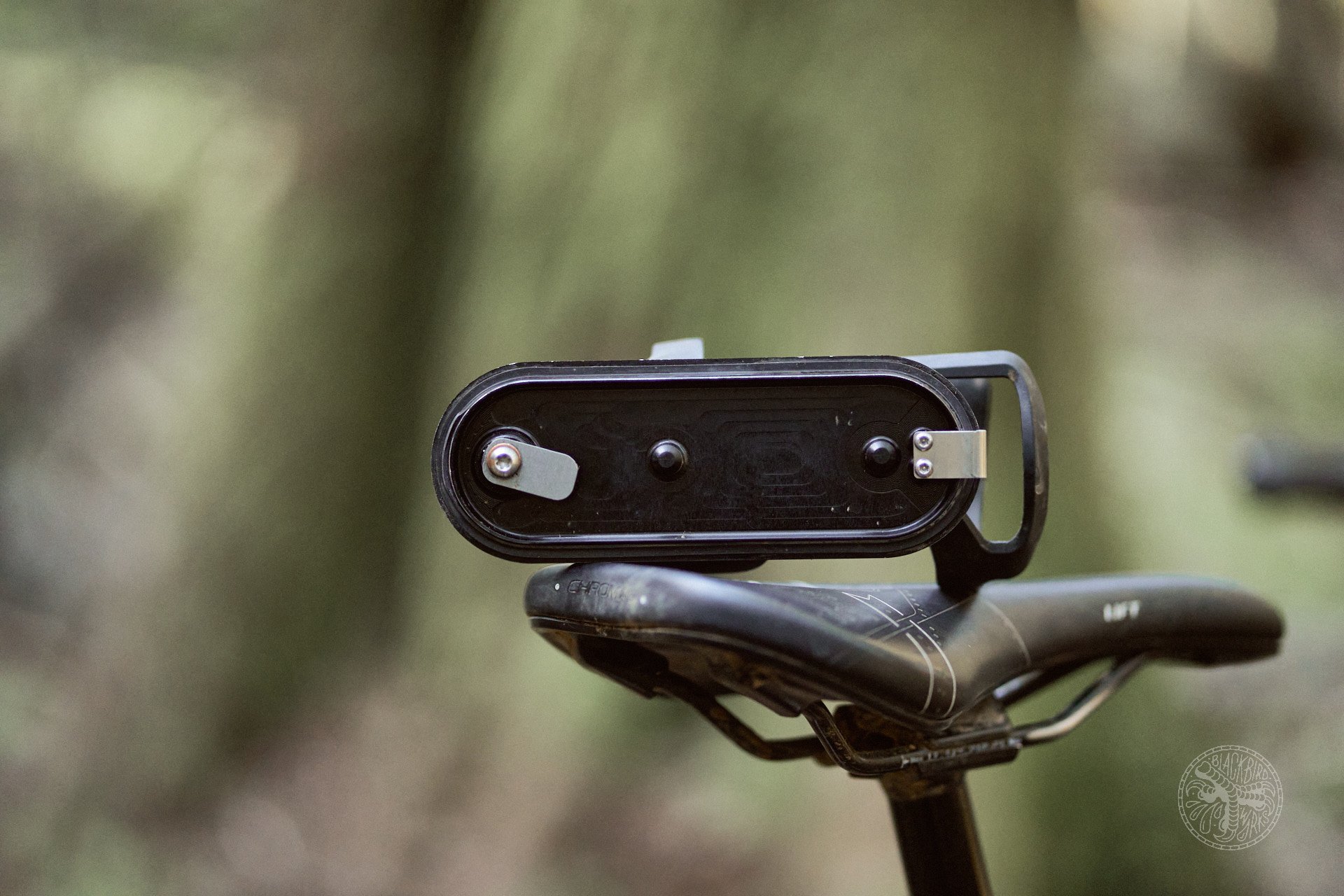 I had some questions regarding the Hope HB916's suspension platform, which Hope Design Engineer Guillaume Leon graciously answered.
Mini Interview: Hope Design Engineer Guillaume Leon
NSMB / Graham Driedger: Can you please describe what Hope calls the suspension platform? I believe it's a high (or mid) single pivot with a linkage driven shock?
Guillaume Leon: We are describing the suspension architecture as mid high pivot with concentric rear pivot. But you are correct, the rear wheel being directly connected to the front triangle it would fall into the single pivot category with linkage driven shock.
Why was this particular suspension design chosen, and what are its standout characteristics?
Quite early after trying high pivot bikes we were convinced about the merits of the inherent rearward axle path especially on longer travel bikes.
We first based the design around a Horst link, like the HB130, but then simplified it going with the concentric rear pivot.
That way it is very easy to control the rear axle path, which was our priority without affecting anything else. The anti-rise can be well controlled and predictable with a value not varying much throughout the travel. The leverage rate can be tuned with the rocker linkage. Of course one big constraint was to allow room for the almighty precious bottle inside the front triangle! Joking about it, but this can quickly limit the scope of possibilities in terms of suspension design.
From the overall geometry to suspension kinematics, our focus was on making the bike to be efficient, balanced, predictable, and easy to ride to save racers precious energy on long day races, enabling them to focus and make the difference when it matters the most.
The bike feels very supportive when pressing into corners, and hopping around, particularly compared to a popular high-pivot enduro bike I've ridden. How is this achieved in the platform?
This will come from an addition of parameters like suspension kinematics, of course, but also shock tune, bike geometry, frame rigidity (or flex) and riding style too. We tried to make a bike that has the planted feel of modern progressive geometry but still keeping it lively for dynamic riders.
The amount of progression and the shape of the leverage curve is part of it too, giving plenty of support in the mid travel. Because of that, the shock has quite a light compression tune so you can have good support and still get through the travel.
I'm very impressed with how well the HB916 pedals. The idler pulley is eccentric to the lower main pivot. How does this affect pedalling characteristics, amongst other kinematics of the platform?
The idler position is critical in terms of anti-squat tuning and we have tried different options during the prototyping stage. We even had a chainstay version with several positions for the idler. In the end, we settled for a position giving a narrow anti-squat window so the behaviour remains predictable, helping tune the rear shock. All this added together helps to give the bike good behaviour under pedalling forces.
The "split pivot" rear junction has the brake mounted on the linkage, how does this affect braking forces in regards to suspension performance?
Just like the other suspension characteristics, in regard to the anti-rise (which is linked to the braking force) the aim was to keep it predictable so the anti-rise value doesn't vary much throughout the travel.
What's the axle path on the HB 916 as it goes through its travel?
The rear axle path isn't rearward throughout the full 160mm of travel, like you might find on higher pivot bikes. This gives less variation of the rear centre length, keeping the geometry balanced. There is a rearward axle path for the first 60% of travel only, growing slightly above 9mm, then it's forward again but remaining behind the starting point.
Now that SRAM Transmission has debuted, I notice that DM derailleurs aren't compatible with the HB916. Are there any plans in the future to allow the use of Transmission or direct mount derailleurs?
For the time being although the HB916 is using a SRAM UDH hanger, it is not compatible with SRAM DM derailleurs because of the overall width or our construction. We are currently looking if we can find a solution to allow the fitting of DM derailleurs.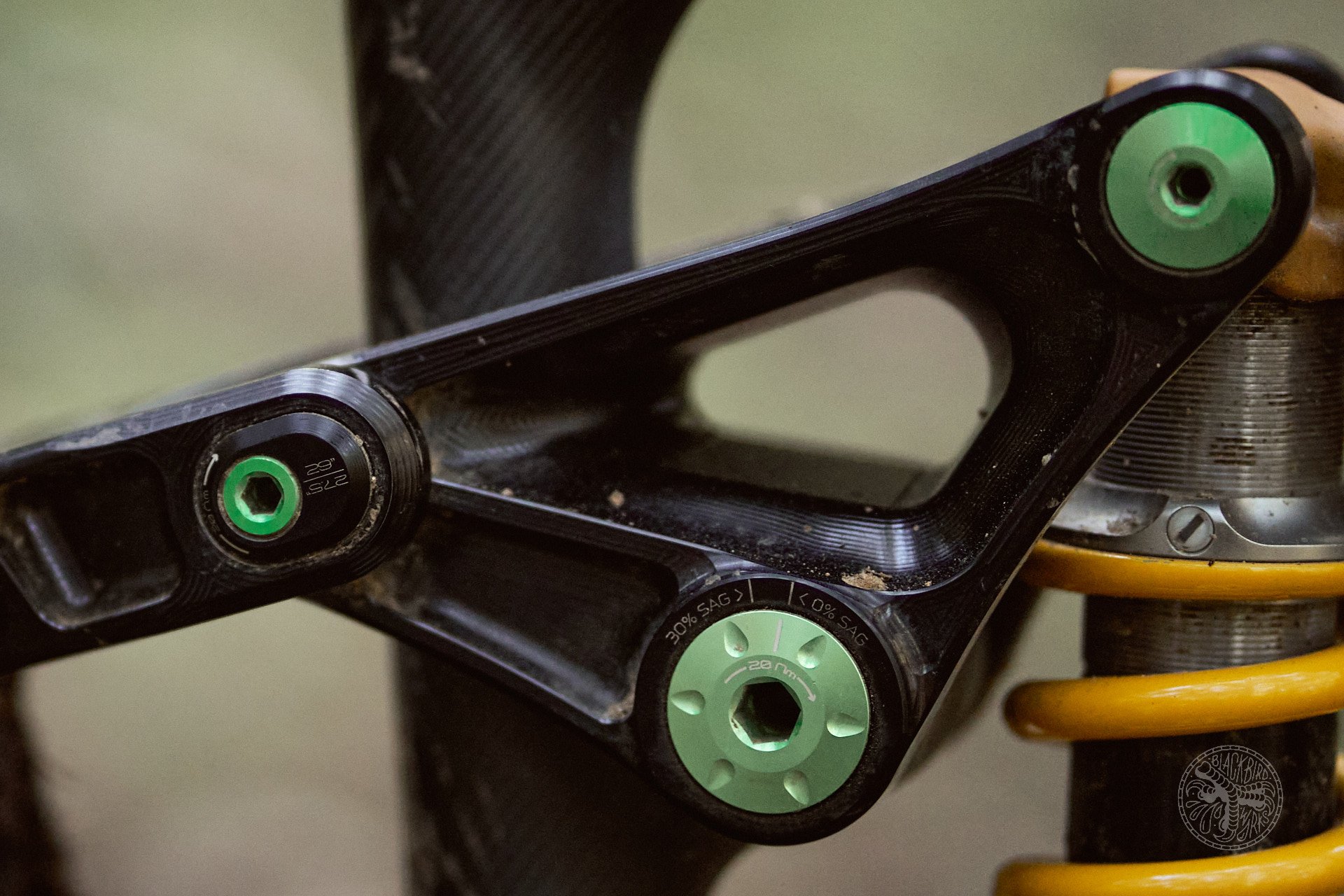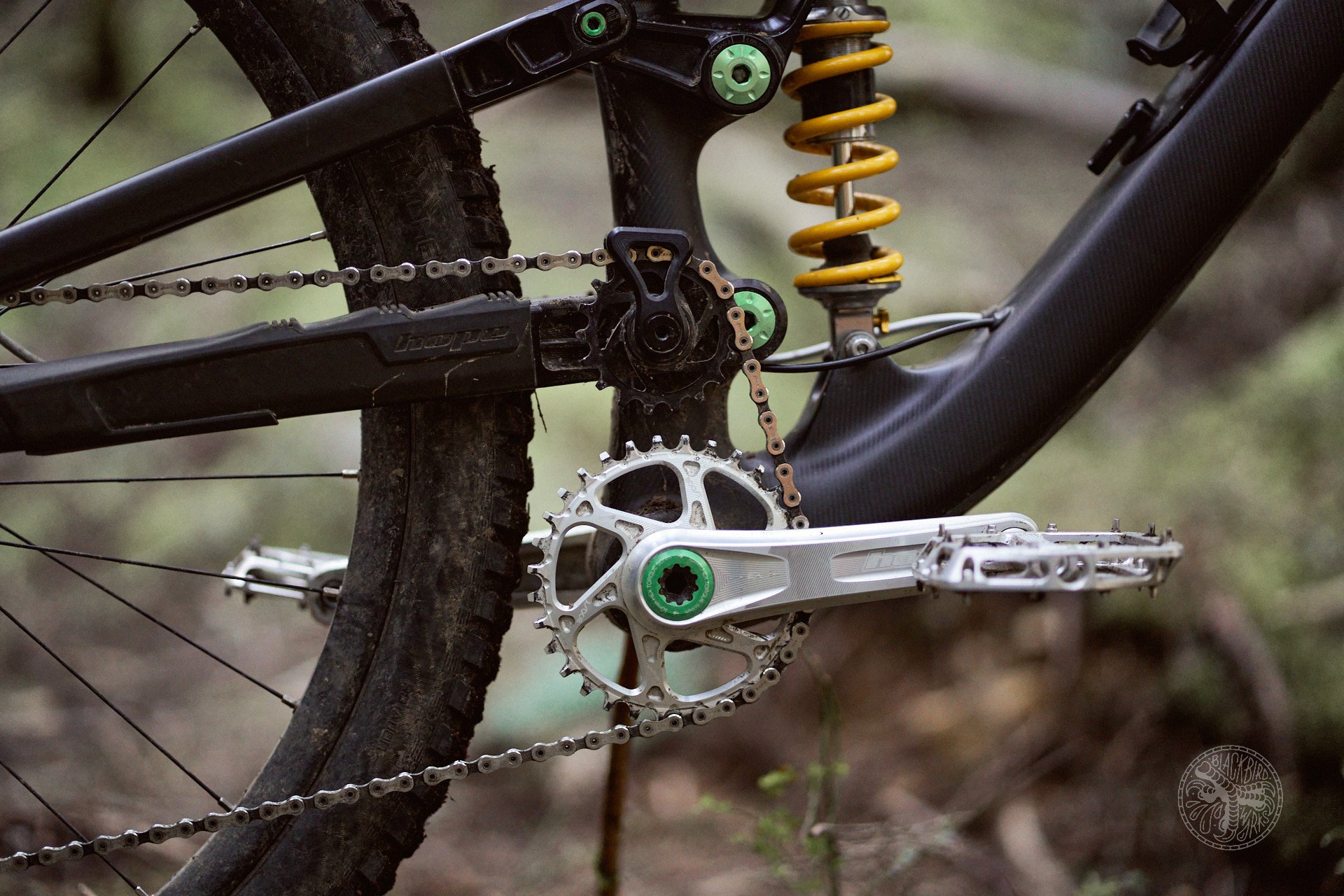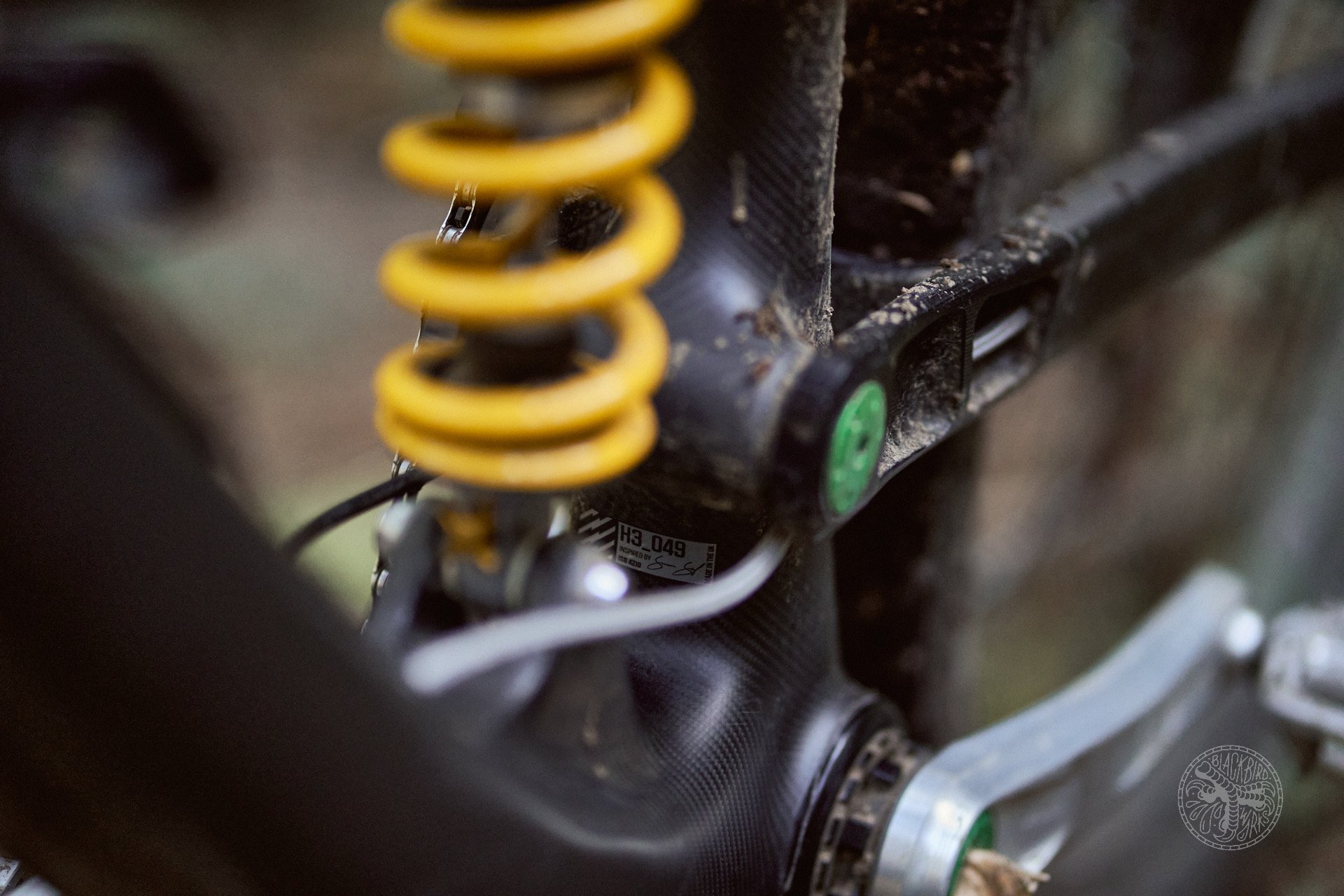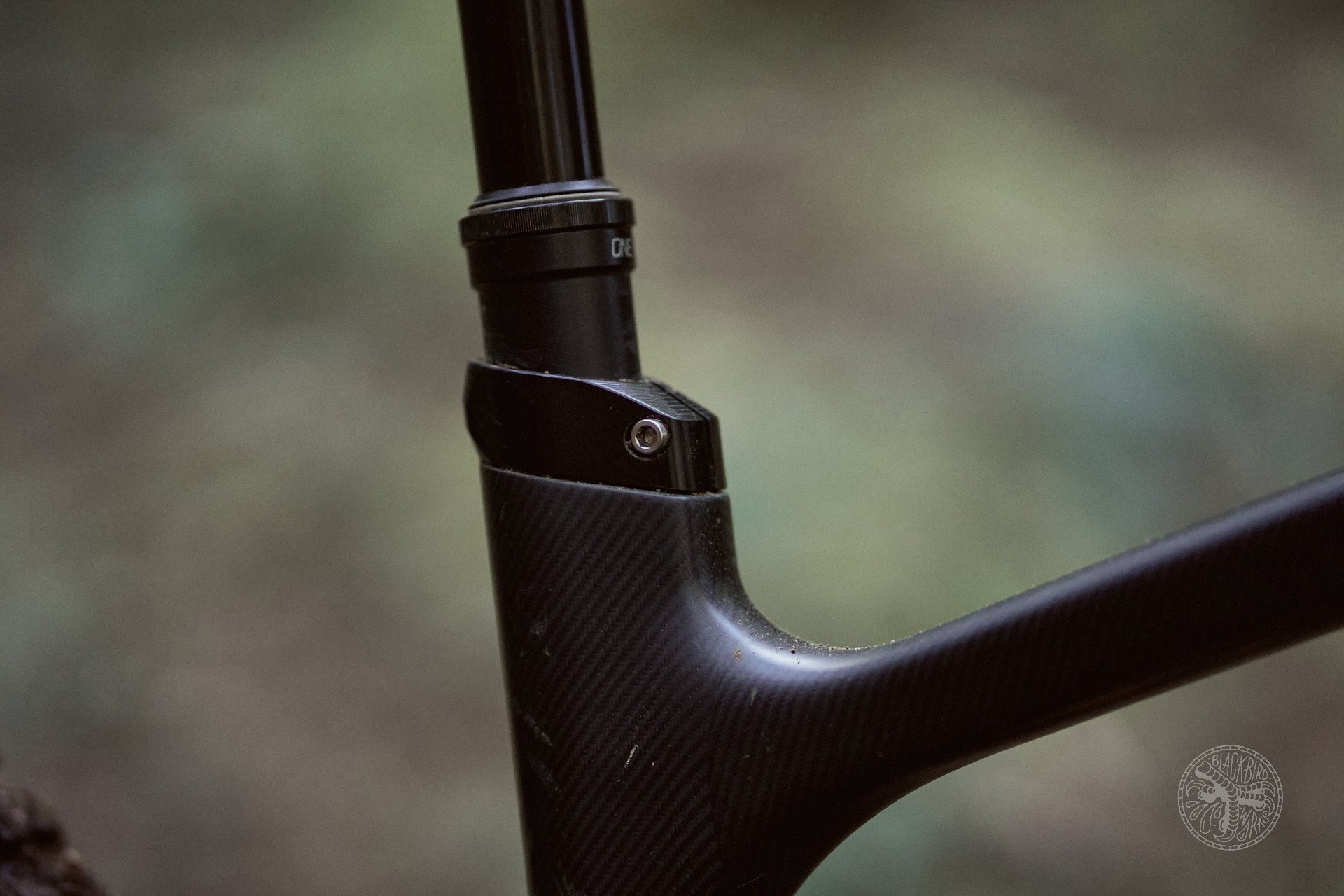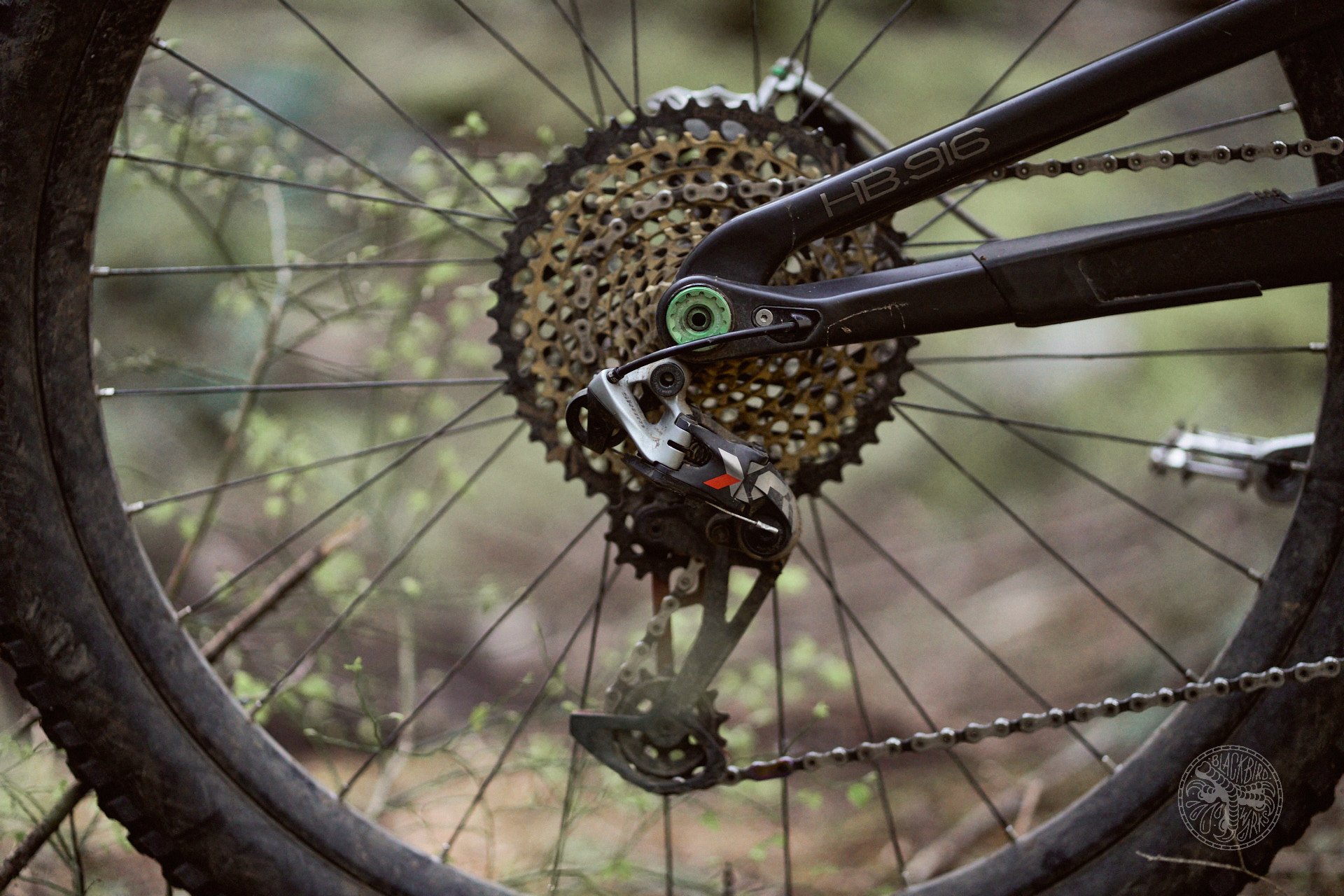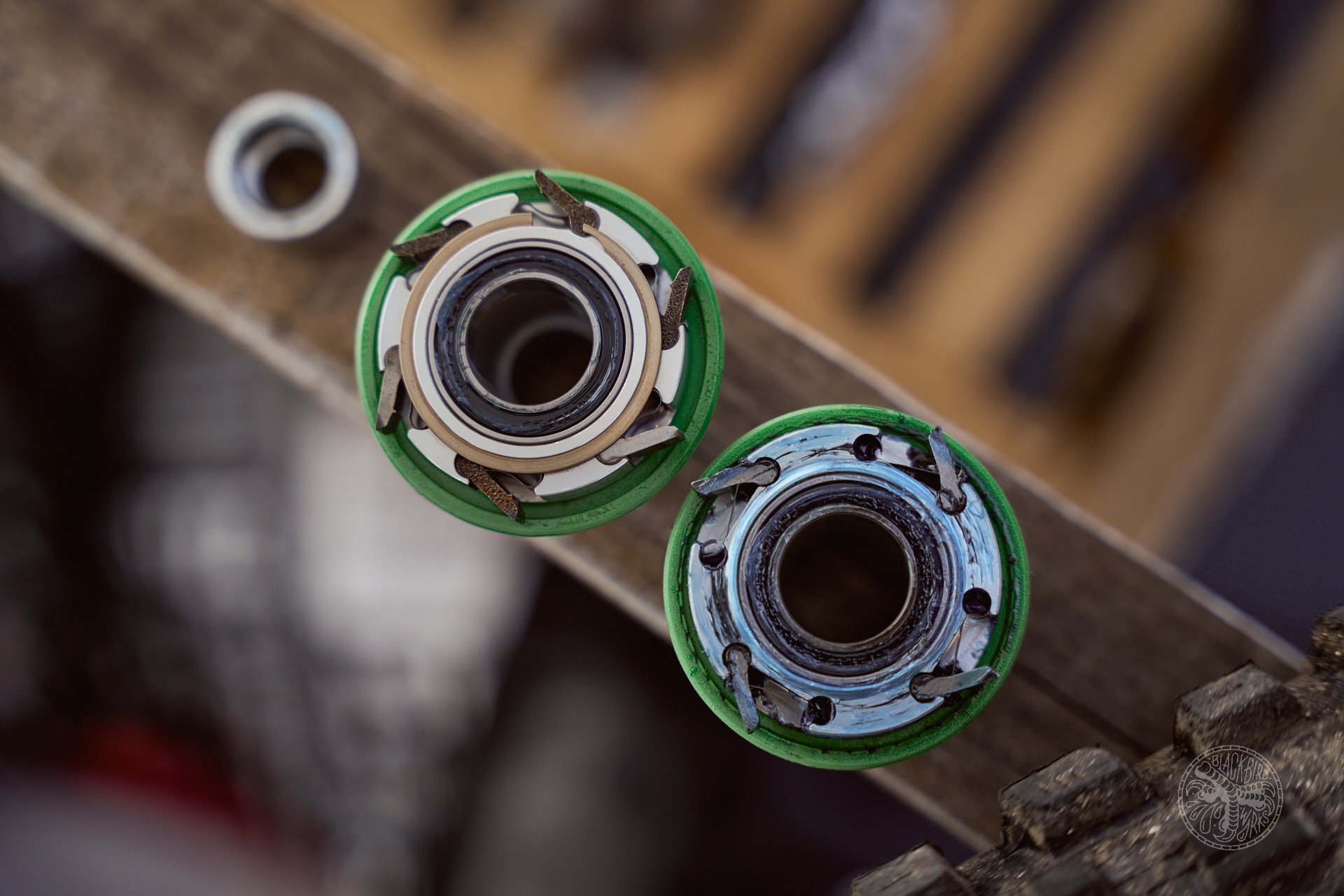 Geometry
I tested the HB916 in the H3 size, equatable to size large from other manufacturers. My current bike has a shorter reach with a longer rear center, I feel very "in the bike", but I could appreciate a slightly longer reach and wheelbase. On the HB916, my body positioning shifted slightly rearward with a longer reach and shorter chainstays. Fortunately, front wheel weighting is intuitive, even with a higher stack height than I'm used to. The long wheelbase feels stable yet capable around corners of any radius.
Hope HB916 Build Highlights
Hope pulls no punches when it comes to the build of the HB916. Öhlins Dampers, SRAM drivetrain and Maxxis tires, Chromag saddle, OneUp dropper and Sensus grips are outsourced, the rest is all Hope.
The stock build arrived with a 27.5" rear wheel (Hope Fortus SC rim & recently released Pro 5 hub), and I eventually switched to the DH-rated 29" (Hope Fortus/Pro 4).
Maxxis Exo+ casings are too thin for my liking. I swapped them for my current favourite tire, the Specialized Butcher T9 Grid Gravity, which is much better for charging, and getting away with murder through heinous terrain.
Though many bike manufacturers spec in-house components, I find they're rare to write home about. This is definitely not the case with Hope componentry. Every single Hope piece is worth purchasing as standalone bike bling. Be sure to stay tuned for the Union Clipless and F22 Flat pedal reviews.
The HB916 weighed in at 15.5kg (34.2 lbs.) without pedals.
Fork: Öhlins RXF38 M.2
Shock: Öhlins TTX22 M.2 Coil, 525-lb spring
Seatpost: OneUp Dropper V2, 210mm
Headset: Hope
Bars: Hope Carbon, 35mm, 800mm width, 20mm rise
Stem: Hope Gravity 35mm
Grips: Sensus Swayze lock-on
Brakes: Hope Tech 4 E4 w/ braided steel lines
Rotors: Hope V4, 220mm/203mm
Seat clamp: Hope Integrated 34.9mm
Saddle: Chromag Lift
BB: Hope T47
Cranks: Hope EVO 155mm
Pedals: Hope F22 flats
Chainring: Hope DM 32t
Chain: SRAM Eagle X01
Cassette: SRAM Eagle X01
Derailleur: SRAM Eagle X01
Shifter: SRAM Eagle X01
Front Wheel: Hope PRO5 Boost/Fortus 30SC 29"
Rear Wheel: Hope PRO5 Boost/Fortus 30SC 27.5"
Tires: Maxxis Assegai EXO+ MaxxGrip F: 29"/ R: 27.5"
Suspension and Setup
The HB916 arrived with Öhlins dampers: a RXF 38 M.2 fork, and TTX 22 M.2 coil shock - the first Öhlins products I've ridden. The exalted Scandiavian status of Öhlins had me worried about finding precise air pressures and damper settings, potentially feeling uncomfortable if not honed in upon. Luckily, the operating window on both fork and shock was lenient, and most things felt good off the bat - albeit a touch soft. Suggested pressures/spring rates left me wanting a stiffer ride quality, but that was quickly handled with a shock pump and a heavier rear spring.
The RXF 38 M.2 is a 44mm offset single crown enduro fork with 38mm stanchions and 3 air chambers (positive, negative, and bottom out). The fantastic TTX18 damper features independent HSC, LSC and rebound adjustment. A 15mm floating axle keeps the front wheel on.
Öhlins suggests a 1:2 ratio for the main chamber to ramp-up chamber, but Mike Brothers of NRG found the magic ratio to be closer to 1:2.22. Main chamber pressure was determined early on, I tinkered with the ramp-up chamber after a few bottom-outs.
I settled on 145psi in the main chamber, and 230psi in the ramp-up chamber. Rebound was set at 6 clicks from closed, the 4-position HSC circuit at 3 clicks from closed, and LSC at 8 clicks from closed.
The TTX 22 M.2 Coil is a trunnion mount 205x65mm configuration with rebound, LSC and 3-position HSC adjustment. The TTX 22 M.2 arrived with the gravity specific golden high speed compression valve vs. a more trail-bike appropriate blue valve.
I sit squarely in the middle of Hope's suggested 475-lb spring rate for the TTX 22 M.2 coil shock, but quickly found that to be under-sprung, settling on a 525-lb spring at 28% sag. I ran the rebound as fast as I could bear, at 5 clicks from closed (6 clicks total).
To be fair, the mid-stroke support of the TTX22 M.2 (and the HB916 platform) is plenty supportive without feeling harsh in the least. I didn't touch the LSC adjustment until the last few days of testing, running it at 8 clicks from closed.
Climbing
Early on in the test period, winter was flexing hard, so there wasn't any sense in attempting to shuttle longer laps. Besides that, my fitness was waning and I needed to spin the pedals a hell of a lot more in general. So, I pedalled up the Mt. Seymour road. I flipped the high-speed compression knobs of the fork and shock into full firm mode, because why not? Granted, the HB916 isn't intended for paved roads but the 78° seat angle felt comfortable as it placed me directly above the cranks. The rear end felt very supportive and relatively inactive as I continued sweating away some winter pudge. Well, not before I noticed the Hope Evo 155mm crankarm with 32t chainring. Compared to my personal bike (with 170mm cranks) climbing required more gas, reducing me to mere fumes on this particular ride. Hope recommends reducing 2 teeth on chainrings per 10mm of reduction in crankarm length. I run a 30t on my personal bike, so by that rationale, I'd need a 28t chainring. More on the benefits of shorter cranks later on.
Taking the HB916 to gritty technical climbs revealed how much traction the rear end delivers, without sapping energy. Again, the seat angle is very noticeable here, making the bike feel shorter than it is considering the 487mm reach, the front end staying composed, not wandering around. I repeatedly flipped the HSC lever on the shock from fully open to climb mode, not to find a vast difference between the two, usually leaving it completely open unless I was on a long fire road. Pedalling through loose, rocky slopes proved easy with traction aplenty. The anti-squat values correspond to the location of the idler pulley, contributing to the composed climbing capabilities. Speaking of the idler, a microscopic bind can be felt through the pedals if the chain isn't adequately lubed. All the better reason to keep on top of routine maintenance. Long days spent in the saddle confirmed that the HB916 is the best pedalling 160mm travel bike I've ridden.
Descending
I dropped into a short and greasy rutted out former loam trail, full of whoops and off camber corners. The reach felt comfortable, not outstreched. The mighty HB916 immediately asserted itself as a traction monster with a damped ride feel with an incredible amount of mid-stroke support and pop, feeling like it has shorter travel that it does. With that in mind, there's not an iota of harshness (fore or aft) as the suspension works through its travel. The stout rear end with a 1287mm wheelbase carves predictable arcs through sketchy terrain, holding a line through unpredictable crap. The 440mm chainstays let you drive your heels, slapping corners on command - particularly in the mullet configuration.
Over choppy terrain full of rollers, the mid/high pivot extends the wheelbase through the midstroke positively accelerating you away from your very fast riding buddies. This also dares you to stay off the brakes until far past regular braking points, letting the liquid suspension do all the work. Early in the test period, NSMB's own Ryan Walters (a pinner in his own right) said I was riding noticeably faster on the HB916, to which I attribute the extra speed of the genius suspension platform. Thanks, Ryan. Grabbing the incredible Hope Tech 4 E4 brake levers shuts down speed at a rate I'd not felt before, a sublimely light lever feel juxtaposed by brute force power and modulation. My hands and forearms have never been so comfy on long descents, simply not tiring in areas where I'd be death-gripped using any other high-end enduro brake. Yes, they are that good.
Back to the cranks for a moment. The Hope Evo 155mm cranks position my feet in more of an neutral stance compared to regular 170mm cranks, with less noticeable tension in my hips. Riding switch-footed felt far less alien than usual, as I lazily bumbled through janky terrain. I can't recall a single crank-arm strike - the crank ends confirm that - and they're machined closely to the pedal threads with just enough meat on the ends for structural integrity. I think shorter cranks should be considered by many riders, gravity focused or not.
On chunky, steep terrain, the midstroke support of the Ohlins RXF 38 M.2 damper let me stay forward with an aggressive stance, sedating all but the nastiest of compressions. Stoic, if you will. Incline, an old-school chunky Mt. Seymour classic (as ridden by Thomas Vanderham here), begins with a 100-meter long, wooden-cribbed stairset filled with chundery rocks. Ridden properly, both wheels should drop over each step at the same time. Well, same time-ish. Line choice is crucial for successfully cleaning this at speed. The HB916 pattered through each step in significantly damp succession. On another ride, I teed up a regular slab line, only to realize I'd aimed too far right, missing the smooth transition to terra firma, heading toward a janky lump. Pumping over the lump would mean my front wheel would land on flat ground from a tremendously steep angle. A quick unweight let the generous dampers control the potential chaos, riding out cleanly. I've not ridden any other enduro bike capable of such composure.
Flow trails are a blast to hoon around on. Again, rear end support is immense as you accelerate through berms, the HB916 wanting to pop off every roller, drop or lip. Yanking the bars skyward on flow trails is effortless, the wheels immediately follow suit, potentially sailing past the intended landing zone from the free extra speed afforded by the extend-o wheelbase. Luckily, the landing gear is large and rarely overwhelmed. The HB916 could be a surgeon's scalpel for bike-park days.
I rode both the 27.5" and 29" rear wheels. Beginning with the mullet setup, turn initiation was instinctual, using my legs to push the rear wheel around sharp corners. This encouraged me to try Scandi flicks on as many corners as possible, the playfulness level very high. Switching to the 29", wheel rollover through jank felt easier, with a more forward weight bias. I'm not sure which I prefer more, but I certainly enjoy having the option of both.
Without question, the HB916 has accelerated me into a faster plane of riding. Now that it's gone, will I be able to keep that up? Possibly. Will I able to stay that composed at speed? Likely not. This bike is a speed dealer, conserving rider energy through the most heinous terrain. If money isn't an issue and comfort at speed is a priority, Hope's 160mm HB916 should be at the top of your list.
Final Thoughts
Hope's beautifully built HB916 is an incredibly exotic enduro arrow. Its capabilites are vast, converting flatter terrain to speedy laughs with its supportive, velcro-gripped suspension. Exhilarating rides begin when you attempt the high-line above the usual high-line, that rock you've been eyeing for years, or the chute you were spanked on recently - only to grease it all. The HB916 is a safety net of a machine, a hawk with the reaction time of a hummingbird. The bespoke HB916 commands a premium price and a long lead time, but I can't stop thinking about how the heck I'm going to buy one.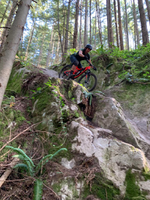 Graham Driedger
Age - 38
Height - 182cm/6ft
Weight - 92kg/205lb
Ape Index - 1.035
Inseam - 32"/81cm
Mountain: Seymour
Bar Width - 780-800mm
Preferred Reach - 475-500mm