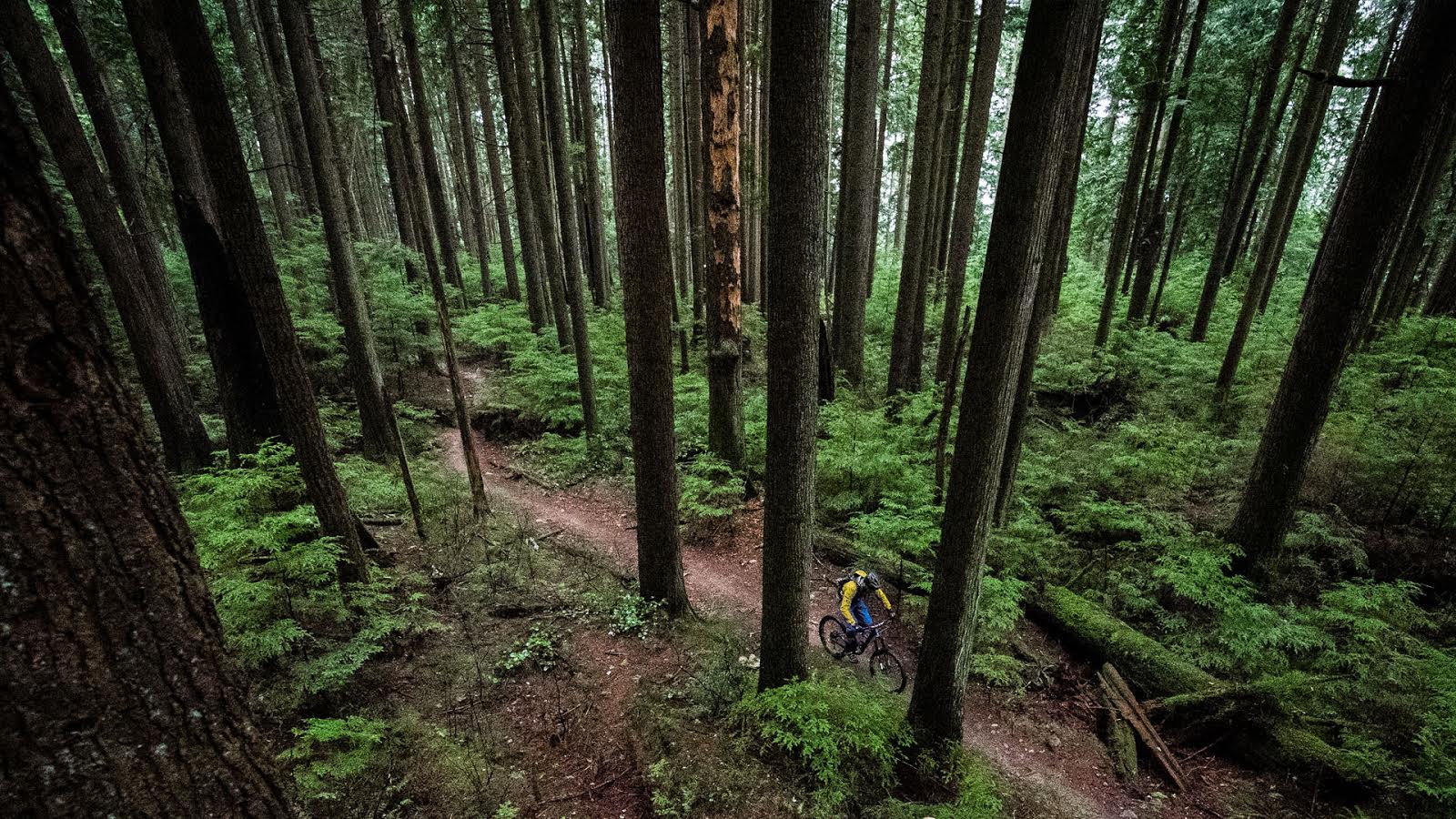 History of the North Shore
The following (huge) story appeared in Privateer magazine #10 (August/September '12). I feel extremely fortunate to have worked with Privateer because they truly aimed to tell the story of mountain biking behind the 'news' and 'releases'. More so, when I handed them my ridiculously large story regarding the history of the North Shore of Vancouver they didn't laugh at me but rather gave the story the page space and the room to breathe in the layout.
When I started this project I knew it was going to be a beast. The more I researched the more I found the story went deeper and deeper. In the end I had to focus on just a few elements of the history (and save the rest for later). The questions I sought to answer with this story were: when did mountain bikes first appear on the Shore and how did that forge the future of the trails? One thing that might surprise some people is that mountain bikes were around for a long time on the Shore before the radical freeriding North Shore style emerged. In fact, the freeride style of ladder bridges, skinnies, and hucks came very late.
I would like to thank all the people who gave me their time and passion regarding this project. It was a huge undertaking to interview so many people (and track some of them down), most of which are mentioned in this story but others who don't feature but whose insight really helped. Thank you to Sarah Fenton, Chad Romalis, Jerry Willows, Dan Cowan, Wade Simmons, Todd Fiander, Mark Wood, Cam McRae (nsmb.com), Lee Lau, Jonny Smoke, Jim Leppard particularly, but I ask for forgiveness if I left your name out as so many other people I met on the Shore helped anecdotally. I would not have been able to even begin this project unless I had moved to the Shore last winter and just let the tide of history ripple over me every time I spoke with a rider there. Thank you North Vancouver, BC.
I posted this here (Seb posted this to his blog 2flat.net in Nov. 2012)  in the hopes that it pushes more people to tracking down and reading Privateer Magazine (sadly Privateer did not live on). In issue ten alone there were so many other amazing stories from all around the world and village of mountain biking. Each issue of Privateer is similarly jam-packed with inspirational and interesting stories. Subscriptions are available worldwide and although it might seem pricey, each issue is a keeper. I have a complete set that is pride of place on its own shelf.
Everything Goes In Cycles
The North Shore Lineage Part 1
By Seb Kemp
There are formidable fossils in these hills. Backbones of giants and skeletons of beasts lie on the forest floor slowly being consumed by the forest as decay and neglect set in. They are the decrepit remains of once mighty monsters that delighted and terrified the local inhabitants in equal measure.
They came from seed and grew to titans until one day when man or wind turned their heavenly ascent into a short lifetime of lying prostrate. Appropriated and roughly fabricated they were reincarnated as contraptions upon which mortal men would test their capacity to balance on the thin edge between disaster and triumph. Now they slowly die again and become part of the natural cycle of the forest once more.
The North Shore mountains have seen many cycles already and the rainforest barely registers the more recent activities of man under its canopy.
The mighty cedars that once dominated the North Shore mountains once grew to magnificent giants, some 300 feet tall, until land was cheap and wood was valued high. In the later half of the 19th century and for nearly the next one hundred years North Vancouver was extensively logged as demand for building materials rose dramatically as shipbuilding, railway lines, and housing boomed. The tearing of saws and razor edged thumping of axes took down the hulking trunks. The canopy was torn further back like the lid on a tin can. All that remained was burnt out, hacked stumps and a littered floor of forestry cast offs piled upon each other in a jumble of timber. The towering rainforest columns that inhaled our waste and exhaled our life force were gone. Left open to the tireless Pacific storms rain battered the exposed slopes and washed the good soil downhill leaving just rock, wasting logs, and burn piles.
Eventually the forest regenerated, but the character was different. Hemlock, maple, fir and young cedar choke and crowd out much of the light. Deep duff coats the forest floor; a spongy matt of organic material made up mostly of the bits of tree that have shed. Log jams of rotting trees abound, thick roots lace through the matt and hunks of granite pierce through it all. The terrain is steep and haphazard; you can feel the sensation of claustrophobia and vertigo simultaneously.
It is dark, it is wet, and it is cluttered. No wonder then that when you stand amongst the soaring glass towers of downtown Vancouver and look north to the range of mountains that act as the opening drum beat of the Coast Mountain Range orchestra – Cypress most westerly, Grouse (or Fromme) Mountain centre stage and Seymour most easterly – all you can think is what a lovely backdrop the North Shore mountains give the city. It is even harder to imagine that just fifteen minutes from the bustle of the metropolis there is a labyrinth of mountain biking trails that somewhat redefined what was possible on a bicycle and are the birthplace and resting place of the most extraordinary, and frankly bizarre, environmental reinterpretations.
The history and legacy of trail building on the North Shore is remarkable. Arguably 'The Shore' has inspired and evolved more aspects of mountain biking than any other area in the world. The progressive nature of trails that were being built on the North Shore of Vancouver have had a considerable and lasting impact mountain biking trends. These trails changed how we think bikes can be rode, they steered the technological direction of the sport, and they made it possible to grin because you just got away with it. Whatever it is.
While the sport of mountain biking can be somewhat fairly claimed to be invented in Marin Country, up the coast and across the border there were fat tire rumblings not long after. The hot spot above the 49th parallel was in a remote enclave of Vancouver called Deep Cove.
Deep Cove in the late seventies and early eighties was a bohemian little community of alternative folk who were attracted by the low cost of real estate and fringe location. The residents squeezed into the available land where Seymour mountain's forested side slides into the bay off the Indian Arm, a branch of the Burrard Inlet at the easternmost point of North Vancouver. All that attached them to cosmopolitan Vancouver was a dusty road or a short paddle by kayak. It was so cut off and detached from Vancouver that people didn't even know it was there, which was perfect for the foot loose and fancy free locals. Most of the townsfolk were devoted outdoor sportspeople who had adopted a lifestyle that would allow them to ski, kayak, waterski, or, soon to be, bike as much they wished.
Chaz Romalis and his buddies were ski and bike bums before the terms even became rooted in such sports. They were all enrolled in college but only because it was the only way their parents would still house them, feed them and allow them as much time to indulge in their sporting passions – biking and waterskiing in the summer, skiing in the winter. Chaz and his friends began hybridizing bikes to suit their means, "Cruisers were what we called them. We were getting old bikes and spreading the back end open so we could make them multi-speed. Then we started to drive down to Santa Barbara to get Schwinn beach cruisers. We would stop in and buy Magura handlebars and brakes, you know, motorcycle stuff because it was the only thing that was strong enough for what we were doing."
They weren't the only ones north-of-the-border to be doing this but in their eyes they had no peers except for the righteous dudes in Marin County. The two-way trafficking of west coast cultural ingredients is something Chaz Romalis certainly remembers. He particularly attributes one particular west coast institution for the spark to open his enterprise.
"There was a Cove Bikes in Marin County as well. It was them that gave us the idea and know how to open a shop. We would go down every six weeks to ride. Santa Barbara was the mecca to ride. At the same time we would pick up parts. It was also a great excuse to party it up, ride our arses off and bring back cool parts."
Upon returning from yet another mind-expanding road trip south and under pressure from their parents to get a job, Charles "Chaz" Romalis, Doug "Dewey" Lafavor, and Ashley "Nummers" Walker banded together to open Deep Cove Bike Shop.
At first they were building up off-road bicycles from cruiser frames with gears laced into 26" rims, but later they started specializing in Trailmaster cruisers built by the Koski Bros. in Tiburon, California and Cook Bros. cruisers from Santa Ana, California. Most of the bikes and parts had to be bought in the States and the prices reflected that. A Schwinn bike built up with a five speeds was sold for $2000. An astronomical price even Chaz would admit, but that was what you had to pay to get the genuine thing and people were willing to pay for it. The Cove boys were building a movement and anybody wanting to be in it had to pay the going rate. It was the price of cool.
"Looking at it from the outside, it seemed a little unprofessional. They opened at noon so they could waterski in the mornings and they had 'an anything goes attitude'" affectionately recalls Sarah Fenton, a rider who grew up in Deep Cove. "The shop and its heady aroma seemed, to all of us, the kind of hedonistic life we all wanted to lead when we grew up, and we wanted to emulate them. You felt cool just by walking through those doors, which looking back, was the best marketing tool pre-internet possible. The boys wanted to be like them, the girls wanted to date them, and most of us did, she chuckles."
As well as the bikes and parts they imported they brought the California culture with them too. They played Bob Marley and Frank Zappa records, wore boards-shorts not Spandex, had long hair and a Cali-drawl. They were cool and they knew it.
"At Cove there was an image. I'm not joking when I say it was just like The Fast Times at Ridgemount High. The attitude was unreal. However, the attitude was what made it. The arrogance and swagger made that place. I remember riding downhill and through the door of the shop with Frank Zappa playing. You felt like you had to buy something or these guys were going to kill you. It was a scene and a vibe. Legends hung out there." Johnny Smoke also grew up in Deep Cove but was much younger than the Cove boys back at that time. Years later he would wind up working at the legendary store.
Without really trying the Cove boys were building a cult based off their aloof and devil may care image. But it wasn't just the scene that was getting people excited, it was the deep rainforest on their doorstep and the opportunity it presented.
---
Stay tuned for part II of III next week. Did you ever ride a klunker on the Shore? Would you now?
Did you miss part L? Click here.