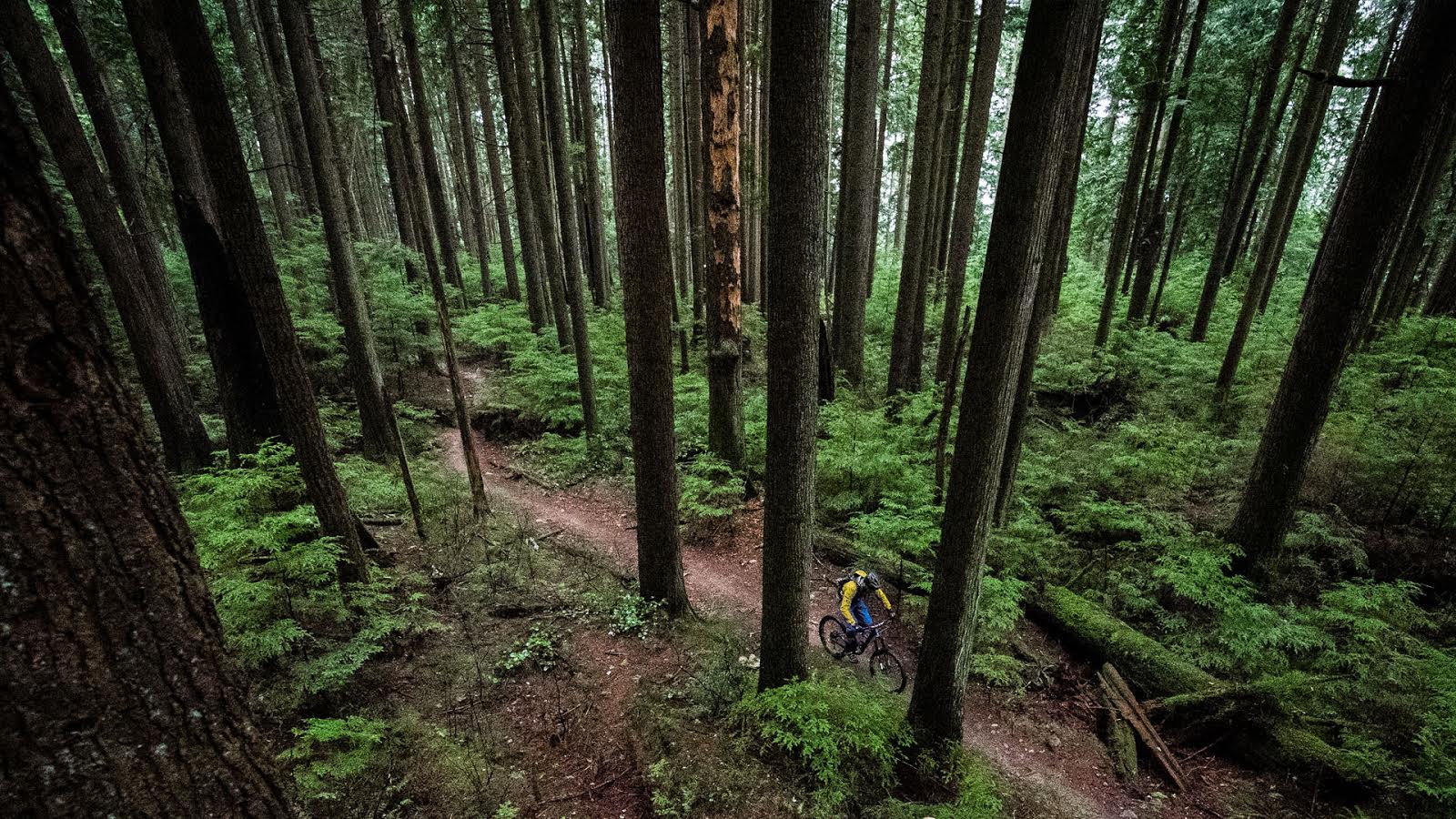 The Hiker and Rider Debacle
When I first heard about this incident I felt a sense of urgency. Based on the information, as it was presented to me, I felt that there could be a risk to the safety of trail users on Mount Fromme. This was based on the only information I had access to regarding these incidents, from the mountain biker involved. I attempted to get information from the police so I could hear another side of the story. I called twice and spoke to the switchboard and a third time I left a message with the media relations officer, aware that it may be difficult to receive a response on the weekend. I have yet to hear back.
As the story was presented to me, it seemed there was an escalation between the first event, on Tuesday the 27th, and the second event on Friday the 30th. This worried me and I hoped I could prevent another altercation between trail users. I was also under the impression that the older woman had not contacted police. This turned out to be incorrect. It is unfortunate the North Van RCMP were unable to speak to me. While I am clear that I am responsible for what I presented, knowing that both women had contacted the RCMP would have altered my approach.
In retrospect, without access to more information, it was unwise to have posted my article, at least in the manner I chose. It was Friday evening when I received the information and, knowing that Saturday morning is the busiest time of the week on the trails, I felt some urgency to get the information out.  No doubt my haste contributed to miscalculations.
I have been criticized for only presenting one side of the story, for not revealing the name of the mountain biker, and for respecting her request to withhold information about biting the older woman. These are legitimate criticisms and I accept that it was unwise to proceed with incomplete information. I made the decision to move forward with the information I had access to, and to respect the request to withhold critical information. All along I have said I would like to have both sides of the story, and that I would present any relevant information I receive. This morning I received an email from the older woman involved in these events outlining her version. She has been unfailingly pleasant and polite in her interactions with me, despite the circumstances. In fact I feel that she is someone I would probably like very much, and I hope we can meet and I can make amends in person one day.
There are common elements to the two stories and there are points where the stories diverge significantly. We will never have an objective, dispassionate, third person account, and most will decide their own version of the events. I am aware that this may seem hypocritical, but I urge you to refrain from doing so.
It is my understanding that both individuals involved have expressed an interest in pursuing a non-judicial solution to this conflict. I welcome this outcome and I am hopeful it will transpire. Now that we have both sides of the story, it is in the interest of all trail users to allow that process to take place without further distraction. And yes, I realize I have caused the biggest distraction. It can be said that my rush to publish caused a witch hunt; I accept that criticism, and I deeply regret the negative consequences of my story.
There is common ground between these two individuals; both love the trails and use them often, both feel that the vast majority of interactions they have with other trail users, of all stripes, are pleasant and positive, and both wish to put these events behind them. It is likely that, given different circumstances, they would connect on some level.
Many of you have already decided whose version is correct, based on your allegiances. I would encourage you not to speculate, finger point or lash out. Our goal now should be to move forward and ensure we do what we can to ensure a harmonious trail experience for all.
Disrespectful comments below this article will be moderated, as will similar comments on our Facebook page. If you have a productive comment to make, or one in support of one of the users without defaming the other, you are welcome to participate.
I have asked questions of both women involved that have remained unanswered. What we have is an incomplete picture of a traumatic situation. Based on my communications with both women, it seems they both feel their version of events is accurate. I have no sense that either is deliberately trying to mislead me or anyone else.
---
Here is the older woman's version of events – in her own words.
Tues January 27th, I was hiking with 3 girl friends and our 6 dogs. 2 dogs were leashed as they run off. 2 of the girls were just behind me. I heard them talking to a biker but didn't hear the conversation. When the female biker caught up to us (a very short distance), she said we shouldn't be walking here as it wasn't safe. We were crossing her trail heading towards Kilmer Creek. I told her she had no right to tell me where to walk. She said we should be walking on the BP trail. I said how does that help as there are still bikers there. Our conversation escalated-I unfortunately can't remember all that was said. Anyway, when she turned away, she said something like I was a miserable old lady. I reached out and poked her in the bum with my pole. My poles have rubber tips on the end as I use them on pavement as well. I barely touched her. Anyway, she turned around yelling at me! She wanted my name and said I assaulted her. She was going to report my assault to the police. Then she left.
Granted I shouldn't have poked her but I got mad at her sense of entitlement.
I hike every day for at least 1 1/2 hours. Some days only with my dogs and some days with friends. I have 2 dogs. I usually have a third dog, my neighbour's The dogs do not chase the bikes. One is a puppy who is often startled by the bikes coming quickly downhill. I have been hiking the North Shore mountains every day when I'm home for 15 years. Only two other times have bikers been inconsiderate and yelled at my friends and me. One time a biker was being chased by my friend's little dog. She asked him to stop so she could get her dog. He just continued yelling profanities at her and her dog. I only mentioned these incidences because the rest of the meetings, and there have been many, have been amicable and without incidence. I know quite a few bikers by sight. We often chat, they pat the dogs and I thank them for slowing down.
There are so many bike trails on Fromme Mt. now that it is difficult not to walk on or over them. As well, many of the old hiking trails have been decommissioned with logs etc. To stay off the bike trails, we're often walking on the decommissioned trails or through underbush.
Now, back to my reason for writing this. I feel the need to tell my side of the story as her's, particularly with regards to Friday, contains many fabrications.
Friday Jan. 30th, I didn't meet up with any friends. I completed my hike around 10:30. Just above the Braemar/Dempsey corner, I leaned my poles against a log so I could leash the pups. I had leashed 2 when the puppy started to bark. I looked up and saw a biker about 50 ft. up the trail. I thanked her for stopping and walked towards her to get my puppy. I had 2dogs leashed and no poles- they were still on the log. I saw her get her phone out when I looked up but didn't think anything of it. As I was leashing the pup, she almost ran into me. She started taking my picture. I said I didn't want my picture taken. I realized then who it was! I repeatedly said she had no right to take my picture! When she persisted, I reached up with my right hand ( I was holding the dogs with my left), trying to stop her and knock her phone out of her hand. She was straddling her bike and I was below her. While I was trying to stop her, she bit the heel of my right hand very hard. She tore a skin flap off and caused it to bleed profusely. She then pushed me to the ground. By this time she was screaming hysterically. Then she rode to the corner still screaming. The screaming caused a friend to run down. This friend, Ian, I know because we see each hiking a lot and often at the local elementary school. When he arrived, I was just getting myself up. 2 of the dogs had blood on them as did I. He helped me with the dogs and picked up my poles. He said he had his car there. He put his dog in the car and gave me a napkin to put on the bite. Before we got to the car, there was a biker with his hand up wanting us to stop. He didn't say anything. I said I had to go as I needed medical attention. At the corner she was on her cell phone, I gathered , talking to the police. Several other mt bikers were there as well. That was the first I saw of them. Ian said he would walk his dog home then take me to the medical clinic. I said I would walk toward Princess Park where he could pick me up. I dropped the dogs at home, changed my shirt then went to the clinic. I had to have freezing so the flap could be cut off and the wound could be well cleaned. I also received a tetanus shot and a prescription for a strong antibiotic. I cannot swim in Hawaii for 3days. I also had to purchase a lot of first aid supplies to care for the wound while I am away. After that I went home to feed the dogs, then I went to the police station to report what had happened. I learned there that she had reported me on Tuesday and again Friday. They were looking for me! I talked at length with the officer. I told him I was leaving town Saturday until Feb. 9th. We said we would be in touch after that.
PS- I'm 69, need a knee replacement, have a torn rotator  cuff and have stenosis, scoliosis and osteoarthritis in my spine – thus the poles! Throwing anyone to the ground is impossible.
---
The email continues with an account of several negative interactions with riders and a hiker on Saturday morning. Individuals who, like me, believed the woman had not contacted RCMP, confronted the woman and told her they had called the police. These individuals knew of the mountain biker's story before I did, and if they had read my story, they failed to heed my advice to avoid confrontation of any kind.
I deeply regret any part my story may have had in these negative interactions, and I urge anyone who sees this woman in the future to treat her with respect. If we draw an arbitrary line down the middle of these two versions, and accept some level of misunderstanding on both sides, it seems clear that both women would behave differently a second time, but both of them deserve to be able to use the forest without being accosted.
There is no longer any need for finger pointing, shaming, or analysis. Comments trying to decipher who is more to blame, who behaved worse or who deserves more punishment, have no utility at this point. Children are often obsessed with who initiates conflict and who causes it to escalate.
Let us concern ourselves with what each of us can do to resolve this and move on.
Dealing with the fallout of this situation has reinforced my belief that there is no war in the woods, as many would have us believe. Everyone has a story of something unpleasant happening, sometimes with a rider, sometimes a hiker, but every single person I have heard from has told me these are exceptions. Harmony is the rule. Let's keep it that way.
Please remember, disrespectful comments, here or on Facebook, will be removed. Let's work together to put this situation behind us.
---
It is my hope that this mess, much of it created by me, might make each of us more mindful and respectful of other trail users, and even of those we cross paths with outside the forest.