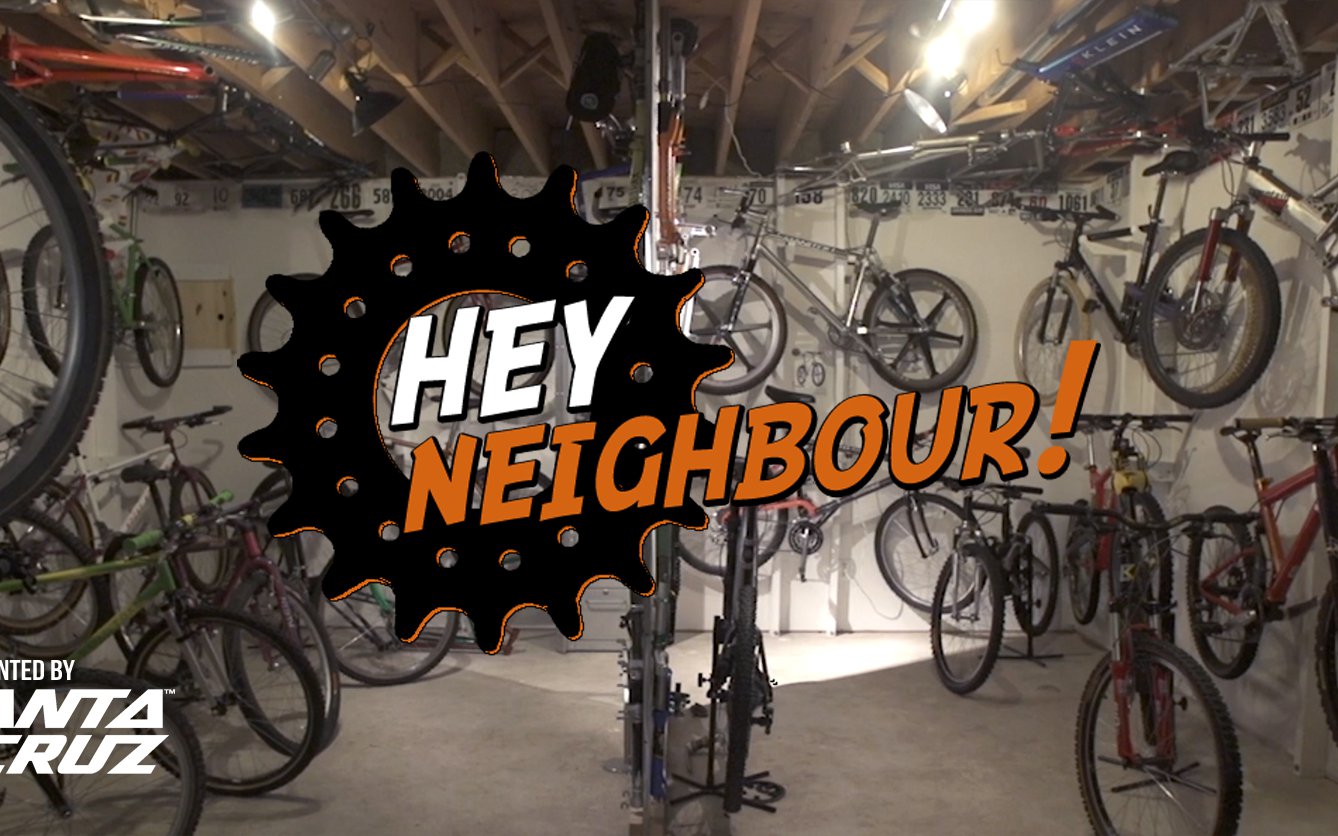 Hey Neighbour – Steve Mitchell's Bike Collection
Steve Mitchell isn't a luddite. He doesn't long for the days of cantilever brakes and bar ends. His collection isn't about being able to ride a bike from his youth – and you won't hear him moaning about simpler days. Steve likes modern bikes. He'll ride a steel hard tail, but it'll be a Chromag with progressive geometry and components, but most of the time you'll probably find him on a carbon fibre duallie.
Collectors can often strike things off the list when you ask them why. They can tell you what it isn't about but generally they can't tell you what it is about. Some collections start by accident when something is stumbled upon or inherited. Some people begin collecting before they know they are doing it, but it seems that all collections eventually take on a life of their own.
This collection isn't about perfection. Some collectors return items to original condition, or better, but Steve is content to leave the last owner's dirt on the down tube. Items aren't polished or displayed to reveal their beauty; they are there to be examined. This isn't to say things are disorganized. Parts and frames have a chronological display order and there's a room dedicated entirely to downhill. Maybe collectors are hoarders with mild OCD?
Whatever the reason, the beauty of Steve's hoard is clear. He's drawn to oddities and missteps. He calls them the 'so bad it's good' category; suspension designs that failed, frames that broke, ideas that should have stayed on the drawing table. Many of Steve's bikes and parts are high water marks as well. Bikes like the Mountain Cycle San Andreas, a tough and effective suspension design that was ahead of its time, not to mention the most elegant early 80s hard tails by Brodie, Dekerf, Ritchey and Yeti.
It's a mountain bike nerd's paradise and without Steve many of these treasures would have ended up in a landfill.
And by the way, Steve's looking for a Trimble in original condition (he found a Slingshot so that is sorted).