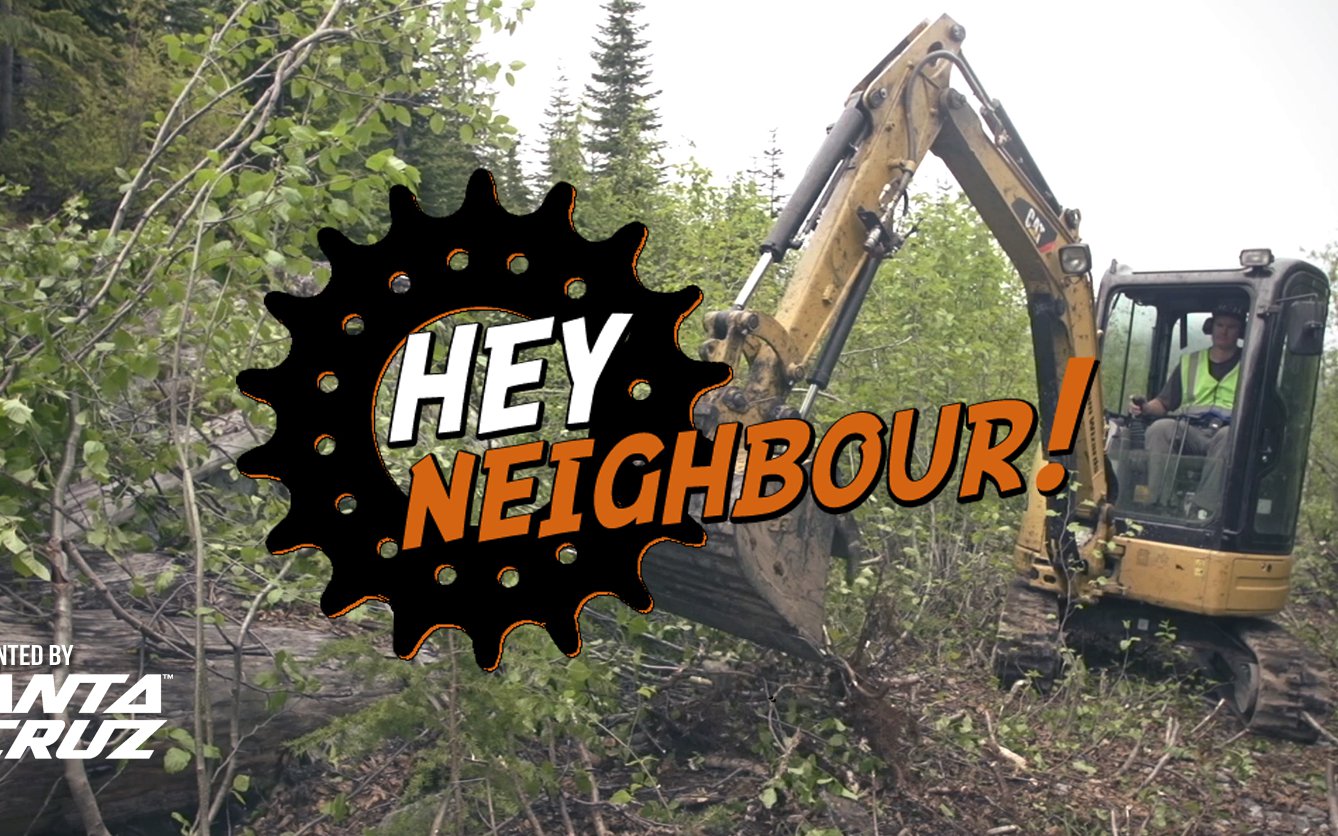 Hey Neighbour – "Big Red Ted" Tempany
"Everyone loves Tonka toys. Well, now I get to spend my time in Tonka trucks all day, everyday. What a life!"
'Big Red' Ted Tempany is grinning from ear to ear as he lowers the arm of his digger and plucks a big clump of alder root from the ground and tosses it into a pile. He's as giddy as little boy in a sandpit as he shows the awesome power of his favorite excavator. This one he's even named. "Honey Badger smash" he cries out as another enormous cluster of alder roots are extracted from the overgrown skid road he's reclaiming.
Among some mountain bikers and trail builders there's a bit of stigma attached to building trails with machines. There's always someone willing to say that machine-made trails all look the same and if allowed then it'll lead to a global homogeneity of trails. There's some truth to that but it's all about using the right tool for the job. Machines tend to lend themselves to trails that need to caress the contours more, whether up or down, and can withstand the impact of a large number of riders and the weather.
It's also a quicker way to build trail. Ted's motto is "It's all about production" and he lives by these words by creating a huge amount of trail in a short time. For example, when he was hired to build the Legacy climbing trail in Squamish the contract was for 3km but he pumped out 6.5km. Also, when he was told he would be paid $100,000 for the construction of Half Nelson he opted to take just $50,000 so that the remaining $50,000 could go towards other builders and maintenance projects.
A machine is only as useful as its operator, and fortunately for Squamish, Ted is pretty good at it now. He cut his teeth while working for Freeride Entertainment building the stunts that catapulted brave freeriders into fame and stardom, then building the Qashqai urban freeride courses. Ted was even being part of the crew that resurrected RedBull Rampage in 2008.
Ted (and his trailbuilding company, Dream Wizards) might use mighty machines to unfurl mile upon mile of single track through dense coastal forest, but it's the heart Ted has for his community pushes his trails to the next level.
---
The right person with the right tools.