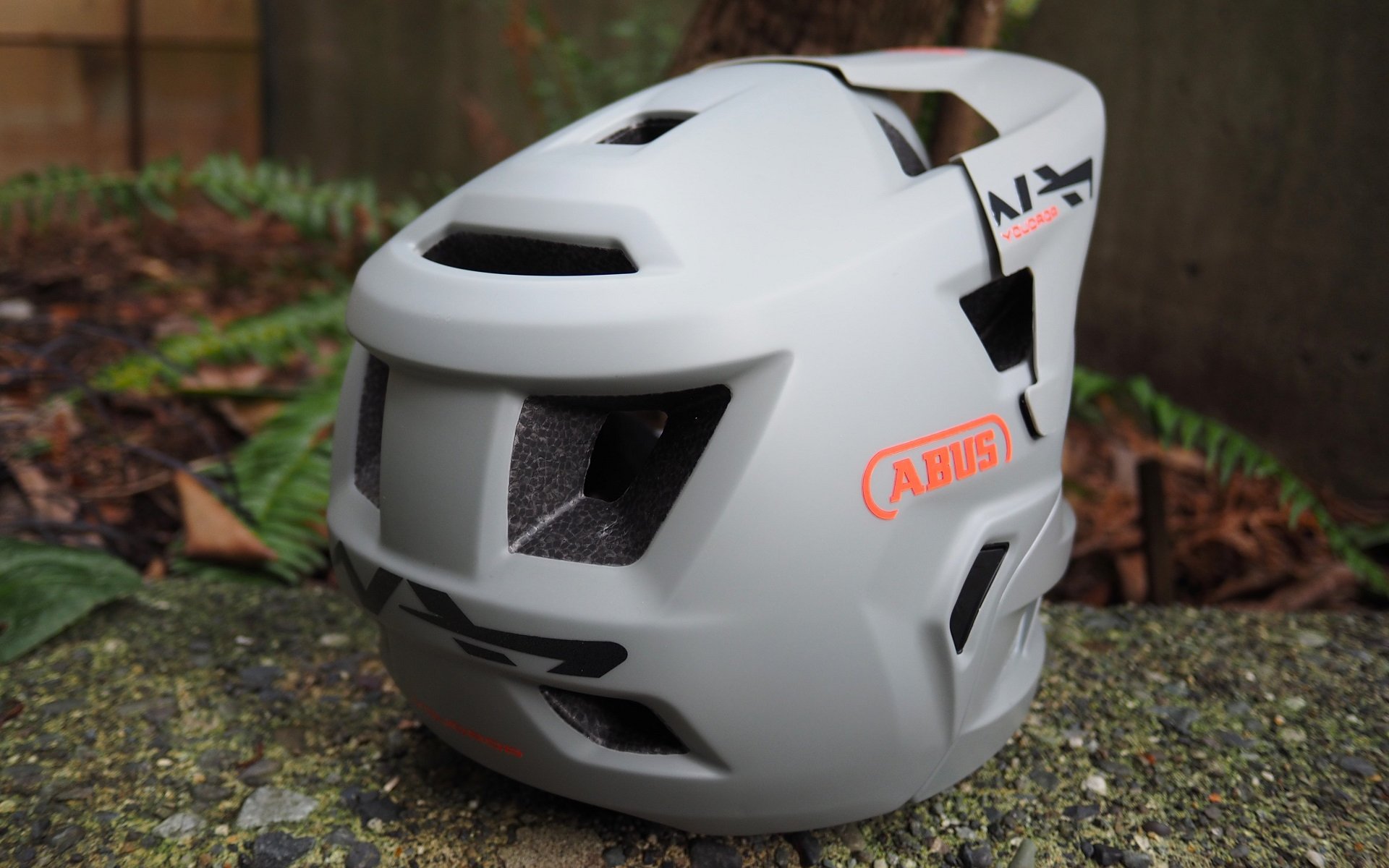 Choosing Helmets
Helmet Tech - MIPS or GRAMS?
Weird, Wild, Weight
As I pull the ABUS full face from its box my spine starts to tingle and I momentarily feel a touch queasy. As the peculiar feelings pass, I look around for a scale. It's simply too light to believe.
The magic number is 422 grams. Four hundred & twenty-two grams. That's less than a pound (0.93 lbs), and that's on my scale at home, not a figure that ABUS provided. Actually, and at odds with convention in the helmet market, that number is well below the claimed weight of 440 grams.
And this is a removable chin bar full face helmet, with the chin bar installed.
It's important, both in coming to terms with the gram count and also in coming to terms with the construction, that the ABUS YouDrop FF is meant specifically for "courageous kids" with a head-size range of 48-55cm.
My daughter's current full face – a very comfortable, size small Bell Super 3R MIPS – is designed for adults and carries no rider weight limit. It fits a head-size range of 52-56cm and the helmet and chin bar assembly are designed to protect the face of a person packing a couple of hundred pounds and hitting the ground with a pile of momentum.
Pony Tails & Other Features
No MIPS of any kind, or equivalent system. No fancy foam. No anti-microbial padding. A significantly less secure feeling chin bar attachment system. Four colours instead of six, and the ABUS YouDrop FF isn't inexpensive at 210 CAD. Although, compared to the Super 3R at 330 CAD it's more than 30% less.
The helmet uses a tear-away, Velcro-mounted, visor to reduce the chances of it becoming an injury mechanism. There's even extra Velcro in the box if you want to change the mounting location.
The retention system has been designed with ponytails in mind. Specifically, the "height-adjustable adjustment system at the back of the head creates space for ponytails." Thoughtful. In general, the sewn-in straps fit comfortably.
I can't say much about venting, moisture management, or hot-ride comfort until summer, but the venting does look decent. The push-button chin bar release is kid-doable, though I'm not certain that's actually a selling feature.
Tech Vs. Tonnage
With that bit of background, It's time to address my question; MIPS or GRAMS? My daughter's small Super 3R MIPS, which is identical to her mom's, other than colour, is comfortable and feature-packed, and I'm happy with how it fits. It clocks in at 718 grams with the chin bar installed. That's a difference of 296 grams. The Super 3R, sans chin bar, is still heavier than the ABUS YouDrop with the chinbar installed.
She immediately noticed the difference in weight as soon as I stuck the ABUS helmet on her head. After a relatively short ride, of about an hour, she was more comfortable and I assume that will be compounded over multi-hour rides.
The average 8-year-old clocks in around 26kg/67lbs or so. The average North American dad is 90kg/200lbs, give or take. Do we really need a chin bar, or helmet, designed to handle the same impacts?
A Bell Super Air would cut down the weight difference a bit, it features the MIPS Spherical and a more robust chin bar attachment system - if that matters at my kids' weight, but it is twice the price and still around 200 grams heavier in a size small.
The weight reduction is so significant, it's not a fair fight to hold both the YouDrop and her Super 3R at the same time. But weight is only part of the equation when it comes to cranial protection.
Am I compromising on safety, as she rides blue, purple, and light-black trails on the North Shore in the much lighter and lower-tech helmet? Or, am I compromising by plopping a 70% heavier helmet on her head?
Currently, the ABUS is getting worn for every trail ride that's during daylight. The Super 3R gets donned for night rides because Bell's tearaway light mount beautifully combines a solid and secure mounting point but her light also somehow pops off at a thought, rather than becoming a mechanism of injury.
The ABUS is getting grabbed for North Shore trail riding, I'm not certain her Super 3R, or possibly a Super Air, wouldn't be the better choice if we were doing more higher-speed DH riding or spending time in the bike park. She's also getting bigger and faster all the time and that's a consideration as well. Which seems to put this at a dead heat. I recognize the privilege of having a choice between two full-face helmets for my kid, which puts us in the position of being able to choose both.
For the curious, there's more information on the 210 CAD 422-grams, kid-specific, YouDrop FF at ABUS.