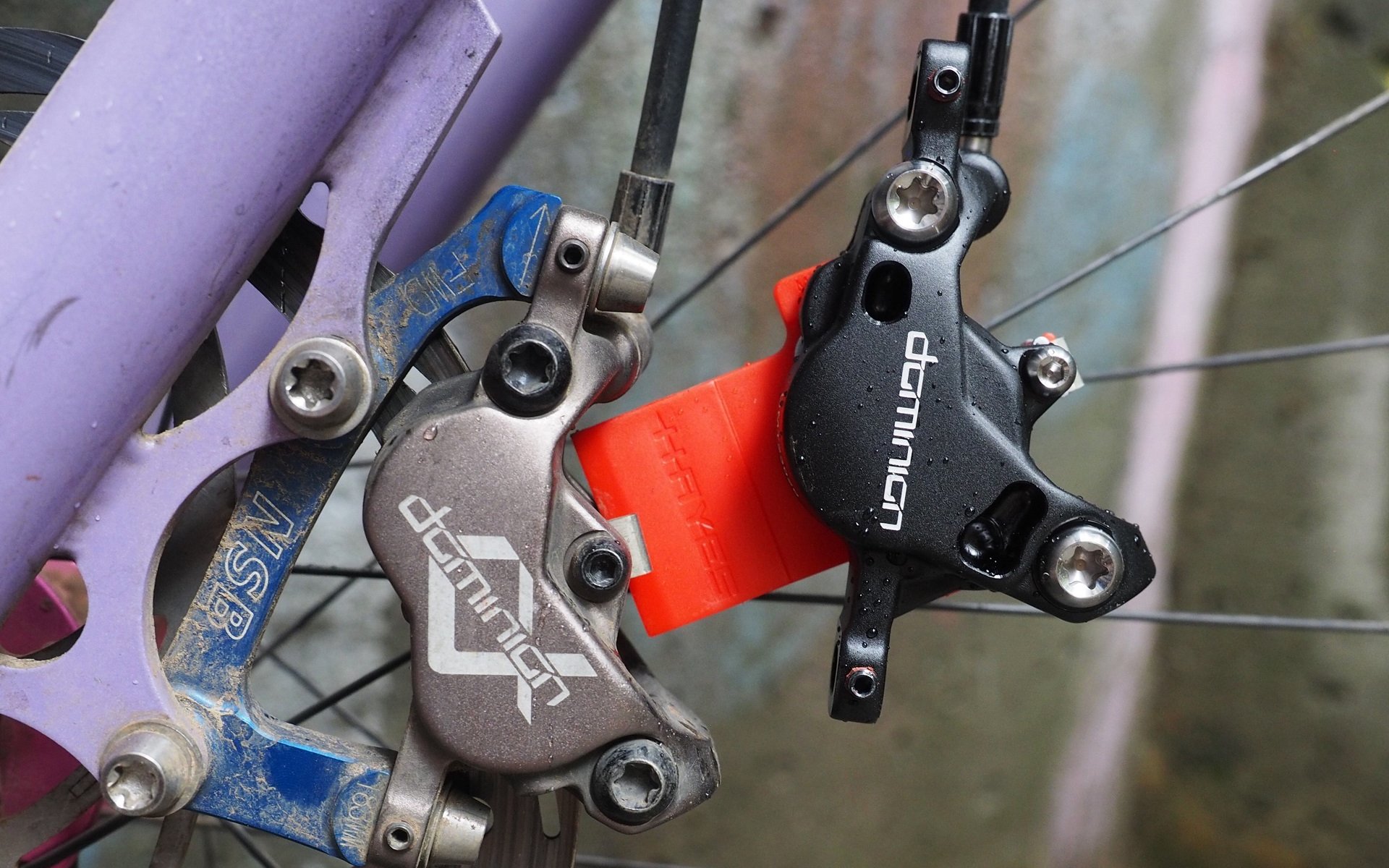 REVIEW
Hayes Dominion Brakes: 2-Piston VS. 4-Piston
Compounded
I've been riding this same pair of Hayes Dominion A4 disc brakes since November 2019. They've received some love in the form of brakes bleeds and a cycle, clean, and reset process on the caliper pistons but after four years of regular use they're in amazing condition. I've installed enough fresh Dominion brakes over those years that I can say they are tight and smooth as a fresh-from-the-box setup. No lever slop. No piston drag.
I'm registering this in defense of the following, where I compare these well-used Dominion 4-piston brakes against a pair of new Dominion 2-piston brakes as if the 4-year gap in usage doesn't matter.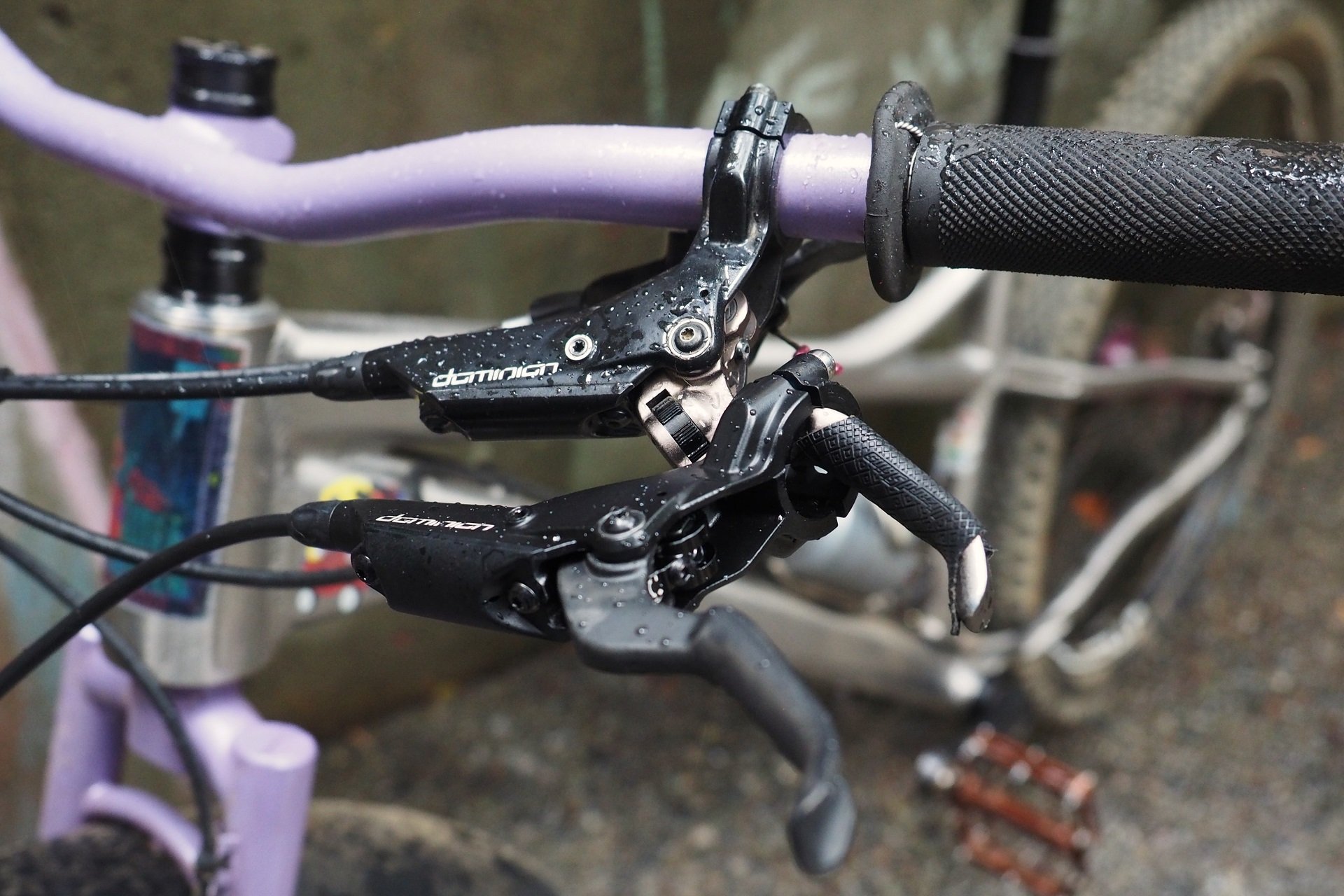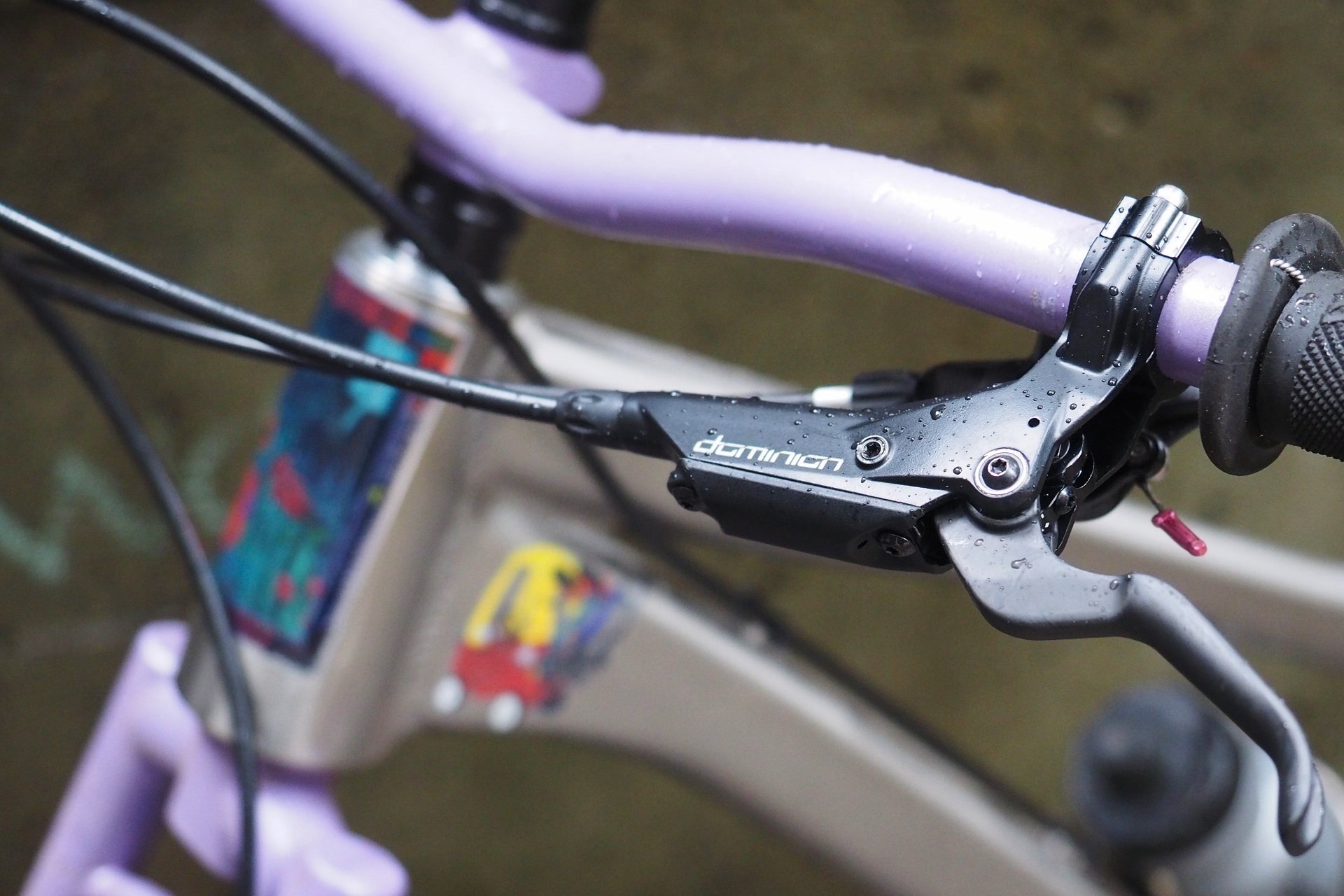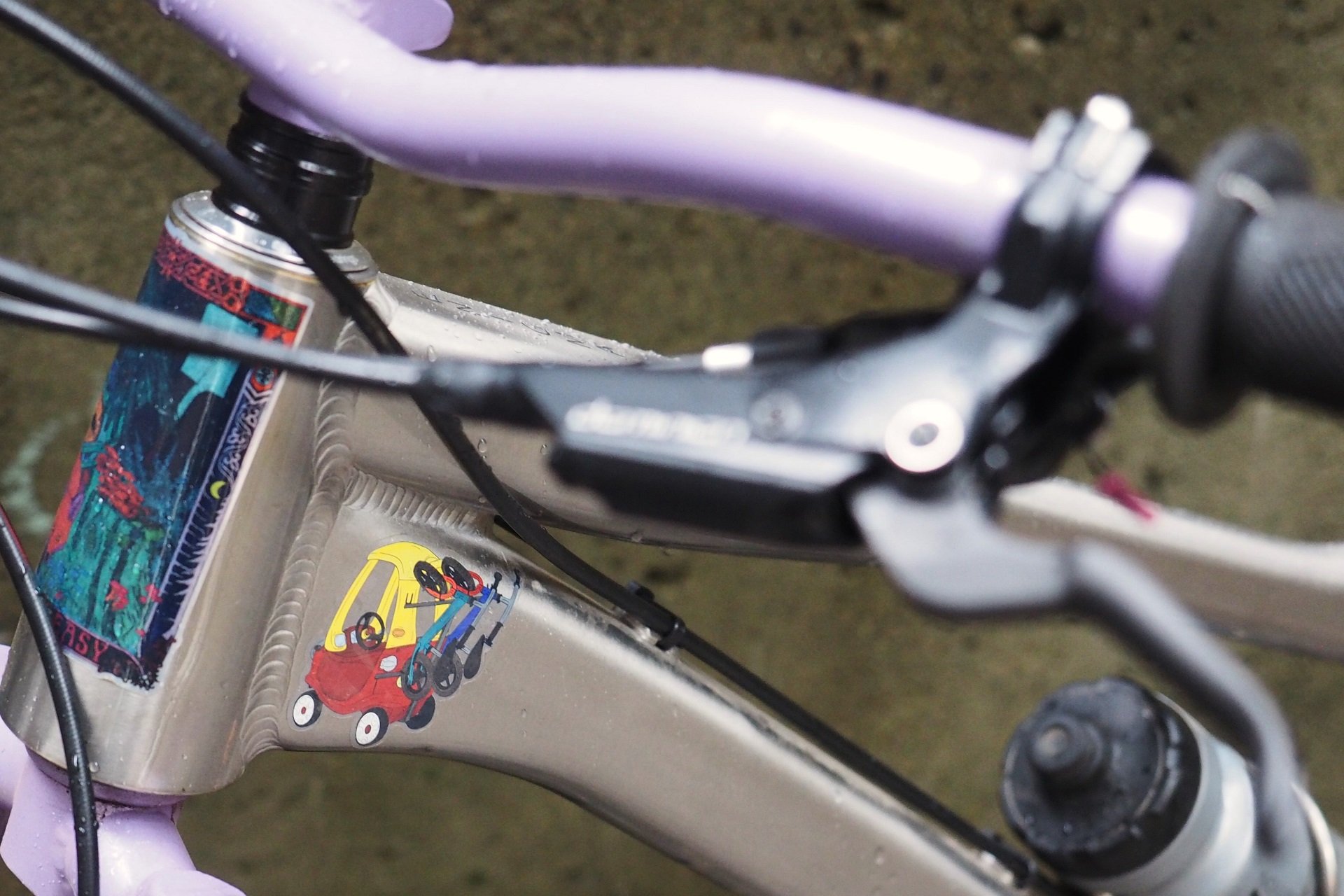 Aside from the number of pistons, these are not identical brakes in one clearly visible way. The 4-piston Dominion brakes are their A-series, which references the aluminum lever blade featuring Hayes' very usable tool-free reach adjust. The 2-piston Dominion brakes are their T-series, which references the Reynolds carbon lever blade, which requires a tool to change lever reach.
The lever blades are interchangeable and both the 4-piston Dominion brakes and the 2-piston Dominion brakes are sold with either option. T4 and A4 vs. T2 and A2 with the carbon lever blade in control and some titanium hardware commanding a 75 USD per brake premium. Price-wise, the 4- and 2-piston versions are identical with the T4 and T2 selling for 325 USD/wheel and the A4 and A2 selling for 250 USD/wheel.
I bring up the cost as it may help a rider trying to choose between the two systems.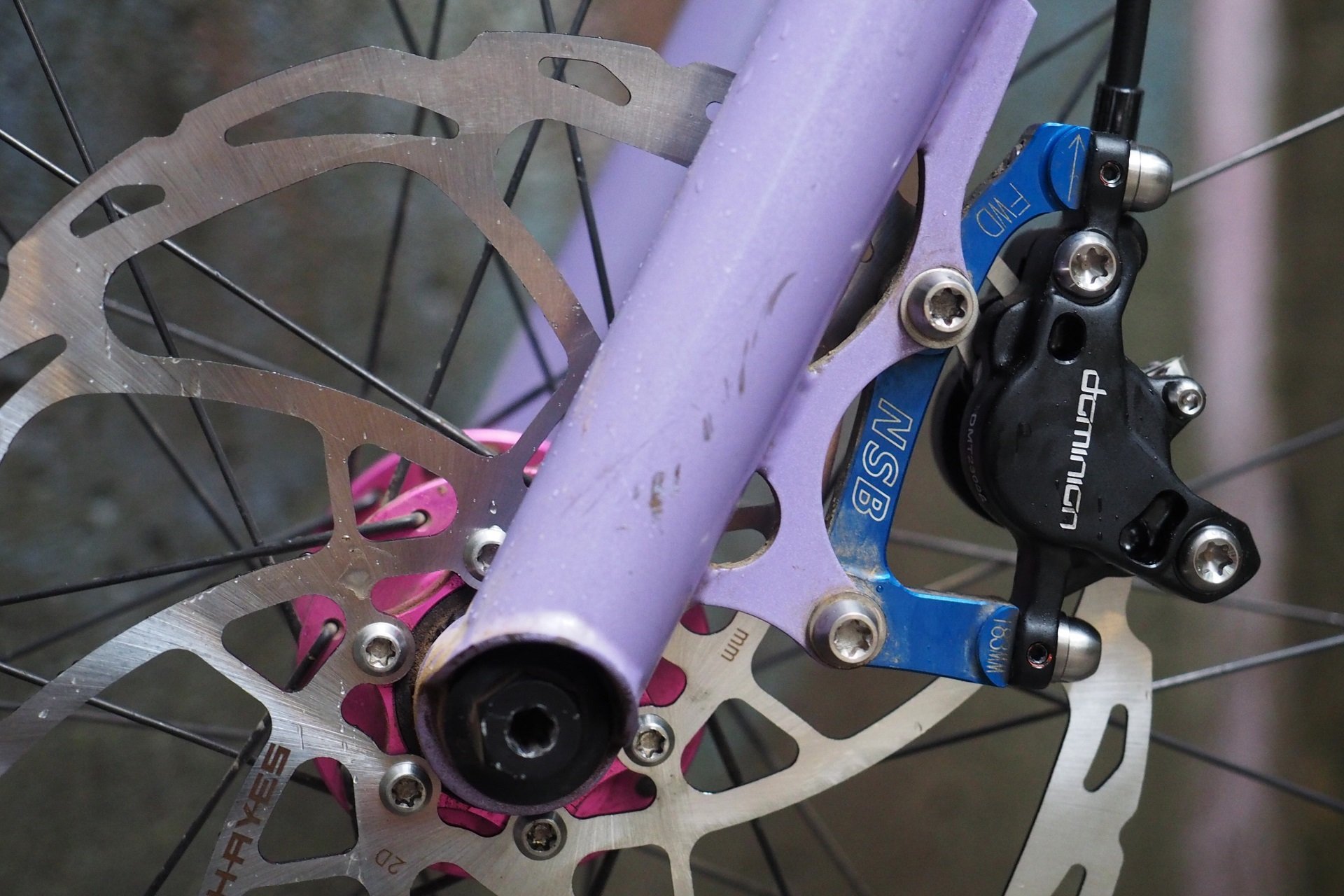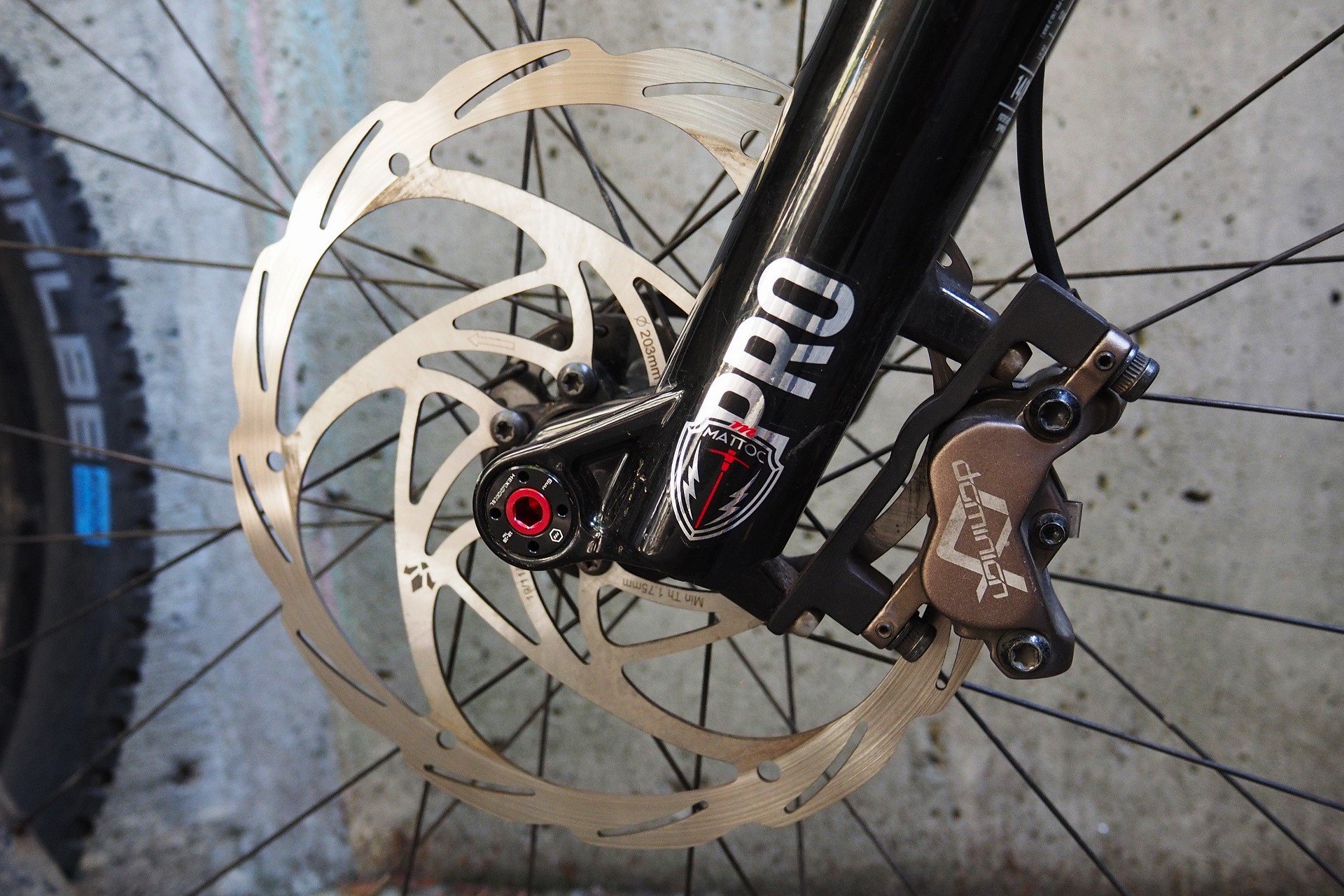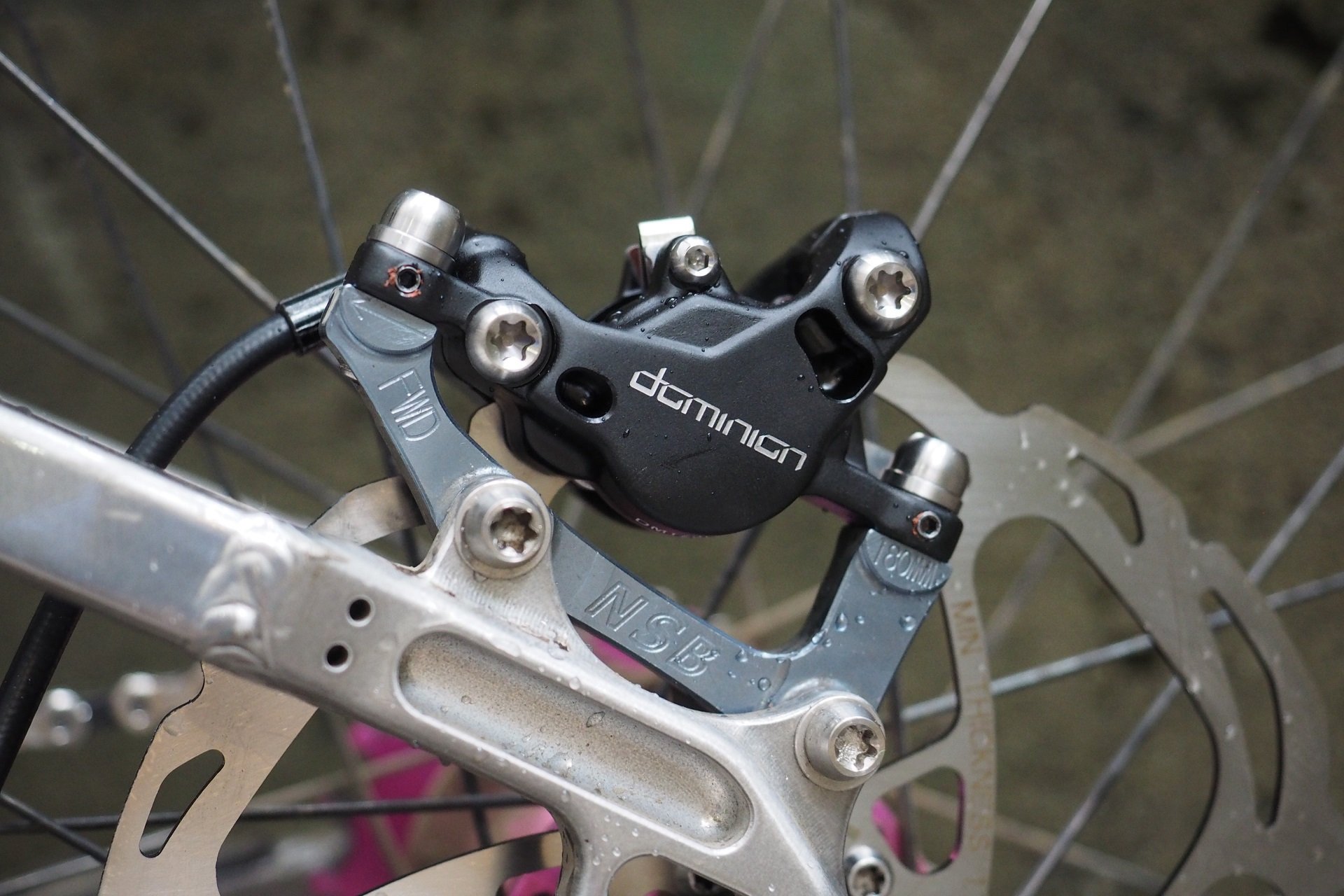 Where the brake levers and age of the brakes don't make this a perfect comparison, at least I'm running the same pad compound. I often ruminate, while reading brake reviews, how fair it is to compare systems without using a standardized pad compound and bed-in process.
For pad materials, Hayes has two options. I've ridden both on the 4-piston brakes but only the semi-metallic compound on the 2-piston brakes. Hayes sells both pad materials for the same price so it's up to the rider to balance the benefits of both.
From a min-maxing perspective, their sintered metal brake pads are the clear winner. The things last 'forever' and provide excellent friction. They are a bit noisy, and genuinely loud until they warm up, but the trade-off for pad life and performance over that life is impressive.
From a riding perspective, I prefer the semi-metallic pads, in any weather conditions. They have a more controlled feel when they engage, they're dead quiet, and I find the power curve is still excellent. They do wear out much, much faster.
Pad Backing Plate Aside
Actually, apart from compounds, there's a third option as the stock T-series brakes include pads that combine the same semi-metallic compound with an aluminum backplate to save weight. How much weight? Seriously, squirt a little water out of your bottle. At what cost? Actually, they sell for the same amount of money (39 USD/wheel) as both the steel-backed 2-piston and 4-piston pads in both compounds.
Is there a performance cost to running an aluminum backing plate? Theoretically, there could be issues or benefits to heat management depending on who you talk to. Aluminum will dissipate heat faster but the heat capacity of the material is significantly lower than steel. Does any of that matter considering the rotor is actually dealing with most of the heat generated? I don't know.
Given the price is the same, with my preference for the semi-metallic compound I'd likely go with the aluminum backing plate for both 4-piston and 2-piston in hopes that the faster heat dissipation and less heat absorption would make it less likely that I'd glaze over my pads. I don't have a gram of evidence that would actually be the case. If the aluminum backing plates were more expensive then I'd just go with steel.
Just You Weight
Brakes are not generally a place I'd look to for weight savings but, for those that care, it is the clearest advantage of a two-piston brake system. Some, maybe most, 4-piston calipers are more prone to irregular piston retraction issues where one piston gets stuck proud or flush while the others move freely, but that hasn't been an issue I've had with the Dominions.
Here again, this is not a perfect comparison as the 2-piston Dominions I'm riding have carbon fibre brake levers, a couple of titanium bolts, and let's not forget those aluminum pad backing plates. So rather than a direct comparison, let us consider that 55 grams per wheel is more of a maximum weight savings between the heaviest version, the A4, and the lightest version, the T2.
How much brake performance is worth giving up for one hundred grams of weight savings?
Formula Flashback
These are not the first brakes I've ridden where both the 4-piston and 2-piston varieties share the same master cylinder. I've had comparable experiences with Formula, Magura, and Shimano brakes.
When it comes to these setups I'll say there are two varieties. Brakes like the Formula Cura where the Cura 2-piston and Cura 4-piston setups feel so different at the lever I cannot foresee anyone mix-matching them happily. And, brakes like the Magura MT series where the lever feel is so identical that Magura actually sells MT Trail setups that use a 4-piston front and 2-piston rear caliper.
In one sense, the Hayes Dominions are closer to the Magura setup in that I could imagine mix-matching the systems together. But where I draw the parallel with Formula brakes is just how much power the 2-piston Dominion system brings to bear.
With the Formulas, riders who like their brakes to engage very crisply are best served by the Cura 2. The Cura 4 has a softer initial feel but superior heat management and there's more power when I'm hard on the levers. I have a clear preference for the sintered pads with the Cura 2 to eke out every bit of bite, but I rather run the semi-metallic with the Cura 4 for an improved feel. That is, sintered in the rear for the added life, and semi-metallic in the front as I find it easier to modulate.
Either way, despite 'only' being a 2-piston system the Cura 2 has enough power for most riding situations.
Comparatively, there's not a 'feel' related conversation with the Dominion brakes. The 2-piston system has excellent power and the initial feel is nearly identical, if maybe a touch more positive, compared to the 4-piston brake. With the same pad compounds, the 4-piston brake makes sense when heat management and maximum friction come into play, like heavy braking on steep descents.
Better Living Through Carbon Fibre
The only carbon component I truly lust for is brake lever blades, and even then it's only a true ardor when weather conditions get truly wet and wintery. When my aluminum brake levers are as cold as ice, well, then carbon fibre is oh-so-nice.
And when it comes to better living through carbon fibre, the Reynolds blades on Hayes Dominion T2 & T4 brakes are the nicest shape I've experienced. I'd take carbon comfort over tool-free reach and adjust every day. Even as nice as the Hayes A-series reach adjust is to use.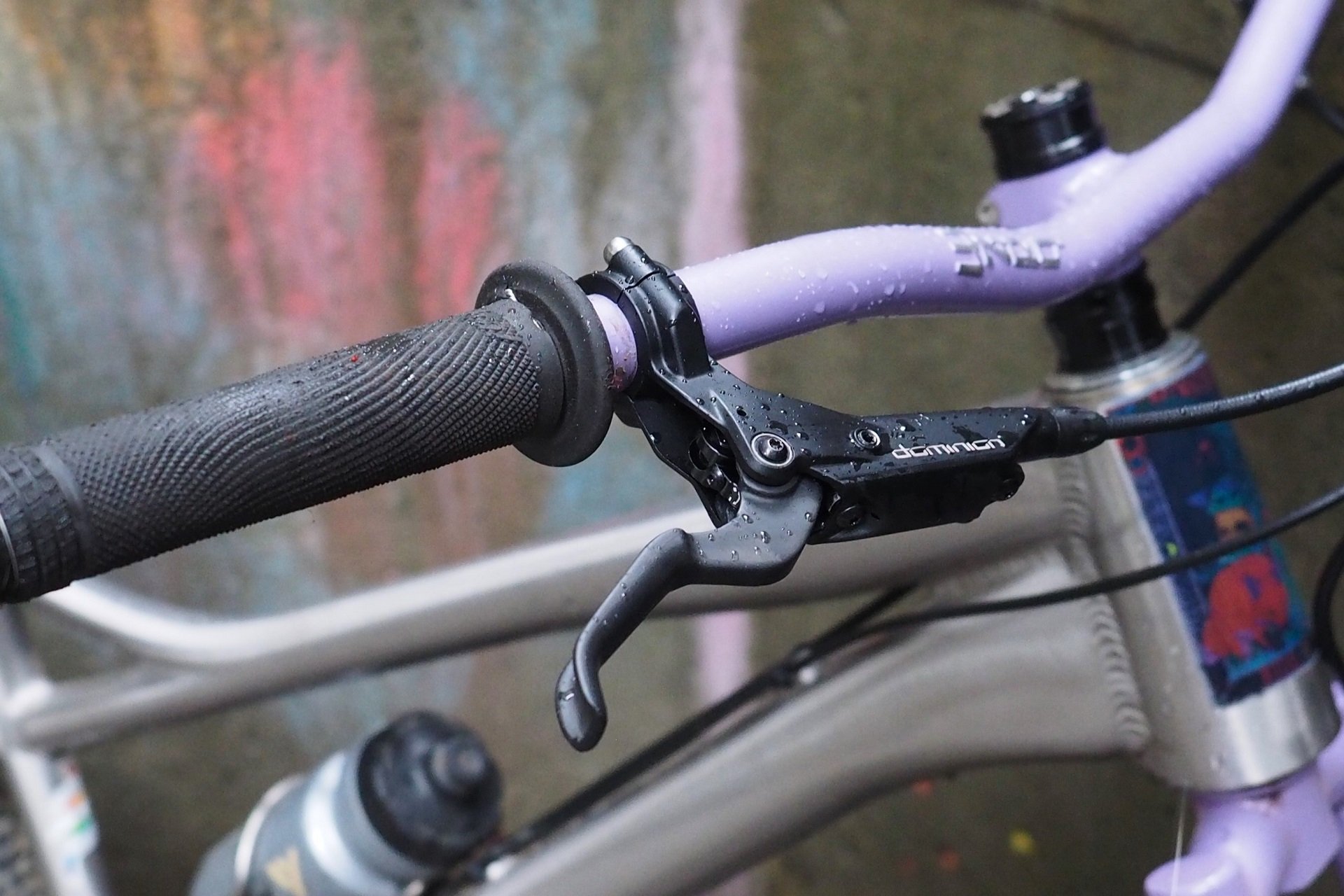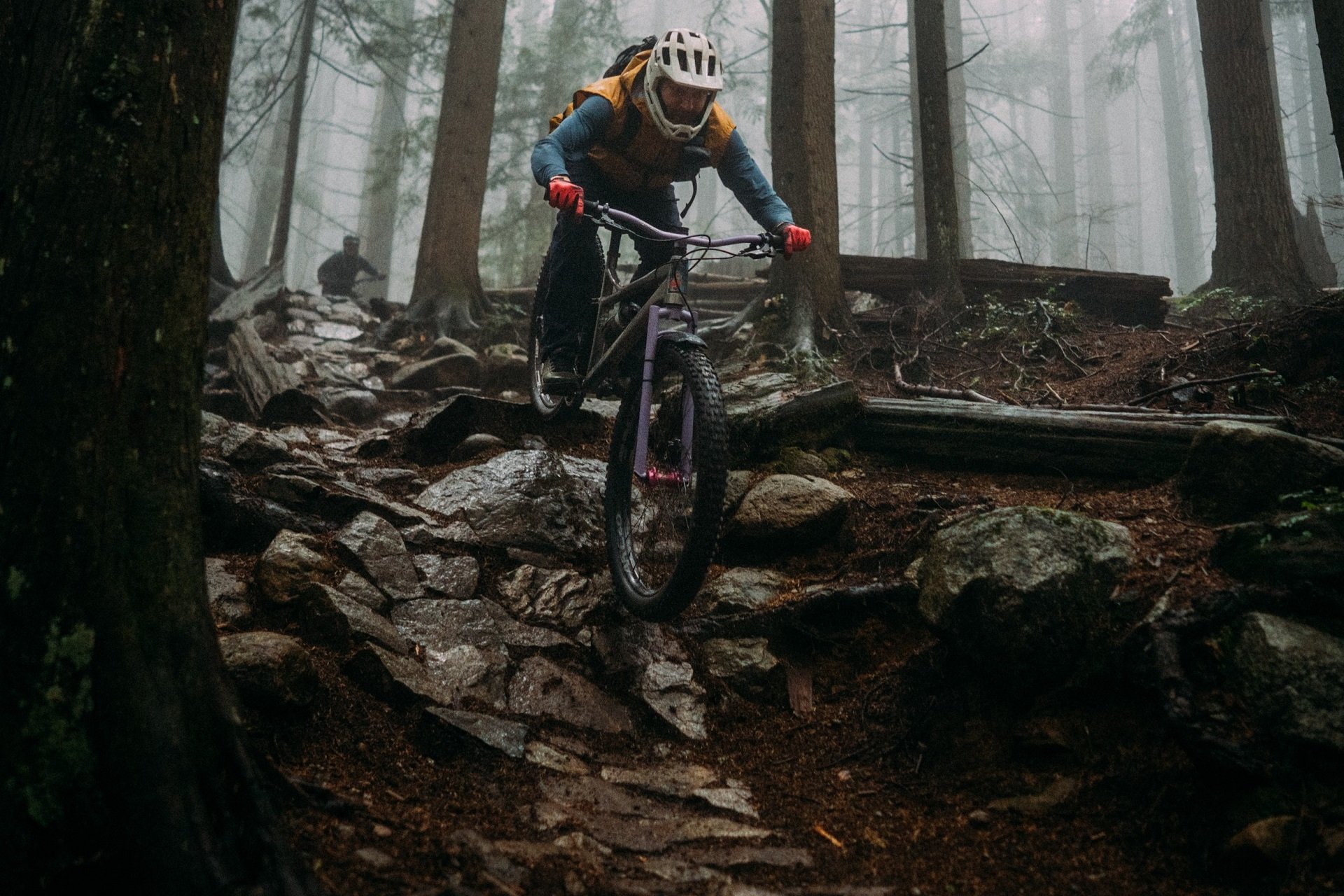 There was a time when I absolutely would not have shelled out 75 USD per brake for the wet and winter season benefits that they bring. I'd tough it out, get some better gloves, etc. But the last couple of years, whether from how much I work with my hands turning wrenches or just age, despite lots of stretching, I've struggled with pain that is largely sorted by switching from heat-sinking aluminum to fantastic plastic.
Whether the 4-piston or 2-piston Dominion system is the right brake for a given bike or application, for these hands the carbon blades are worth every penny and I'd be going with T-series stoppers. At this time Hayes only sells replacement Dominion lever assemblies in aluminum - both the regular blade and the SFL or 'short finger lever' - but I'd consider upgrading these almost 4-year-old A4 brakes if the carbon blade was available.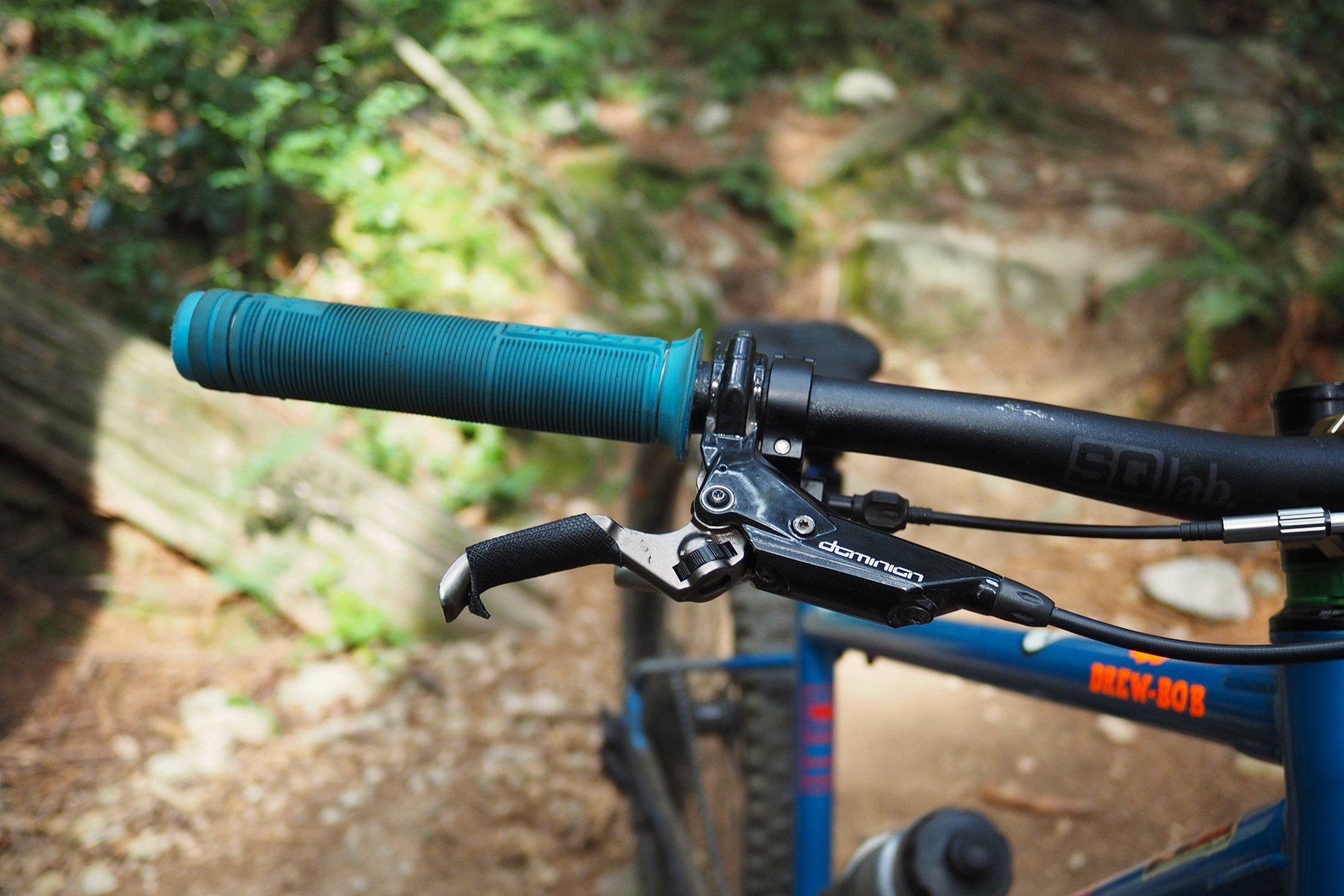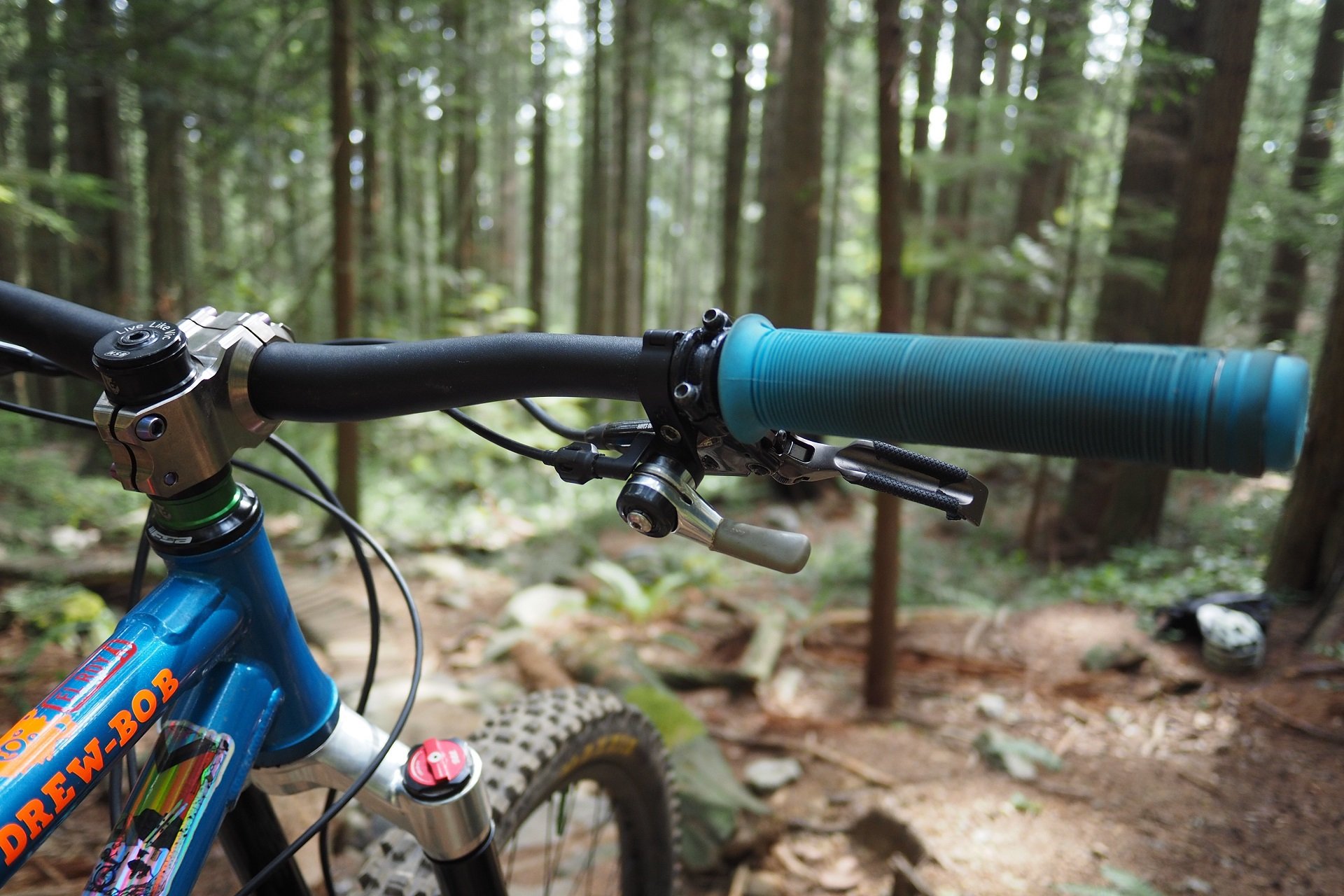 Install
The Dominions generally only need a light lever bleed for a fresh install. Otherwise, they use a two-syringe push-and-pull process that some folks think of as a SRAM-style bleed and old folks point out has been used for Magura hydraulic rim brakes since the '90s.
The only real item of note here is that the Dominion bleed fittings don't use a rubber washer like SRAM or Formula. So, while the process is otherwise identical, with Hayes the fittings require a bit of a tool-tightening to fully engage.
Control
I need to mention that it's a good idea to clean rotors thoroughly when swapping between brake compounds. I have a settled preference for the semi-metallic pads for both the 2-piston and 4-piston Dominion brake systems, but I did have to switch back to sintered on the A4 brakes when I ran out of pads. Oops.
Additionally, if buying Dominion brakes tomorrow, I'd only be looking at the T2 and T4 because of the number of days I ride a year when it's wet and cold, and the increased comfort I experience from carbon lever blades. The shape of their aluminum blades is excellent, so that's going to be a personal value decision based on location, riding season, and circulation.
I can thoughtlessly jump back and forth between two bikes with Dominion 2-piston and 4-piston brakes without any adjustment, which speaks volumes to the level of power and control that the 2-piston stoppers deliver. Yes, the 4-piston system has more power deep down and better heat management but for most of the riding I do neither of those features is a deal breaker. Controlled power is key, and they're both winning systems in that regard.
That said, I'd still go with the 4-piston Dominion brakes if I were buying a pair of Dominions. The T4 for my use case. The initial feel is so similar, the price is the same, I don't care about a few grams, and the larger 4-piston pads last longer for the same price. Add in the bonus power when I really need to slow a bike down and better heat management for the summer months and they're my winner.
Hayes Dominion T-series brakes, with carbon lever blades, sell for 325 USD per wheel in 2-piston or 4-piston version. Hayes Dominion A-series brakes, with aluminum lever blades, sell for 250 USD per wheel in regular and short-finger-lever varieties.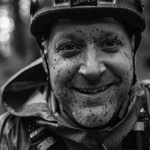 Andrew Major
Height - Steve Buscemi-ish
Wait - Patiently
Ape Index - T-Rex
Age - The same as DOS
Favourite Trail(s) every week - Pipeline (thank you Ken!) to Lower Crippler (thank you Andy!)
Favourite Song(s) this week - I'm Your Man. Nick Cave (covering Leonard Cohen)
Favourite Colour - Cosmic Lilac
Bar Width - It depends
Reach & Stack & ETT - It depends
Crank Length - 175mm except when it's 170mm
Wheel Size - Hot For Mullets