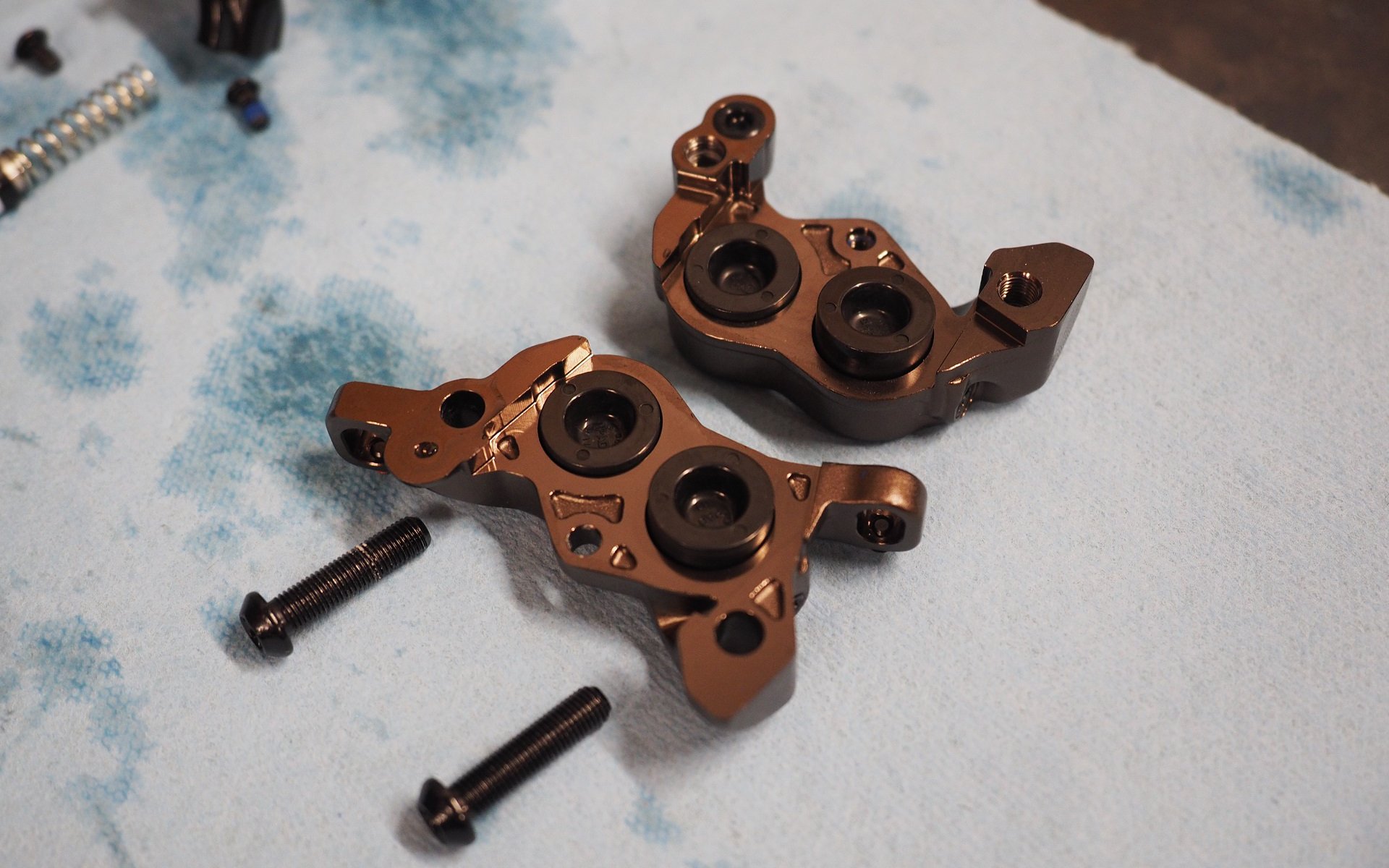 Teardown | First Impressions
Hayes Dominion A4 Brakes Ridden and Torndown
The Dominion A4 brake from Hayes is intended as their no-holds-barred, no feature spared, four-piston brake at the highest end of the performance spectrum. It started with an all-new platform with enough of a stylistic holler back to the original Hayes Mag G-1 to ring the ol' nostalgia bell for folks who traded up their v-brakes for the champagne stoppers.
The goal sounds bold but the Dominion has the lightest lever action of any brake on the market; a stated design goal from Hayes. Stripping the system down demonstrates how much thought has gone into their phoenix, almost twenty years since they were the Kleenex of disc brakes.
I have a lot of rides on the Dominion A4 brakes but I'm going to reserve deeper thoughts on their performance for the full review piece. Both Cam and I are on these brakes so we'll be combining efforts to provide two perspectives on the system.
Hayes had their development riders running other top systems to benchmark against their fresh brake and we'll be doing the same, comparing them with the latest four-piston brakes from Magura, Shimano, Formula, SRAM, and TRP.
Hayes Dominion A4 Brake Teardown
The Hayes bleed kit is really nice. Nice packaging, nice syringes, and nice fittings. Historically I've been a cheap syringe and piece of tubing attached to whatever fitting I need kind of guy, but between Formula and Hayes, I'm seeing things differently these days. I think the 55 USD outlay for the two nice syringes, fittings, and a 2oz container of DOT 5.1 is a fair investment for anyone who likes to stay on top of bleeding their brakes.
And, in terms of doing a teardown, opening up the reusable container is a solid first impression. So beers, cheers, and let's get cracking.
The master cylinders use ball bearing lever pivots, low friction piston seals, high-leverage at the blades, and lower internal pressures to all contribute to the aforementioned feathery lever action of the Dominion A4. It takes minimal force to get the pistons moving but there's a lot going into making that happen. Between the reservoir and caliper, the A4 holds a lot of fluid, which is great. Trying to save a tiny bit of weight or promote a sleeker design by limiting oil volume has always seemed really silly.
Aesthetically, the master cylinder is a case of beauty being in the eye of the bike owner and personally, I could do away with the gigantic lever reach adjuster, protected as it may be within the lever blade. It's very easy to use even with the thickest gloves but for a brake that's specifically designed to maintain consistent lever feel a 2.5mm hex key would be perfect.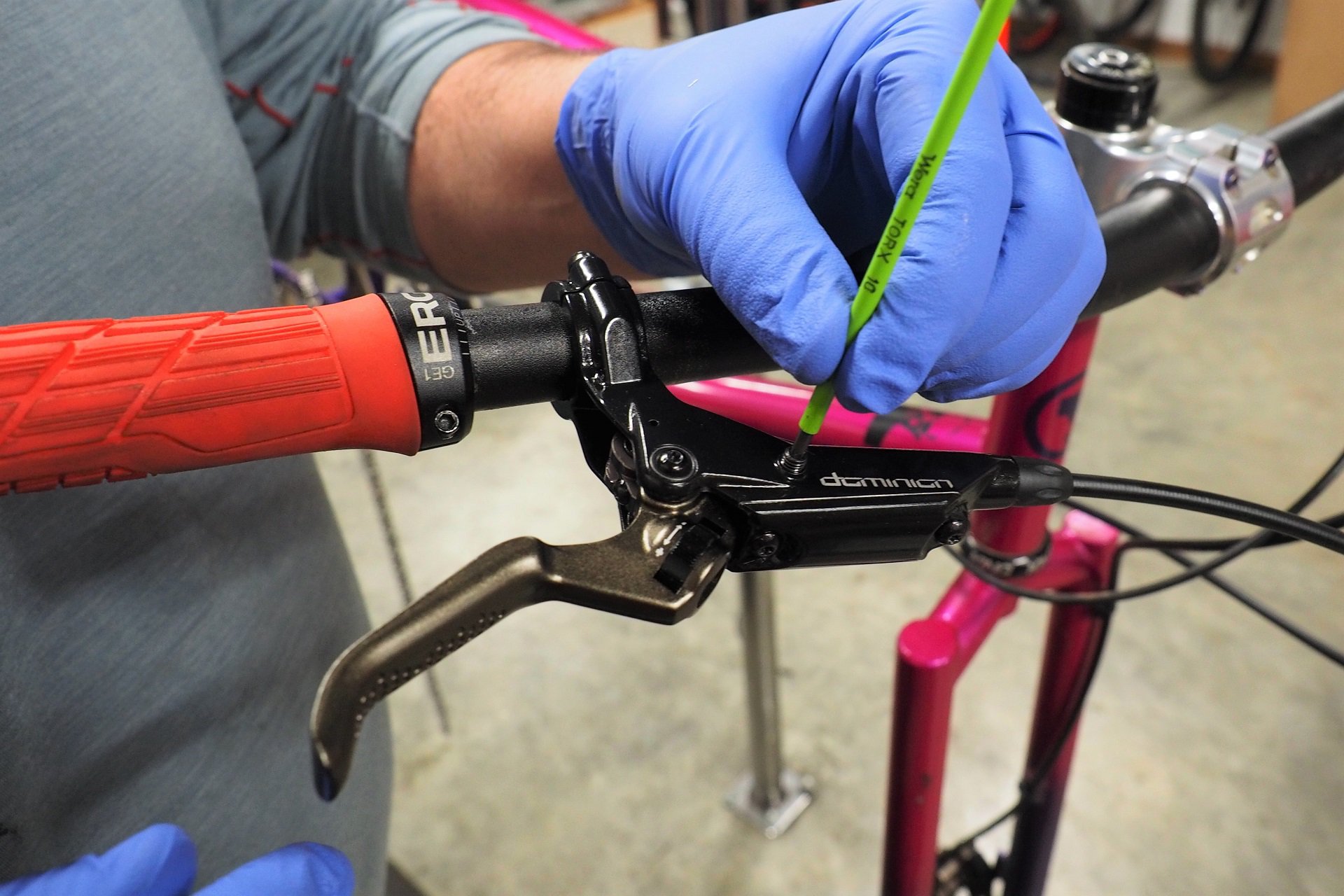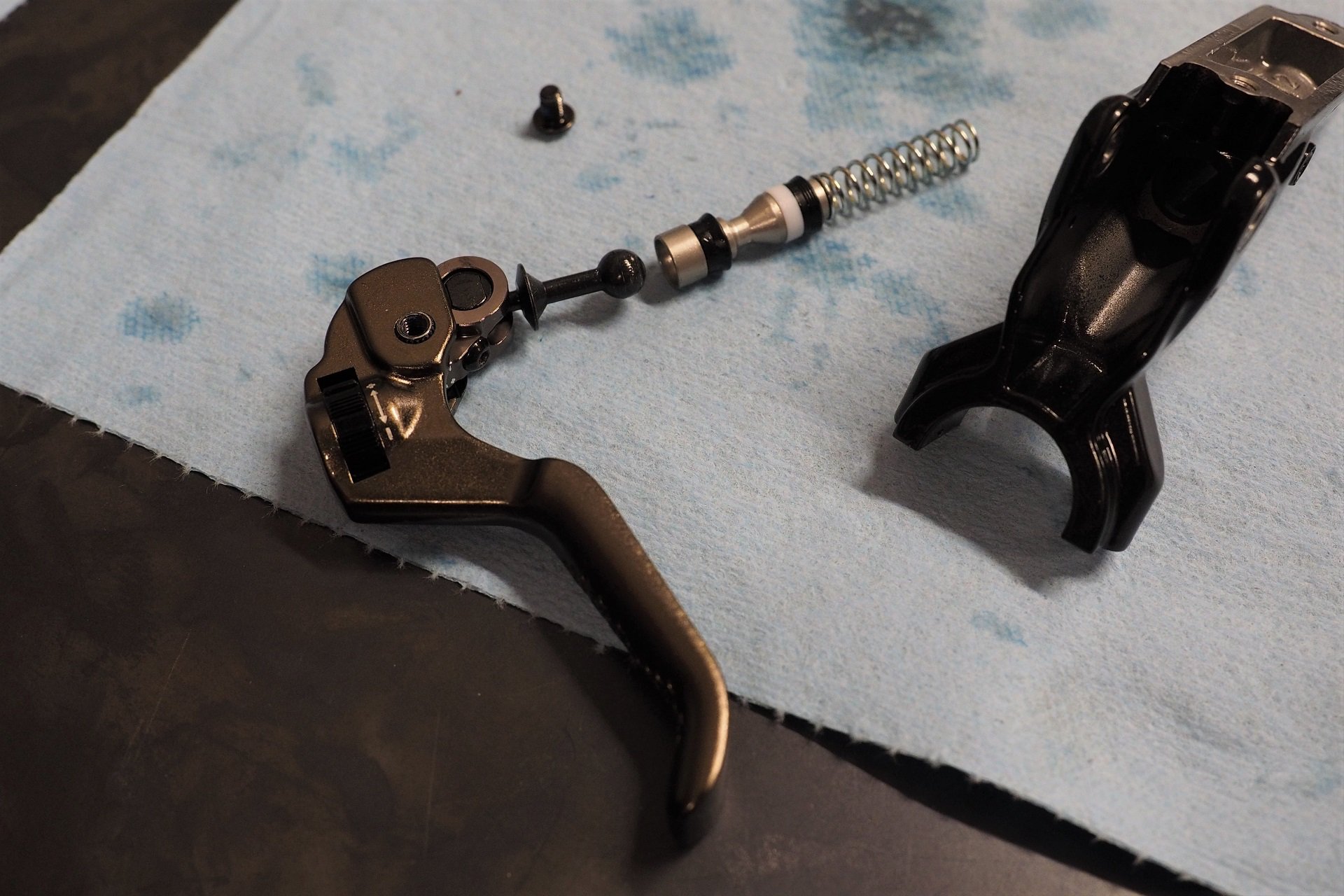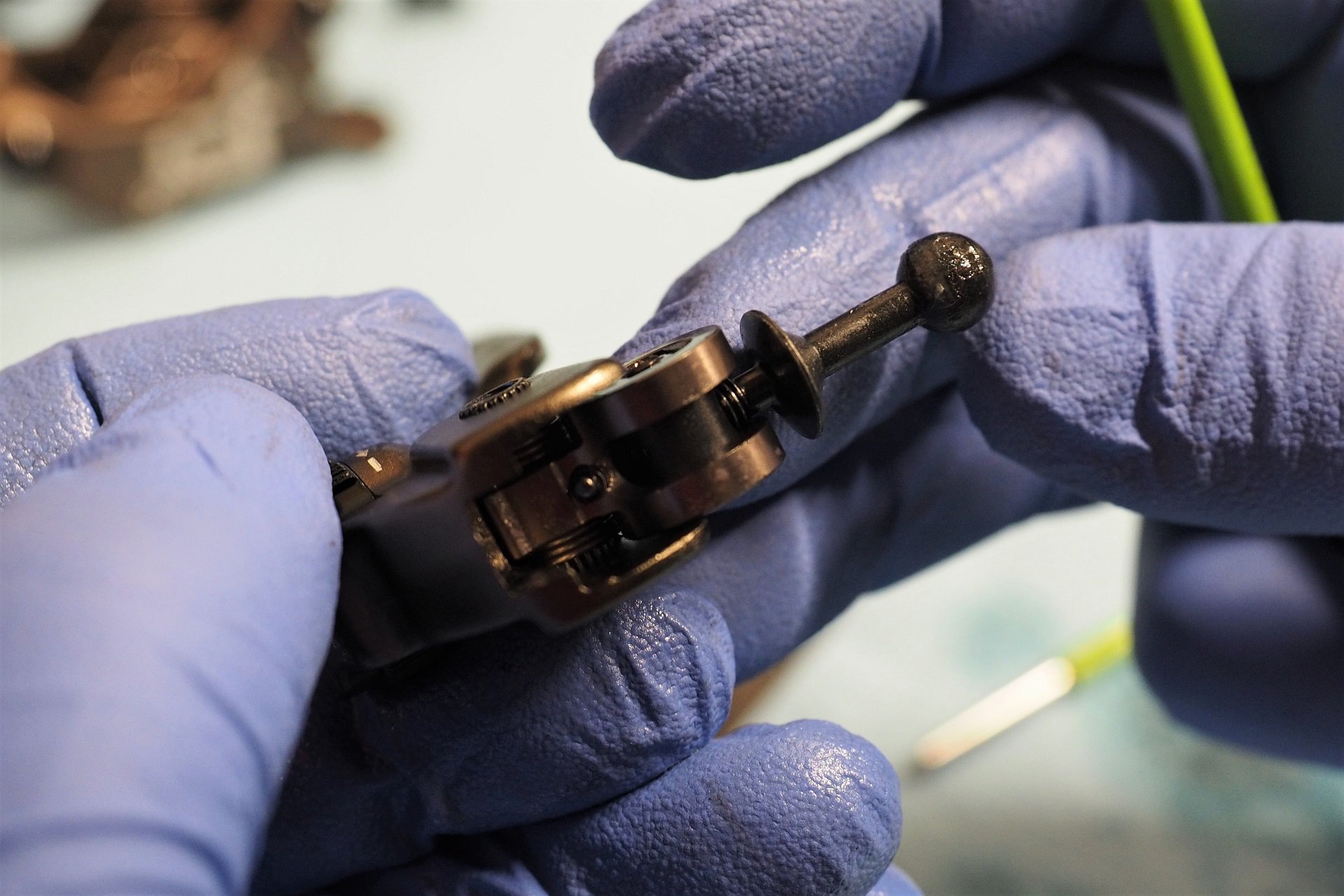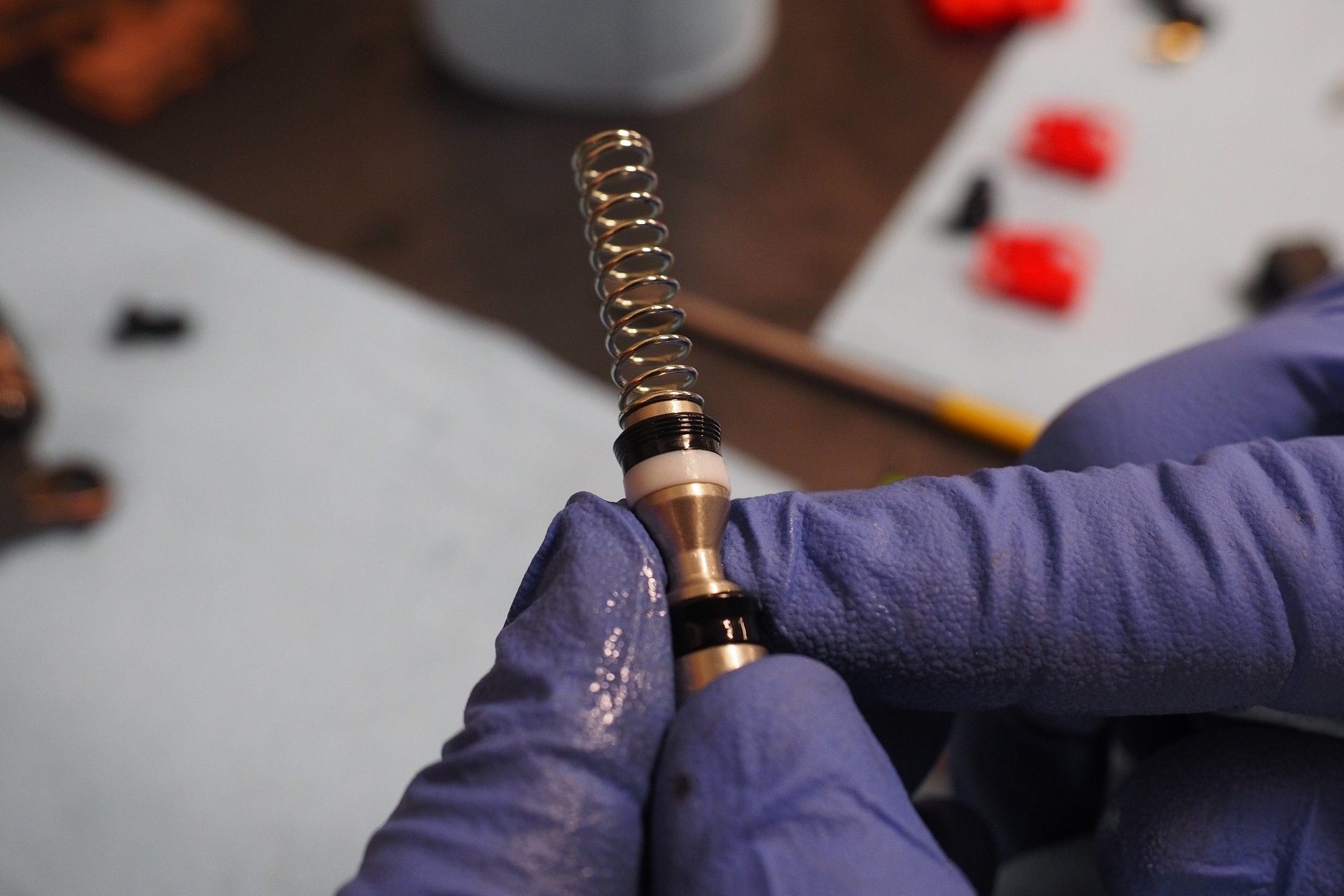 The massive master cylinder reservoir should mean that even the most maintenance-averse rider coming down Whistler on nothing but their brake pad backing plates, wondering what 'that squealing' is, won't have issues with air getting into the system. Likewise, there's a significant amount of brake fluid behind the pistons in the huge caliper which should effectively deal with heat, even without fancy two-piece rotors or finned pads.

On the subject of the calipers, don't be alarmed by the double bleed ports at the back. The Dominion A4 bleeds up just like a SRAM or Formula brake with a syringe at the master and a second at the caliper. If there are any issues getting a good bleed then the caliper can be bled from the other side (in case any bubbles are hiding there) and in a worst-case scenario, the caliper can be isolated and bled on its own. None of that was necessary here and even with the full teardown, Jeff bled both brakes up quickly without issues.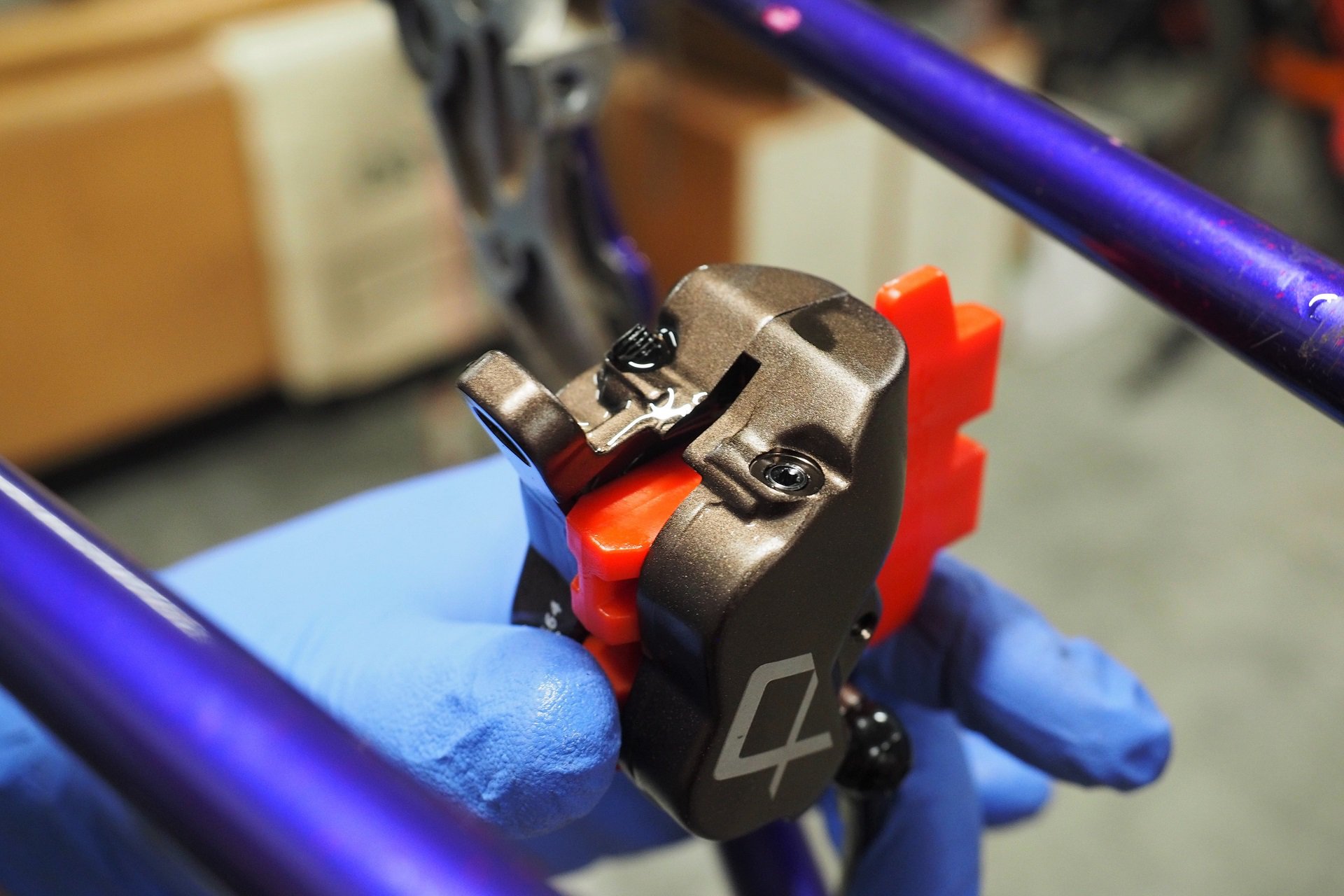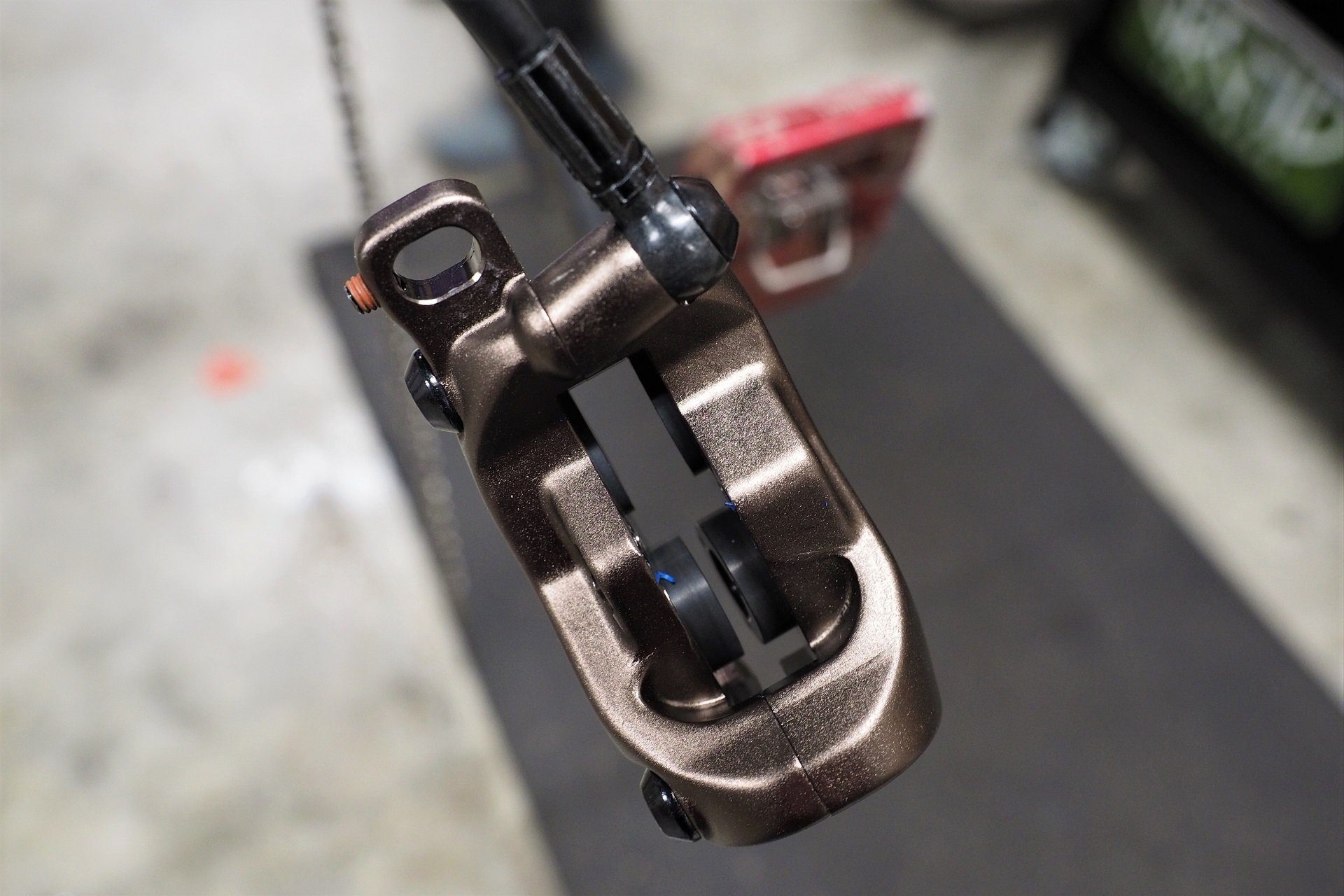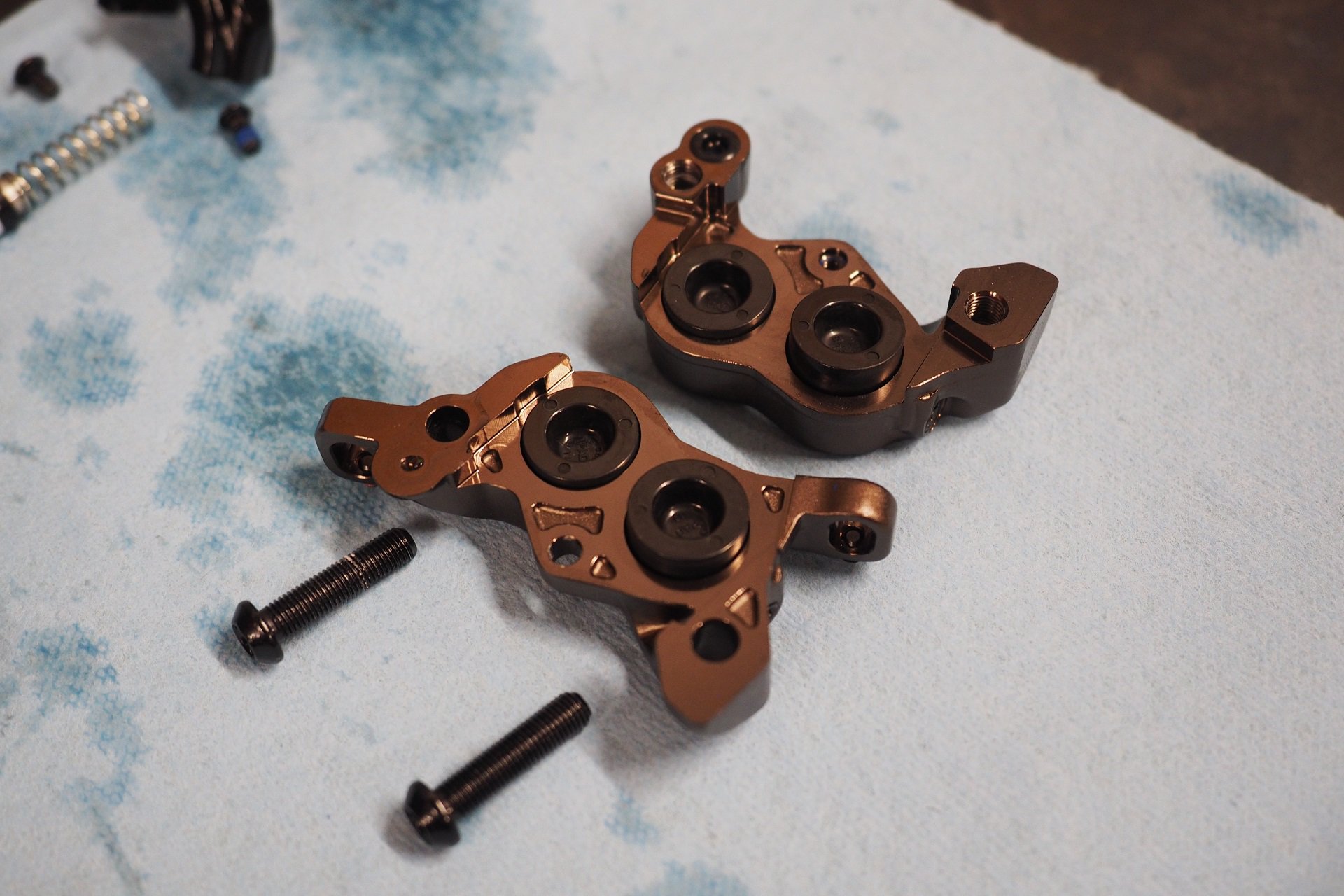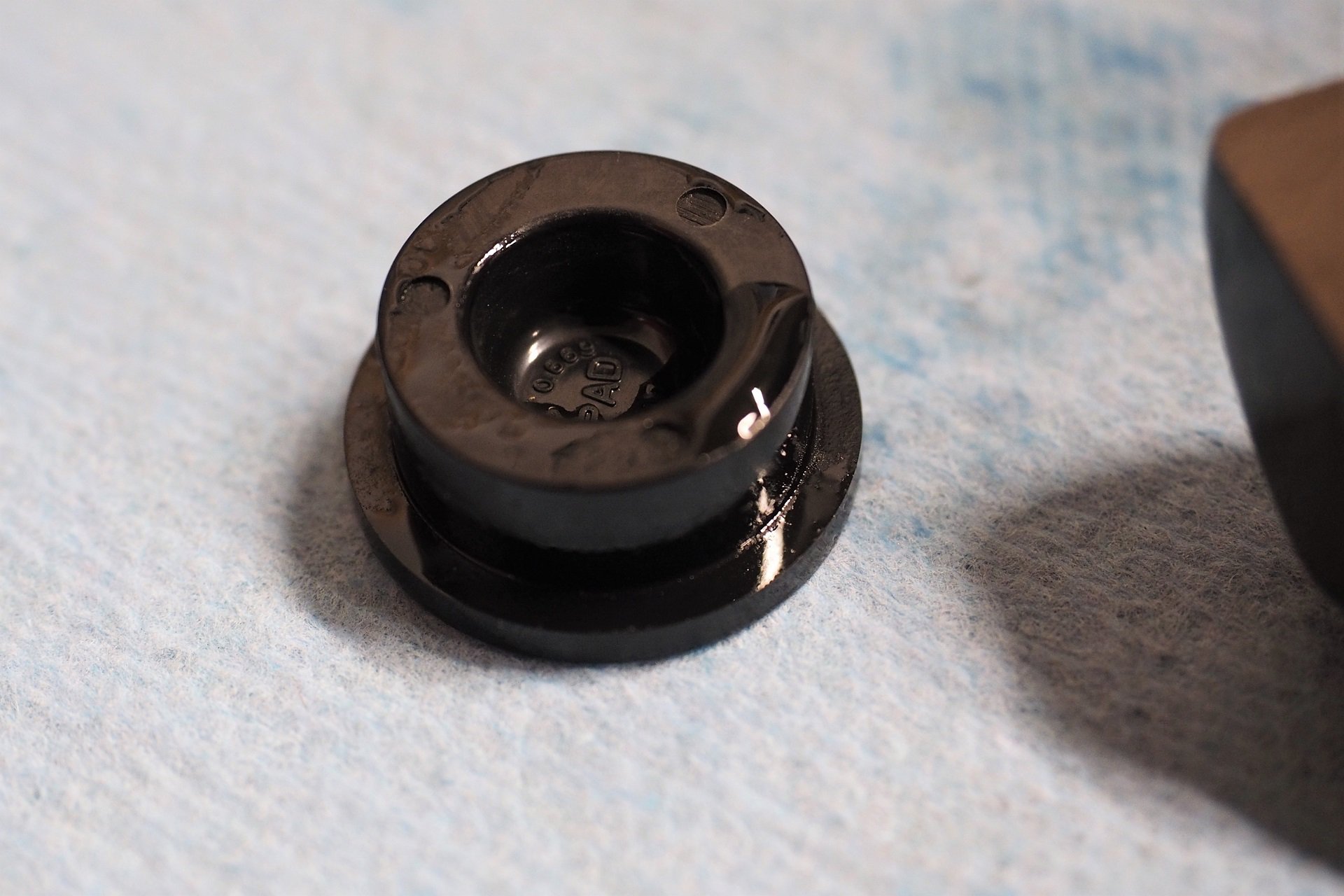 The caliper also features a set screw at each mounting hole which Hayes calls Crosshair and which is intended to help with drag-free setup. I could do without the extra holes being drilled in the caliper and didn't find the feature helpful or necessary for getting perfect drag-free performance. I also don't carry a 2mm hex key with me on the trail so if I did need to adjust the brakes for whatever reason the Crosshair would be a liability, not a feature. Not a big deal either way, just don't tighten it down, but food for thought regardless.
Also worth noting is that Hayes brake lines have a larger outer diameter than most. I took a cutting and it fits easily into every internally routed bike I've tried but, for example, I haven't put it in a Santa Cruz with in-molded routing, or a frame like an Intense with internal rubber lines.
Why DOT Fluid?
Other than a few trials riders who used to run water, Mineral oil and DOT fluid are the two choices when it comes to hydraulic fluid in brakes. You won't catch me drinking either but mineral oil, despite various additives, is generally considered much better for the environment while DOT fluid by nature of its use in automobiles is easy to properly dispose of and its effects on paint are massively overstated. They both manage moisture differently but this is a non-issue for anyone who services their brakes regularly. Simply put, a great braking system is a great braking system and while some riders certainly narrow their purchasing decision based on brake fluids, I'd guess that's a small minority.
When I first started working on disc brakes, Shimano and Magura were firmly in the mineral oil camp and Hayes, Avid (SRAM), Formula, and Hope all used DOT fluid. Most companies are still firmly entrenched but for their latest brakes - the Cura2 and Cura4 - Formula has moved to mineral oil. Hayes has also dabbled in mineral oil systems, particularly at the budget end of the spectrum, but their latest top stopper ships with DOT 5.1 and is also compatible with DOT 4.
Why? Hayes says that the choice to stick with DOT fluid for the Dominion A4 is an important factor in their achievement of a light lever feel and consistent bite point in all conditions.
Cam and I will be back with a full on-trail review of our various Dominion A4 experiences before the year's out. For now, I'll say that I predict riders who buy this brake system will be very happy with it; it's refreshing to be able to say that about a Hayes brake. Like the new Manitou Mezzer fork, Hayes has released this product with plenty of allusions about how high their expectations are and no illusions about how badly these products need to be home runs.

TheDominion A4 lists for 230 USD per wheel. Please feel encouraged to ask any questions in the comments.